Flower and Garden Festival is a beautiful time to see the park because of all of the amazing topiary displays and types of gardens to be found there. I'm sharing what to expect at Disney's Flower and Garden festival at Epcot this year.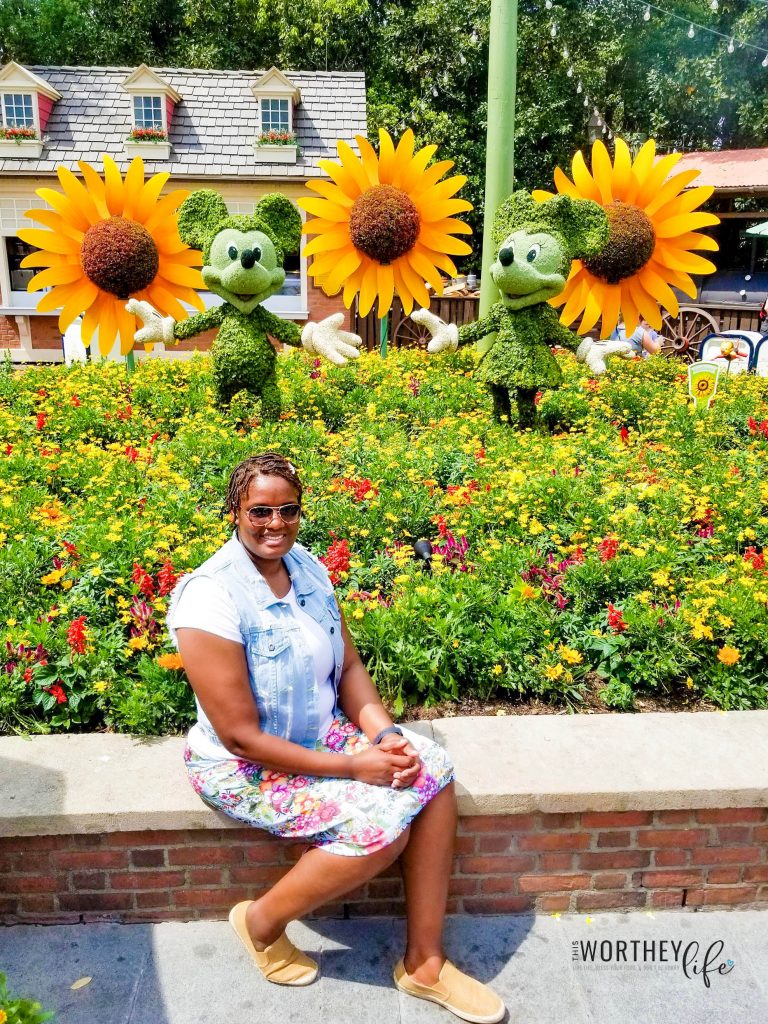 What to expect at Flower and Garden: Epcot's Premier International Festival
Spring is close at hand and that can only mean one thing… It's Flower and Garden time at Epcot. The Flower and Garden Festival is the oldest of all of the Epcot International festivals. It's a beautiful time to visit the park, because of all of the topiaries and gardens waiting to be discovered. This has been on my bucket list to go to Epcot during this festival, and this year, it worked out!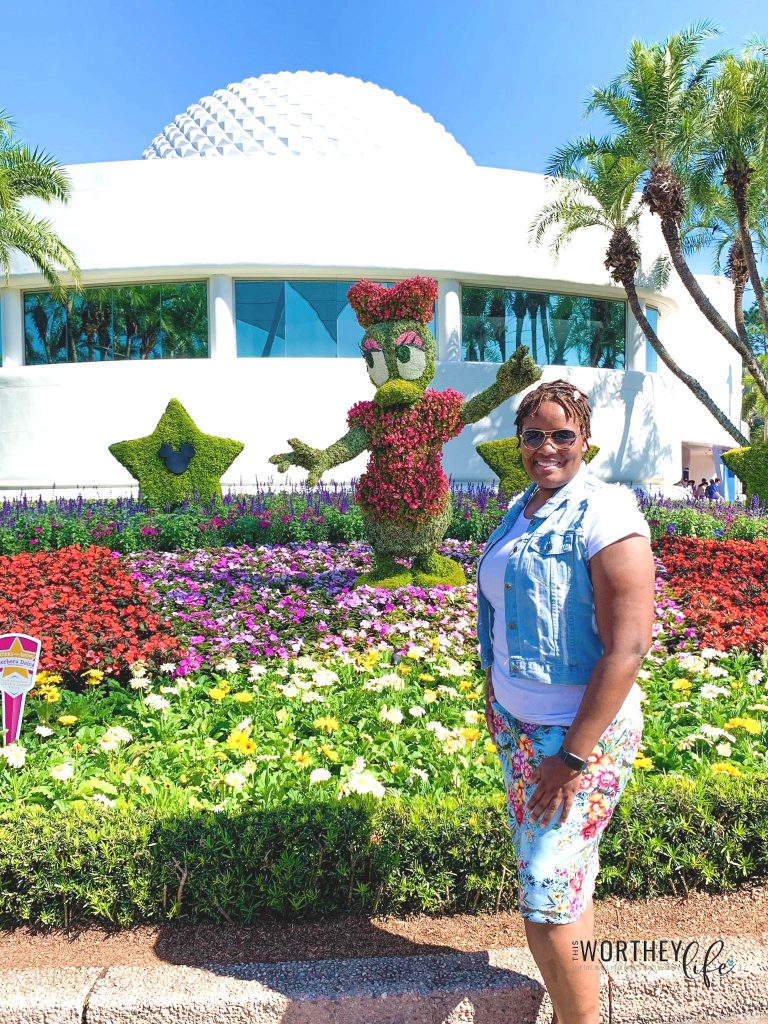 How long does the Flower and Garden Festival last at Epcot?
Epcot's International Flower and Garden Festival is from March 6th – June 3rd, 2019.
One Day Trip to Epcot
Have you ever taken a one-day trip somewhere? Besides road trips, I have never taken a one-day trip on an airplane. But, I'm always open to new travel adventures, so I hopped on an early morning flight with my friend Deb from Just Short of Crazy, and we made our way down to Orlando. As soon as we landed, we took an Uber to Epcot, spent the day there eating all the good things and then took a flight back out that evening.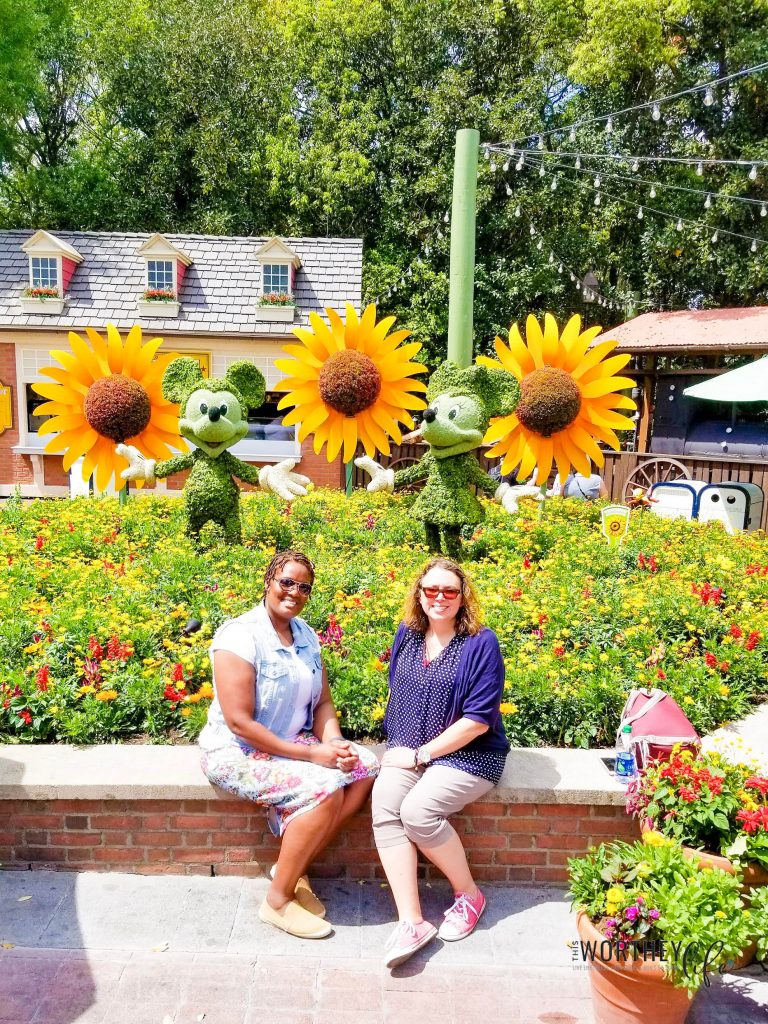 How to do a Disney Dash
It is possible to do a one-day at the festival, although I recommend 2-3 days if you want to eat all the food. Here are a few things to keep in mind:
Plan ahead. Use my tips, Disney's blog, and other Disney related blog to see what's happening at the festival this year. Make a list of all the things you want to accomplish during your trip.
Look for flights that leave out between 6- 7 AM in the morning. For evening flights, try to book flights anytime after 7 p.m. Keep in mind you need to allow at least 30 minutes to get to Epcot from Orlando's airport.
Wear comfortable shoes and bring a small backpack. Since you won't have luggage, you need to think about your outfit choices carefully.
Bring a good portable charger. This is one of my favorite ones that last up to 100 hours.
Sunglasses, sunscreen, portable water bottle, and a hat are all other things I suggest to bring with you.
Flower and Garden Food
Disney has a fascinating history with horticulture, and it is so fun to see the creativity and skill at work using this incredible medium. Among the many horticultural exhibits, there are also lots of food marketplaces and fun workshops to experience.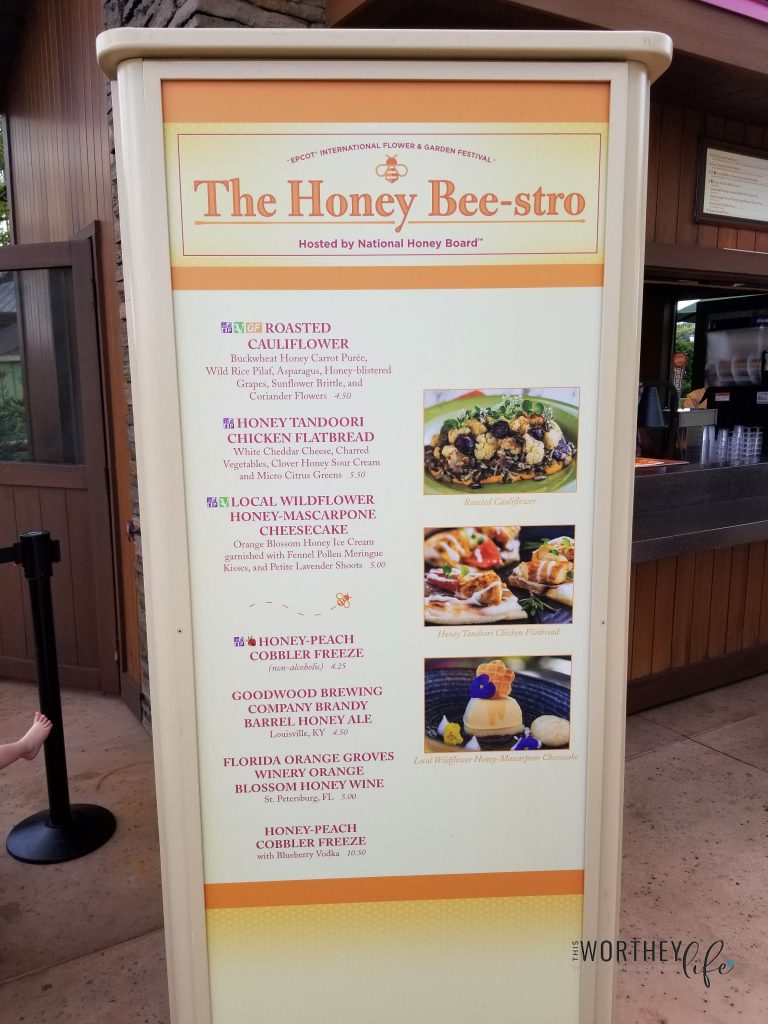 The Honey Bee-Stro is an outdoor kitchen with tons of delicious dishes with a honey theme.
Outdoor Kitchens
Like the other International Festivals that have come after it, Flower and Garden have an impressive array of Marketplaces scattered throughout Epcot. Kiosks line the World Showcase and the pathways to Future World and showcase unique culinary masterpieces.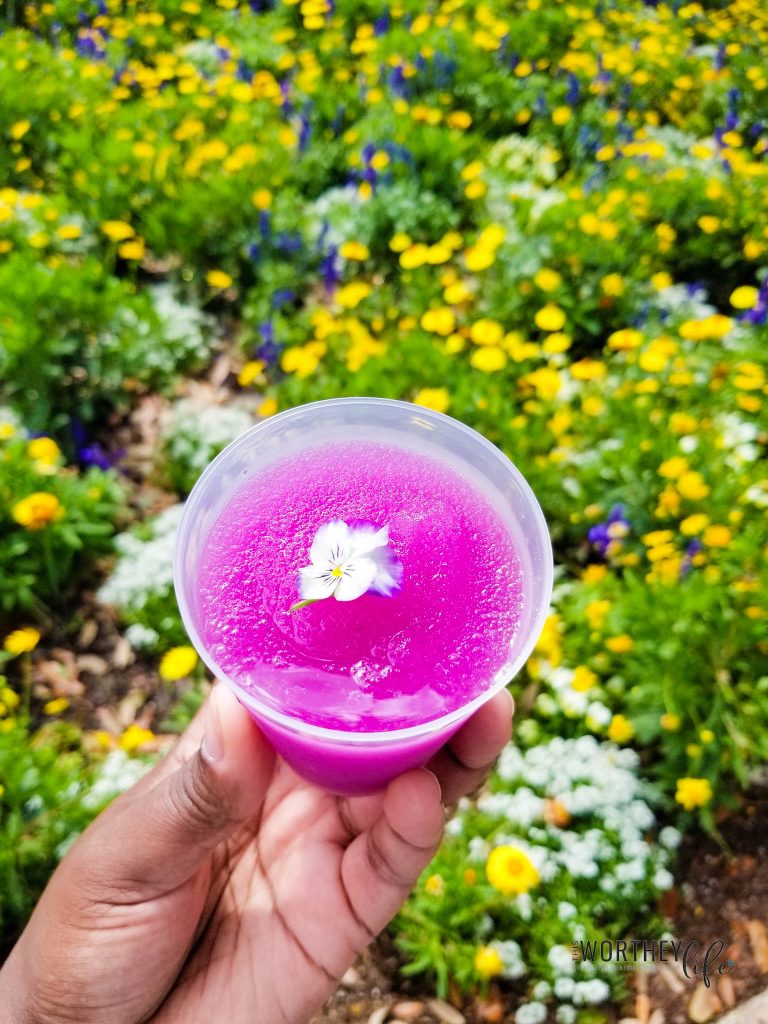 The Pineapple Promenade located in the Showcase Plaza offers a popular foodie item that is also great for the gram. Be sure you get the frozen desert violet lemonade, which is so good and non-alcoholic. They also offer pineapple soft-serve ice cream, which is another popular item.
Some new Outdoor Kitchens include Arbor at the Gardeners Terrace and Flavor Full Kitchen, a health-centric booth featuring garden vegetables. Arbor features Fried Green Tomatoes with Blue Crab Fennel and Mixed Berry Buttermilk Cake with Apple Cider Sorbet. Beverage offerings include a mix of local and domestic craft beers.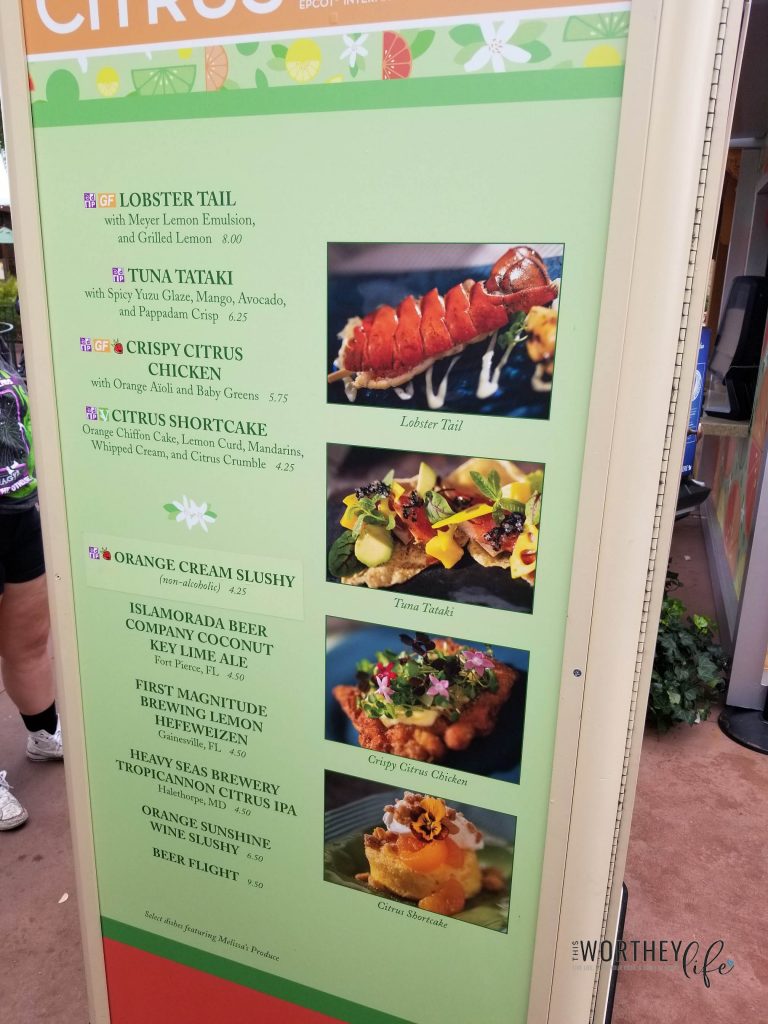 Another new outdoor kitchen The Citrus Blossom (Showcase Plaza) offers more exciting flavors accompanied by lemon, orange, and lime. Lobster Tail with a lemon emulsion, Tuna Tataki with a spicy glaze and Citrus Chicken top the list. Here, you can also get an Orange Sunshine Wine Slushie.
Pro-tip: A popular item at The Citrus Blossom is the Orange Cream Slushy that is served in a souvenir orange bird sipper cup. This is a non-alcoholic drink. By the time we reached this area, they told us they have been out of these popular bird sipper cups for a while.
Restaurants
During the festival, many table service and counter service locations will have special menus and seasonal offerings. Look for pairing suggestions on the table service restaurant menus. You can also purchase a Dining package for reserved seating at the Garden Rocks concert. The package includes dining at one of the table service restaurants in Future World or World Showcase.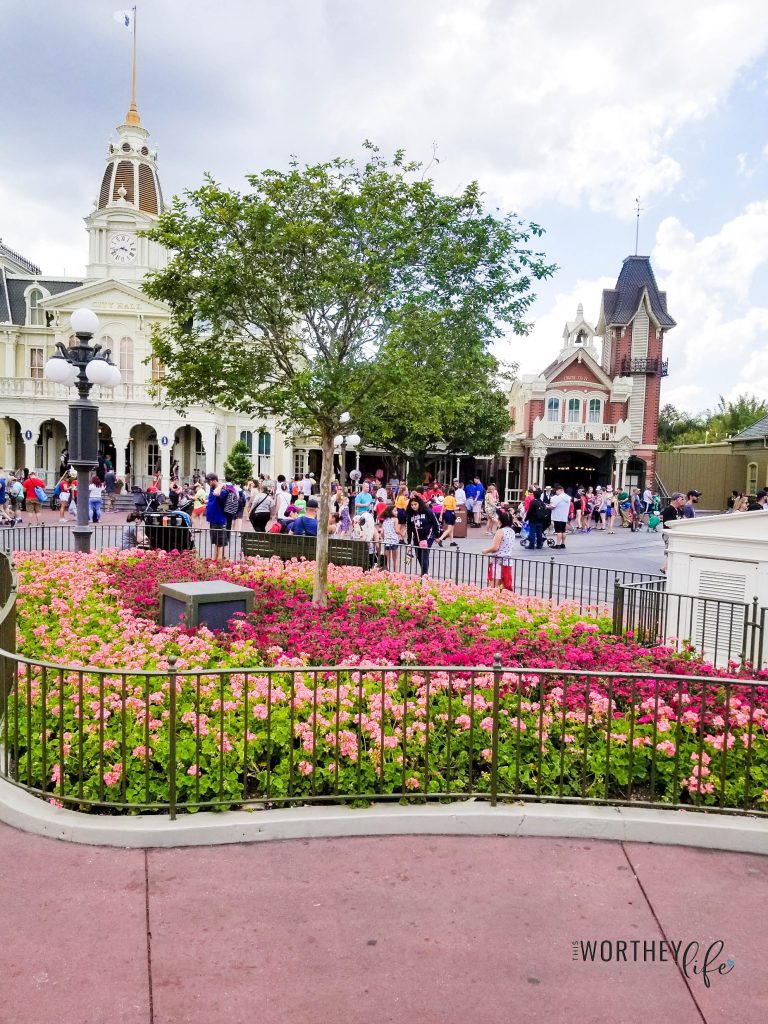 Flower and Garden Activities
Part of the excitement of the International Flower and Garden Festival is the awesome exhibits and tours. Have you ever dreamed of having your own Disney inspired garden at home? It's worth it to schedule some time for a tour so you can pick up some inspiration while you are at the festival.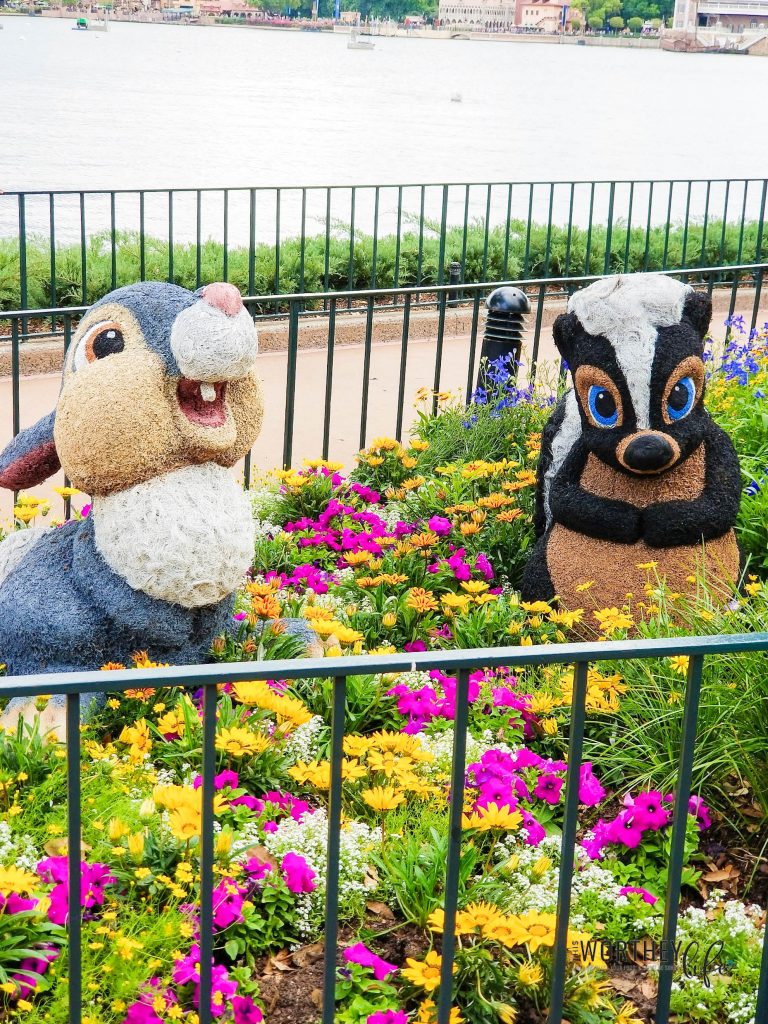 Tours
The Gardens of the World tour is so packed with insight and facts about the role gardening plays at Disney. You will pick up tidbits about gardening technique that you can apply at home and learn about the role landscaping plays in developing a theme. The three-hour tour is led by a Disney Horticulturalist which behind the scenes knowledge about the gardens you will discover.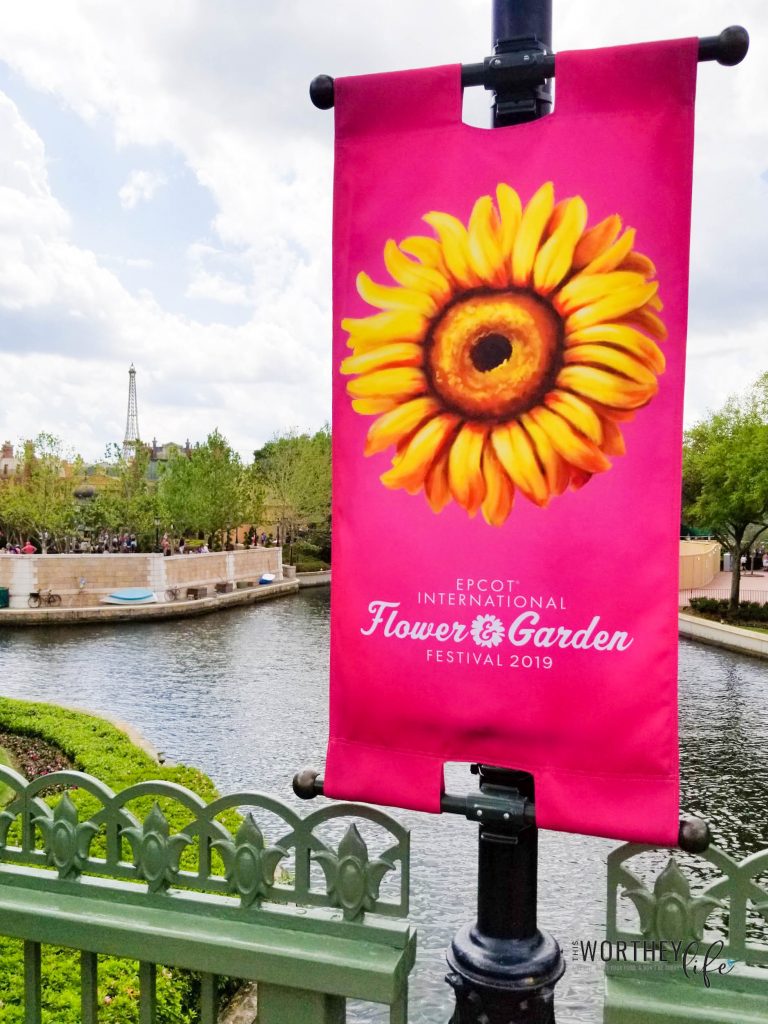 There are two Tea Garden Tours. The English Tea Garden Tour is a 20-minute long free tour of the Tea Garden in the UK Pavilion. A more extensive $20 tour does take place before the World Showcase opens. This tour is 45 minutes long. You will learn insides about growing tea and how to create tea blends. It ends properly with tea and scones.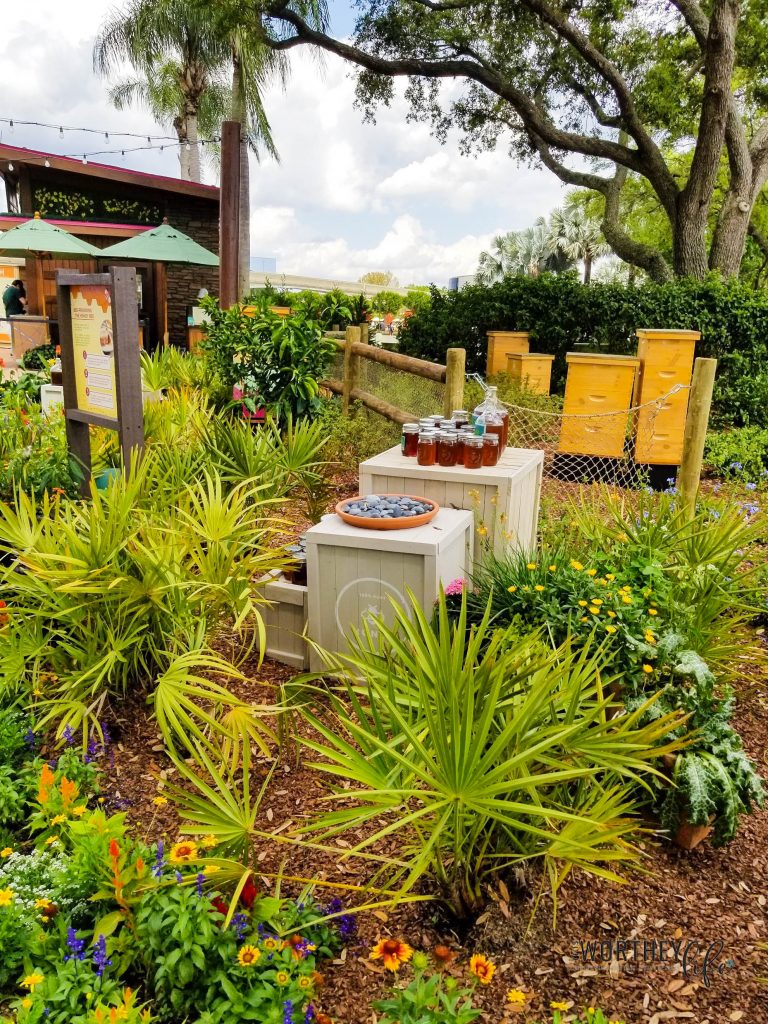 Behind the Seeds
If you have ever been on the Living With the Land boat tour of Disney's on sight agriculture, you may be aware of the Behind the Seeds walking tour. You can take this $15 per person tour outside of International Flower and Garden Festival, but it is advertised as part of the festival offerings due to its thematic significance. The tour is one of the most affordable in-depth experiences in Disney World and worth doing at least once. Award Winning Topiaries
Topiaries are all over Epcot during the festival. Lady and the Tramp have popped up at the Italy Pavilion. Lightning McQueen is in front of Test Track. Mickey and Minnie share a picnic in the Showcase Plaza. Other fabulous topiaries include Simba, Stitch, The Three Caballeros and so many more. New this year, there are topiaries of Bo Peep and her sheep!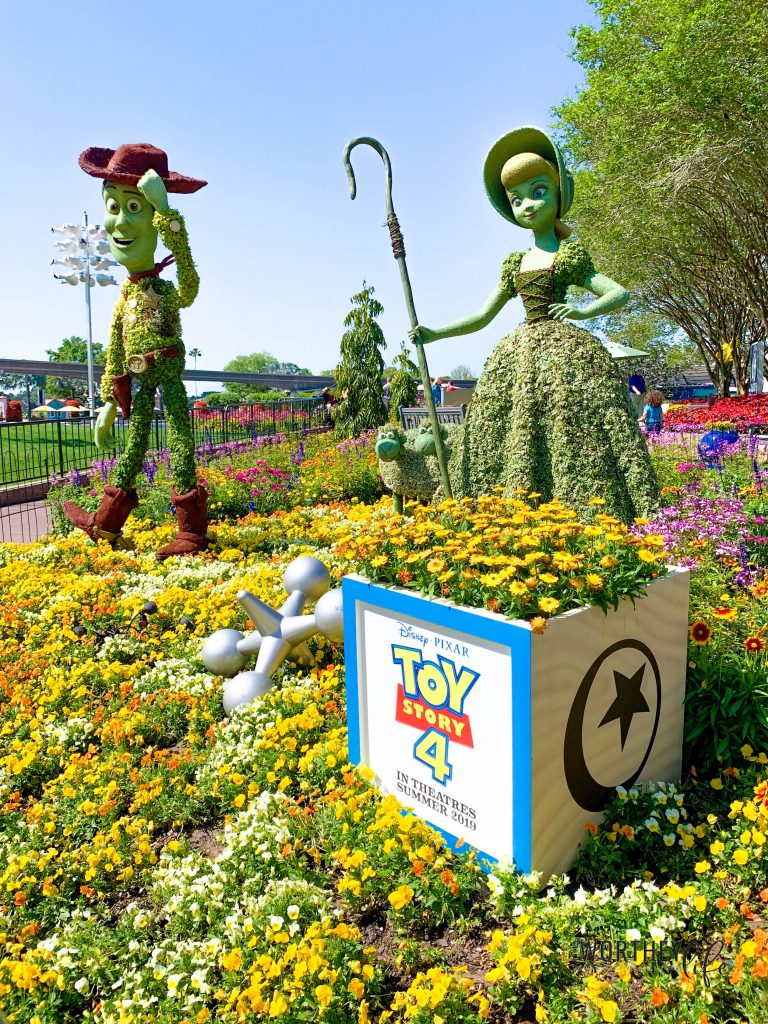 Flower and Garden Exhibits
The new Play Full Garden next to the Flavor-Full Kitchen is a playground presented by AdventHealth. It's designed for families to learn fun and interactive ways to stay healthy in a youthful creative environment near the Imagination pavilion.
The World Showcases many gardens are featured on full display during this time, Bromeliads in Mexico, bamboo in China, and tea in the UK are just the start. Don't miss the Garden Italiano or Germany's container garden. There is a Butterfly House and a Purple Martin Garden as well for education on the rolls gardens can play in ecosystems.
Overall, the Flower and Garden festival is the best time of year go to Epcot. It's a time to bask in natural beauty; and also to learn and be inspired by nature and our ability to shape it.
Stay tuned! I'll be sharing my bucket list of things to do during the Epcot Flower & Garden Festival, as well as the best foods to eat while you are there!
In the meantime, check out Deb's Disney Dash to Epcot's Flower & Garden festival and how to do it weight watchers style.