This is a sponsored conversation written by me on behalf of Tyson Foods, Inc. The opinions and text are all mine.
Get ready for game day with our Game Day Taco Bar. We're sharing some easy ways you can set up a taco bar, including what to serve + what type of toppings and dip recipes to go with it!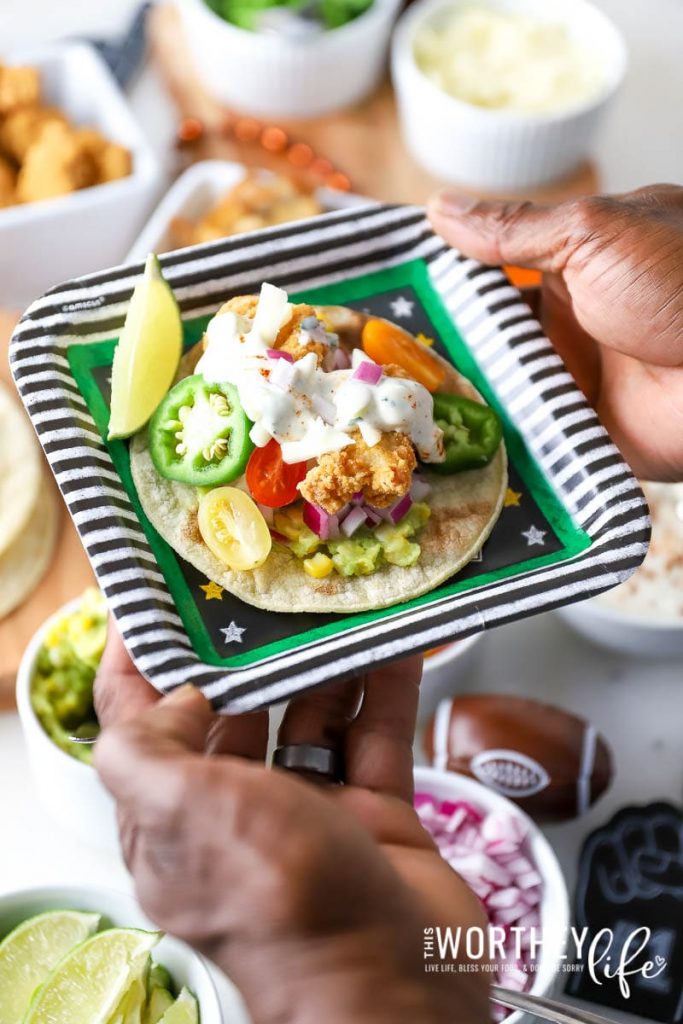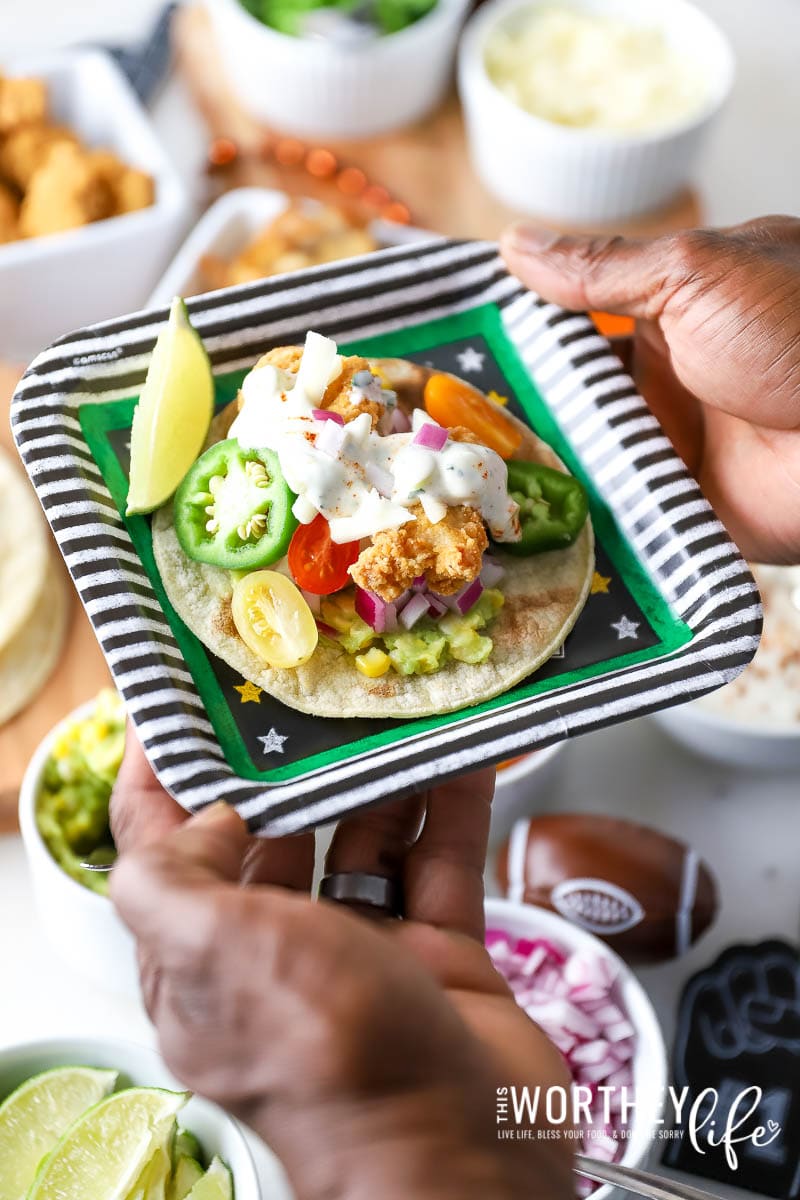 Game Day Taco Bar
It's football season, and all bets are off when it comes to creating quick, no fuss, and delicious game day food with Tyson® products. So, go ahead and invite your friends to the game watch party this weekend because you got this. And we're going to show you how to put together the best Game Day Taco Bar on this side of the goal post. And with Tyson on your team, there's no way you're gonna lose.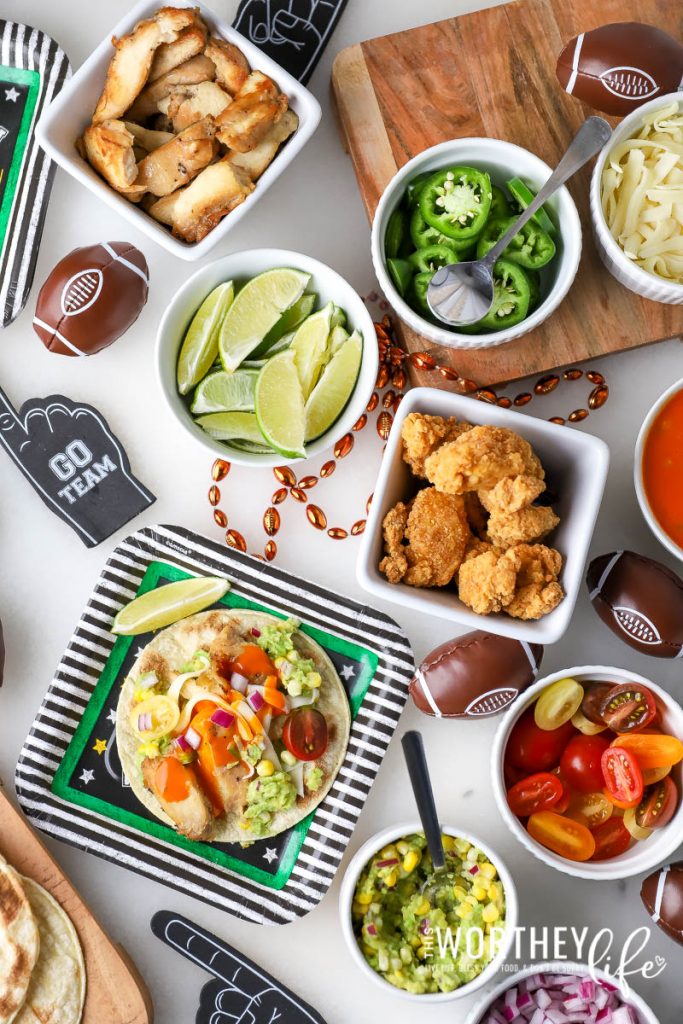 Okay, let's get in a huddle because I'm letting you in on the perfect play when it comes to creating an amazingly delicious and super easy Game Day Taco Bar. First, you gotta start with Tyson Any'tizers® Popcorn Chicken, Tyson Grilled & Ready® Fully Cooked Grilled Chicken Breast Strips, and Tyson Refrigerated Chicken Strips. From there, it's all up to how you want to win one for the hungry Gipper.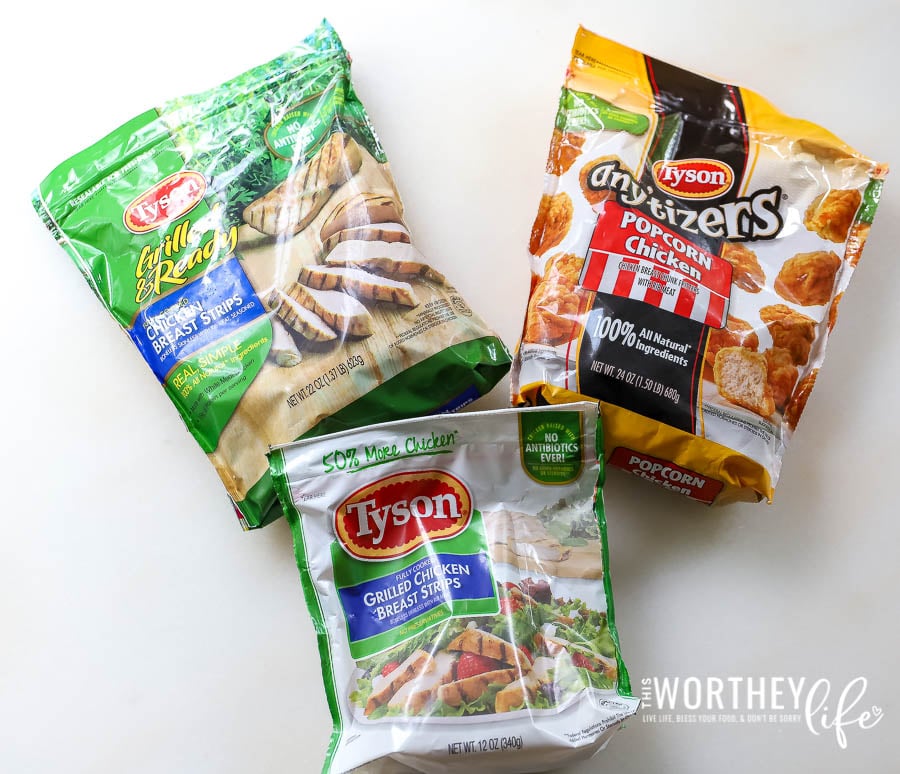 Why Tyson? Well, in case you haven't heard their Grilled Chicken Breast Strips are made from 100% real, simple, all-natural ingredients and Tyson chickens are farm-raised with no antibiotics ever. But that's not all; there's no breading which means fewer calories and less fat. And the taste; well once you bite into these Grilled Chicken Tacos, you will understand precisely what I'm talking about.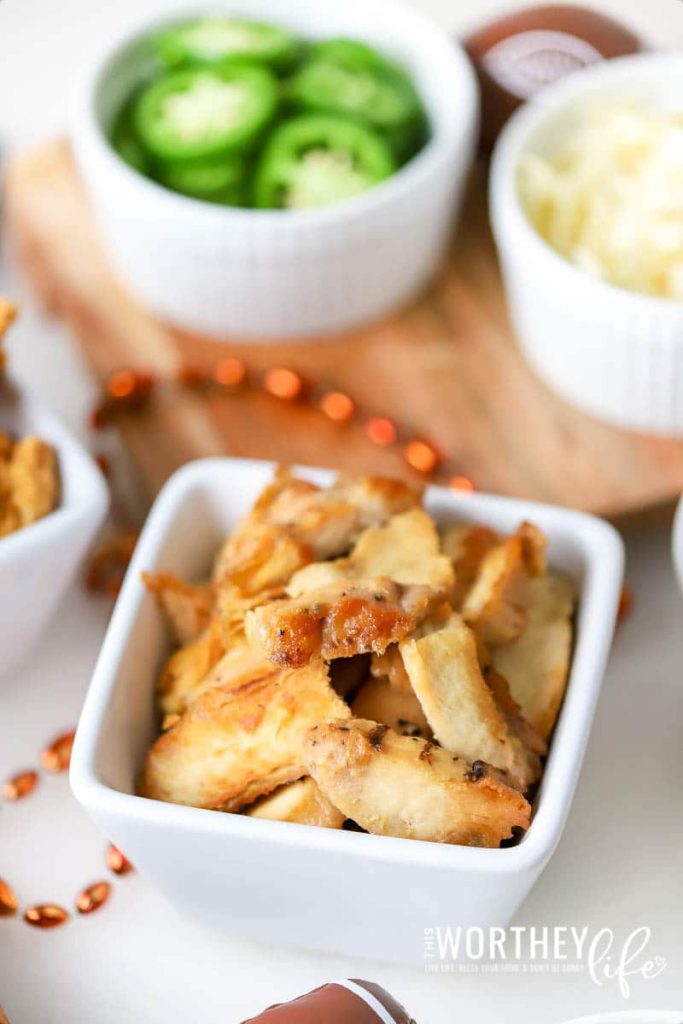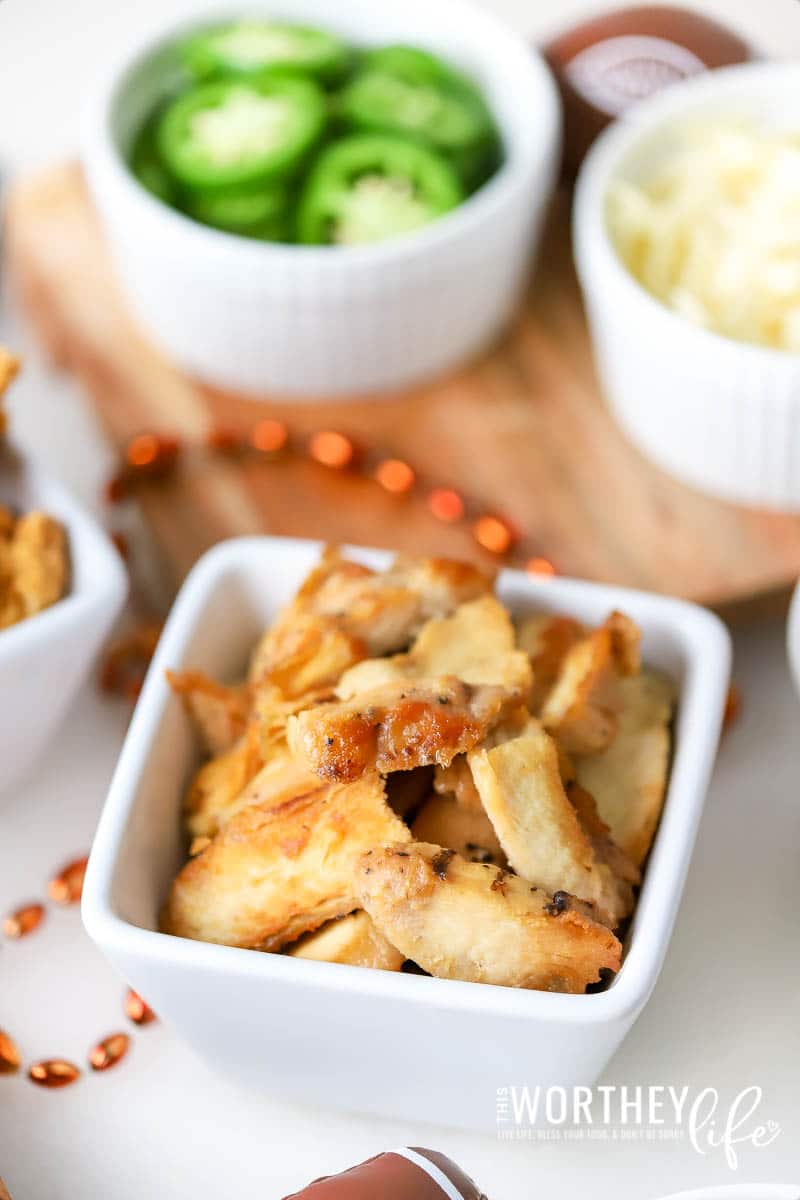 Same goes for our Crispy Chicken Tacos made with Tyson Any'tizers Popcorn Chicken. We're talking crave-worthy, loaded with protein white chicken meat. And once you put these yummy chicken ingredients onto a toasted white corn tortilla, pile on the sweet corn guacamole, diced red onions, sliced heirloom tomatoes, spicy jalapeños, then drizzle on the taco sauce, you will be in the taco-eating end zone for the extra point. That's a whole lot of SHISH BOOM BAH all over your taste buds and then some!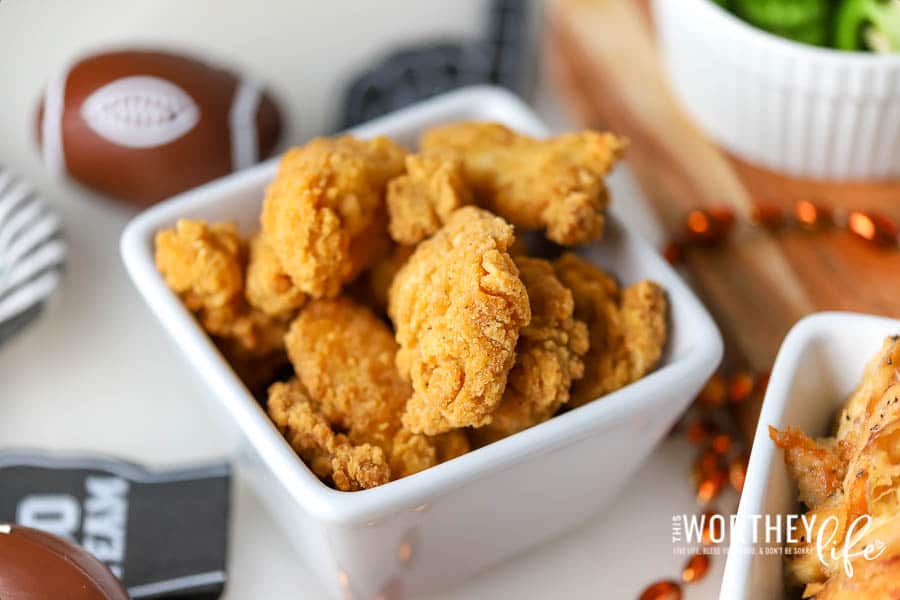 Delicious tacos happen as fast as you can follow the instructions on the package and heat them up. And while you're heating the Tyson chicken go ahead and prepare the toppings. That means lots of fresh veggies like red onions, shredded cheese, tomatoes, and bring the heat with slices of fresh jalapeño. I also made a Sweet Corn Guacamole as well as a Honey Jalapeño Buffalo Sauce and a Chili Lime Ranch Sauce to drizzle all over these yummy game day tacos. Doesn't sound good? No flags on this play.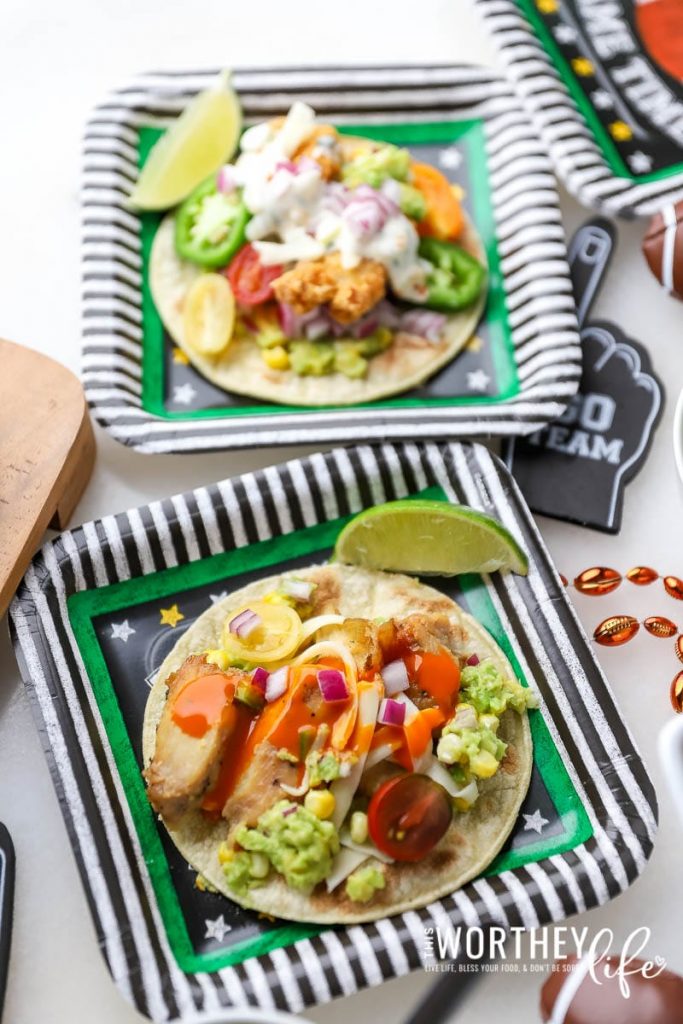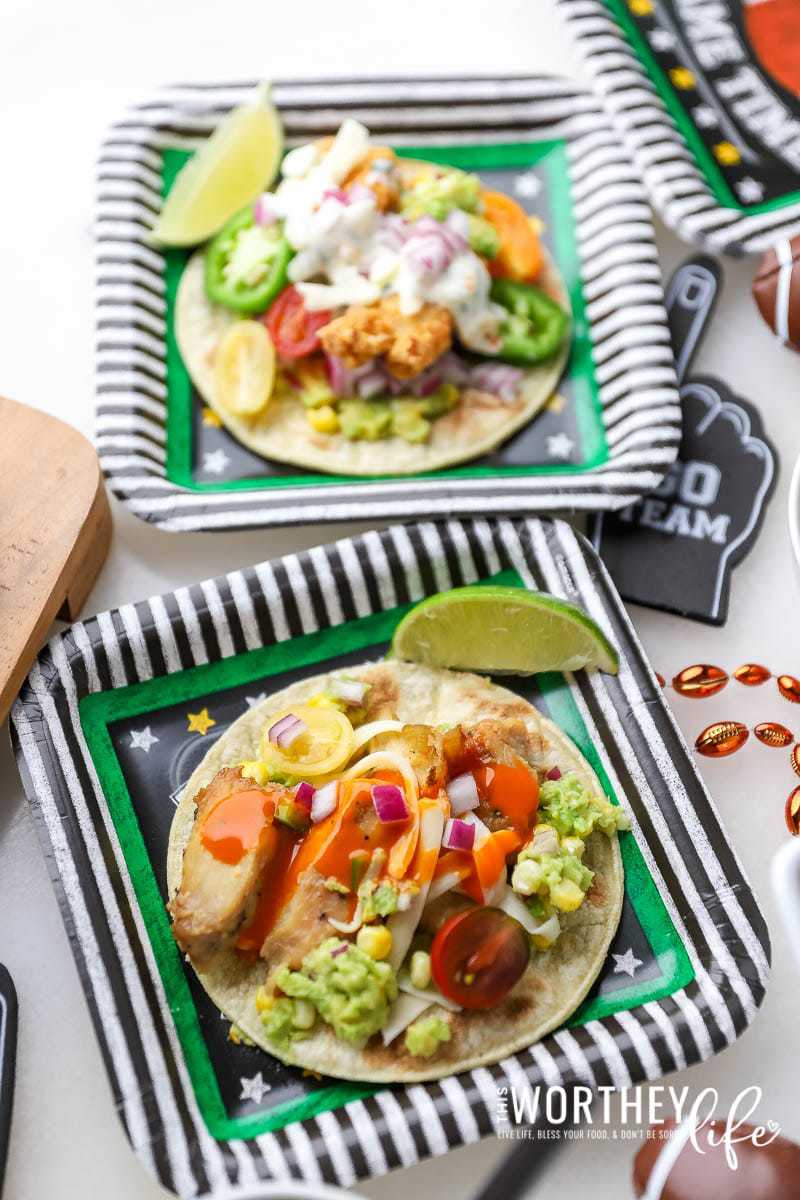 How To Make Honey Jalapeño Buffalo Sauce
Ingredients:
1 bottle of your favorite buffalo sauce
2 fresh jalapeños diced with seeds
1/2 cup honey
1/4 teaspoon Mexican style chili powder
Directions:
Mix ingredients in a medium bowl and whisk well. Pour into a serving bowl and serve with a spoon. Store in the fridge up to 2-weeks.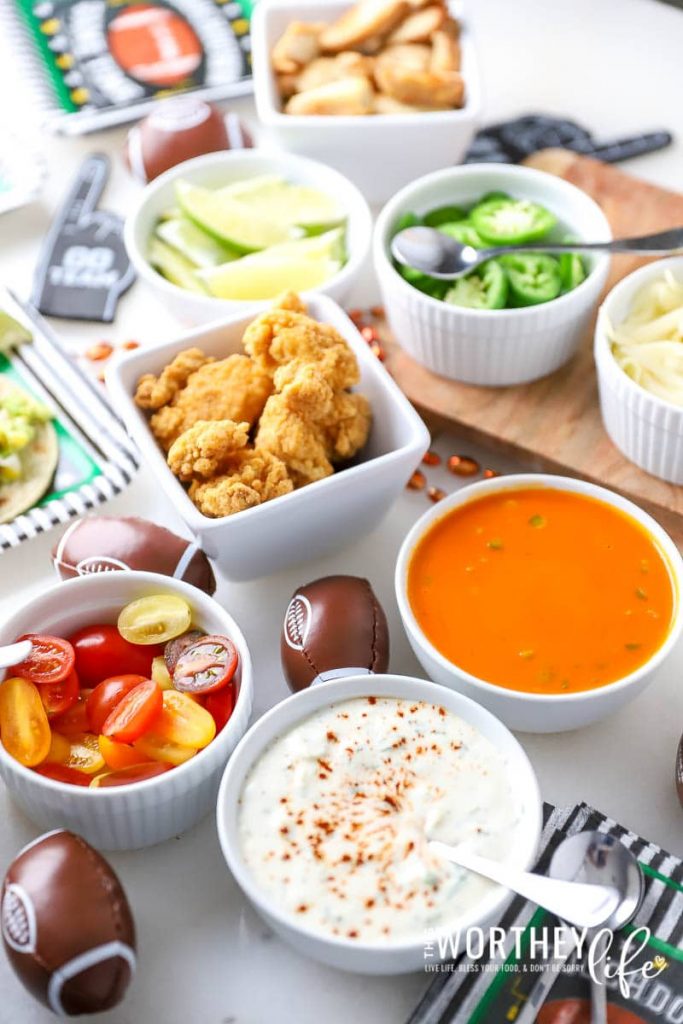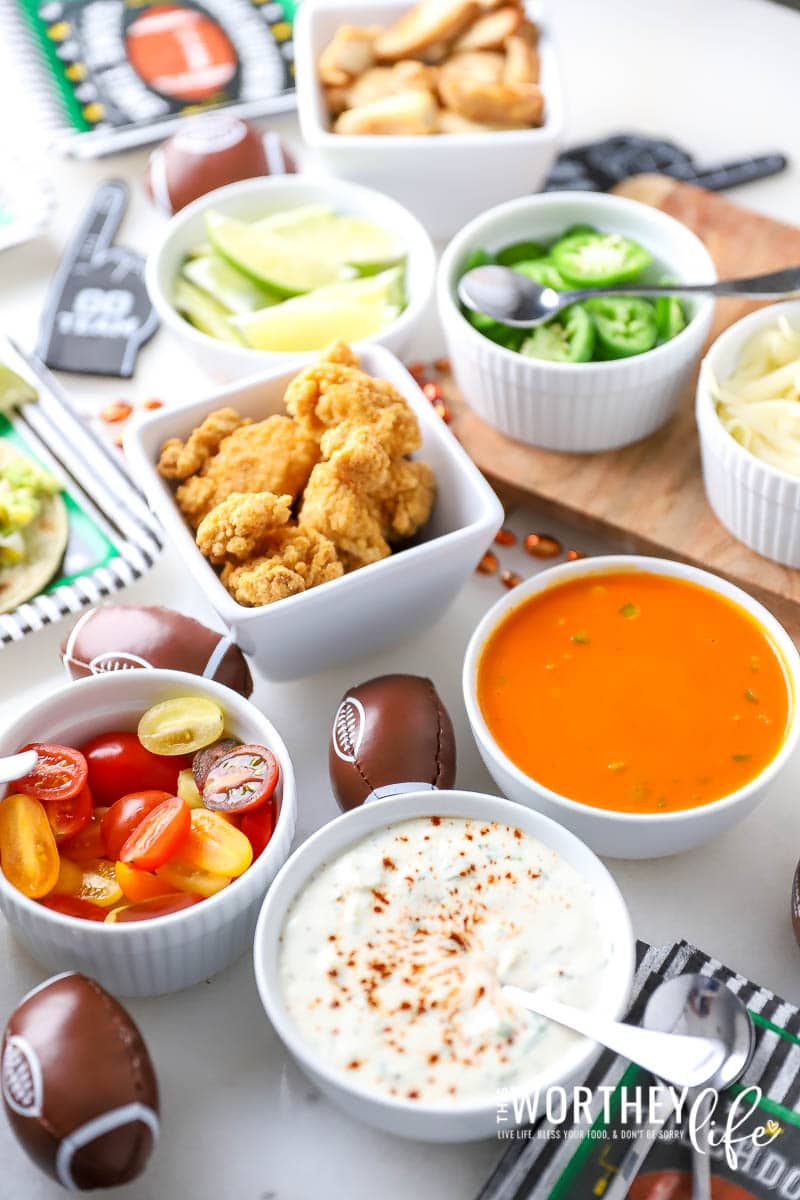 How To Make Chili-Lime Ranch Sauce
Ingredients:
1 bottle of your favorite ranch dressing
2-3 stalks of fresh green onion, sliced
1/4 cup fresh cilantro, chopped
1 1/2 tablespoons chili-lime seasoning
Directions:
Mix all of the ingredients into a medium bowl and fold together until the ingredients are well combined. Pour into a serving bowl and serve with a spoon.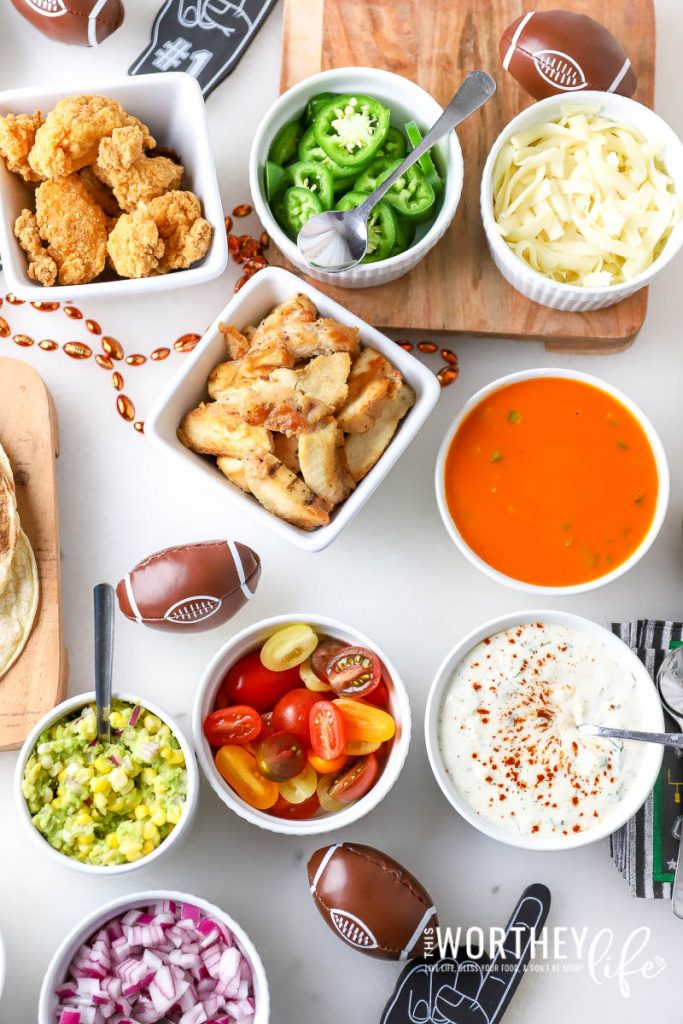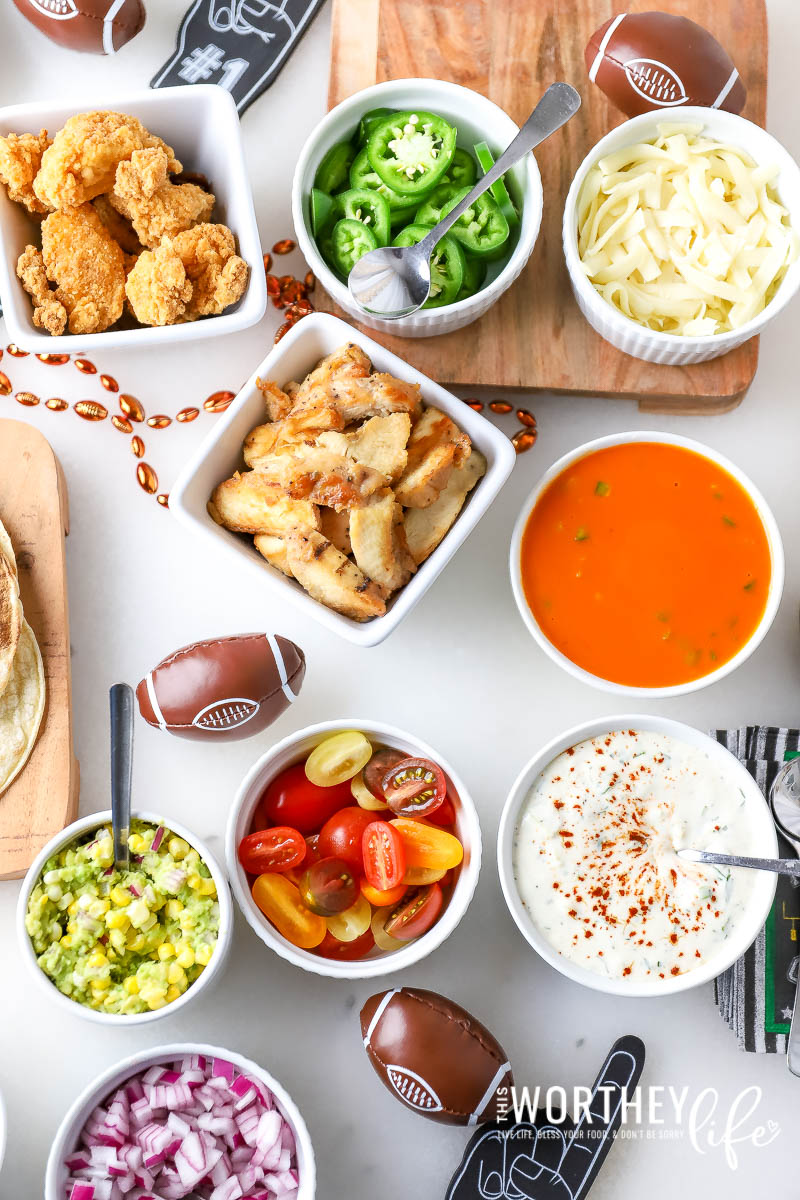 Easy Recipe For Sweet Corn Guacamole
Ingredients:
3 ripe avocados
2-3 ears of sweet corn, kernels cut off of the cob
1 tablespoon extra virgin olive oil
3 tablespoons chopped cilantro
1/4 cup diced red onion
zest of one lime
2 tablespoons lime juice
flaky sea salt
freshly cracked black peppercorns
Directions:
Clean and husk the ears of sweet corn and cut the kernels into a medium skillet over med-high heat, add a tablespoon of extra virgin olive oil and cook until the kernels are tender in about 5-6 minutes, add flaky sea salt and black peppercorns to taste. Spoon the sweet corn kernels into a bowl and place into the fridge for 15 minutes.
Into a food processor add the avocados, cilantro, lime zest, lime juice, flaky sea salt, and freshly cracked black peppercorns. Pulse until the mixture is well-combined but still slightly chunky.
Spoon into a medium bowl and fold in the diced red onion and chilled sweet corn kernels. Drizzle with more extra virgin olive oil.
Serve.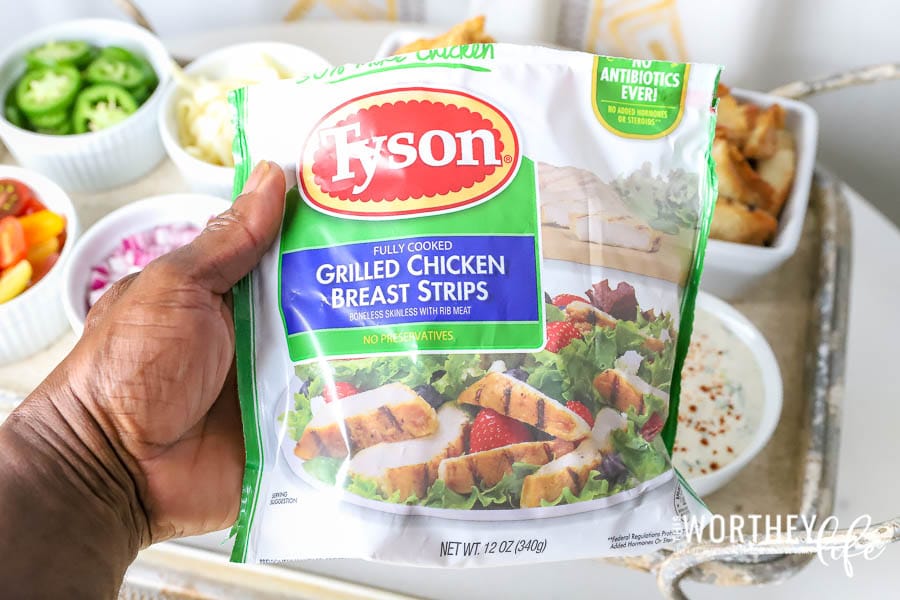 Find your favorite Tyson chicken products at your local Meijer using the store locator. So, what are you waiting for start planning your own Game Day Taco Bar for the weekend and invite all your football foodie friends for a deliciously good time?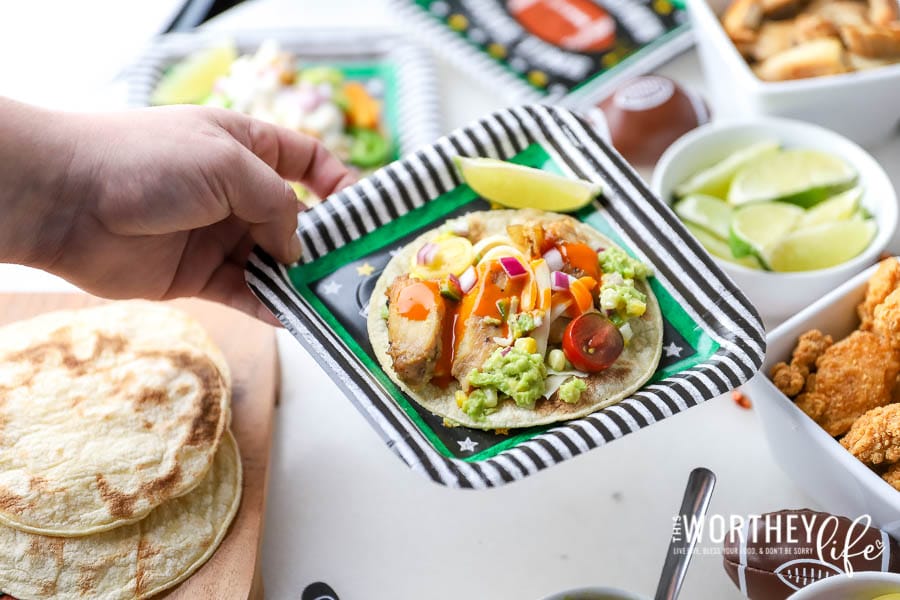 Now, let's get ready to rumble and have a great time sharing good food with friends and family with a Game Day Taco Bar using Tyson products.