Golden Village Palms RV Resort In Hemet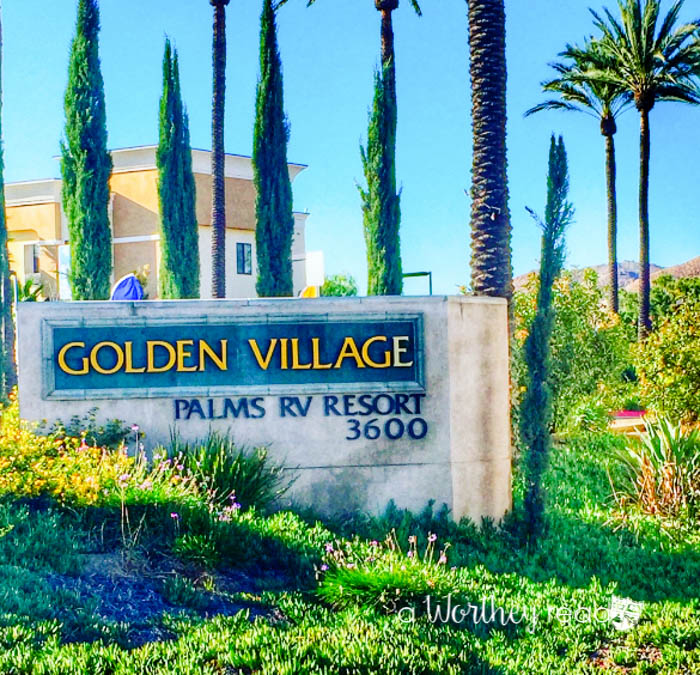 I never thought the RV life would ever be for me.
But then one day my perception of RV living changed when I had the pleasure of staying on the property of the Golden Village Palms RV Resort in Hemet, California.
Let's be clear, this is not your typical run-of-the-mill RV campground.
Wait, scratch that, it's not an RV campground, it's a full-fledged Resort.
Golden Village Palms is the largest RV Resort in California, catering to snowbirds and permanent guests year-round.
When I first arrived at Golden Village Palms, I was greeted by a beautiful set of ladies ready to check me in and show me around. It's always important to have quality customer service. Here at Golden Village Palms, I received nothing but the best from the GVP staff!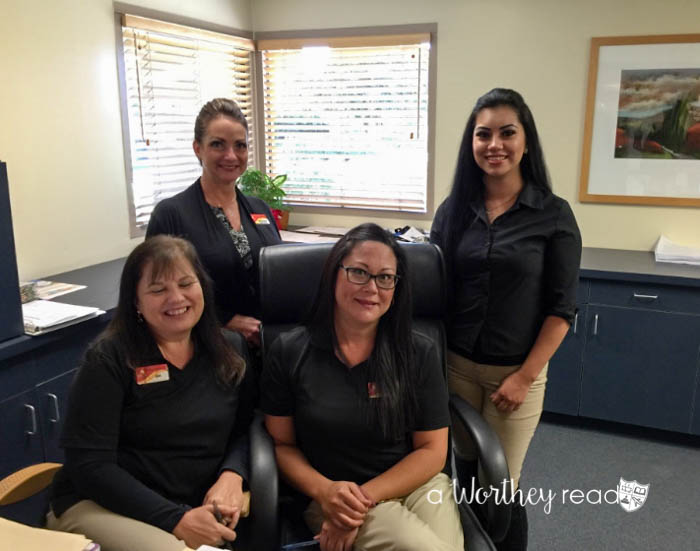 Where to stay
You have a variety of options on where to stay at this RV Resort.
First, you can bring your home with you. RVs (recreational vehicles) are allowed on-site with full hookup access. This is a convenient option for those who love the open road, or just want to bring the comforts of home with them. The resort has over 1,000 RV sites, each with full hookup access.
Another option is staying in one of the rental properties. Golden Village Palms offers 400-square-foot rental cottages on a short or long-term basis.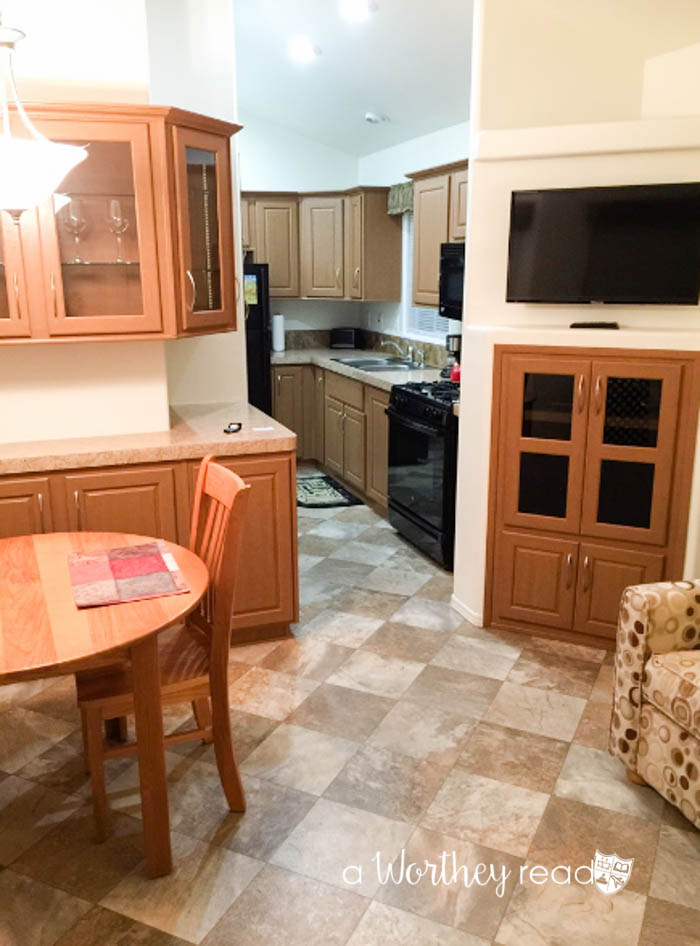 I had the pleasure of staying in one of these cottages. It offers a living/dining room combo, full-size kitchen, full-size bathroom, and a bedroom perfect for up to two people. The couch also lets out into a bed. And it comes with all the necessary dinnerware, utensils, pots, and pans.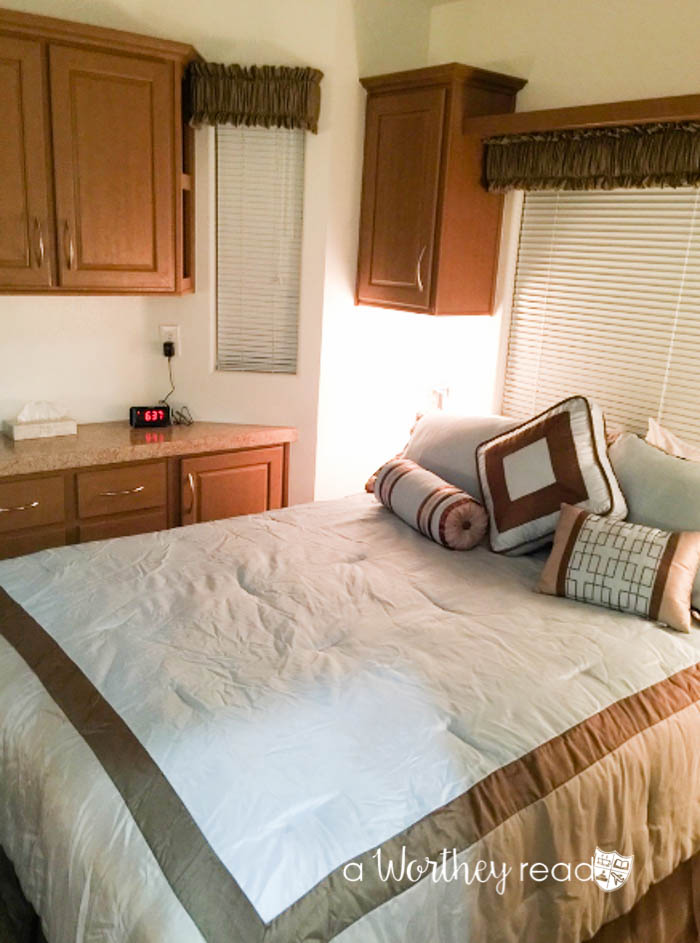 Golden Village Palms just recently built an upgraded, modern cottage that I LOVE! I could see myself having a second home on this property. With the Tiny Houses becoming increasingly popular, you will find new cottages going up to appease every type of buyer.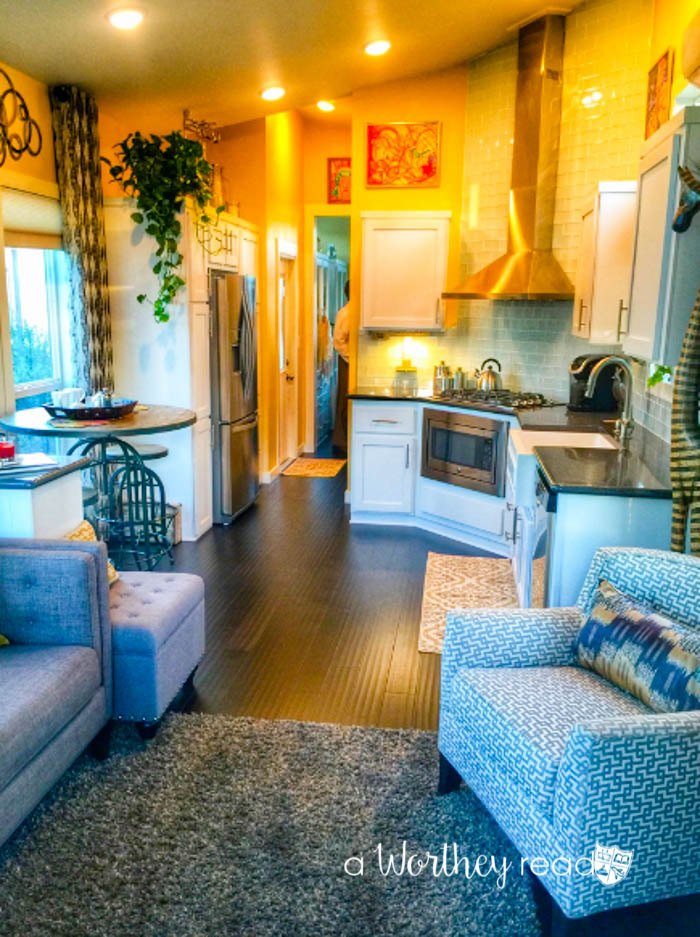 Each cottage has a porch, which is a great place to have your morning coffee while watching the sunrise.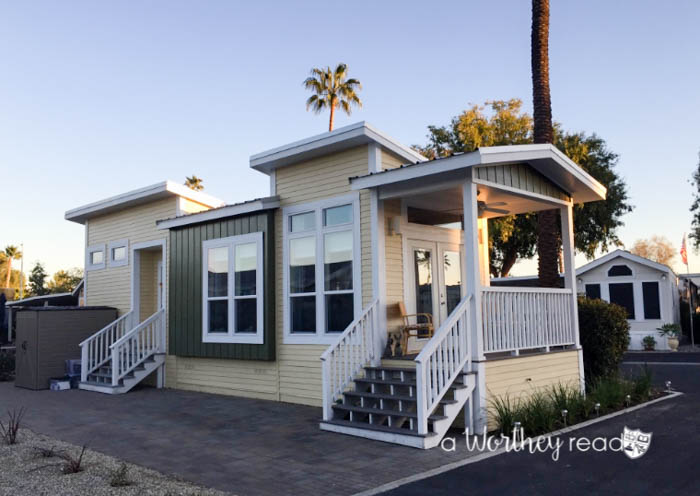 You can read more about the cottage amenities here.
Things to do
It's important for me to stay on a property with plenty of amenities. Golden Village Palms does not disappoint when it comes to things to do on their property.
Where do I start?
I'll begin with the sound of a ball hitting the courts each morning. And it's not just any ball. It's a whiffle ball going back and forth over the net. When I first heard the sound of the whiffle ball, I assumed it was ping pong or something similar.
But no.
It's called Pickleball.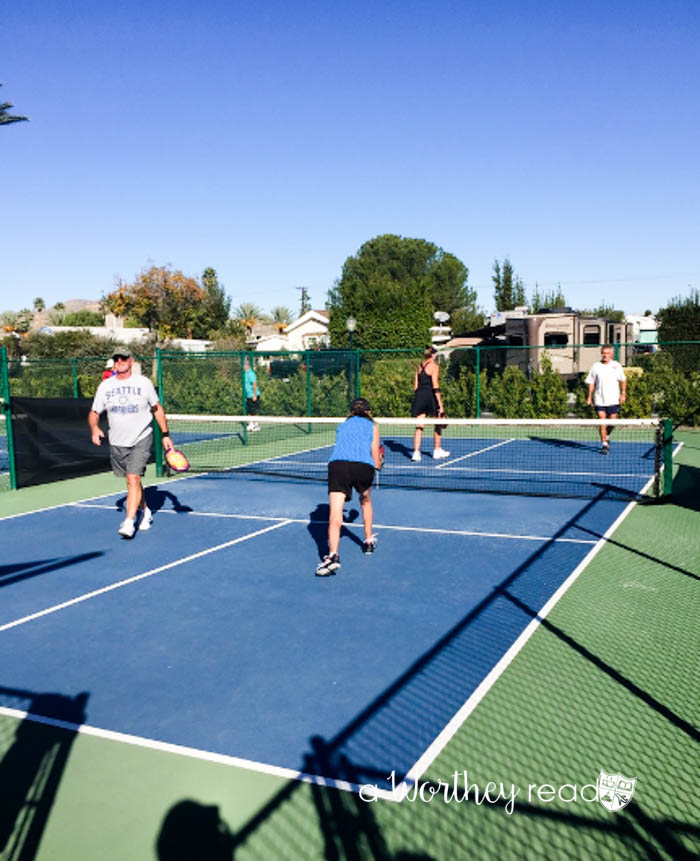 Pickle what?
Pickleball is one of America's fasting growing games, and Golden Village offers USA Pickleball Association certified pickleball courts. Yes, this is a HUGE deal around this resort.
When we went over to check it out and try our hand at it, we found out just how popular and fun you can have with pickle balling. You want to learn the rules of this game since they are different from tennis and other related sports. Tony, our instructor, is a long-time resident of Golden Village and was gracious to give us a quick run-down of this game.
Needless to say, I learned Pickleball was not my sport, but I had a great time learning how to play!
It's not every day you can go on vacation and say you learned how to play Pickleball.
Besides learning how to play Pickleball, I have to tell you about Shuffleboard.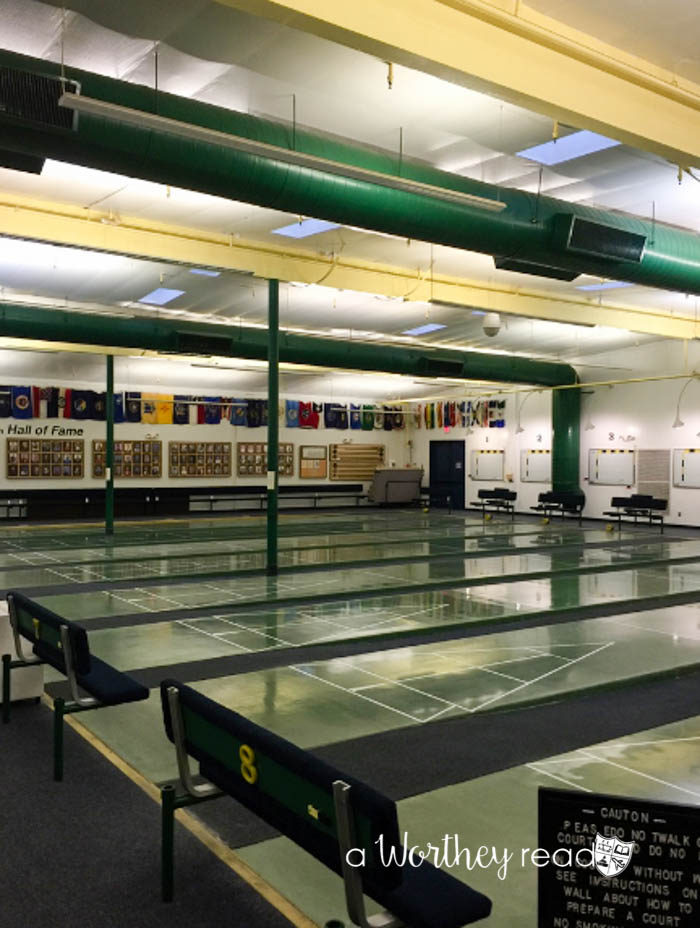 Learn to play Shuffleboard
I experienced quite a few "first things" this trip. One of them was trying out Shuffleboard. I have never played Shuffleboard until now, and it was quite interesting. I think the best part about learning how to play Shuffleboard was our teacher.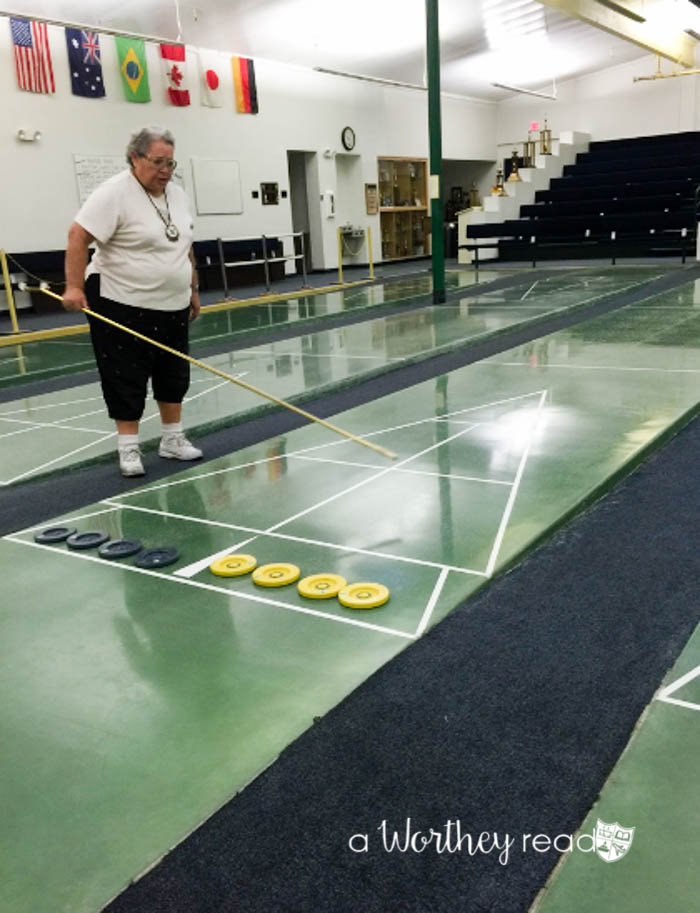 Helen is an 85-year-old resident of Golden Village Palms. She's a no-nonsense, play-it-straight type of gal. We all loved her directness and no-nonsense attitude. She couldn't understand why we were cheering when we were losing. Bloggers… meh, they know how to make anything fun. But overall, Shuffleboard was a riot and a fun game to learn; a must-do activity when you plan your visit to the Palms.
You can find something to do every day at this resort. The staff keeps the events and activities calendar filled with a variety of ideas for every short and long-term resident.
Or, if just lounging at one of their many pools or hot tubs is your thing, then by all means, lay and lounge.
All that's missing is something cold to drink (literally and figuratively).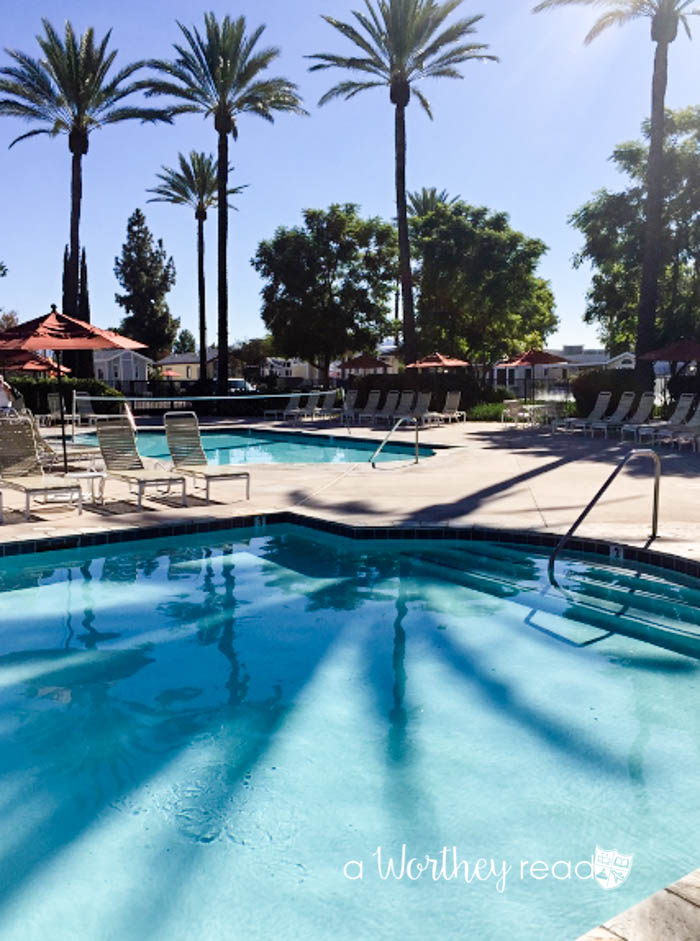 You can find more amenities listed here.
One amenity I must have when staying more than four days in one location is a washer and dryer.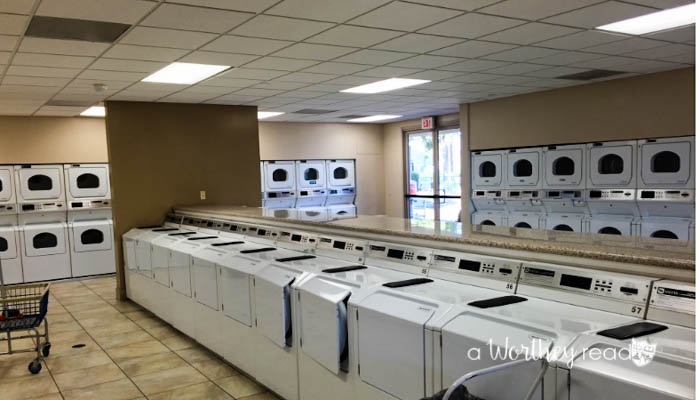 Golden Village Palms offers a laundry room with easy access to wash your clothes. I have found it is easier to take a few hours out of my schedule to clean all of my clothes before heading home. Then when I get home, I can just unpack the suitcase and put it all away.
The Lasting Affect
When staying on a resort property, it's easy to get lost in the shuffle of your activities and things going on. Staying at Golden Village Palms for almost a week, I was able to get a feel of what it would be like if I were a long-term resident. Golden Village is surrounded by shopping malls, grocery stores, and restaurants. And did I mention, Target is RIGHT across the street, AND it has a Starbucks inside? With another Starbucks less than three minutes away! (Yeah, don't ask me how I know that and how many times I went during my vacation).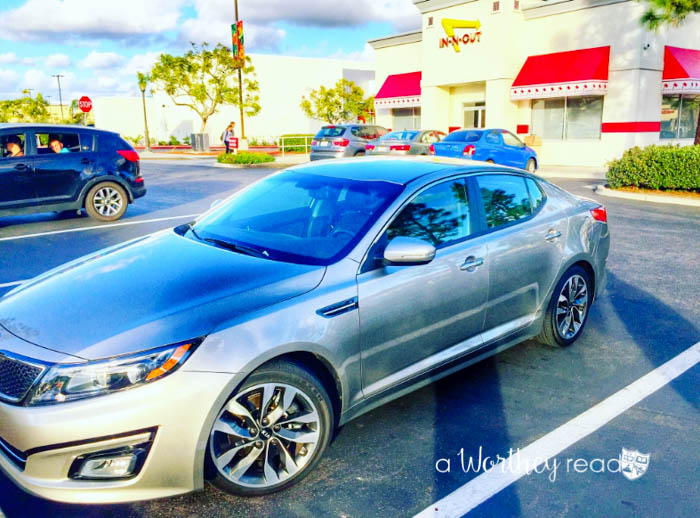 Oh, and In-N-Out is within a five-minute drive. And the shopping mall? About fifteen minutes, maybe longer with traffic.
The San Jacinto Valley offers some beautiful views, and of course, you're not far away from the Temecula Valley Wine Region!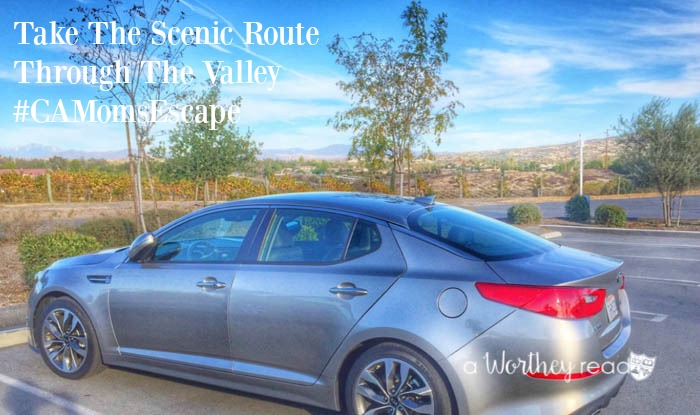 However, the sense of the community is present throughout Hemet and the Golden Village residents. You can come here and make friends. And not just the hi-bye-how's-it-going friends, but develop strong relationships with other residents. You get to know the staff; they get to know you and take an interest in your life, health, hobbies and family.
I came here with a preconceived notion of RV life and "older" people just laying around.
Uh, no.
I came here and found life. I found people living their life and living it to the fullest. I found strangers getting to know each other, playing rounds of pickleball and having coffee on their front porch together. I found "older" people out-doing the "younger" people (hello) in volleyball, shuffleboard, water aerobics and more.
Then I thought to myself, "When I get older and ready to retire, I would LOVE to retire to a place such as Golden Village Palms RV Resort!"
This place had everything to offer and then some.
I went home with my mind and assumptions changed. RV Resort life is for me. Golden Village Palms delivers on being an exceptional and unique vacation experience.
Stay tuned for a chance to win a week at Golden Village Palms in 2016. Details will be coming to the blog soon!
Whew, so that's my brief experience of RV resort living. I'm ready to do it again! So, tell me, do you own an RV? Have you ever stayed at an RV Resort before? Or, does my story inspire you to pack up and leave right now?
Drop me a line below, I would love to hear from you! Find more of my (and other bloggers' ) adventures in the San Jacinto area, by following #VisitSJV.
For more information about Golden Village Palms Resort, head to their website for the latest information and to inquire about your stay!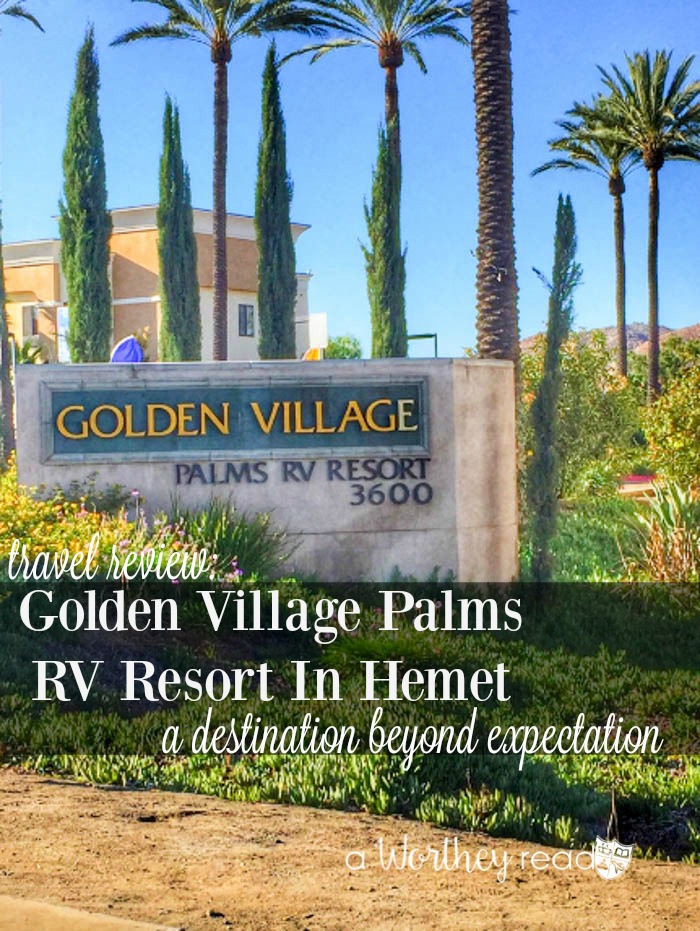 Disclosure: I received a complimentary stay to facilitate this review (as part of the #VisitSJV Blogger Press Trip). However, this post contains nothing but my 100% honest opinion!