We're dedicating this green apple vodka to Gamora, first seen in Guardians of the Galaxy. Gamora plays an important role in Infinity War, and we get to see quite a bit of dialogue between Gamora and Thanos. This Honeycrisp vodka mixed with Midori Melon and green apple soda pays homage to Gamora. Grab the recipe down below.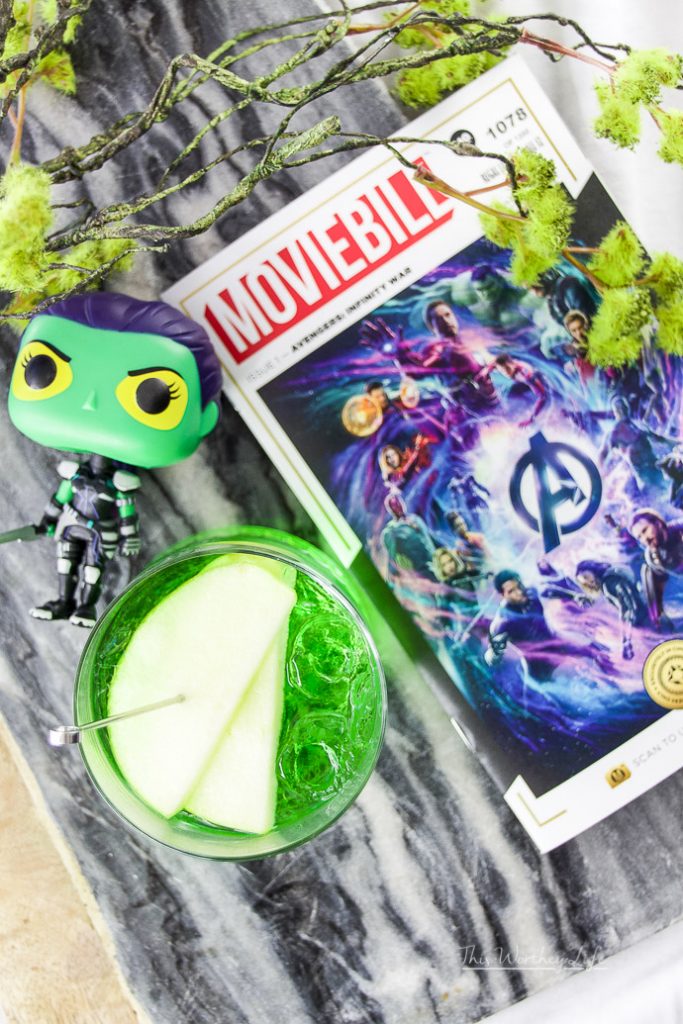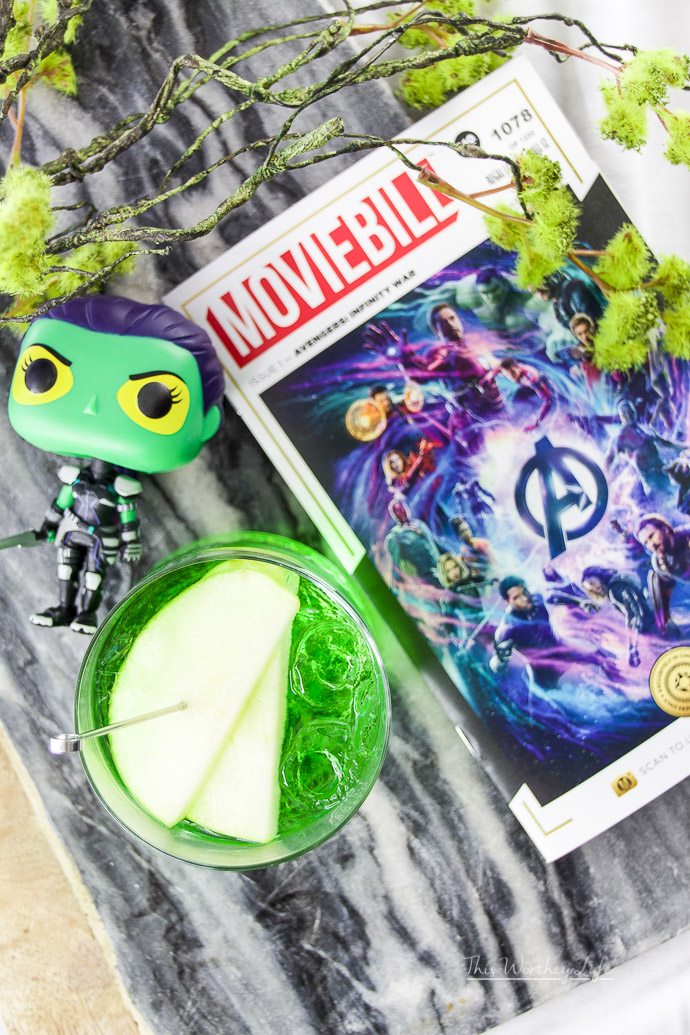 Green Apple Vodka | Gamora Cocktail
Warning- reading the following information contains spoilers from Marvel's Avengers: Infinity War movie out this weekend. You can read our spoiler-free review if you haven't seen the movie yet.
Gamora first appeared in Guardian of the Galaxy Vol 1 (and then in 2). We saw the relationship between her and Peter Quill develop over the first two Guardian movies, and at the beginning of Infinity War.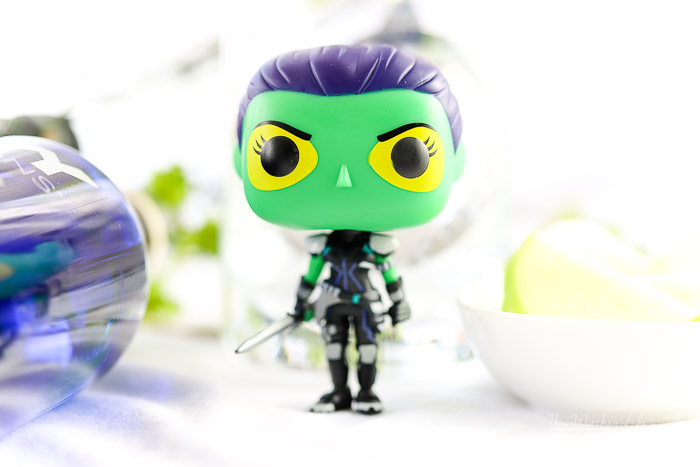 Also in Infinity War, we see quite a bit of dialogue between Gamora and Thanos:
Gamora, Thanos, and the Soul Stone
Red Skull: You should know, it extracts a terrible price (referring to the soul affinity stone).
Thanos: I am prepared.
Red Skull: We all think that at first. We are all wrong.
Red Skull: What you seek lies in front of you. As does what you fear.
Gamora: What's this?
Red Skull: The price. Soul holds a special place among the Infinity Stones. You might say, it is a certain wisdom.
Thanos: Tell me what it needs.
Red Skull: To ensure that whoever possesses it, understand its power. The stone demands a sacrifice.
Thanos: Of what?
Red Skull: In order to take the stone, you must lose that which you love. The stone demands a sacrifice.
Gamora: All my life I dreamed of a day, a moment, when you got what you deserved. And I was always so disappointed. But now, you kill, and torture and you call it mercy. The universe has judged you. You asked it for a prize, and it told you no. You failed. And do you wanna know why? Because you love nothing. No one. Really, tears?
Red Skull: They are not for him.
Gamora: No, this isn't love!
Thanos: I ignored my destiny once. I cannot do that again. Even for you.
______________________________________________________________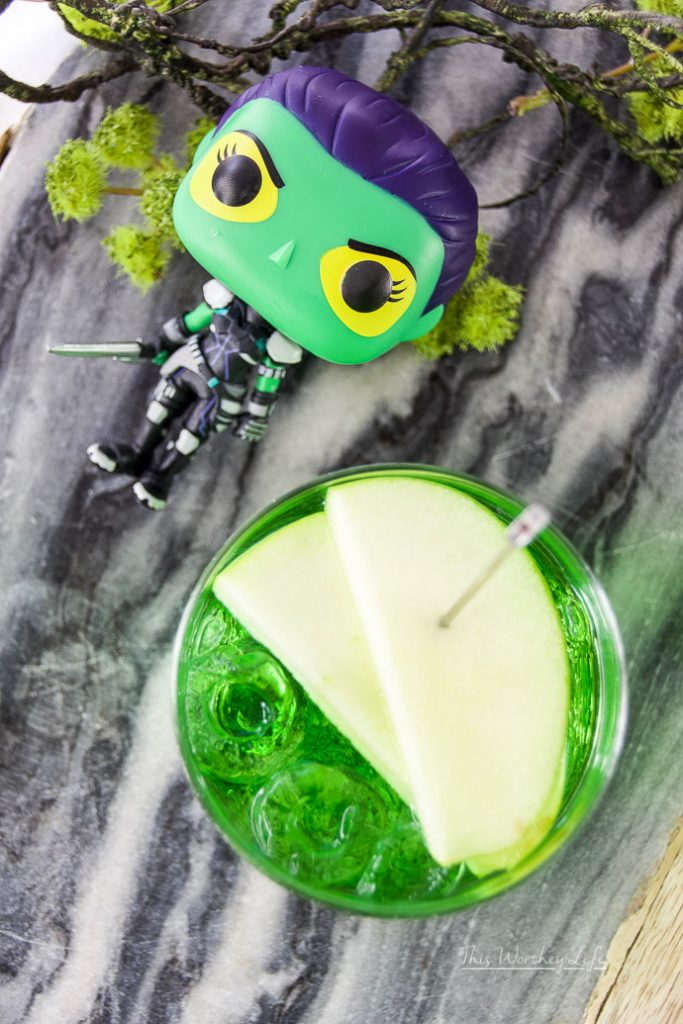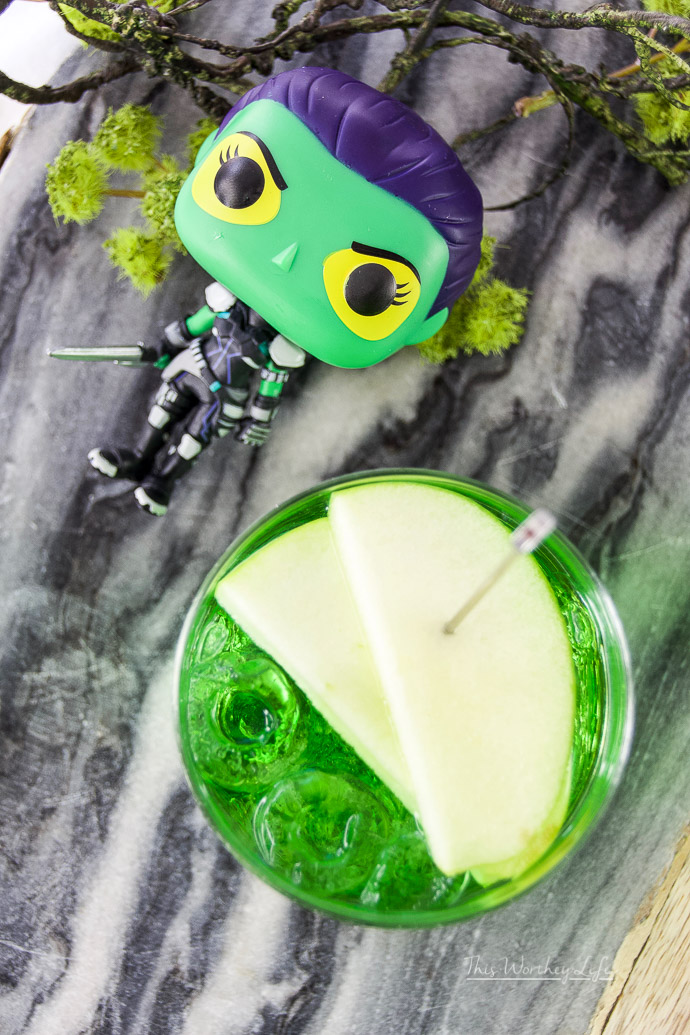 Infinity War Gamora and Thanos Dialogue
Gamora: I hate that chair.
Thanos: So I've been told. Even so, I'd hope you would sit in it one day.
Gamora: I hated this room. This ship. I hated my life.
Thanos: You told me that too. Every day. For almost 20 years.
Gamora: I was a child when you took me.
Thanos: I saved you.
Gamora: No, no, we were happy on my home planet.
Thanos: Going to bed hungry. Scrounging for scraps. Your planet was on the brink of collapse. I was the one who stopped that. You know what's happened since then? The children born have known nothing but full bullies and clear skies. It's a paradise.
Gamora: Because you murdered half the planet.
Thanos: A small price to pay for salvation.
Gamora: You're insane.
Thanos: Little one, it's a simple calculus. This universe has finite its resources, finite… if life is left unchecked, life will cease to exist. It needs correcting.
Gamora: YOU DON'T KNOW THAT!
Thanos: I'm the only one who knows that. At least I'm the only who the will to act on it. For a time, you had that same will. As you fought by my side, daughter.
Gamora: I'm not your daughter. Everything I hate about myself, you taught me.
Thanos: Then in doing so, made you the fiercest woman in the Galaxy.
______________________________________________________________
If you're reading this, then you know the fate of Gamora. We're all hoping, some kind of way, Quill or Nebula finds a way to bring her back. Considering her life was given up in exchange for the soul stone, it's possible the soul stone will bring her back.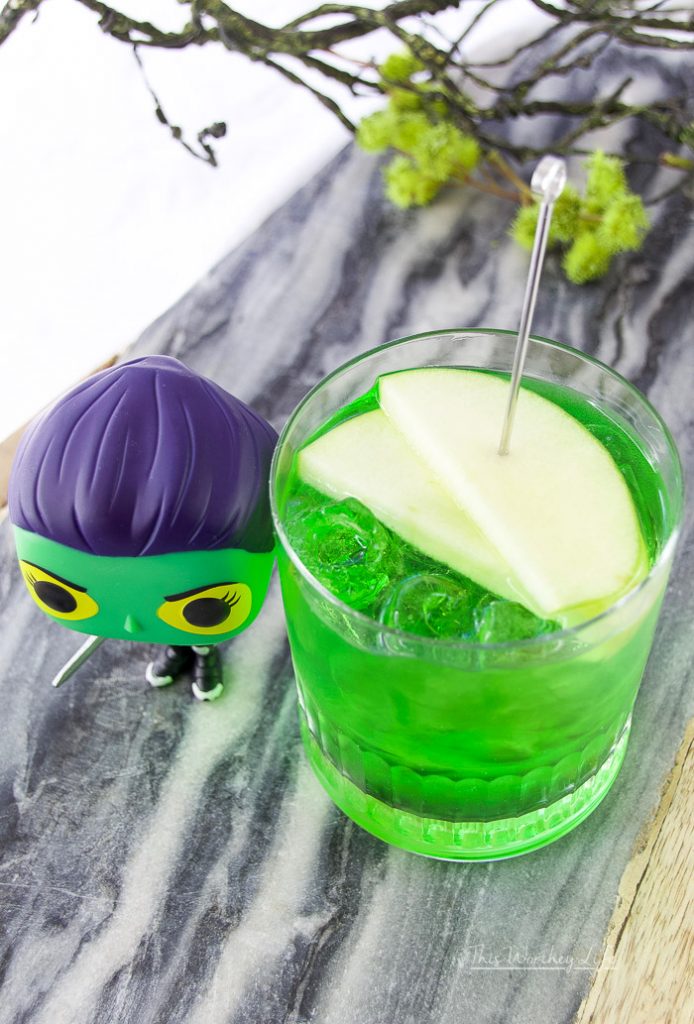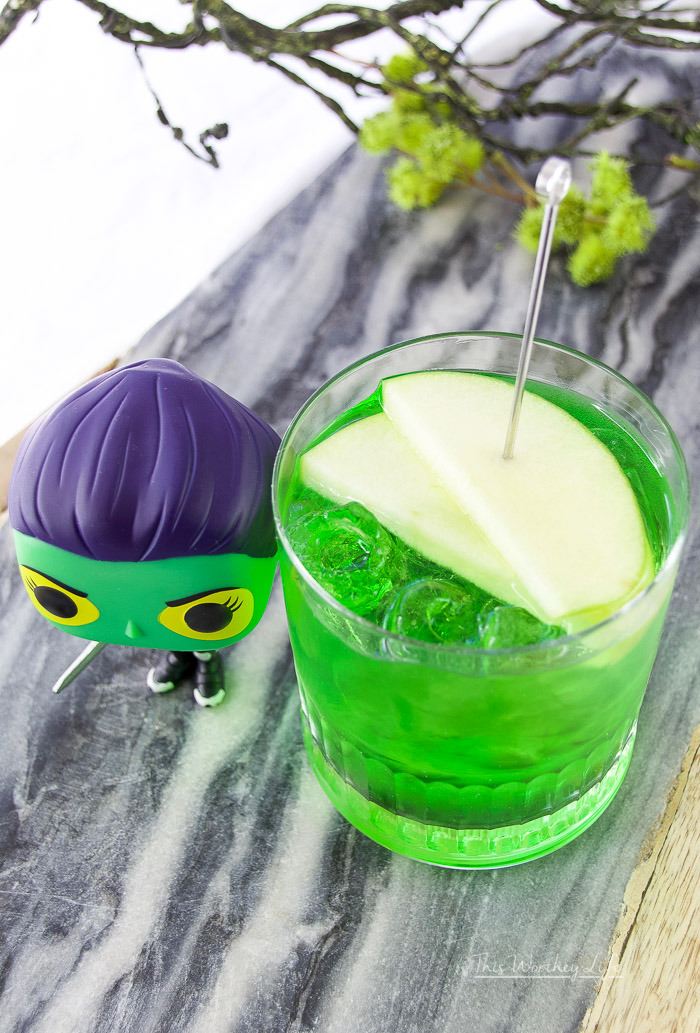 Goodbye Gamora, but you should have never told Thanos about the location of the Soul stone on the planet Vormir. Yes, Thanos was torturing your adopted sister Nebula, had her strung out like a Scottish bagpipe playing the sourest and painful of notes. But she saved your life and you saved her's. So, in the end, you gave up the Soul stone's and ultimately your life in the bargain.
However, there's this theory. Gamora's life was given in exchange for Thanos to have the Soul Stone. So, is she really dead? Could the soul stone be given back or some kind of way her soul gets released from the Soul stone? I think that's what's going to happen. And, at the end of the movie, the younger Gamora shows up and says:
Thanos: [ to young Gamora] Daughter.
Gamora: Did you do it?
Thanos: Yes.
Gamora: What did it cost?
Thanos: Everything!
So, based on this information- I think Gamora is just trapped, not dead.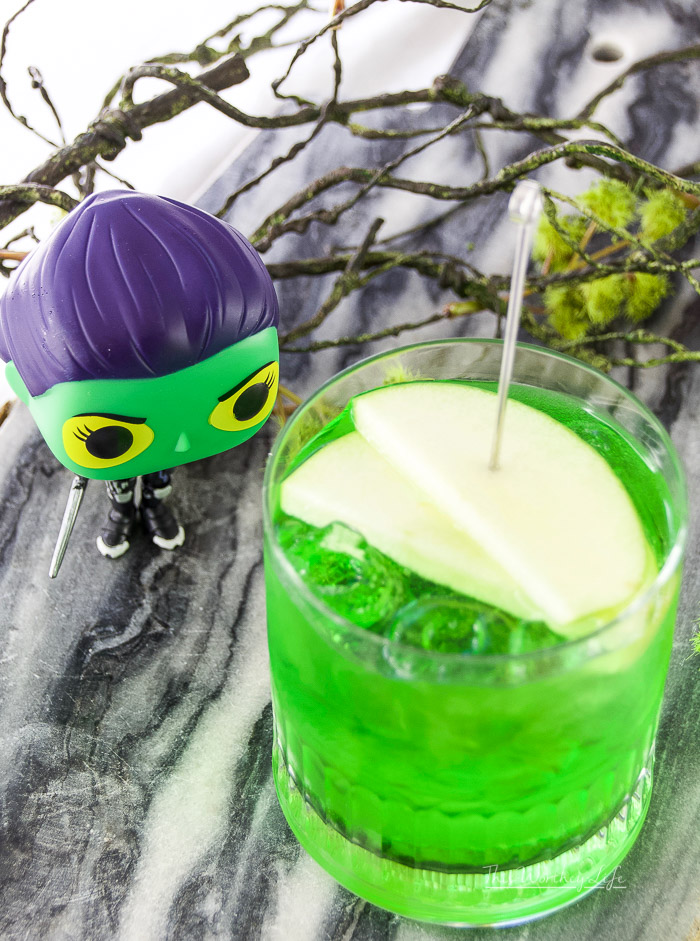 Gamora: The Ultimate Sacrifice Cocktail
Ingredients:
1 ounce Skyy Honeycrisp Vodka
1 ounce Midori Melon Liqueur
1/2 ounce Green Apple Syrup
2 ounces apple flavored soda
ice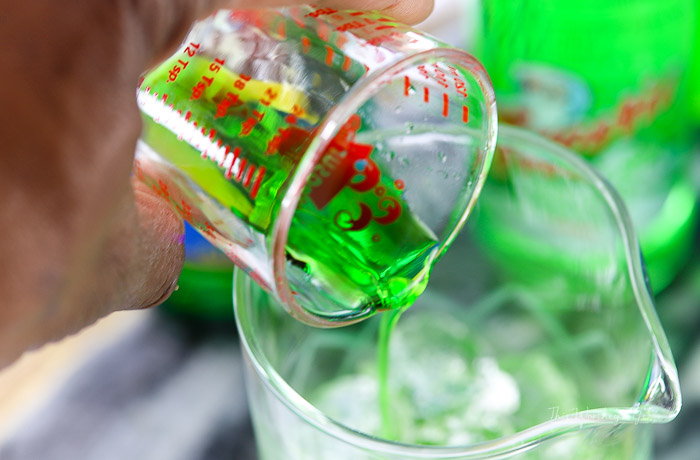 Directions:
Into a cocktail mixing glass add the Honeycrisp apple vodka, melon liqueur, green apple syrup, green apple flavored soda, and lots of ice.
Mix well for 30 seconds and strain into serving glass filled with ice.
Garnish with apple slices and serve.
Enjoy, and always drink responsibly. Infinity War is now playing in a theater near you!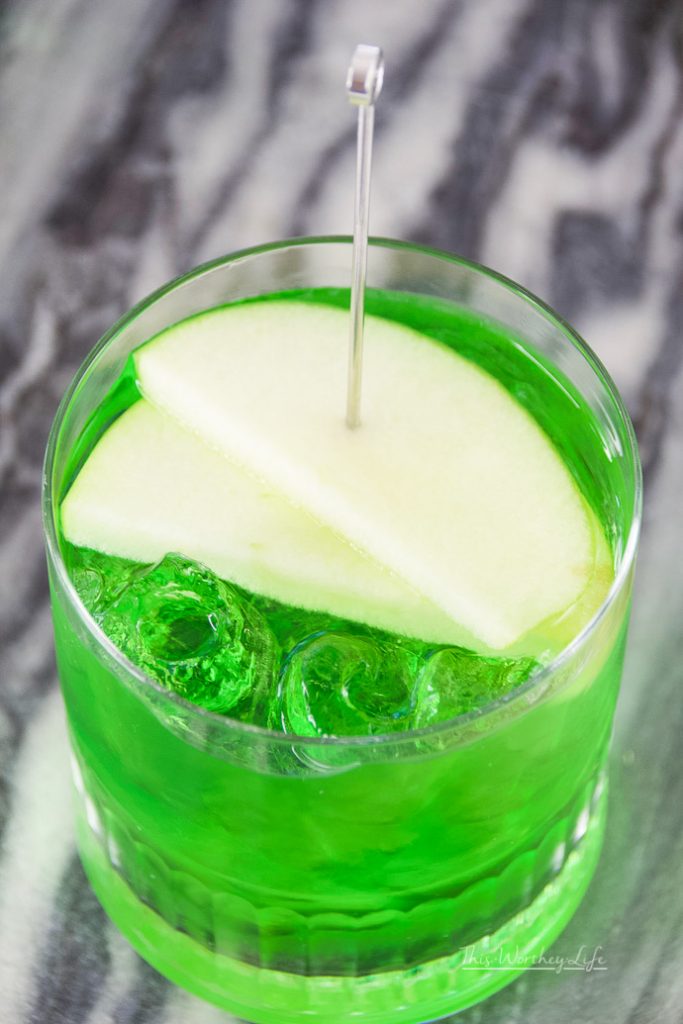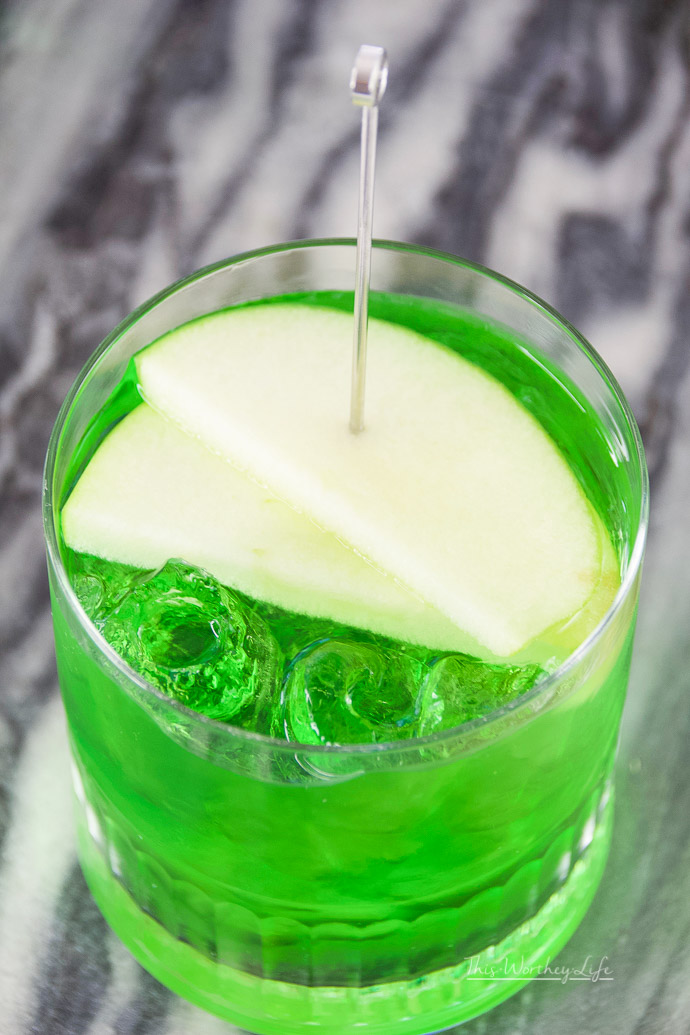 Pin and share this recipe!