This is a sponsored post written by me on behalf of EasyHomeMeals.com, a food and lifestyle blog sponsored by the National Frozen and Refrigerated Foods Association (NFRA). All opinions are 100% mine.
This new year, we're making it a goal to find easier yet delicious recipes to incorporate in our meatless Monday routine. Newsflash! Your next meatless Monday or Taco Tuesday is happening with this crispy hash brown taco recipe, and it would be a pretty good idea to grab what you need from the frozen food and dairy section of your favorite grocery store.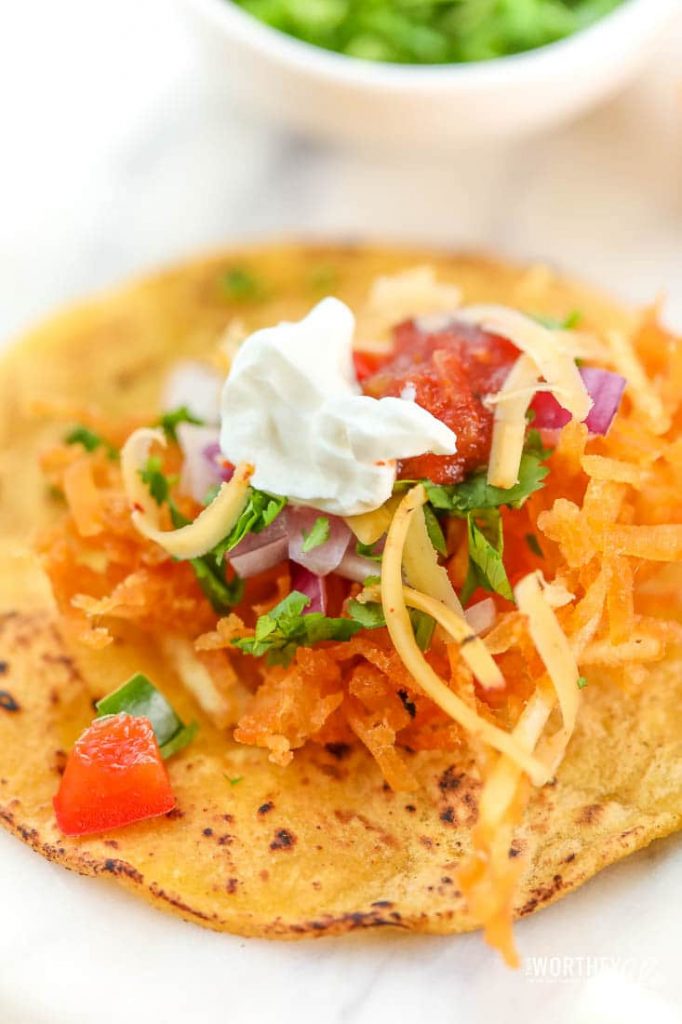 Crispy Hash Brown Taco Recipe
Did you know freezing foods is one of the best ways to preserve the freshness of many of the foods we eat, especially vegetables? It's true, and we've been putting our food on ice for a few centuries now, and the practice isn't going anywhere soon. Today, we're raising awareness about all of the exceptional items in the frozen food and dairy section that can make any mealtime memorable. Learn more about the National Frozen and Refrigerated Foods Association (NFRA).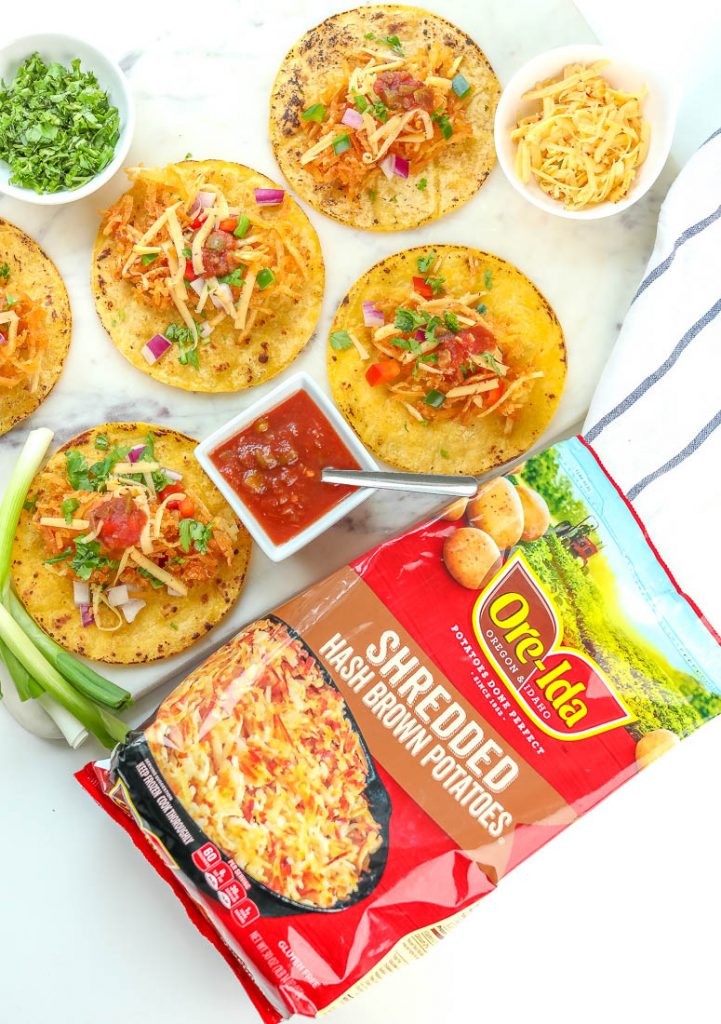 Since their humble beginning over 60 years ago, Ore-ida® Potatoes has been producing All-American quality since 1952. So, chances are, if you like potatoes, you're going to love so many of their wonderful products. You can find Ore-Ida in the frozen food section at your neighborhood grocery store. Frozen foods can often get a bad rap from people assuming it's not quality food. It's real food… just frozen. Made with real, nutritious ingredients. The next time you're in the grocery store, take time to read the labels on some of those frozen food items.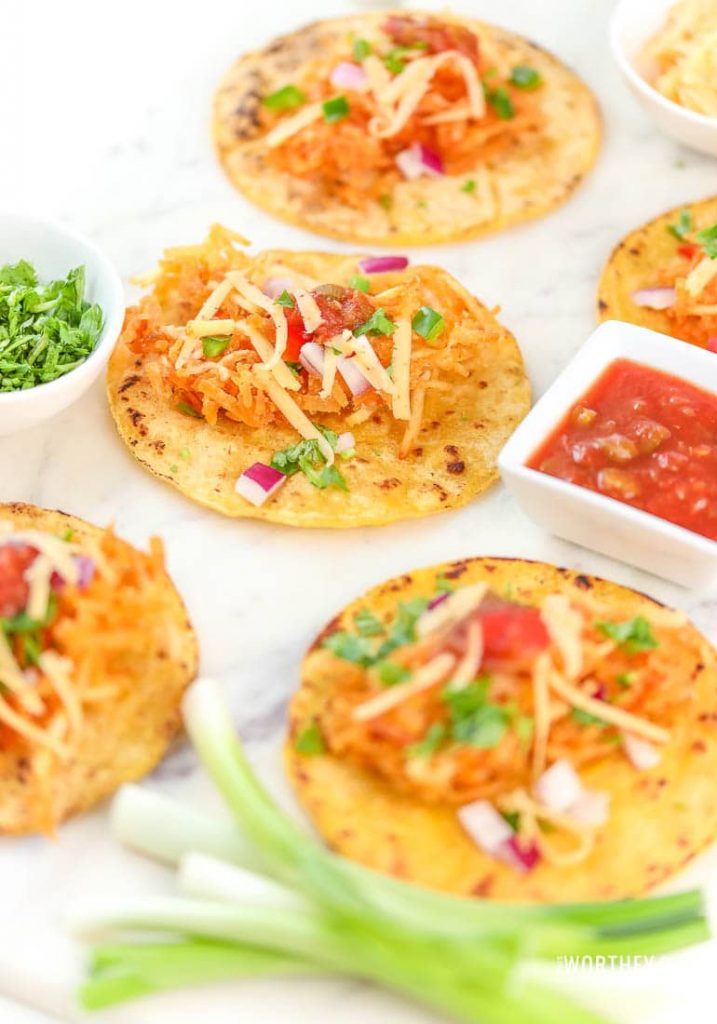 Meatless Monday Meal Idea
Recently, for meatless Monday dinner, I prepared Crispy Hash Brown Tacos for our boys, and they loved them! I've made meatless tacos before for my family, and although they were good, they didn't get the same two-thumbs-up reaction as the hash brown tacos.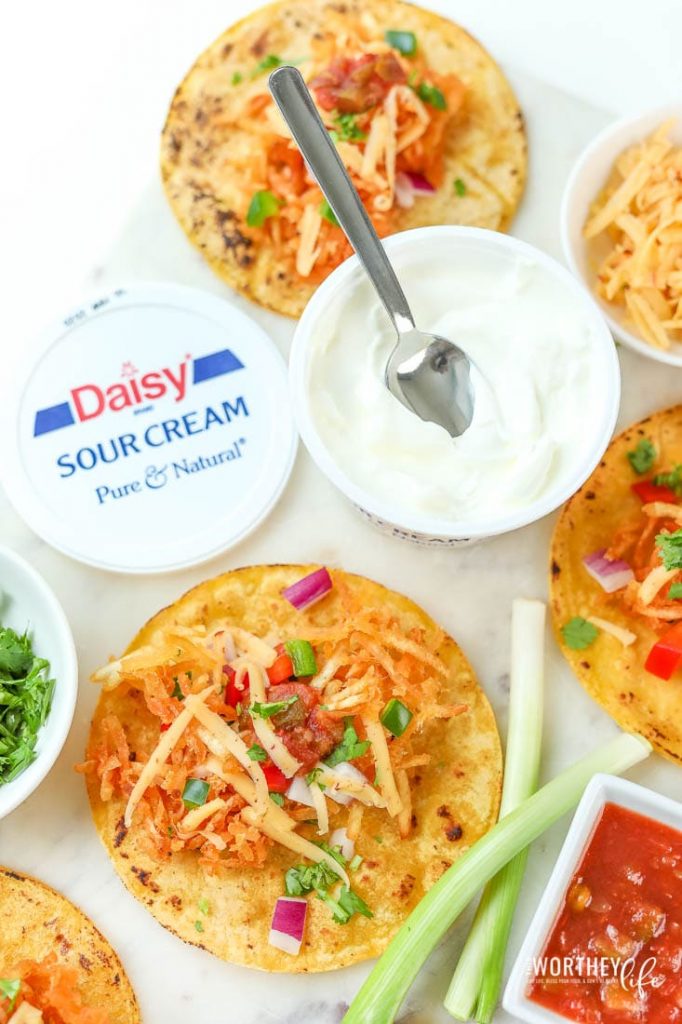 Crispy Hash Brown Tacos. I think I may be onto something! These tacos are so good; your taste buds will not have time to miss the meat. Yes, they're that freaking good! The crispy hash brown flavor inside of a corn tortilla piled high with all of your favorite taco toppings sounds like a no-brainer to me.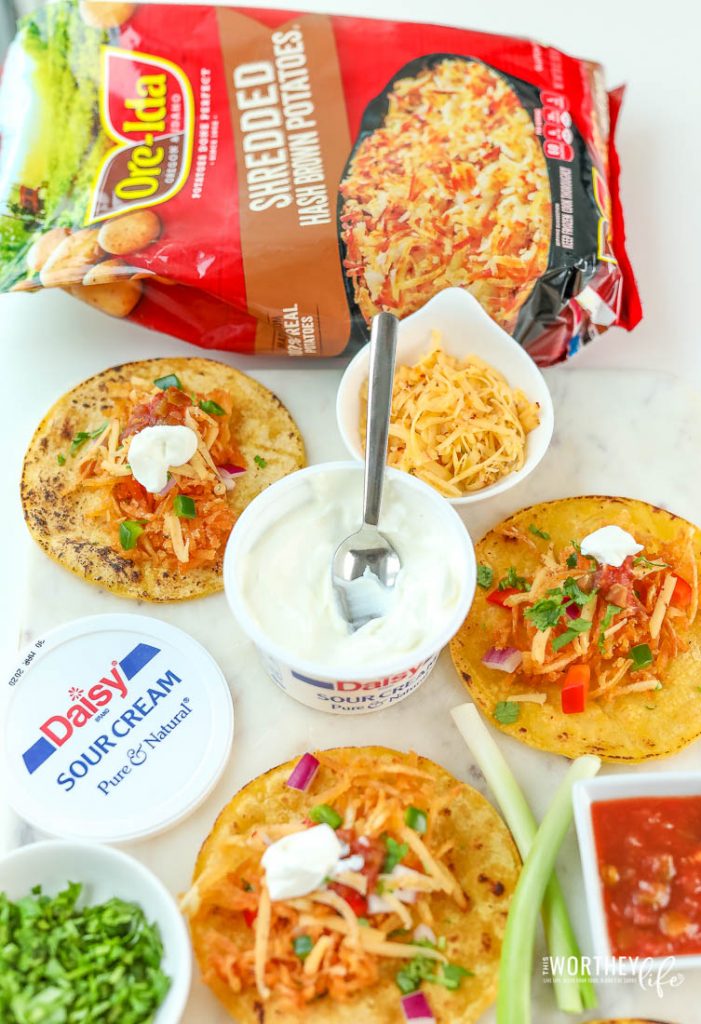 And if you're making tacos with the best hash brown potatoes, you gotta have America's favorite sour cream. Besides, what's the point if you don't have a healthy dollop of Daisy® Sour Cream? You can find a variety of Daisy dairy products as well as their reduced-fat Daisy Light Sour Cream in your local grocery store.

The Ingredients You'll Need To Make Our Crispy Hash Brown Tacos Recipe:
Ore-Ida Shredded Hash Brown Potatoes. Frozen hashbrowns are one of my favorite breakfast sides, but here they're playing a leading role in one of our Meatless Monday favorites.
Corn Tortillas. In my humble opinion, there's nothing better than a good corn tortilla, and what makes them even better is warming them up in the skillet.
Fresh Veggies. Go ahead and pile on the veggies like red onion, red bell pepper, fresh cilantro, and diced jalapenos.
Daisy Sour Cream. It's hard to have a respectable taco without the fresh savory tang of good sour cream.
Salsa. One of my favorite toppings for tacos has to be without a shred of doubt, salsa! I prefer my salsa on the hot and spicy side.
You Will Love Our Crispy Hash Brown Tacos Because:
Easy

Savory

Meatless

Perfect For Breakfast

Under 30 Minutes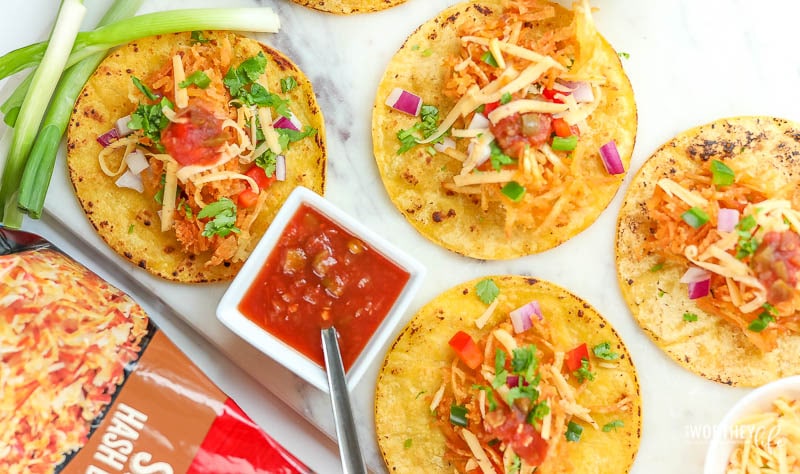 Crispy Hash Brown Taco Recipe
Ingredients:
3 cups Ore-Ida Frozen Hashbrowns

1 1/2 cups vegetable oil

5 corn tortillas

1 medium red onion diced

1 large red bell pepper

3 jalapenos seeds and pith removed and chopped

1/2 cup fresh cilantro chopped

Daisy Sour Cream to taste

Salsa to taste

Canola cooking spray for warming the corn tortillas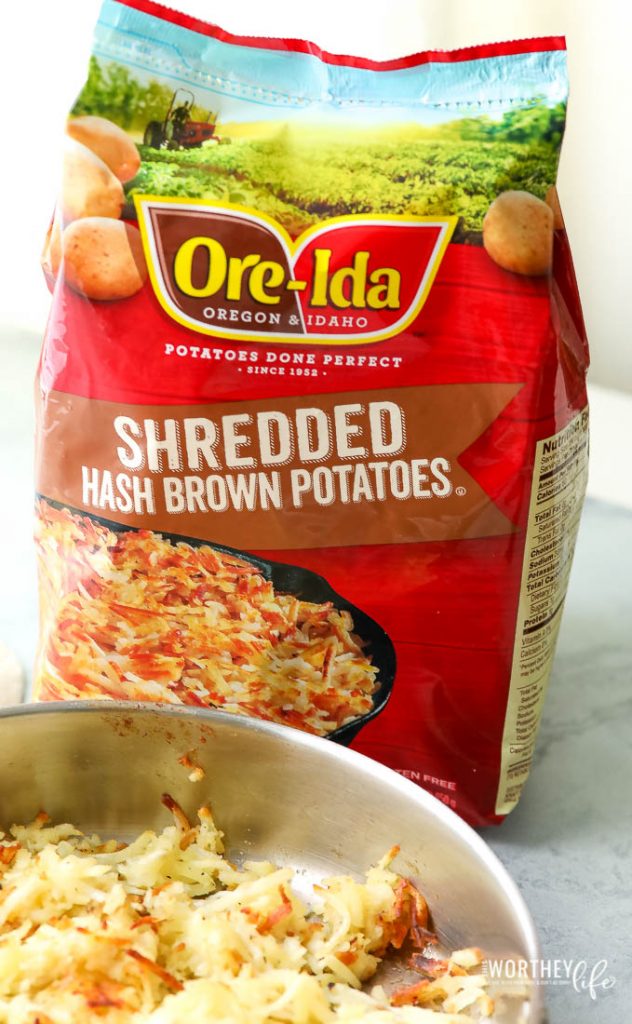 Directions:
Prepare hashbrowns according to the package instructions. For this recipe, I like my hashbrowns crispy, so I deep-fried them until they were golden brown and crispy.

I warmed the corn tortillas using a skillet and a little bit of canola cooking spray.

Build each crispy hashbrown taco with your favorite toppings. I loaded on red onion, red bell pepper, jalapenos, cilantro, salsa, and a healthy spoonful of sour cream.

Serve.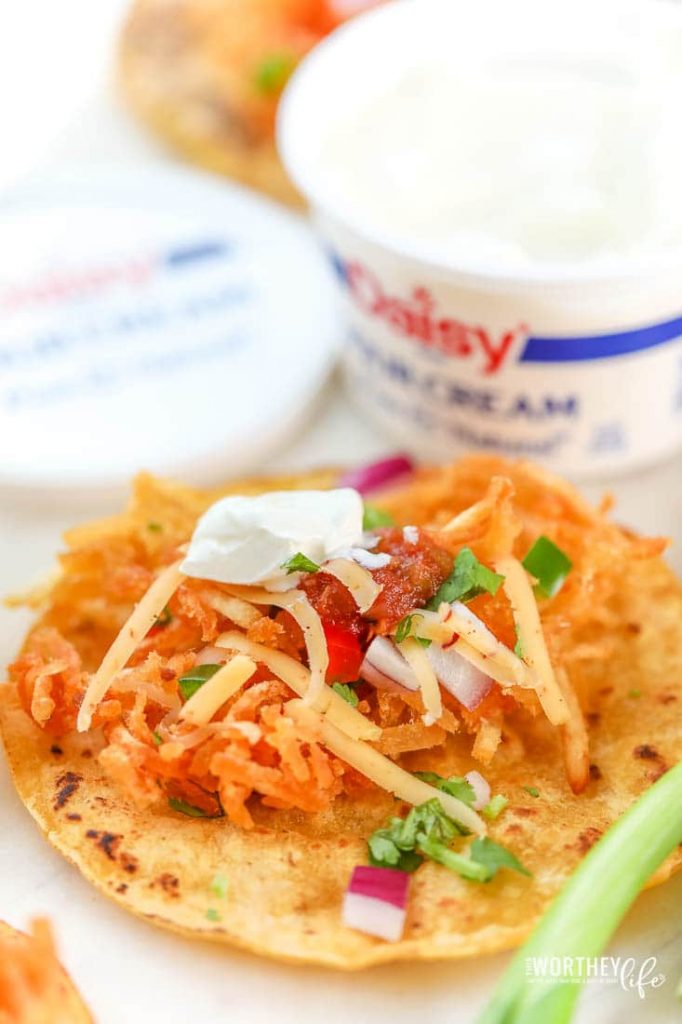 You have the recipe, so let's make meatless Monday great again with our Crispy Hash Brown Tacos with Daisy Sour Cream. Learn more about the frozen food and dairy products you can use for easy meal ideas and creative twists by going to EasyHomeMeals.com.