"This post has been sponsored by Georgia-Pacific Consumer Products. All thoughts and opinions are my own."

Don't let the holiday entertaining stress you out. Use my quick holiday entertaining hacks to help you plan and host holiday dinner at your house when you're short on time.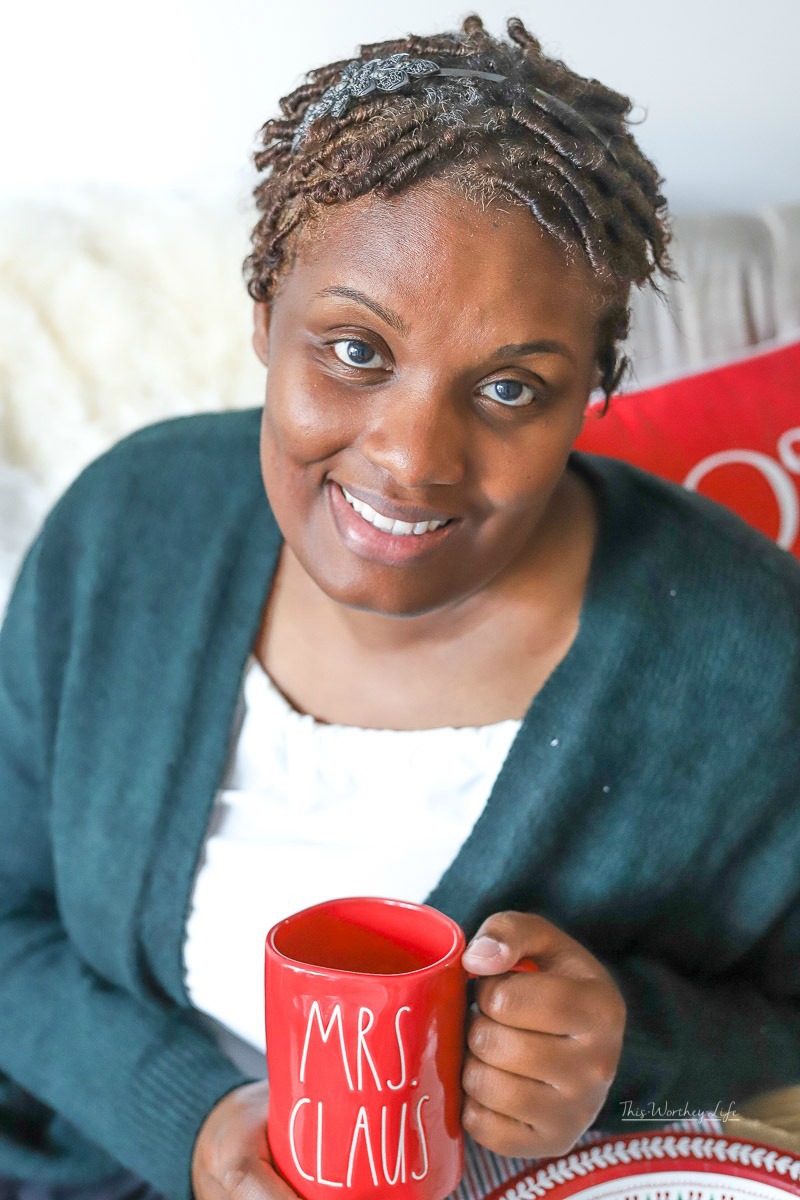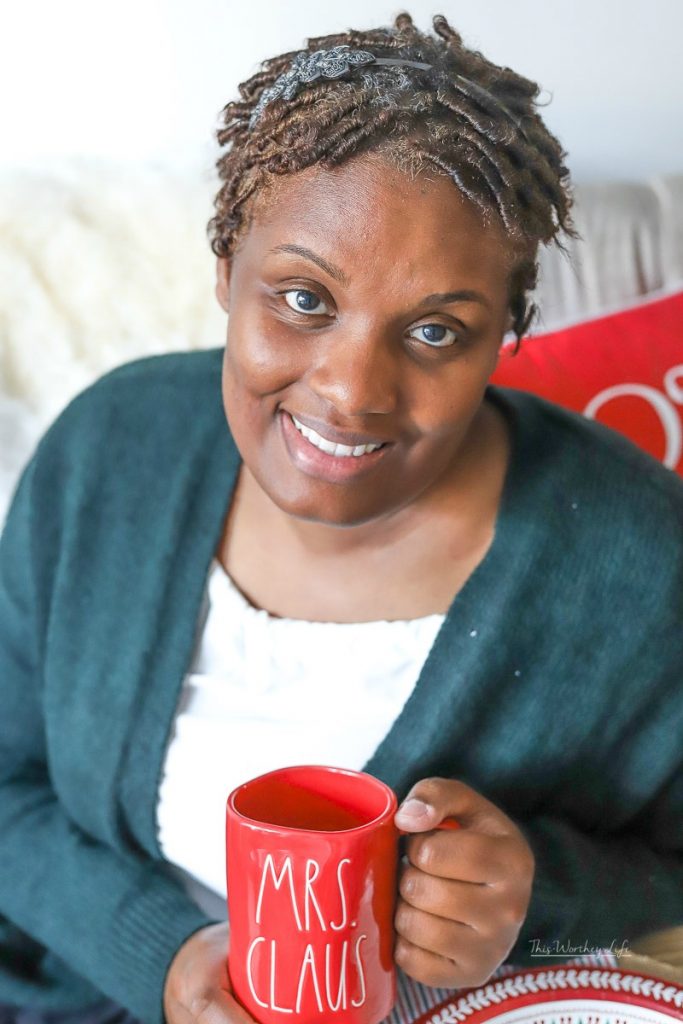 Quick Holiday Entertaining Hacks When You're Short on Time
So we all know the holidays are here. You're probably inundated with tips, things you should do, and a to-do list a mile long. But what if you don't have time to do all the things but you are still hosting people at your house?
Well, I'm sharing a few of my go-to tips for last-minute entertaining, things I do to get ready without a lot of effort, and how both Dollar General and Georgia Pacific products help with all of this! You can call this entertaining tips for lazy people or simple hacks to save you time and stress during the holiday season.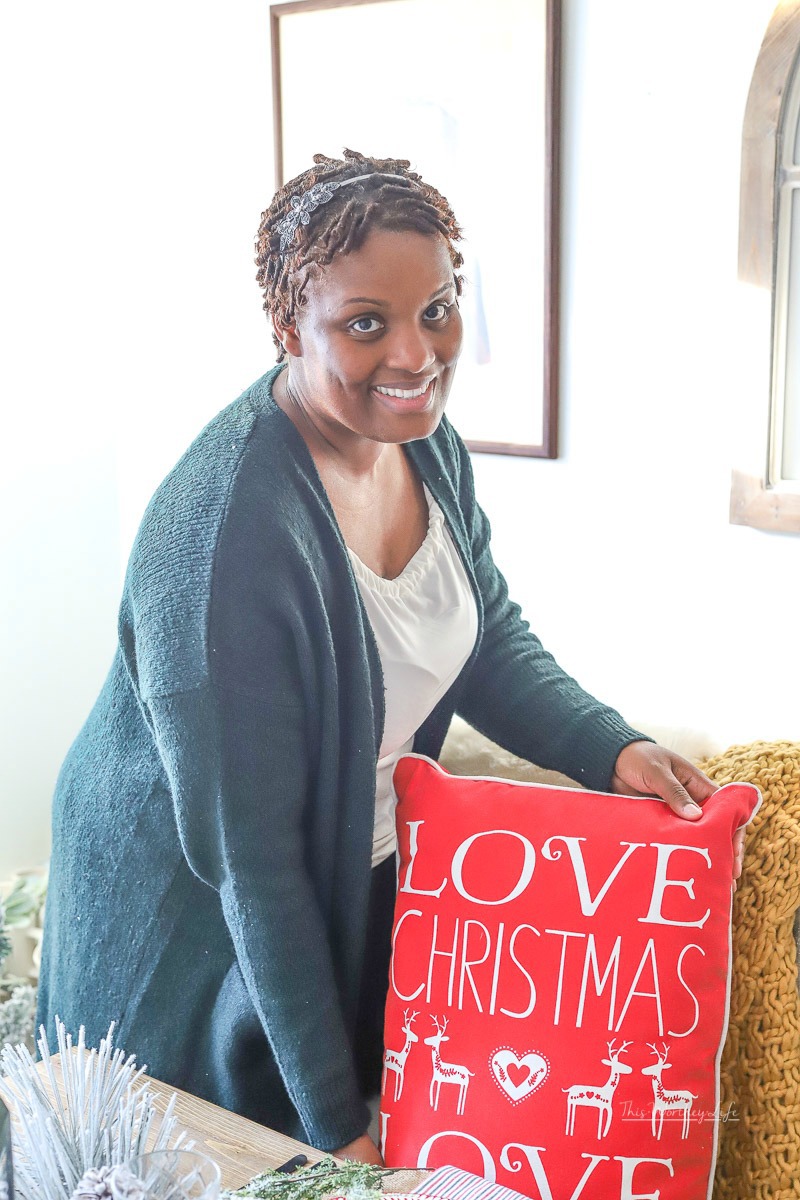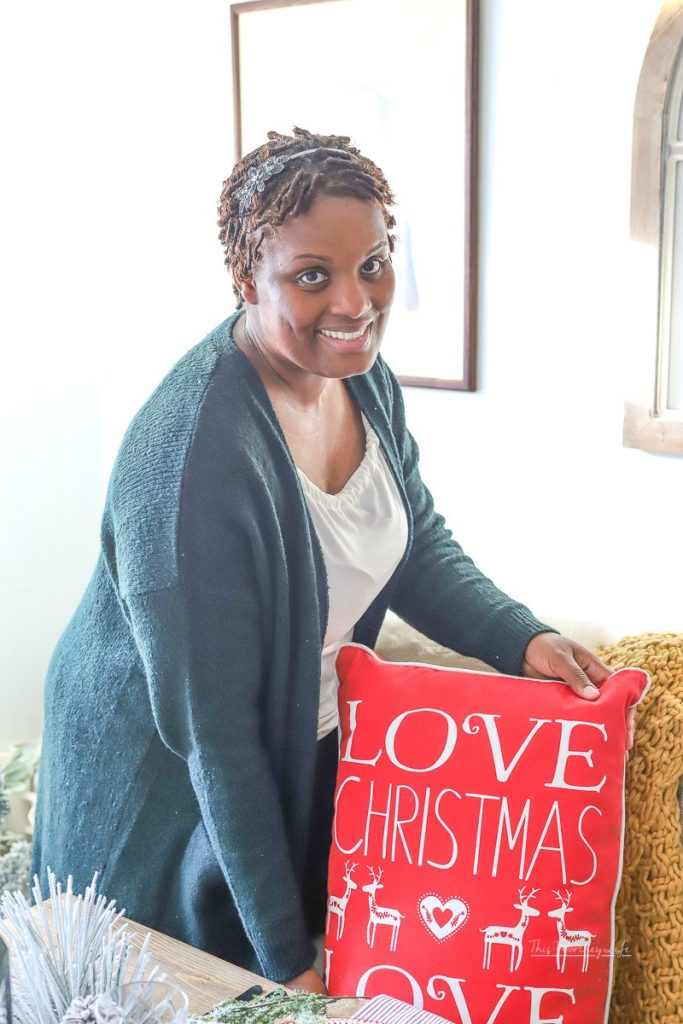 Always make a list. First, give yourself about 10-15 minutes to make a list. Making a list regardless of how much time you have is crucial to pulling everything off. Prioritize things that must get done and essentials, things you can delegate to another person, and stuff that can wait until the last minute.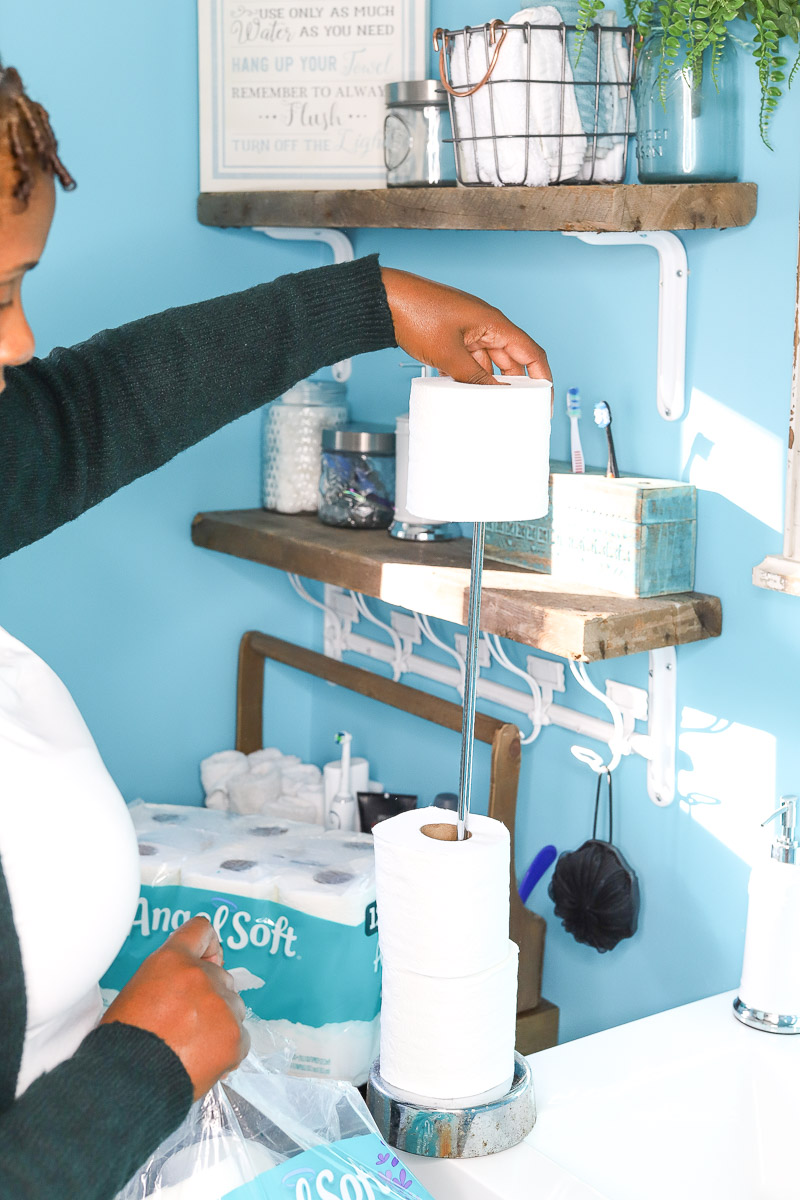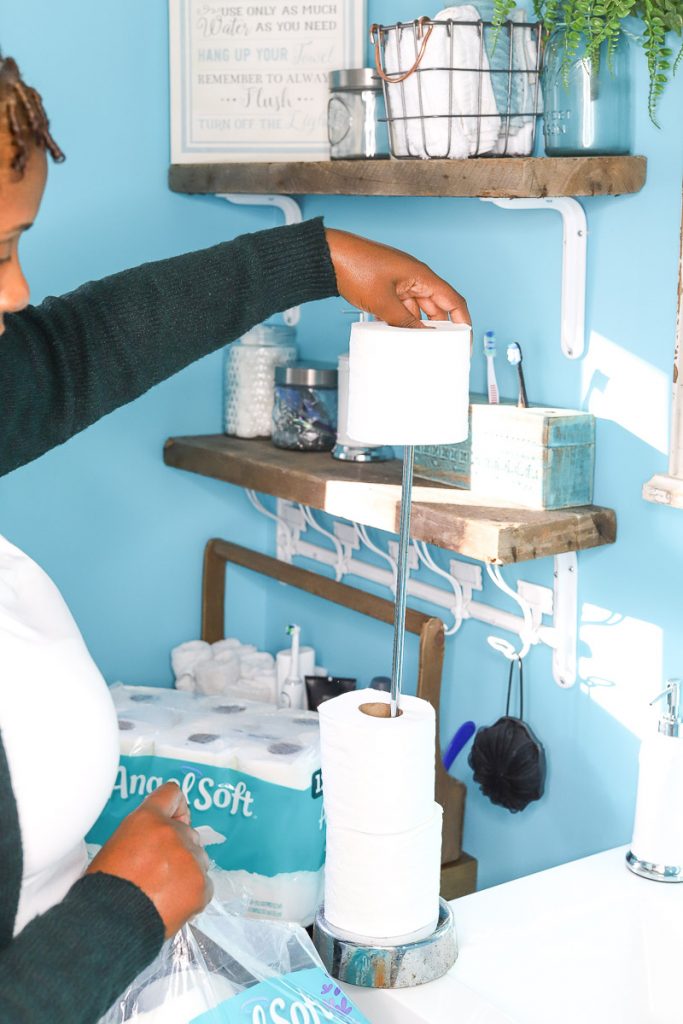 Stock up on essentials. Speaking of essentials, be sure to stock up on a lot of bath tissue. The last thing you want to have is an issue with the tissue. Dollar General carries big packs of Angel Soft® Toilet Paper for a super low price. Going there to stock up on your paper products will not only save you time but money!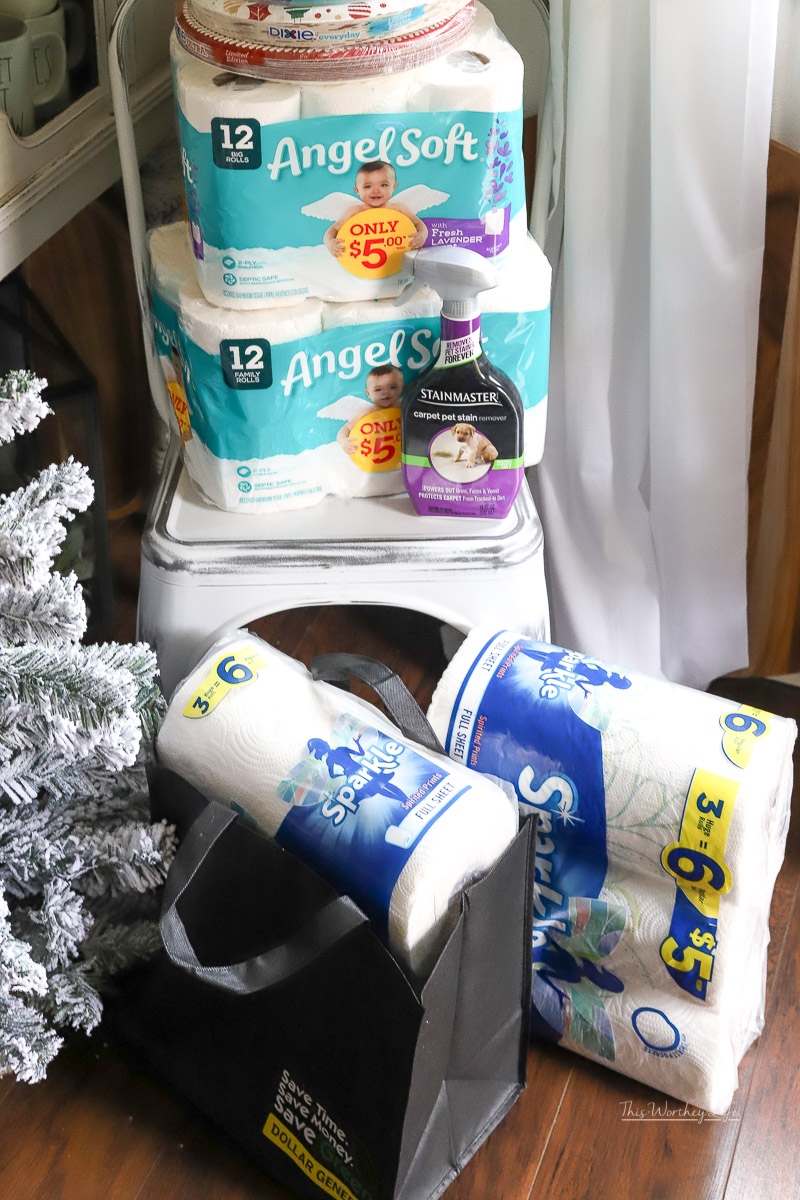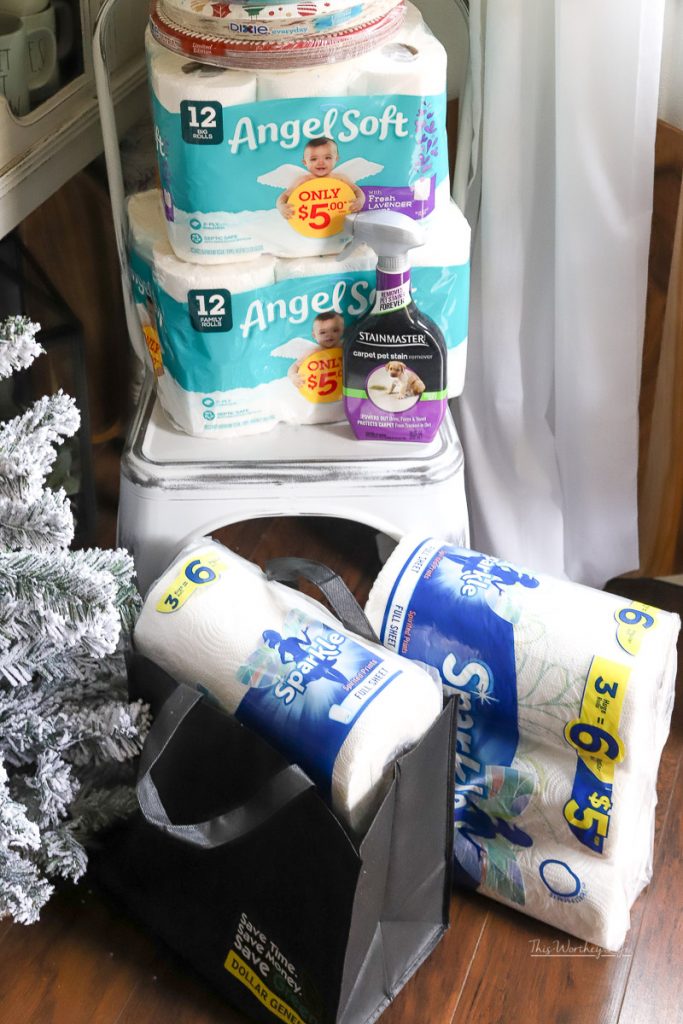 They carry Angel Soft 12-Family and Angel Soft 12-Big. Both packs are great to buy to ensure you have enough tissue in the bathroom.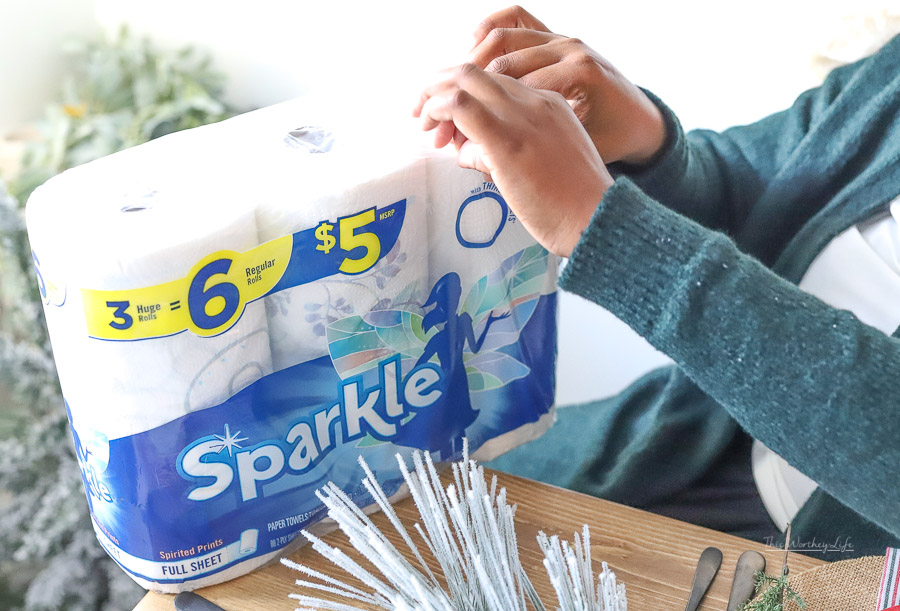 You should also stock up on paper towels. Dollar General carries Sparkle® Paper Towel 6-pack family and 3-huge packs, offering a quality product for a great price. Those oops moments don't clean up by themselves, and having paper towel on hand to clean up messes is crucial. Save even more on Dollar General's already low prices on Georgia-Pacific products like Angel and Sparkle HERE with a coupon!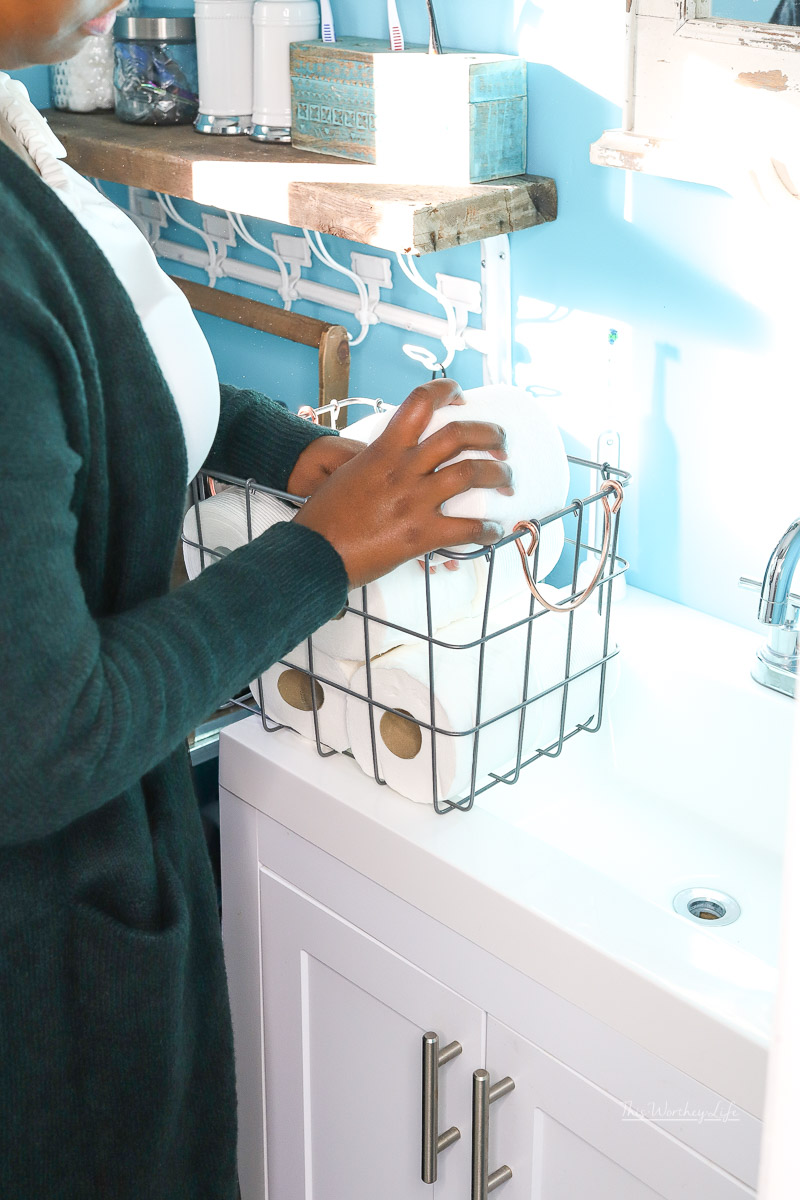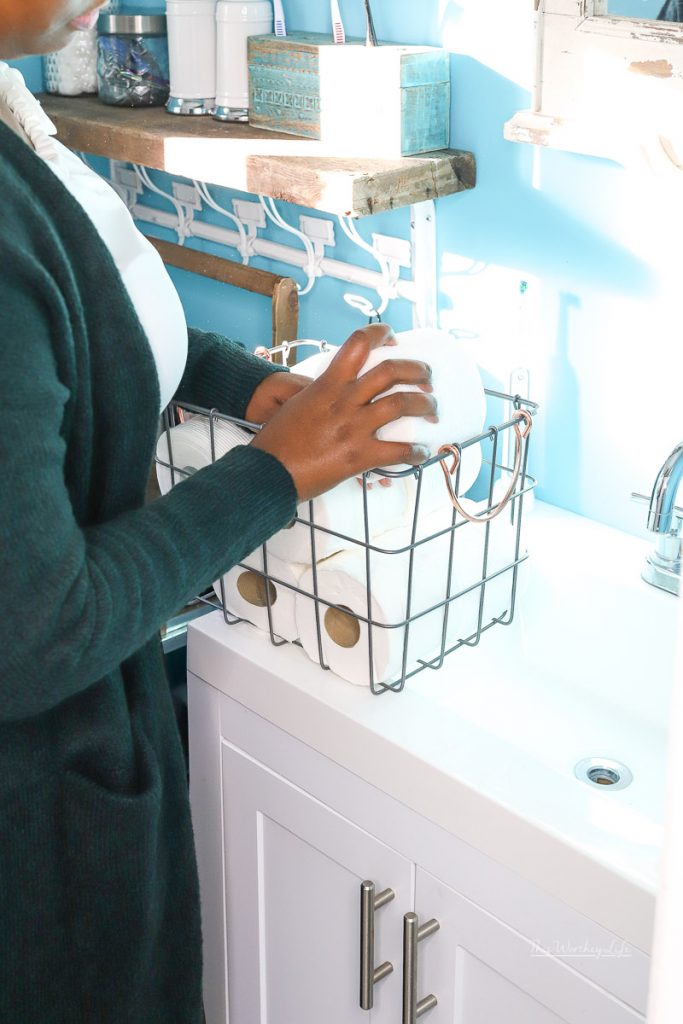 Only clean the areas you plan to use. If you don't plan to have guests in every part of your house, only focus on the parts you plan to use: dining room, living room, and bathroom.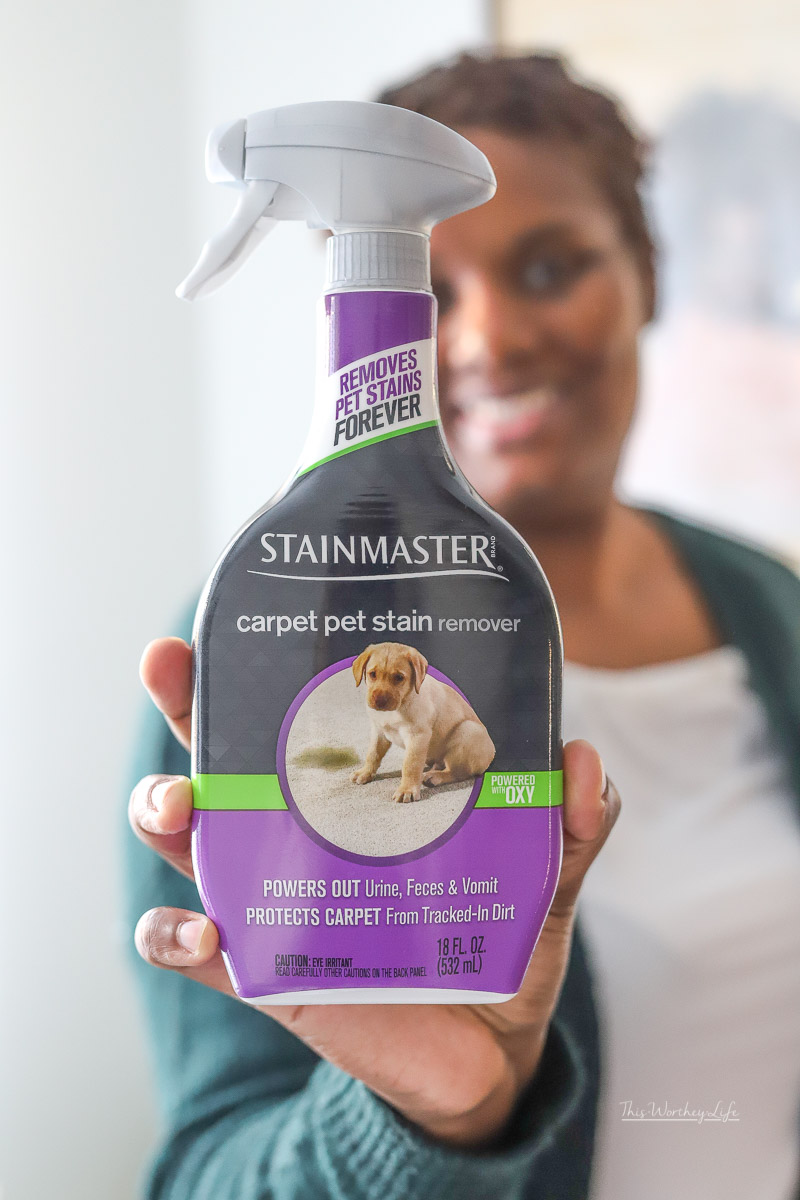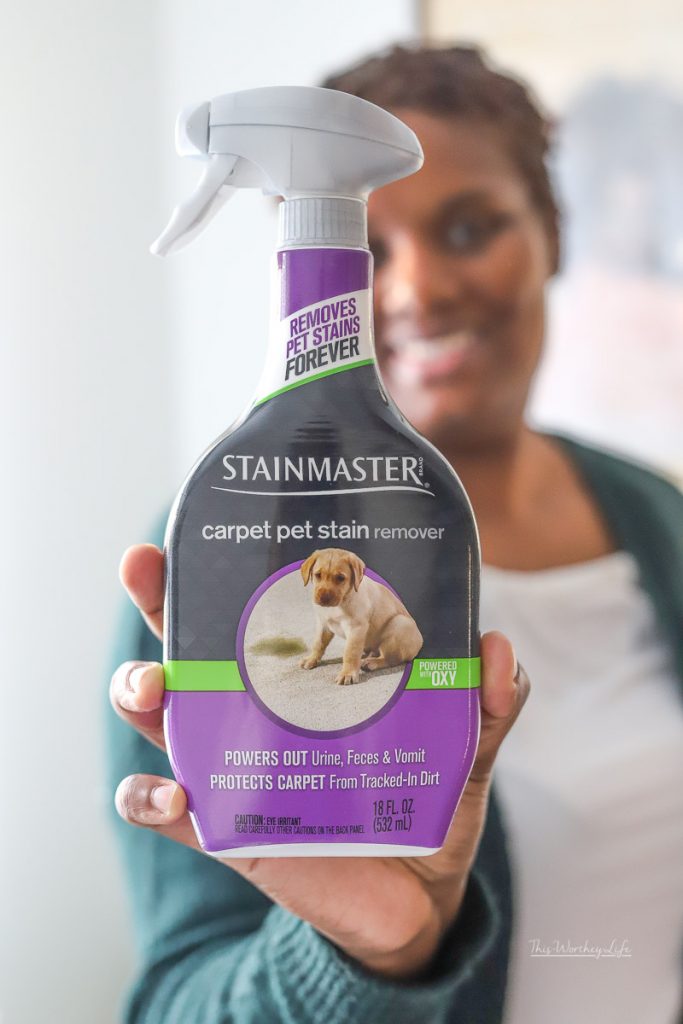 Have pets? If you have pets, you already know the mess they can create around the house. Our Labradoodle is a puppy and still has accidents from time to time. We keep STAINMASTER® Carpet Pet Stain Remover Spray on hand to help with the cleanup. If you have pet stains on your carpet and rugs, I recommend picking up a bottle at Dollar General with your other entertaining essentials. We've been using this since we brought Chance home (over a year now), and it works like a charm. It works for getting rid of urine stains and protecting your carpet from the dirt your pet may bring in the house.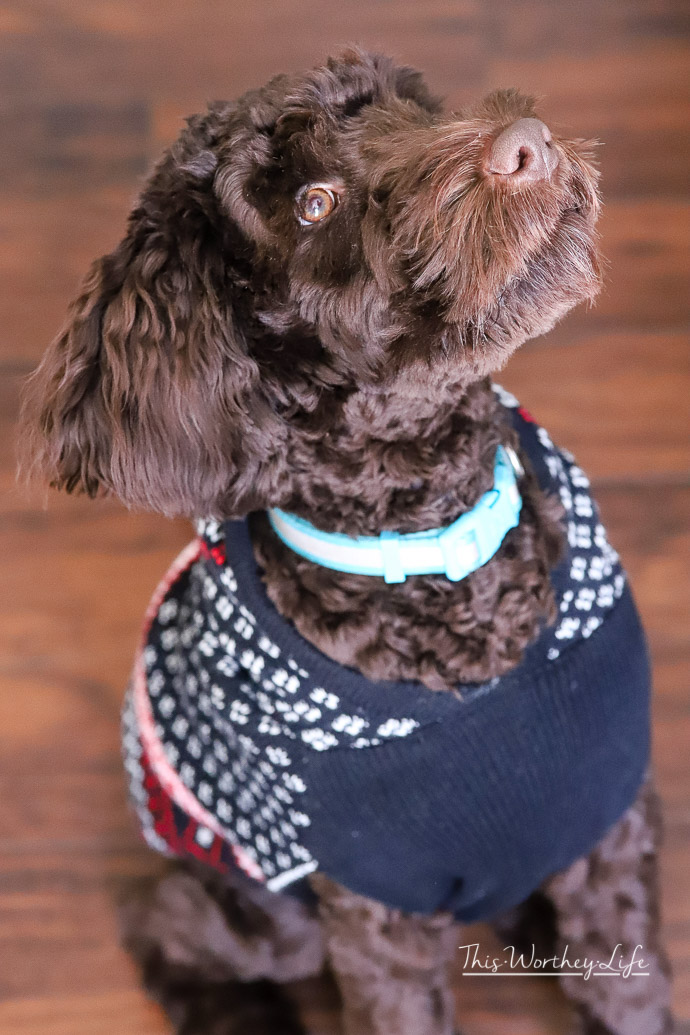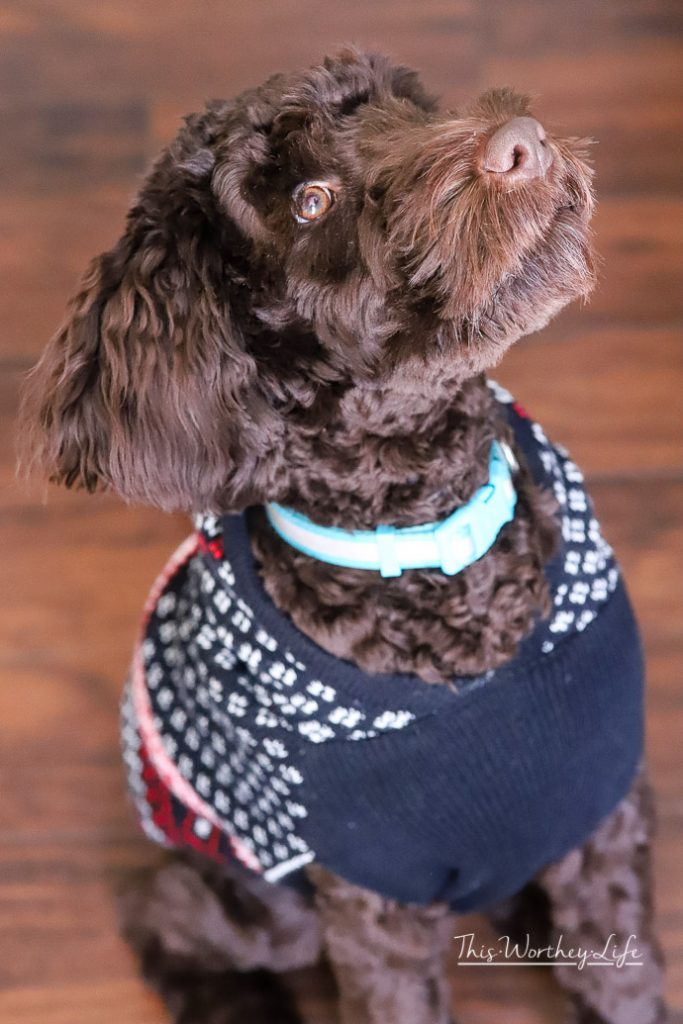 I also recommend having Sparkle paper towels on hand to help clean up messes your pet makes. We also like to buy our puppy treats and toys to help keep him occupied while we're busy with hosting. Dollar General has a nice selection of dog toys and treats, too!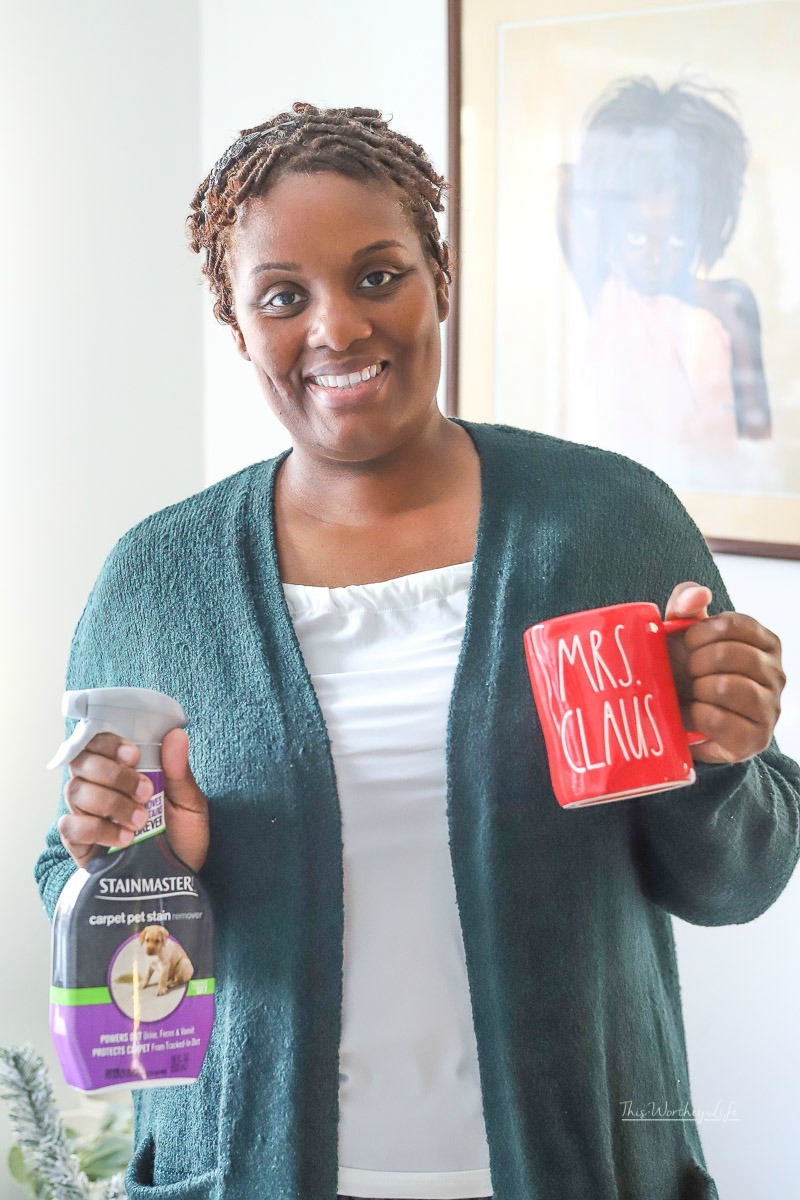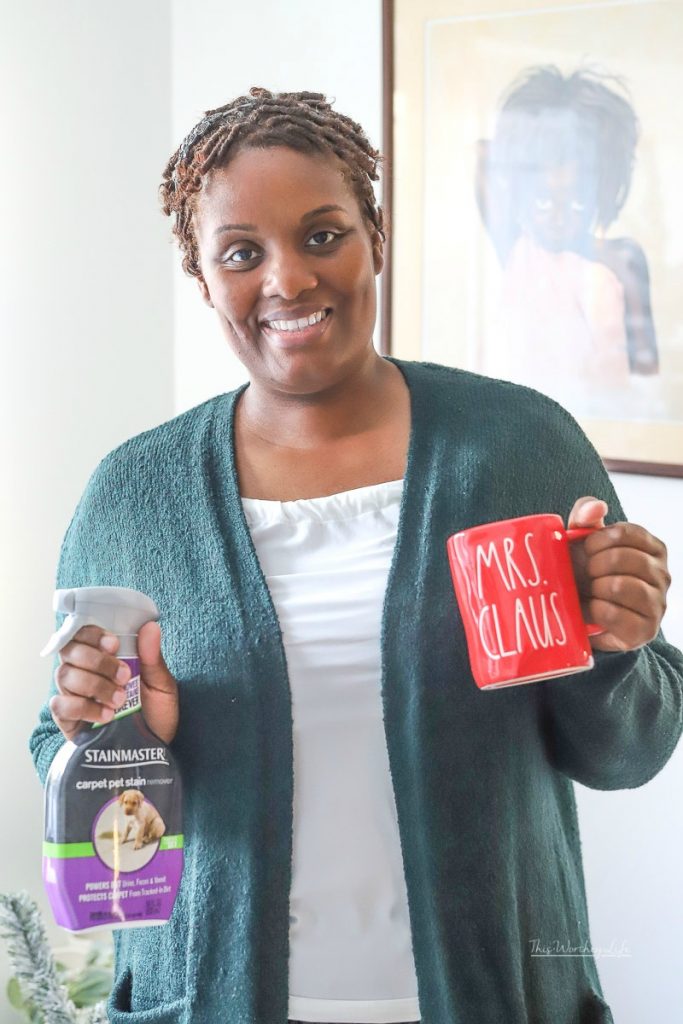 Another tip with pets. If you have a pet that gets anxious when guests come over, they may have accidents. Having the STAINMASTER nearby helps us clean up the mess quickly.
Use tech to help you plan. My smartphone is my lifeline. I use apps like Evernote or the note section in my phone to make lists, plan my menu and set reminders of things I need to do by a particular time. If you're preparing dinner with your partner or another family member, apps will help you communicate with each other.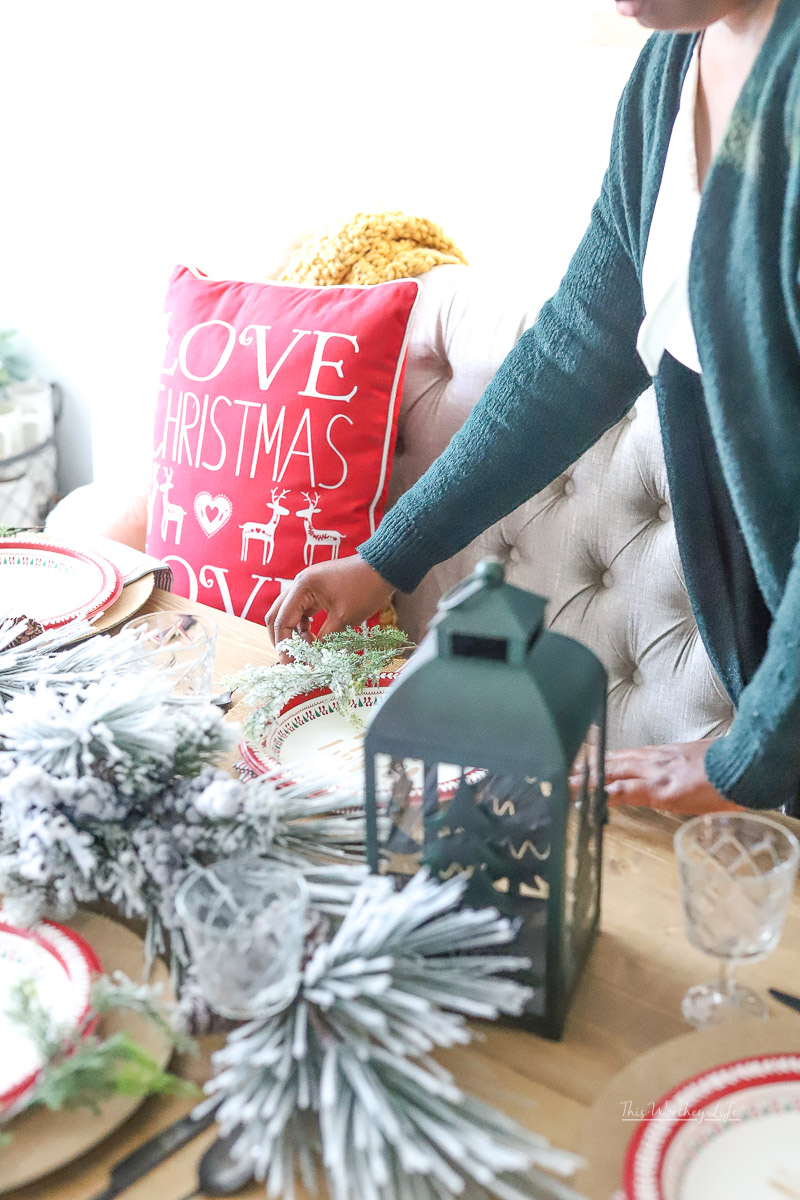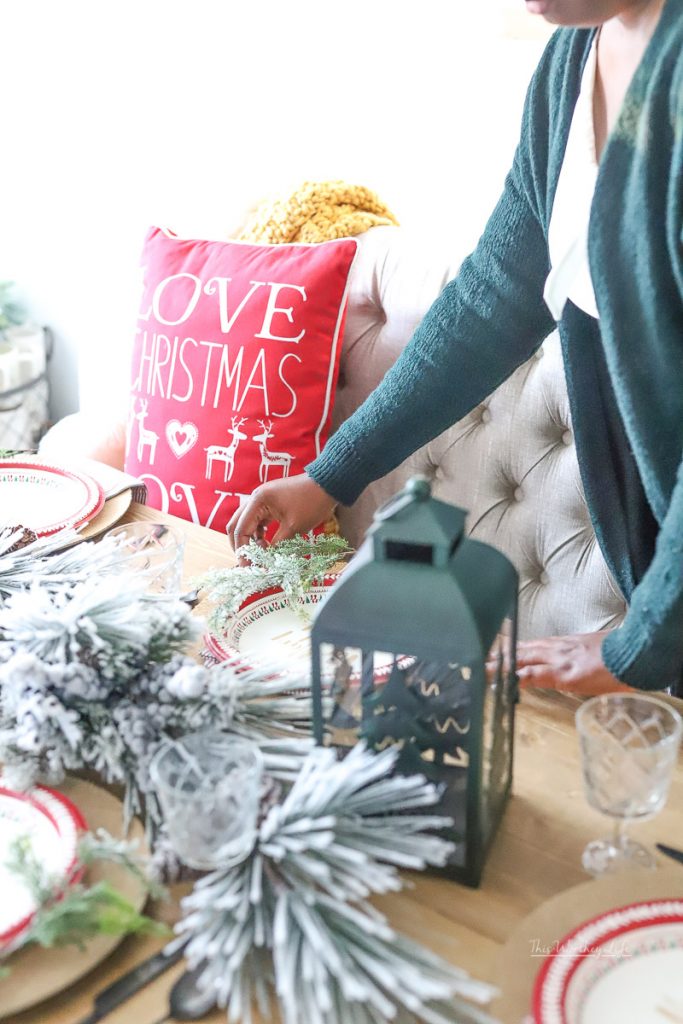 What's for dinner? What do you plan to serve? If you don't have the time to plan an extravagant dinner, keep the menu simple. You can even ask other family members to chip in. When my family gets together, we all share the load in cooking holiday dinner. It may be hosted at our house but everyone brings a dish or two to ease the burden off of us.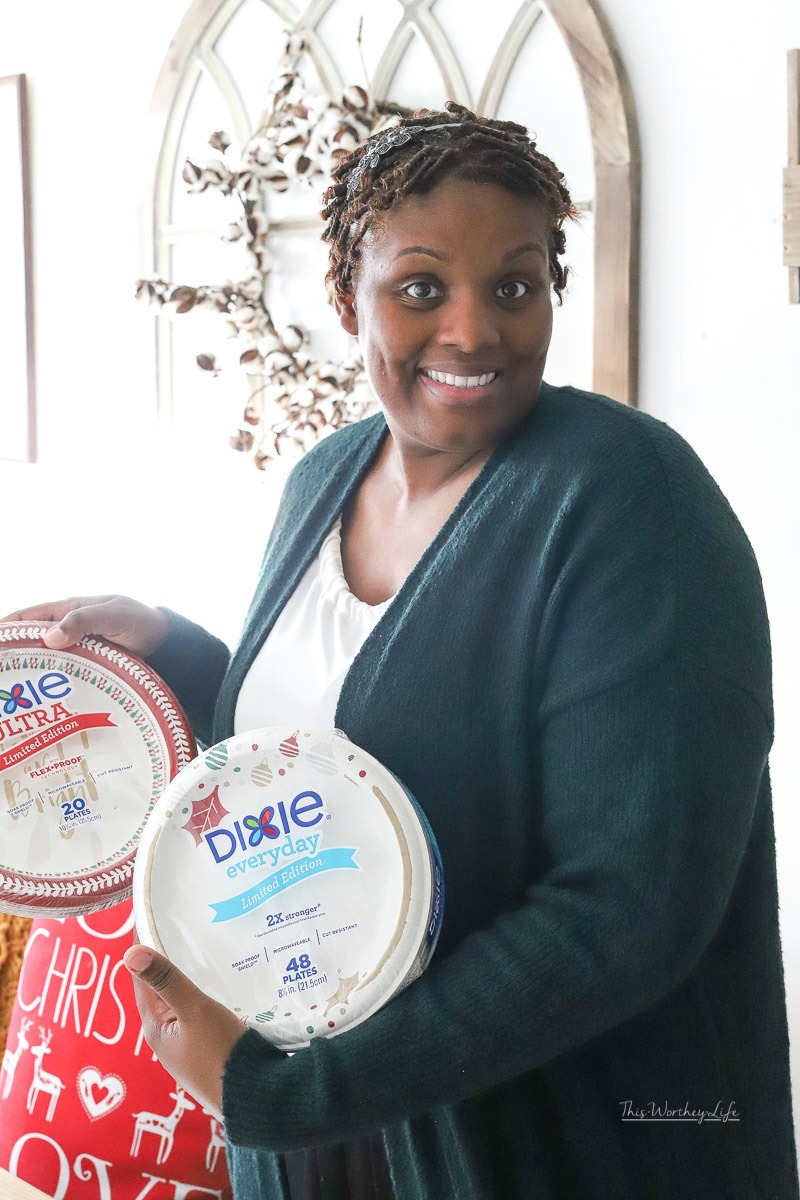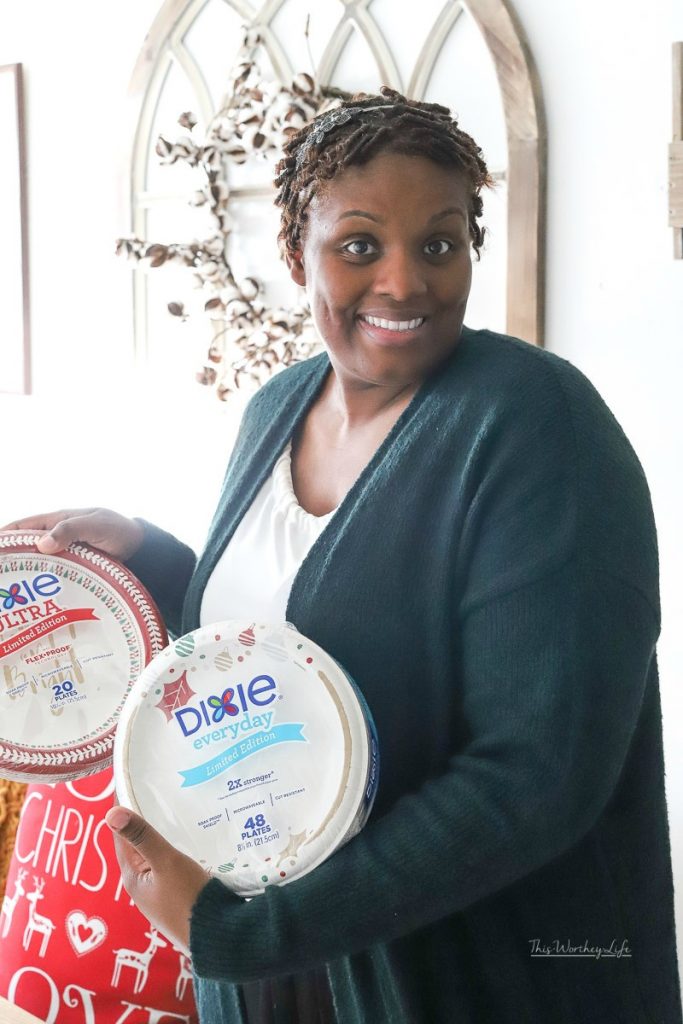 Paper Products are your friends. Don't want to pull out the fancy china or spend money buying expensive dinner plates? Not only will you save money by using paper products, but you will also save a ton of time! Instead of washing dishes by hand or loading the dishwasher, just drop the paper products in the trash and you're done!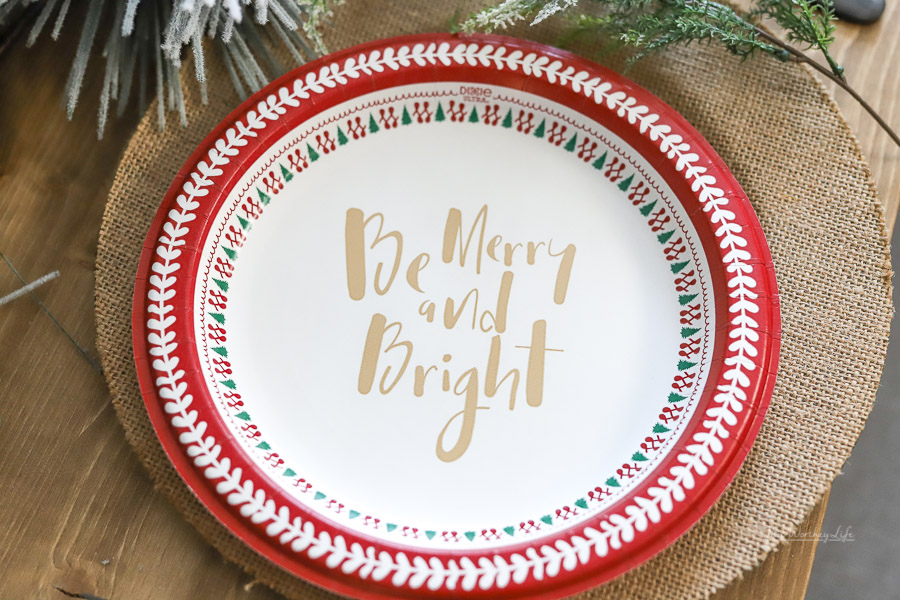 Keep in mind you can have a beautiful holiday table with paper plates. I recommend getting holiday paper plates like the Dixie® Paper Plates, also available at Dollar General.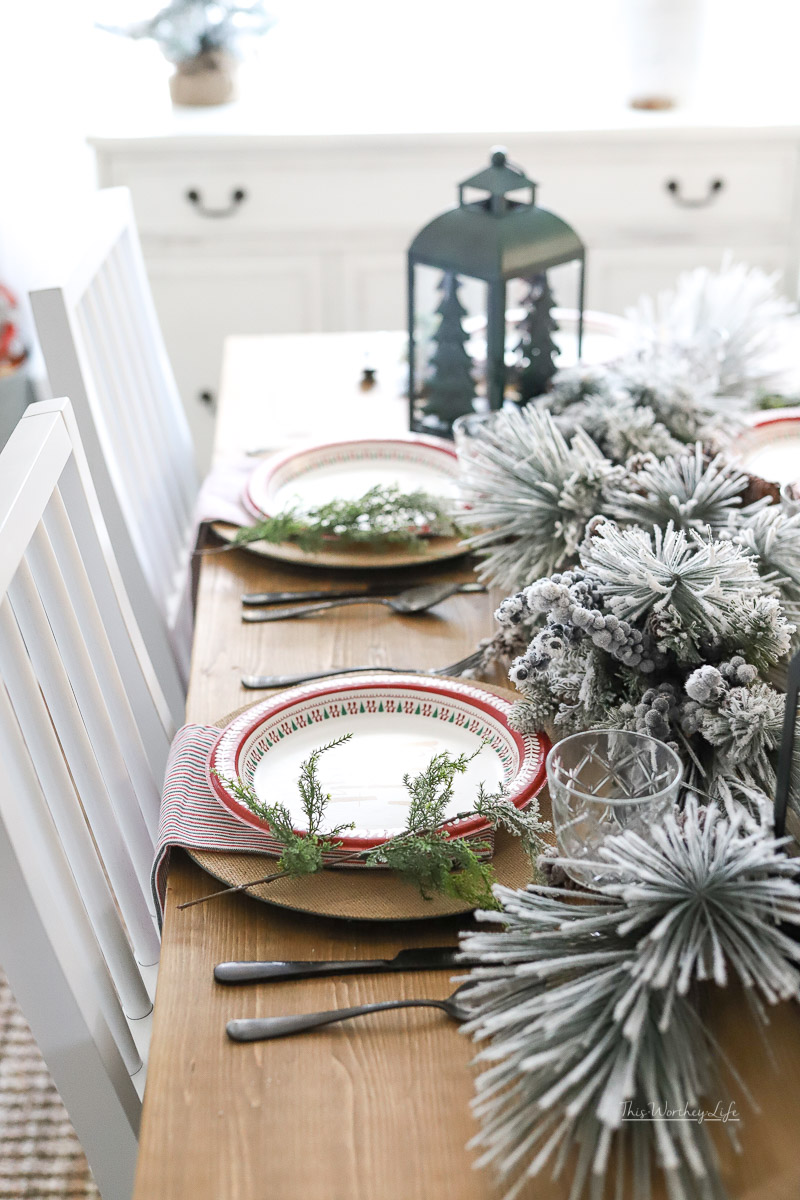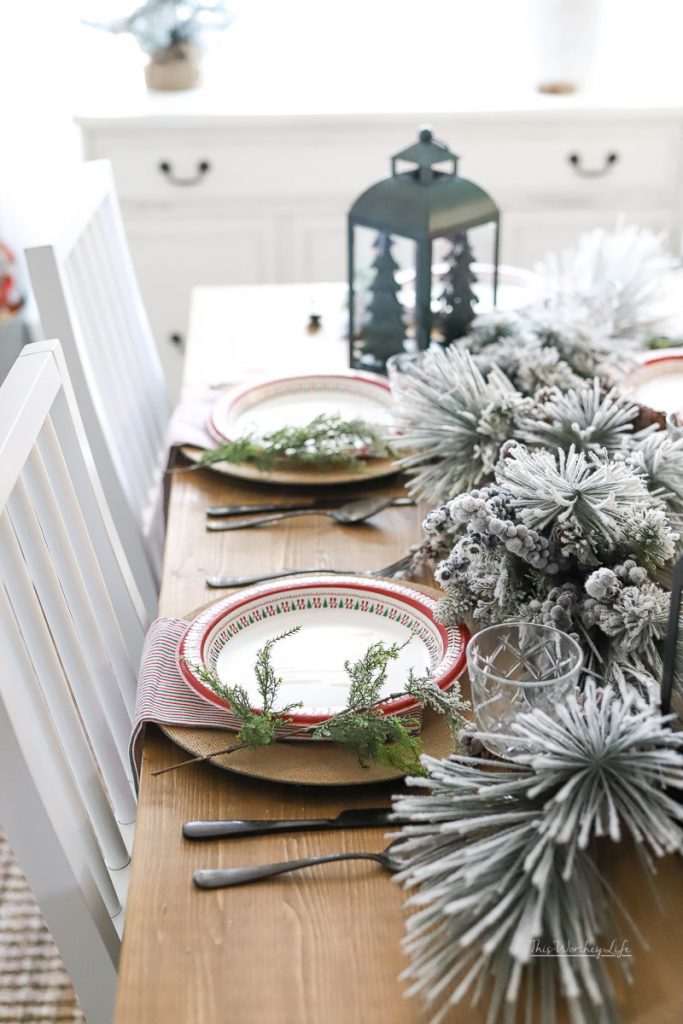 How To Set A Holiday Table With Paper Plates
For this holiday tablescape, I am using Dixie Holiday paper plates. These plates are great quality, ensuring I can load holiday food on them without any breaks or tears.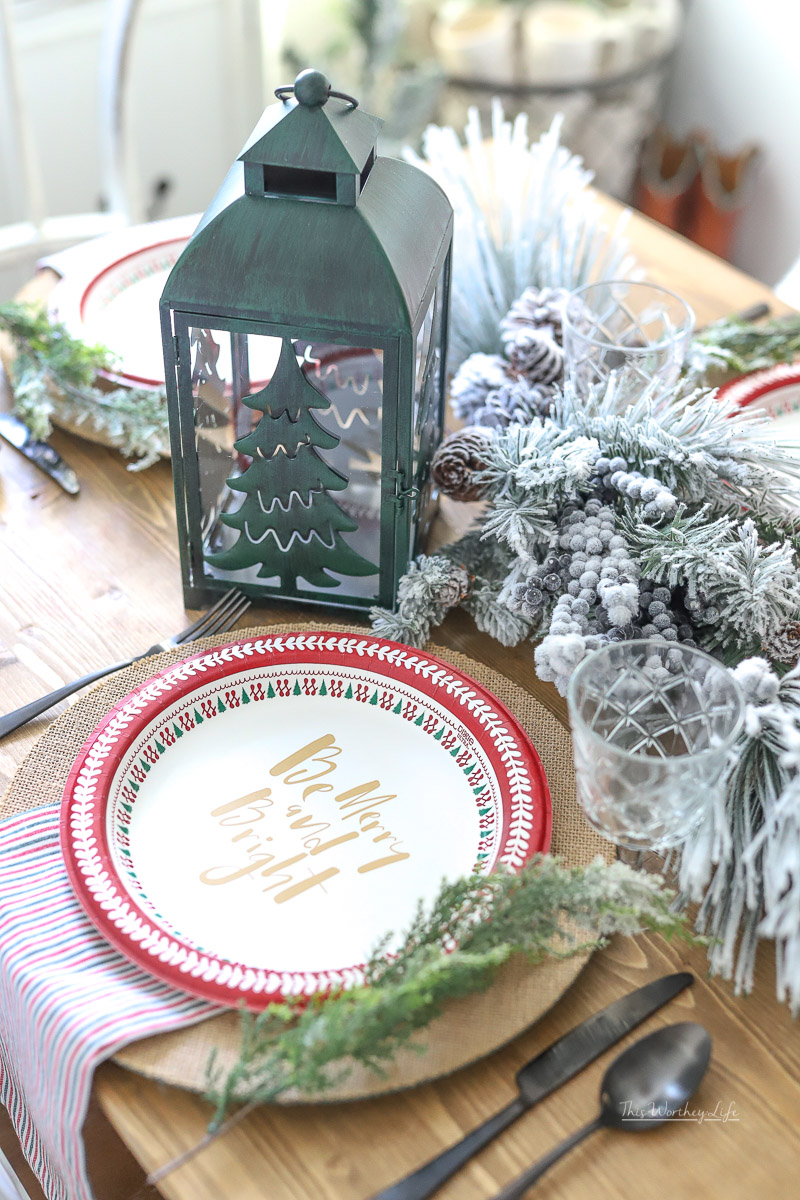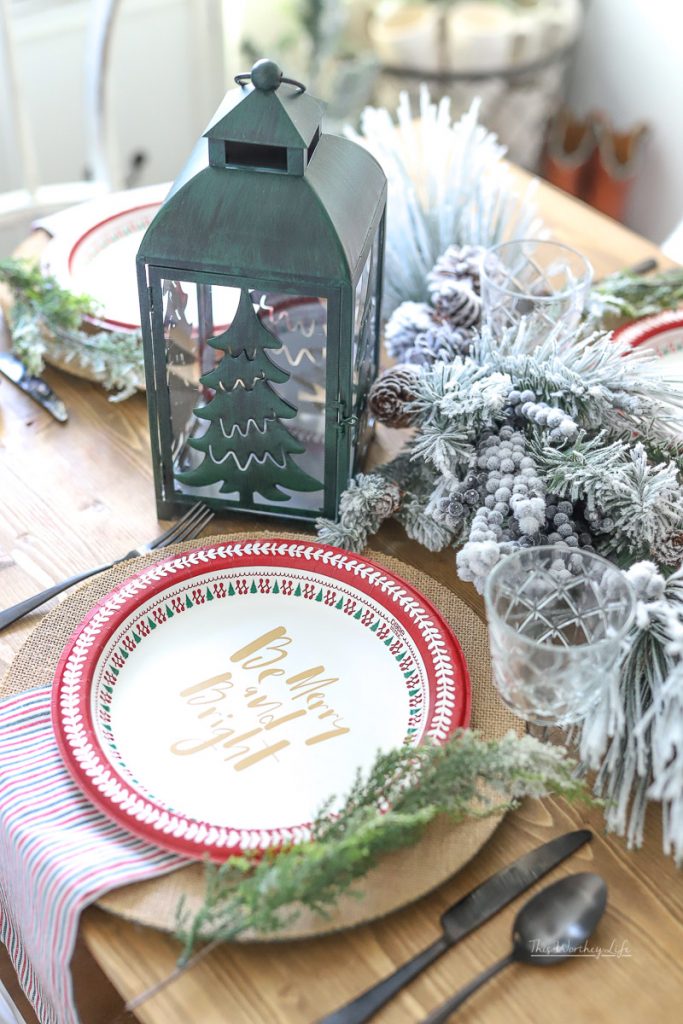 For this idea, I used linen chargers, holiday colored napkins, black silverware, glassware, and a little green sprig for each table setting. That's it, plus the Dixie Holiday paper plates.
Pro-tip: You can also use plastic silverware if you want to save another cleaning step.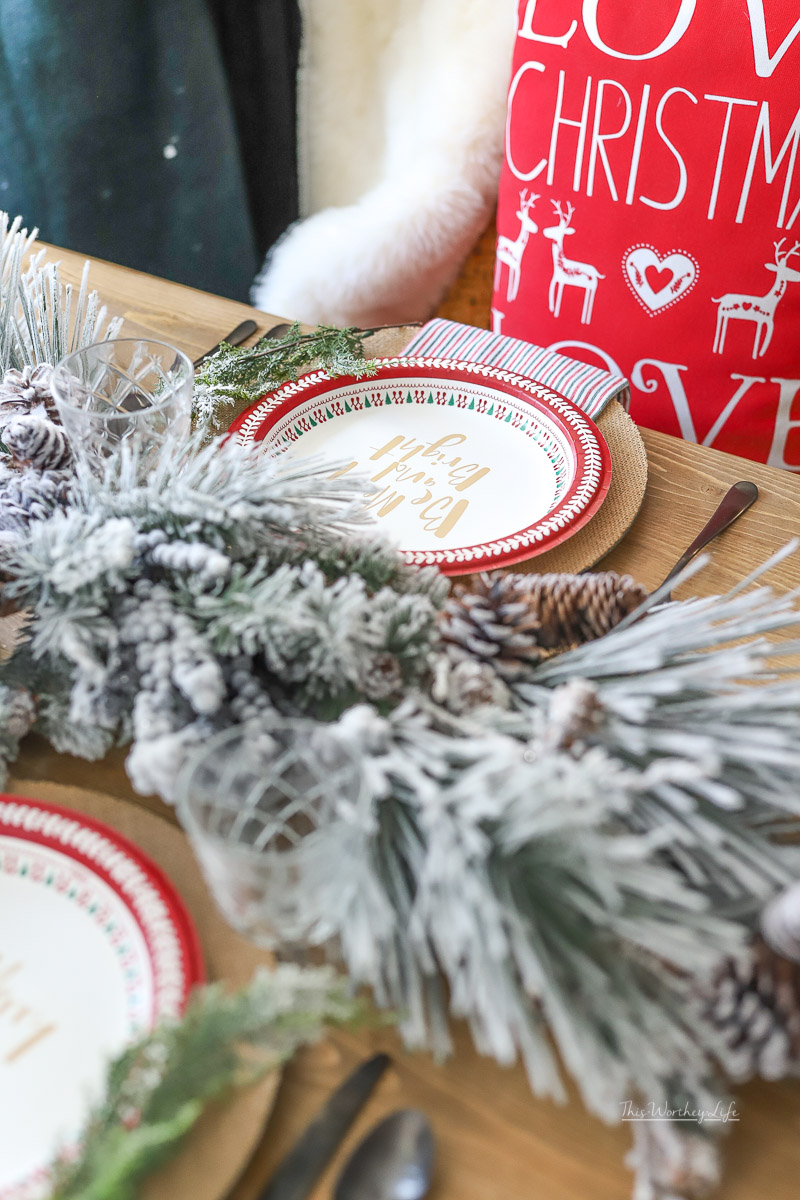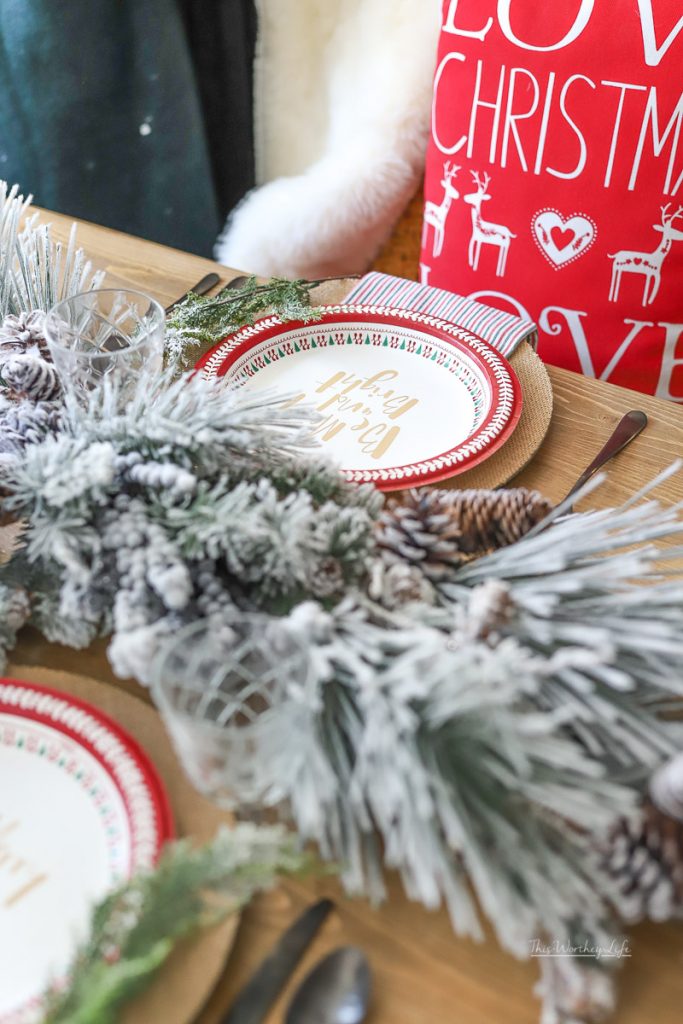 My biggest tip to pull off a table with paper plates is to have a beautiful centerpiece and accessorize it. Again, you don't need to put a lot of effort into this. I picked up holiday stems from a craft store and aligned them across the table, adding a few props along the way. Did you know Dollar General also carries holiday decor? Yup, you can quickly pick up a few holiday pieces to decorate your table while you're grabbing all of your paper products. Just don't forget to grab that coupon before you go!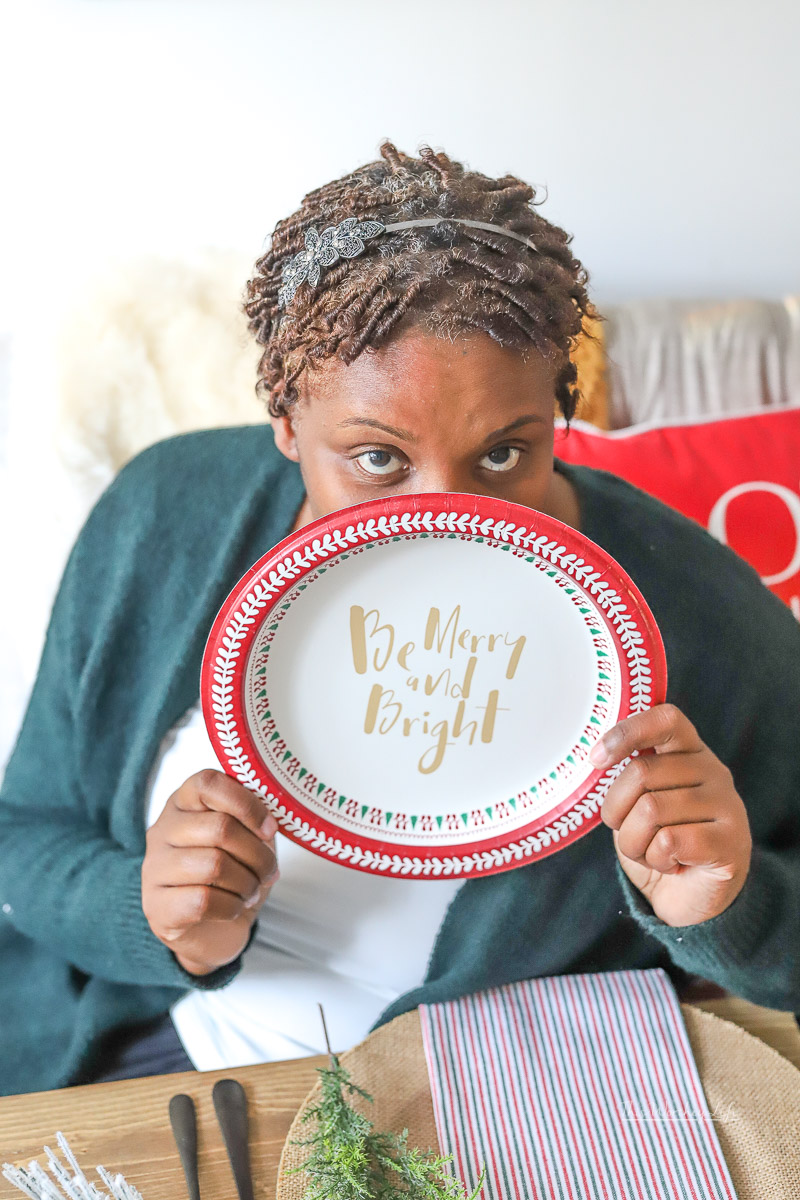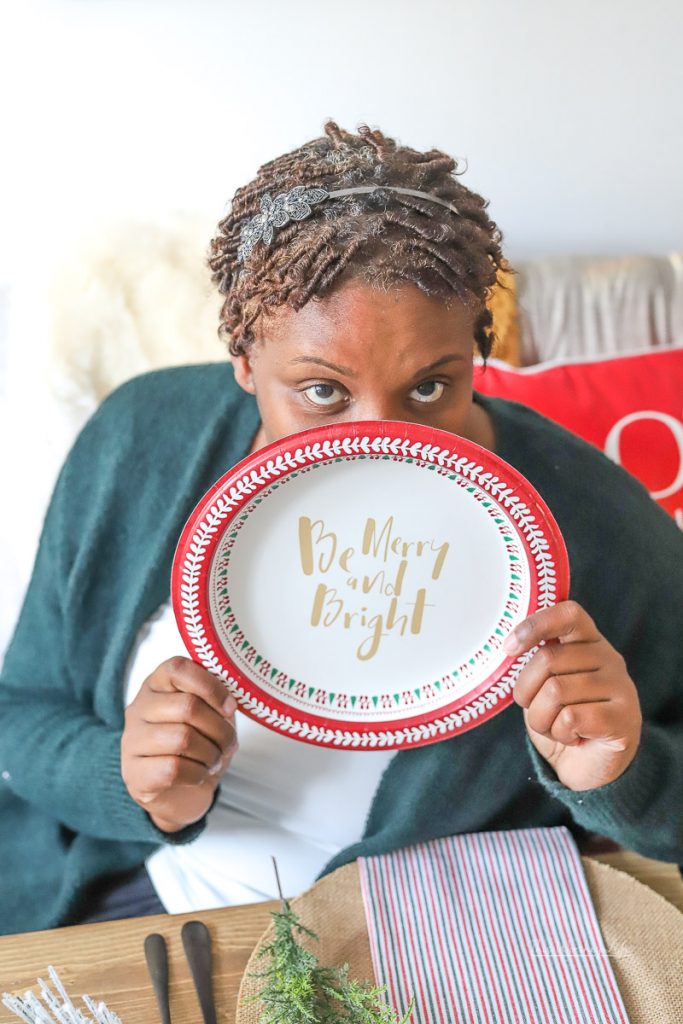 Have fun. You will probably forget something. You may burn a dish. You may not have everything 100% perfect, and that's okay. The holidays are meant for family, friends, and food. Don't stress about the things you can't change or fix. As I get older and with my parents no longer here, I don't take the time I have with my family for granted.
This holiday season, Dollar General is offering a variety of saving offers to help their customers save money on all the essentials. Find a store near you.
Happy Holidays!