Homemade gift are the BEST gifts to give for Christmas. I remember when my kids would bring home presents they made at school and daycare. Even though the pictures were messy and "interesting looking", they were made with love! And just adorable. I have quite a few of them framed and displayed throughout our home.
If you need some ideas on homemade presents that are not only frugal, but easy to make, try this Mint Chocolate Chip Granola for a Gift in a Jar idea.
Gift In a Jar: Homemade Mint Chocolate Chip Granola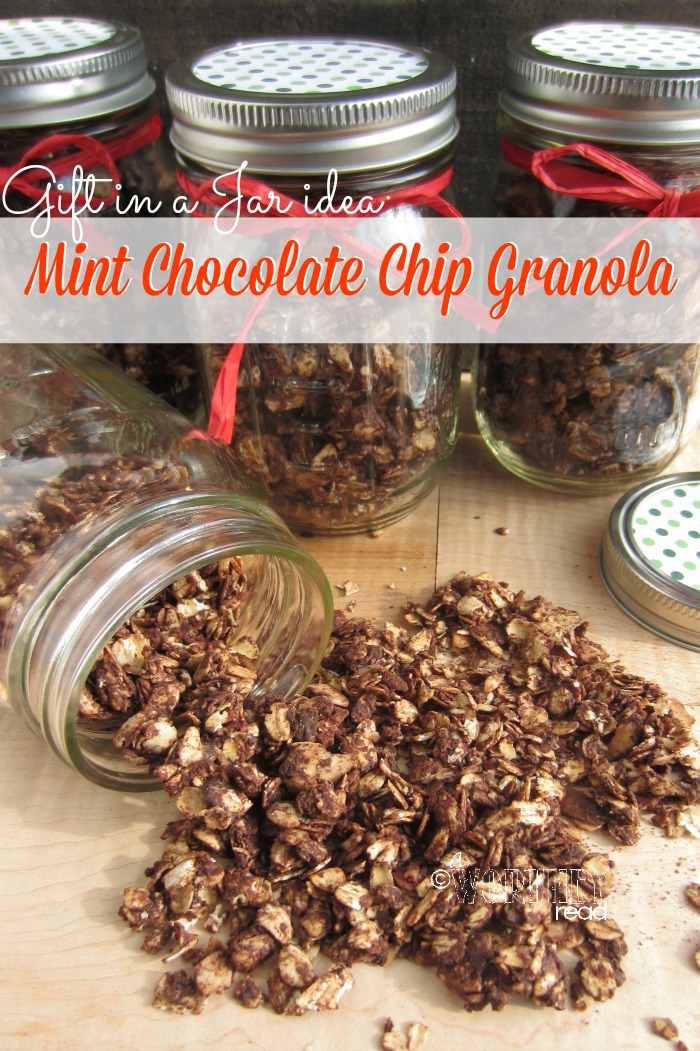 If you need some more Gift In a Jar ideas, I have some posted on my other blog-
Ingredients for Mint Chocolate Chip Granola
4 cups Rolled Oats
3/4 cup Unsweetened Cocoa Powder
¼ cup Light Brown Sugar
1 tsp Coarse Salt
½ cup Almonds; sliced
1/3 cup Honey
1/3 cup Extra Virgin Olive Oil
1 teaspoon Vanilla Extract
1 ¼ teaspoon Peppermint Extract
1/2 cup Chocolate Chips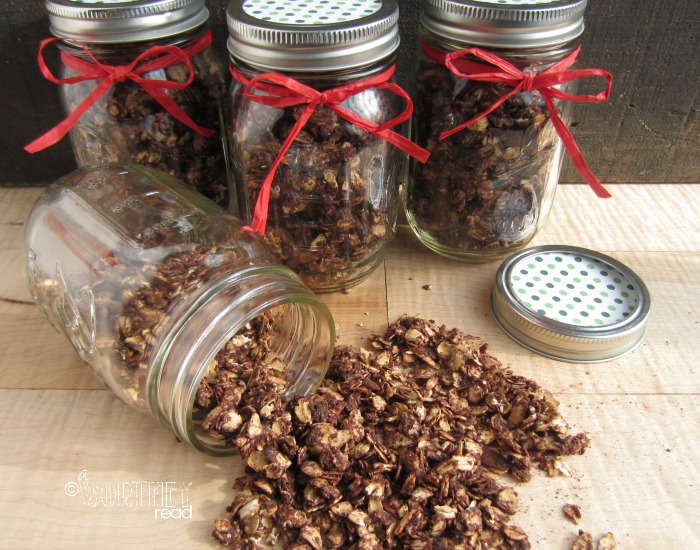 So here's how to make Mint Chocolate Chip Granola
Preheat oven to 350 degrees. Line a baking sheet with parchment paper. Set aside.
Combine all dry ingredients in a large bowl and stir to combine. Once well incorporated, add remaining ingredients except for chocolate chips. Evenly spread the mixture on the parchment-lined baking sheet.
Bake for 20 minutes, lightly stirring halfway through. Remove from the oven and scatter chocolate chips across mixture. Leave on parchment paper and let cool completely. Usually a couple of hours.
While granola is cooling, get your jars prepared by adding decorative ribbon or fancy gift tags. Be creative! The opportunities are endless!
When completely cooled, break into little clusters and divide into jars. Place lids on jars, and tighten rings.
Give to family and friends!
Recipes makes enough for 4 pint sized jars.