Here's an easy way to make your bottle brush trees white: How To Bleach Bottle Brush Christmas Trees

How To Bleach Bottle Brush Christmas Trees
White bottle brush trees have a beautiful and vintage look to them. However you might have found that the real deal comes with a hefty price tag. This holiday season, enjoy a vintage inspired Christmas when you bleach your own bottle brush Christmas trees. In just a few easy steps, you can turn plain green trees into vintage inspired white trees. Here is how you can get started!
Supplies needed:
4 cups of bleach
1 large bowl or pot
Tongs or long spoon for stirring
Strainer
Hot water
Bottle brush trees
Gloves
We found our bottle brush trees at Hobby Lobby for around $1.50 per bag after coupon. You can find these at most craft stores and dollar stores during the holiday season.
Directions:
1. Since you are using bleach, place on a pair of gloves to protect your skin. Fill your pot or mixing bowl with 4 cups of standard bleach.
2. Remove the bottle brush trees from the bag and drop them into the bowl. Use your spoon of tongs to gently press them down into the bleach so they are covered.
3. Let the trees soak for 15 minutes. You will notice how quickly the green coloring comes off. Use your tongs or spoon to stir and help loosen up additional paint that still needs to be removed.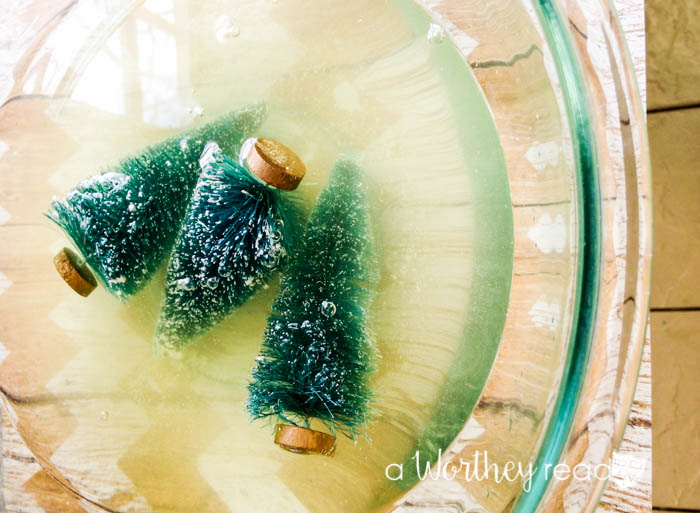 4. Allow the trees to soak another 15 minutes. Once they are white, you can carefully remove them from the bleach. Spoon them into a strainer and run hot water over them for 5 minutes. This will help remove any traces of bleach.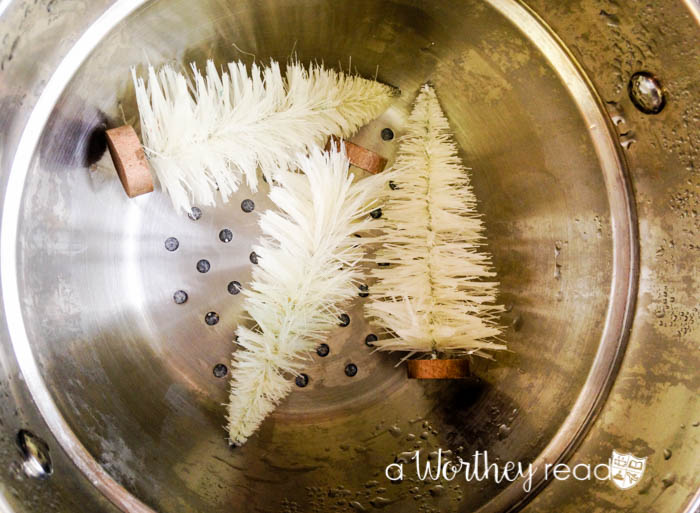 5. Take the newly bleached trees and set them upright on newspaper to drip dry. Once dry, use your fingers to fluff the bristles back into place.
Your bleached bottle brush Christmas trees will look so cute displayed in your house. Add them to dollhouses, your mantel, your mini Christmas villages and more. They are a great way to get into the holiday season in true vintage style!