Here's an easy way to make a Paper Straw Wreath- Read these tips on how to make a wreath that's easy and perfect for any season or Holiday!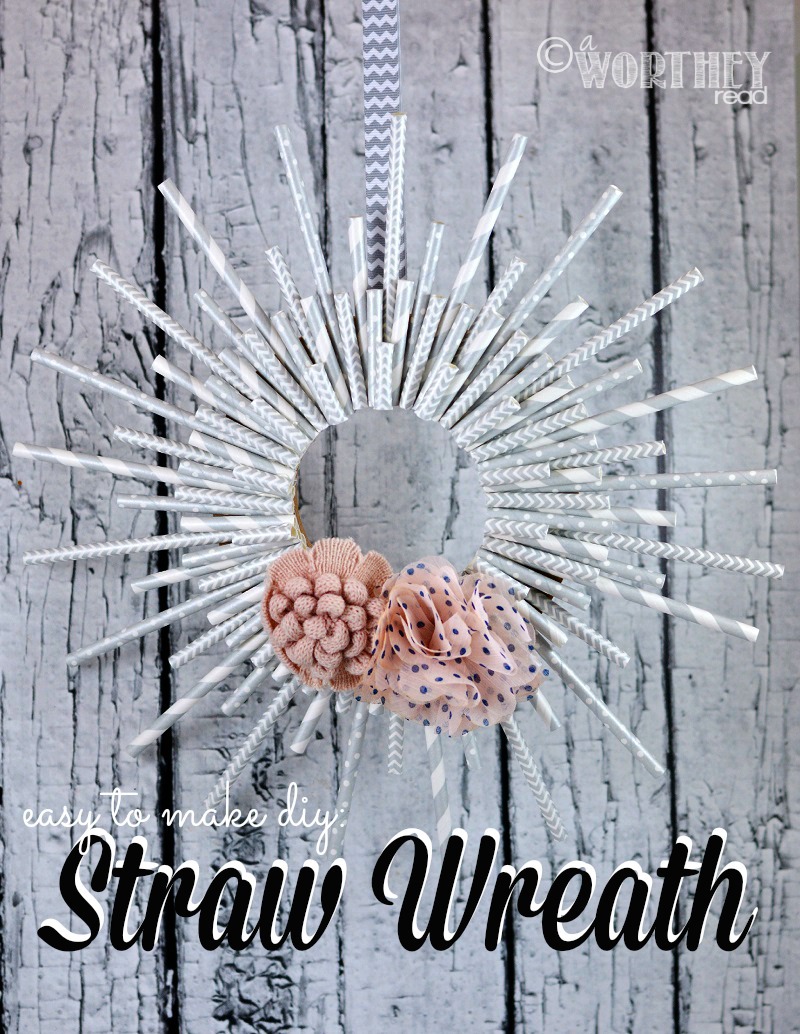 How to Make a Wreath- Paper Straw Wreath
I absolutely love taking a frugal product and making some fabulous! In this DIY idea, I give you steps on how you can create your own wreath out of paper straws (who knew!).
This idea is seriously super simple and with these easy instructions, you can do it as well. I don't consider myself a HUGE DIY person, but I like to come up with simple concepts since I love decorating tables.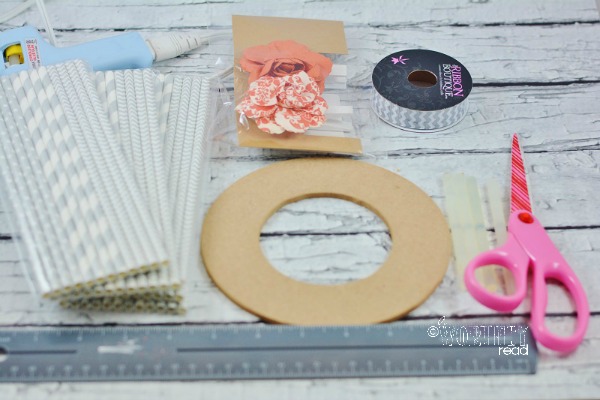 Materials for Straw Wreath
36 paper straws
6" Flat cardboard wreath form
Hot glue gun
Glue sticks
Scissors
Ribbon for hanging (optional)
Embellishments (optional)
Instructions to make your own DIY Paper Straw Wreath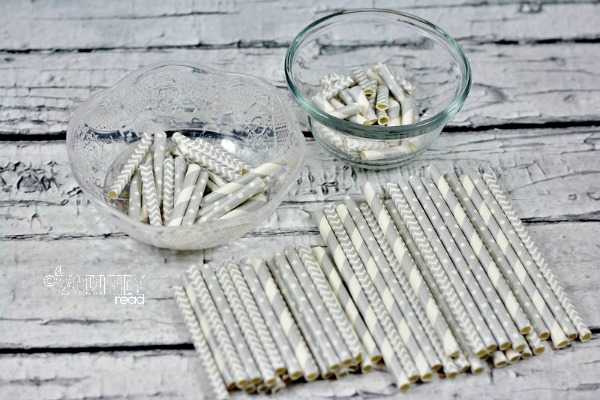 Step 1: Cut 3 inch sections off the top of 23 of the straws. This will leave you with a 4-5 inch length on the bottom of the straw, depending on the brand of straws you choose. So, you will have (23) 3-inch pieces and (23) 4 1/2 – 5-inch pieces.
Step 2: Cut 10 straws into 2-inch pieces. You should be able to get at least (3) 2-inch sections out of each straw.
Step 3: Cut the final 3 straws into one-inch pieces. You should be able to get 7 one-inch pieces per straw.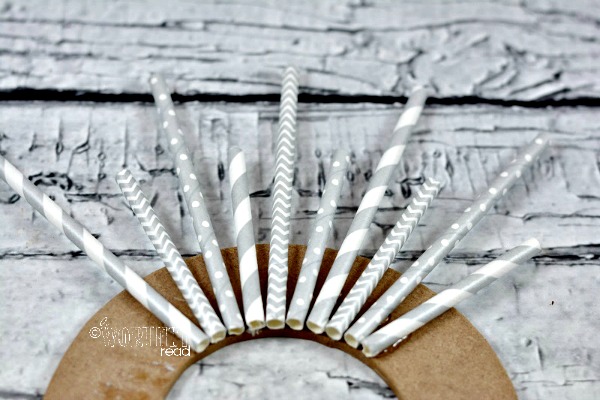 Step 4: Begin hot gluing the 4 1⁄2 inch and 3-inch pieces of straws to the cardboard wreath form, alternating the sizes as you go. It is okay if there are gaps in between one straw and the next, you will fill those in later. Also, if you are using different patterned straws like we are here, you might want to alternate the patterns as you go too.
Step 5: Once the first row of straws is complete, begin gluing the 2-inch straw pieces on top of the first row. These will go in the gaps formed by the previous row and you will do the same length of straw all the way around the wreath.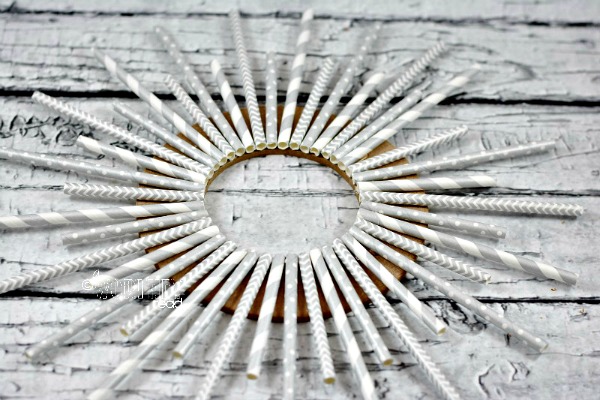 Step 6: Go around the wreath and glue on some of the one-inch straw pieces. Here, we placed a one-inch piece in between every third two-inch straw piece, but you could put them all the way around if you prefer.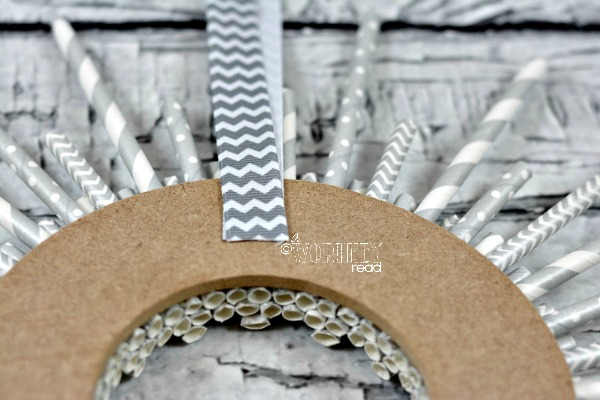 Step 7. Cut a piece of coordinating ribbon, and hot glue it to the back of the wreath for hanging. If you are going to display the wreath on a mantle or shelf, you can skip this step.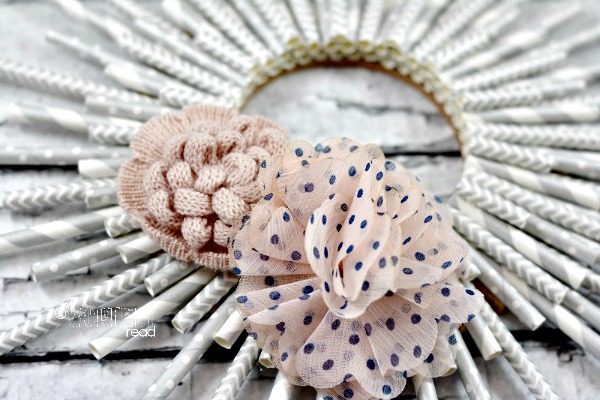 Step 8. Add embellishments of your choice to the front of the wreath, and display!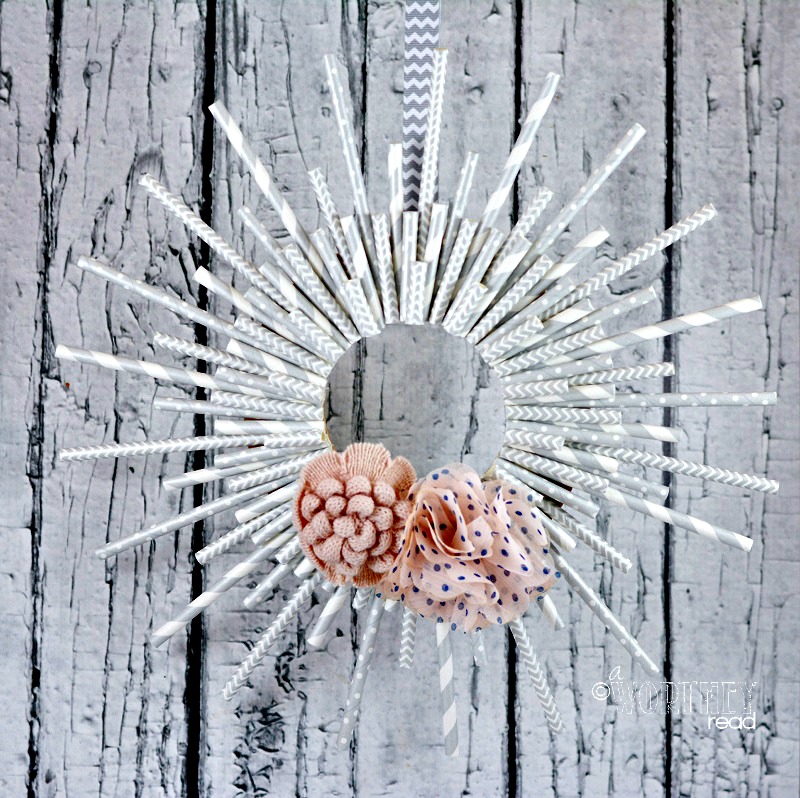 See? Super easy right? This Paper Straw Wreath can work for any holiday or season or party. If you don't want these colors, you can pick the colors that work for your design and have fun!
Be sure to take a moment to pin this easy DIY idea to your DIY (or related) board!