One of the toughest decisions to make when you are traveling to a different climate is How To Pack For Transition Weather. Whether you are going to a tropical climate during your regular winter months, or you are headed on a road trip in the Spring and Fall when temperatures will vary widely, these tips are sure to help you out like they did us.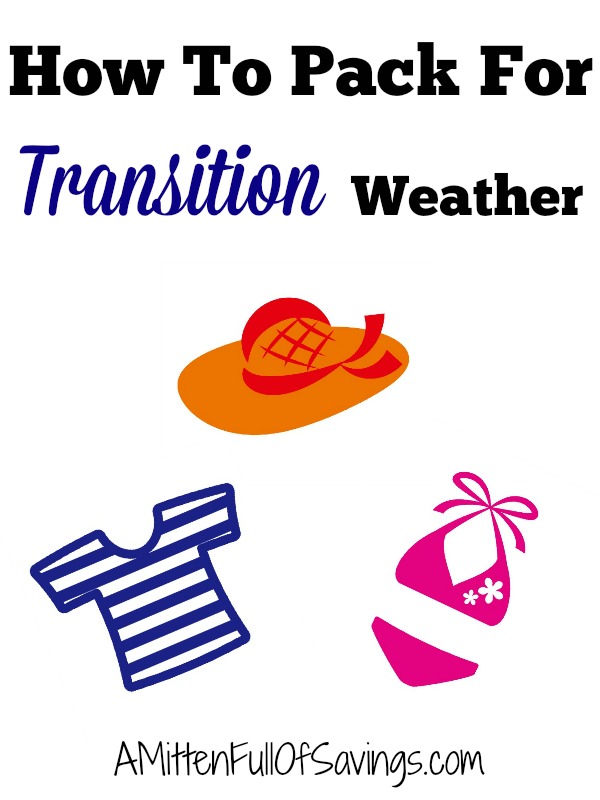 How To Pack For Transition Weather
Invest in tanks, cardigans and lightweight jackets. Every woman has a few simple cami's or tanks in their wardrobe. These simple layering pieces add warmth, but can easily be the base shirt to any ensemble. Cardigans and light knit sweaters are great for layering while being fashionable. A light jacket or hoodie can be tucked into a bag for those chilly evenings or cool mornings.
Take dresses and leggings that can be added for extra warmth. One thing women can easily get away with now is to layer their favorite longer shirts or dresses with a pair of leggings for extra warmth. Leggings are not pants, but they can add that extra buffer under a dress on a cool day. On warmer days, leave the leggings in your room and enjoy the coolness of a simple sundress with sandals. This is by far my favorite easy packing layering technique when we travel. I can pack 2-3 pair of basic solid leggings that will mix and match with my favorite tunic style dresses.
Look for light weight pants that have zip off bottoms to become shorts. While this may not be a fashion statement moms want to make, men and boys can get away with this look easily. There are various brands out there, but these style of pants are made of light weight material with a zipper around the leg that can detach the lower half of the pant creating a pair of shorts with ease. They are perfect for that transition weather when you aren't sure if the temperature is going to be warm enough for shorts by themselves. They are also great to layer with long underwear in colder climates as needed.
The key to success when trying to pack for transition weather is all about taking items you can easily layer. For kids that will be lightweight jackets and shirts that they can add a t-shirt underneath with. For you it may be leggings under skirts. For men it may be zippered pants that can be converted to shorts, or a simple hoodie that will help keep them covered in cooler temperatures. Think about what you would wear during those months at home and apply that to your travel packing. Even though you have to limit how much you fit into your bag, you can still have a great travel wardrobe that functions like you need it to in transition weather.
Packing for kids? Be sure to read Tips For Packing For Travel With Kids
 A Mitten Full Of Savings where I cover lots of different ways to save on all kinds of things from shopping and travel advice to budget-friendly hotel ideas, and all kinds of other stuff as well.
You can also head over to A Worthey Read  will cover my travel adventures and will offer travel and destination tips!
Two blogs which cover all of your saving, shopping and travel needs.