We travel quite often, many of the times ripping and running and not having the time just to chill. Jekyll Island, Georgia is truly the perfect R&R destination. Mentioned in Travel and Leisure, Jekyll Island Club Hotel is ranked among the top 500 resorts in the world. The time spent together allows you to bond over shared experiences and make memories that will last a lifetime.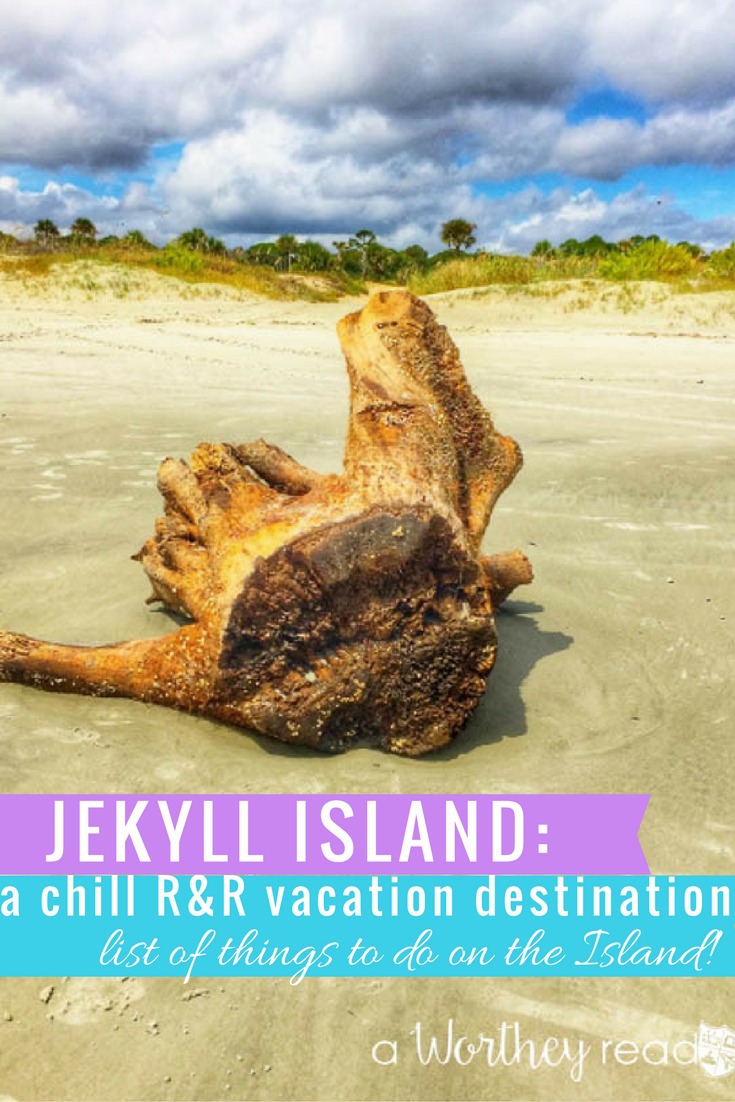 Jekyll Island: Perfect Chill R&R Destination
Our recent trip to Jekyll Island gave us that time to just relax and chill.
Like chill, for real chill. Chill so much you take a nap and wake up, feeling refreshed and ready to conquer the world.
Okay, maybe not the world, but that's how you feel after a seriously chill vacation. It's so chill that you lose the wrinkles on your face, all the stress leaves your life, and you feel rejuvenated.
It's so chill that even your kids who think you have to always rip and run, love the chill.
It's chill enough with the ripples of water running through your feet, and the sound of the ocean floating by your ear.
The serious chill of this vacation gives you an empty beach, perfect for a day of relaxing and reading one of New York Time's current best-seller, I'm Judging You.
The chill of the chill of this vacation gives you the liberty to bike the whole island, with only the sound of nature surrounding you.
History of Jekyll Island, Georgia
One of the things that make Jekyll Island so chill, is the unique history. This island was explored in the mid-1700's and named after Sir Joseph Jekyll. He was the main English financier for the expedition. While most would probably think it was named after the famous story of Jekyll and Hyde, it was actually a simple name honoring an Englishman who provided funds to explore. Within 100 years of its discovery, it became a hunting club for famous names of the US bureaucracy. It has since become a State Park that provides a fun and chill experience for those wishing to take time away from the hustle and bustle of everyday life.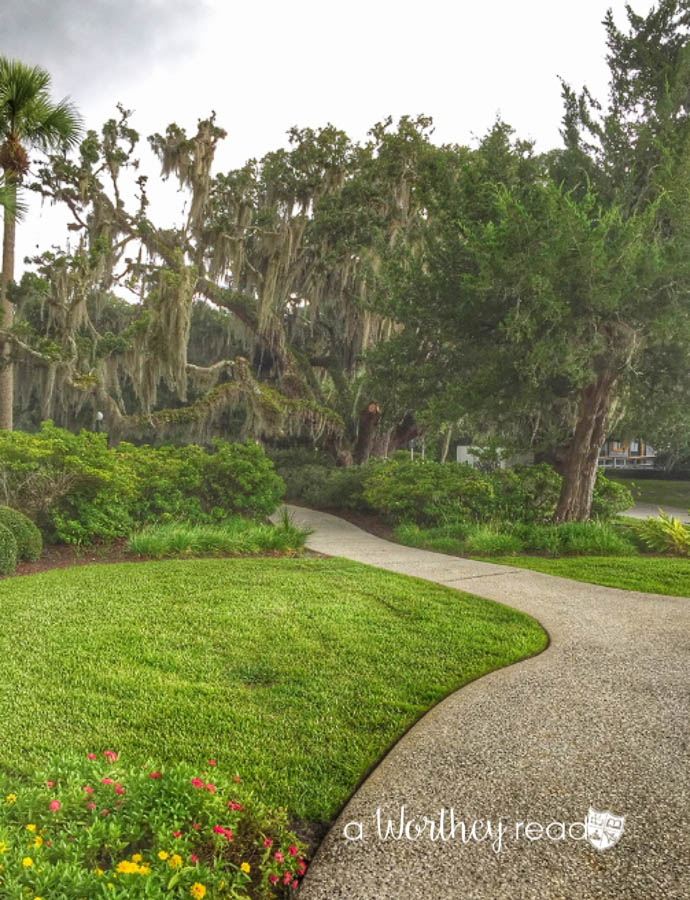 It sounds like Jekyll Island, Georgia is a place you want to visit, right?
Well, I have the chillest place to recommend to you, Jekyll Island. Let me explain to you why Jekyll Island is a chill place to take a vacation.
The time of year means everything. Timing is important to factor in to your vacation to Jekyll Island. We went towards the end of the season (right before the hurricane/rainy season), and it was perfect. Of course, if you plan to vacation to Jekyll Island during June, July, and the first part of August, it's going to be pretty busy. However, by the end of August, Georgia kids are back in school and Parents are back to work. The only bad thing about going towards the end of the season is businesses closing up early each night, or for the season. However, we didn't let this stop us from having a grand ole' time.
It's a beautiful location full of food, beautiful outdoor exploring, and a relaxing atmosphere you'll love.
Here are a few things to do on Jekyll Island: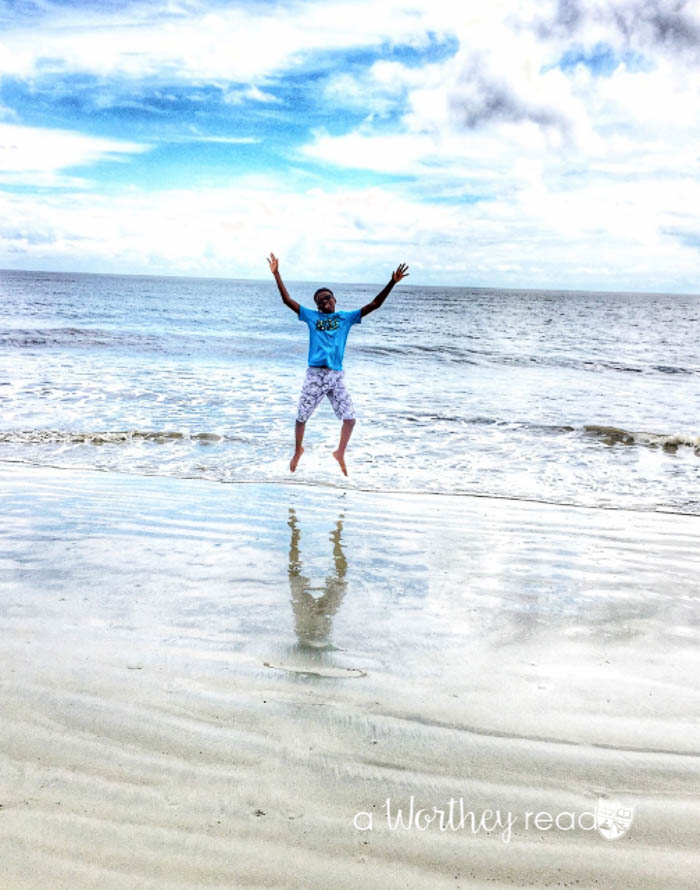 Spend the day at The Great Dunes Beach. Pack a lunch or some snacks, grab a blanket and your swim gear and head to the beach for the day. During our first day on Jekyll Island, we headed down to the beach for a little peace and relaxation. As I mentioned before, we took our vacation to JI at the end of August. Not only was it quiet, but we had the beach pretty much to ourselves. The Great Dunes Beach is one of the most popular beaches for families on the Island. With over 20 acres, you will find volleyball courts, kid-friendly areas, picnic pavilions, bathrooms, and showers.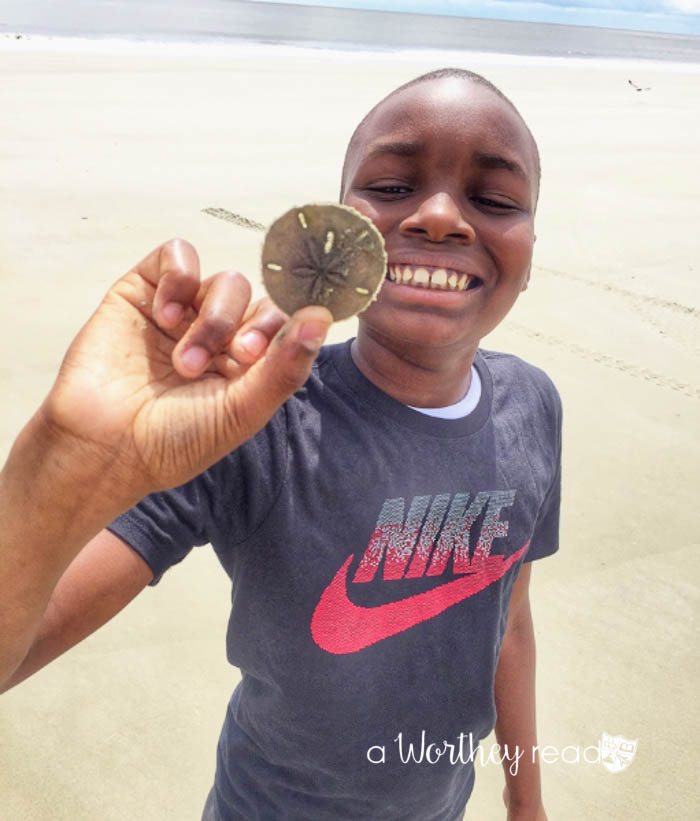 After spending time at the beach, we headed to Beach Village for frozen yogurt at Fuse. I was in sweet-treat heaven with their frozen yogurt!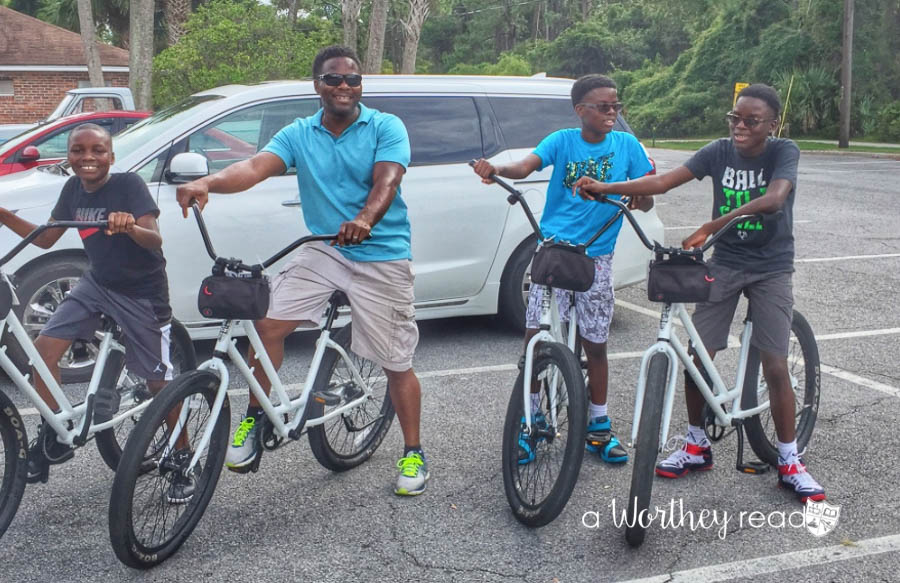 Once we had our fill of fresh smoothies and yogurt, we rented bikes and headed out to explore the island. What I thought would be just a ride around the beach area, turned into, "let's bike the whole island!" I love that my boys are always up for an adventure, and love being outdoors. Although I was lagging behind (due to being totally out of shape), I enjoyed being surrounded by nature and fresh air. With the pending rain storm headed towards the island, it was the calm before the storm (literally). It was a peaceful ride around the island. While riding the boys were on the lookout for crocodiles. We were told by some of the locals where to find a spot where a croc is known to hang out. We rode by there (scary, right>!), but thankfully did not encounter her! WHEW.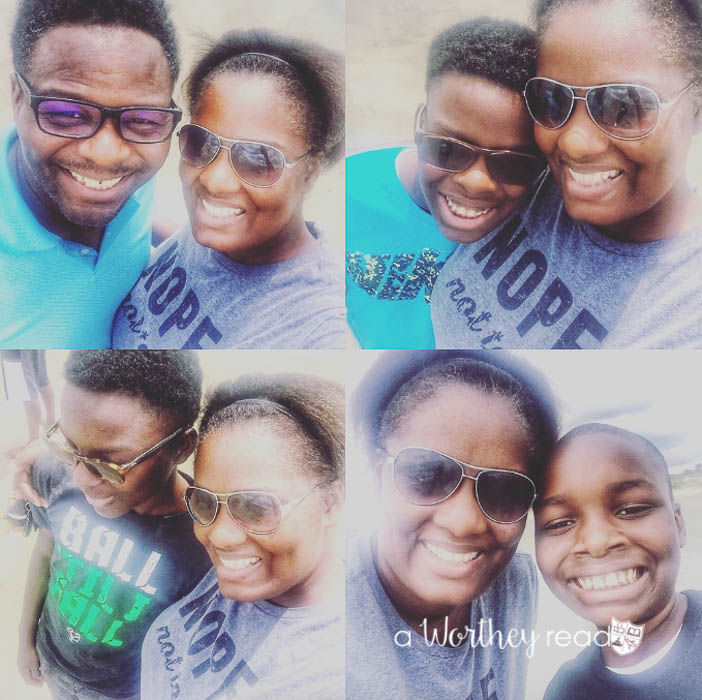 *You can rent bikes at Jekyll Island Club Hotel or Jekyll Island Bike Barn. The Barn rents all types and sizes, including dual trikes and wheelchairs perfect for the beach.
Two things we wanted to do on the island, but due to the inclement weather we were not able to go horseback riding on the beach and whale watching. One of the guest at the hotel told my husband how much his family loved riding horses along the beach. We plan to do these things the next time we head to Jekyll Island (and hopefully not during the rainy season).
Another activity on our list to do was Summer Waves Water Park. With school back in session in Georgia, the water park is only open on the weekends (during peak season it is open daily). This is another popular activity for families to do on the Island. With lazy rivers, swimming pools, and water slides, kids will love to spend their summer here.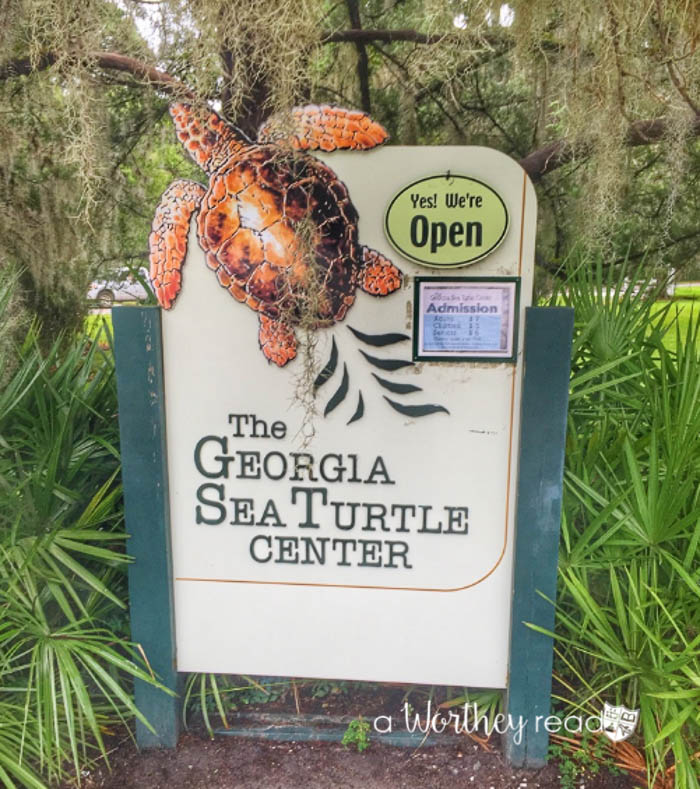 The Georgia Sea Turtle Center was one of my favorite things to do on Jekyll Island. This is a one-of-a-kind experience. This is the only sea turtle education and rehabilitation facility in Georgia. Families can come and learn about the life of sea turtles, including meeting the patients, watching a feeding, and learning how you can help keep these sea creatures safe. The boys enjoyed watching a turtle get transported from his tank to the back for a medical check-up. We were also able to see a live feeding and ask questions about the sea turtles currently living at Georgia Sea Turtle Center. This is definitely a must-do activity to add to your list.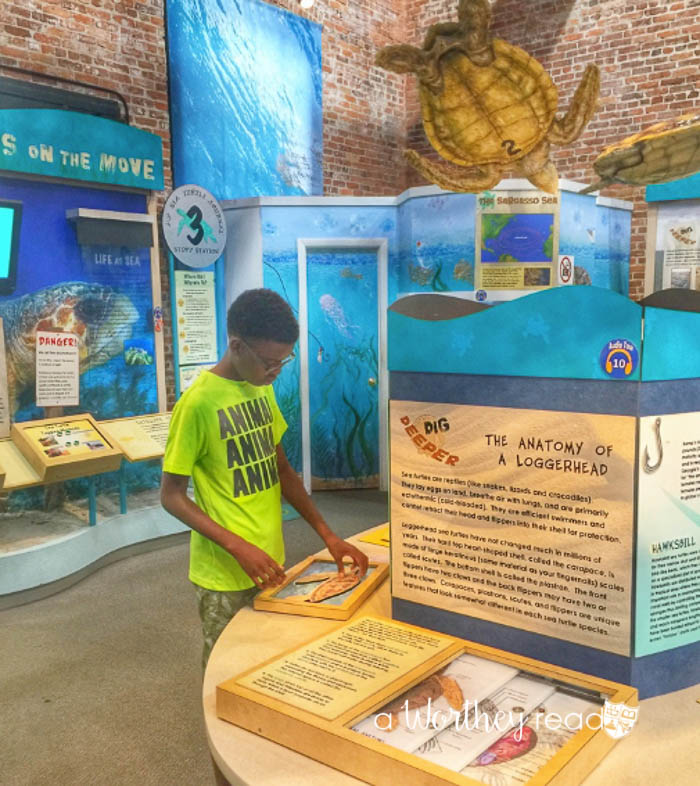 4-H Tideland Nature Center. At the nature center you can take kayak tours, paddle boats, Island nature walks, learn about coastal species, and their ecology programs. This is an educational fun adventure for the whole family.
You can find more activities to do on the Island by visiting Jekyll Island's website.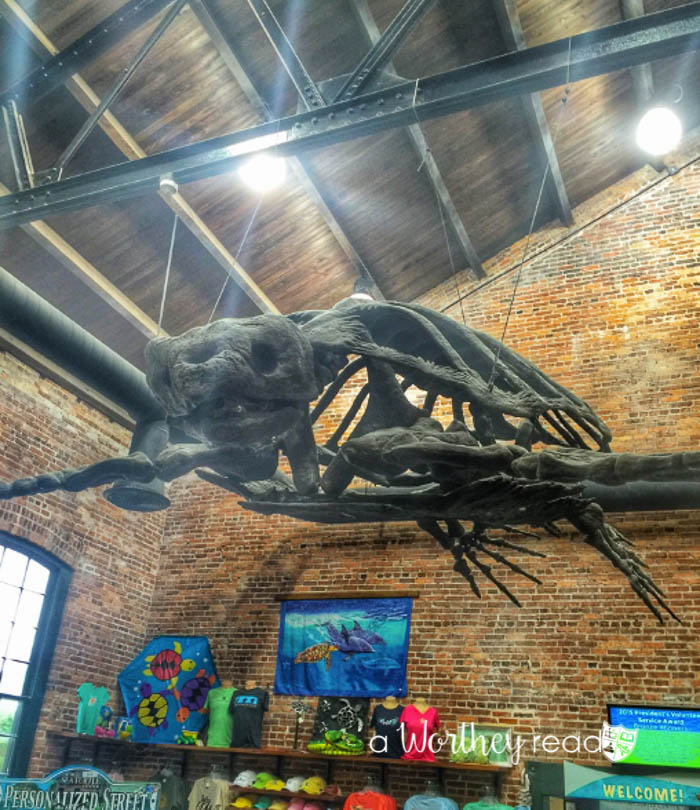 As you can see, Jekyll Island offers a lot. If you're up for a new adventure, love being outdoors, water activities, or just looking for a place to chill, Jekyll Island offers something for every traveler. I left JI feeling refreshed and rejuvenated. Having a vacation that did not involve roller coasters, amusement parks or a ton of activities was just what the doctor ordered. Although the boys didn't understand the concept of just chilling at first, they latched on quickly. And all three boys said they enjoyed trying something new.
So, if you're looking for a place to relax, take in scenic views, have some fun, and dig your toes in the sand, check out what Jekyll Island can offer you and your family. I guarantee you it will be a fantastic vacation destination!