If you're tired of the same old van, then the Kia Sedona will make you rethink what you think about "mini-van moms" – Kia Sedona Not Your Mama's Mini-Van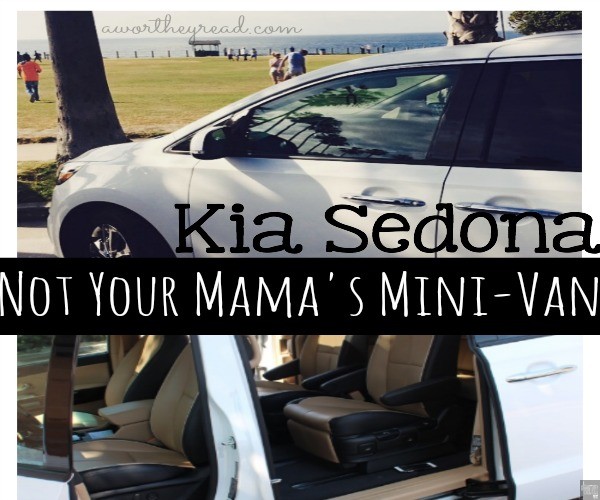 Kia Sedona: Not Your Mama's Mini-Van
Here's the deal. You're on vacation for 9 days in sunny California. You have a family of 5 and each one wants room enough to spread out and get comfortable. You're going to be spending time in the Los Angeles, Anaheim, Thousand Oaks and San Diego areas. There's us, luggage for 5, as well as gadgets to consider. Now, there is a lot of options out there, so tell me what kind of vehicle to you need?
Our family had the good fortune of being given the opportunity to test-drive the brand new 2015 Kia Sedona. This was our chariot, and as chariots are concerned this one was above par. This mini-van is not like any other. This Kia Sedona: Not Your Mama's Mini-Van

Now, before we even get started I have a confession to make. I'm not a fan of mini-vans. I've owned two in my lifetime, but did not care for either one of them. I disliked how previous mini-vans were made, how they looked, how they drove… pretty much everything about them. When I found out that I was going to be driving the 2015 KIA Sedona, I was hesitant. Very hesitant.
Here's my story:
Hello, my name is Sedona. The Kia Sedona that is
After an over 5 hour flight from Detroit Metro with a layover in Denver we finally landed at LAX.  As soon as  the shuttle pulled up to our  2015 Kia Sedona for the week,  I must admit we were all very impressed. I was wowed when pressing the key fob activating the Smart Power Lifegate feature and like magic the rear door opened and began to rise. The boys thought the little demonstration was way cool, and I must admit I did too. Looking inside the rear door area one of the first details you'll notice is the storage/luggage compartments, they are deep and roomy. Soon we had all of our luggage packed away safe and sound.
There is nothing typical about this mini-van, plus it drives like a car
Before we got underway all of us needed to charge up cell phones, iPads and laptops and the Kia Sedona was able to handle it all. Again the Sedona delivers and them some:
USB/Auxiliary Input Jack (connect to your favorite music from your iPhone or other compatible mobile devices.)
USB 2.1 Charger Ports (Two powerful 2.1-amp USB charger ports provide quicker charging for your portable electronic devices.)
12-Volt Power Outlets (Two outlets at the front and one in the cargo area put portable power in reach, wherever you need it.)
110-Volt Power Inverter, Center and Rear Consoles (Two A 110-Volt Power Inverter provides even more convenience to the drive. Located at the rear of the center console)
As you can see there is lots of easily accessible power supply sources and they are standard features on the all new KIA Sedona. How cool is that? The coolest beans ever we think.
Okay, I am now in the driver's seat and as I am driving into L.A. traffic something feels weird, this doesn't feel right. There is no way I am feeling what I am feeling. I blink my eyes a few times just to make sure. Yes, I am driving a mini-van, but it sure doesn't feel like I am driving a mini-van. I tell my husband this and he laughs and shakes his disbelieving head. But later when he was behind the wheel he proclaimed the same thing. Coincidence? I think not.
The KIA Sedona is like an upscale hotel on four wheels. It has a sleek, almost low profile modern look. And the inside is roomy, my boys loved the middle seats with the ability to recline all the way back. And we all enjoyed the AM/FM/CD/MP3/Sirius XM Audio System and the Infinity® Surround Sound Audio System with External Amplifier, Center Channel & Subwoofer Speakers, HD Radio™. Expect the Sedona to be sensitive to your purse strings too, it gets a not-too-shabby  EPA MPG (City/Highway/Combined) (18/24/20), which is way better than the mini-van I used to feed gas into like there was no tomorrow. This definitely isn't your mama's min-van for certain.
I like all the safety features which include but are not limited to:
Rear-Camera Display, Back up with confidence. When you're in reverse, the Rear-Camera Display relays a live image of what's behind your Sedona. For added convenience, a vehicle footprint showing vehicle width is superimposed in the display.
Back-Up Warning System, the Back-Up Warning System uses sonar sensors to detect obstacles behind your Sedona that may be beyond your line-of-sight. If a hazard is detected, the system provides an audible warning.
Blind-Spot Detection (BSD) System, he Blind-Spot Detection (BSD) System is advanced technology that helps reduce the blind spots on the side and rear areas of your Sedona. The camera-based detection system sends out visual or auditory signals to help warn you of objects not in your field of view.
These are just a few of the many more indispensable safety features that come standard with the 2015 KIA Sedona. We loved this van, and even the friends we visited on our vacation took a shine to it as well. One of my friend's twin boys is convinced that his Mom HAS to get this van. Yes, the KIA Sedona has convinced ALL of us that it's better than previous makes, the perception that mini-vans are not cool, and makes you want to go get one.
Why a Kia Sedona Works for Autism families
With all the room this 2015 Kia Sedona brings, it's an ideal method of transportation for families with children on the spectrum. Not only do they have room to stretch out, this is great to have for a child who may start having anxiety attacks or have a full meltdown. Like I mentioned earlier, with all of the USB outlets equipped in this van you can plug up electronics on the go. And we all know how important things like an iPad, iPod is vital to our children.
See, nothing like a mini-van that can get along with almost anybody it meets. For more details and to build your own 2015 KIA Sedona head over to kia.com.
Disclaimer: I received complimentary use of the KIA Sedona to facilitate this car review. However, all thoughts and opinions are original work and 100% my own.
Pin it for later: