This is a sponsored post written by me on behalf of Smithfield®. The opinions and text are all mine.
We're sharing how we make a Midwest Bratwurst Boil, something we're known for here in the Midwest. A Midwest boil consists of fresh veggies, brats and seasoning tossed on the grill. Grab the recipe down below, as well as the beer that pairs well with our bratwurst boil.
Midwest Bratwurst Boil
Believe it or not, here in middle America we're not known for our seafood. Shocking, I know, but true. The East Coast has its lobster, the Gulf of Mexico has its shrimp, and the west coast has, well, California. But here in the middle of the country what do we have to brag about? We have loads of beef, poultry, and pork. And it's the pork, particularly in the form of the juicy and delicious Smithfield® Craft Collection™ Yuengling® Traditional Lager Bratwurst, which gives Midwesterners plenty of reason to brag.
But, we are not talking about just any bratwurst, we are talking about Smithfield Craft Collection Yuengling Traditional Lager Bratwurst made with high-quality cuts of pork, savory seasonings, and infused with beer from America's oldest brewery, Yuengling Lager. This isn't just any lager though. This is a premiere flagship lager, with a rich amber color and a unique palette with notes of roasted caramel malt and hints of sweetness. This beer pairs perfectly with grilled foods. So, we put together an incredible Midwest Brat Boil.
You can't get much more American than Yuengling Lager and Smithfield. Both hail from the original thirteen colonies, Pottsville, Pennsylvania and Smithfield, Virginia respectively. Both of which resonate an old school Americana steeped in tradition both thoughtful and brimming with a rich heritage. For your next backyard shindig, put together your very own Midwest Brat Boil and watch your guests get all the good feels. When they see such an amazing and delicious spread firsthand, their collective mouths will hang open in anticipation.
When summertime grilling is in play, it is hard to go wrong with hot wood smoke infused sweet corn on the cob. But that's not all; we also add hearty red skin potatoes, peppers, Spanish onions, asparagus, green onion and of course Yuengling Traditional Lager Bratwurst.
Look at this cornucopia of flavor! My mama always said to eat the rainbow, and this is pretty much all the best stuff of summer on one plate.
Crack a cold Yuengling Traditional Lager open for the guy manning the grill; they'll be mighty appreciative!
A picture is worth a thousand words, but this one will leave you speechless because you will be too busy eating it all up!
So, here's to summer, grilling and lots of cold Yuengling Lager. Don't forget Smithfield Craft Collection Yuengling Traditional Lager Bratwurst.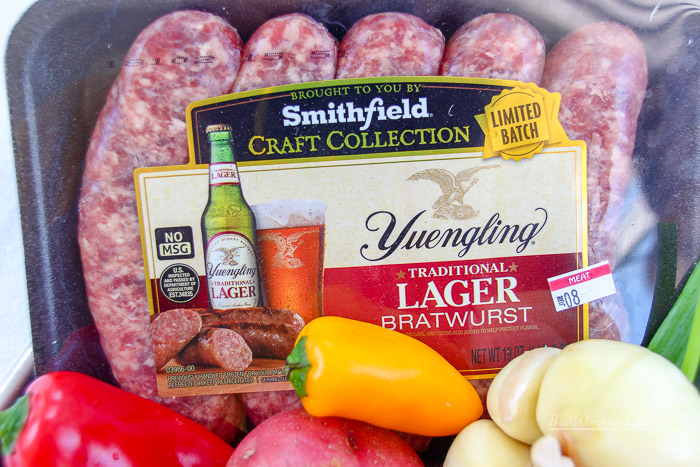 Here's how to make a Midwest Bratwurst Boil
Ingredients:
2 packages Smithfield Yuengling Traditional Lager Bratwurst
5 lbs Red Potatoes
2 large Spanish Onions, quartered
1 large bunch Asparagus
2 bunches Green Onion
2 large bulbs Elephant Garlic
1 lbs Baby Bella Mushrooms
6 Sweet Corn on the cobs, cut into thirds
Midwest Bratwurst Boil
Extra Virgin Olive Oil
Old Bay Seasoning
Flake Sea Salt
Freshly Ground Black Peppercorns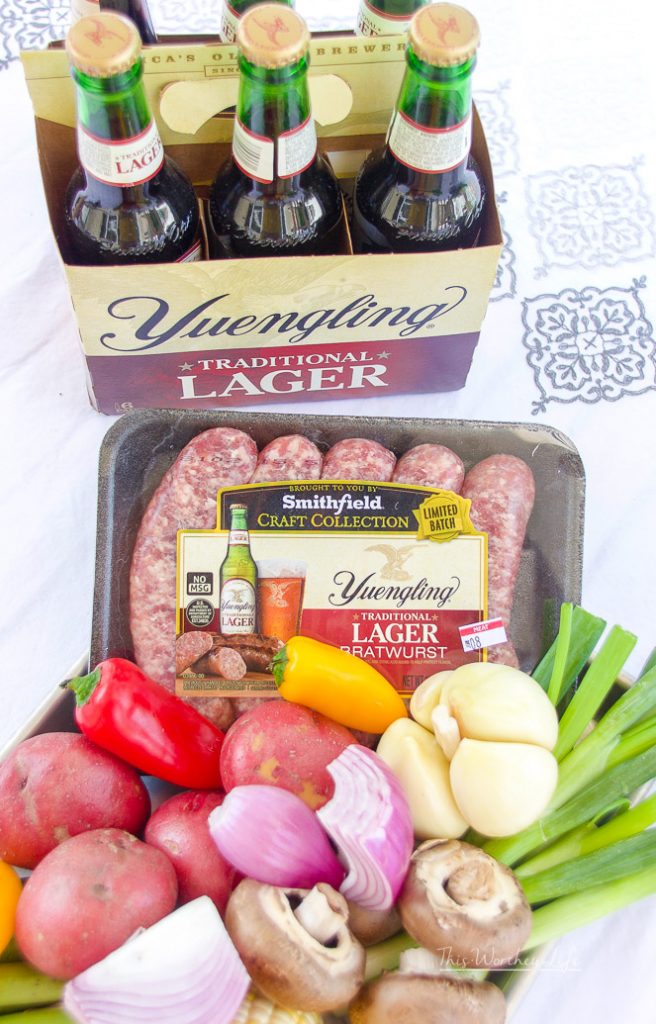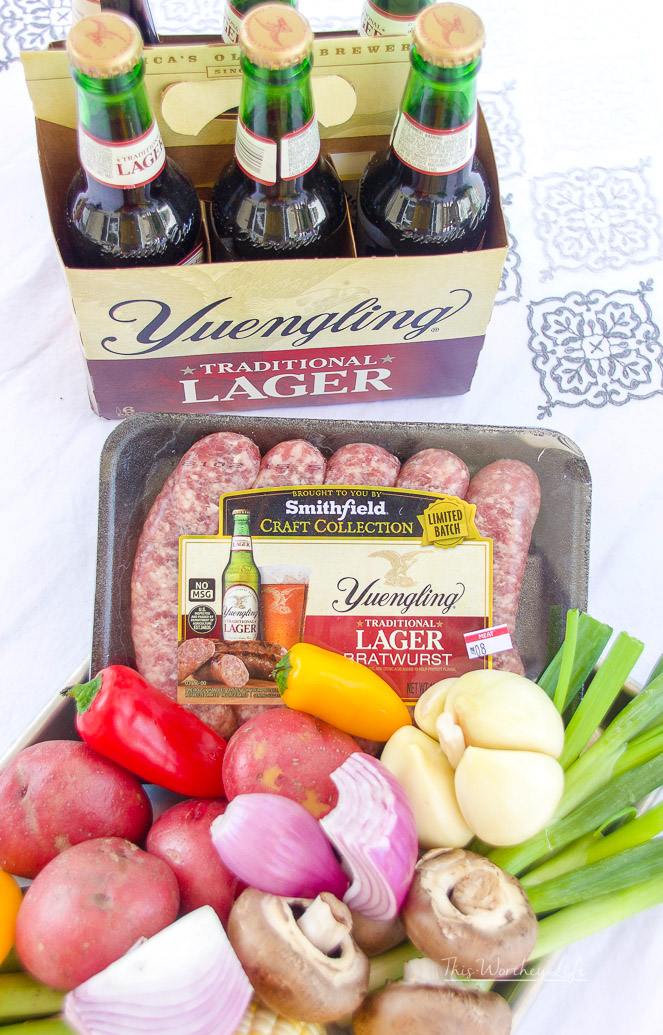 Directions:
Prep all of the vegetables ahead of time which includes shucking the corn and cutting it into pieces, peel the skin from the garlic bulbs, cut the asparagus and green onion into 4-5 inch lengths, quarter the Spanish onions, rinse the mushrooms.
Add the ingredients to a large bowl and dress with three tablespoons of EVOO.
Liberally sprinkle the Old Bay seasoning, flake sea salt, and freshly cracked black peppercorns.
Prepare the charcoal grill ahead of time, using charcoal and hickory wood pieces soaked in water overnight.
Light the coals first, then when the coals are glowing add the hickory wood pieces.
When the coals are hot, position the assorted ingredients indirectly but in close proximity to the coals.
Arrange the red potatoes about 3-4 inches away from the hot coals, then add Smithfield Yuengling Traditional Lager Bratwurst, then the sweet corn.
Add the rest of the veggies and close the lid. Check the potatoes, brats, and corn often to prevent burning.
When the veggies are finished cooking on the grill arrange the veggies and meat on a baking sheet.
Serve.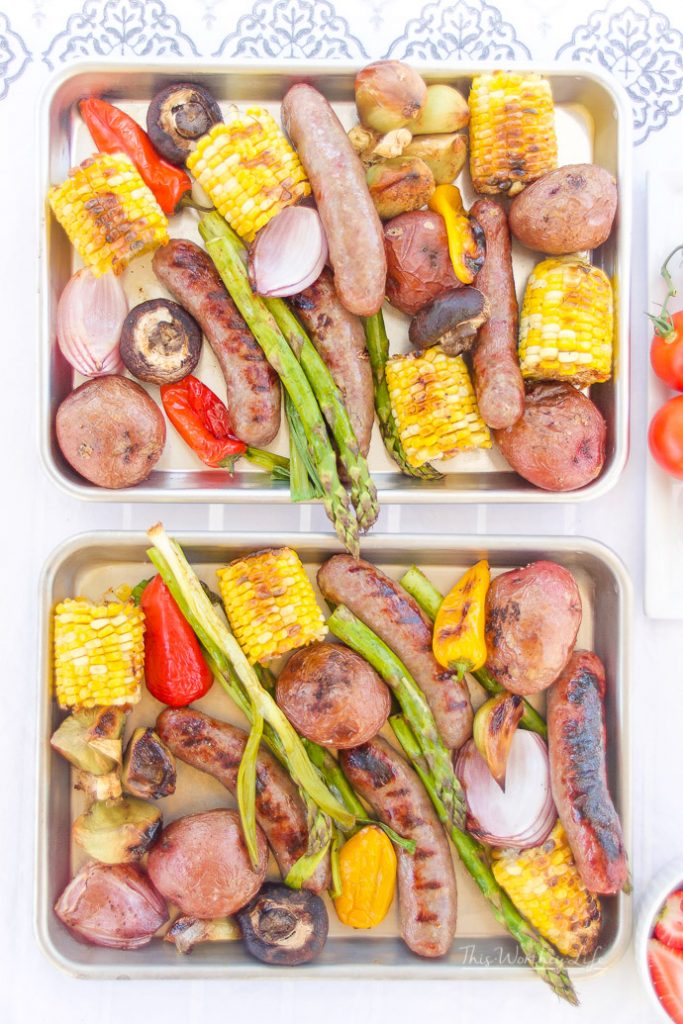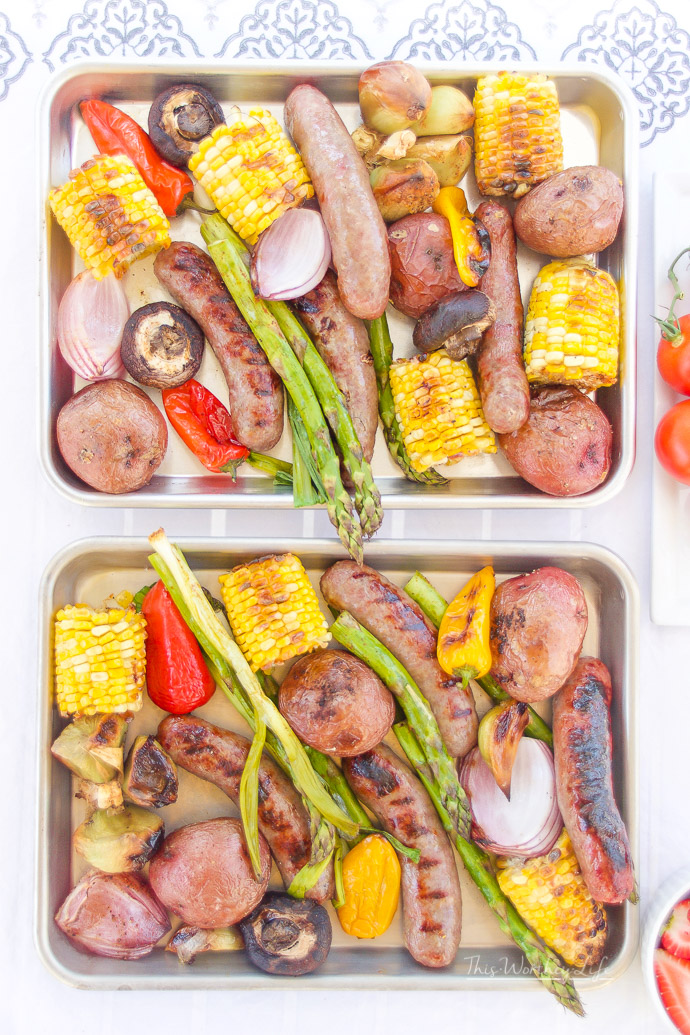 I picked up Smithfield Yuengling Traditional Lager Bratwurst and Yuengling beer at my local Kroger. At Kroger, you will also find everything else you will need to put together and pull off your own Midwest Bratwurst Boil. So what are you waiting for? What are you grilling up this summer? Leave us a line or two in the comment section down below. We want to know how you do summer grilling; we're always up to trying new recipes.
Head to your local Kroger store to pick up Smithfield Yuengling Traditional Lager Bratwurst and Yuengling this weekend!
Cheers to a wonderful summer!