Kids love waffles! Grab our easy, quick and kid-friendly recipe for Blackberry Mini Waffles. It's important for kids to have a well-balanced breakfast with all the important nutrients.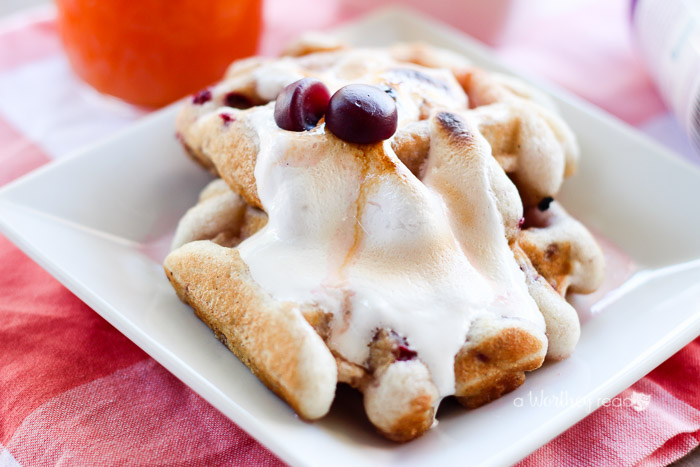 Mini Blackberry Waffles with Toasted Marshmallows
As a kid I was always told breakfast is the most important meal of the day. However, as I transitioned into my teen years, I stopped eating breakfast. Then came the young adult years, and I continued down my path of eating breakfast, or brunch around noon (usually when I woke up, ha!).
Now as a Mom of three growing boys, a tween, and two teens, I stress the importance of eating breakfast. I'm trying to teach the boys not to go down my path of skipping out on breakfast, staying active, and being the healthiest person possible. There are many mornings when one of the twins will come downstairs, grab a banana and that's it. I try to push the, "you need to have a good start to your day" message, but he states "I'm not hungry!"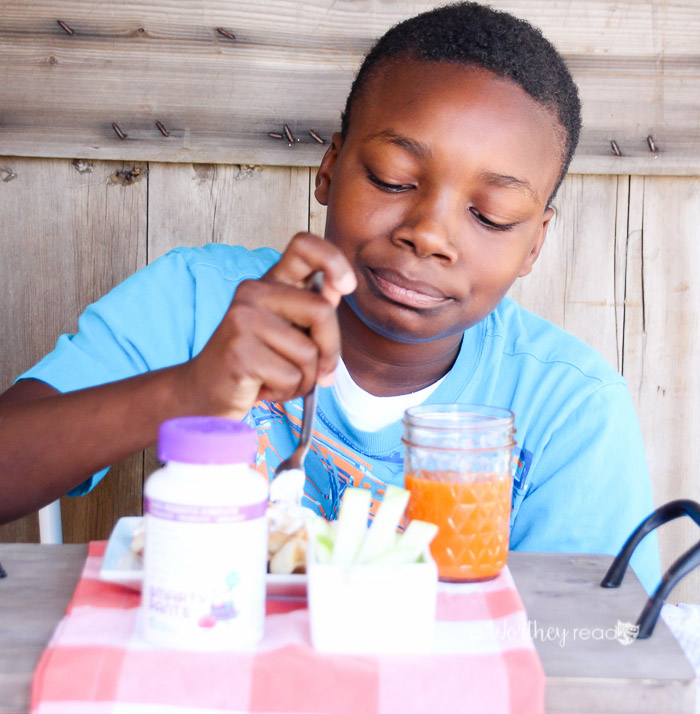 Many times I get the "mom guilt" of not preparing a hot breakfast for the boys or making them eat a hearty breakfast before rushing out the door to school. However, one thing I do not let them skip out on is taking their vitamins.
Taking a vitamin each morning is a must for every single family member. The boys may eat a piece of fruit or cold cereal for breakfast, but I've learned to let go of that "guilt" because I know they are getting their vitamins. When the boys were little, I would just pick up any vitamin on sale at the grocery store. However, as I grow to be older and wiser (ha!), I am learning to read labels and find out more about what we're putting into our bodies. Lately, we've been giving the boys SmartyPants Kids Probiotic Complete
As the boys get older, they need more than just a simple daily vitamin. They are into sports, they are growing into men. Yes, MEN! And I want only the best for my young, fearless leaders.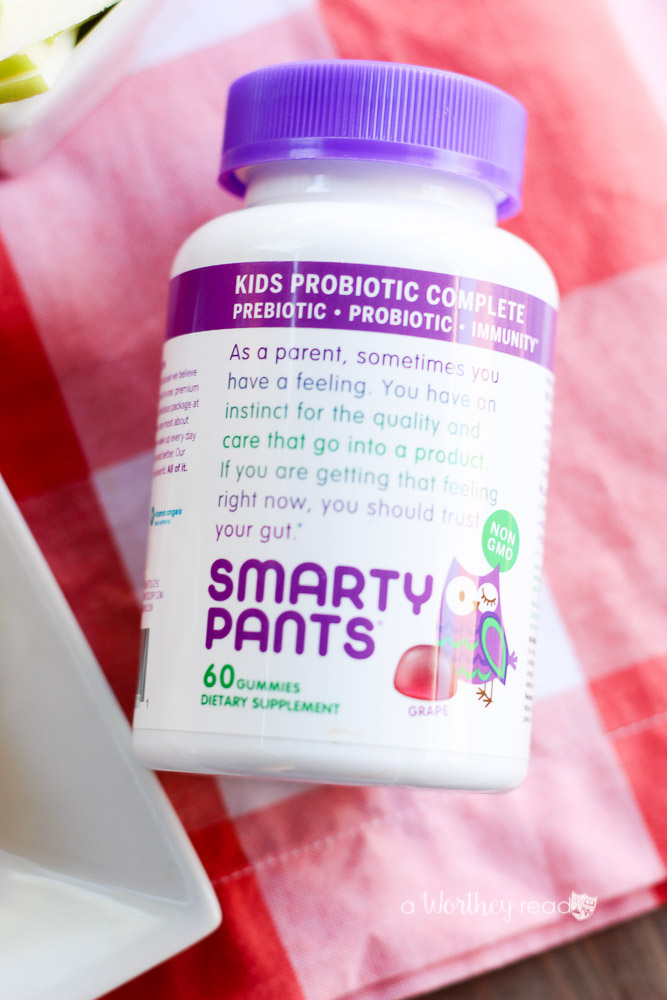 That is where the SmartyPants Kids Probiotic Complete brand comes into play. With the twins being sensitive to certain products, along with staying away from artificial flavors and sweeteners (this doesn't play well with kids with Autism), I'm finding out that this particular brand is exactly what we need.
Here's why:
There is no junk in these particular gummies. You will also not find any:
• No Synthetic Colors
• No Artificial Sweeteners
• No Artificial Flavors
• No Artificial Preservatives
• No High Fructose Corn Syrup
• No GMOs
• No Gluten
• No Tree Nuts
• No Peanuts
• No Dairy
The SmartyPants Kids Probiotic Complete is different from other probiotics because they combine multi-strain probiotics and Wellmune® probiotic immune support, all in one. They also deliver 4x more CFUs then leading gummy probiotics.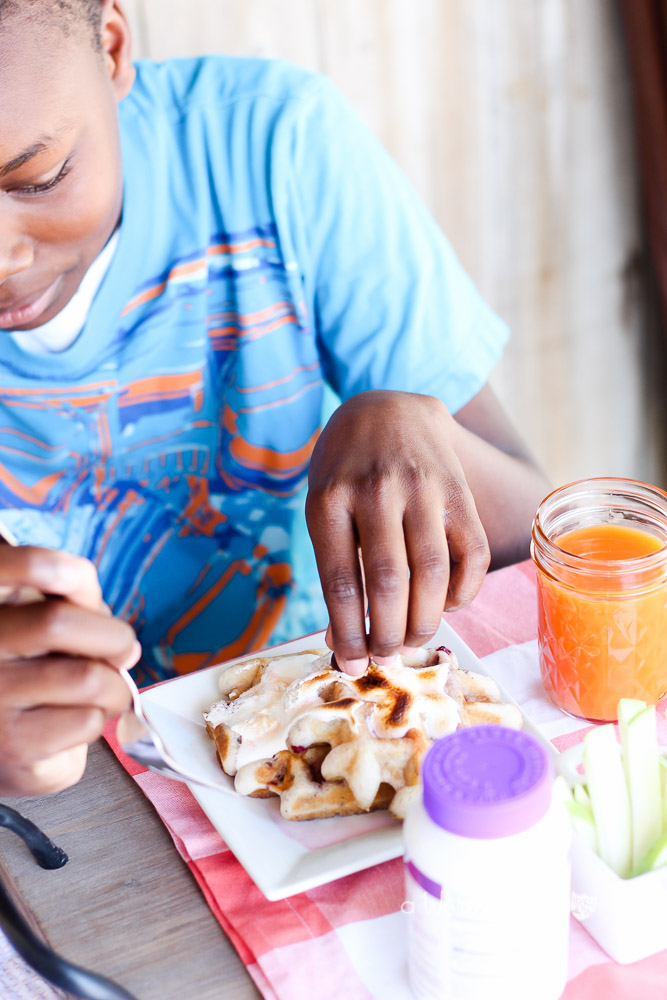 Before dishing out SmartyPants gummies to the boys, I tasted them. They are not super sweet like other gummy vitamins we have used before (yes to no artificial sweeteners), but they have a sweet enough taste where kids will chew them with no problem. Zayd'n and his brothers had no problem trying SmartyPants gummies and providing feedback. They all agreed that they were "okay, good, no problem swallowing them, and delicious!"
I'll call that a Mom win.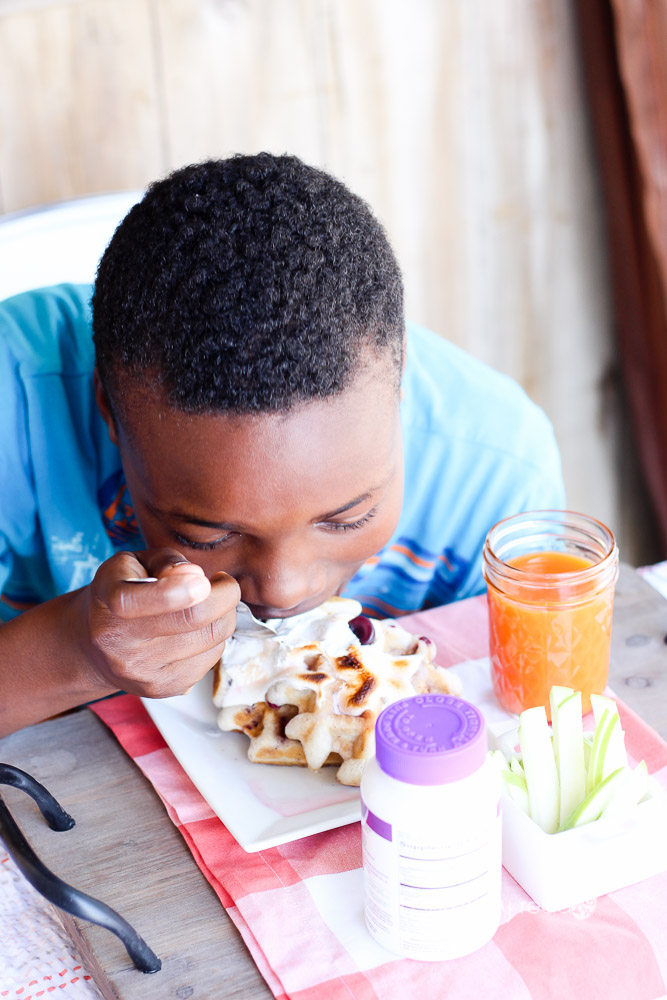 I'll also call these delicious Blackberry Mini Waffles with Toasted Marshmallows another win and a favorite go-to breakfast idea in the Worthey house. With a waffle maker, making these babies takes no time at all. Add some juice, fruit, and their daily dose of vitamins, and breakfast is served!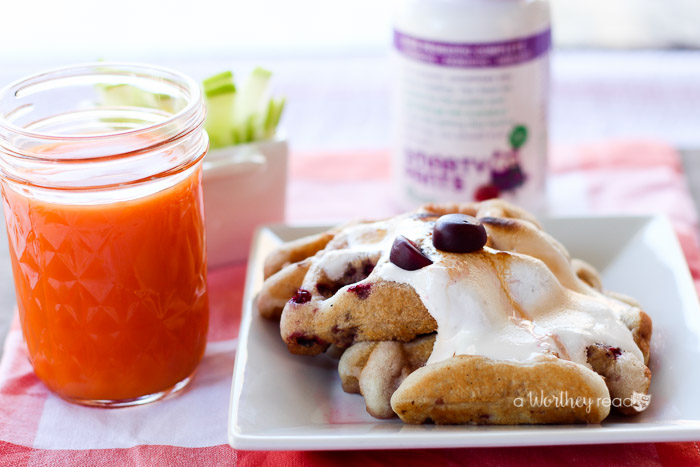 Grab the recipe below and try it this week for breakfast!
Ingredients:
2 cups All-Purpose Flour
1/2 teaspoon Sea Salt
3 3/4 Baking Powder
1 Tablespoon Granulated Sugar
1 tablespoon Light Brown Sugar
2 Eggs
1 Egg White
1 1/2 cup Butter Milk
1/3 cup melted unsalted butter
1 teaspoon pure vanilla Extract
1/2 teaspoon ground Cinnamon
10 Ripe Blackberries
Directions:
In a bowl add all-purpose flour, white and brown sugars, baking powder and sea salt and whisk together.
Add eggs, egg white, melted butter, and buttermilk in a separate bowl and whisk ingredients together.
Gradually incorporate dry ingredients into the wet ingredients until well combined.
Heat waffle griddle and brush with more melted butter.
Spoon two heaping tablespoons into the waffle compartment and top with chopped blackberries.
Removed finished waffles and arrange them on a sheet pan and slather on marshmallow creme.
Preheat oven on high broil. When the oven is hot, place waffles in the oven. Broil until marshmallow is golden brown and toasted.
Remove from oven, plate and add your choice of syrup.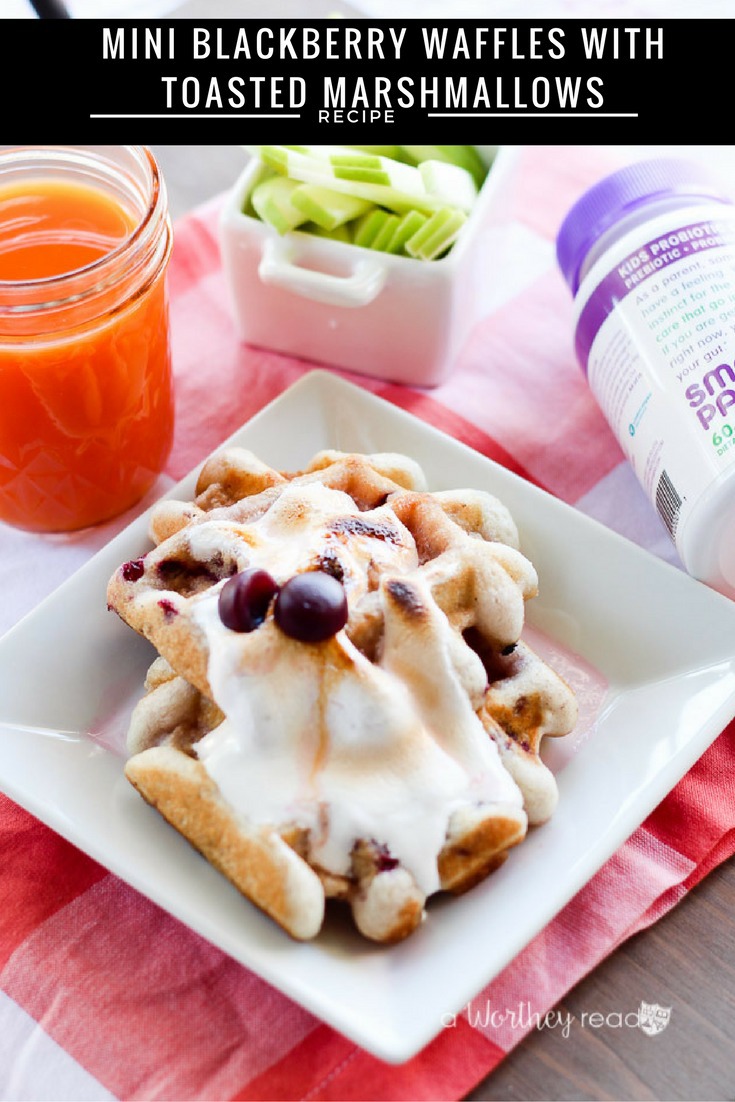 Message from SmartyPants Kids Probiotic Complete:
"We want to bring more health to more people, so for every bottle sold, we make a one-for-one nutrient grant to Vitamin Angels. Each grant provides a child in need with life changing vitamin A supplementation for one year. So far, we've helped over 2 million children, thanks to your support. With your help, we hope to make 10 million grants by 2018!"
So, Moms, Dads, Caretakers of all little peoples, let's make sure our kids start each day off on the right foot! And it all starts with breakfast!
Disclosure: Thank you SmartyPants for sponsoring this post. {see disclosure policy}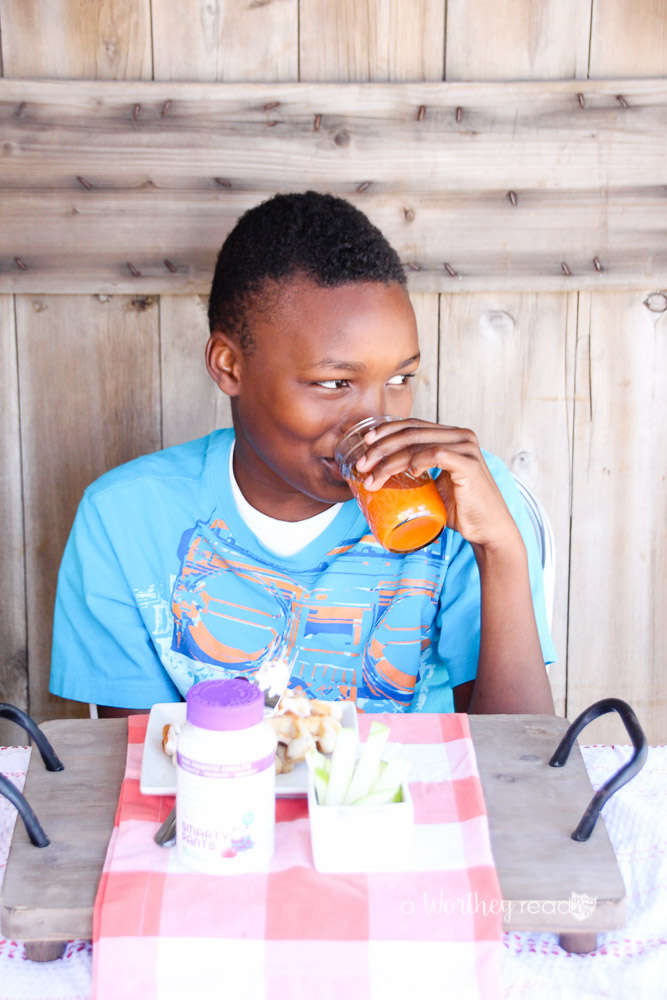 Be sure to pin this recipe to your breakfast board: