Disney's new movie, Moana is now in theaters! Kick it off with a Moana Rum & Pineapple Punch Cocktail and also a mocktail version.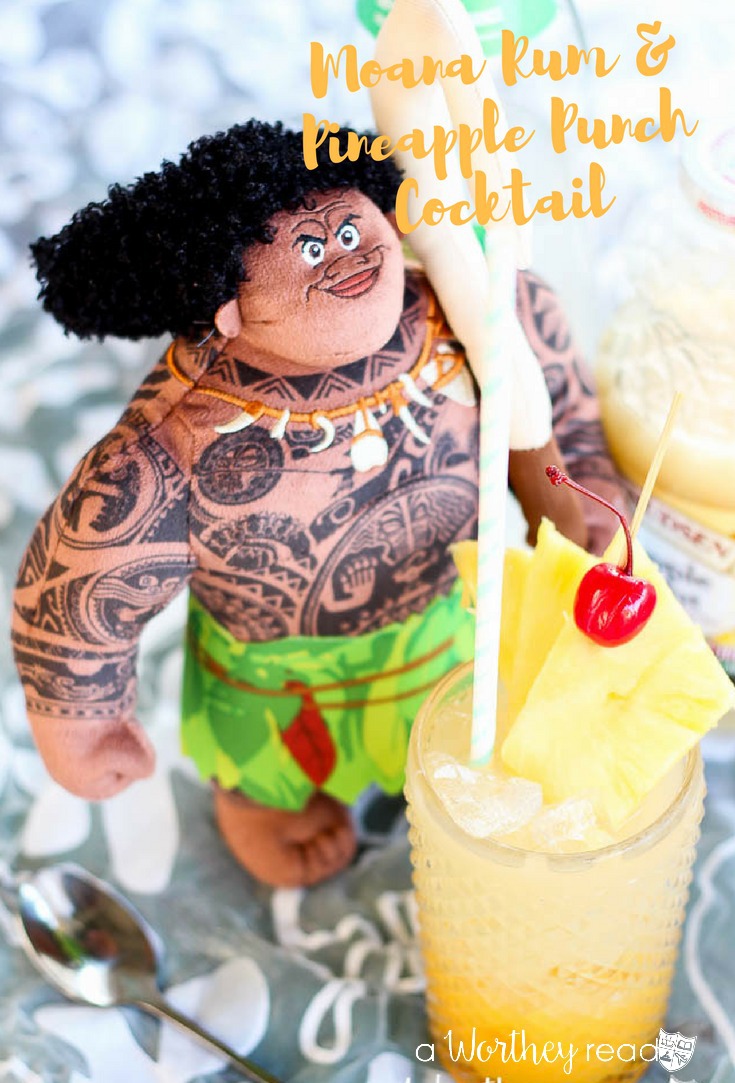 We are huge fans of Disney, and of course Disney movies. Disney's newest movie, Moana arrived at the movie theaters around the globe yesterday, November 23rd.
Here's a little snippet about the movie, "Walt Disney Animation Studios' new feature film "Moana" is about an adventurous teenager who, with help from demigod Maui, sails out on a daring mission to prove herself a master wayfinder and save her people."
We're all looking forward to seeing this movie, and since it's Thanksgiving weekend, it's a very good time to do something together with the whole family.
Here are a few fun facts about Moana:
Moana dons seven outfits in the movie, including the red tapa garment the character wears as a toddler when she first encounters the ocean character. • Moana's main look includes a tapa top and pandanus skirt with a shredded pandanus underskirt. Costume designer Neysa Bové created the outfit so it would be suitable for an adventurer. "The skirt has a slit in front to allow movement— whether she's swimming, running or navigating her canoe," says Bové. • One elaborate outfit worn during a dance sequence is visible for just six seconds. • Inspired by the Taualuga ceremonies of Samoa, Bové created a ceremonial garment for Moana that is covered in shells and pearls. Her Tuiga—or headdress—has shells from the ocean and red feathers to symbolize royalty. • All the characters in "Moana" wear outfits made only from materials that would have been available to them 2,000 years ago.
Technology had to be refined to allow for a wet look for Moana's curly do, since she spends some time underwater. Artists invited volunteers with similar hairstyles to come into the studio and get dunked so they could perfect the look.
"Moana" director John Musker, who also directed "Aladdin," was inspired by "Sleeping Beauty" and "Pinocchio."
To create the starry sky featured in "Moana," filmmakers turned to astronomers who researched what stars would've been visible in Pacific Island skies 2000 years ago.
Filmmakers had to create a feather pipeline to deal with the feathers for not only Heihei, but for Maui hawk—the shape-shifted character Maui transforms into with the help of his magical fishhook. Feathers prove challenging in CG animation because of the need to rest on top of each other.
Be sure to grab the ingredients to make this fruity cocktail and mocktail version.
Moana Rum & Pineapple Punch Cocktail
Ingredients:
0.5 Toasted Coconut Simple Syrup
2.0 ounces Appleton Estate Reserve Jamaican Rum
2.0 ounces Coconut Lime Sparkling Soda
1.5 ounces Mango Juice
1.5 ounces R.W. Knudsen Pineapple Coconut Juice
Ice
Garnish with pineapple and cherries
Directions:
In a cocktail shaker add toasted Jamaican rum, coconut simple syrup, coconut lime soda, mango and pineapple coconut juice, and ice.
Stir mixture with a long-handled bartender's spoon.
Strain into a serving glass.
Garnish with pineapple and cherries.
Serve.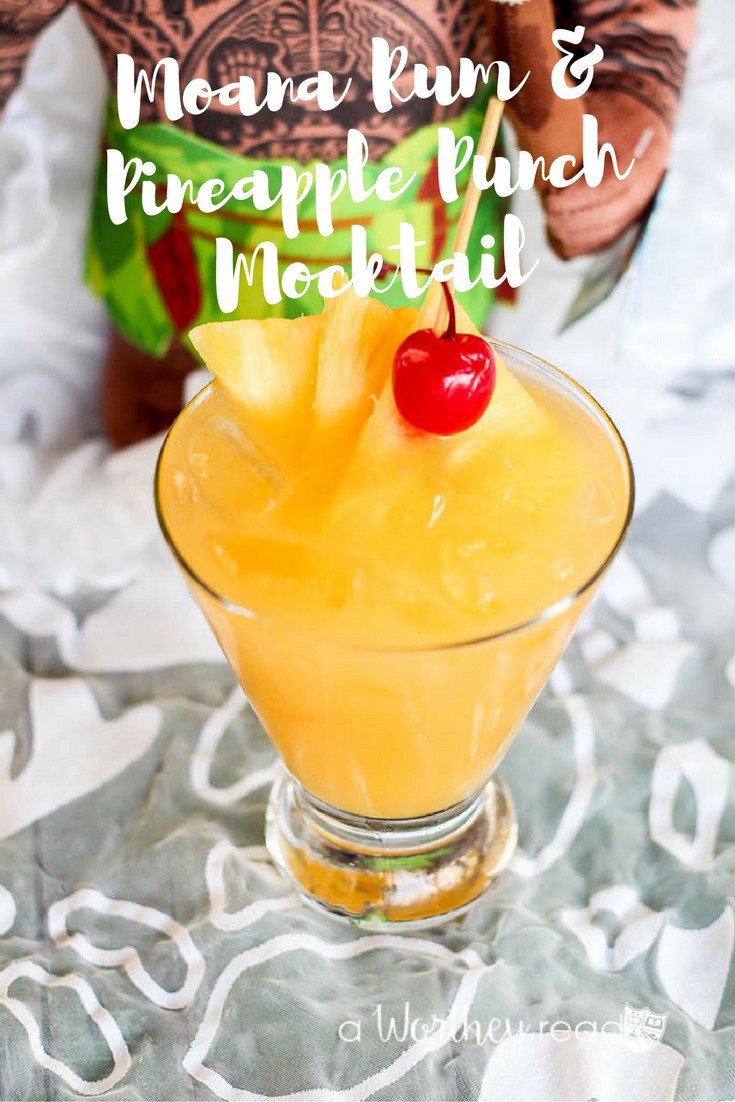 For the mocktail version:
0.5 Toasted Coconut Simple Syrup
2.5 ounces Coconut Lime Sparkling Soda
2.0 ounces Mango Juice
2.0 ounces R.W. Knudsen Pineapple Coconut Juice
Ice
Garnish with pineapple and cherries
Download a few activities for the kids: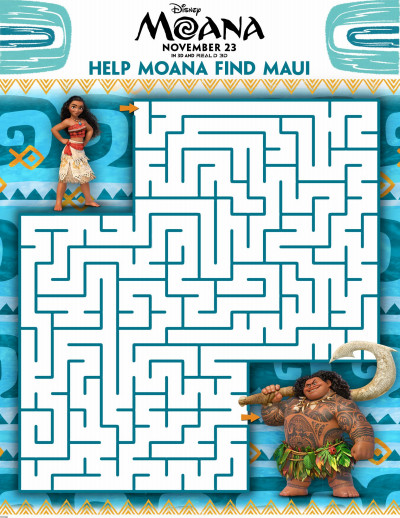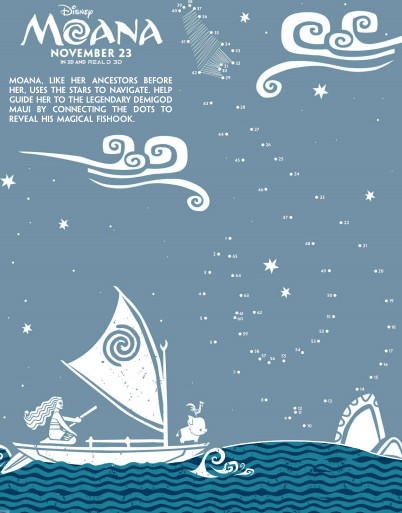 Moana-connect-the-dots-activity-sheet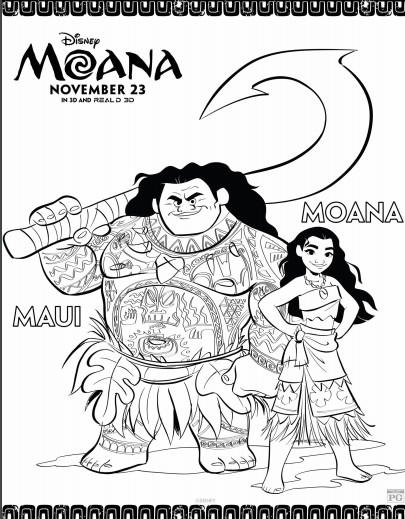 Did you go to the movies to see Disney's Moana? Let me know what you thought of the movie below!