We're sharing our homemade loaded oatmeal raisin cookies recipe, which are great for the holiday baking season. And, we're part of the Houseful of Cookies blog hop, so you will find a ton of great cookie recipes to share this year! And, cookies make great Friendsgiving gifts for all of your loved ones. I mean, who doesn't like a great cookie?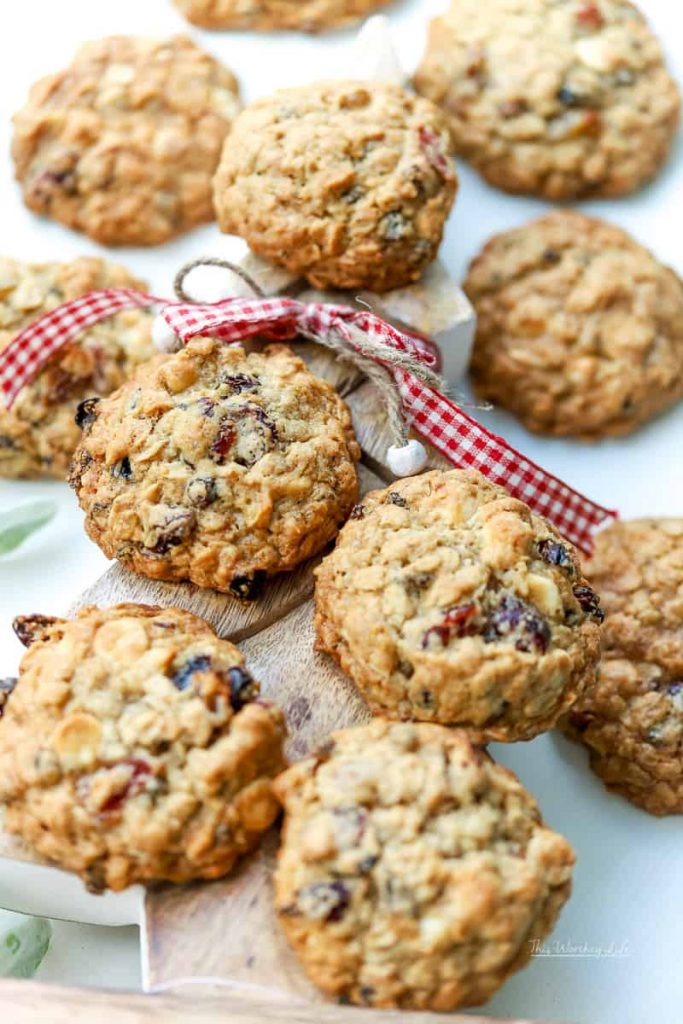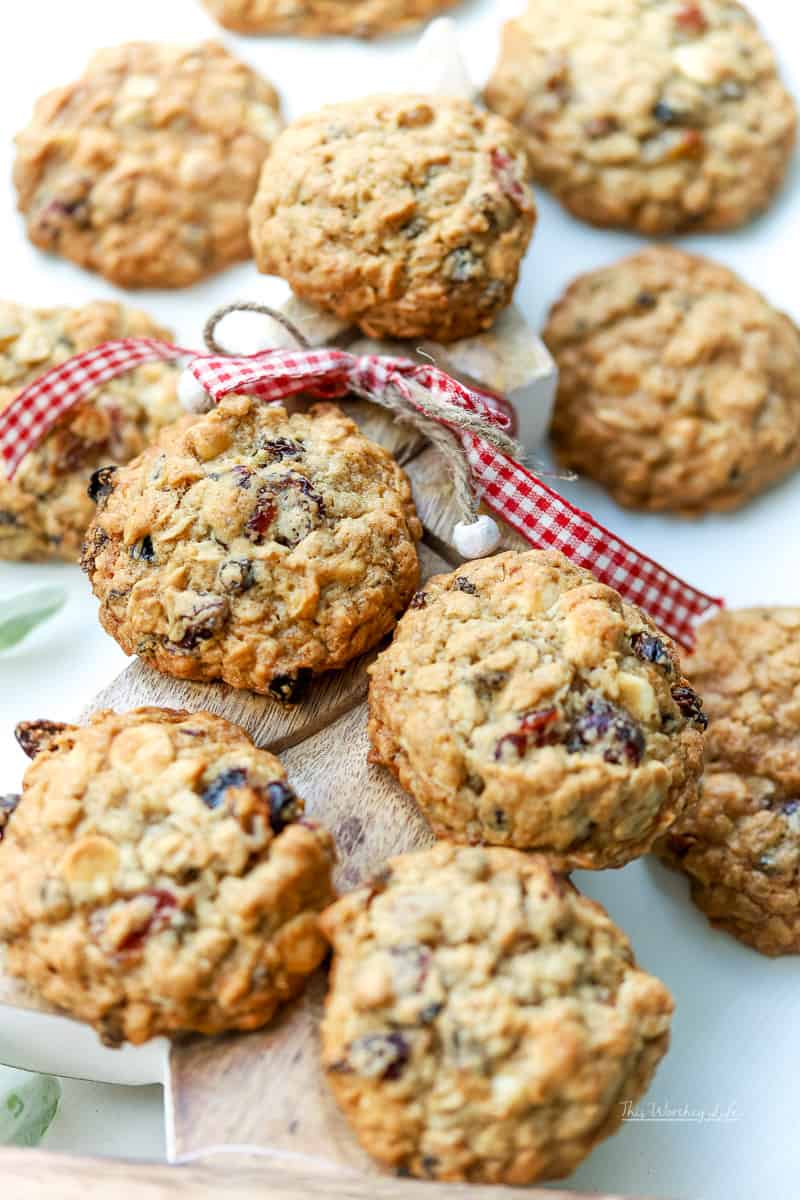 Loaded Oatmeal Raisin Cookies
Happy Hump Day! It's the day before Thanksgiving, and as we rush around to get everything we need for tomorrow, we're stopping for a moment to share this delicious cookie recipe. As soon as the clock strikes twelve on Thanksgiving night, it's Christmas everything. Well, at least around The Worthey House that's the case. But for now, we give thanks for the good stuff and eating our hearts out.
Find more delicious cookie recipes below:
Pecan Praline Chocolate Chip Cookies
Peppermint Cookie Recipes With Hershey Kisses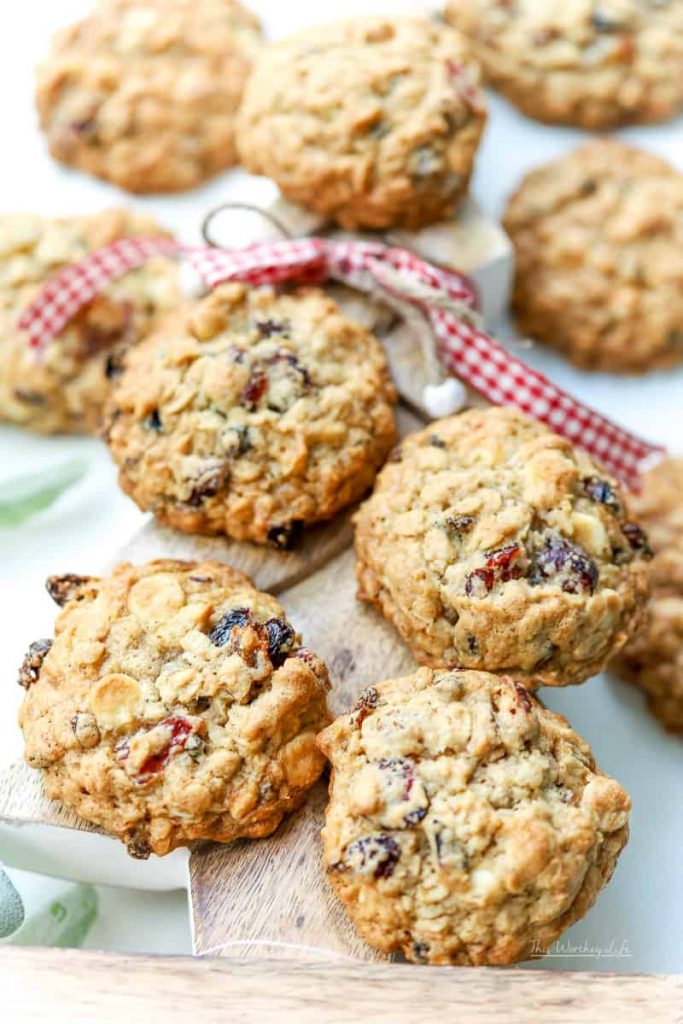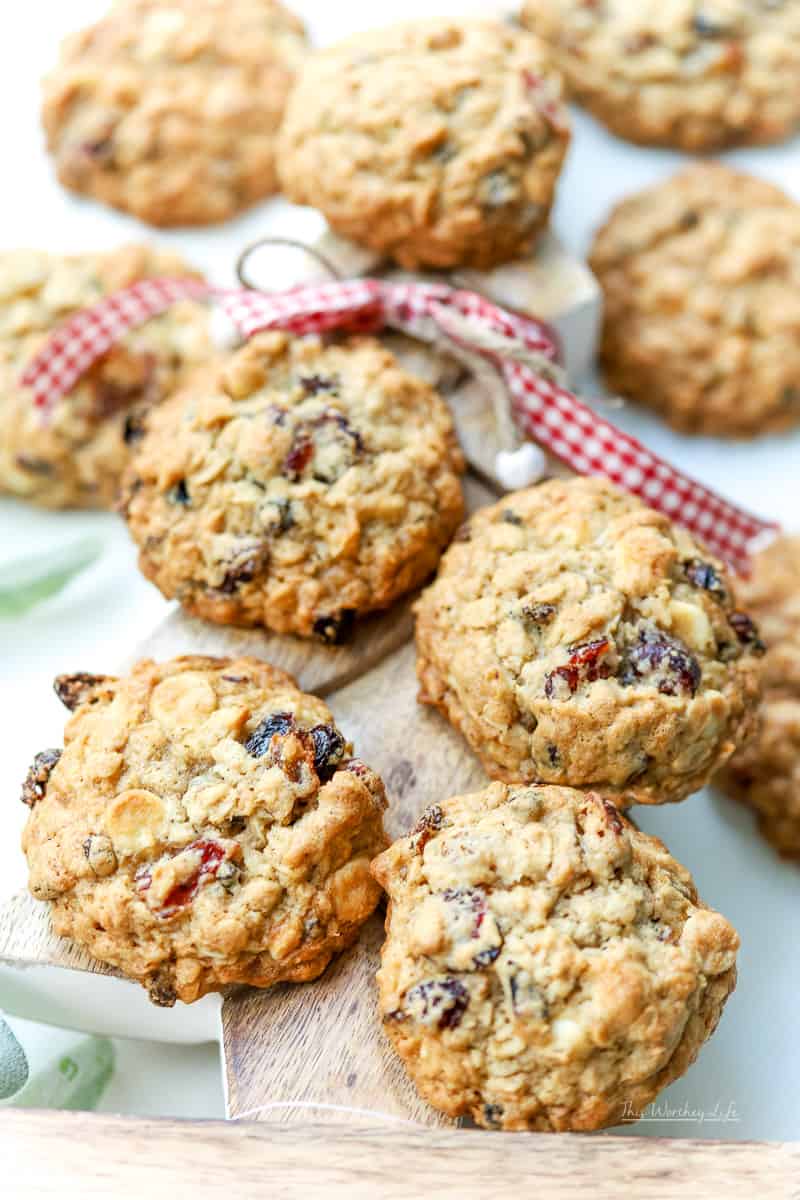 Well, in the Worthey house, we've Tatanisha has been celebrating Christmas since November 1st. It's this modern man's struggle (more on that later). But forget all of that. Do you like oatmeal raisin cookies? Me too! So, if you're already a fan then there's a good chance you will fall head over heels for our Loaded Oatmeal Raisin Cookies! We just couldn't help ourselves. We threw in everything but the kitchen sink! Grab a cold glass of milk, or my fav Ben & Jerry's Chunky Monkey ice cream, and set these incredibly delicious cookies out for the hungry Santa and adorable elves in your life.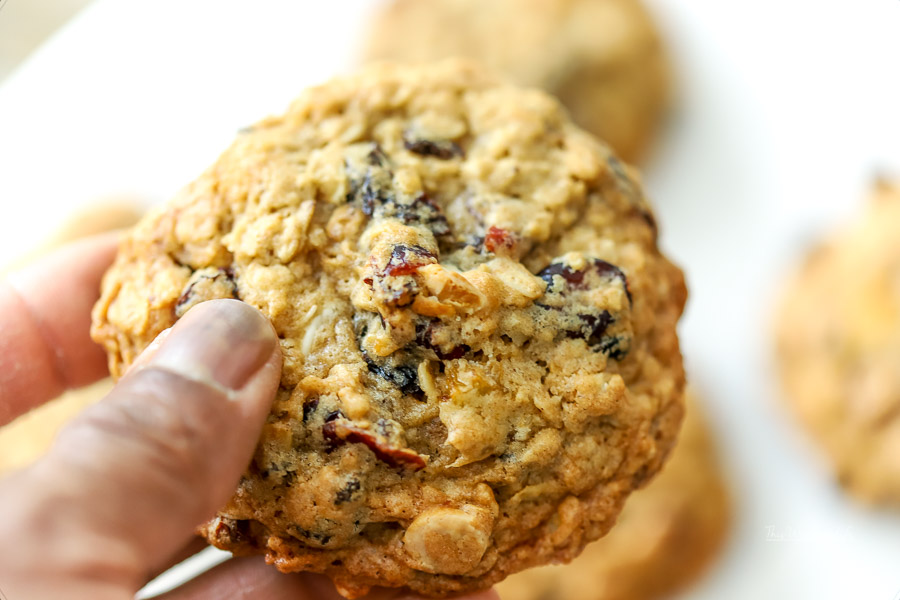 Our good friend Natasha, of Houseful of Nicholes, does a Cookie Hop every year. Each year, she puts together the Houseful of Cookies blog hop. Several bloggers have joined this hop, and everyone shares a delicious cookie recipe for the Christmas holiday season. We made Loaded Oatmeal Raisin Cookies, filled with tons of yummy things. These cookies are crisp around the edges and soft, chewy, decadent in the middle, and YUMMY all over! Yes, this may be the best cookie recipe I've made since the last time I made cookies. So, put your apron on and let the all-purpose flour fly!

Ingredients needed for Oatmeal Raisin Cookies
2 cups whole old-fashioned oats
1 cup sifted all-purpose flour 1/2 teaspoon baking soda
1 teaspoon large crystal sea salt ( Diamond Cyrstal or Maldon)
1 teaspoon apple spice seasoning
1 1/2 sticks unsalted butter, room temperature
1/2 cup granulated sugar
1/2 cup light brown sugar
1 fresh farm egg, room temperature
1 tablespoon pure vanilla extract
3 tablespoons bourbon maple syrup
1/4 cup golden raisins
1/4 dried cranberries
1/2 cup white chocolate chips
2 tablespoons black currants (optional)
4 tablespoons chopped pecans (optional)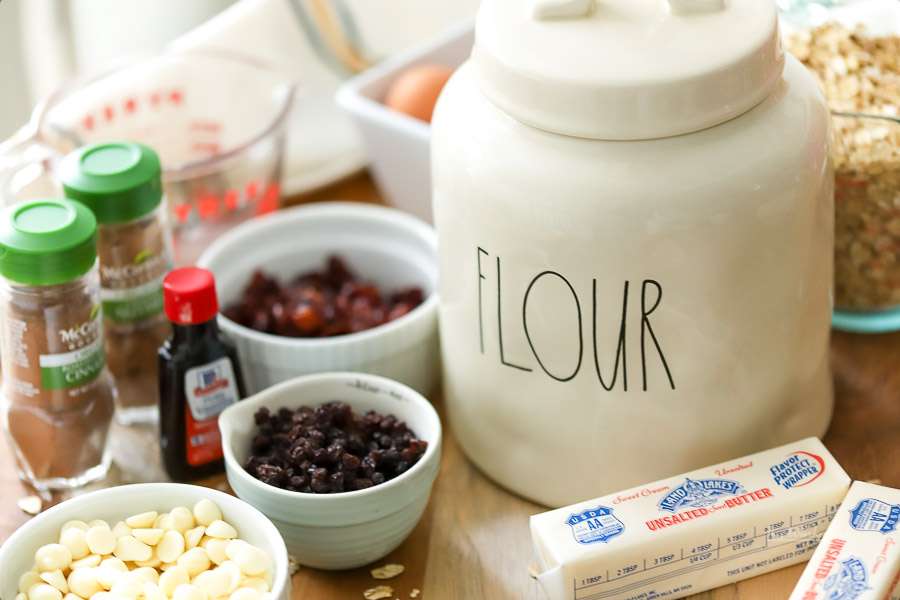 How to make homemade Oatmeal Raisin Cookies
Preheat oven to 350 degrees
Into a mixing bowl whisk together oats, flour, baking soda, and apple spice seasoning.
In the bowl of a stand mixer cream together the softened unsalted butter, granulated and light brown sugar until smooth.
Add an egg, pure vanilla extract, and bourbon maple syrup to the butter and sugar mixture. Continue to mix until smooth.
A tablespoon at a time, add the dry ingredients mixture until fully incorporated.
Add the golden raisins, dried cranberries, black currants, chopped pecans, and white chocolate chips. Mix well.
Using a two (2) ounces cookie dough scoop place cookie dough two inches apart on a cookie sheet lined with parchment paper.
Bake cookies for 6 minutes, then turn the cookie sheet and continue to bake until the edges are browned about 8-10 minutes.
Remove from the oven and transfer the cookies to a wire rack to cool.
These are so good; you may want to make a batch or two!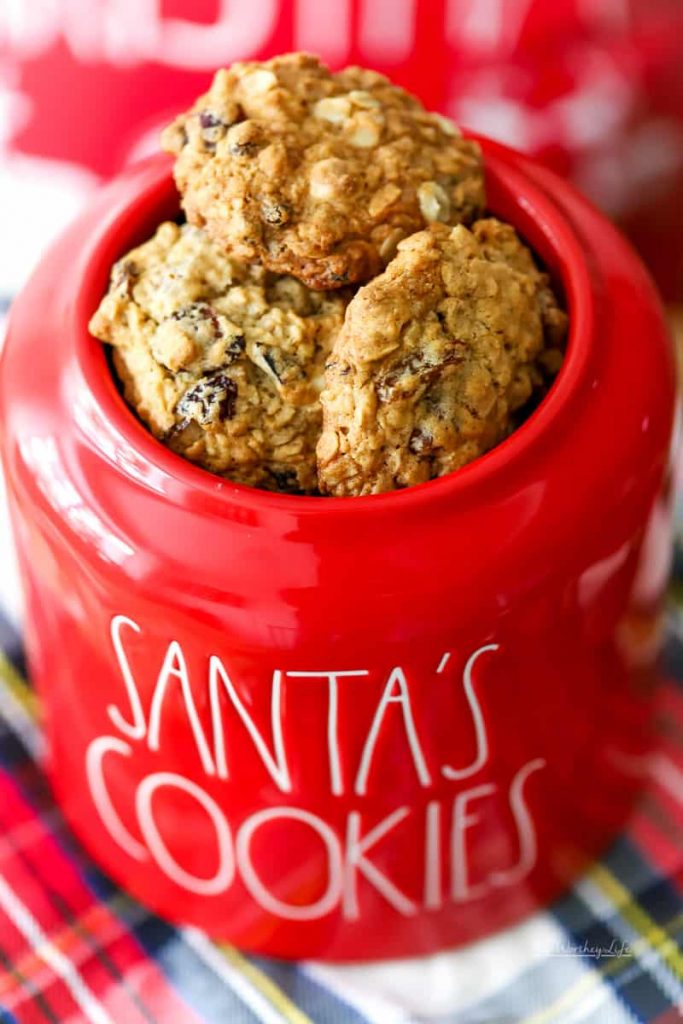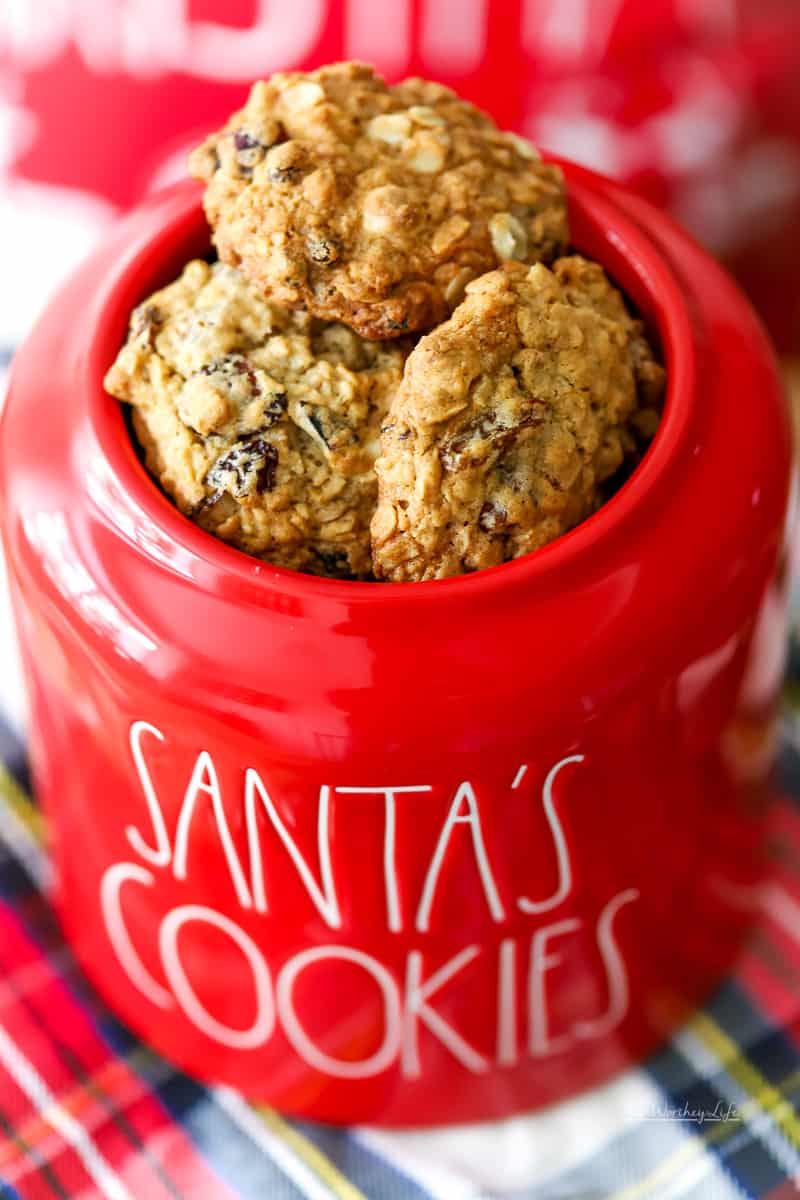 The Houseful of Cookies Blog Hop
And be sure to check out this wide range of wonderful cookie recipes!
Holiday Rich Butter Cookies – Houseful Of Nicholes
Rolo Pretzel Cookies – Creating Really Awesome Fun Things
Best Chewy Chocolate Chip Cookies – Ashley & Co
Minty Holiday Cookies – Amy Ever After
Scottish Shortbread Christmas Cookie Wedges – Albion Gould
Loaded Oatmeal Raisin Cookies – This Worthey Life
Brown Sugar Shortbread – Eat Picks
Pretty Decorated Sugar Cookies – 100 Directions
Christmas Rose Cookies – Divas With A Purpose
Nutella Brownie Cookies – Big Green Pen
No Bake Cookies – Hysterical Mom
Norwegian Cookies – Kringla – Little Family Adventure
Cake Mix Christmas Cookies – Mom Generations