"This is a sponsored blog post; while the views expressed here were genuinely mine, consideration was paid to me by Bays English Muffins to review this product."​ If you're looking for an overnight french toast recipe, you should try this Peach Melba French Toast, also perfect to make for Christmas morning!

Overnight French Toast Recipe | Peach Melba French Toast
It's Christmas morning, and the rush of opening up presents, looking for batteries, and helping kids hook up new games and toys is over.
We typically don't hear, "I'm hungry" until several hours into this joyous and beautiful morning. By this point, Derrick and I are both lounging around, and neither one of us wants to move from our comfortable spots.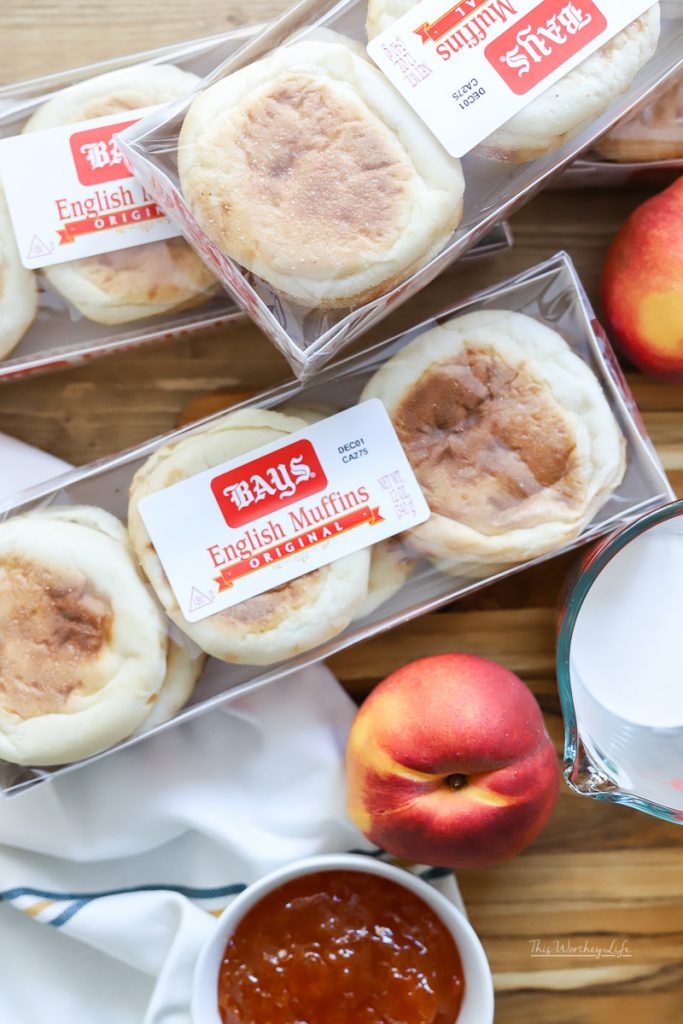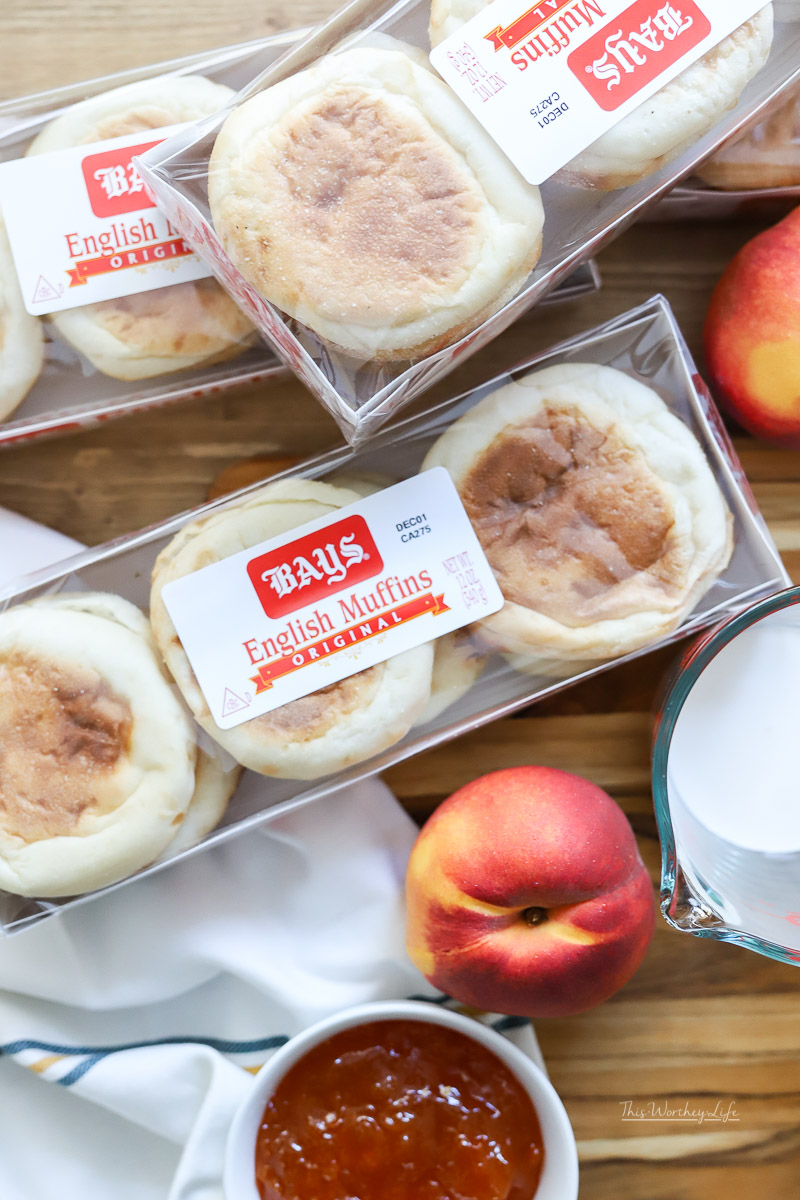 If you're looking for a delicious and easy breakfast recipe to make ahead of time, we've got you covered with this recipe we're sharing from Bays English Muffins.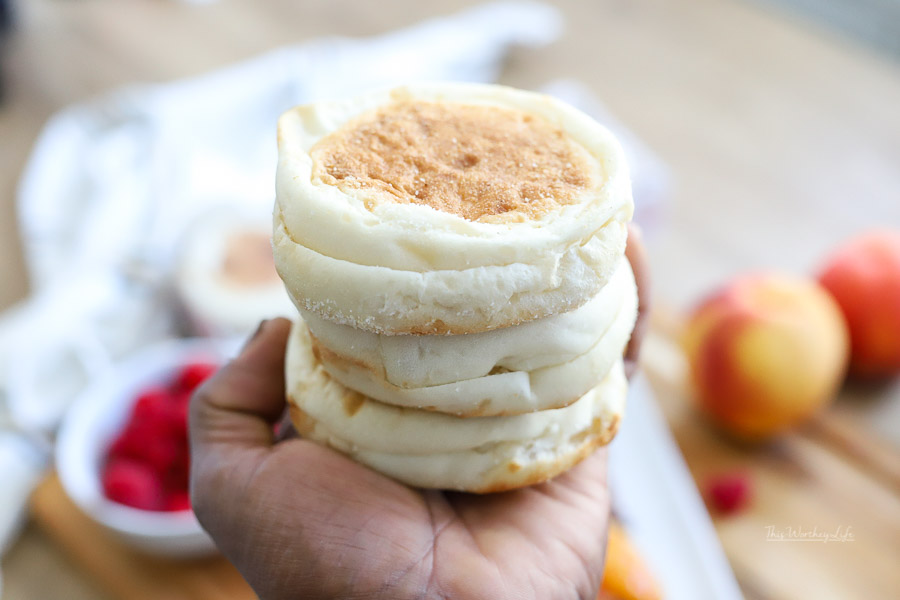 You see, Bays looked into the future and figured out we would need a quick, go-to breakfast recipe for Christmas morning. Or, maybe you got Christmas morning covered, but you will have guests over for several days, or you are hosting an early brunch. This Peach Melba French Toast recipe can be made the night before or the same day. Either way, it's going to be a surefire hit!
During the holidays we like to prep as many dishes as possible, which is why we love this recipe. It has everything I am looking for in a breakfast recipe; it's way easy, fast, and delicious!
Plus, I love french toast, so I'm always up for trying a new type of french toast recipe at home, or in a restaurant. While this may be a breakfast recipe, it's one you can enjoy morning, noon or night! Breakfast for dinner is a huge hit in The Worthey House, and I imagine it may be in your home as well.
When you think of muffins, you may only think of this as a breakfast food item. However, Bays English Muffins are meant to be used at any time of the day, not just for breakfast. They offer a variety of recipes on their website, including the one we're sharing below.
With over 80 years of family tradition with original recipes using always-fresh English Muffins, Bays wants you to think outside the box with their muffins. That's another reason why I love this french toast recipe; it's made using muffins. We've never made our french toast this way before, but now it's part of the family menu of recipes we love.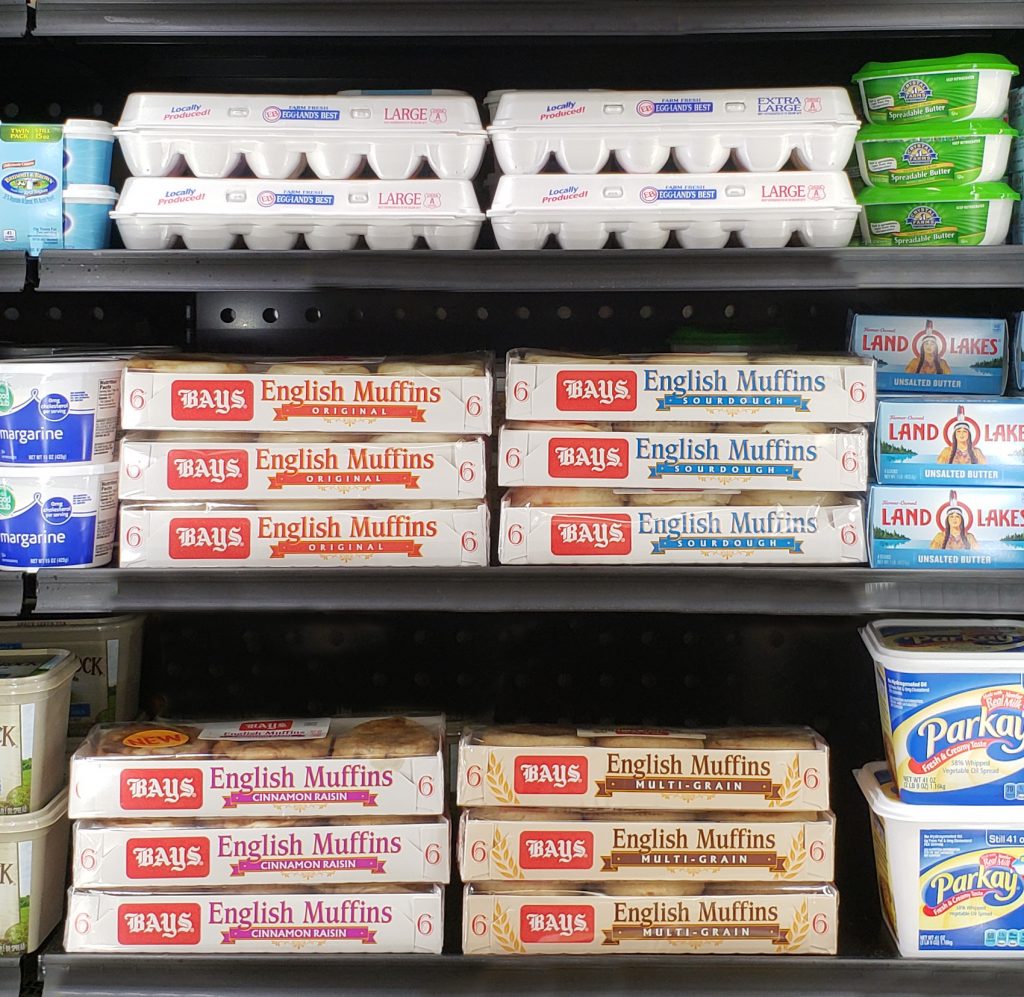 You can find Bays English Muffins in the dairy aisle instead of the bread aisle; they are carefully chilled for freshness. Also, Bays English Muffins should be refrigerated after opening.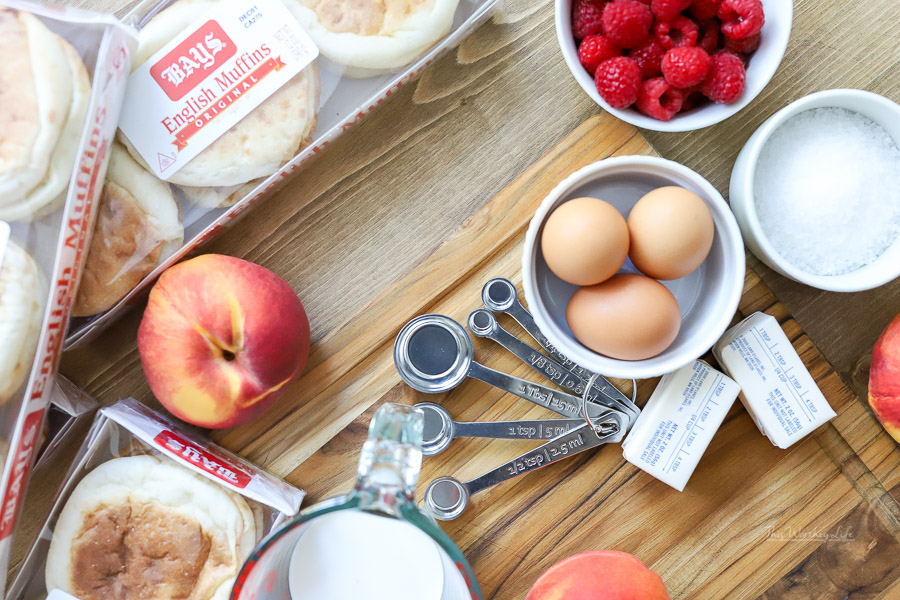 Ingredients for Peach Melba French Toast Recipe
4 BAYS English Muffins, split
3 eggs
3/4 cup milk or half-and-half
2 tablespoons Amaretto (optional)
1/2 teaspoon vanilla
1/8 teaspoon salt
1/8 teaspoon ground nutmeg
6 tablespoons butter, divided
4 medium peaches, sliced
3/4 cup apricot spread or preserves
2 tablespoons Amaretto or orange juice
1/2 pint fresh raspberries
Confectioner's sugar
Fresh mint sprigs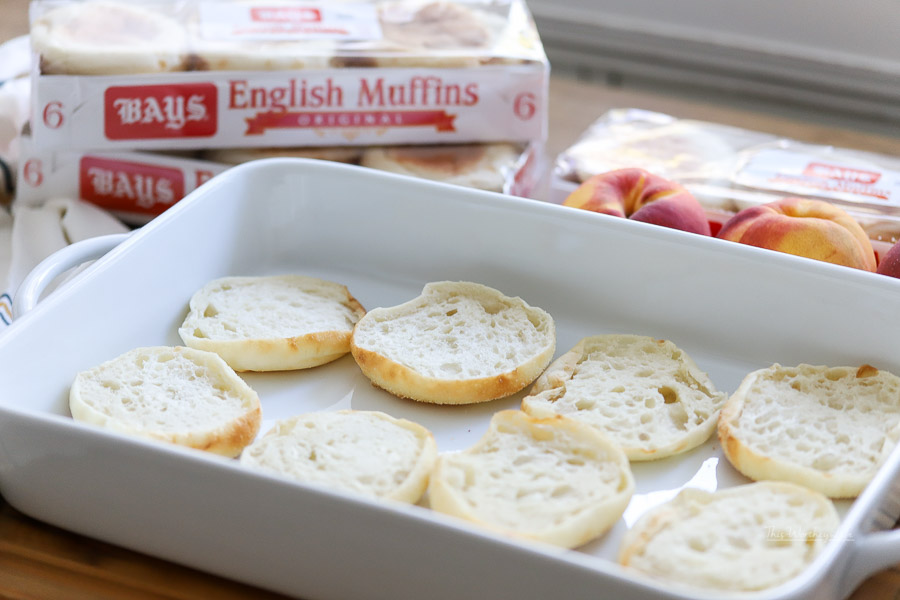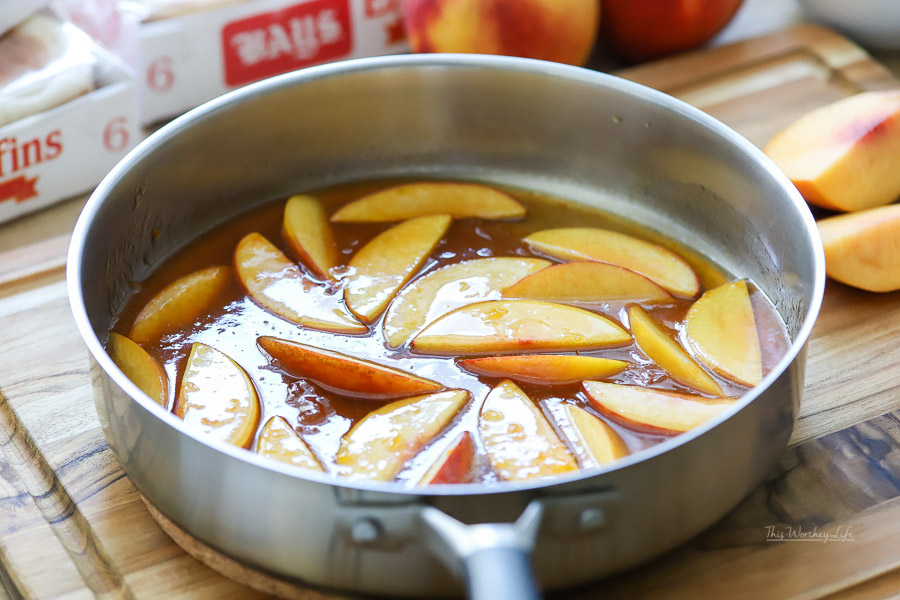 Directions On Making Overnight Peach Melba French Toast
Arrange muffin halves in a large, shallow baking dish.
In a medium bowl, combine eggs, milk, Amaretto, vanilla, salt, and nutmeg; whisk thoroughly to combine.
Pour over muffins, turning to coat evenly. Cover and refrigerate several hours or overnight.
To cook, heat two tablespoons of butter in a large skillet. Add muffins halves and cook over medium-high heat until browned, turning once.
Remove from skillet and keep warm. Repeat with remaining muffins and butter.
Heat remaining two tablespoons butter in the same skillet.
Cook peaches until slightly softened, 2 to 3 minutes. Stir in the apricot spread and Amaretto. Heat until mixture bubbles.
To serve, cut French toast slices in half. Arrange three pieces on each plate. Spoon some peach compote over each serving.
Sprinkle with raspberries and confectioner's sugar. Garnish with mint sprigs, if desired.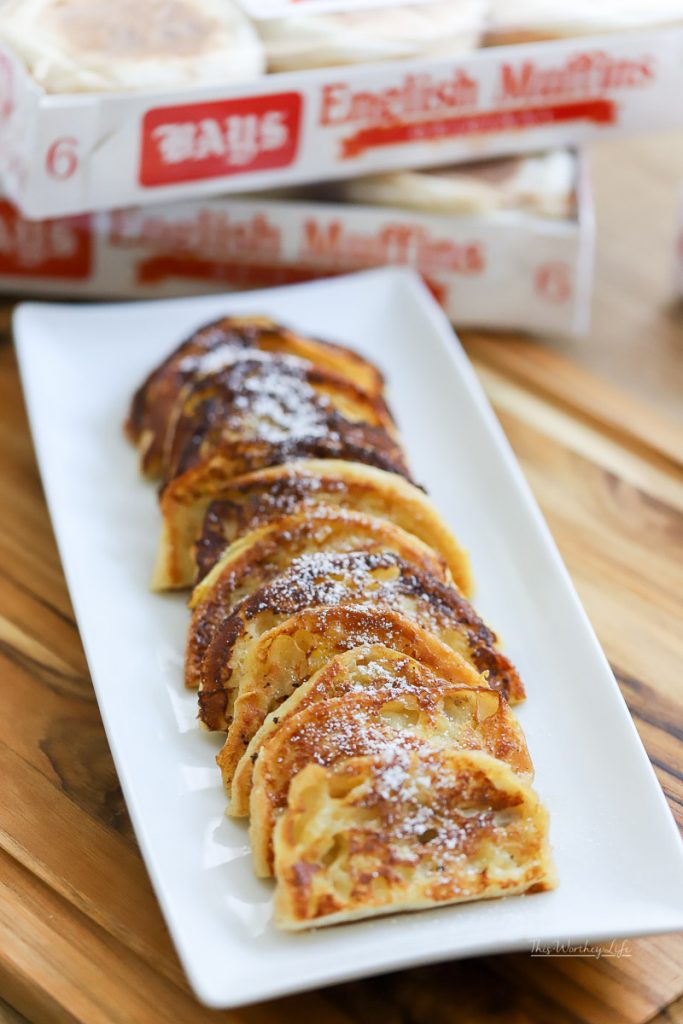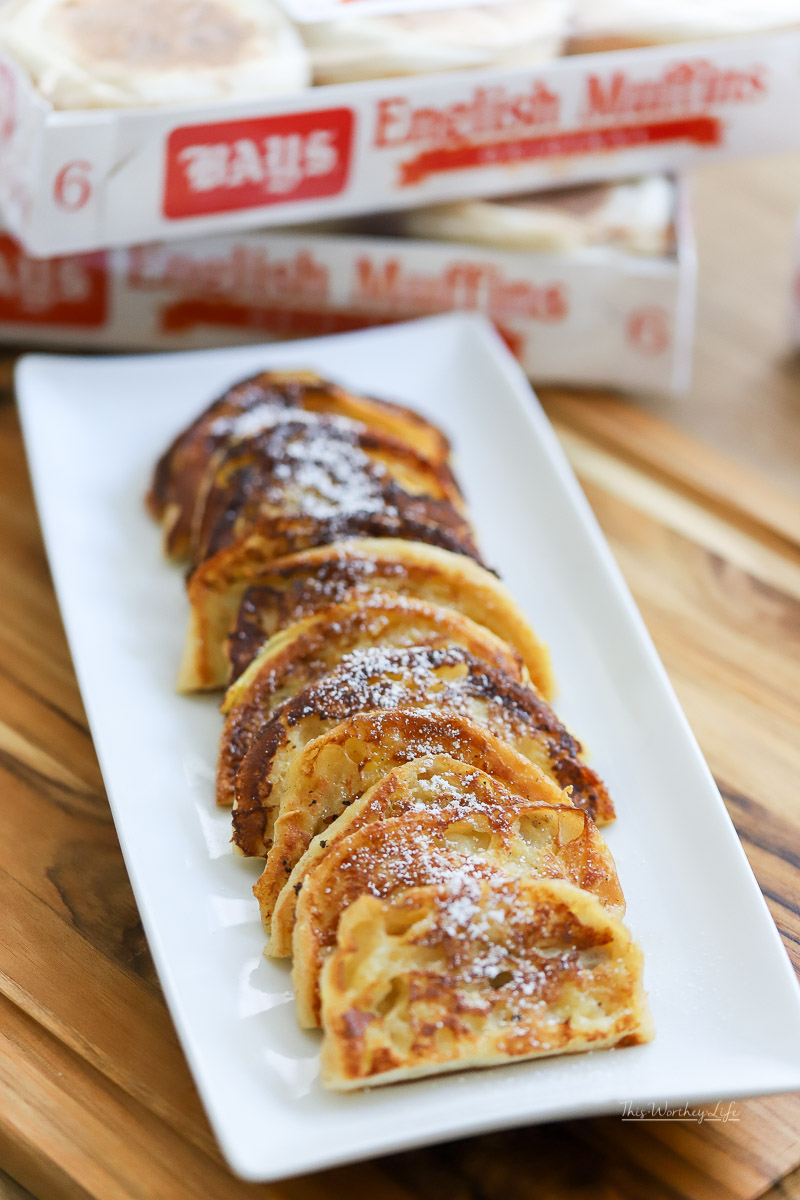 SERVES: 4-5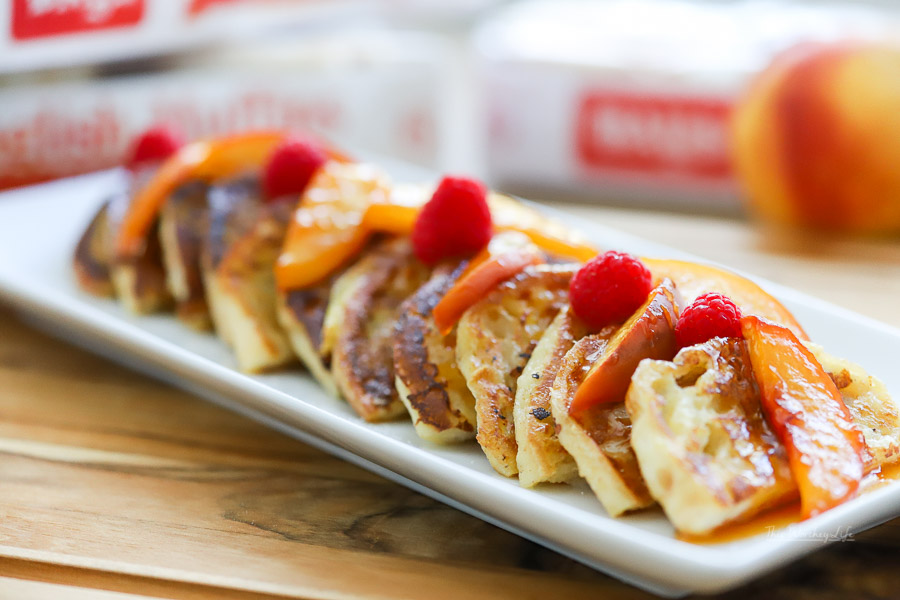 So whether we're having a brunch party, celebrating Christmas morning, or just enjoying a delicious french toast recipe, Bays English Muffins are perfect to enjoy any time of the day.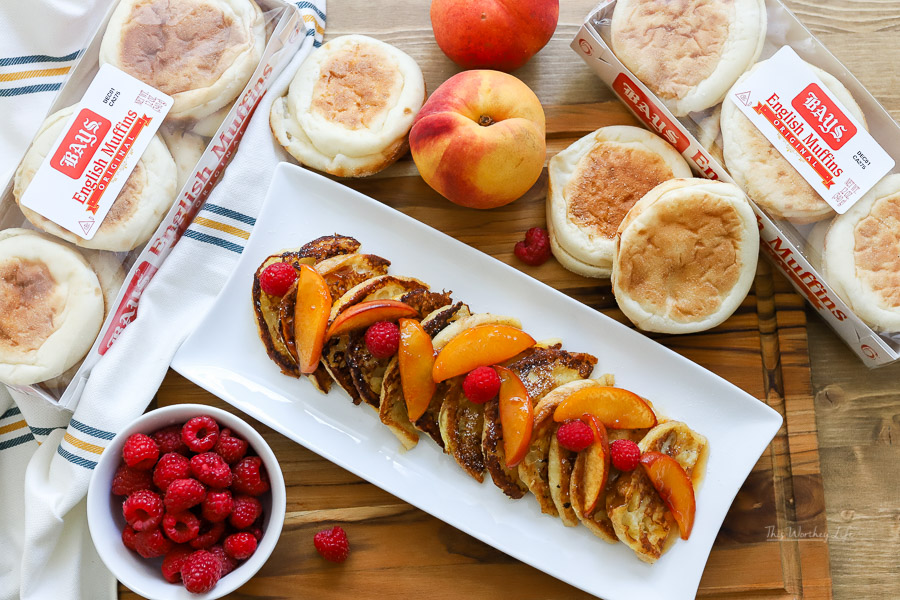 How are you going to incorporate Bays English Muffins in your holiday menu this year? Head to their website to find a variety of breakfast, appetizer, lunch and dinner ideas! You can also find them on Facebook, where they share recipe ideas on using their muffins.