What to serve teens for dinner tonight? Try our Potato Zucchini Alfredo Bake, a great dinner idea when feeding a family, especially boys. This dinner recipe is oozing with cheesy and creamy goodness while adding fresh zucchini and potatoes. Get the complete recipe on how to make our Potato Zucchini Alfredo Bake down below.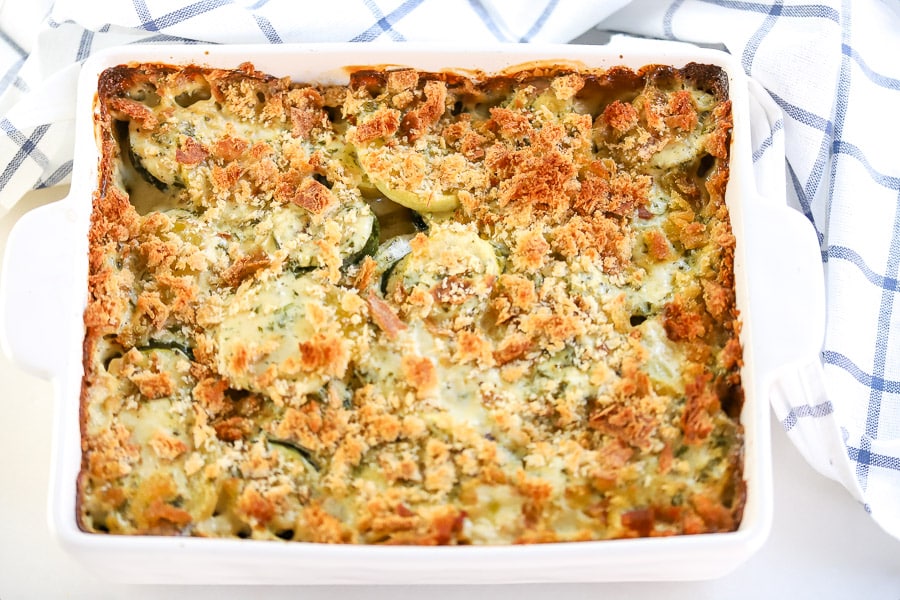 Family Dinner Idea: Potato Zucchini Alfredo Bake
Feeding teen boys can be quite a challenge. You want to come up with a recipe that will stick to their stomach for a bit, without them coming back to the fridge 15 minutes after dinner stating they are still hungry.
Well, this recipe is just what you need to try, and it makes for a great Meatless Monday or works well as a side when serving grilled meats like steak, pork chops, and chicken. Plus, like so many of my favorite things to eat, it's so easy to make. It takes mere minutes to prepare and is in and out of the oven in 30 minutes.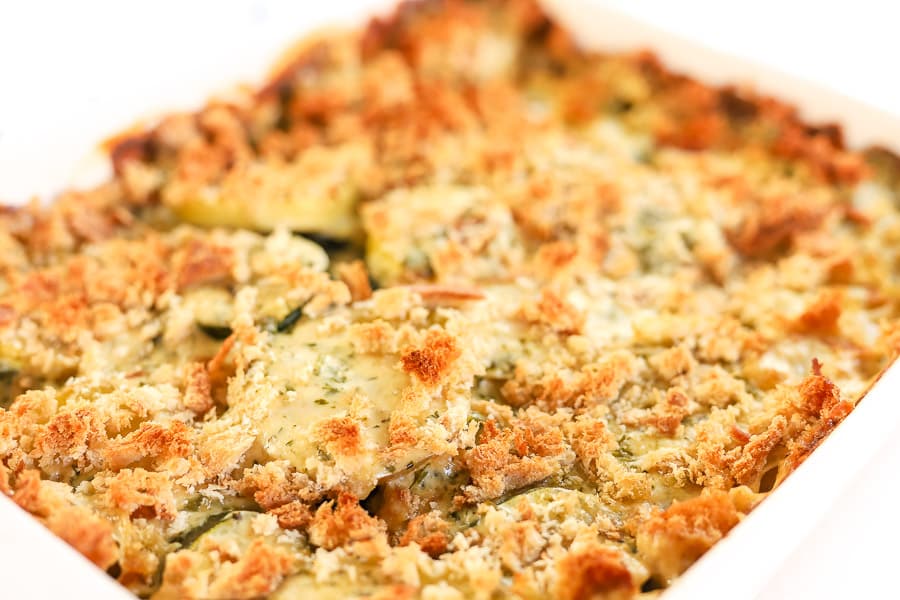 All you need is about 8-10 russet potatoes, one large yellow, and one large green zucchini cut evenly using a mandoline slicer. You will also need two jars of your favorite Alfredo sauce, or if you have time, make your own.
I also added minced garlic, fresh basil, and flat-leaf parsley into the Alfredo sauce to kick it up a notch.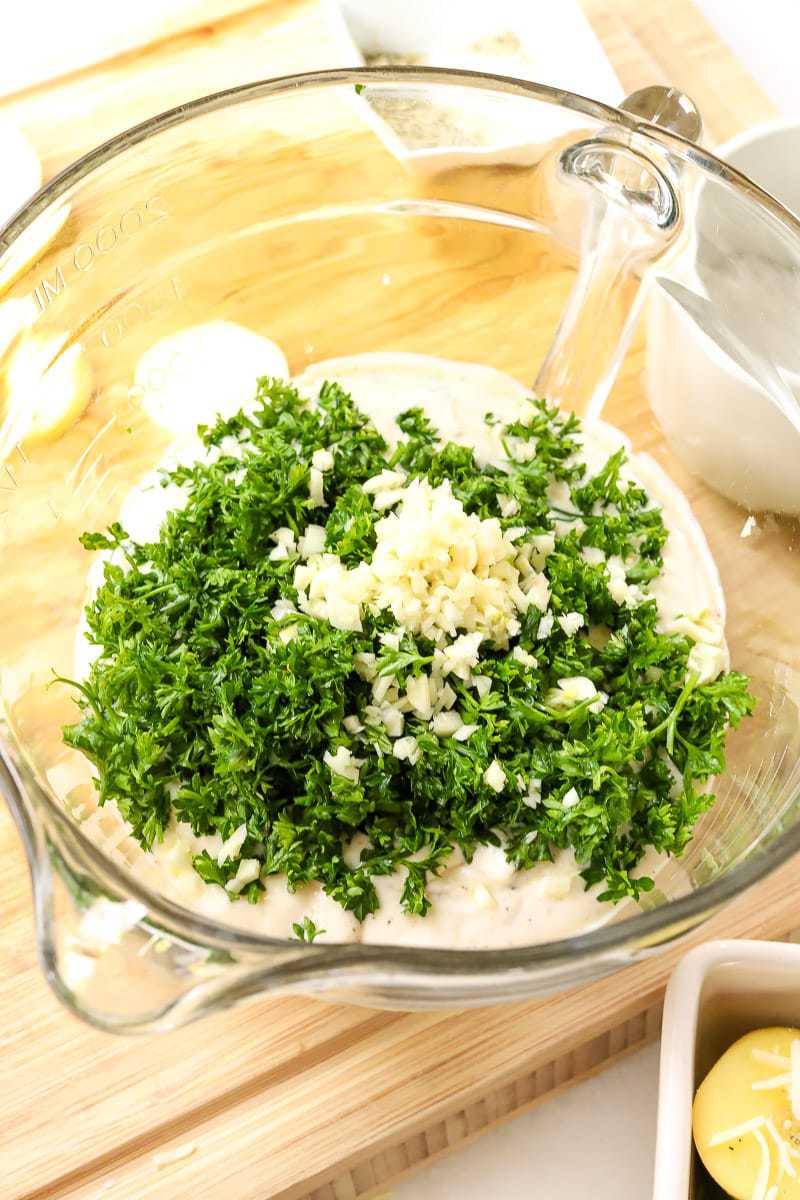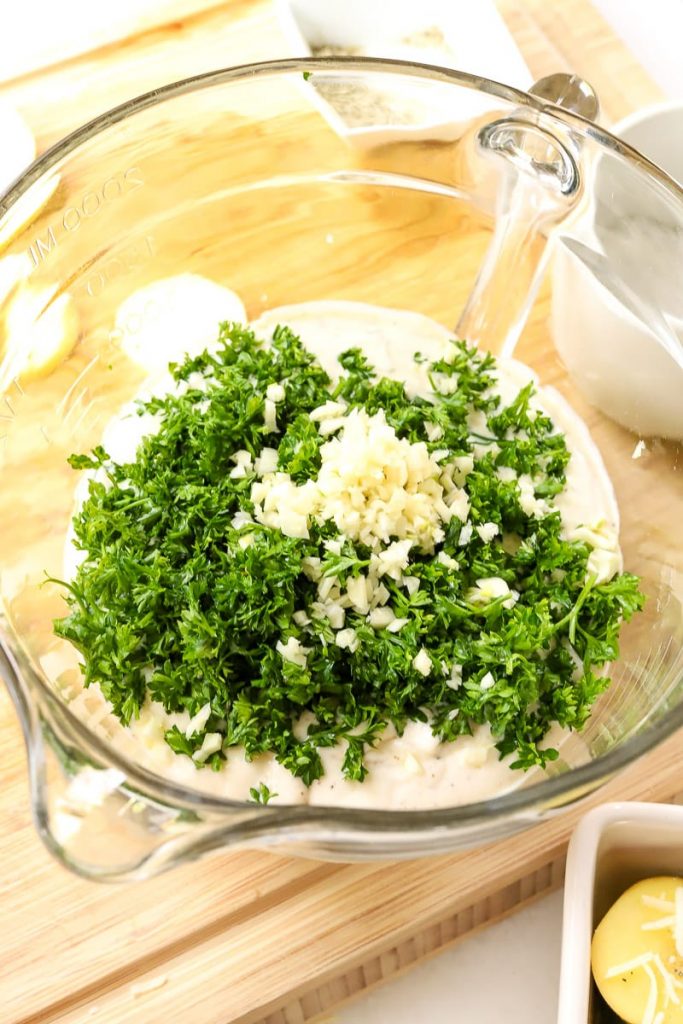 And to top it all off, I added homemade breadcrumbs and a cup and a half of grated Parmesan Reggiano, which adds a nice crispy golden brown touch when you pull this baby out of the oven.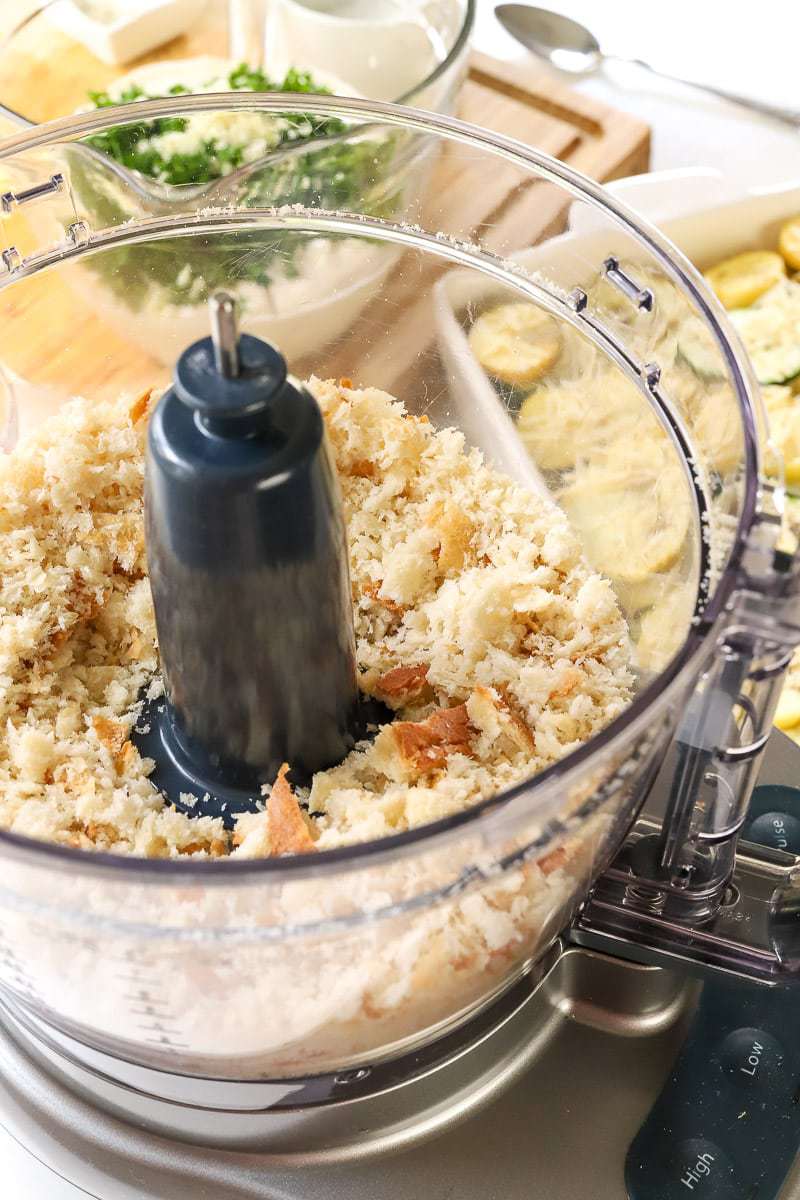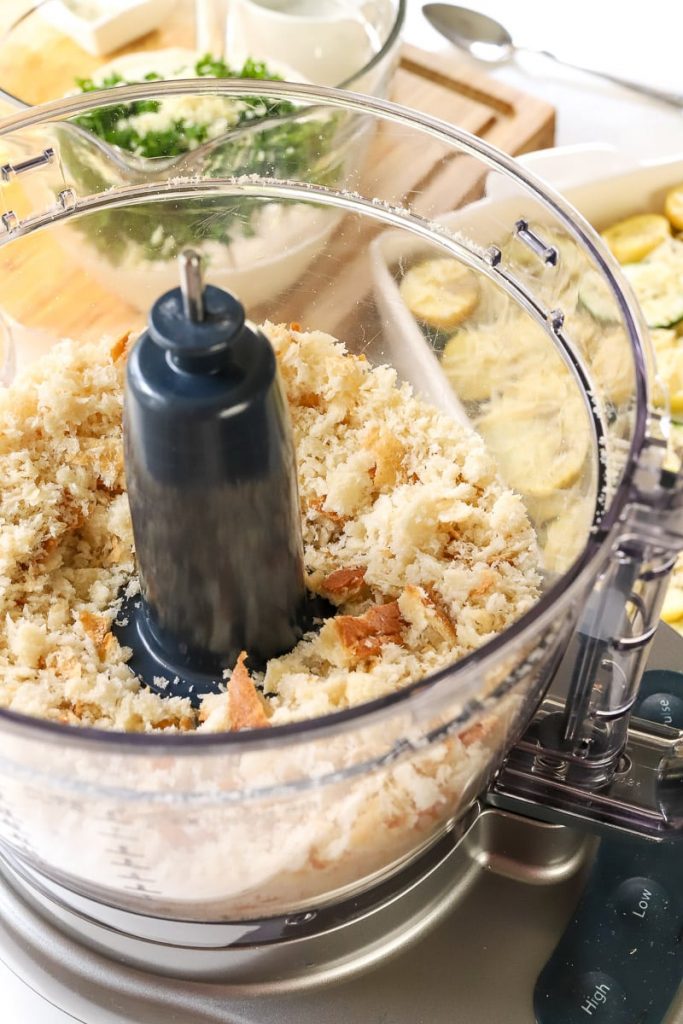 A nice honey white artisan bread makes excellent breadcrumbs once you whip 'em up in the food processor for about a minute or two on high.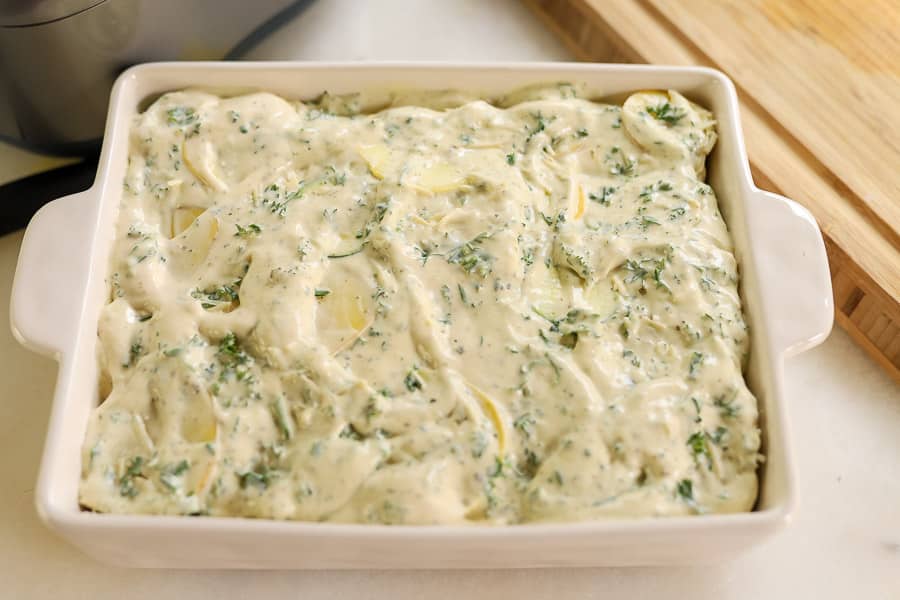 After mixing the potatoes and zucchini, toss them with extra virgin olive oil, coarse sea salt, and freshly cracked black peppercorns. Then make stack them in rows until your almost to the top of the baking dish. Pour the Alfredo, herb and garlic mixture on top and spread it around until the top is 100% completely covered.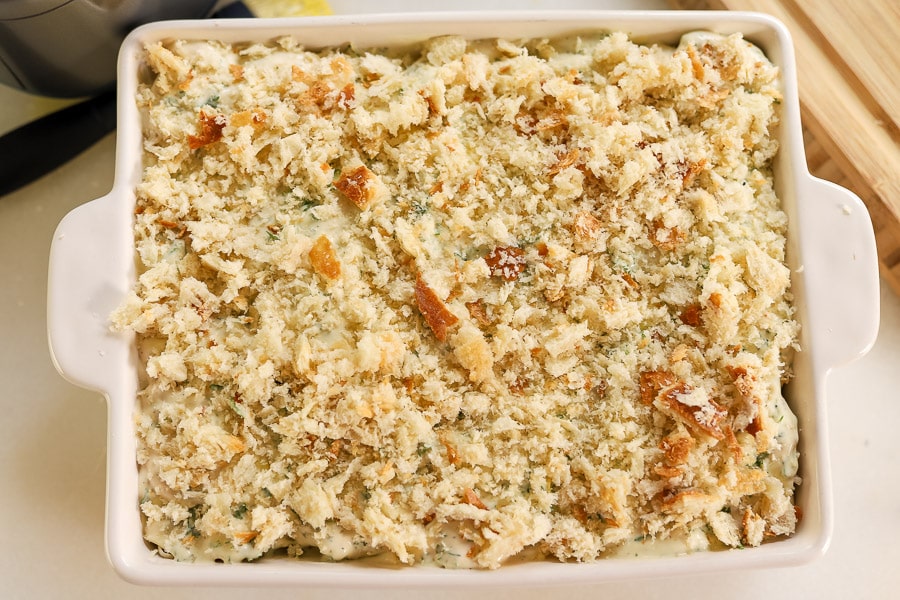 Finally, we are at my favorite step, and that's adding the breadcrumbs, I left the breadcrumbs kind of chunky that way they stand up well to the Alfredo sauce, and the shredding Parmesan Reggiano likes to cling onto them for dear life. You can't see it, but I also tucked in pieces of sweet cream butter into the potatoes and zucchini. You can also scatter on more cheese now if you want to, and I am pretty sure you'll want to.
Ingredients You Need For Bake
Vegetables – I used potatoes, yellow and green zucchini, and garlic. You are welcome to swap out the ingredients but the zucchini with the potatoes is an incredible pairing.
Butter and Oil – You will use both butter and oil for this recipe. I used an unsalted sweet cream butter but you can swap with an unsalted butter.
Alfredo Sauce – To make it simple I reached for store bought alfredo sauce. If you want to make your own sauce go right ahead and take the time to do so.
Herbs – Parsley and Basil are two herbs that help to really enhance the flavor. I used fresh herbs but you are welcome to swap with dried herbs.
Parmigiano Reggiano – A sharp, tangy cheese that will transform this dish. If you can't find this you can easily swap with parmesan cheese. I recommend grating your cheese.
Salt and Pepper – Season to taste, I love fresh peppercorn.
Breadcrumbs – I went ahead and did a homemade breadcrumbs for topping the bake. Now if you want to cut a corner go right ahead and reach for store bought. I would use the plain, not Italian flavored.
Do I have to use both varieties of zucchini?
You do not have to use both varieties of zucchini, but it will give the dish more dimension and flavor. I find that yellow and green zucchini both offer enough of a flavor change that they are great paired together.
Additional Items To Mix in Casserole
Tomatoes – Slice tomatoes thinly and use in the casserole as well. They will add an acidic component that is going to be delicious.
Onions – Yellow or white onions are great addition to the casserole. You can thinly slice your onions and use to spread out evenly in the dish.
Seasonings – If you want to add different spices like garlic powder, onion powder, season salt, etc. go right ahead. You will find that you can use any of your favorite seasonings.
Meatless Monday recipe idea: Potato Zucchini Alfredo Bake
Ingredients:
6-8 medium russet potatoes
1 large yellow zucchini
1 large green zucchini
2 tablespoons extra virgin olive oil
1/2 stick unsalted sweet cream butter
2 jars of your favorite Alfredo sauce
1/4 cup chopped flat-leaf parsley
6 fresh basil leaves minced
3 large garlic cloves peeled and chopped
1/2 cup freshly grated Parmigiano-Reggiano
freshly cracked black peppercorns
coarse sea salt
1 cup homemade breadcrumbs
Directions:
Preheat oven to 400 degrees
Using a mandoline, slice prepare potatoes and zucchini
Place the potato and zucchini slices into a large bowl and add the extra virgin olive oil, freshly cracked black peppercorns, and coarse sea salt, toss the mixture to coat evenly.
Pour two jars of Alfredo sauce into a large bowl and add the chopped parsley, garlic, and minced basil. Mix well.
Arrange the potato and zucchini slices into layers in an high-walled baking dish, after each layer with the Alfredo sauce mixture.
Cut up the 1/2 stick of unsalted sweet cream butter and tuck pieces along the sides and corners of the baking dish.
Add the final layer of potatoes and zucchini, top with the remaining Alfredo sauce and the half-cup of freshly grated of Parmigiano-Reggiano.
Top with 1 cup of homemade breadcrumbs.
Bake in the oven preheated to 400 degrees for 30 minutes.
Remove from the oven and allow the dish to cool for 10 minutes.
Serve.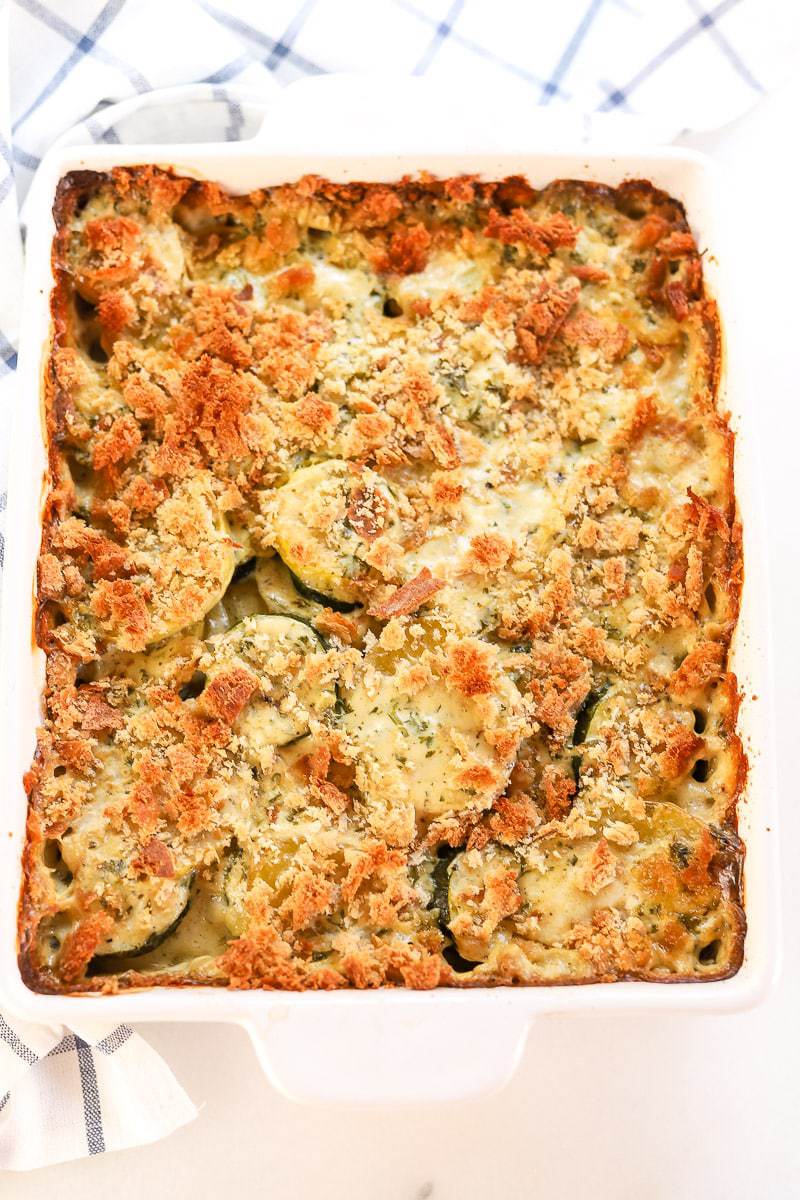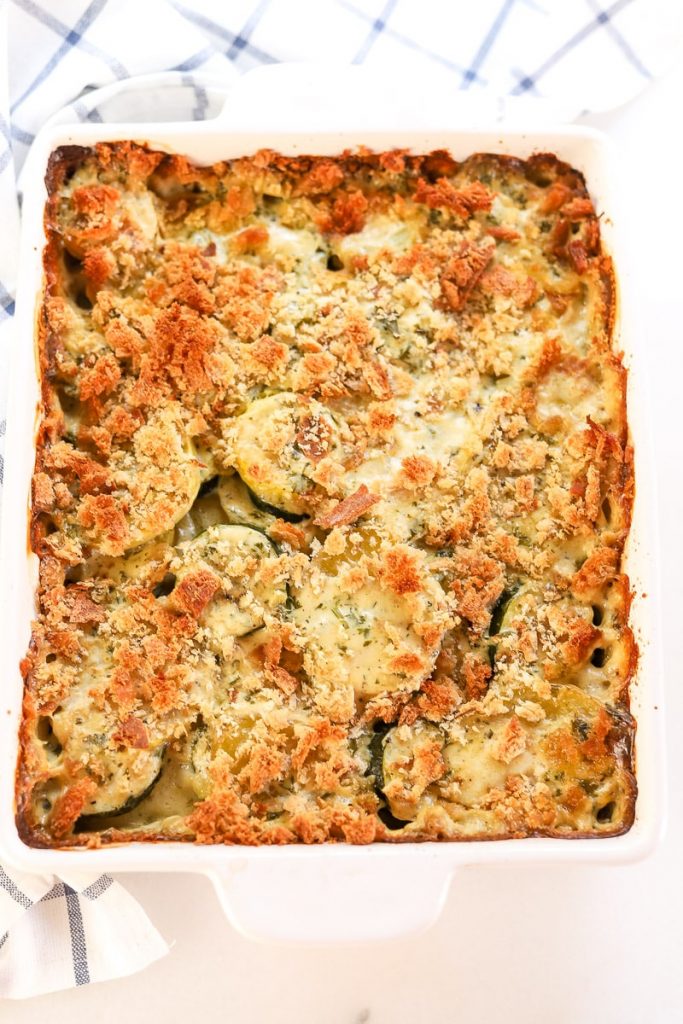 Just as promised here's to another mouthwatering and lip-smacking recipe that is going to be a family favorite as soon as it touches down on the dinner plate. Cheesy, flavorful, and those golden brown breadcrumbs on top are working overtime.