Get ready for the holidays with our prep tips! Discover Ways We Prep For The Holidays with our tips on what you should be doing now to get ready for the holiday season.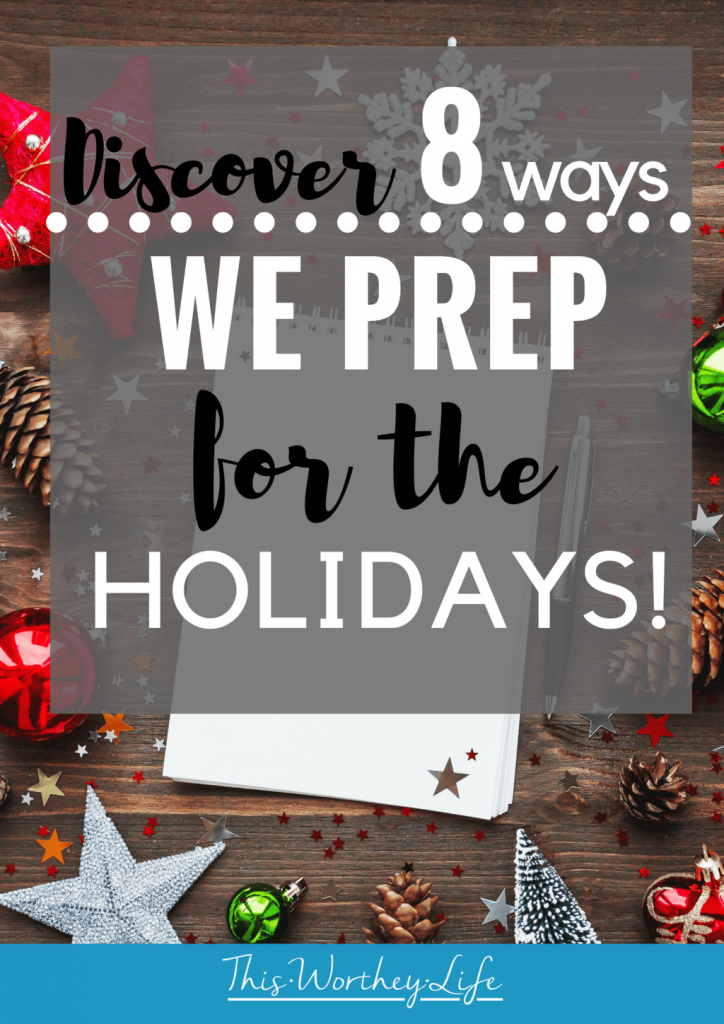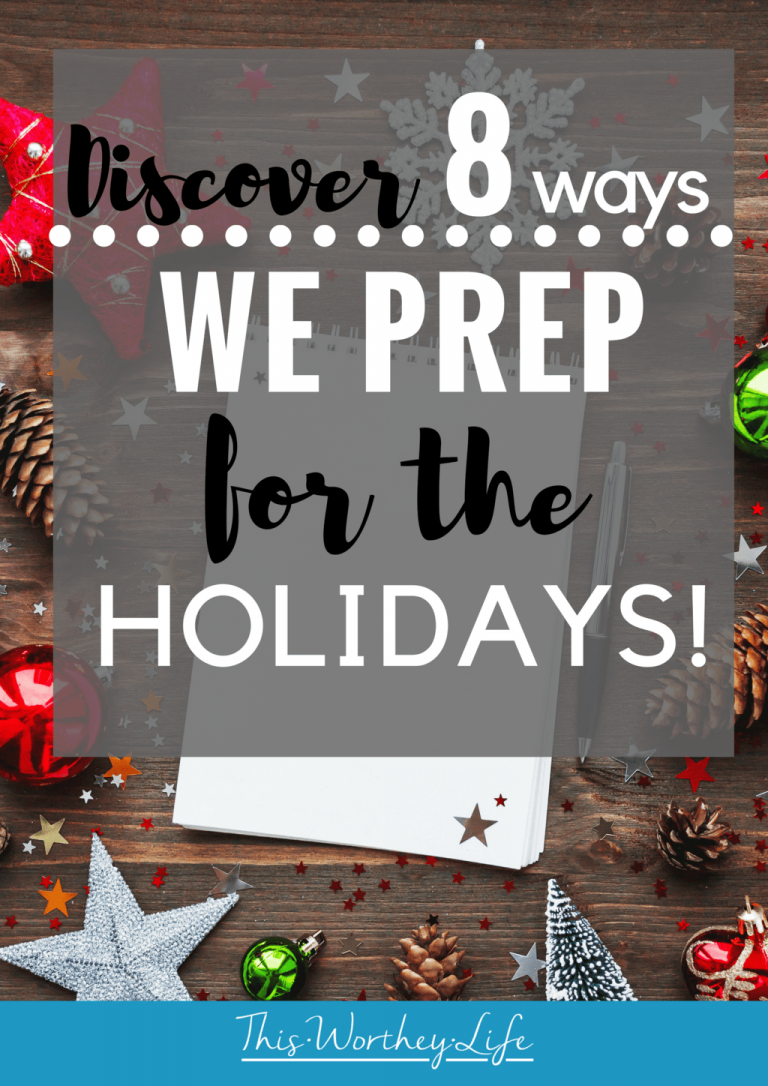 8 Things You Need To Do Now To Prep For The Holidays
The holidays are just around the corner, and we're making our list and checking it twice. As we prep for holiday dinner and parties, holiday traditions, creating a Thanksgiving and Christmas dinner menu, there are a few things we do to make sure we're ready!
Today, I'm sharing with you how to prep right now for the holidays!
First, make a list. If you're pen and paper type of person, then use that. I like to write out a list, but then I eventually add it to my Evernote app on my phone. I do this so I can access my list everywhere. And, you don't lose it when you have a digital list!
Make a gift list
Grocery List
Cleaning List/Schedule
To-Do List for holiday party
Cooking + Baking List/Schedule
Start prepping now. Don't wait until November to start prepping for the holidays. If you're not entertaining anyone in your home, then you don't have to prep as much. However, if you are hosting family and friends during the holidays, you want to start prepping now. Here are some things you can do ahead of time:
Get your carpets cleaned. (Schedule this service now. Once the holidays are here, services like this get booked up fast. Schedule to have your carpet cleaned a week before Thanksgiving or your first-holiday party).
Do a deep clean of your home at the beginning of November. Or, hire this service out to a reputable cleaning service.
Create a budget. It's easy to get off track on spending money during the holidays. Don't make this mistake. Set a budget for food, gifts, party entertainment, gift exchange, services you may use, and whatever else is on your list for the holidays.
Take your holiday photos now. If you love to send out holiday photos of you and the family, do your photos now. Collect addresses from friends and family, because you know someone has probably moved in the past year. Create your holiday card and order your photos by November 1st.
Start shopping for bulk items that don't need to be refrigerated. For us, we like to buy certain items in bulk, and also grab items while they are on sale. I start shopping for holiday food items at the beginning of November, grabbing them while on sale. A week before the party/dinner, I will buy refrigerated items. Depending on how fresh a food item needs to be, I may buy it a day or two before the dinner.
Order ahead of time. Plan on ordering a turkey, ham, or other specialty meat from your favorite butcher? Put the order in now! Many meat markets and butchers require advanced orders for specialty items. If you're ordering cheese platters or other prepared foods, place those orders now. That's one more thing you can check off your list.
Scheduled self-care time. With the hustle and bustle of the holidays, it's easy to get overworked and stressed. Be sure to schedule some downtime for YOU.
Upgrade your appliances. Having the best appliances at your fingertips during the holidays is gold.
For an example, buying a Samsung Family Hub refrigerate can help you create a shopping list, as well as giving you a peek inside of your fridge from anywhere. We have this fridge on our new appliance bucket list! You can also set expiration notifications to keep all of your food fresh.
Plus, when you buy a Samsung refrigerator, you can buy one that fits your entertainment style. For us, we would pick the family hub with four doors. You can organize your baking and cooking, using each section of the fridge to help you prep before a holiday party.
For cooking, getting a Samsung stove allows you to cook more than one dish. You also have a remote way to monitor your oven, as well as turning it on and off and preheating it all from your smartphone.
For baking, you can use the Samsung – Microwave Combination Wall Oven with Flex Duo™. You could bake several dishes at once, even allowing for different timers and settings.
Right now you can save 10% off when you buy four or more Samsung Kitchen Appliances at Best Buy! Upgrading your appliances right now is an excellent time to get ready for the holidays.
Visit the Prep for the Holidays page to learn more about Samsung's appliances, and how you can save money and time this holiday season.
What are some of your favorite things to bake or cook during the holidays? How do you prep for the holidays? And, how does modern technology help improve your baking and cooking during the holidays?
Disclaimer: The reviewer has been compensated in the form of a Best Buy Gift Card and/or received the product/service at a reduced price or for free