This purple kale centerpiece and Jungalow's dinnerware products create a beautiful nature-inspired tablescape for Thanksgiving.
It's a fall tablescape that works for a fall harvest party or holiday-themed tablescape idea.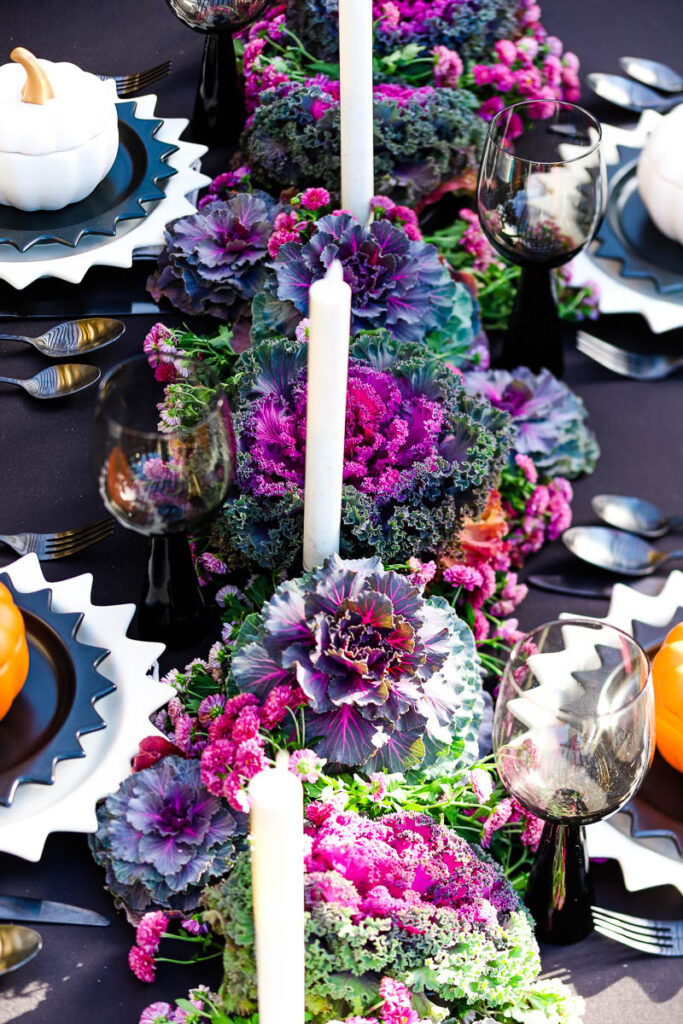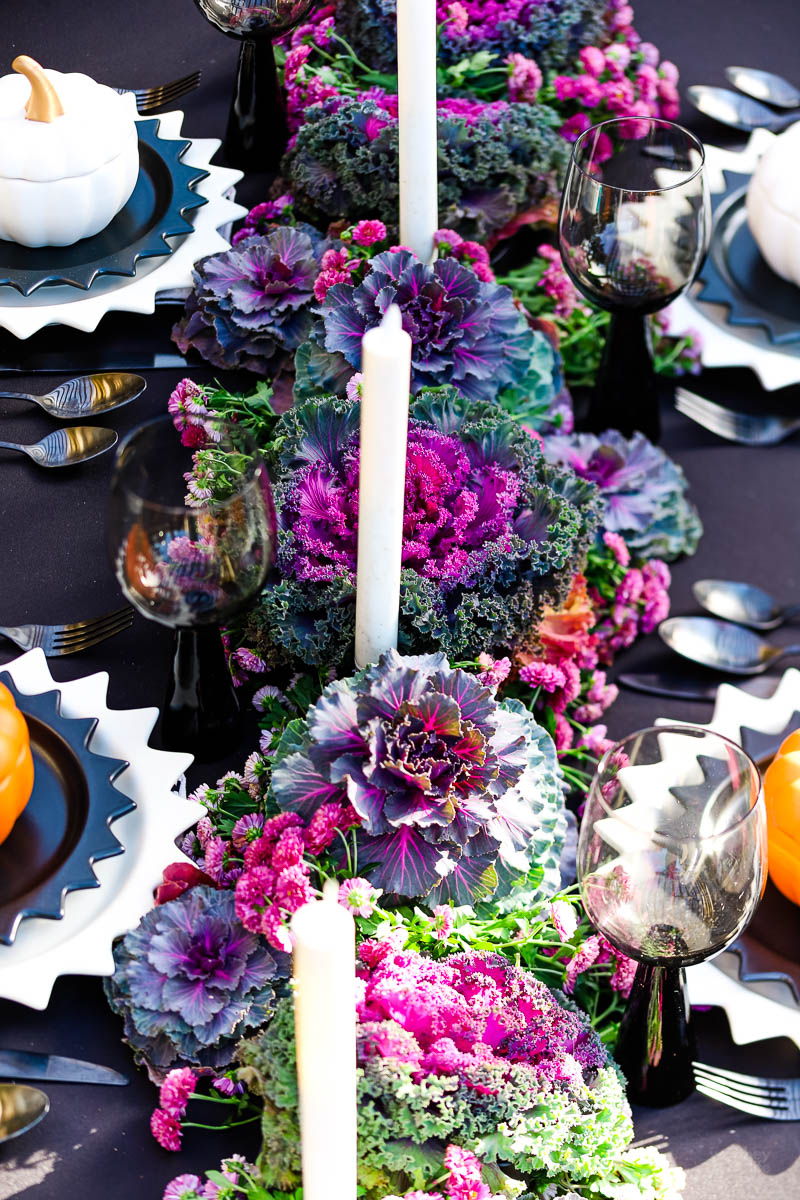 Purple Kale Centerpiece for a Fall Tablescape
We're in full swing of the fall season, and I wanted to share a Fall tablescape I put together a few weeks ago at The W.
We had a few friends + family over for a bonfire and appetizers. I wanted to create something beautiful yet functional.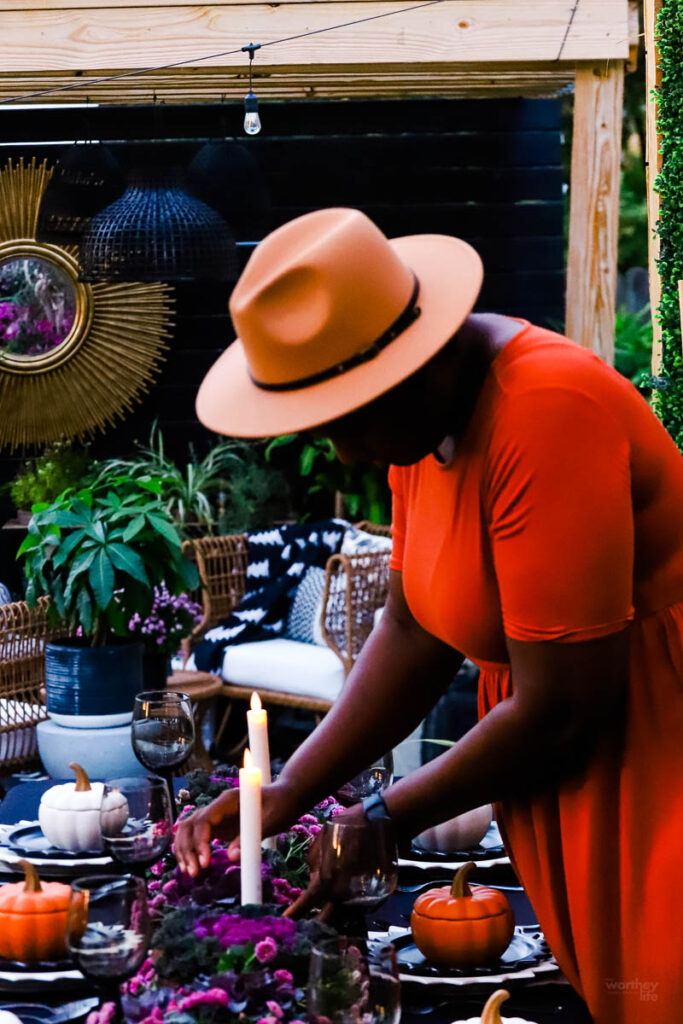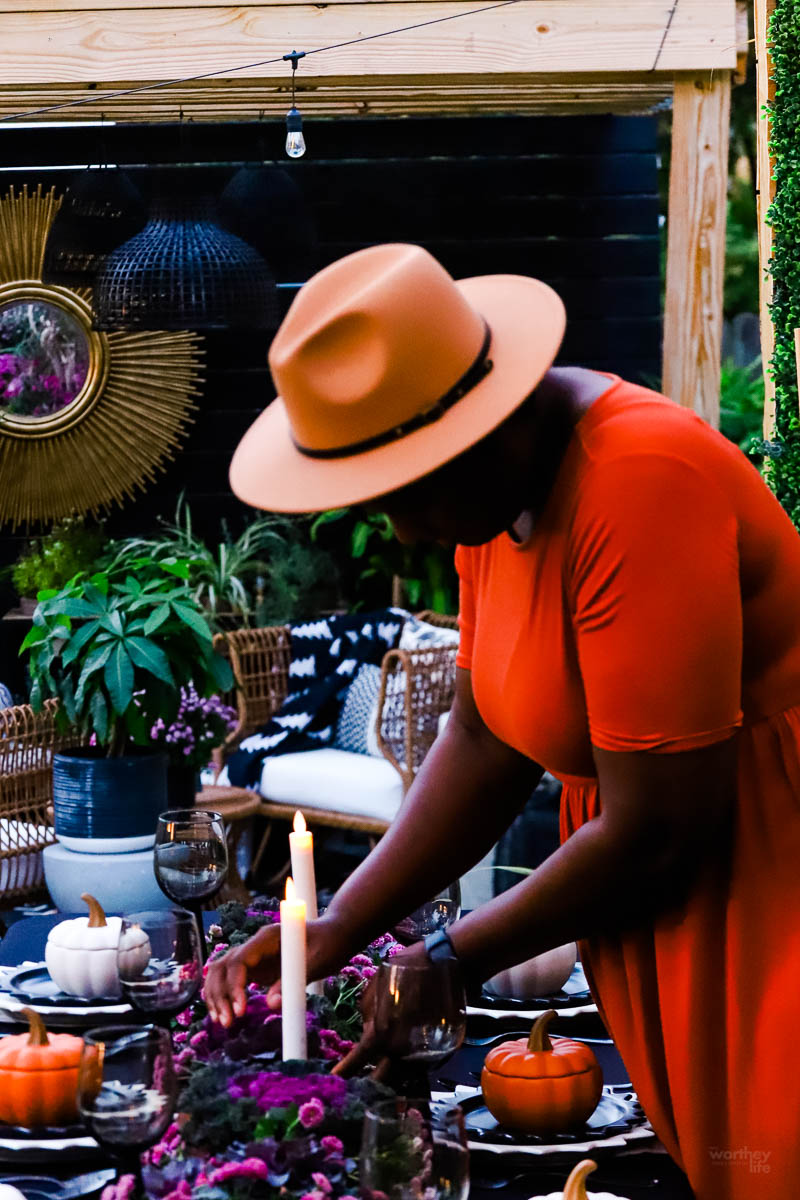 Creating a vision
I try not to repeat a tablescape look or theme yearly or seasonally.
I like to start with a fresh slate, come 1up with a vision, and brainstorm all the elements to achieve the look and feel I'm after.
I typically pull from my stockpile of tableware and décor items, but sometimes I splurge on new things.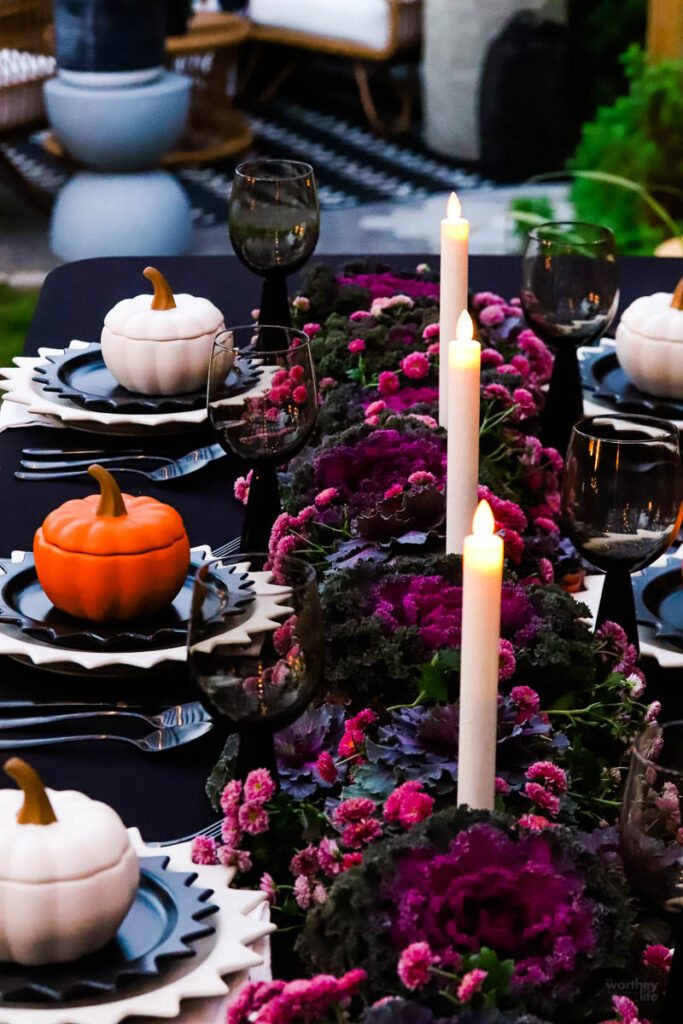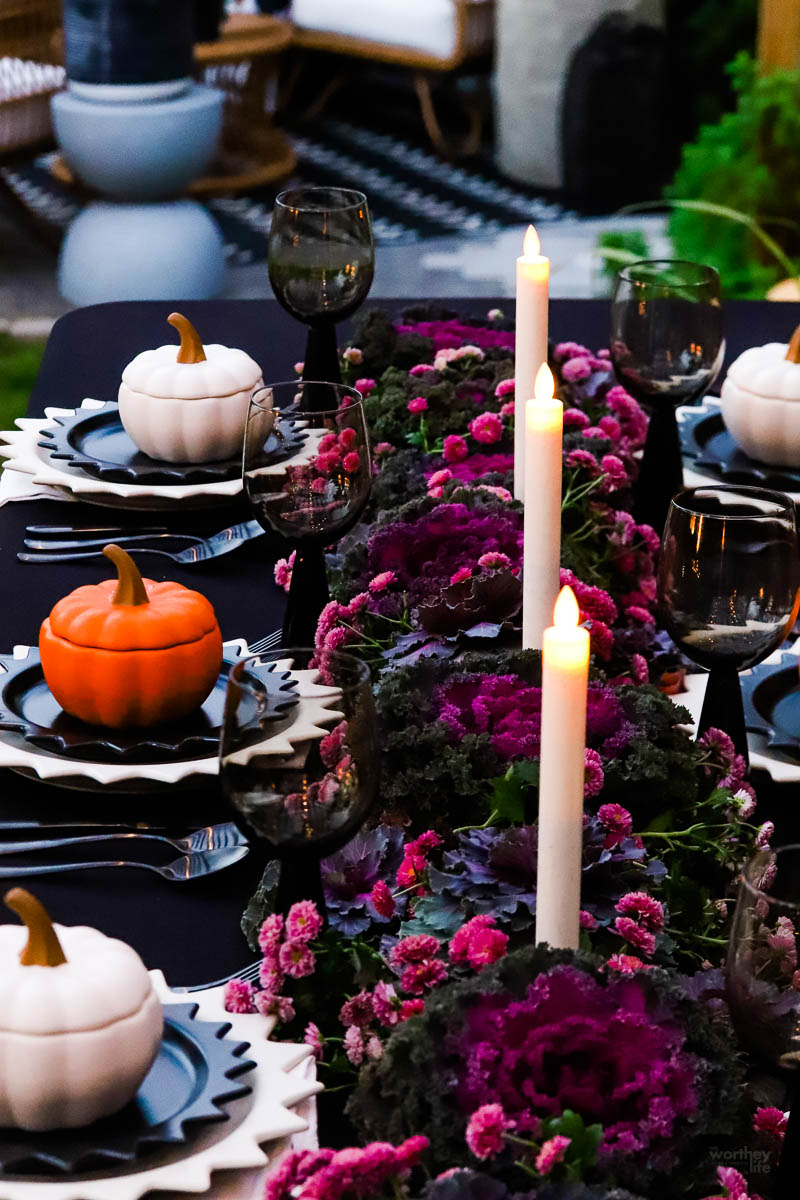 Recently, I created this Fall tablescape that is relatively simple and hammers home the adage that "less is more."
It grabs attention with its colors, shapes, and unique elements but isn't over the top.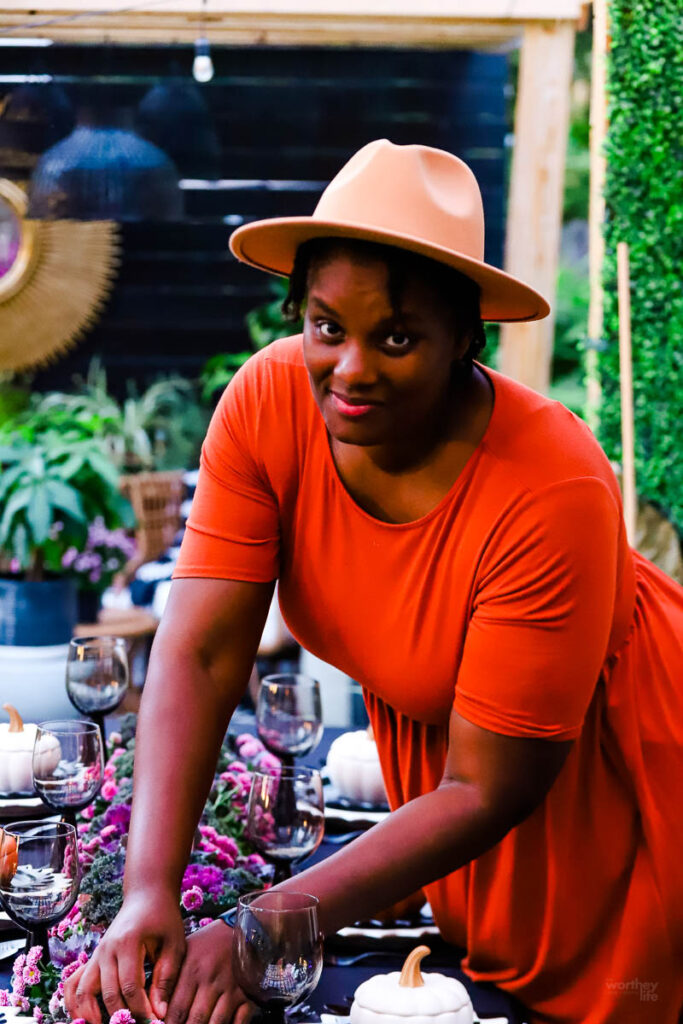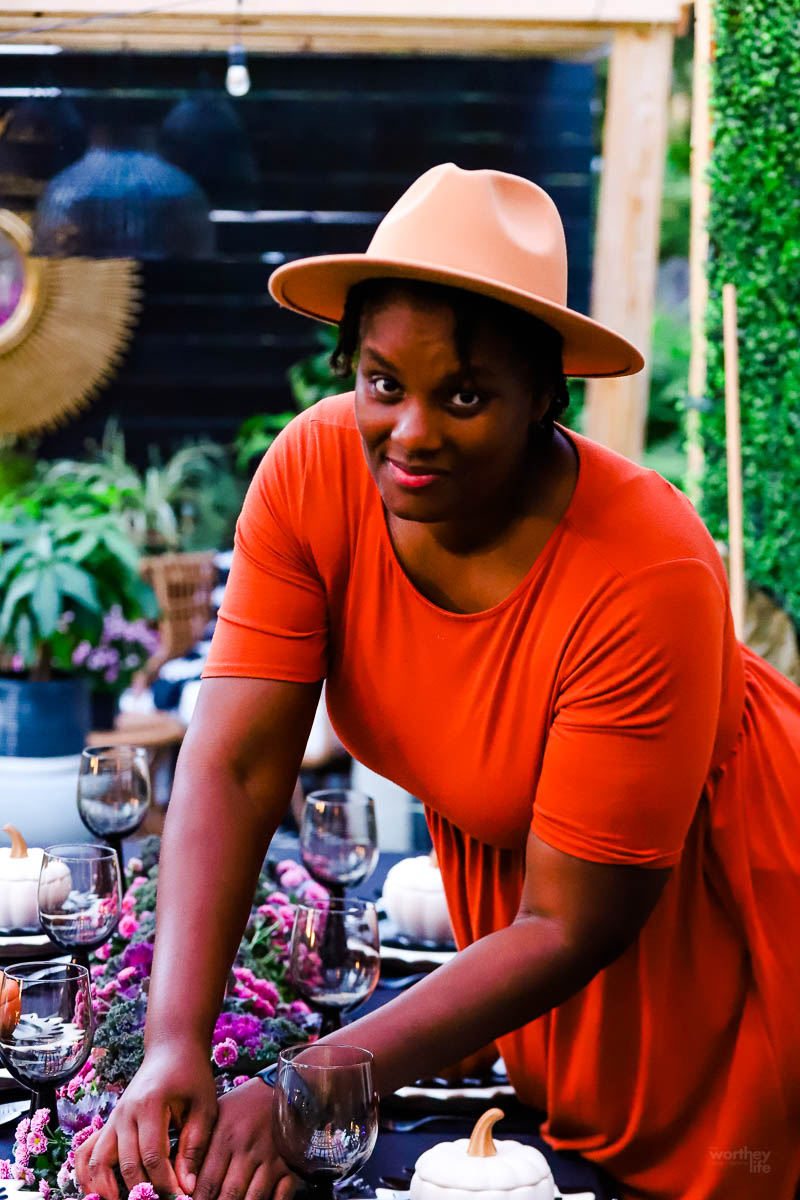 Fall tablescape theme
I wanted to achieve a high contrast of color by using black, white, and purple.
This color combination creates a striking and bold look.
Plus, the colors coordinate well with how I have decorated the surrounding outdoor area this season – lots of black and white painted pumpkins and large pots of purple mums in full bloom.
For starters, I used a black tablecloth as a base.
It's a bit like the infamous "little black dress" – super versatile and always looks great!
The tablecloth lets the centerpiece shine and provides the underlying foundation for the contrasting napkins and plates.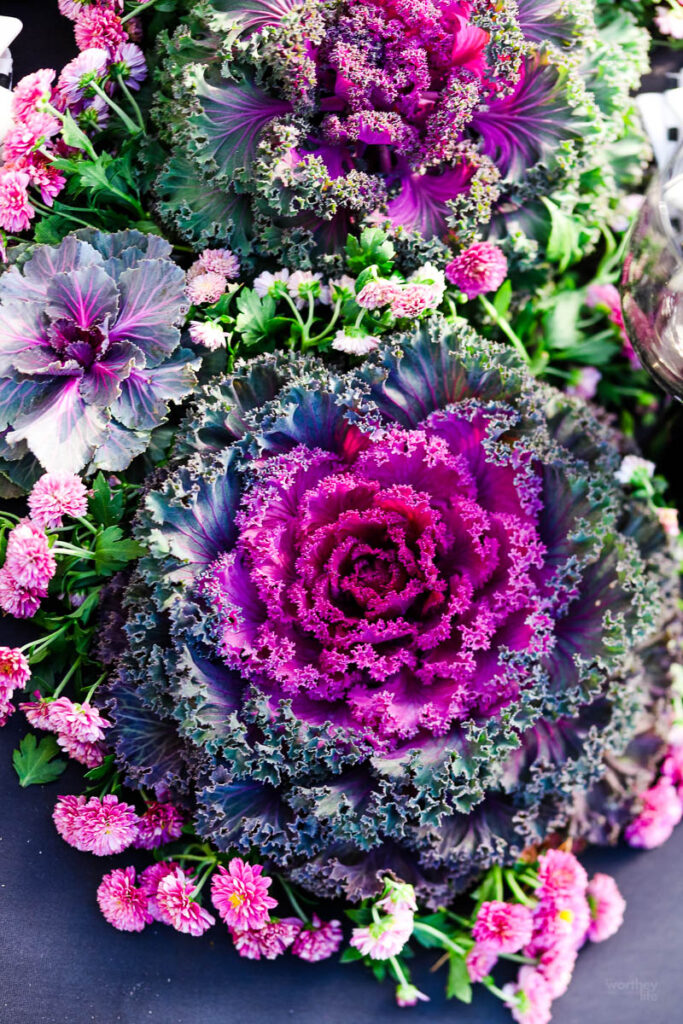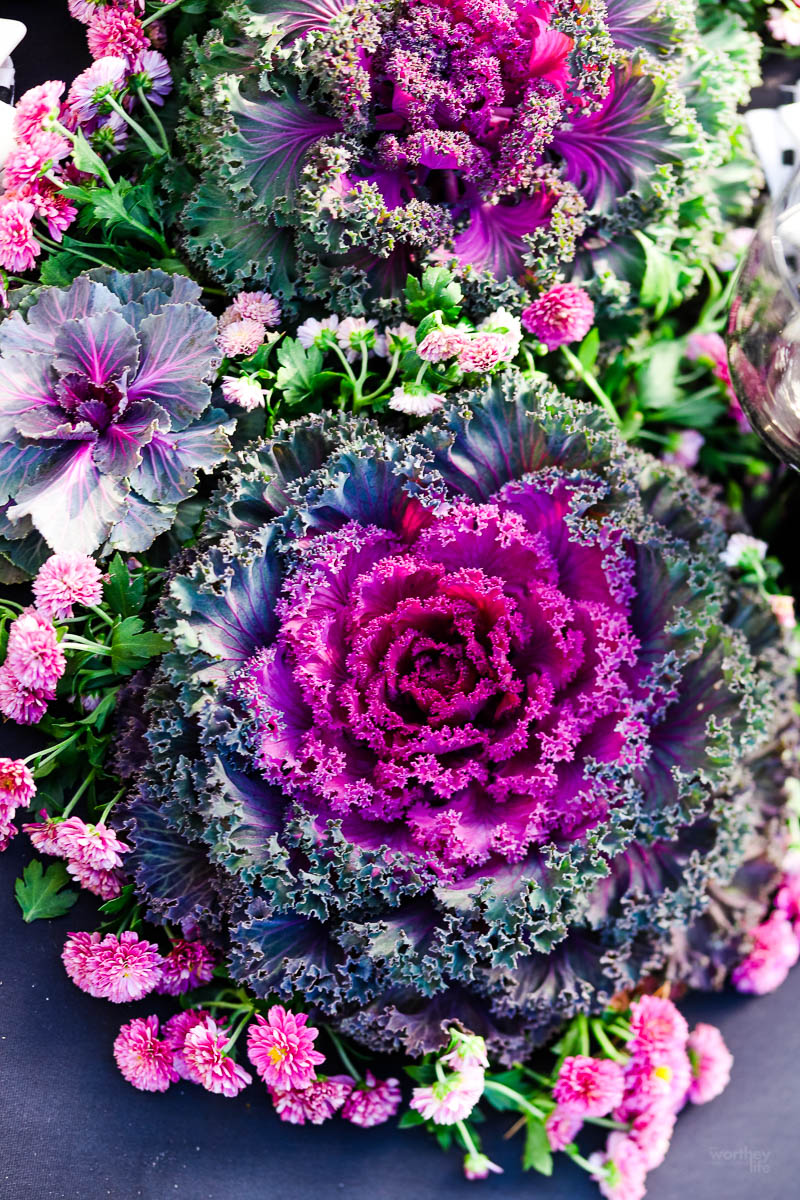 Purple Kale as a centerpiece
Nature – especially the bounty of the season – inspired this centerpiece.
I used five heads of flowering kale with variations of green and purple.
I chose the "Nagoya Rose" variety because of its colors.
However, many other "ornamental" kale types exist with different shades of greens, purples, pinks, and creams.
Kale is multi-dimensional with its open rosettes of curly leaves.
I love the texture it provides.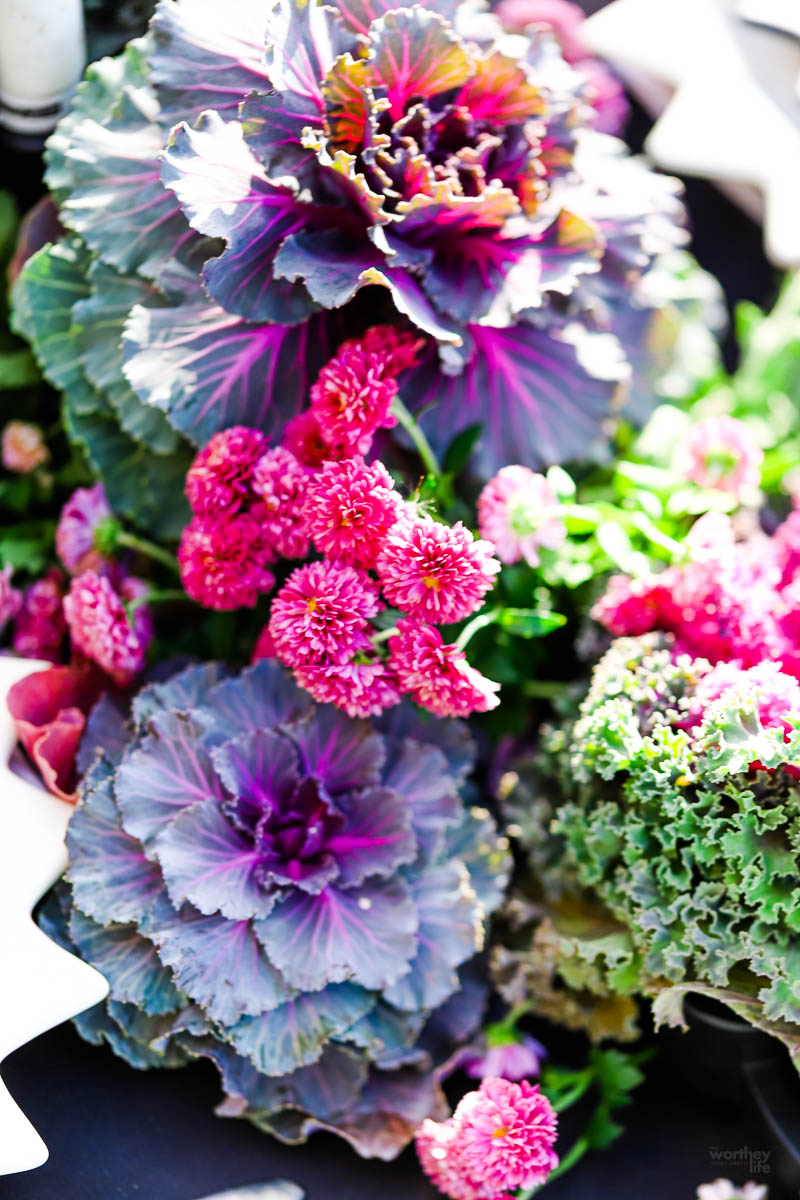 I laid the kale directly on the tablecloth and tucked in an abundance of clipped purple mums cut from the nearby potted mums.
This provided a seamless centerpiece from one end of the table to the other.
Since it was outside, the centerpiece lasted about four to five days without water.
However, you could always put a long shallow pan (or several pans) filled with water under the vegetation to prevent wilt and lengthen its life, especially if the centerpiece is indoors.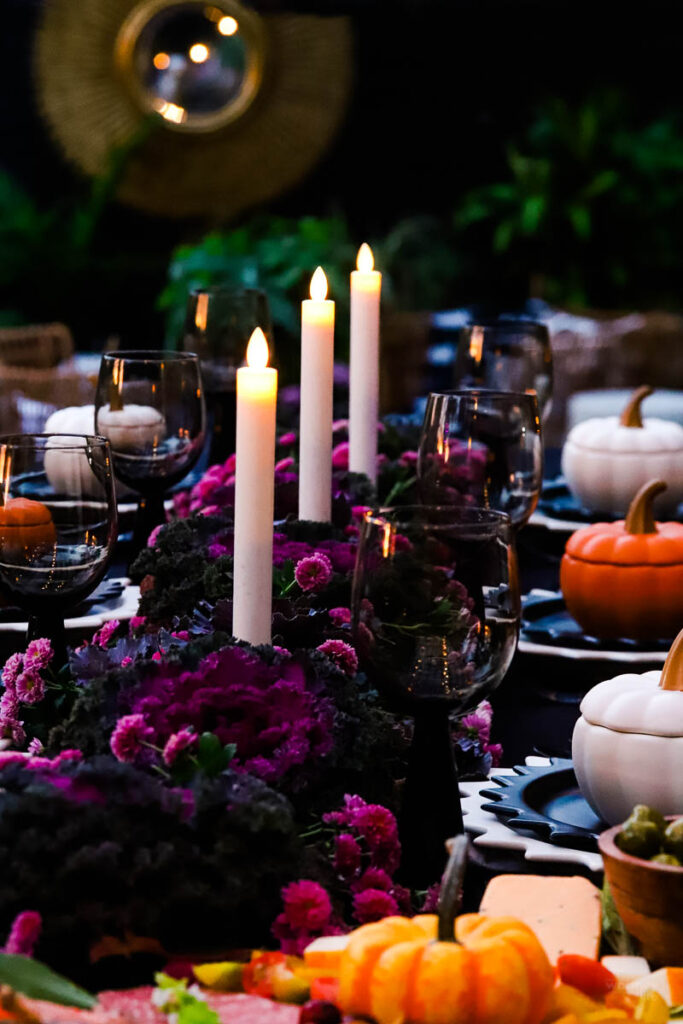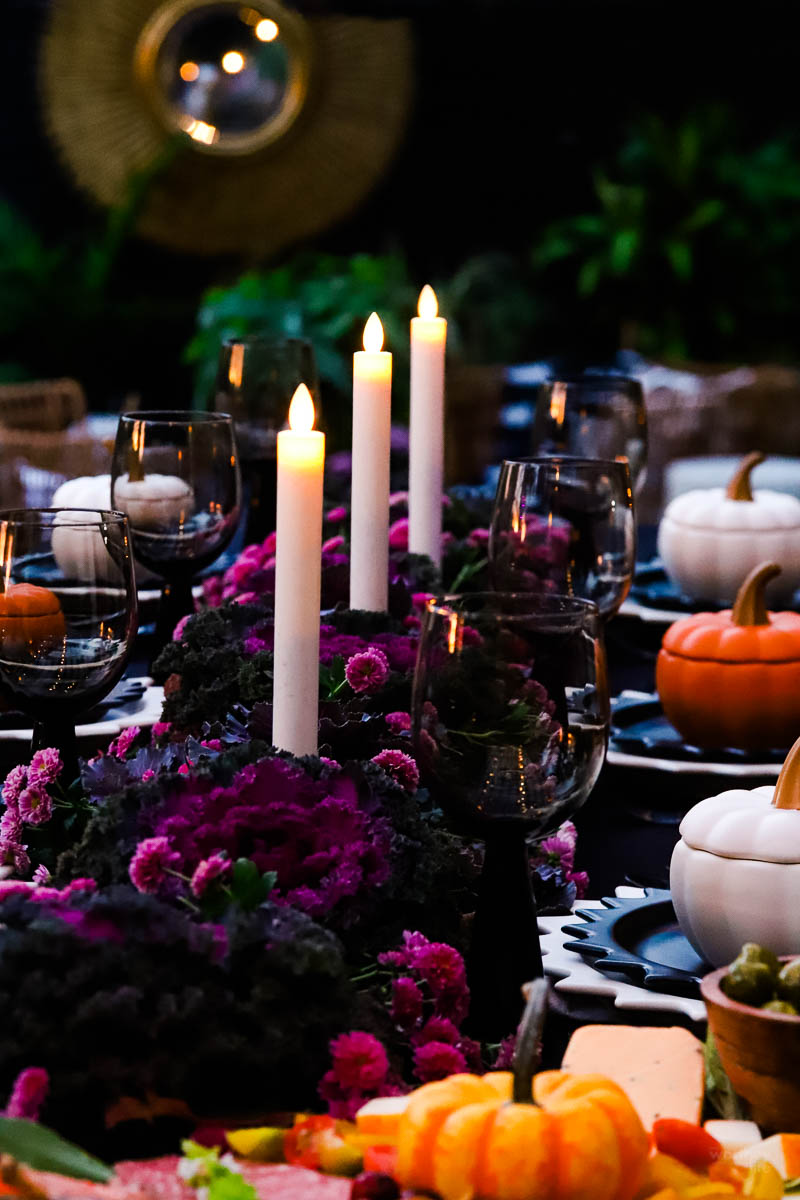 Finally, I inserted a couple of tapered candles throughout for some height and shine.
This centerpiece's colors and style–especially ornamental kales and seasonal flowers – are a popular look this season.
Ironically, I was surprised (and pleased) to see a similar centerpiece featured on the cover of the November 2021 issue of Better Homes & Garden.
I was excited to know I was on-trend since I created my centerpiece before the magazine arrived in my mailbox.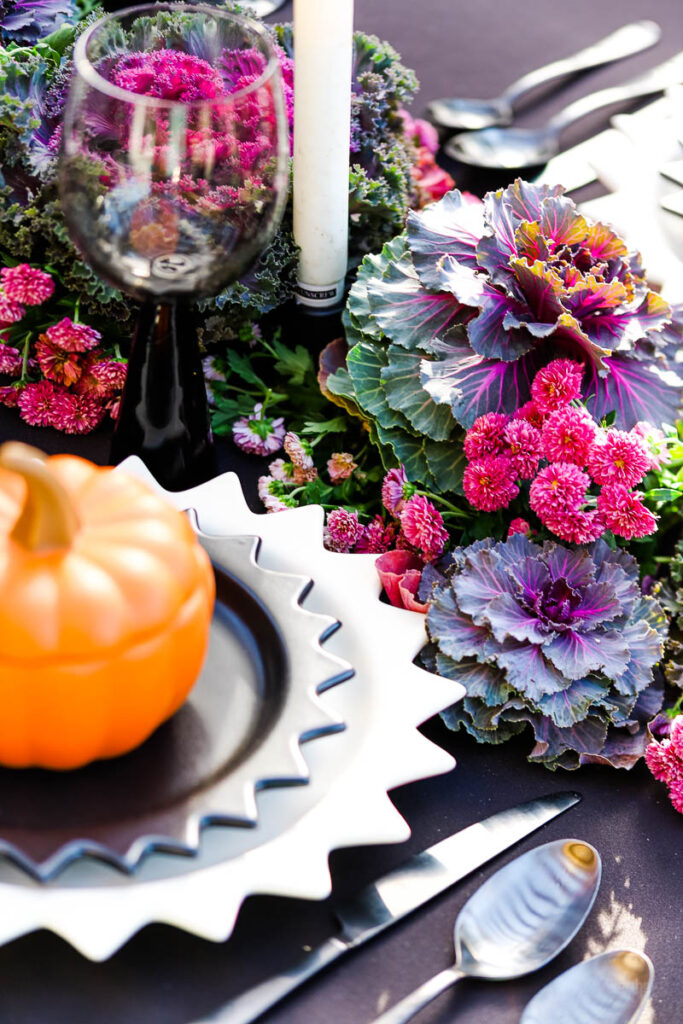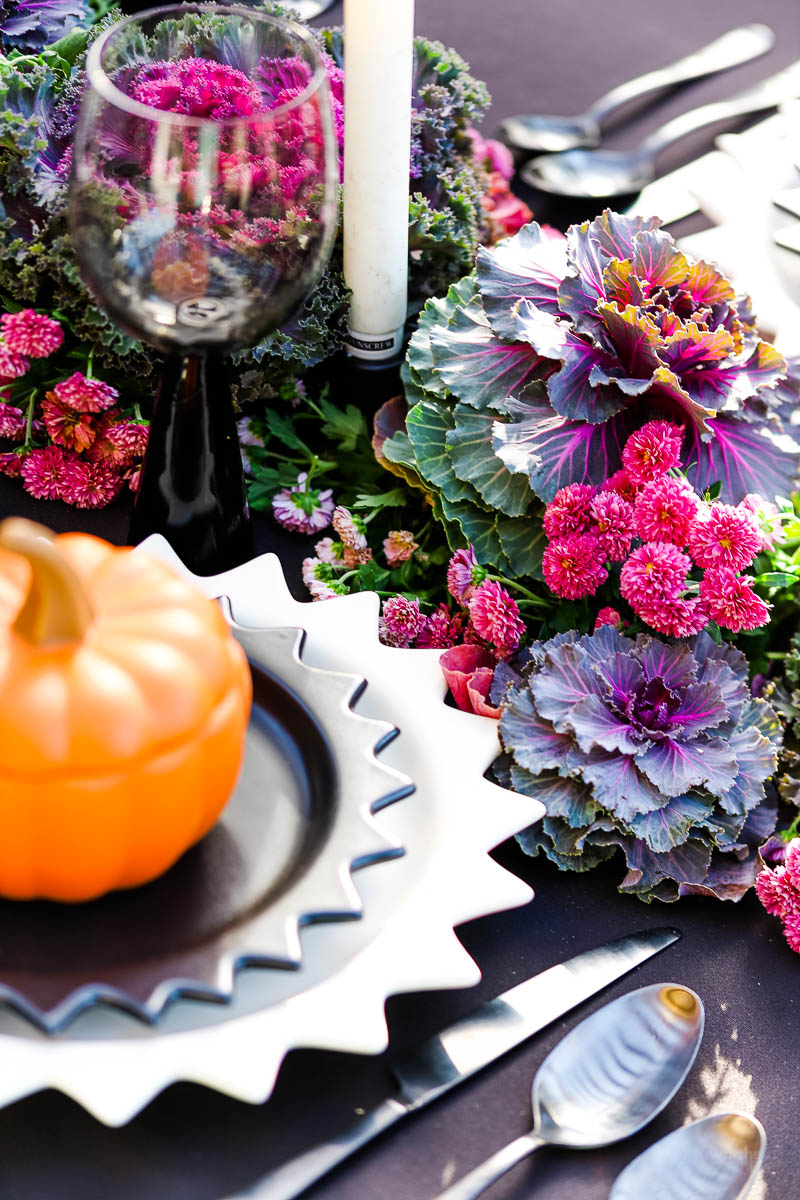 Putting the tablescape together
For the individual place settings, I always use layers.
Doing so elevates the look of each place setting from its ordinary practical function to something unique and inviting.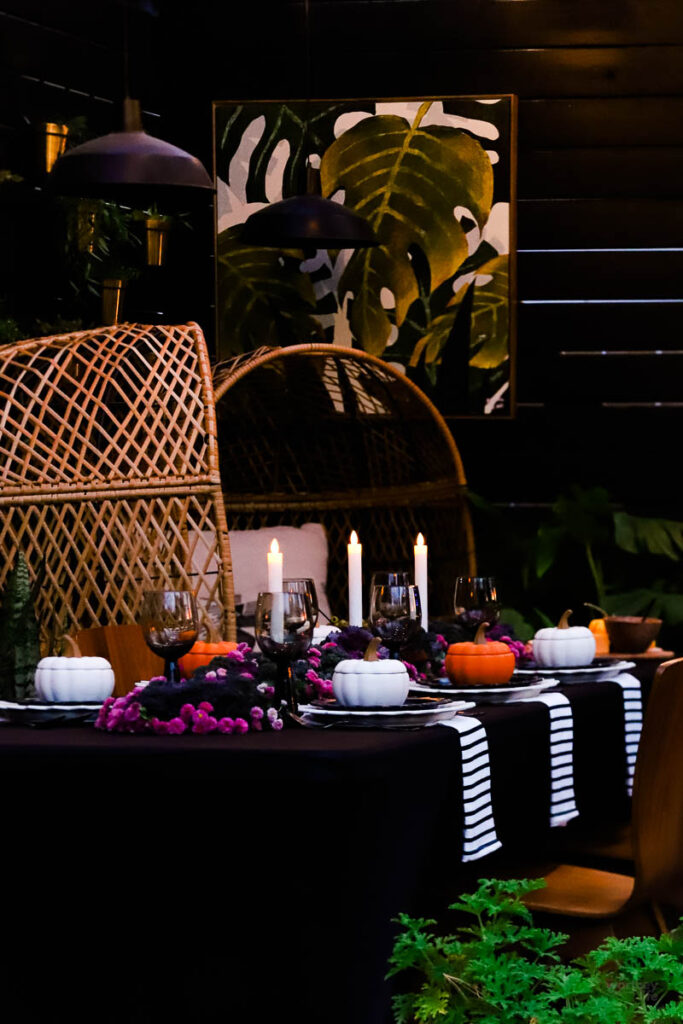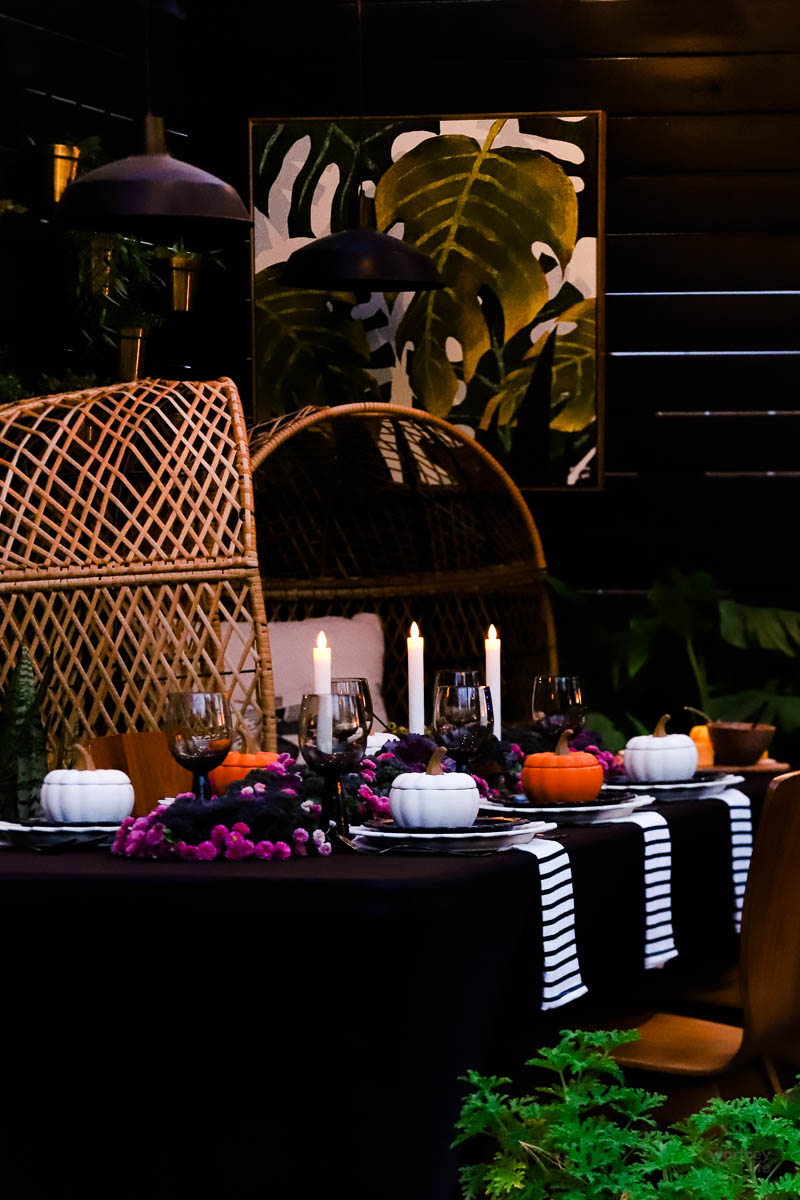 I folded and arranged large black and white striped napkins underneath the plates, letting them cascade off the table. (Resource: Cotton Striped Napkins Black/White – Opalhouse™ designed with Jungalow™)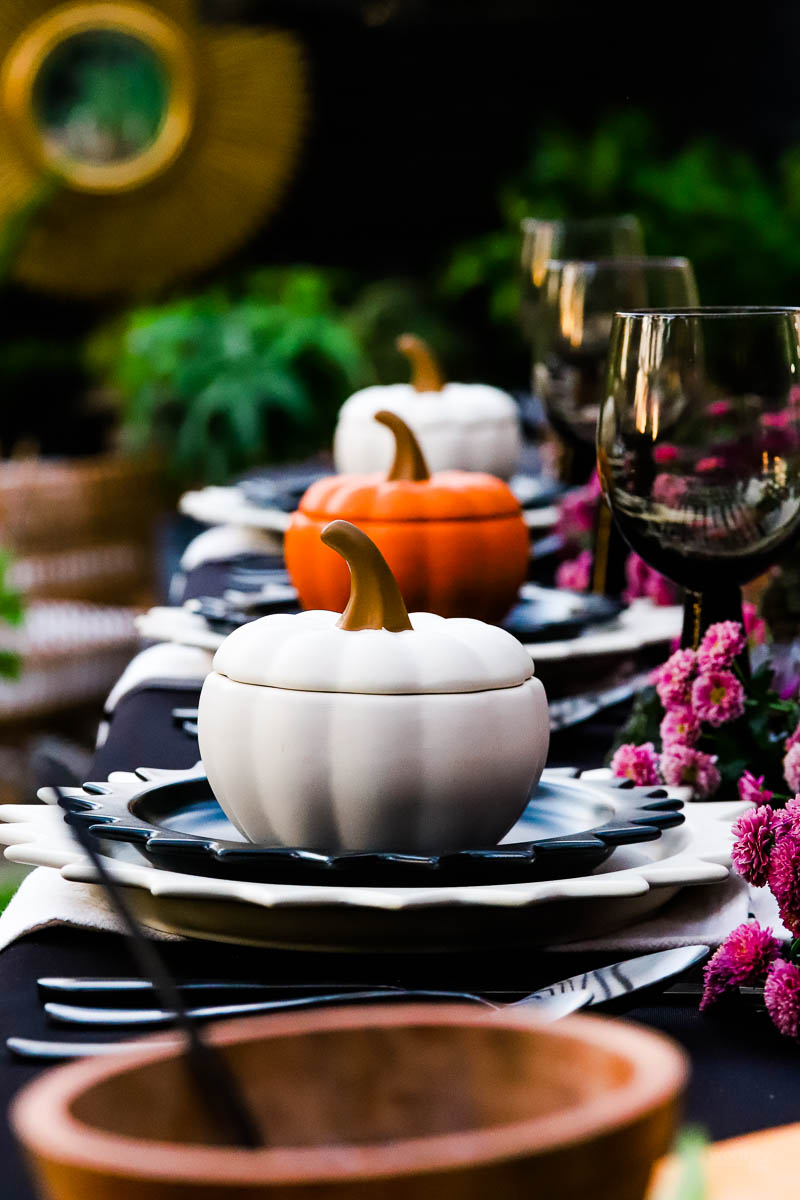 Then, I topped each napkin with a cool-looking white plate with a pointy scalloped edge on which I placed a black salad plate with the same unique border.
These plates are striking and very unexpected.
The uncommon border elevates the visual interest of the table and helps balance out the full centerpiece.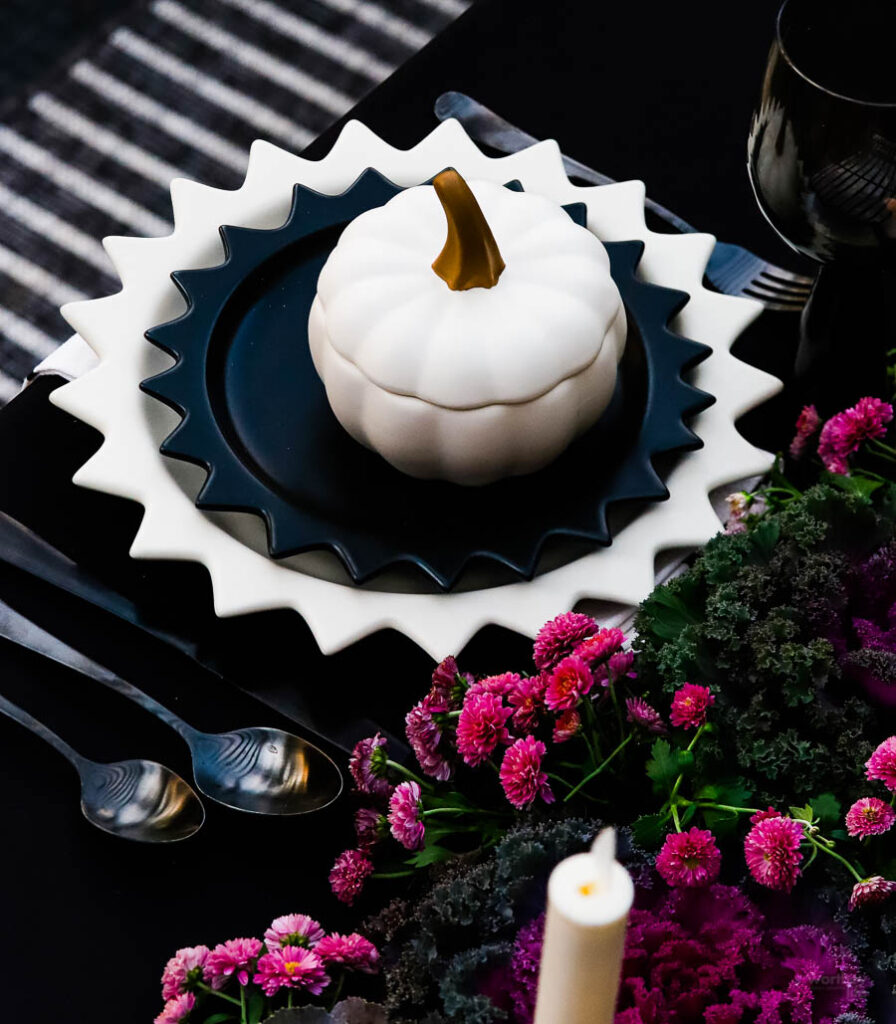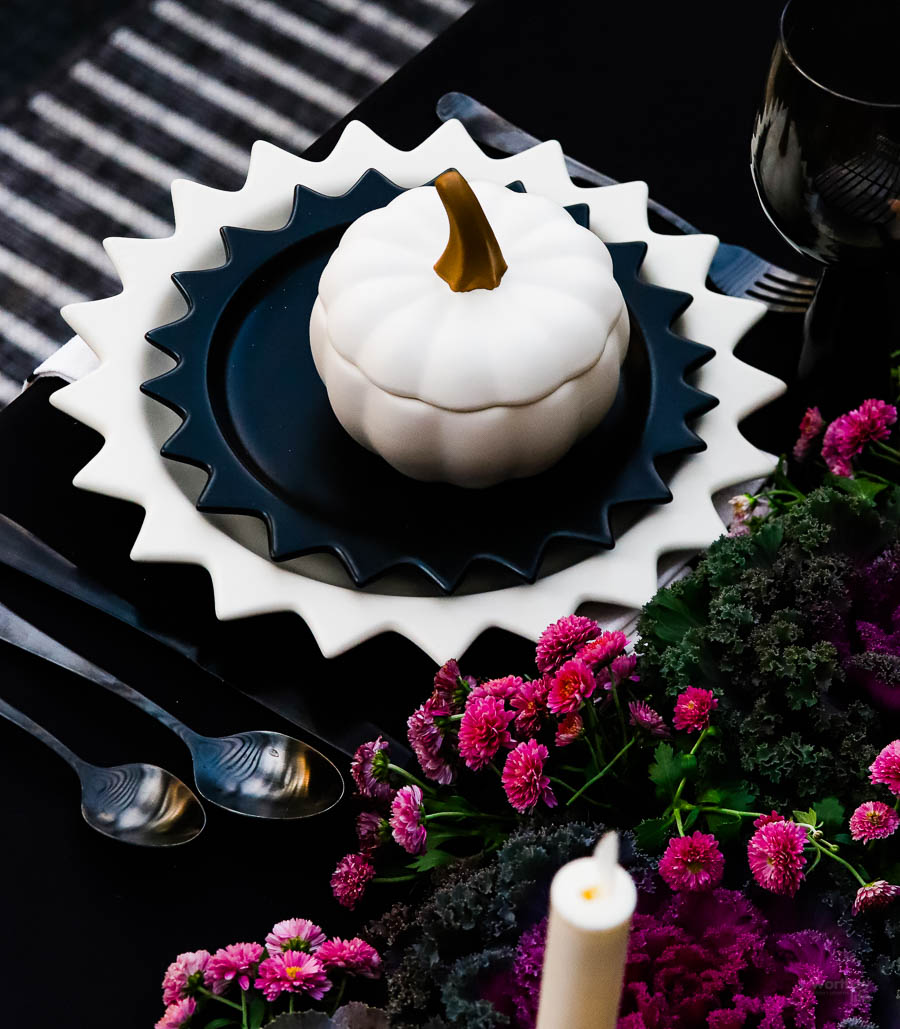 Opalhouse designed with Jungalow at Target
When I found these at Target, I knew they would be perfect for my table! (Resource: Stoneware Pointed Sun Dinner Plates White – Opalhouse™ designed with Jungalow™; Stoneware Pointed Sun Salad Plates Black – Opalhouse™ designed with Jungalow™)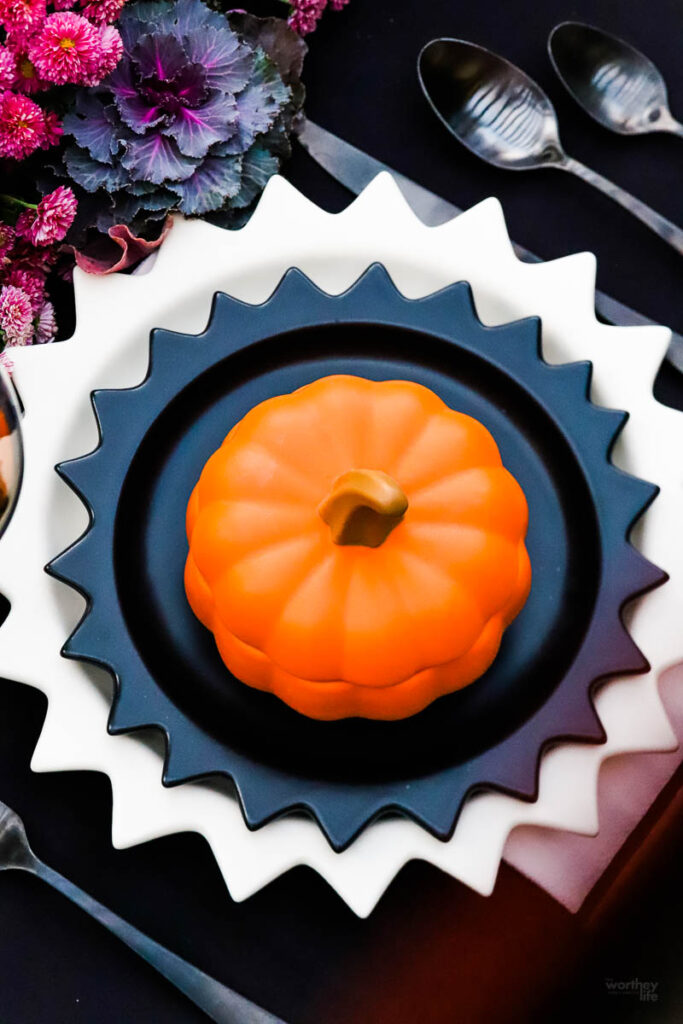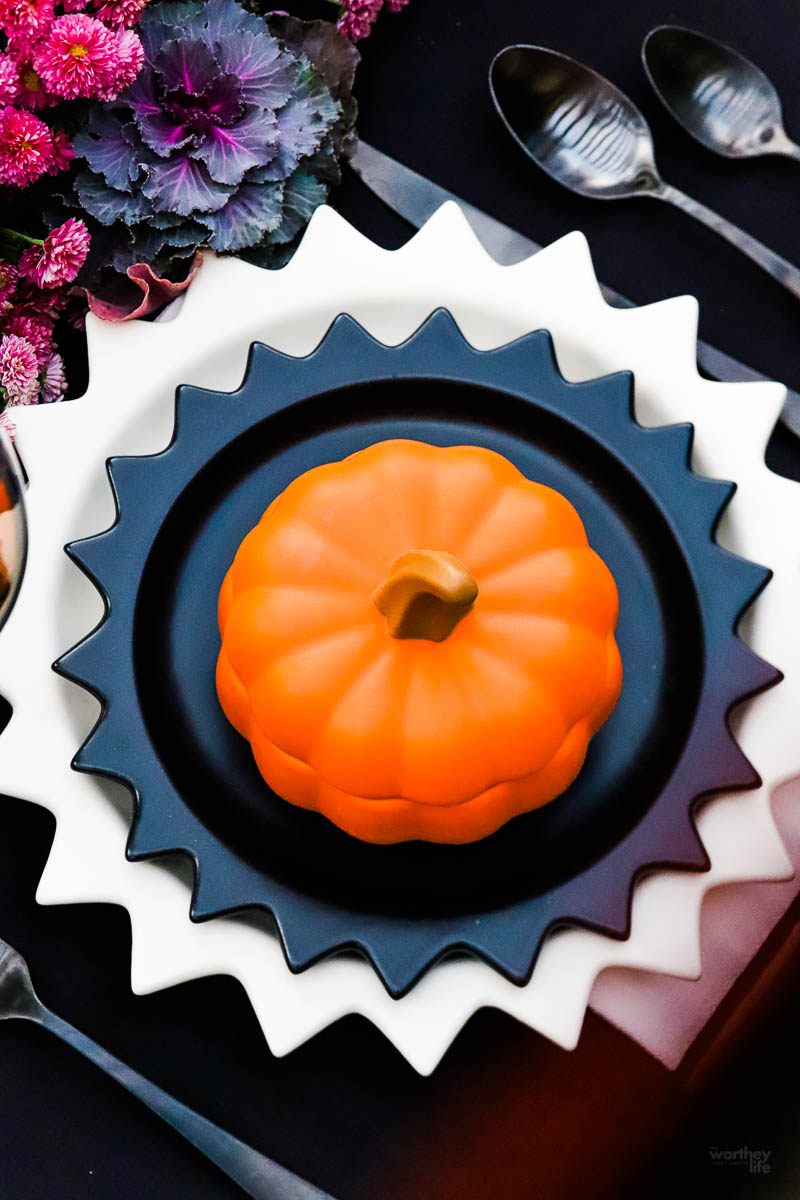 The final item on the plate set features a ceramic pumpkin-shaped baking dish.
This element adds a finishing touch to the plates and is used in many ways.
For instance, each pumpkin dish could contain an individual-sized serving of an appetizer, soup, or, better yet, dessert!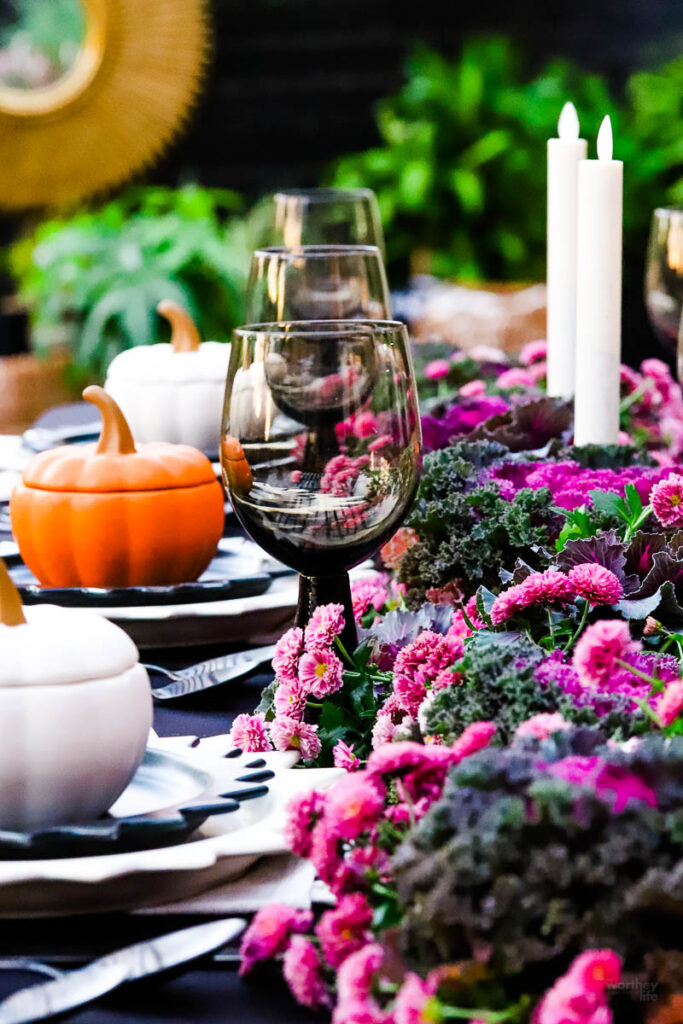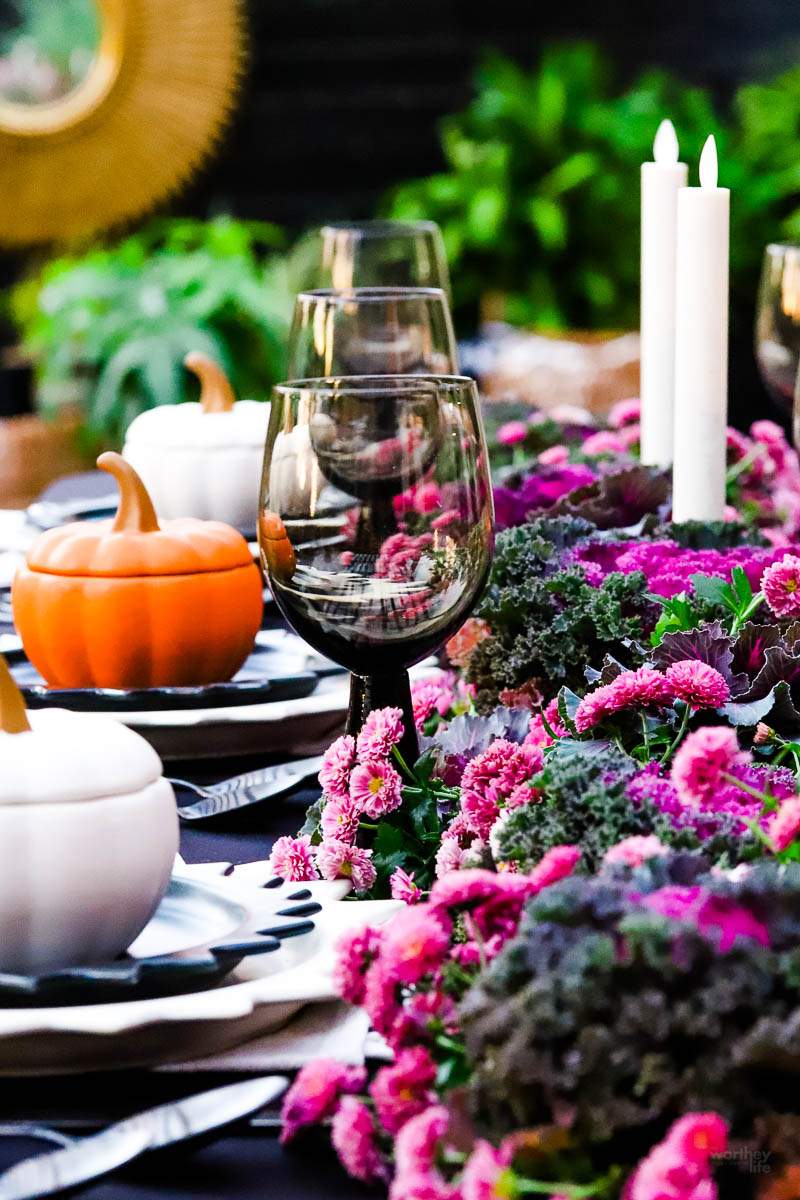 I also wanted the silverware and glassware to be unique.
I opted for forks, knives, and spoons with a black finish.
I added black wine glasses as well. (Resource: At Home).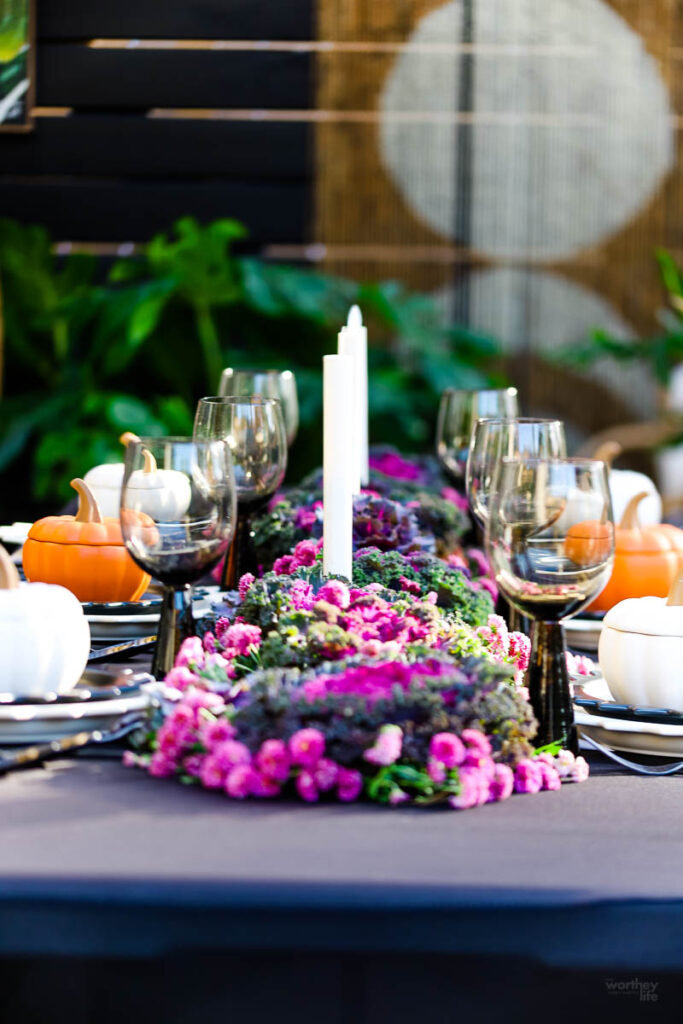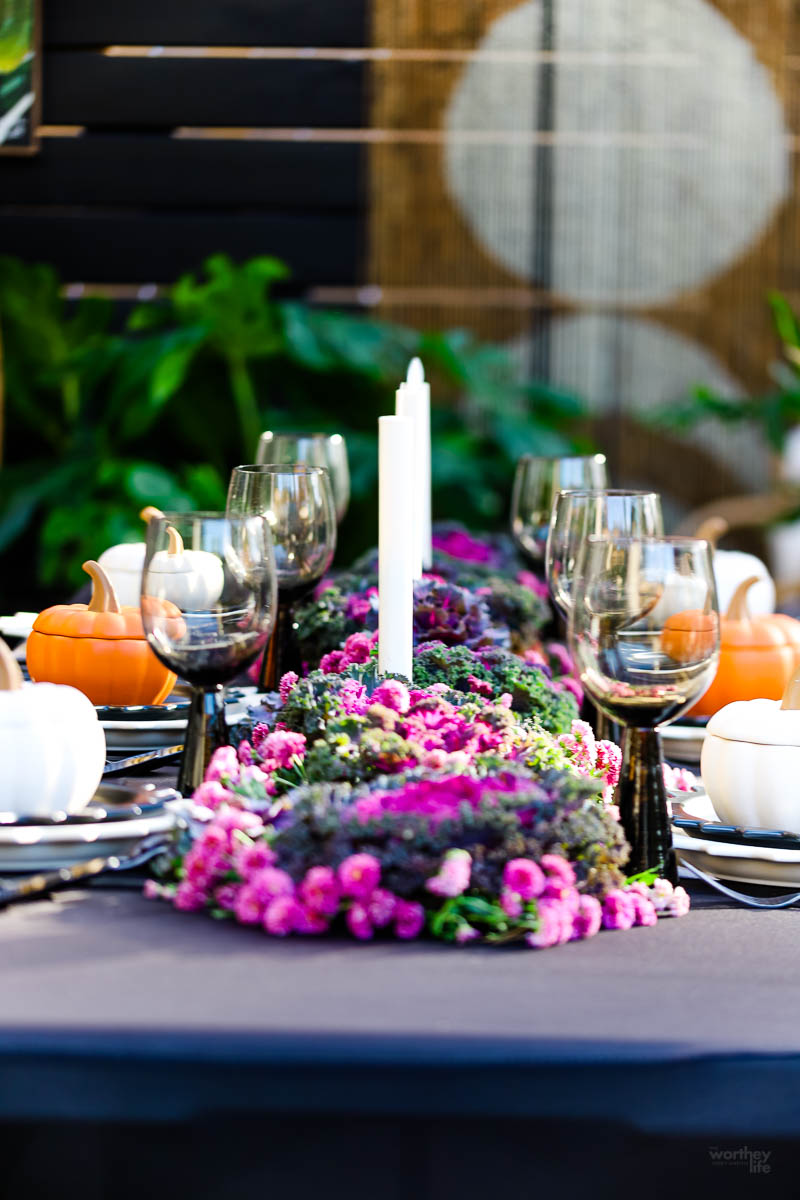 Overall, this tablescape was super easy and inexpensive to pull together and right on-trend.
The result speaks for itself: a robust tablescape bursting with visual interest.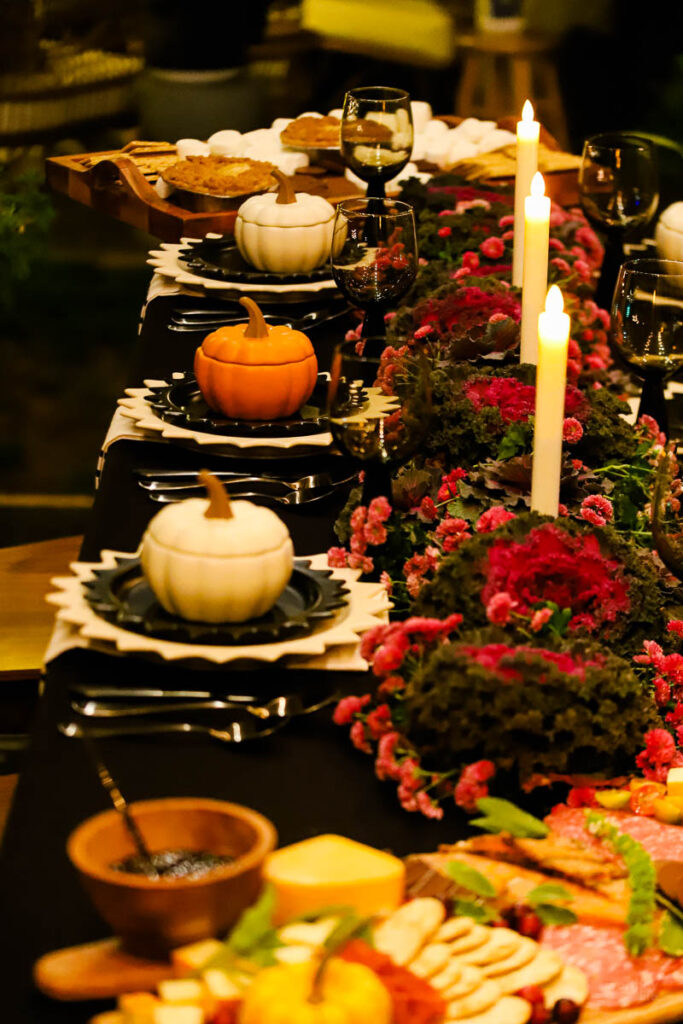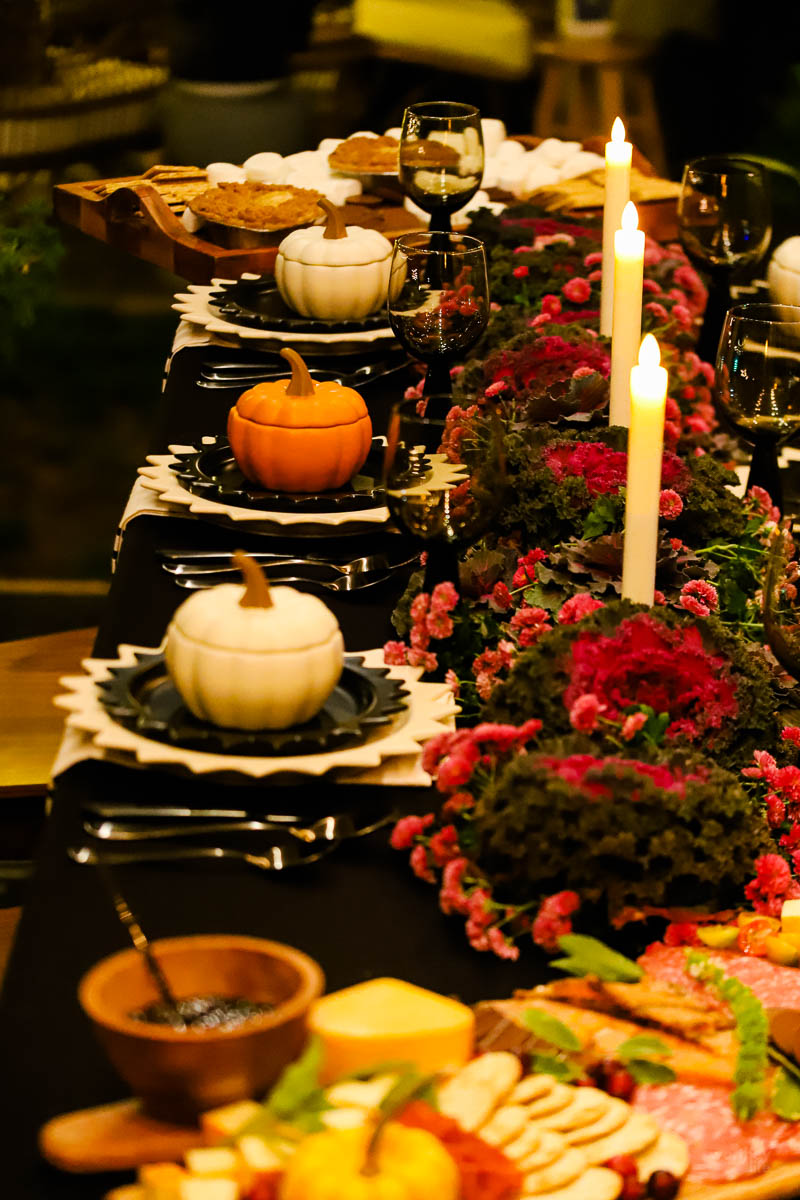 If you're looking for a fall tablescape idea for Thanksgiving, step outside the box and try something different, like this table setting with purple kale as a centerpiece.