Start the new year off on the right foot. With our Raspberry Smoothie Bowl + Lush Fruit, this smoothie bowl is not only delicious, but it's full of healthy ingredients to keep you charged and ready to go.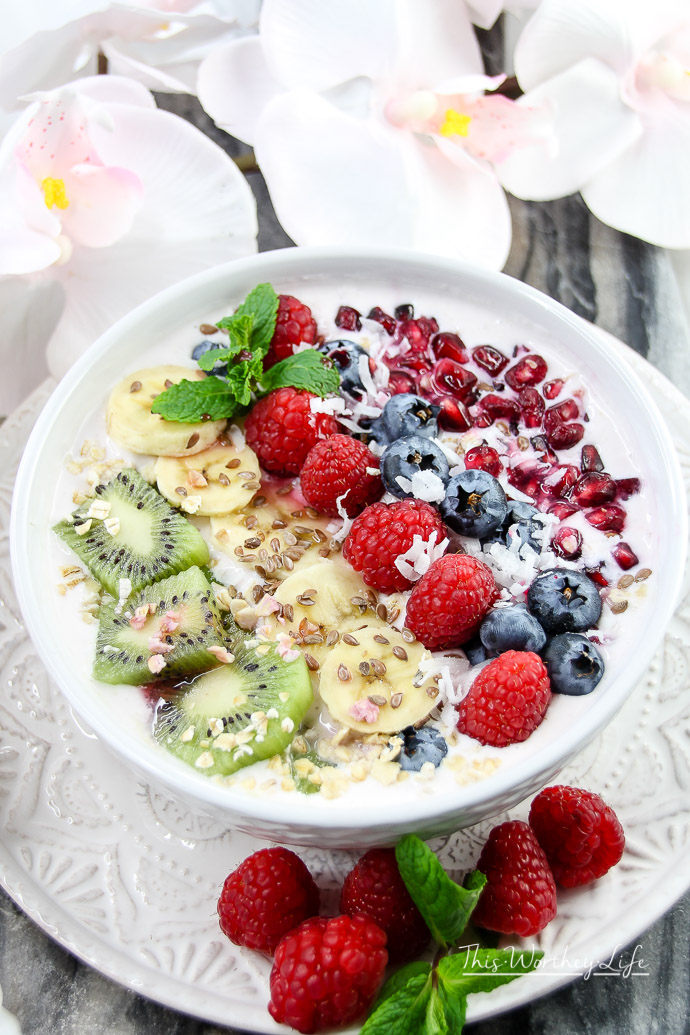 Raspberry Smoothie Bowl + Lush Fruit
A healthier you is just a smoothie bowl away with our beautiful (and mucho delicious) Raspberry Smoothie Bowl + Lush Fruit. And with eating this good, you can eat your way to achieving your eating better goals. Tat and I have committed to eating healthier foods this year, and so far we're holding it down. But admittedly, it is a whole lot easier to eat like a hippy yogi when the food looks and tastes this darn good.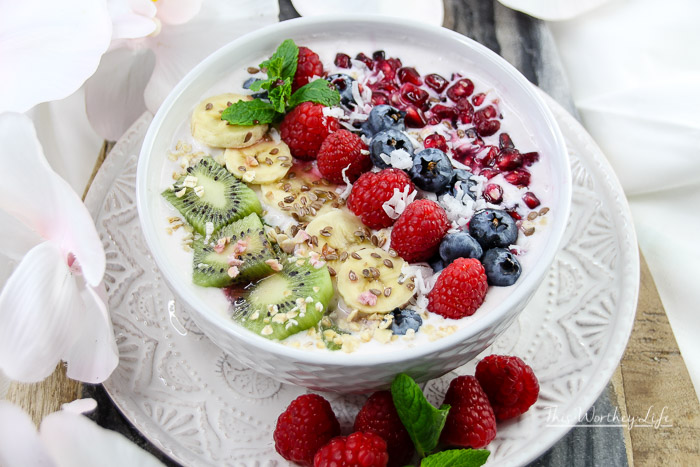 Have you made a promise to yourself to eat better than you did last year?
Our weekly regimen mostly consists of eating healthy during the week with lots of fresh veggies, multiple servings of fruits, and healthy snacks. But, on the weekend the gloves come off, and I'm on the hunt for the kind of food that would make die-hard health nuts shake their collective heads. Remember though, all things in moderation, right? I'll still serve up my share of comfort food, so don't worry those kinda sorta "unhealthy" meals aren't going anywhere. But for every cheat meal, we are going to offer up meals that are also on the crunchy side, with a strong emphasis on fresh. Lots of grains, fruits, green leafy veggies, as well as lots of H2O, and refreshments that are low in sugar. For this smoothie bowl, we piled on the superfoods like kiwis, blueberries, pomegranate, and bananas!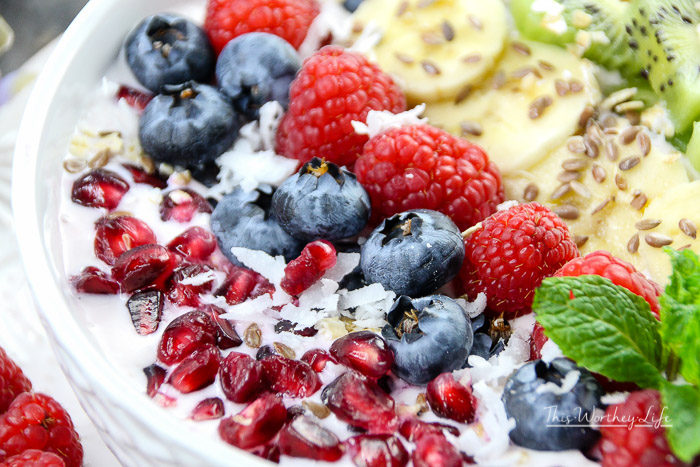 Nothing beats a delicious smoothie bowl to start your day in the right direction!
You know, I have also noticed how much better eating healthy can feel, and as I have gotten older, the greater role food plays in my overall health. I see a big difference when I compare how I feel after a carb-rich or sugar-laden meal versus indulging in something low-fat and overflowing with fresh fruits and veggies. Eating also gives me so much more energy. Gotta love that, right?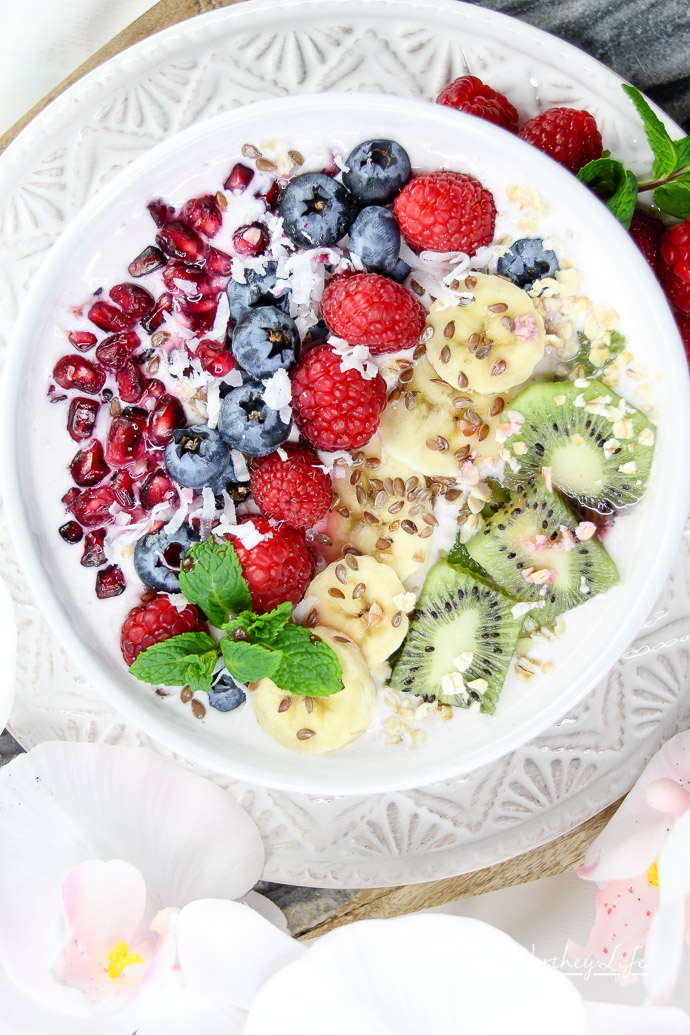 The fruits we used are the real deal because they are packed with so many nutrients, anti-oxidants, and fiber.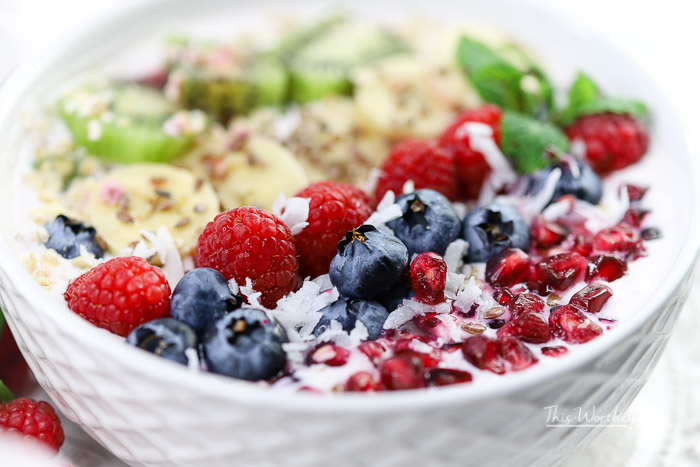 Ingredients:
1 Siggi's Strawberry Pourable Yogurt
2 Siggi's Raspberry Yogurt
1/2 banana, sliced
1 kiwi, remove skin and sliced
1/2 ripe pomegranate
8-10 blueberries
8-10 raspberries
1 1/2 tbsp raw oatmeal
1 1/2 tbsp shredded sweetened coconut
1/2 tbsp whole flax seeds
Directions:
In a bowl combine Siggi's pourable strawberry yogurt and two containers of Siggi's Raspberry yogurt, use a small whisk to blend the yogurt.
Spoon the yogurt into a serving bowl.
Arrange slices of kiwi and banana, as well as ripe, sweet raspberries, blueberries, and pomegranate seeds.
Scatter raw oatmeal, shredded sweetened coconut, and whole flax seeds.
Finish with Raspberry + Agave Drizzle.
Serve.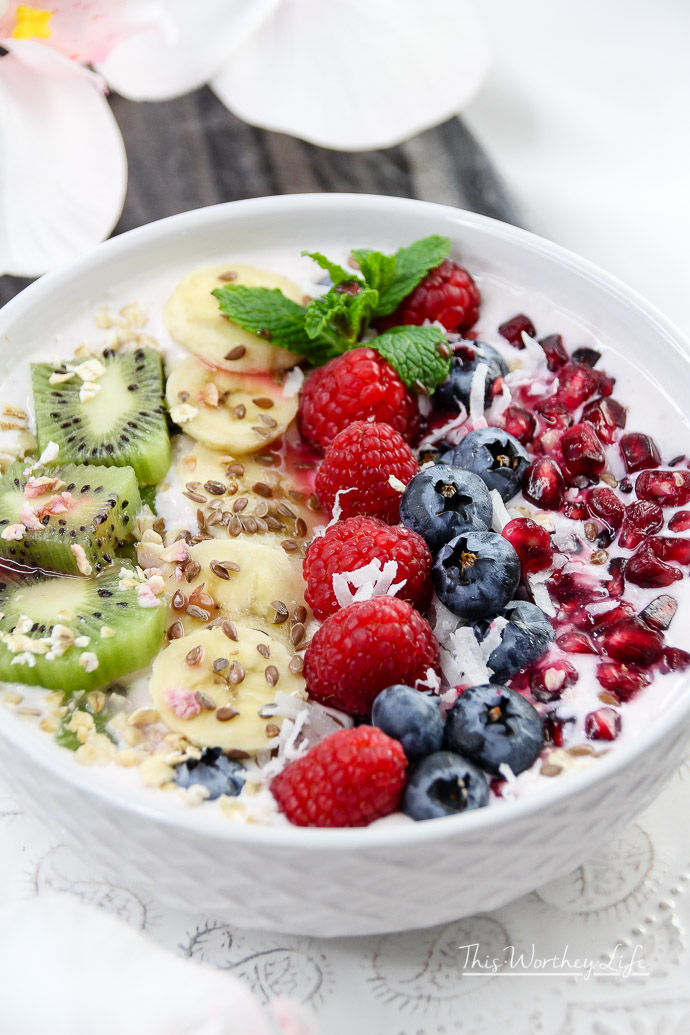 Raspberry + Agave Drizzle
Ingredients:
1/2 ounce Agave Syrup
1/4 cup Fresh Raspberries
1 ounce fresh squeezed pomegranate juice
3 ounces alkaline water
Pinch of Cinnamon
Directions:
In a small saucepan add agave syrup, fresh raspberries, alkaline water, and a pinch of cinnamon over med/high heat.
Using a fork smash the raspberries to release the juice.
When the mixture begins to boil remove the saucepan from the heat source.
Strain the mixture through a fine-mesh sieve into a small jar with a screw lid.
Store in the fridge up to 3-weeks.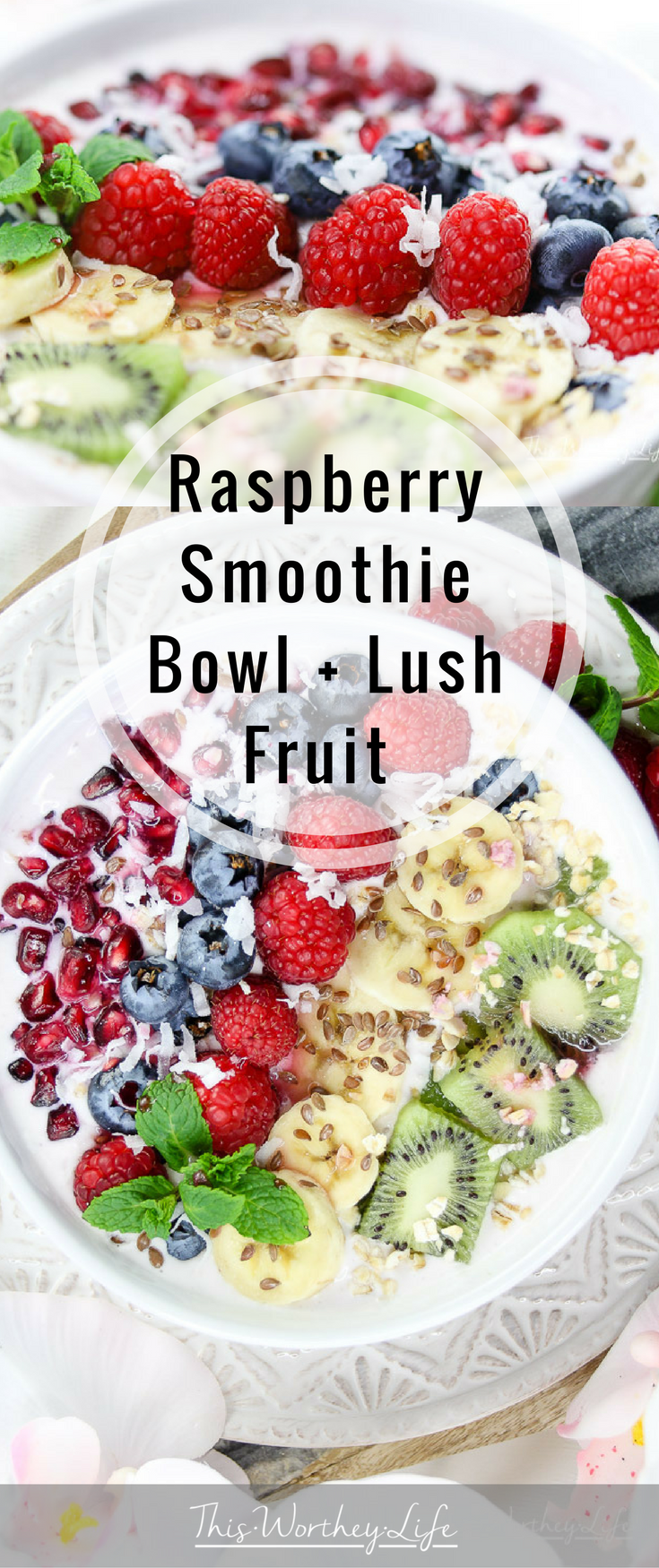 Love this smoothie bowl? Find more delicious and healthy recipe ideas below:
Savory Yogurt Bowl with Quinoa + Shredded Chicken {+My Health Resolutions}
Parfait Recipe | Frosted Mixed Berry Shredded Wheat + Yogurt Fruit Cups
Yogurt + Fruit Watermelon Bowl
Yogurt Cups with Fruit & Wasabi Peas