This shop has been compensated by Collective Bias, Inc. and The Coca-Cola Company. All opinions are mine alone. This content is intended for readers who are 21 and over.​ #TrickYourTreat #CollectiveBias

Looking for recipes to pair with pizza? We're sharing two recipes you can make for pizza night. This is also an easy dinner night idea, great for game night and more!

Recipes To Pair With Pizza | Easy Dinner Night Idea
We love to entertain here at the Worthey house. You can often find us pulling out all the stops, with tons of great food choices, drinks, and fancy table settings. But, sometimes, just sometimes, we like to have low-key nights. It may just be our family or a few friends, but we like to have nights where the food is still good with less effort. Friday nights are traditional pizza night. Yes, we are all about the pizza life; I mean who doesn't like a piping hot pizza fresh out of the oven?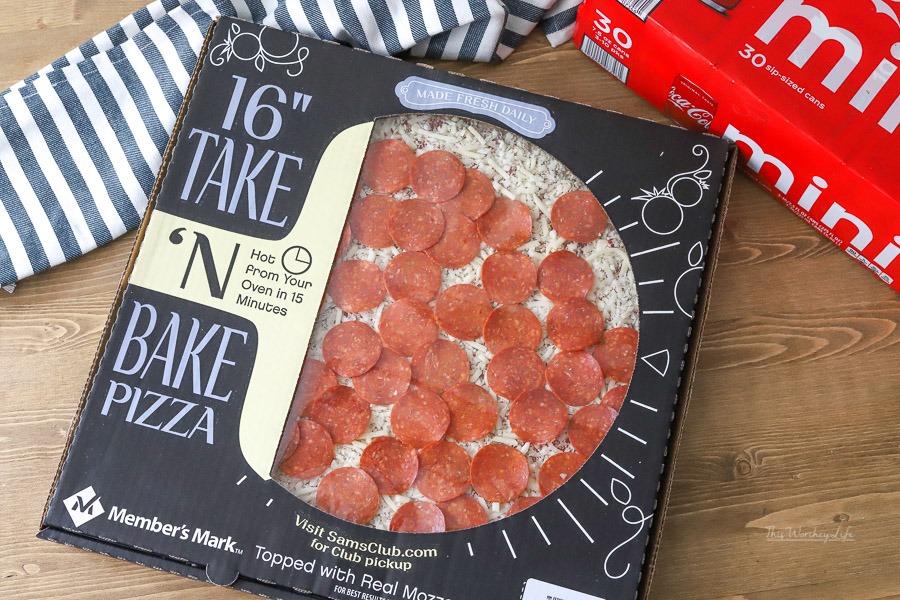 Recently, we put together a memorable pizza night-in. We purchased Sam's Club's Member's Mark 16″ Take 'N Bake Pizza, and the results were over the top delicious. There is something about putting a hand-made pizza into your oven and taking it out 15-minutes and its all gooey cheese perfection.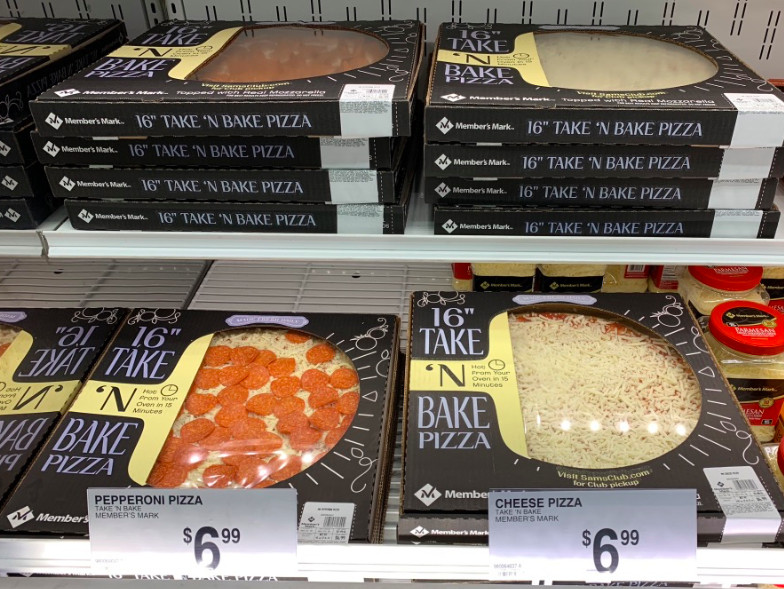 These pizzas are made fresh daily using 100% real-whole milk cheese, premium ingredients, and the tomato sauce is made with 100% non-GMO tomatoes grown in California. Plus, you got to try their new and improved artisan-style crust! Once you pop the Member's Mark 16″ Take 'N Bake Pizza into a preheated oven, it is ready in just 15 minutes!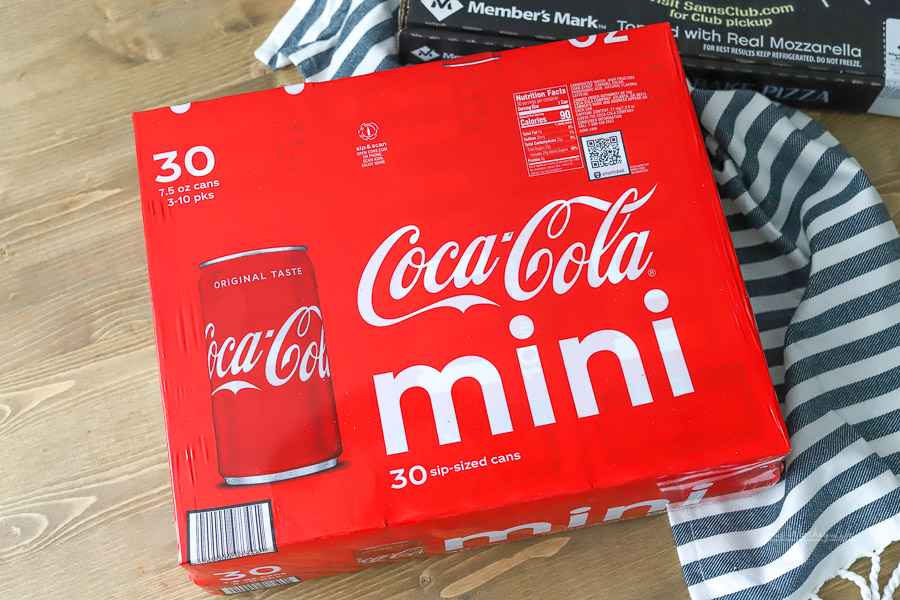 Let's talk refreshments. I have a question, what do you serve along with hot and steaming, lip-smacking pizza? How about an ice-cold Coke®?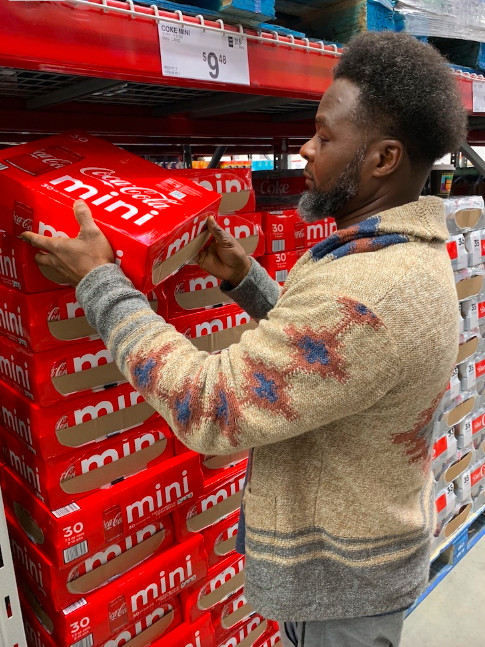 At Sam's Club, we also picked up this convenient pack of Coca-Cola® (7.5 oz. cans, 30pk); I guess you can say we got the refreshments covered and then some. Plus by stocking up, means we will not run out of ice cold Coca-Cola®.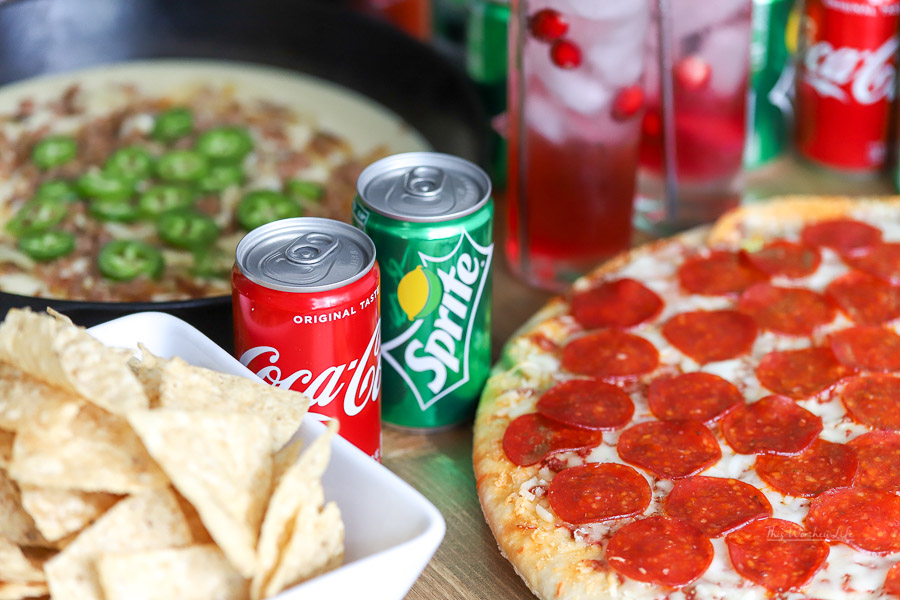 But we didn't stop there; I also made a mouthwatering Spicy White Cheddar + Andouille Sausage Dip. It's ideal for dipping lots of crispy tortilla chips into, and the jalapeños are a nice touch to bring on a little heat. Don't worry, because there will be plenty of cold drinks to cool things off in a hurry.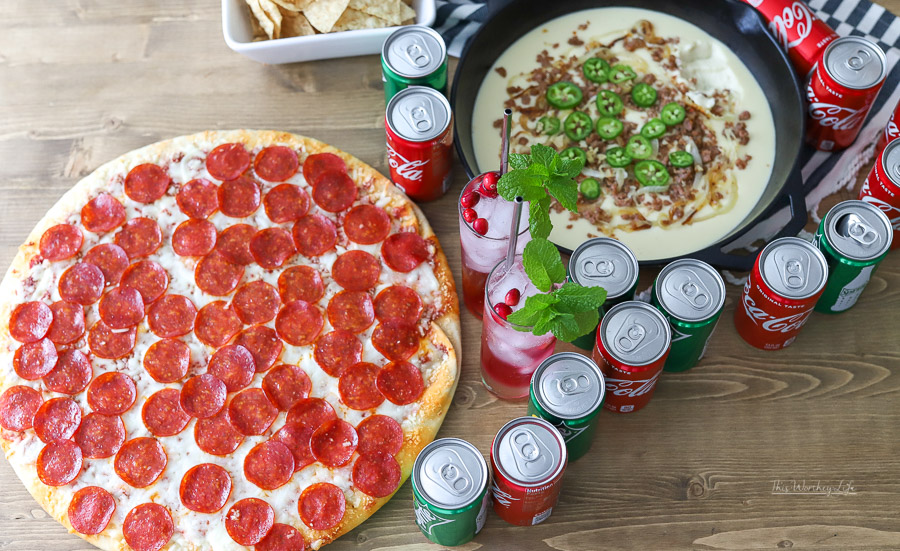 Do you hear that? I think the Member's Mark 16″ Take 'N Bake Pizza is calling your name!
And for the adults in the room, I created Cranberry + Sprite Mojitos. Our mojitos are so easy to make you may want to keep this simple recipe around for the holidays!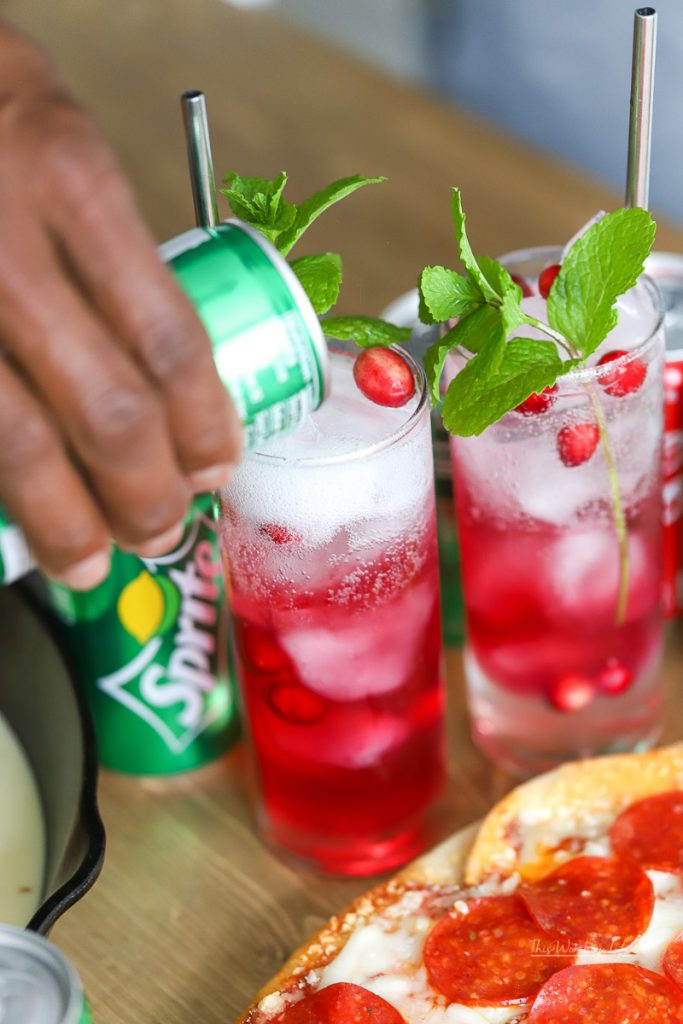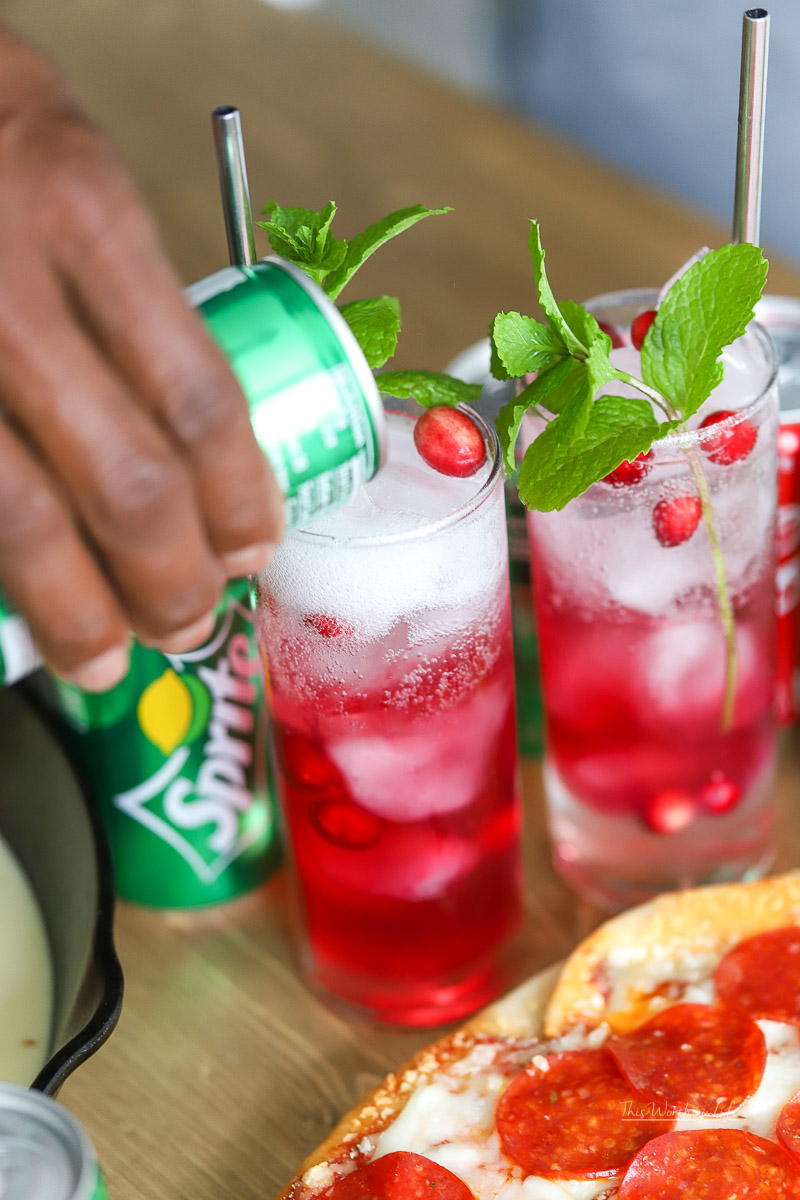 The Cranberry Mojito cocktails include muddled mint, simple syrup, cranberry juice, fresh lime juice, Blanco rum, then top the whole thing off with perfectly chilled lemon-lime, 100% natural flavor Sprite®. Are you thirsty yet?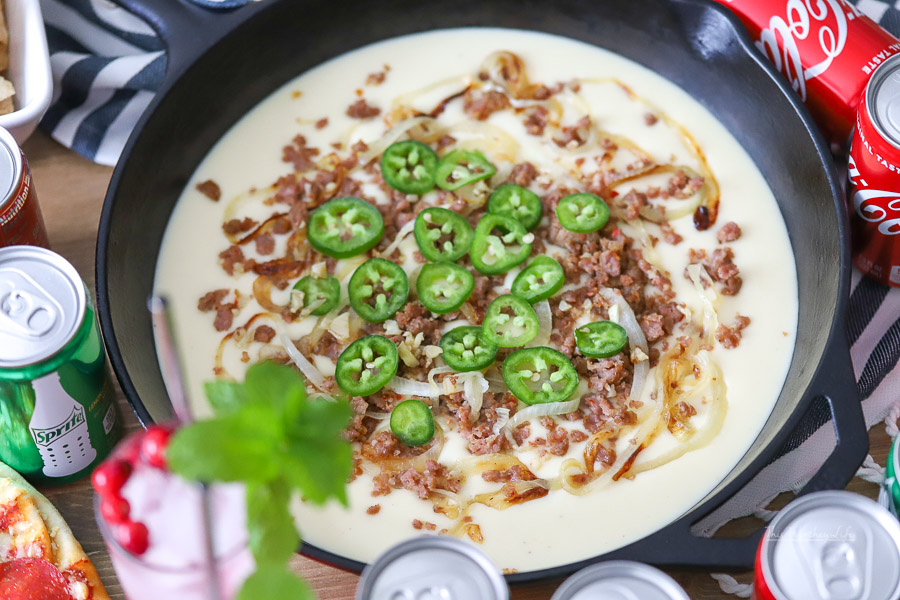 Spicy White Cheddar + Andouille Sausage Dip
Ingredients:
two tablespoons bacon fat
two tablespoons all-purpose flour
1/8 teaspoon sea salt
pinch of freshly cracked black peppercorns
8 ounces sharp white cheddar cheese, shredded
8 ounces Gruyère, Gouda, or Fontina, shredded
pinch of ground nutmeg
3 cups whole milk, divided
1 tablespoon olive oil
2 tablespoons of unsalted butter
1 pound Andouille sausage removed from its casing
1 large sweet onion sliced thin
2 large cloves garlic, peeled and minced
2 jalapeño peppers, sliced very thin
Directions:
Prepare onions ahead of time by placing a large skillet over med-high heat, add the butter. When the butter is melted, add the sliced sweet onions. Continue to cook until the onion begins to brown, turn the heat to low and continue to cook until the onions are caramelized about 25-30 minutes. Remove from heat and reserve for later.
Sliced the jalapeños thinly and reserve for later.
Remove the casing from the Andouille sausage, cut the sausage into small pieces.
Select the saute function on the Instant Pot when the pot is hot add a tablespoon of olive oil.
Add the pieces of Andouille sausage and cook the meat until it is cooked through and brown on all sides.
Using a large slotted spoon remove the sausage and place the sausage on a clean cutting board.
Drain the sausage dripping into a measuring cup and measure out two tablespoons.
Add the two tablespoons of sausage dripping into the Instant Pot, using a wire whisk slowly add the two tablespoons of all-purpose flour.
Keep whisking the flour until you get a smooth blond colored roux.
Add two cups of milk and keep whisking the mixture on Saute mode.
Add a pinch of nutmeg and keep whisking.
Add the minced garlic.
Little by little add the grated cheeses and keep whisking until the cheese melts completely and is smooth.
Add the last cup of whole milk and continue to whisk until the mixture is smooth.
Keep whisking for another two minutes over low heat.
Pour the melted cheese mixture into a serving dish, top with caramelized onion, chopped Andouille sausage, and sliced jalapeño peppers.
Serve with tortilla chips.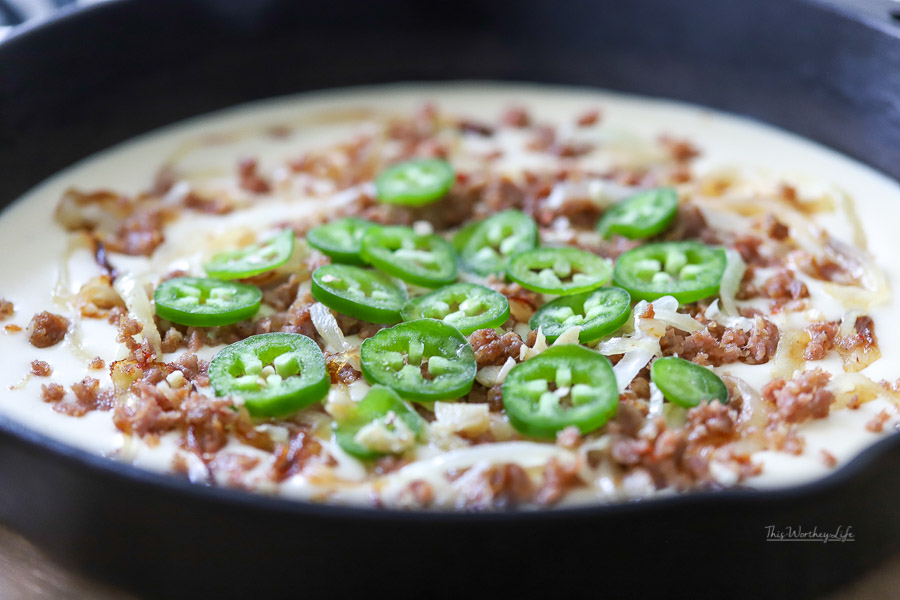 If you like your dips super duper cheesy, with spicy Andouille sausage, bits of savory garlic, reams of caramelized onions, and slices of fresh jalapeños then this dip has your name written all over it!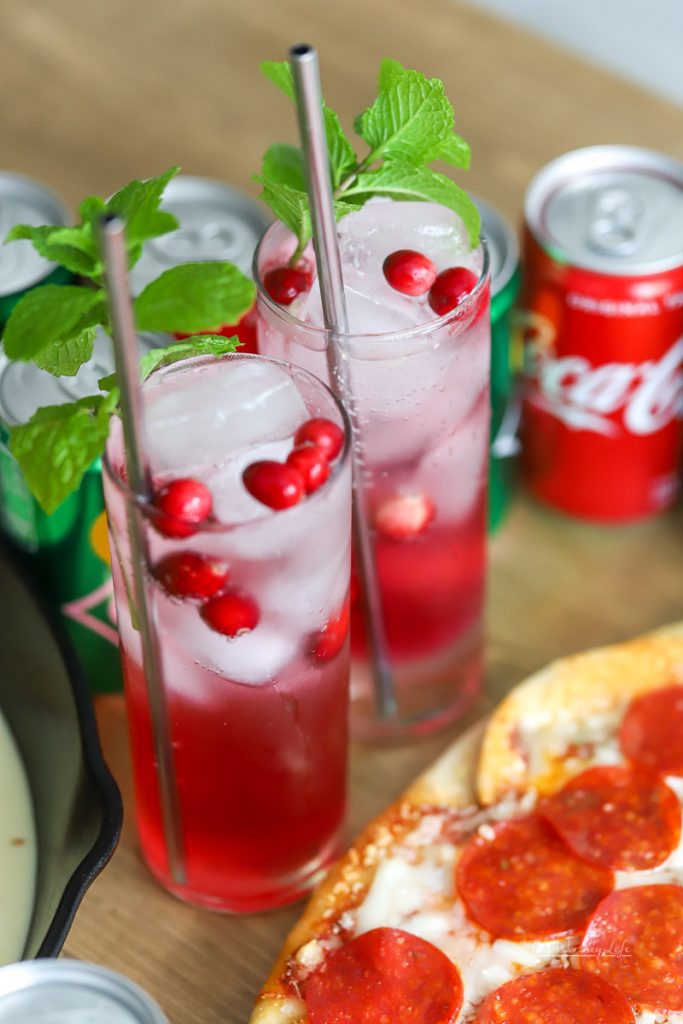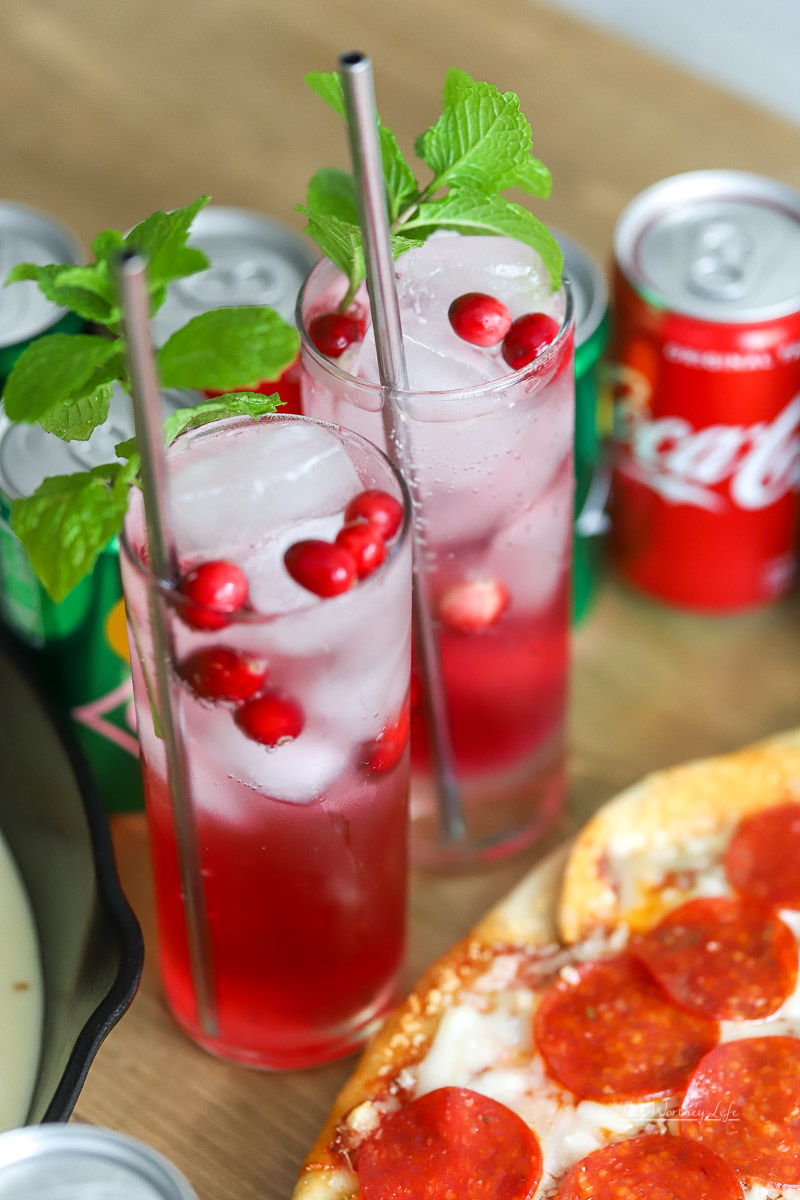 Cranberry Mojito Cocktail
Ingredients:
2-3 mint leaves
1 1/2 ounces white rum
1-ounce simple syrup
3 ounces cranberry juice
Top with Sprite
Ice
whole cranberries for garnish
sprig of fresh mint for garnish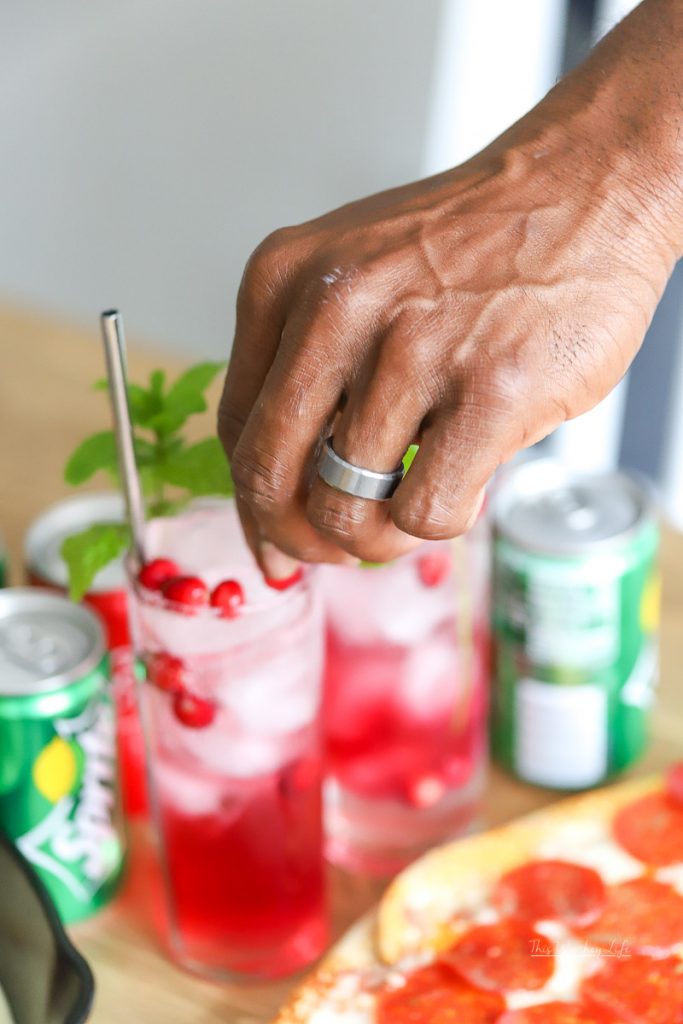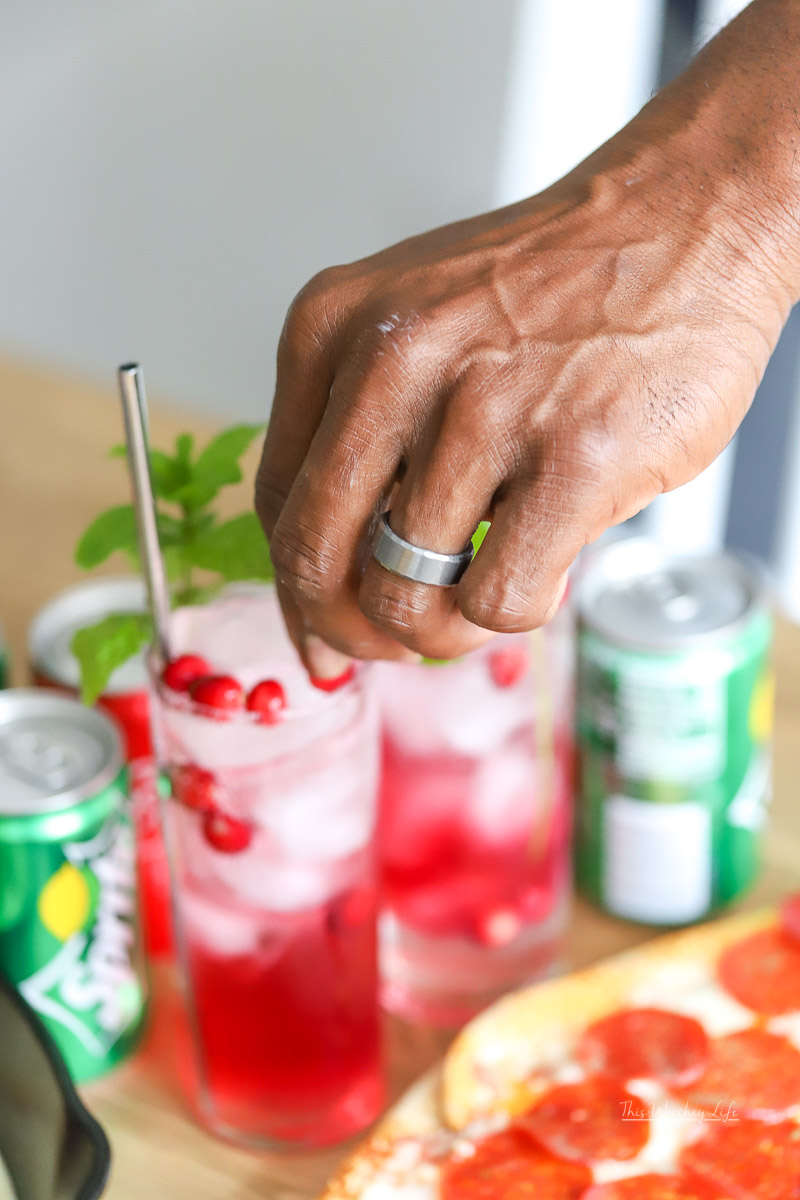 Directions:
Muddle two to three mint leaves in the bottom of a Tom Collins glass.
Add simple syrup and ice.
Add the white rum.
Pour in the cranberry juice.
Top with ice-cold Sprite.
Garnish with whole cranberries and a fresh sprig of mint.
Serve.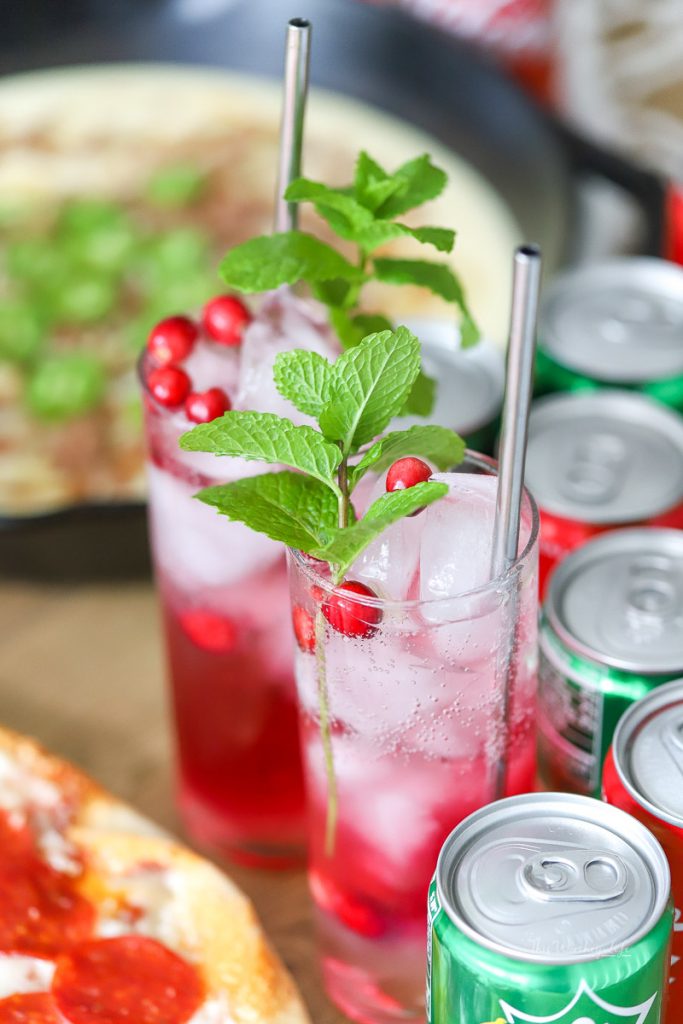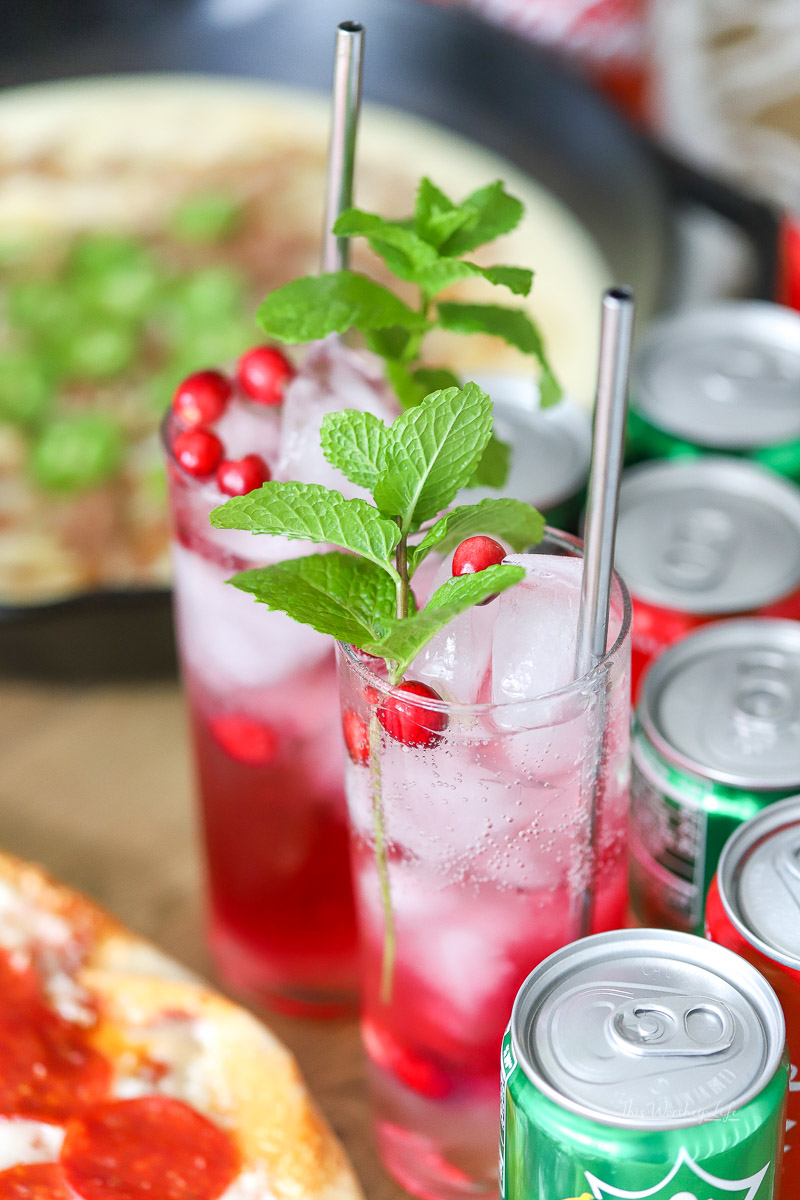 Drink responsibly, and never drink and drive
So, if you're looking for an easy Friday night dinner idea or easy meal for entertaining, head to Sam's Club to grab one of their Member's Mark 16″ Take 'N Bake Pizzas, and don't forget to add lots of Coca-Cola® products. Add friends and family and you're guaranteed to have a good time.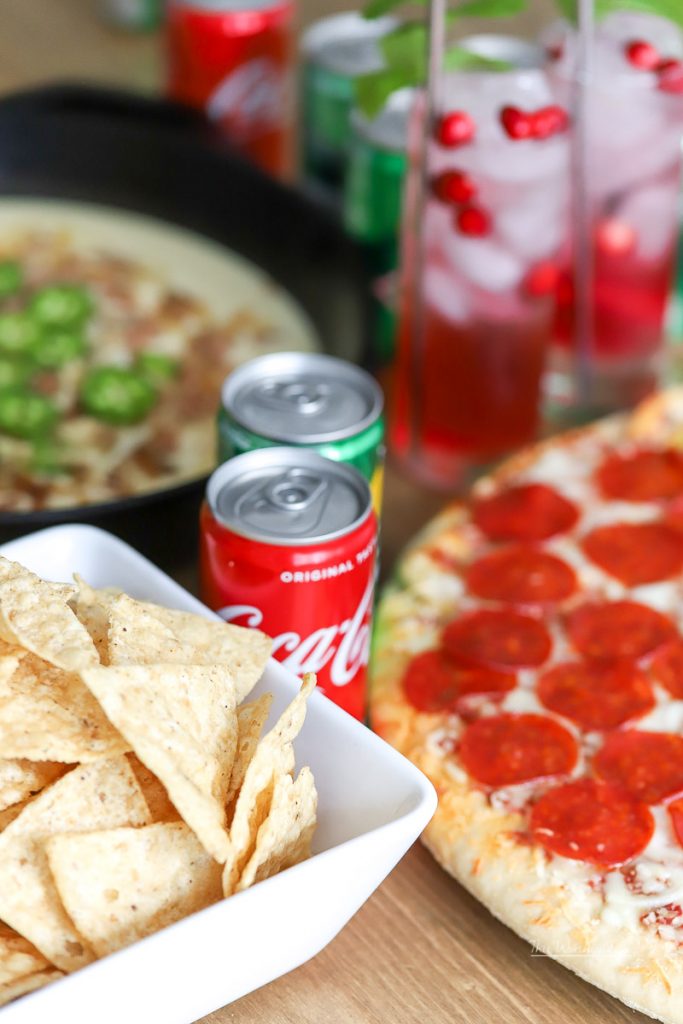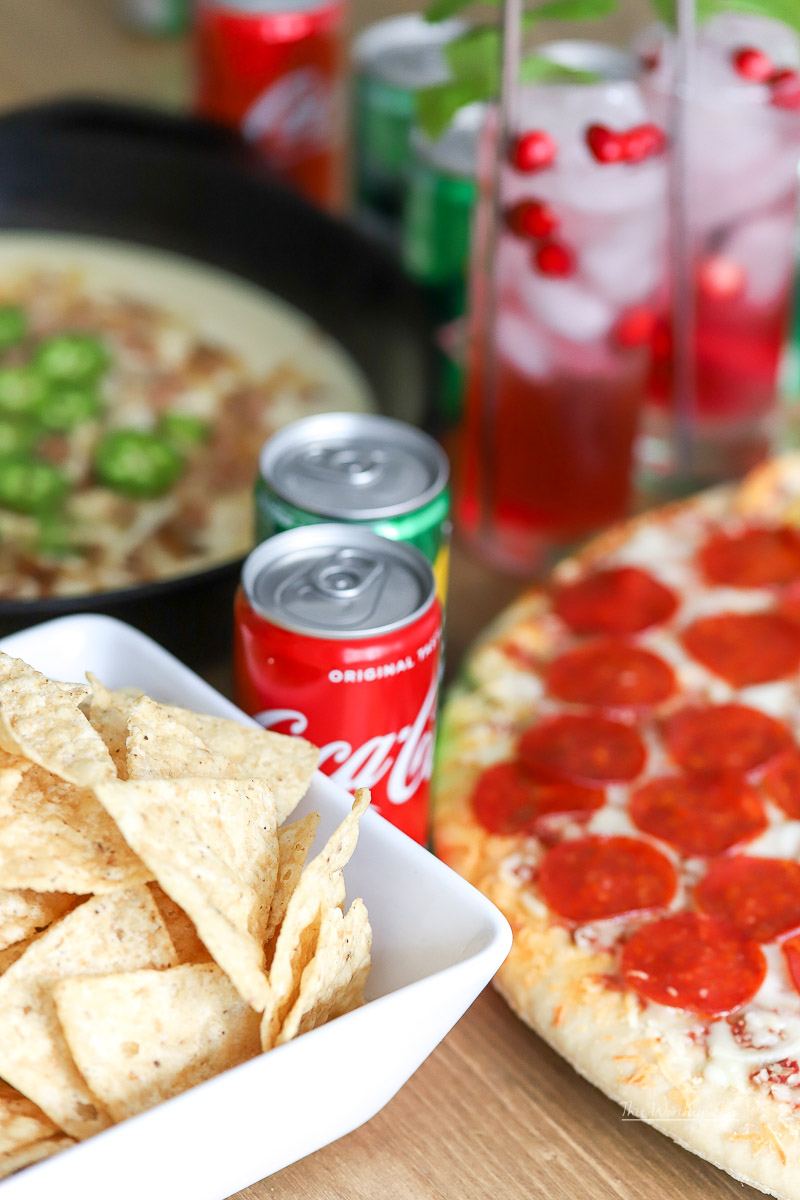 Our pizza pairing is also a good meal idea for the holidays. Think New Year's party, a few days after a big holiday dinner, game day, and on and on. With these simple recipe ideas and a delicious pizza from Sam's Club, dinner is served. Tell me, what are some other side dishes your family loves to eat with pizza?