Need to update your bathroom, but don't want to do any bathroom DIY projects? These Simple Ways To Refresh Your Bathroom without a DIY project can help!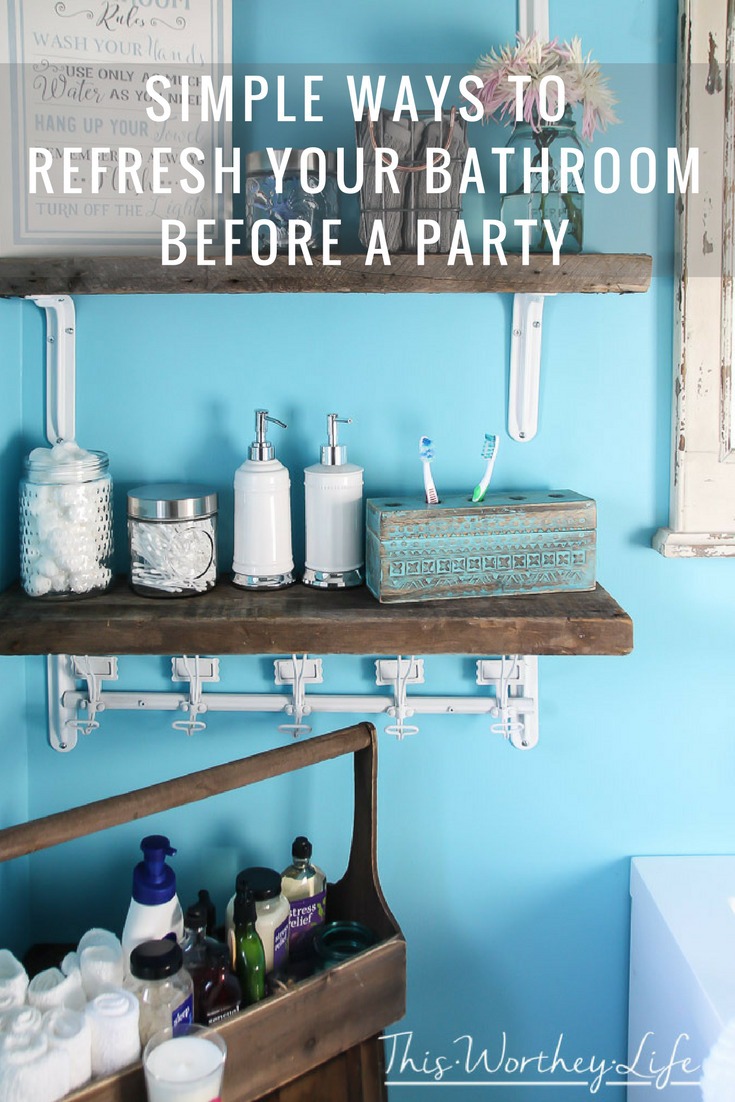 Simple Ways To Refresh Your Bathroom Before A Party
It's no secret we love to entertain here at the Worthey abode. When it comes to entertainment, we have the food and decor items covered, but what about prepping the rest of your home for the upcoming shindig?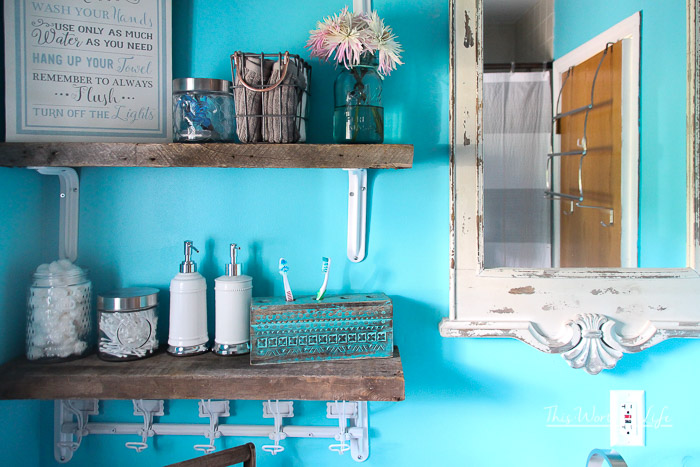 Whether we're prepping for a big holiday party or planning to have guests come to stay overnight, we want our guests to feel welcomed in our home. Sometimes the smallest details can be a significant factor.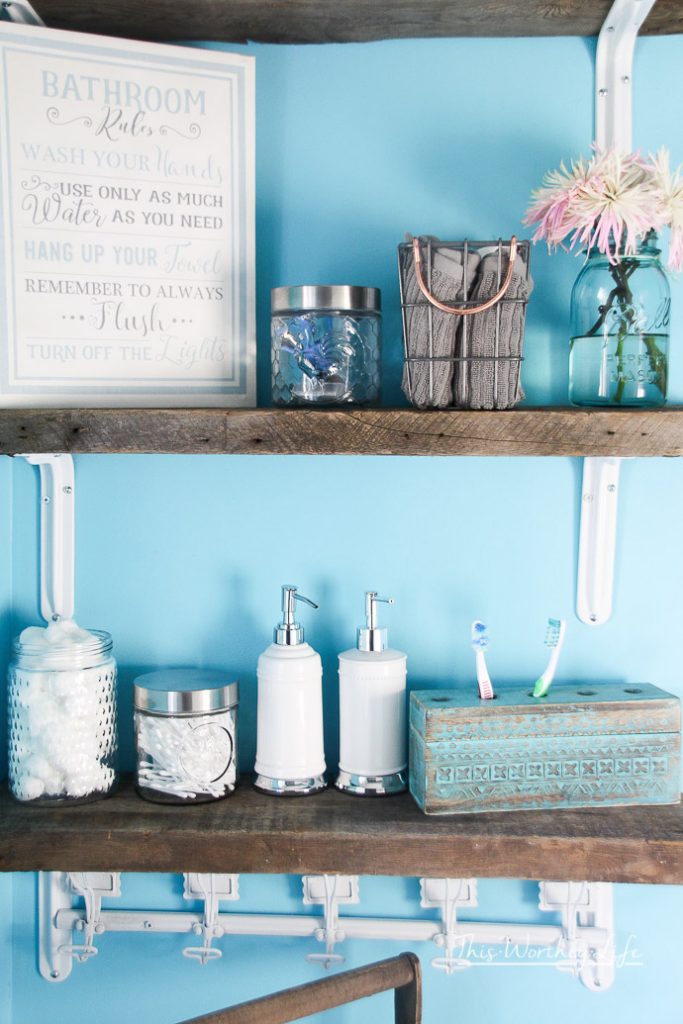 Refreshing your bathroom for entertaining
For example, let's take the bathroom. When it comes to prepping for your party, what do you do to your bathroom to prepare for the stream of guests who will use it at some point during the party? And if your guests are staying overnight, they will use it to take a shower and get ready for the next day. A lot of important stuff goes down in the bathroom, so let's get ready to refresh.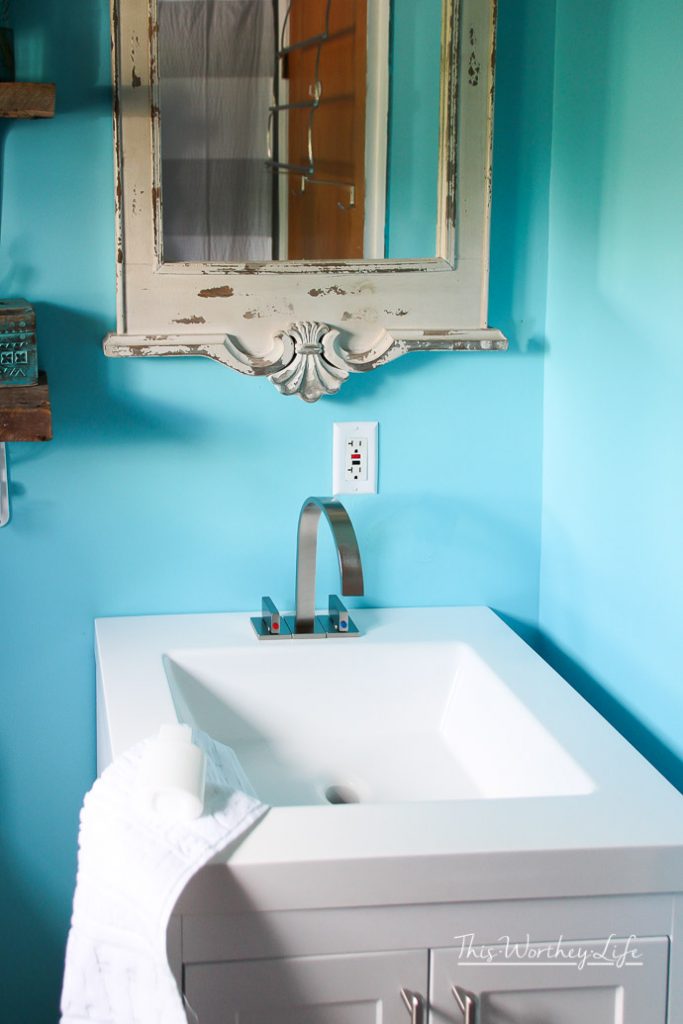 Many people focus so much of their attention on the food and decor items; they don't give the bathroom a lot of thought. But it's important, very important. I've been to parties where the bathroom left a lot to be desired. Your bathroom doesn't have to scream high-end, but it needs to be clean and offer guests the reassurance that will put them at ease; bathroom anxiety is a real thing, so let's work hard to avoid a scary experience for everyone involved. And here's the thing, it won't take a lot of money to ensure your bathroom space is welcoming Zen-line zone.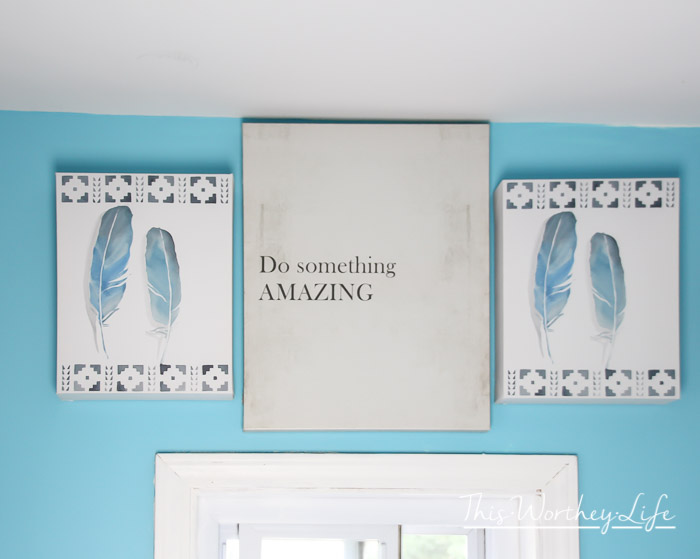 Overall look. Fact. When I visit someone's bathroom for the first time, my eyes are instantly scanning for danger. Is the bathroom clean? Does it smell pleasant? We've all been there, and at times it ain't pretty. So, it's no surprise when you are entertaining, your guests will scrutinize your bathroom just as much as you would at someone else's home. When someone walks into the bathroom, they should feel welcomed. The wife and I picked up a few pieces of art and "suggestive" signage to inspire our guests. It's a subtle message to our guests, "do something amazing," we hope it will inspire them to go out and be great, and maybe leave the bathroom how they found it. Having a clean bathroom means a clean sink, clean toilet, clean floors, and a clean shower. Clean towels. Clean is a good thing! Right?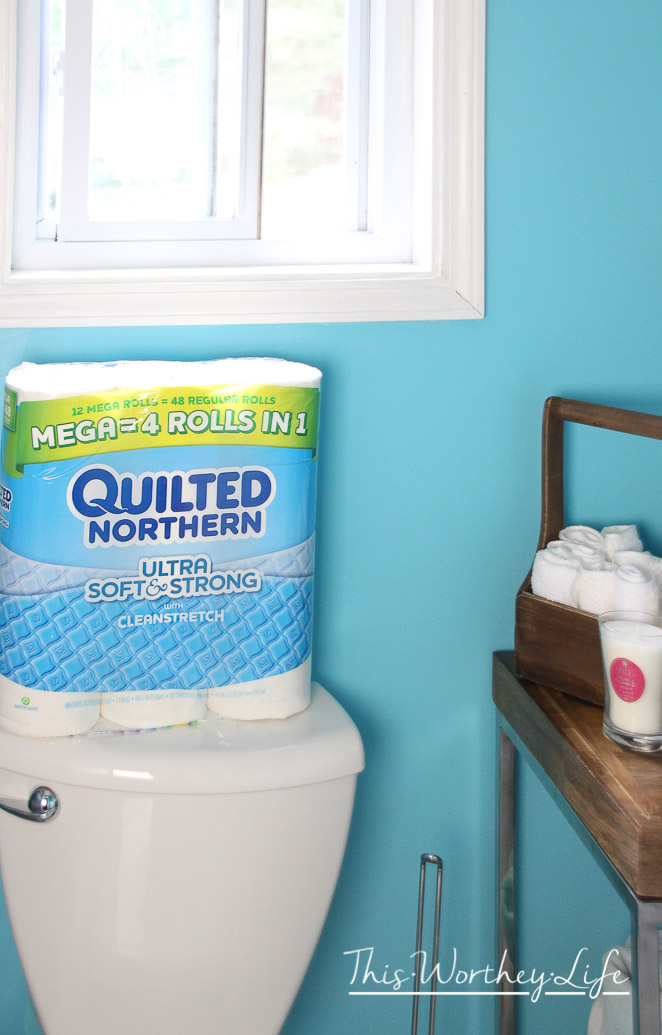 Have enough tissue. Seriously, I'm serious. Make sure your cabinets are stocked with bathroom tissue. You would be surprised to know how much tissue people can easily use in one night, a week, or a single month. You do not want to be the host/hostess with the out-of-tissue problem. How embarrassing, right? Trust me, bathroom duty is the last thing you want to think about when you're cooking, decorating, and entertaining guests.
Having a good toilet is important!
Sidenote: Make sure you have a good toilet. If you consistently host parties at your home, have a toilet with a sound flush system. We recently upgraded our toilet, and this was the main focus. Our new toilet can flush up to 30 golf balls! Yay! But seriously, an old toilet can cause major plumbing problems, which means you will spend hard-earned money to repair an outdated or broken system, ounce of prevention, a pound of cure, no what I'm saying?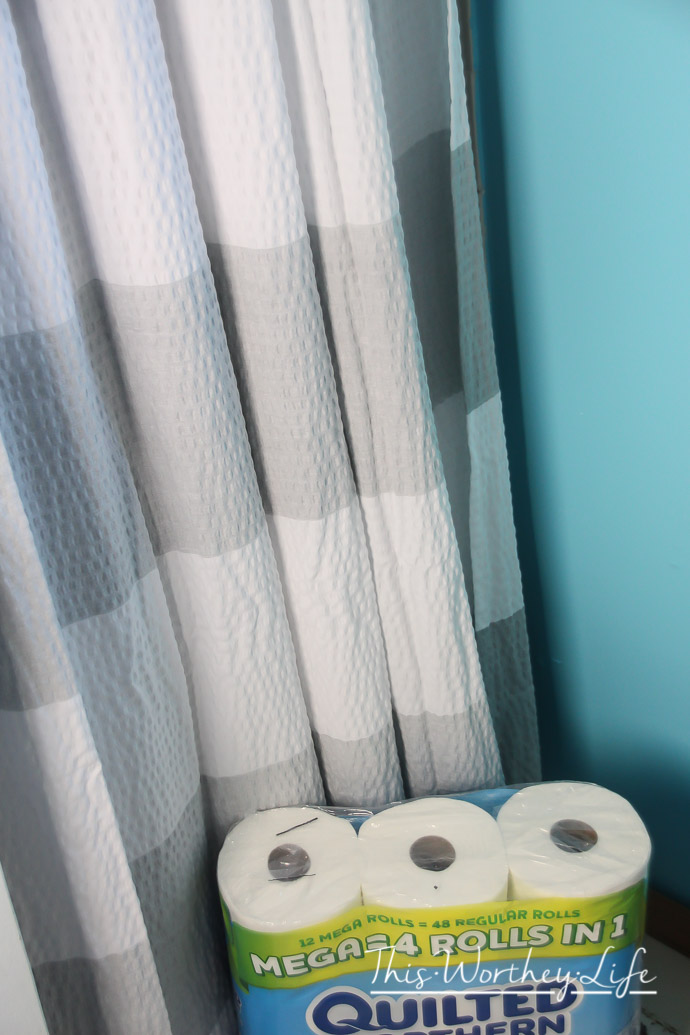 Clean the shower/update shower curtain. If your guests are spending the night, make sure the shower is clean. When's the last time you updated your shower curtain? If it's been a while, or if it smells or looks funny, it's time for an update. Make a quick run to Target to pick up a shower curtain. Also, buy two shower curtains, one with durable plastic (inside) and the other for its good looks (outside). Did you know you can wash your shower curtain in the washing machine? Just put it in and wash on the gentle cycle, and then let it hang dry in the shower.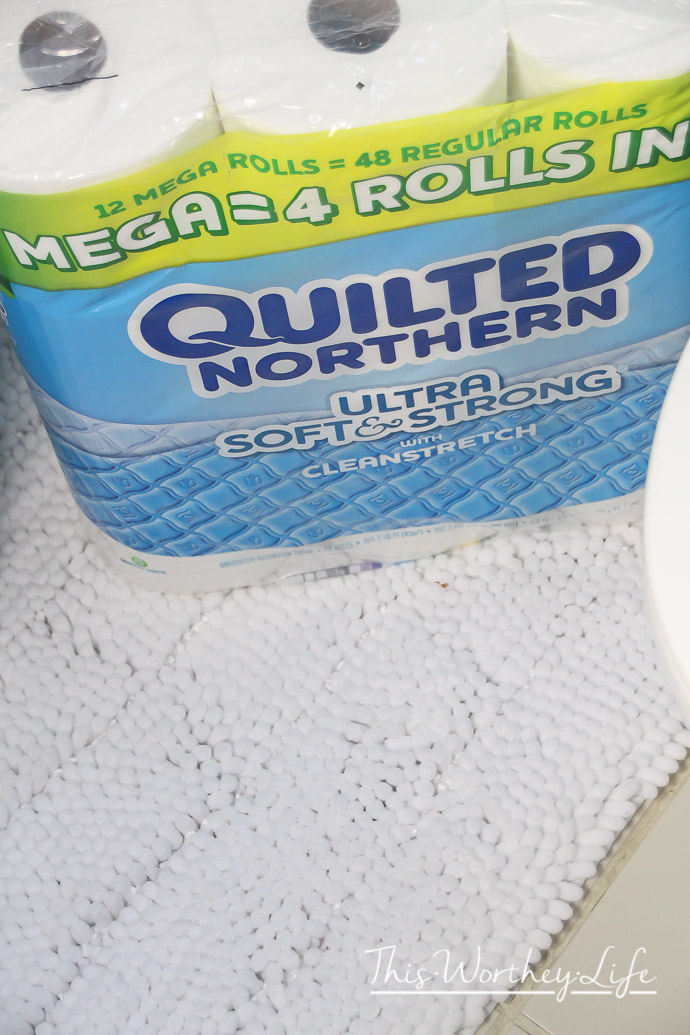 Comfortable/lush rug. It's really simple to upgrade your accessories to pull off a gorgeous bathroom reboot. While grabbing your shower curtain, pick up a new rug. I loved the feeling and the look of this white plush microfiber rug. It's so incredibly soft, and it feels like my footsies are getting a massage.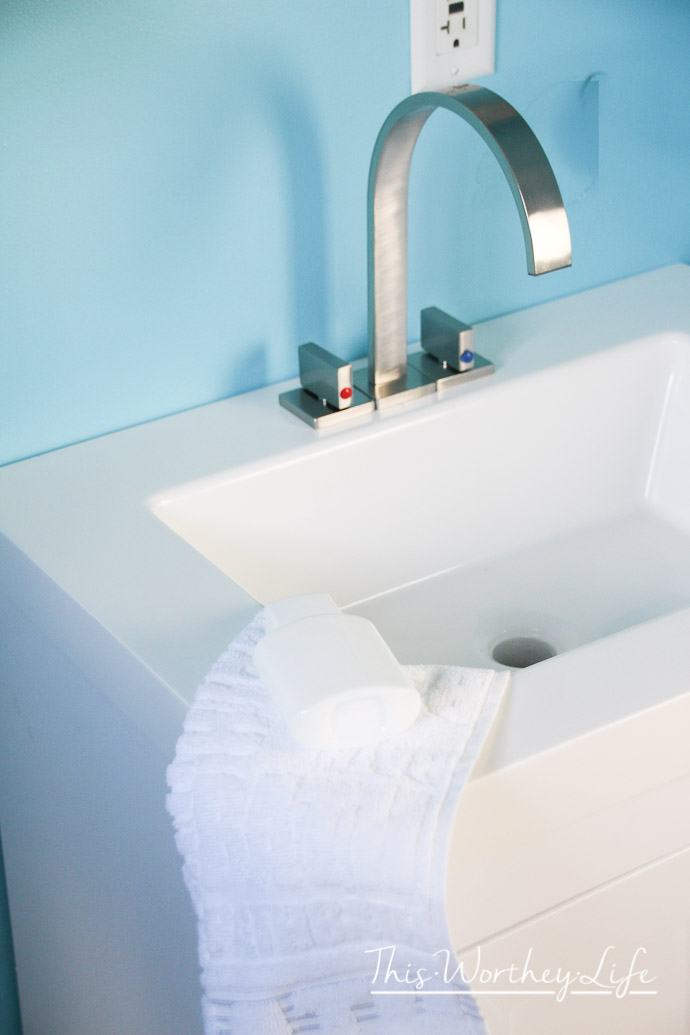 Make sure the sink is clean. I know this may seem trivial, but many people forget the small details like cleaning out the sink. We have boys who spit their toothpaste all over the sink. YUCK! A quick, soapy, and disinfectant clean will take care of the mess left in your sink. Also, put out a clean hand towel for guests to dry their hands. Antibacterial handwash is also a good look.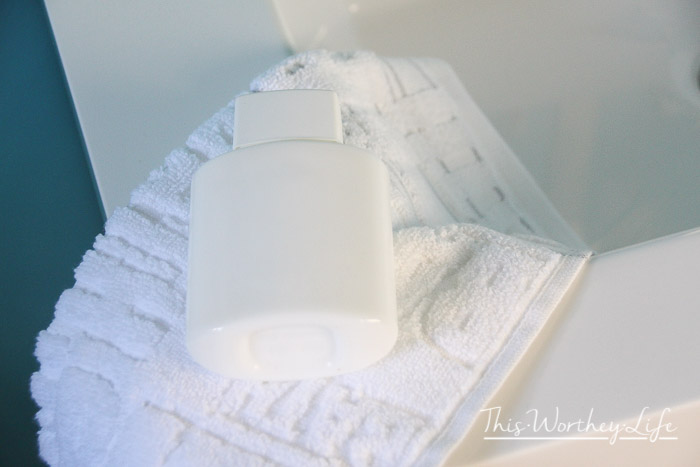 For an added touch, leave lotion for them to use afterward. No one likes dry hands, and your guests will appreciate the small gesture. Who wants to have to worry about ashy skin at your house?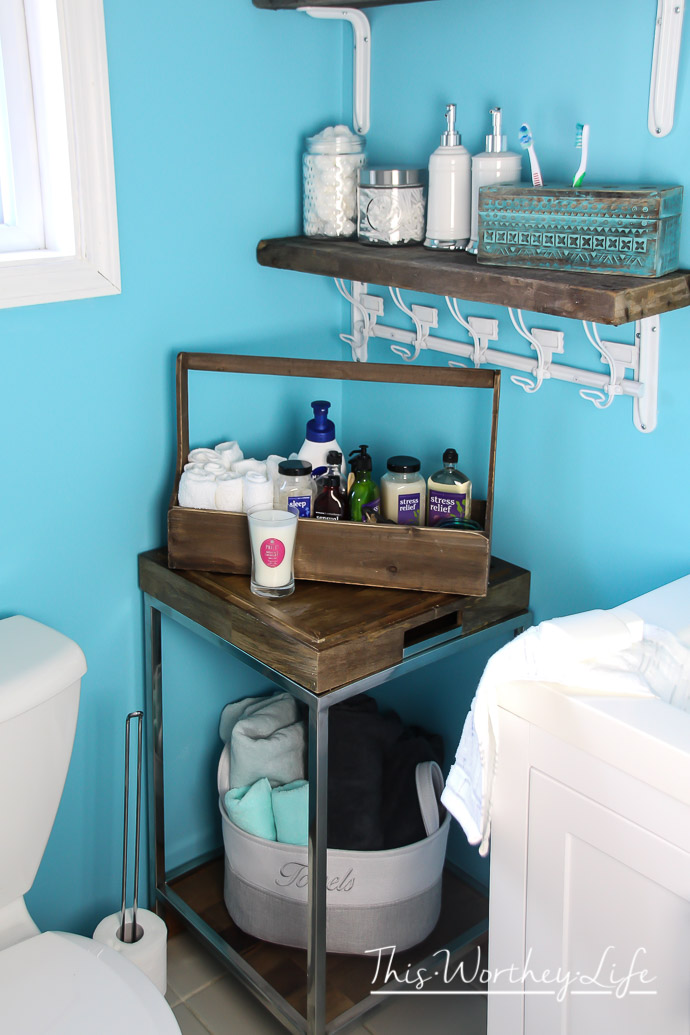 Fresh towels/washcloths. A week or so before guests arrive, work on getting your bathroom together. You don't want to clean the bathroom until the day before the party (especially if it's a bathroom people use daily). Take time to look at your towels and washcloths. Are they old and frayed from months or years going through the washer and dryer? If so, it's time for an update. While you're out at Target picking up other bathroom essentials, make new bath towels a priority on your list. Target has an excellent selection of towels and washcloths. Picking up a few new ones for your guests will make them feel welcomed. Plus, new towels on display gives your bathroom a super clean, refreshed feel, and gorgeous look. The extra money you spend on towels is so worth it.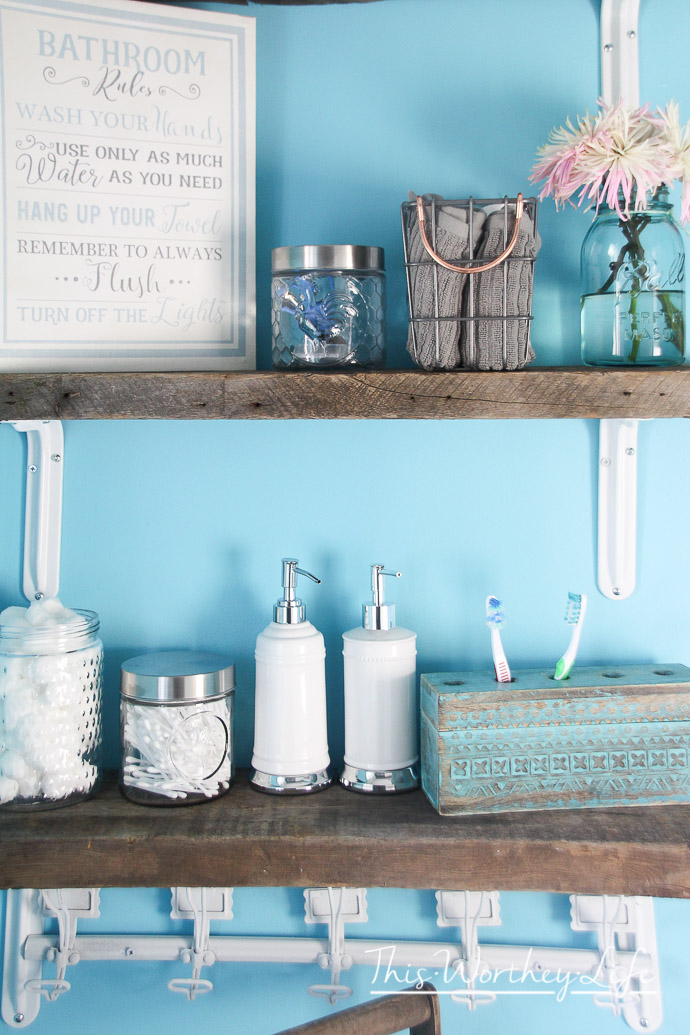 Luxury accessories. To help with the refreshed bathroom look, think about splurging on a few bathroom accessories. While in the bathroom aisle getting the towels, shower curtains, and a bathroom rug, check out some of the stylish bathroom essentials. Grab a few of the clear and white jars, and place them on a bathroom shelf, as shown above.
Be sure to grab cotton balls, Q-Tips, and other essential bathroom items to fill the jars.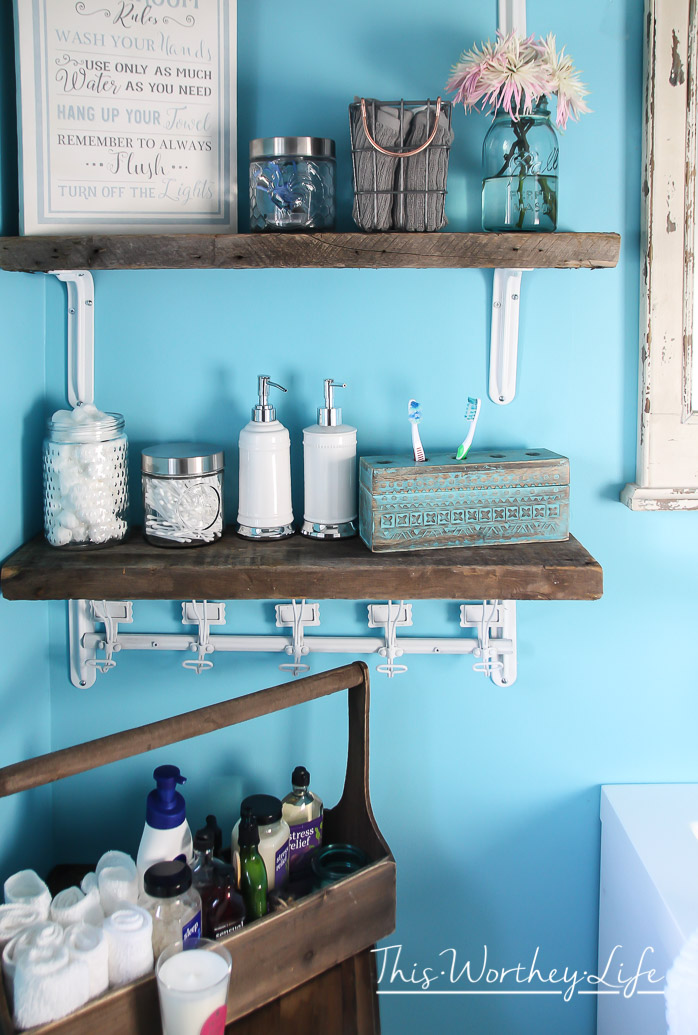 Fresh flowers. Consider adding fresh flowers to your bathroom update. Fresh flowers can make any room look beautiful and smell refreshingly lovely! Plus, fresh flowers make you feel good.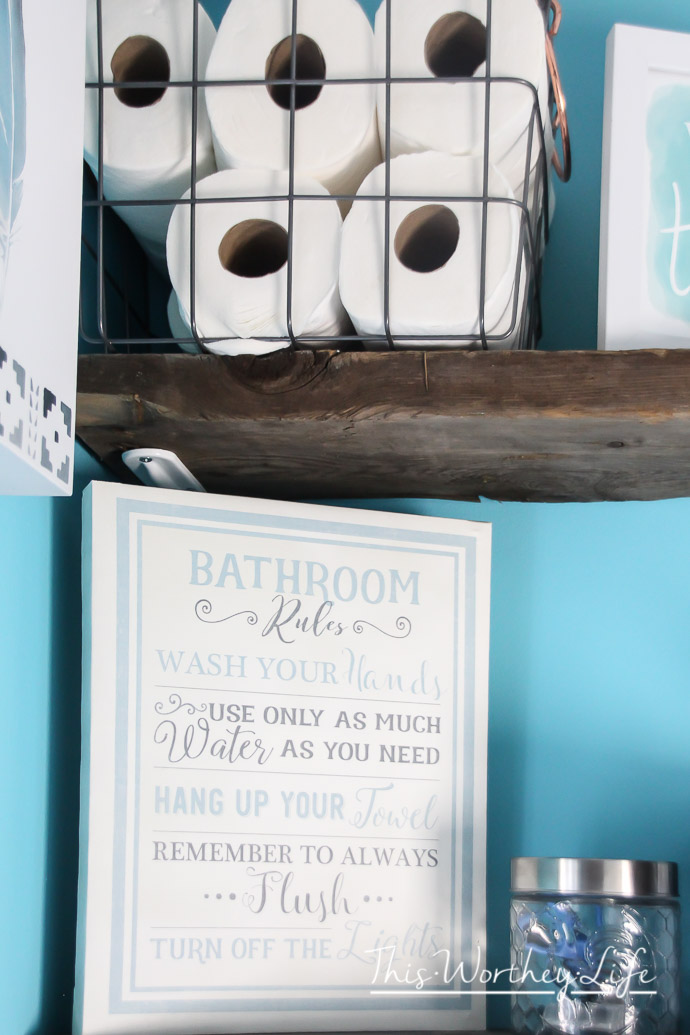 Complete your updated bathroom with different accessories. You don't want to overdo it, but hanging art, rugs, and bathroom accessories can easily make any bathroom look and feel luxurious.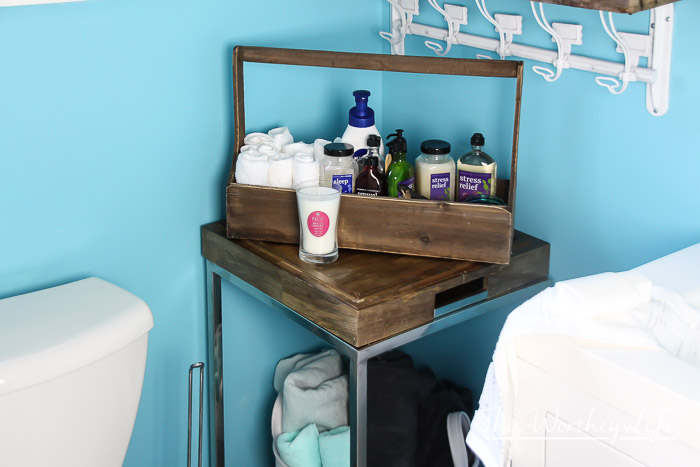 We also added a little cart with more clean wash clothes and hygiene essentials. Sometimes overnight guests may forget their deodorant, body wash, lotion, and other essentials. If so, be sure to have some on hand. All of these small details add up to be a huge plus in the eyes of your guests and will help you win the host/hostess of the year award (if that's such a thing). It should be!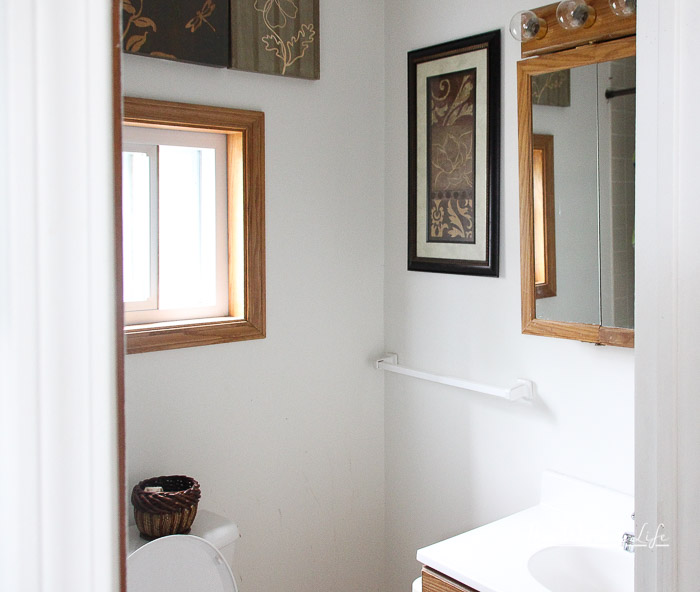 Here's a look at the bathroom when we moved in.
With these easy ideas, you can turn your bathroom from drab to fab! What are some ways you refresh your bathroom before hosting guests in your home? Drop up a line below and let us know!
*This was a previously sponsored post.