Summertime is all about eating the rainbow! This colorful rice bliss bowl is full of fresh, delicious veggies straight from the garden, grocery store, or your farmer's market. We're sharing two ways to enjoy this bliss bowl, with rice or cauliflower.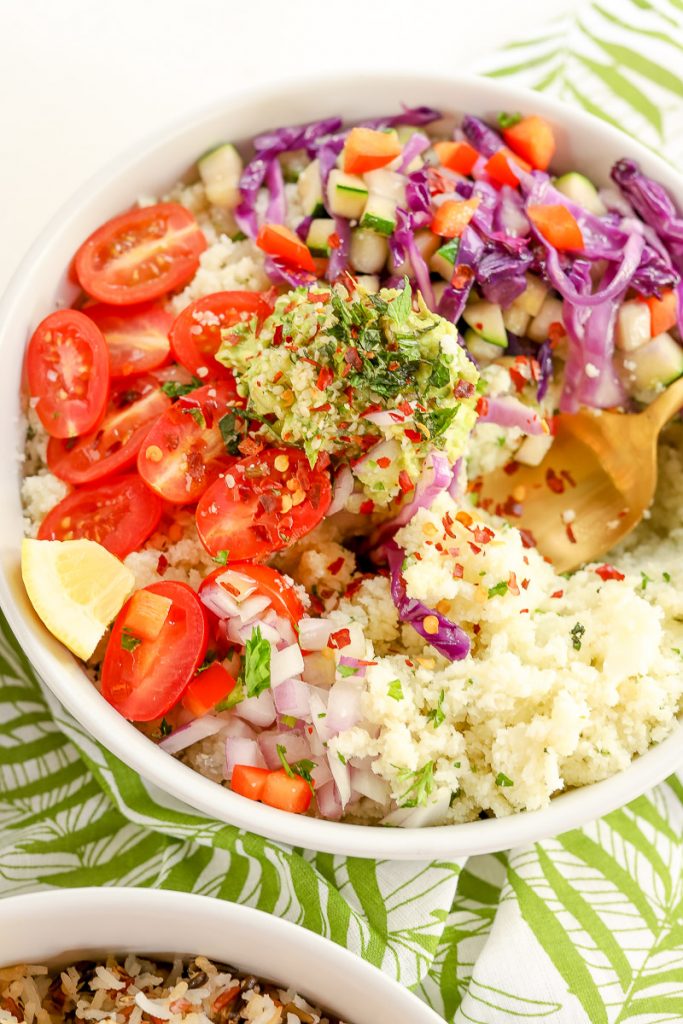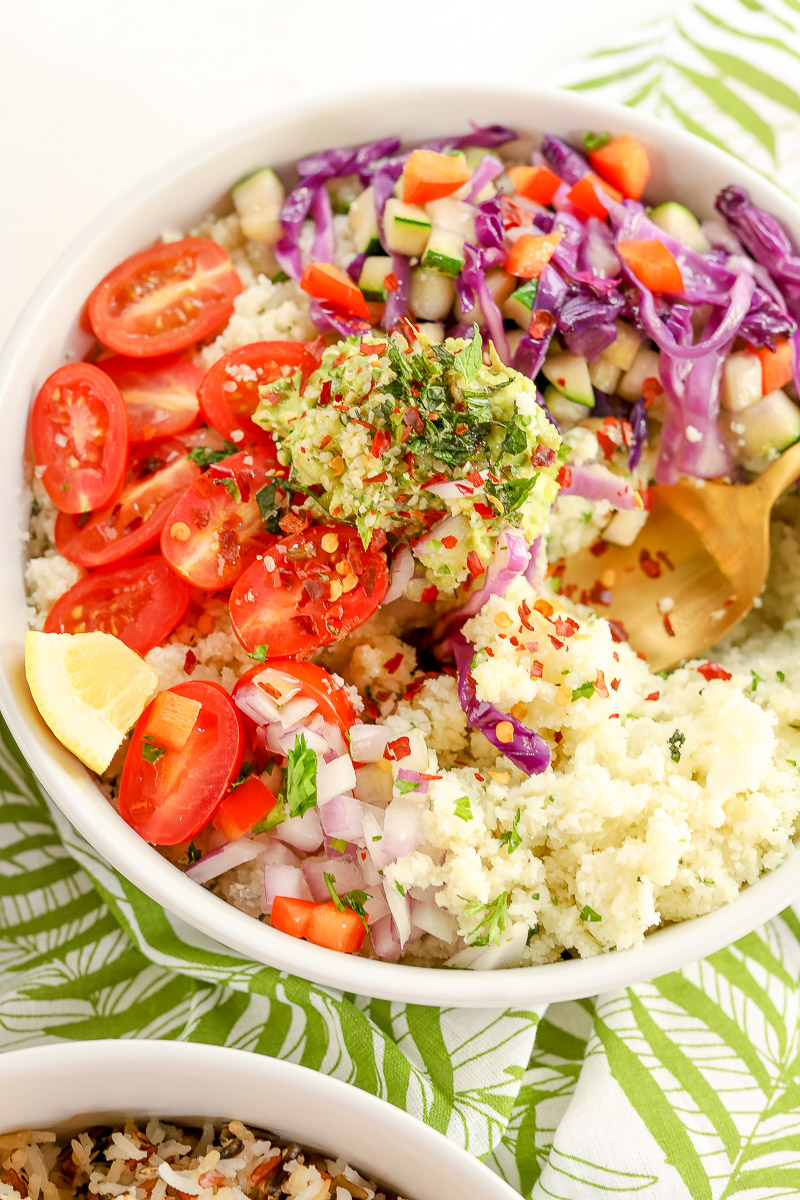 Cauliflower Rice + Wild Rice Bliss Bowls
Isn't natural food just all kinds of wonderful? When we eat all of our fruits and vegetables, we are setting ourselves up for all types of success in the health department. Way back in the day, I remember my mom saying, "Eat the rainbow!" And I think she was onto something; when we eat all of those natural colors, it's a pretty good way of getting so many of the essential vitamins, minerals, and overall nutrients we need to live our best life. So go ahead and snatch up all of those beautiful colors and eat them, bliss bowl style.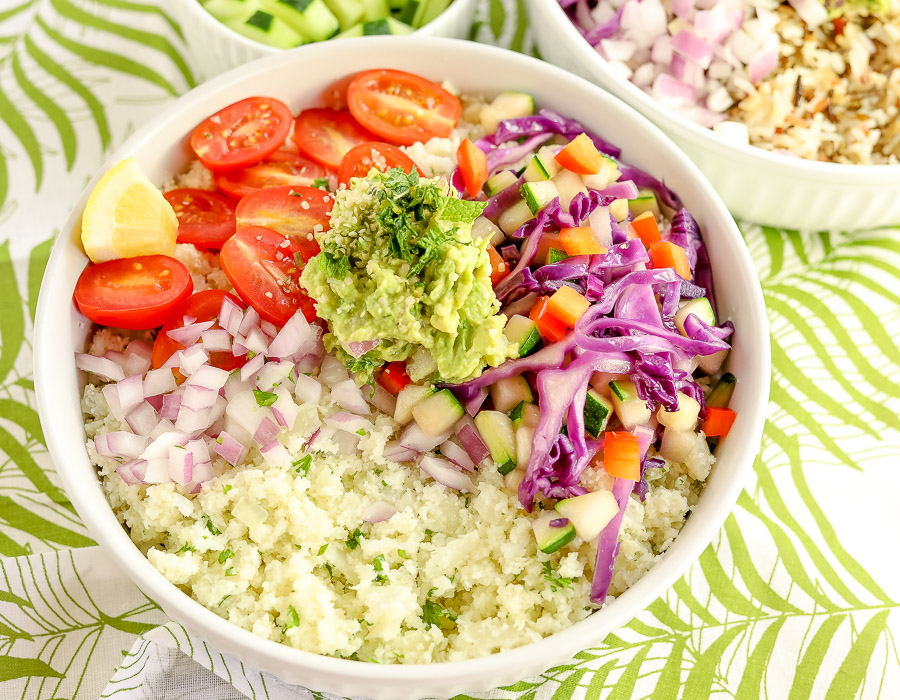 Enjoy a bliss made two different ways
Today I created two beautiful bliss bowls, one made with homemade cauliflower herb rice and the second one made with organic wild rice. Both are a cinch to put together and are incredibly delicious! Plus, would you look at all of those colors?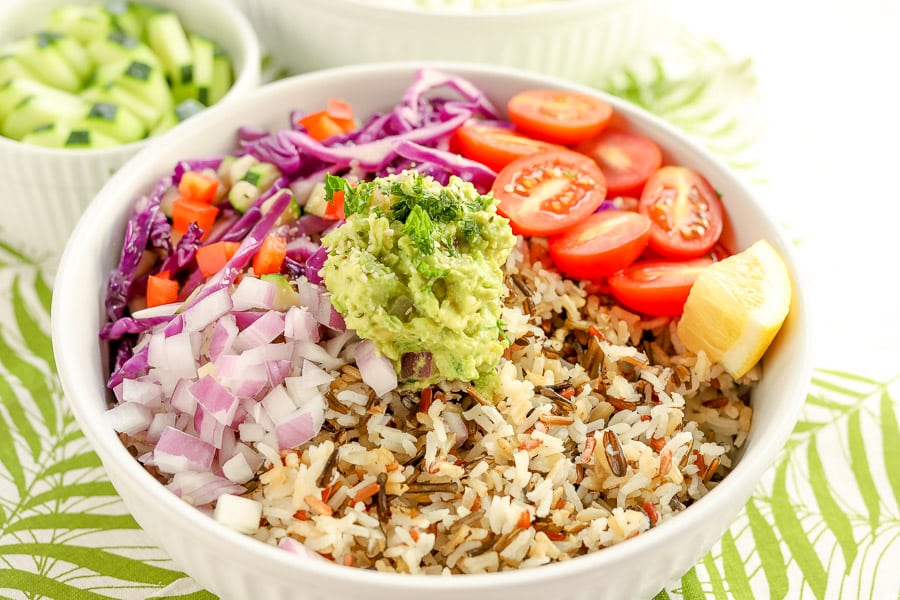 For the toppings, I used sautéed red cabbage with zucchini and red peppers. I also added uncooked red onions and cherry tomatoes and topped each bowl with a dill and avocado guacamole with chopped fresh mint. Served with a wedge of lemon.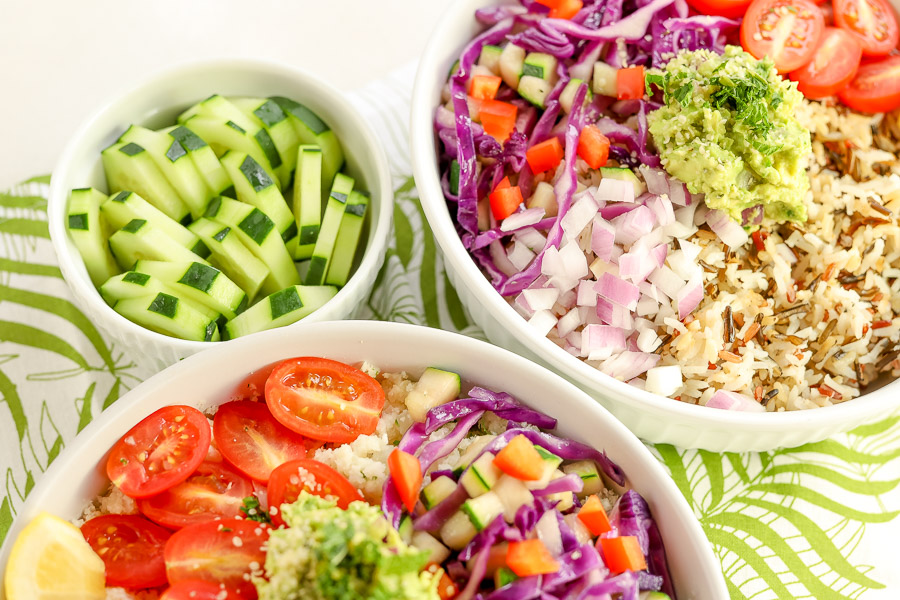 How to make Cauliflower Rice Bliss Bowl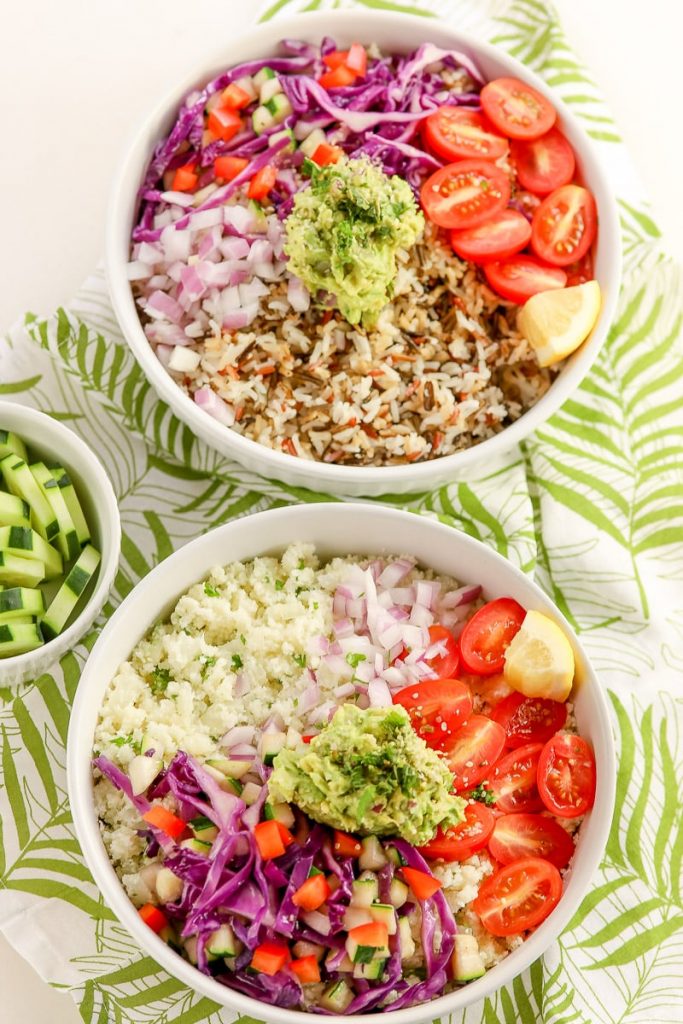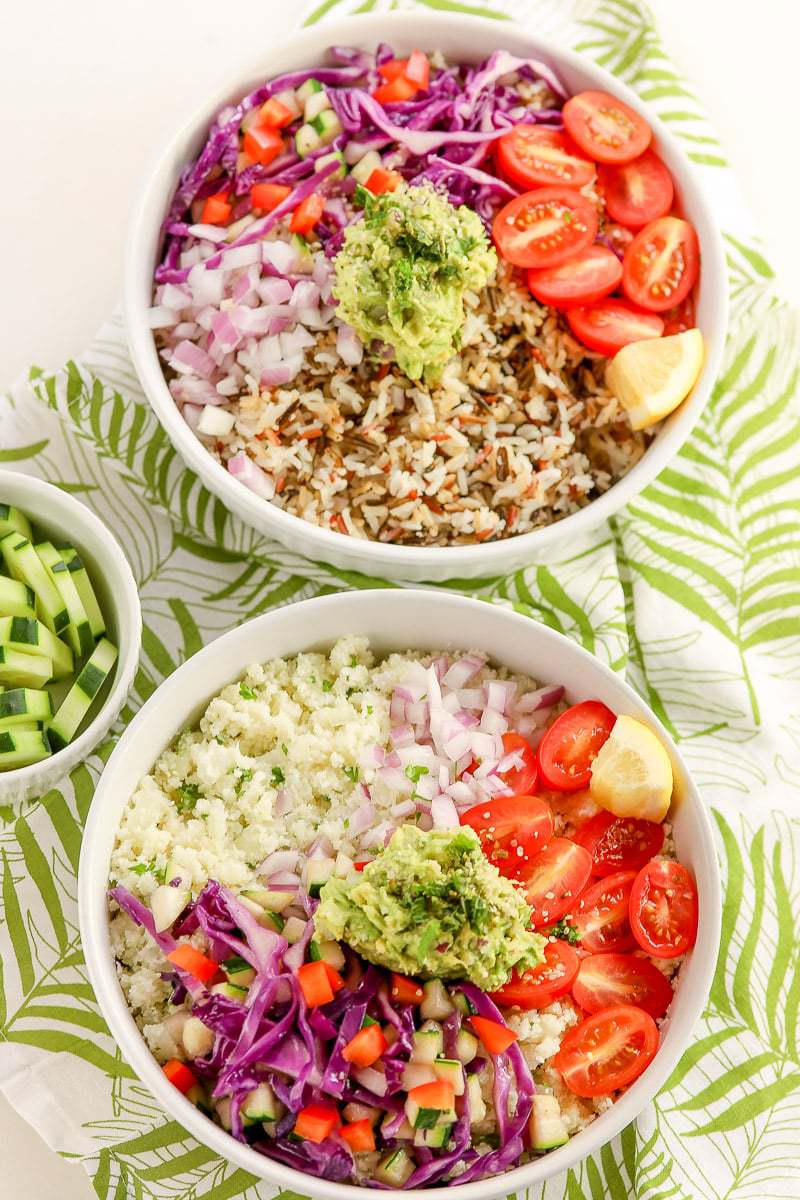 Serves 4 = 1 cup servings of cauliflower or wild rice

Ingredients:
1 Cauliflower Head, rinsed, patted dry with the green stems removed and quartered
or 1 cup wild rice (if making the wild rice bliss bowl)
2 1/4 cups vegetable or chicken broth (for the wild rice cooked in an Instant Pot)
2 tablespoons cilantro, minced
1 tablespoon flat leaf parsley, minced
5 tablespoons extra virgin olive oil, divided
2 cloves garlic, minced
1 cup cherry tomatoes, sliced in half
1/2 Purple Cabbage, shredded
1/2 cup red bell pepper, chopped
1/2 cup zucchini, chopped
1 medium cucumber, with the skin, partially removed and sliced
1 lemon, cut into wedges
2 avocados
a sprig of fresh mint
fresh lime juice
Directions on how to put together a bliss bowl
To make the cauliflower rice work the quartered cauliflower pieces through the medium hole of a box grater.
If using a food processor cut the quartered cauliflower into smaller pieces and use the grating attachment.
Heat two tablespoons of extra virgin olive oil in a skillet over medium heat.
When the skillet is hot add the grated cauliflower a little bit at a time.
Stir intermittently for 2 minutes then adjust the heat to low, cover the skillet with a tight-fitting lid and allow the cauliflower to cook for an additional 3-4 minutes until the cauliflower rice is cooked through and tender.
Add sea salt to taste.
Serve.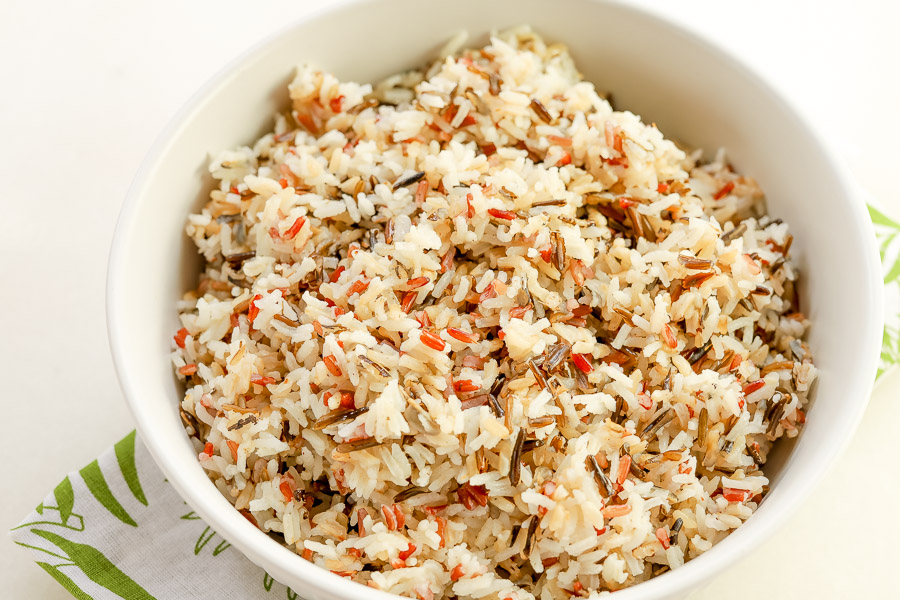 How to make Wild Rice in the Instant Pot
Directions:
Pour the wild rice into the Instant Pot.
Add the broth, stock, or water.
Cover with the lid and lock it into place.
Select the rice option.
Vent the Instant Pot when finished.
Serve.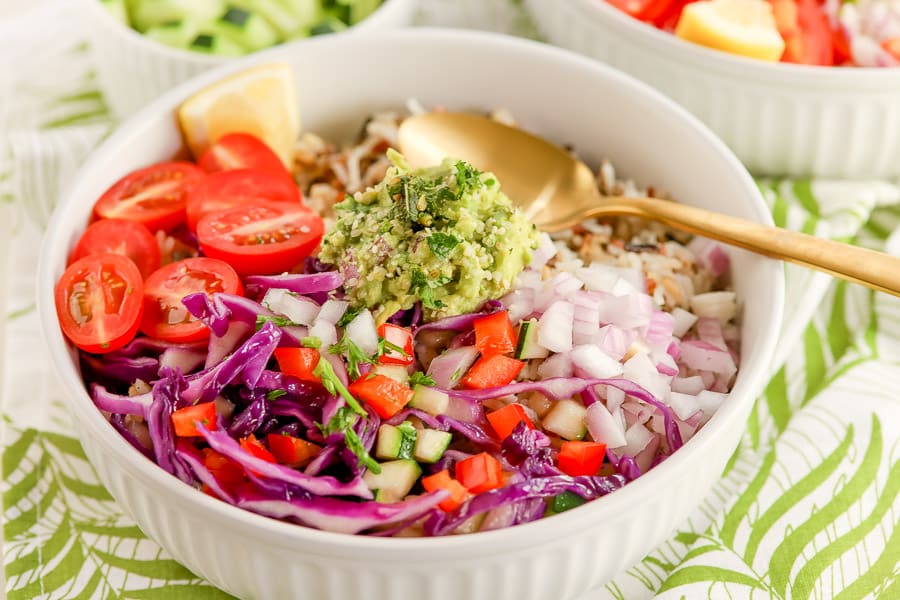 Red Cabbage + Red Bell Pepper, Zucchini
Place a skillet over med-high heat and add 1 1/2 tablespoons of EVOO.
When the oil is hot add the shredded red cabbage and sauté for 3-5 minutes until the cabbage wilts and becomes tender, add the red bell pepper and zucchini and continue to sauté for an additional 2-3 minutes.
Finish with a pinch of coarse sea salt.
Serve.
Avocado + Mint
Peel the avocado and remove the stone seed, cut the avocado into small pieces and put them into a food processor.
Add several leaves of fresh mint and the juice of half of a lime.
Pour in 2-3 tablespoons of extra virgin olive oil.
Pulse until smooth.
Add sea salt to taste.
Serve.
Add cauliflower rice or wild rice to serving bowls, and top with fresh cherry tomatoes, cucumbers, red onion, and serve with a wedge of lemon. Top with a dollop of avocado with mint.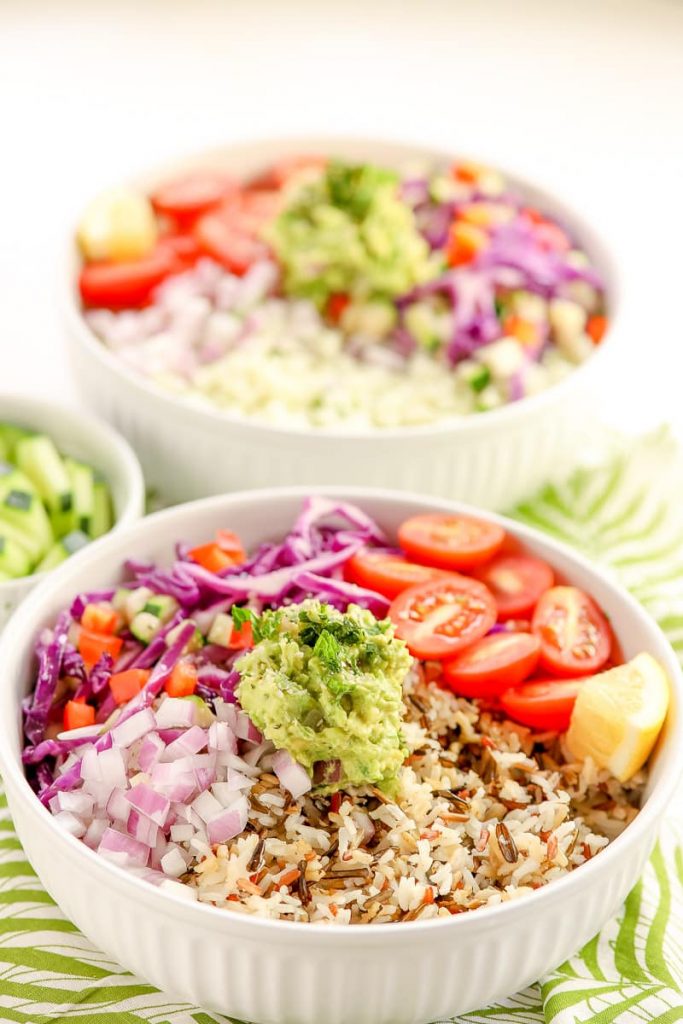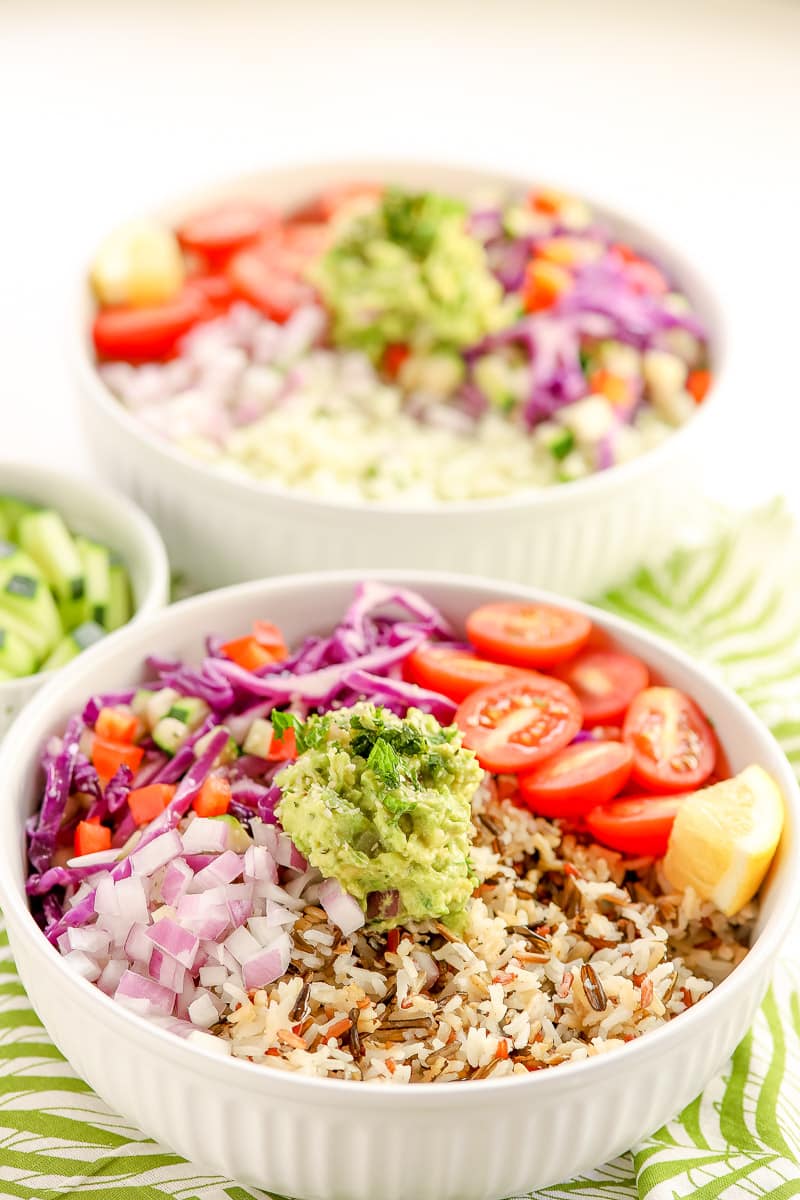 I also served both bliss bowls with a side of cucumbers. The Cauliflower Rice Bliss Bowl is packed with lots of good stuff and is low-carb. The Wild Rice Bliss Bowl has the same high energy ingredients but has substantially more energy-sustaining carbs. The wild rice is loaded with antioxidants, protein, and fewer calories than brown or white rice.
Tell me, which bliss bowl would you eat?