With the hustle and bustle of the holidays, I'm sharing how the Samsung Galaxy Note 8 is helping me win this holiday season with my favorite apps, Black Friday shopping tips, and how I am sending out a personalized holiday card from my smartphone.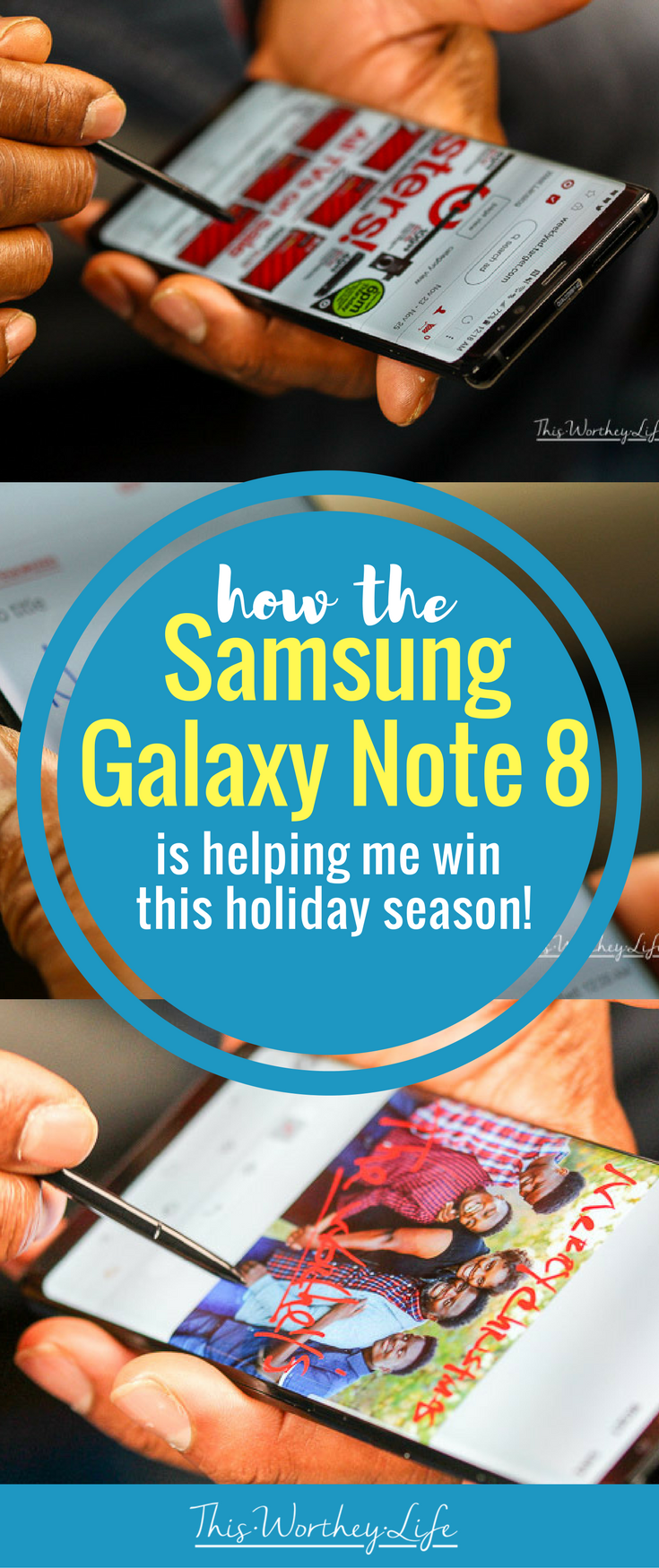 How The Samsung Galaxy Note 8 Is Helping Me Win This Holiday Season
How does a normally unorganized man like myself get things in order? For many, technology is an asset, it adds value and works as a personal assistant more than anything else. Take my new Samsung Galaxy Note 8, well, not literally because if that happens things may fall apart. I have been a long time fan and user of the Samsung Galaxy devices and the latest, the Samsung Galaxy Note 8 is my new bestie. And just like a bestie, this sleek and sexy device keeps me on track. Have you checked out this totally unique edition?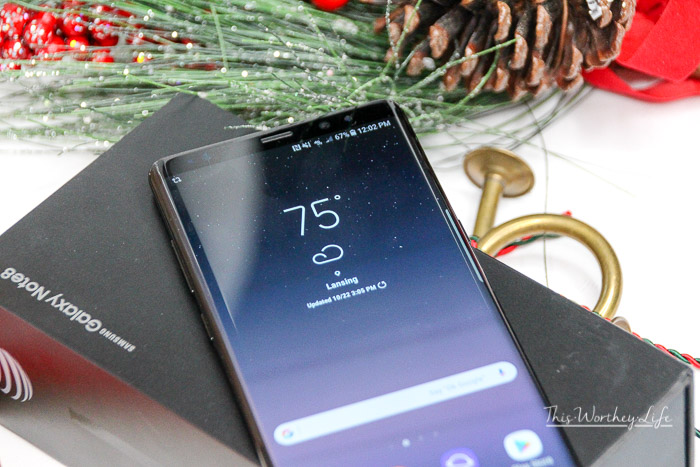 The new Galaxy Note 8 is my MVP
With more memory, because mine seems to be currently eroding day by day, the Samsung Galaxy Note 8 helps me find and keep track of all my must-have Black Friday deals. I can use my device to locate, remind, and make separate lists of the best deals and where to find them all. And it's easy to order those coveted items online while using the Samsung Internet browser. No insanity and long longs for me!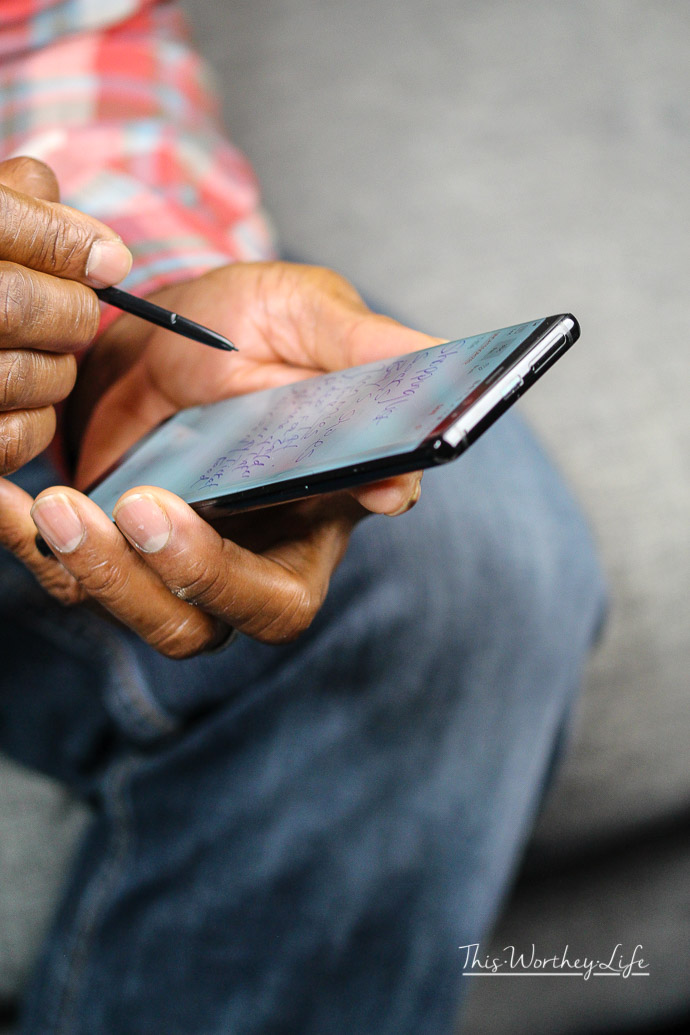 With the Samsung Galaxy Note 8, not only do I have a bigger phone, with fantastic specs and graphics, I can do bigger things. With a 6.3″ screen, I can not only use my smartphone to help me be great this holiday season, I can watch movies, stream T.V. shows, and binge-watch my favorite shows. And the Infinity Display is bae with a near bezel-less, full-frontal glass, edge-to-edge screen.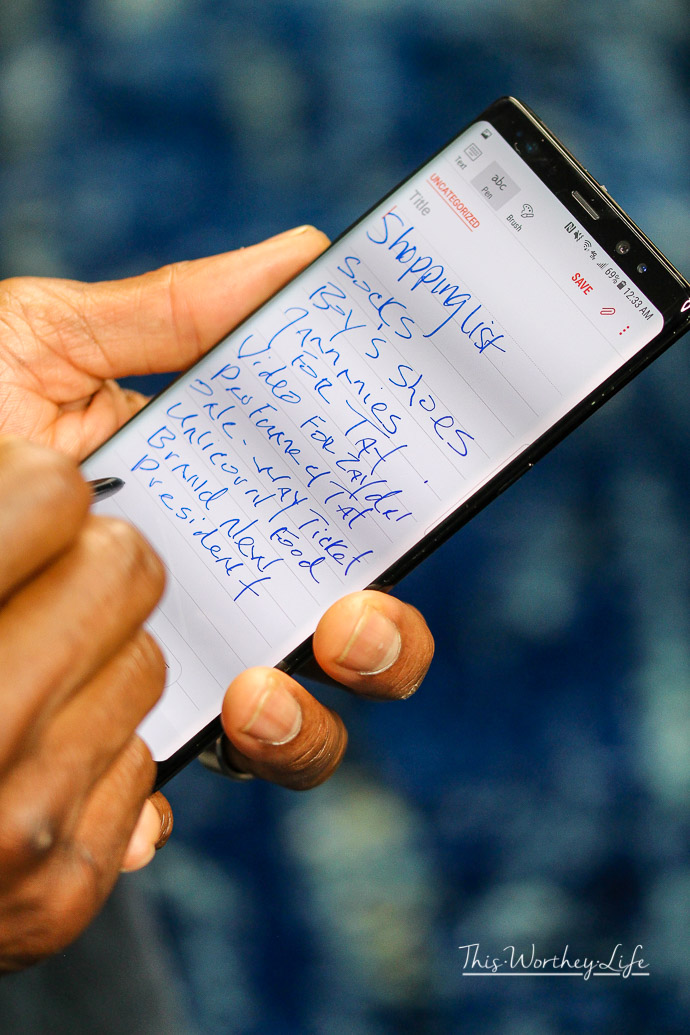 Checking the list and marking it twice.
The same goes for my holiday shopping, everyone in our household created lists of their most favorite things they want this year. In the past, I've had to keep a pen and paper near or dig through my text messages to find the list(s) the boys and wife sent to me. But not this year. With the Samsung Galaxy Note 8, I saved those lists and made additional notes for the special gifts I want to get for the special folks in my life. I can easily access my favorite online stores like Target.com to find the best deals at my fingertips.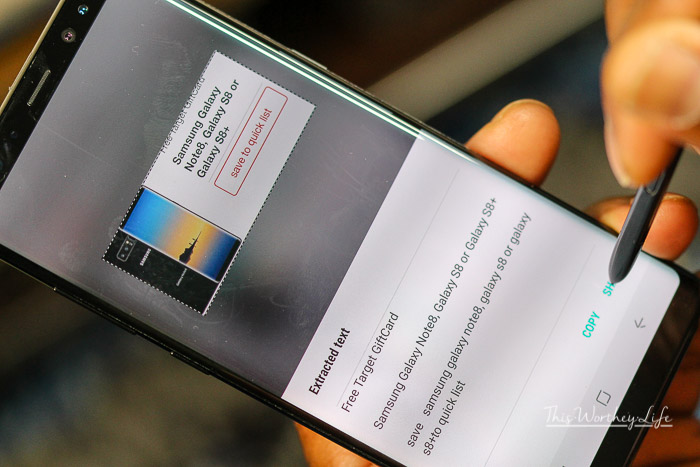 Let me explain how easy it is to make a list using my Samsung Galaxy Note 8.
I can go to a retailer site, like Target.com. As I browse through their Black Friday Ad, I can circle the items I'm interested in buying.
I can also select that item and share it with someone else. So, if my wife and I are talking about what to get the boys, I can select the item and send it to her. I can also copy and drop it into my list.
With the S-Pen, I can write right on my phone! I can easily lose a piece of paper stuffed in a pocket of jeans, but not anymore. With a list stored on my phone, I can quickly pull it up to reference items or cross them off the list.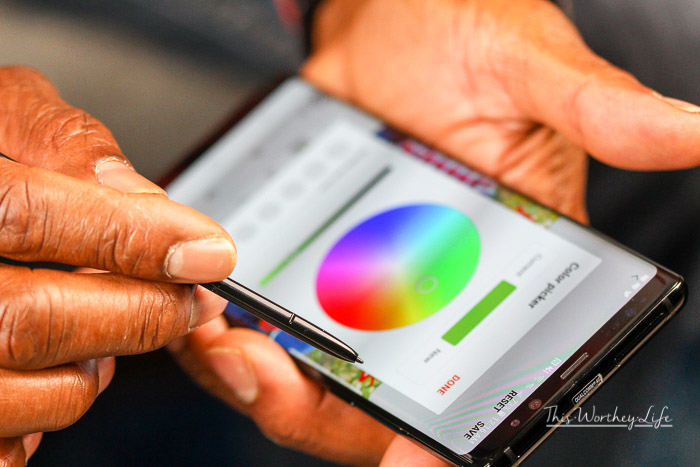 A picture is worth a thousand graphics.
Did you know the Samsung Galaxy Note 8 is magic?! The latest Samsung Galaxy Note 8 has this neat little feature which allows you to draw and add cool graphics to your favorite photos. I am kinda obsessed with this technology trick because it lets me make those unique photos even more special. We live in the digital age where sending holiday greetings by text is the way to go. Instead of just sending a regular picture, I was able to use the S-Pen on the Note 8, along with some of their animated cool features, jazz our family holiday photo up before sending it out to all of my friends and family. Say cheese!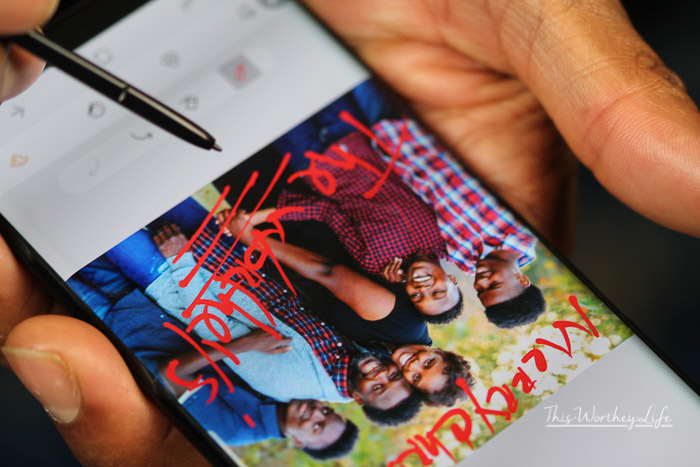 I saved my family photo to my camera.
After saving the photo, I opened it up and played with the paintbrush and sticker settings. Yes, they have stickers, if you're into all of that.
I like to keep things simple. I was able to use the S-Pen to pick my color and write my message.
You can also make animated messages.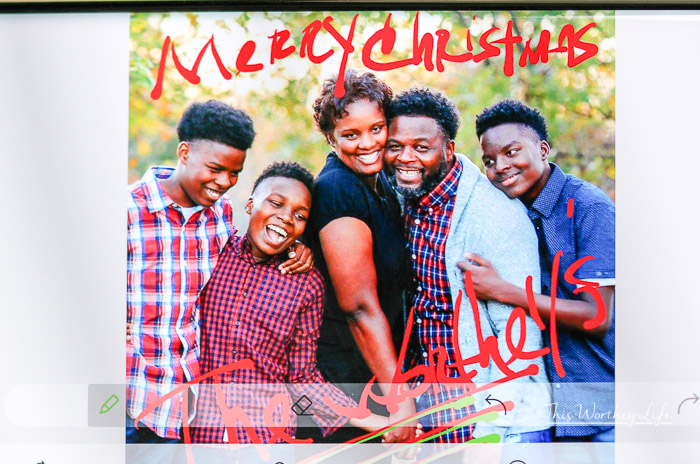 Capturing priceless memories.
Every year we regret not having a good camera to use to capture the boys and dogs excited about opening up their presents. But not this year. This year, I will be capturing all of the holiday excitement using my Dual Camera, a must-have feature these days, and taking hi-def 4K video shots. With all of the quick movements and excitement that happens on that special morning, having a smartphone to keep up with me is not a want, it's an essential tool. And while we're talking about the magnificent specs on the Samsung Galaxy Note 8, it also has Low Light Dual Pixel feature which allows me to capture photos in the dark. I can't tell you how many blurry photos I have of fireworks and live shots from shows that makes you just hit the delete button.
And one MORE spec I have to mention about the Samsung Galaxy Note 8 because it's my favorite one, is the live focus option. When I am taking a photo, I can tap the live focus option and it will instantly bring my subject up closer and blur out the background around them. After taking the picture, I can go into the edit option and continue to tweak the background noise if I am not satisfied with the initial results. AND, if I don't have enough backlight in my photo, I can use that option found in the edit option settings to add more light to my photo. Talk about a game-changer.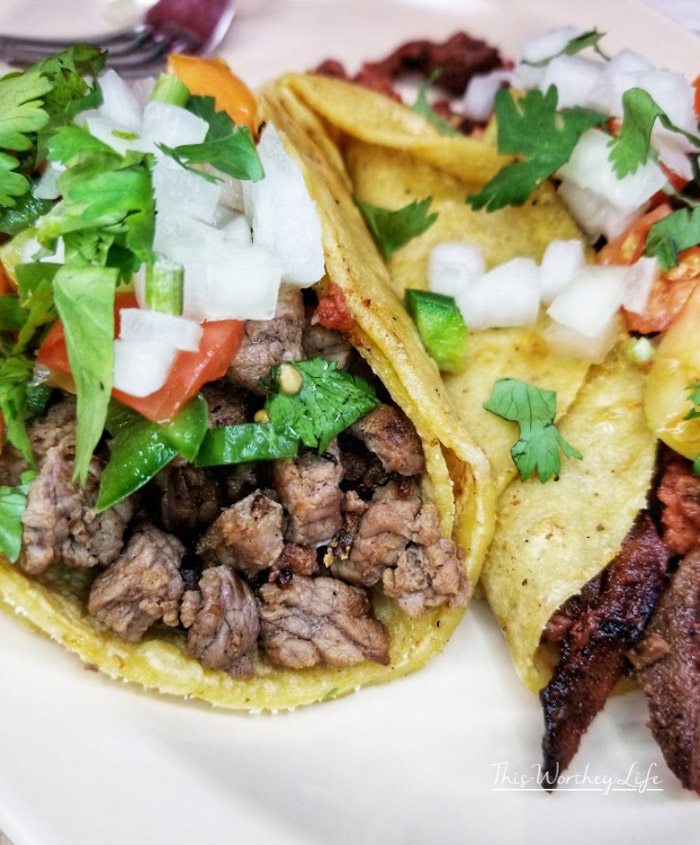 You can see all of the details of these tacos. Thanks to the Samsung Galaxy Note 8!
As a budding food photographer, having a camera to capture my food shots at home or on the go is important. I want my readers and friends to visually see how appealing the food is, and you can't capture that with just any ole' smartphone.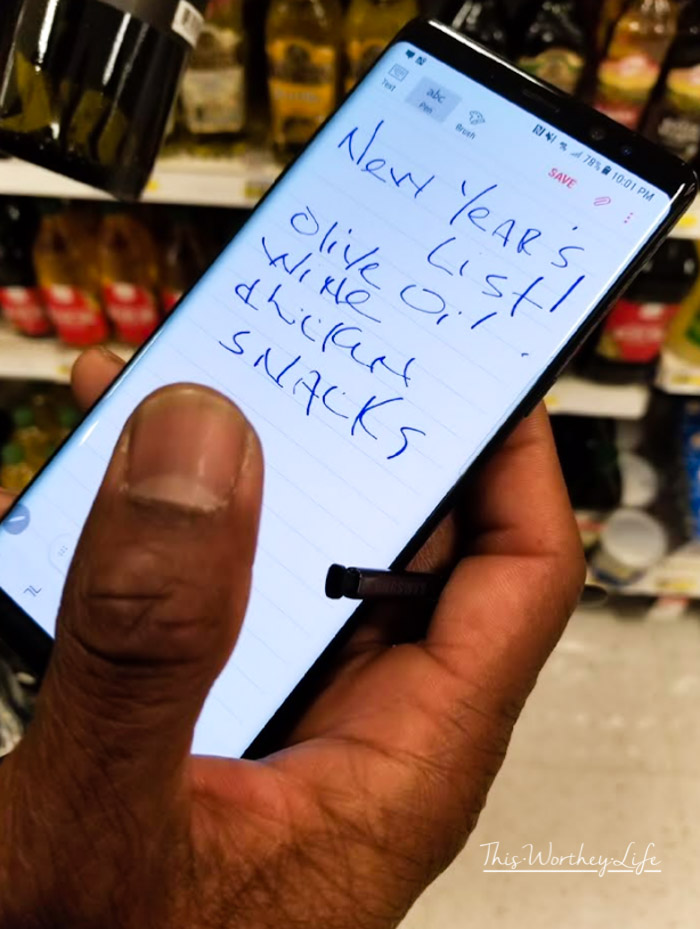 Deck the Holidays in Style with Samsung!
Samsung creates products that allow the consumer to do bigger things, giving confidence and functionality, all at your fingertips. Looking ahead to all of the holiday parties coming up, I have found a way to stay organized. Dads can get a bad rap of waiting to the last minute to do their shopping, being unorganized, and not able to keep up with juggling all of the items like Moms. But, I think I've found the secret. Using my Samsung Galaxy Note 8, I am able to create lists to keep me organized. I am also exploring the many apps that are preloaded on this smartphone to assist me in winning this holiday season.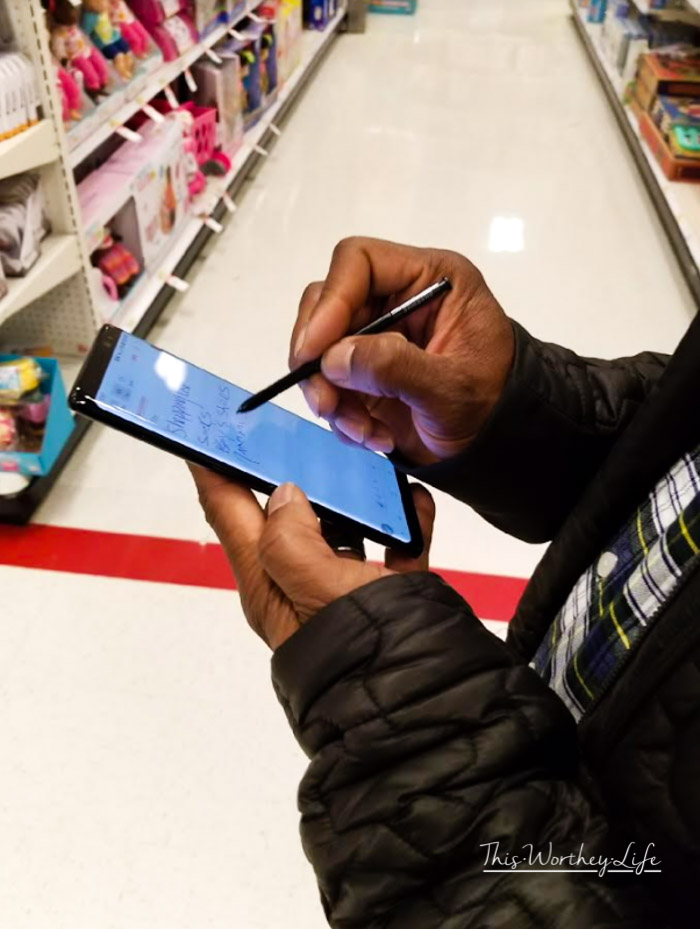 Here are the apps I love so far:
The Samsung Pay allows me to quickly pay for my purchases, without pulling out my wallet. (And yes, I've been that guy in the store that had to leave his purchases behind and run home to get his wallet). You can also earn rewards when you pay through the Samsung Pay app.
I can easily connect my Samsung Watch with my phone.
Samsung Health is one I use daily. I can count steps, and also get reminded when I haven't fulfilled my step count each day.
And with the Smart Switch app, I can easily transfer my content from one device to another. So, if this is your worry about losing all of your photos, messages, etc., you can let that stress go- everything will be waiting for you on your new Samsung Galaxy Note 8.
Samsung Connect. If you have other Samsung products/devices in your home, you can sync them all together and control them from your phone. We have several Samsung appliances in our home, and I'm looking forward to exploring this app.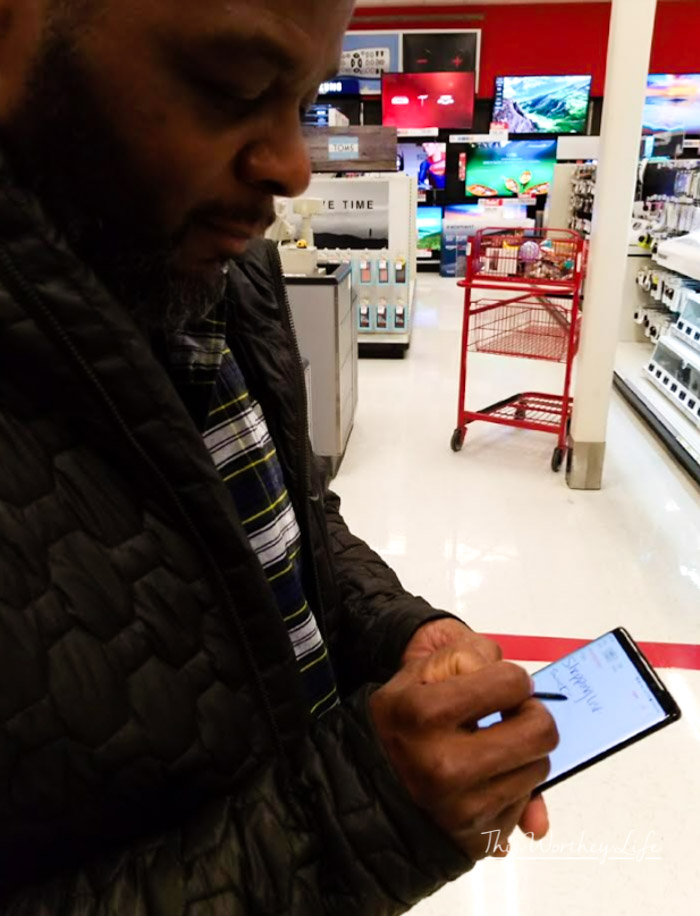 With the Samsung Galaxy Note 8, there are so many innovative specs, and ways to use this device are endless. As a busy dad, blogger, and working full-time, I don't have time for fuss. With this device, I can juggle everything on my plate.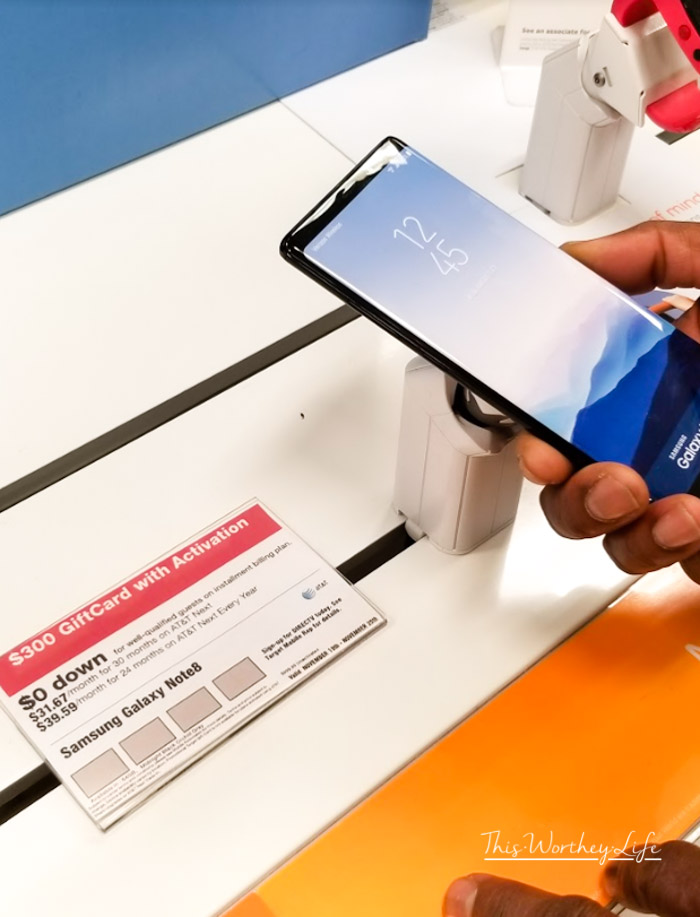 If a Samsung Galaxy Note 8 is on your holiday shopping list, or you're ready to upgrade, take advantage of this limited-time offer at Target. Valid from 11/19-11/27, you will receive a $300 Target GiftCard™ with Purchase and Activation of the Samsung Galaxy Note8, Galaxy S8 or Galaxy S8+ in-store at Target. (This will also be valid 12/3-12/9 as well)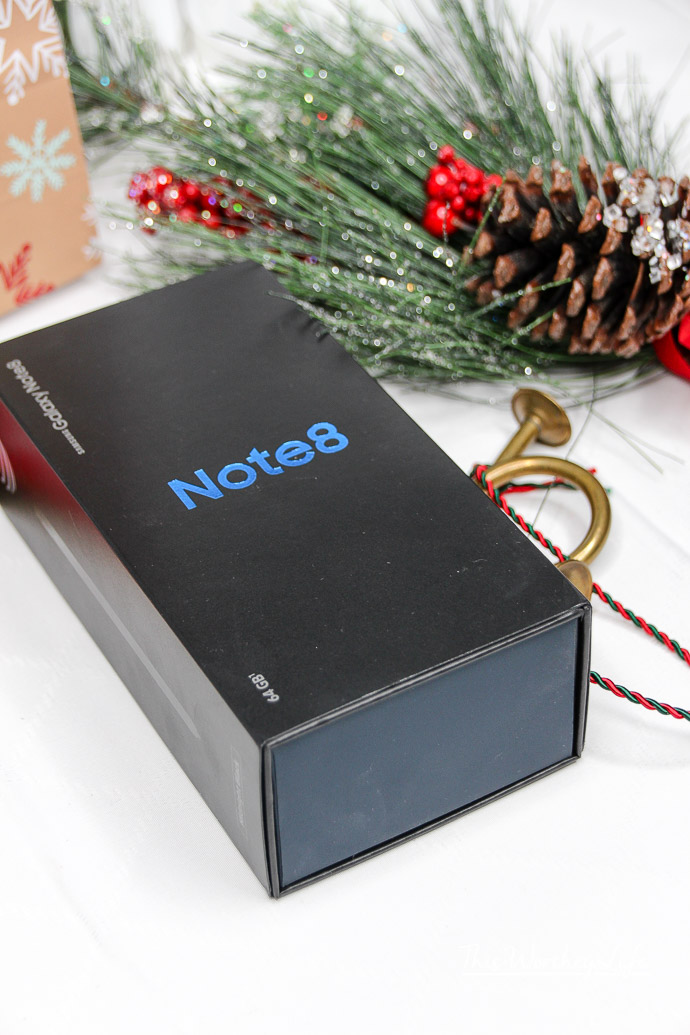 I see this as a win-win. You can get a new phone, plus use the $300 Target Gift Card to shop for everyone on your list or keep it all for yourself. Either way, the Samsung Galaxy Note 8 is a game-changer smartphone.
This shop has been compensated by Collective Bias, Inc. and its advertiser. All opinions are mine alone. #SamsungTargetTech #CollectiveBias