Slider recipes are pretty popular around here. We mixed our regular tacos and sloppy joes' to make Taco Sloppy Joe Sliders. They were a huge hit at our game day party, plus they are easy appetizers to make for any type of party or dinner! Grab the taco sloppy joe sliders recipe down below.
Taco Sloppy Joe Sliders
Recently one of our twins complained that our dinnertime servings were getting boring! Needless to say, I took it to heart and vowed to make dinnertime great again! Here's what I did. I know one of the boys' favorite meals is sloppy Joes', and they also love tacos. Sooooo! I got to thinking, "what if I mixed the great taste of tacos with a sloppy Joe? Could I be onto something, we'll see.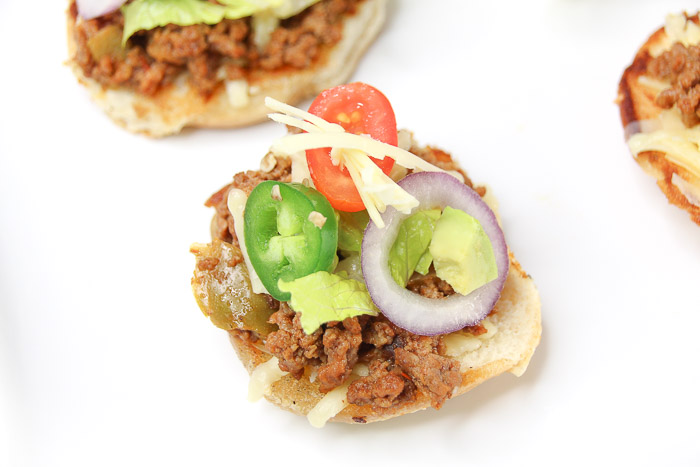 These little bundles of savory well-seasoned joy will make you come back for multiple servings!
Our Taco Sloppy Joe Sliders are perfect for game night!
Instead of adding traditional sloppy Joe mix we changed the flavor profile by adding taco seasoning and our favorite salsa!
We toasted the slider buns, then piled them high with shredded Asadero cheese!
Topped with heirloom cherry tomatoes, Spanish onion, jalapeños, diced avocado, shredded lettuce and more cheese!
How to make Taco Sloppy Joe Sliders
Ingredients:
2 1/2 lbs lean ground beef
1 pkg taco seasoning
3/4 cup mild salsa
Toppings:
1 medium Spanish onion, sliced
1 avocado, peeled, seed removed and diced
1 cup shredded Asadero cheese
1 1/2 lettuce, chopped
1-2

jalapeños peppers slices, seeds, membrane, and pith removed

6 heirloom tomatoes, sliced
Additional items:
1 package slider buns
4 tbsp extra virgin olive oil, divided
Directions:
Prep the toppings, dice the Spanish onion and avocado, chop the lettuce, shred the Asadero cheese, slice the

jalapeños peppers, and cut the heirloom cherry tomatoes in half. Toppings can be prepped and placed in the fridge to chill.

Using a griddle over med heat, break apart the slider buns and brush them with extra olive oil. When the griddle is hot toast the slider buns until golden brown. Top the toasted slider buns with shredded Asadero cheese.
In a large skillet over med/high heat add two tablespoons of extra virgin olive oil, when the oil is hot brown the lean hamburger meat, strain off any excess fat and return the meat to the skillet, add taco seasoning and salsa. Mix well.
Add seasoned meat to cheese topped slider buns, add onion, lettuce,

jalapeños peppers, tomatoes, avocado, and more cheese.

Serve.
Our Taco Sloppy Joe Sliders are the perfect reason to gather!
With good food and quality time spent with friends and family the good times blossom into fond memories! Go us!
Be sure to pin this to your Pinterest board!