Want to take your regular mashed potato recipe to a new level this Holiday season? Try our Smashed Cheesy Sweet Potatoes, a creamy and delicious Holiday side dish to serve that will be a crowd pleaser. Plus, I'm sharing a few cooking hacks using OXO products. This is a sponsored post written by me on behalf of OXO.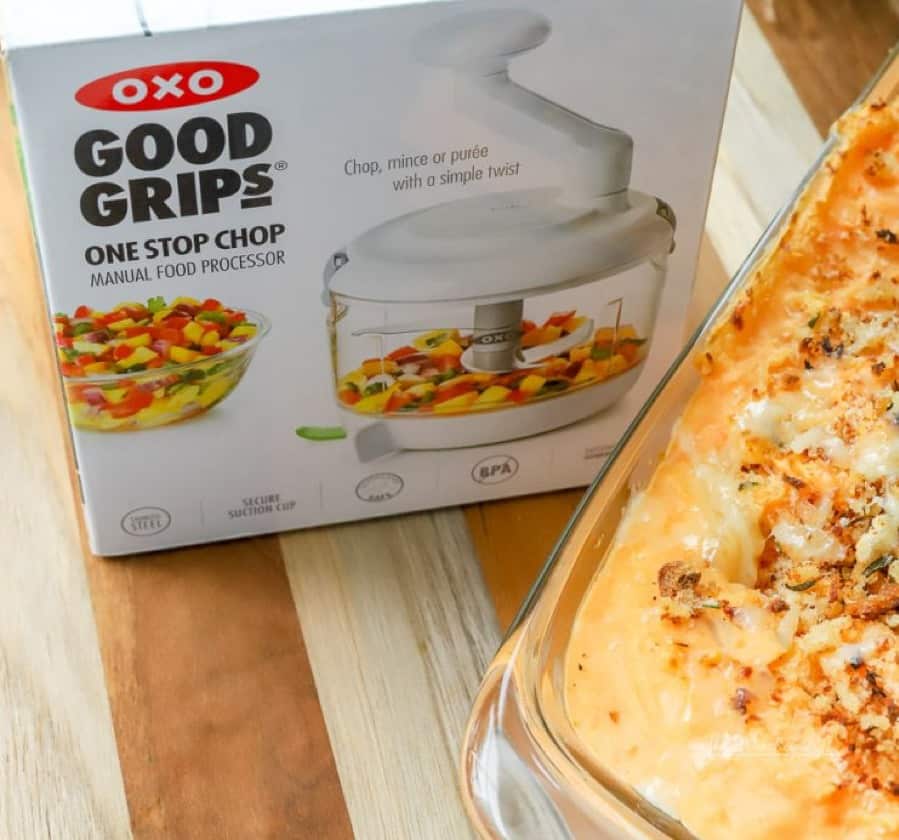 Smashed Cheesy Sweet Potatoes | My Holiday Help With OXO
We love the Holidays! There, I said it! And there's no shame in my game! We love it all, from the main course to all of the sides as well. If you're like me, you too have your favorite foods come the Holidays and this year we teamed up with OXO to showcase our Savory Sweet + Yukon Gold Smashed Potatoes.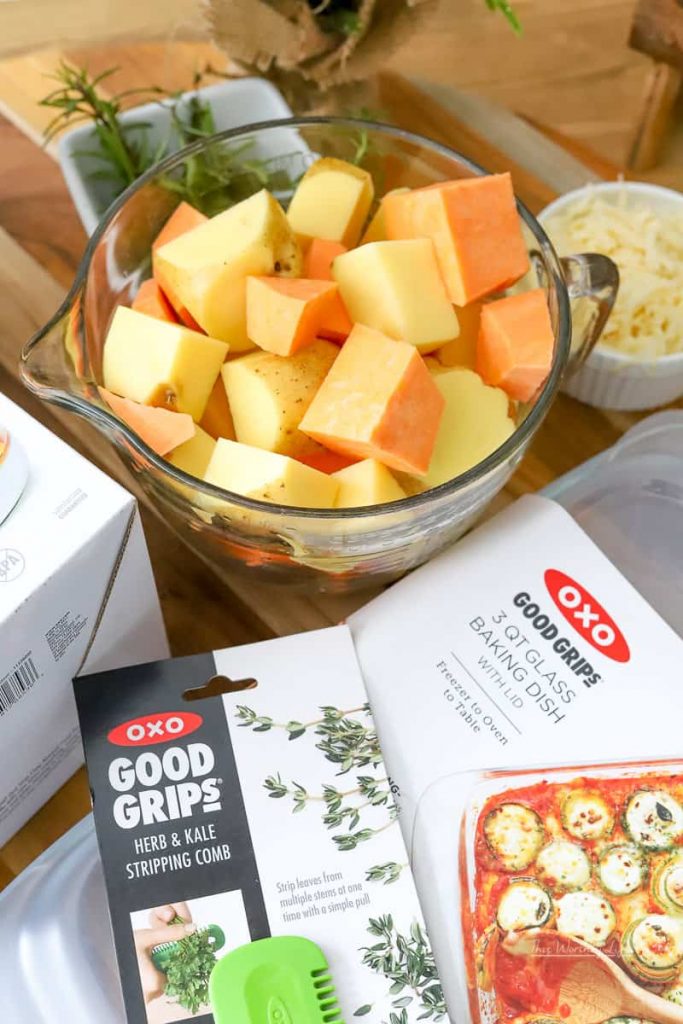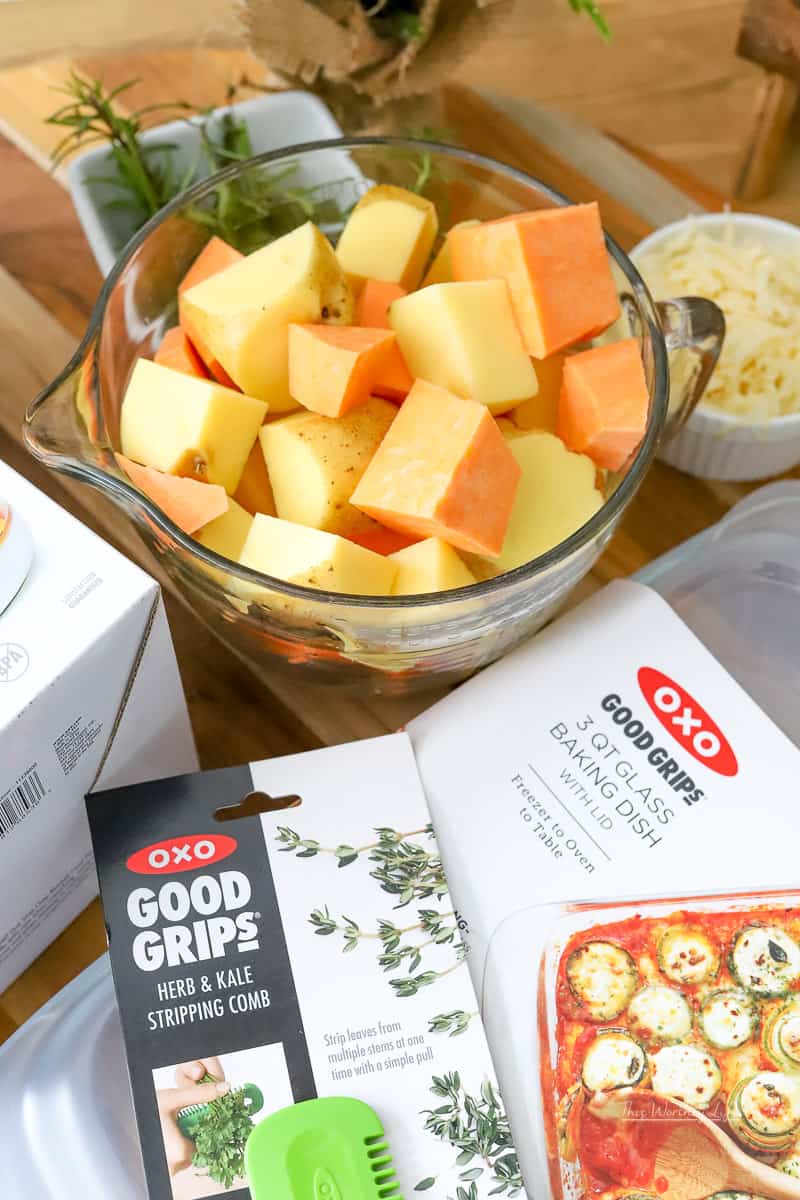 Our recipe is a take on traditional mashed potatoes, and we're going to show you how we turned our ingredients into a to-die-for side dish utilizing essential quality OXO products.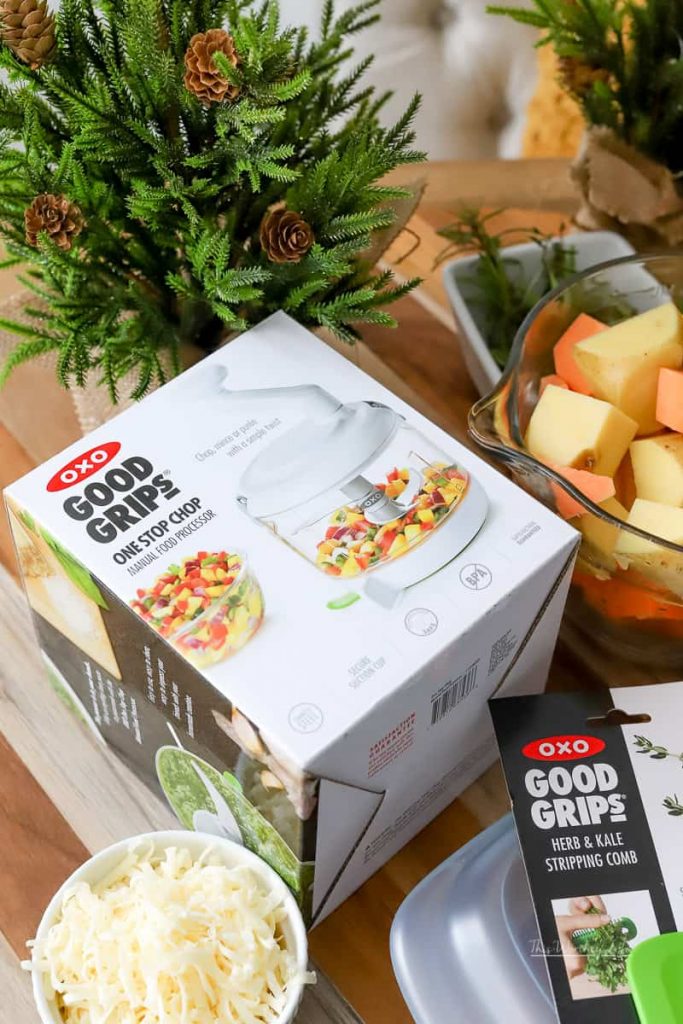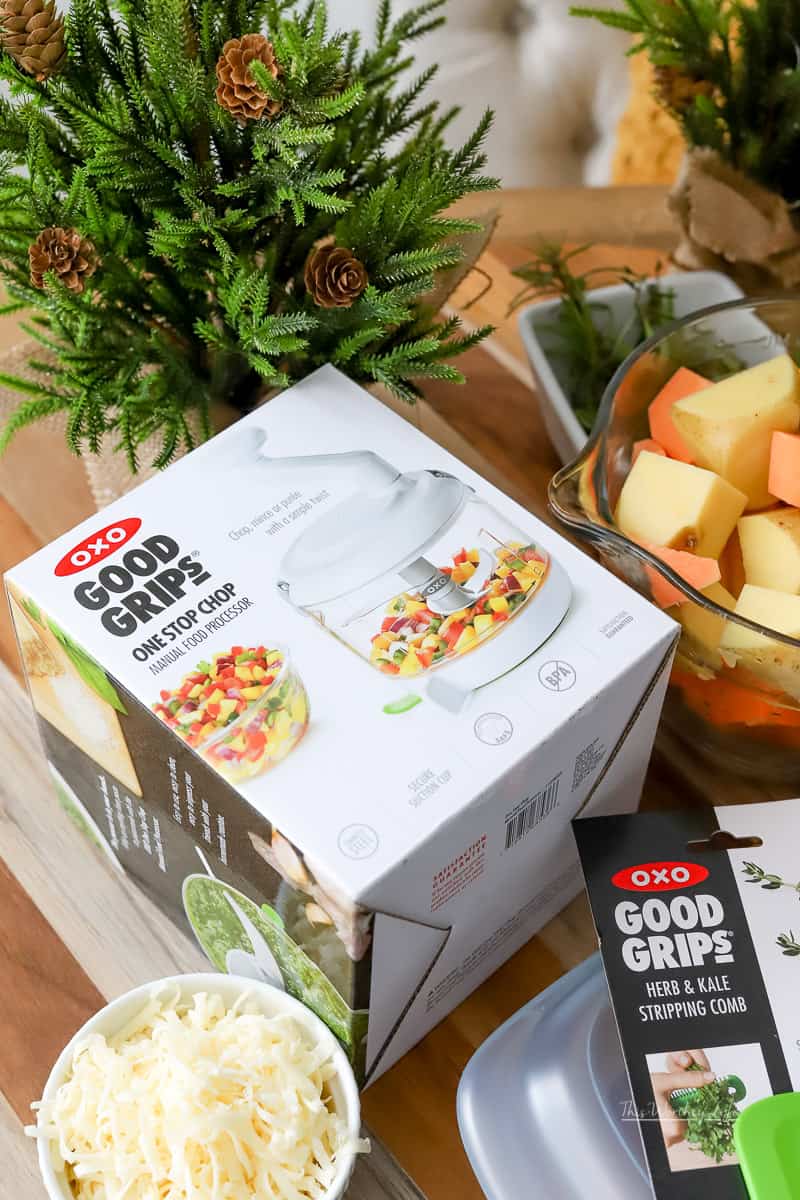 Holiday Hacks With OXO products
Holiday cooking includes lots of chopping, mincing, and puréeing ingredients. And to do the job, there is nothing better than the
OXO One Stop Chop
. This is a manual food processor that quickly chops up ingredients.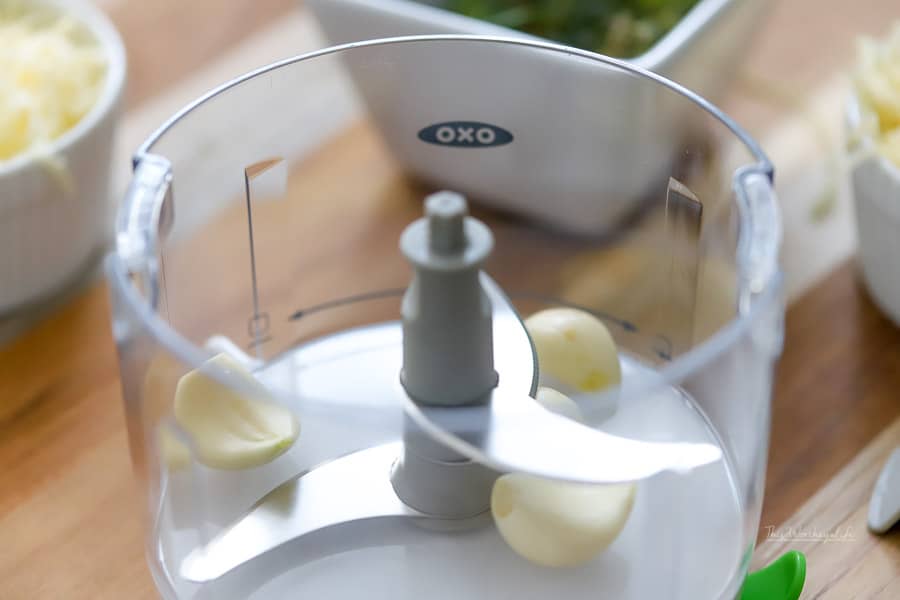 I used the OXO One Stop Chop Food Processor ($29.99) to mince garlic, but you can use its sharp blades to cut through fruits, vegetables, nuts, and more.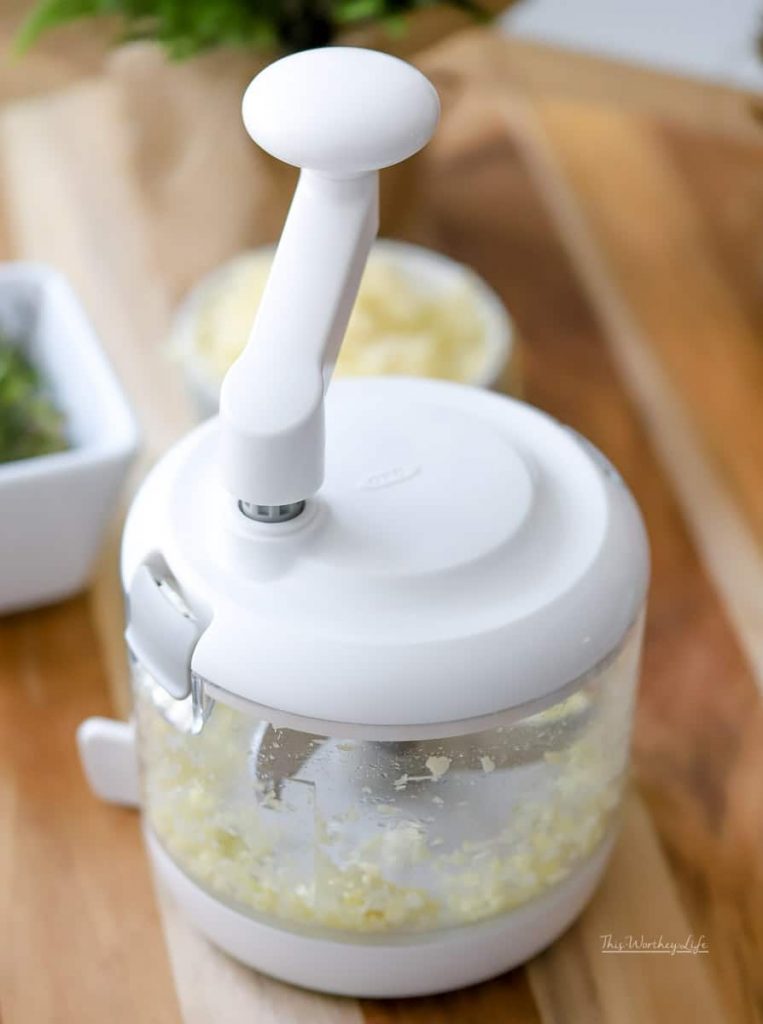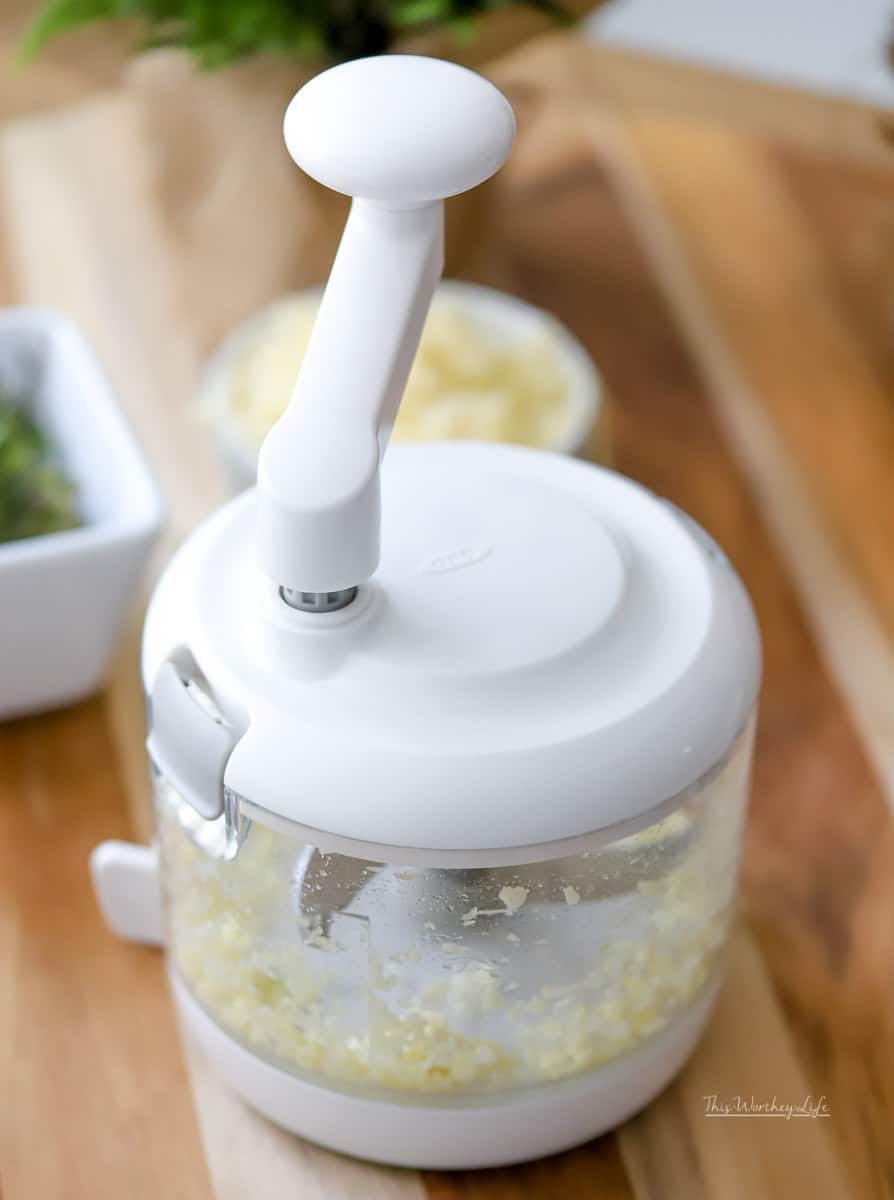 I love how OXO designed this product! It is lightweight, durable, and BPA free! Taking up minimal counter space is also a key feature, and it doesn't use electricity. You will appreciate its efficiency. I really like the suction cup base, which helps this mini kitchen appliance stay put. How cool is that? So, go ahead and tackle that extra side dish or two because now you have an ideal sous chef to help with all of those prep duties.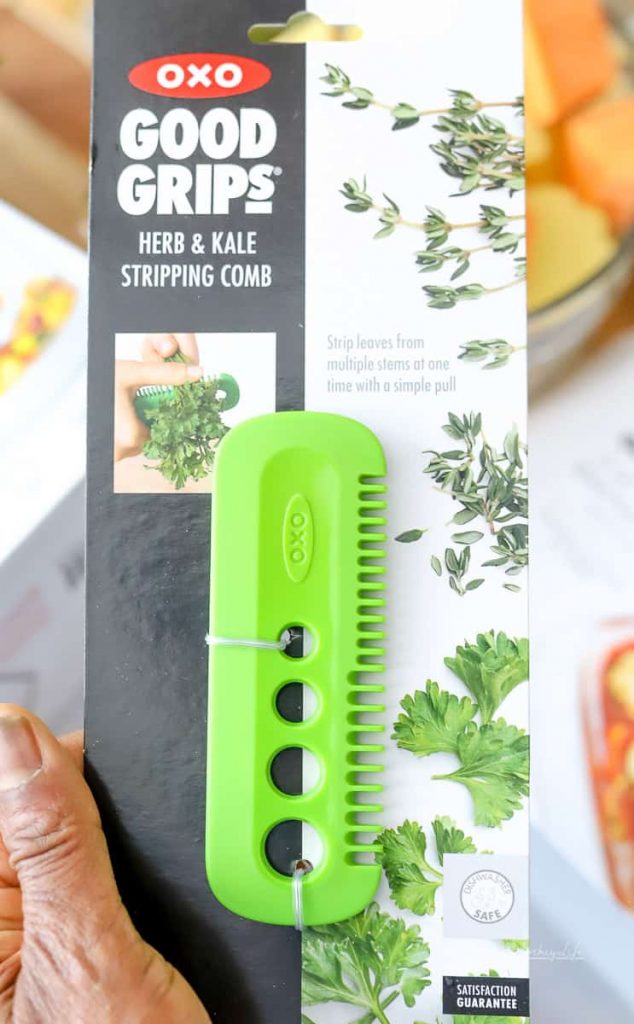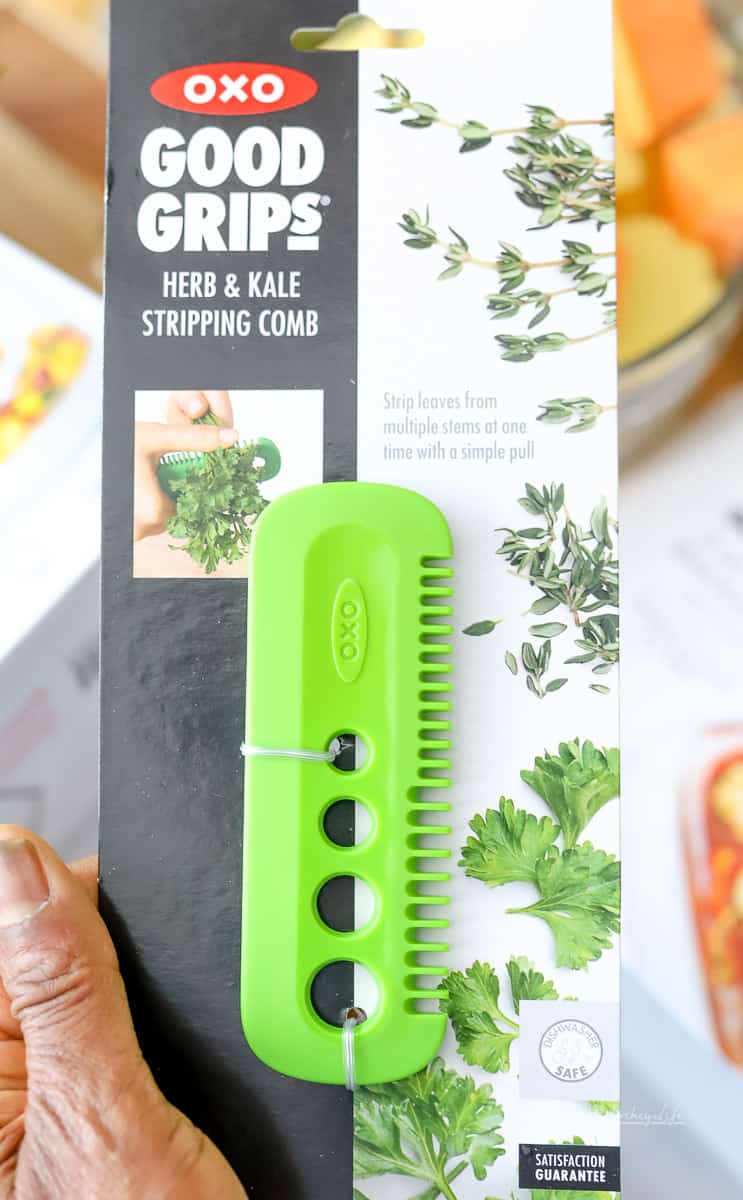 Do you have lots of herbs that need to be prepped? Removing the aromatic leaves from herbs like rosemary, thyme, or parsley can be a tedious task. But with the OXO Herb Stripping Comb ($5.99) you will make short work when it comes to prepping all of the herbs you are going to need for your meals this time of year. This is a fantastic tool for kids to use in the kitchen too!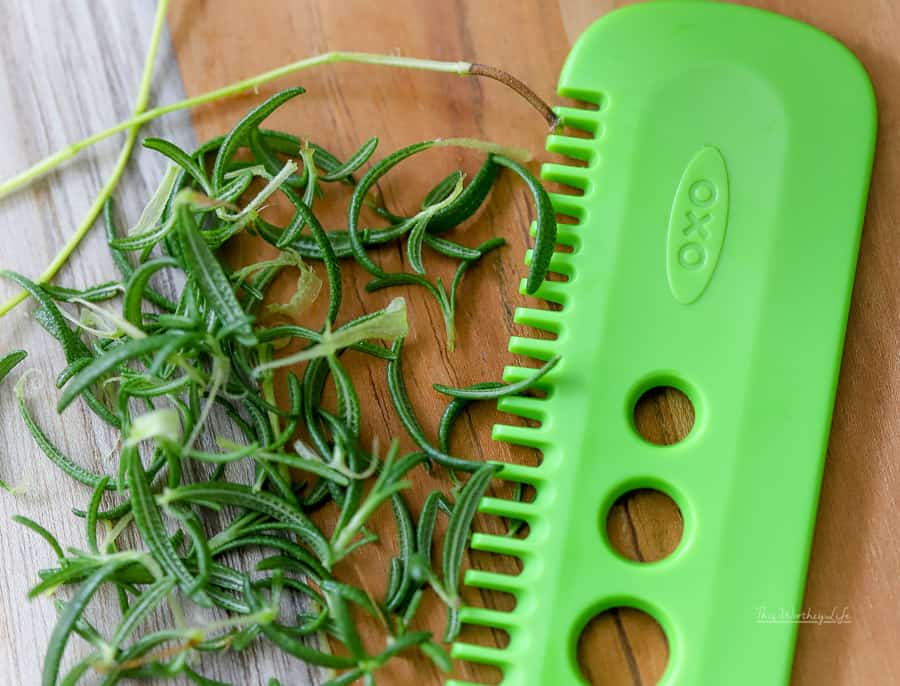 Handle your rosemary like a pro with the OXO Herb Stripping Comb!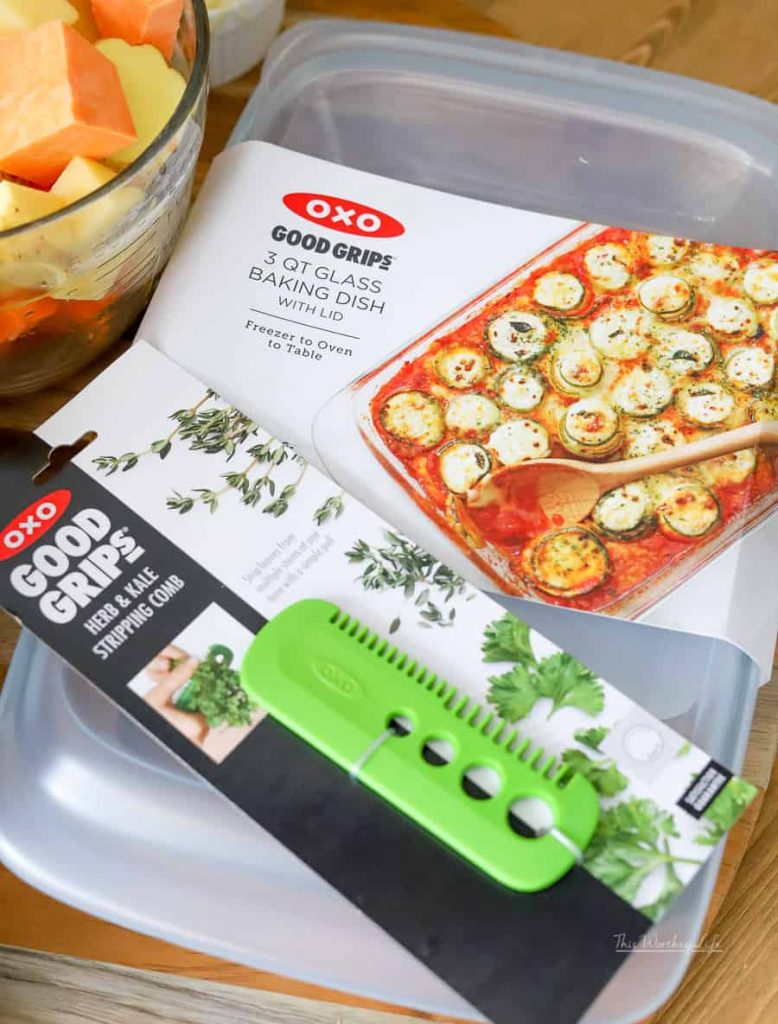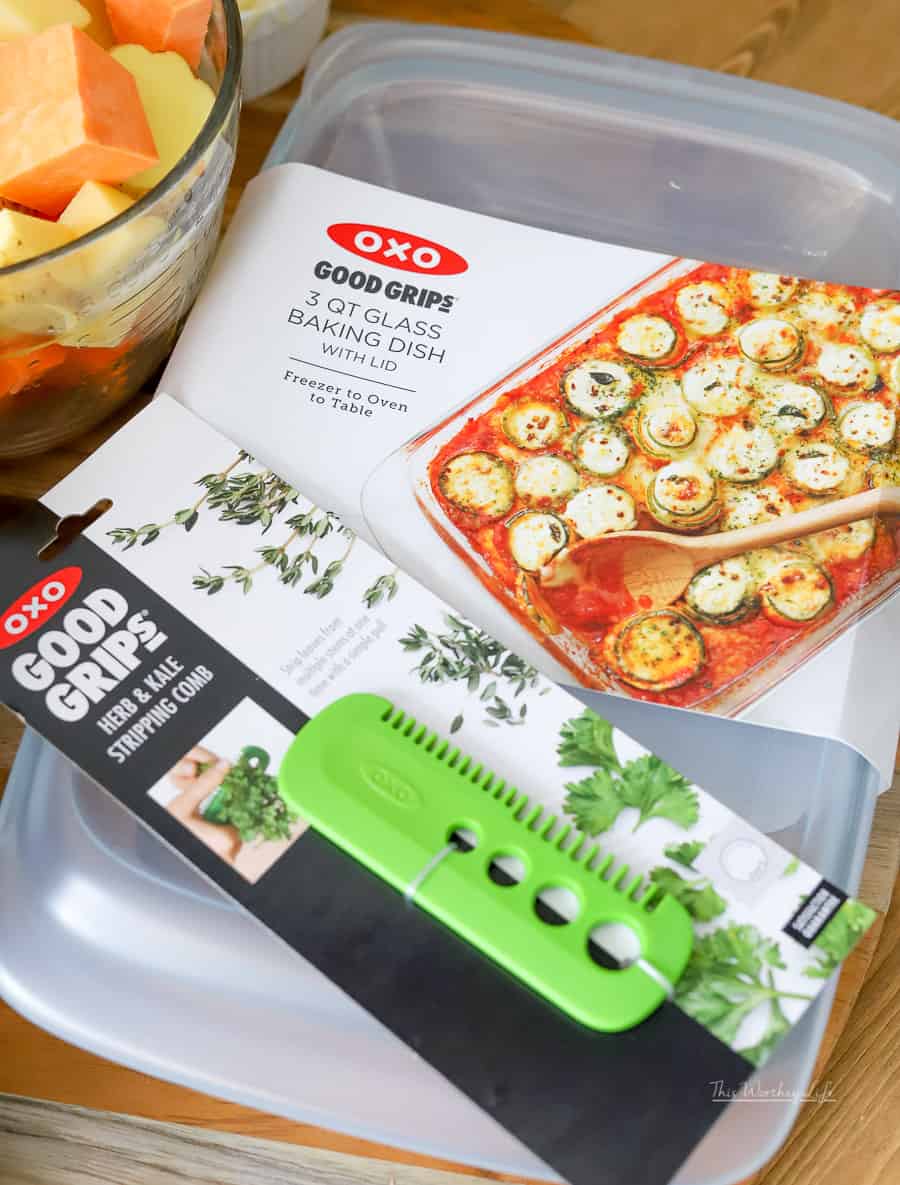 I think any good bakeware worth its salt should have two important characteristics: functionality and beauty. The OXO Glass 3 Qt Baking Dish with Lid ($18.99) is made of thermal shock resistant borosilicate glass, which means it can go from freezer to oven without the need to thaw and no problems. This baking dish has wide, comfortable handles which makes it easy to transport from oven to countertop or table. Along with a slosh-proof lid, it is easy to prepare meals in advance, store leftovers, or take on the go.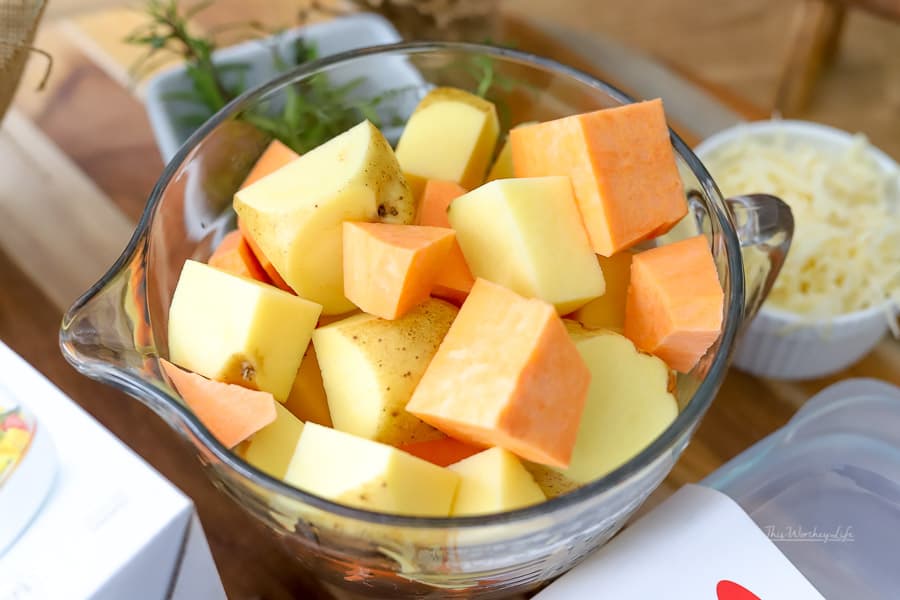 Our Smashed Cheesy Sweet Potatoes are perfect for any Holiday dinner table. Go ahead and buck those traditional potatoes with this awesome upgrade or make both. With these OXO products, you will get it done a whole lot quicker, and that's a good thing.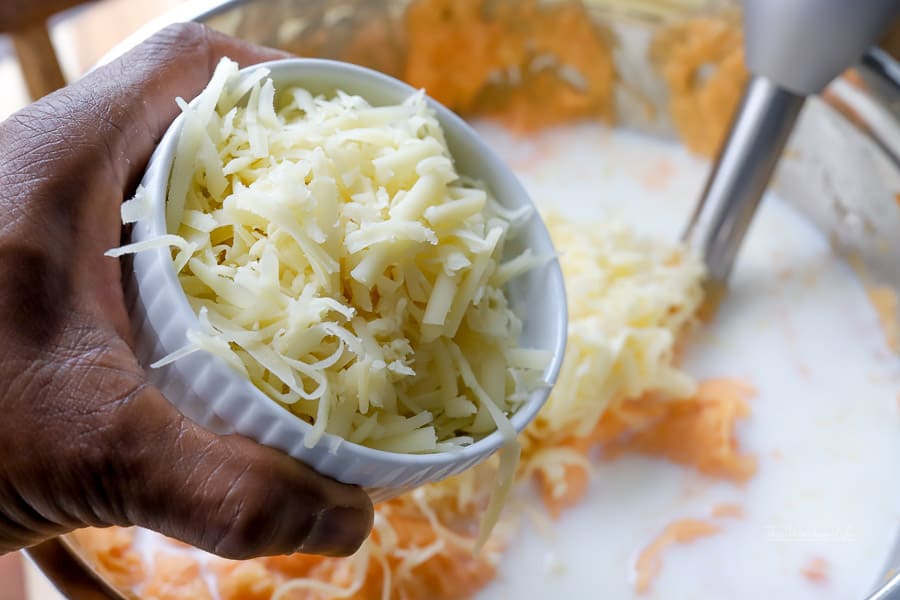 Lots of cheese makes for cheesy potatoes, and we didn't hold back on the sharp with cheddar and smoked Gruyère cheese. Get the recipe down below!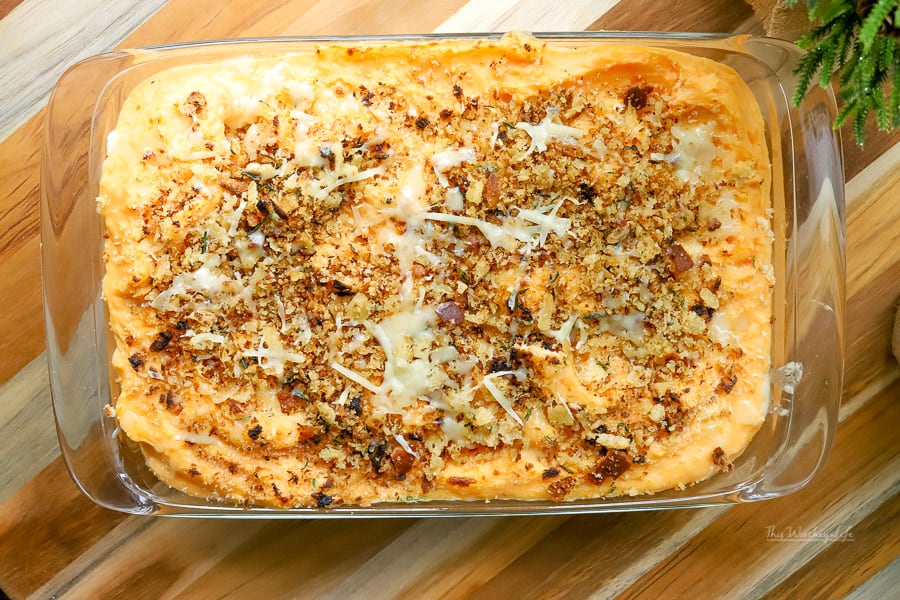 How to make Smashed Cheesy Sweet Potatoes
Ingredients:
2 1/2 pounds Yukon Gold potatoes
2 1/2 pounds sweet potatoes
1 cup heavy cream
1/2 cup sharp white cheddar cheese
1/2 cup smoked Gruyère cheese
1 stick unsalted sweet cream butter
1 tablespoon Kosher salt
1 teaspoon freshly cracked black peppercorn
4 cloves garlic, minced
1 1/2 cup herb breadcrumbs
Directions:
Cook potatoes until fork tender, add heavy cream, sharp white cheddar cheese, smoked Gruyère cheese, butter, Kosher salt, and freshly cracked black peppercorn.
Mix the potatoes with a wand mixer or potato masher until the potatoes are well-mixed and creamy.
Spoon the potatoes into the baking pan and top with herb bread crumbs and more cheese.
Bake in a preheated 350-degree oven for 3o minutes and the top is golden brown.
Serve.
Directions on making homemade breadcrumbs
1 1/2 cup day-old crusty bread cut into cubes
1 sprig of fresh rosemary
2-3 sprigs of fresh thyme
Pinch of Kosher salt
Add all of the ingredients into a food processor and pulse until you get medium size breadcrumbs. Can be made a few days ahead and kept in the fridge.
But, what is any Holiday without beloved friends and family? For our family, we celebrate for us and the ones we love. So, attach whatever significance to the Holidays that enriches and expands your ability to love, radiate positive vibes, and enables us all to live healthy, happy, and productive lives.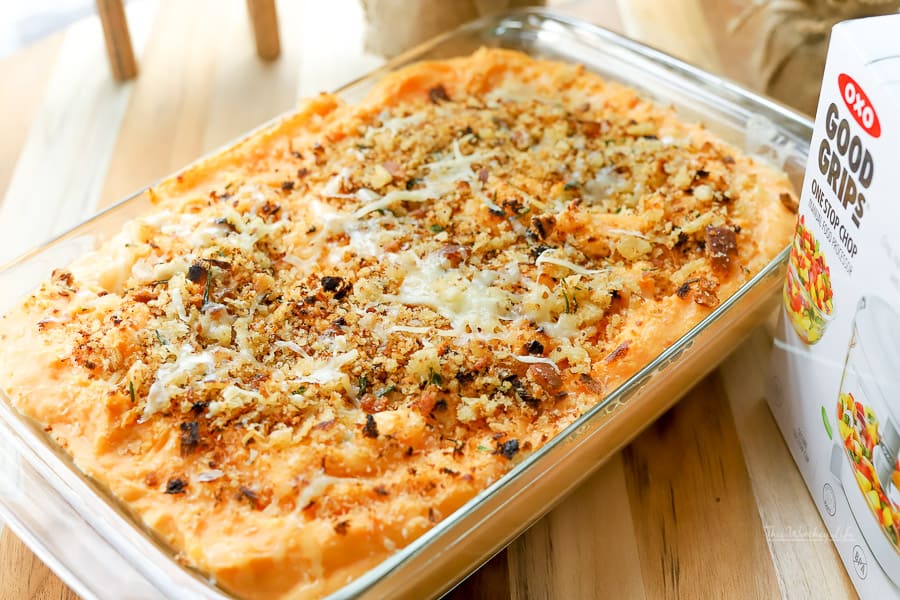 Disclosure: This is a sponsored post written by me on behalf of OXO.