Dinner and a movie is always a winner in our book. We're pairing our loaded T-Rex Smashed Potato Bowl with the release of Jurassic World: Fallen Kingdom out now on DVD. This smashed potato bowl is filled with baby back ribs, two different potatoes, cheese, goat butter, and a little bit of this and that. Get the recipe below!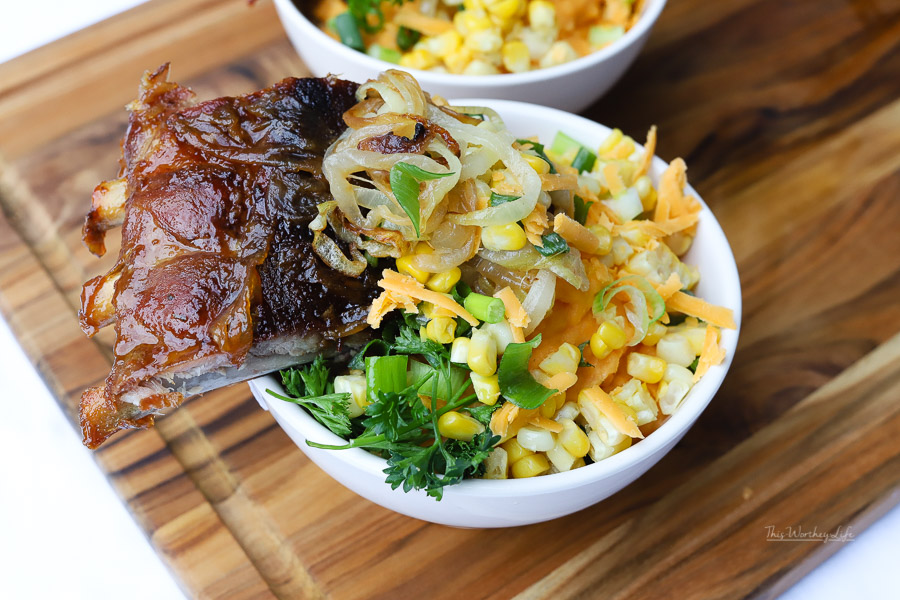 Loaded T-Rex Smashed Potato Bowl
It's simple. Home movie watching doesn't have to mean mediocre food. So, I set out to create something yummy with a big side-order of finger food in the form of tender and monstrously delicious Tyrannosaurus rex ribs to go along with the release of Jurassic World: Fallen Kingdom available now.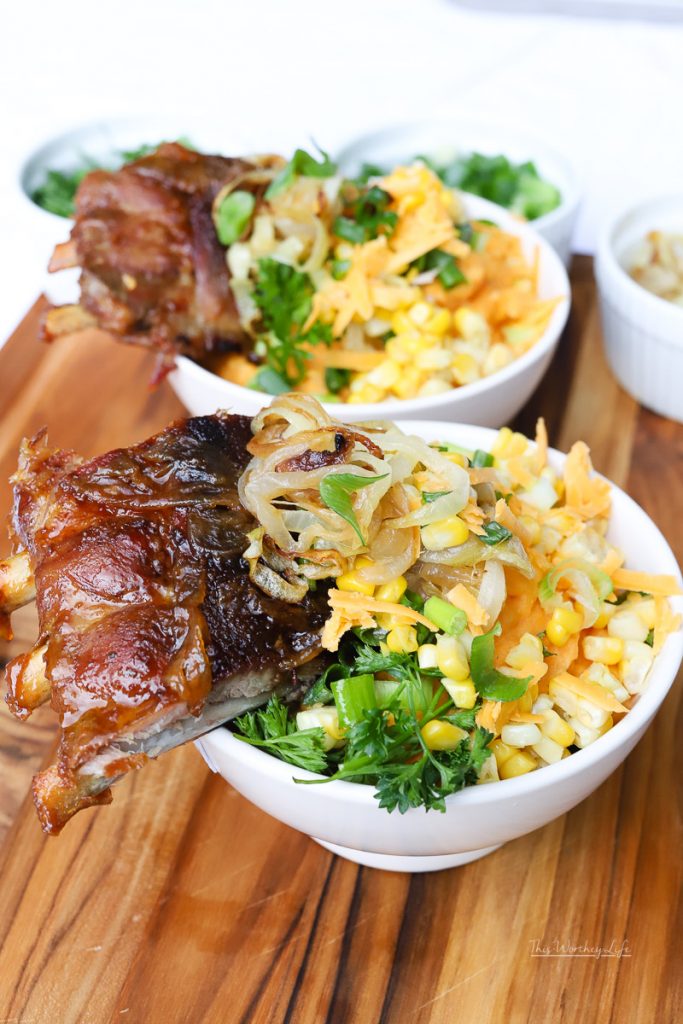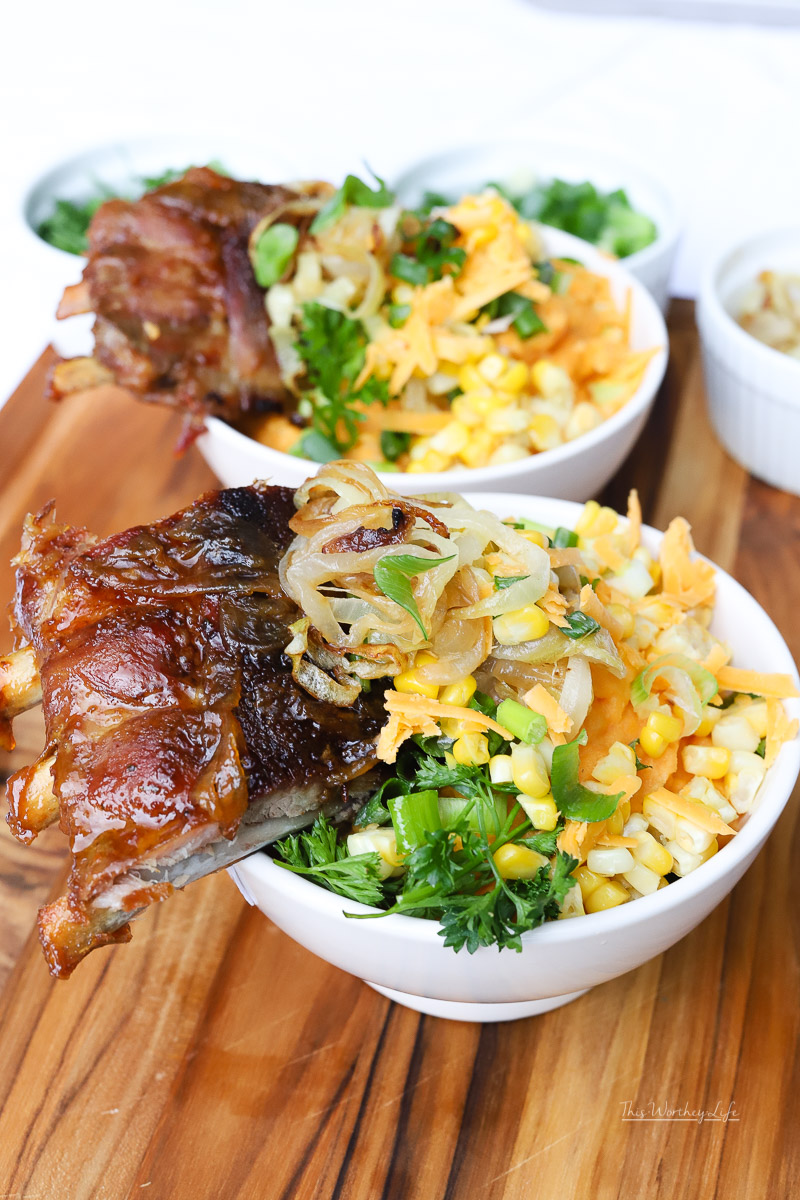 But for some reason, it seems wrong to eat mediocre food when watching a super exciting movie at home. If what you are watching on the screen is exhilarating, and the movie "brings it" in the form of action-packed, unreal special effects, and satisfaction, shouldn't the food you eat and enjoy while watching the movie be just as action-packed, and satisfying? So, here is where the fun comes in, and also where I give you something to eat that is just as good as the movie playing non-stop on the big screen.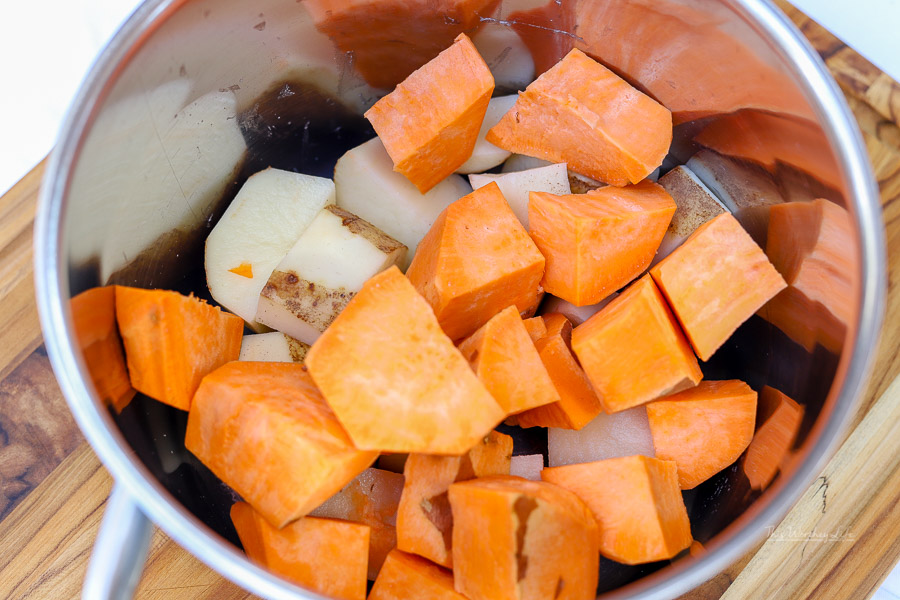 So, like any good movie let's start at the beginning, the roots of this recipe start with russet and sweet potatoes, I love the flavorful rusticity of potatoes in general and combining big hearty russet potatoes with the unique flavor of sweet potatoes is my kind of party. Both of these potatoes work well together to create something which couldn't be achieved using one or the other alone.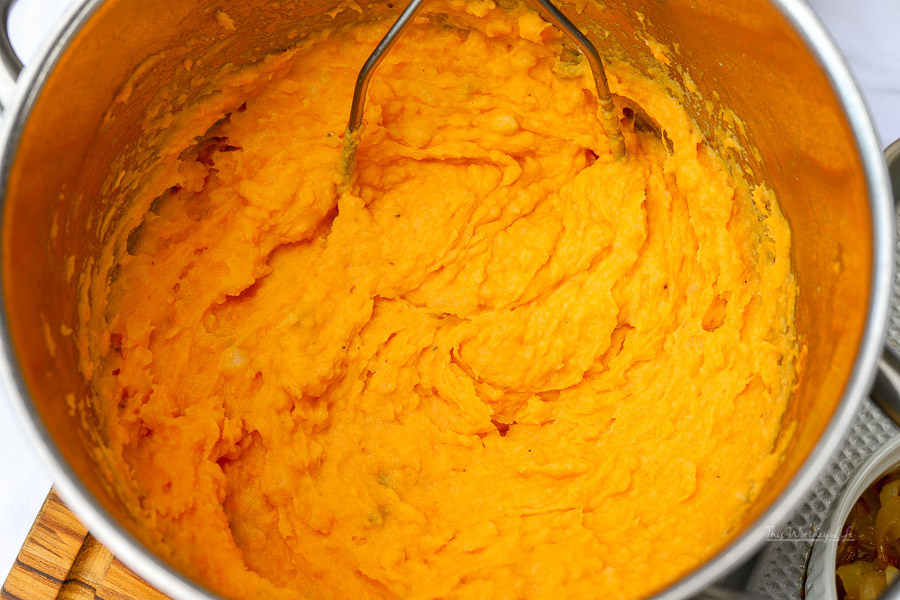 Look at the end result, buttery potato creamiest at its finest, I tossed in a stick of goat butter, but an unsalted sweet cream butter works fine too. Add coarse sea salt and freshly ground black peppercorns to taste.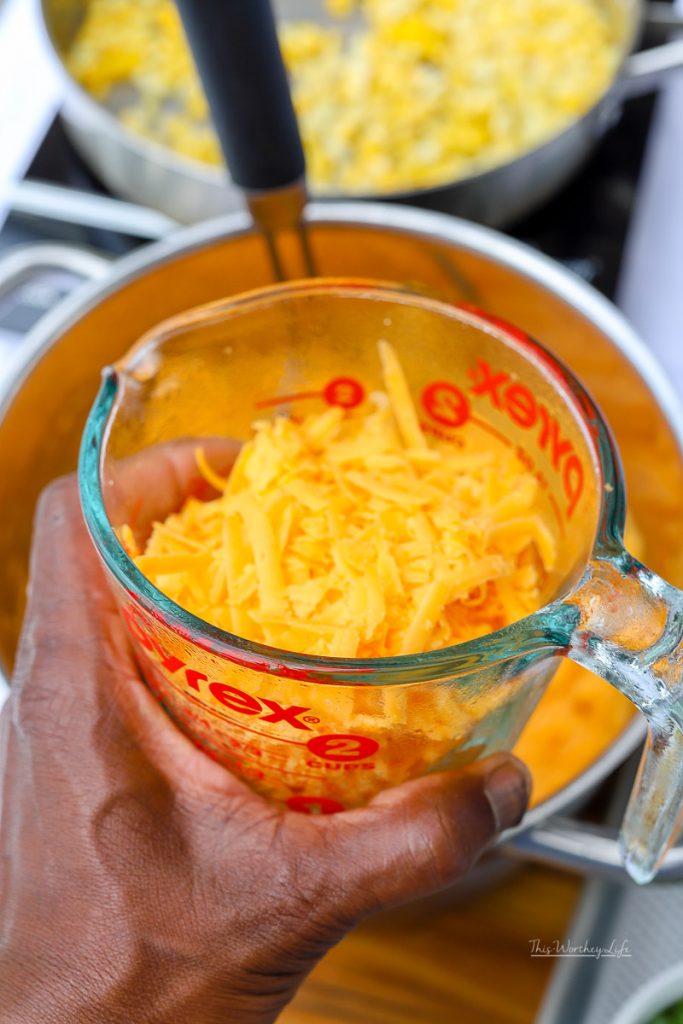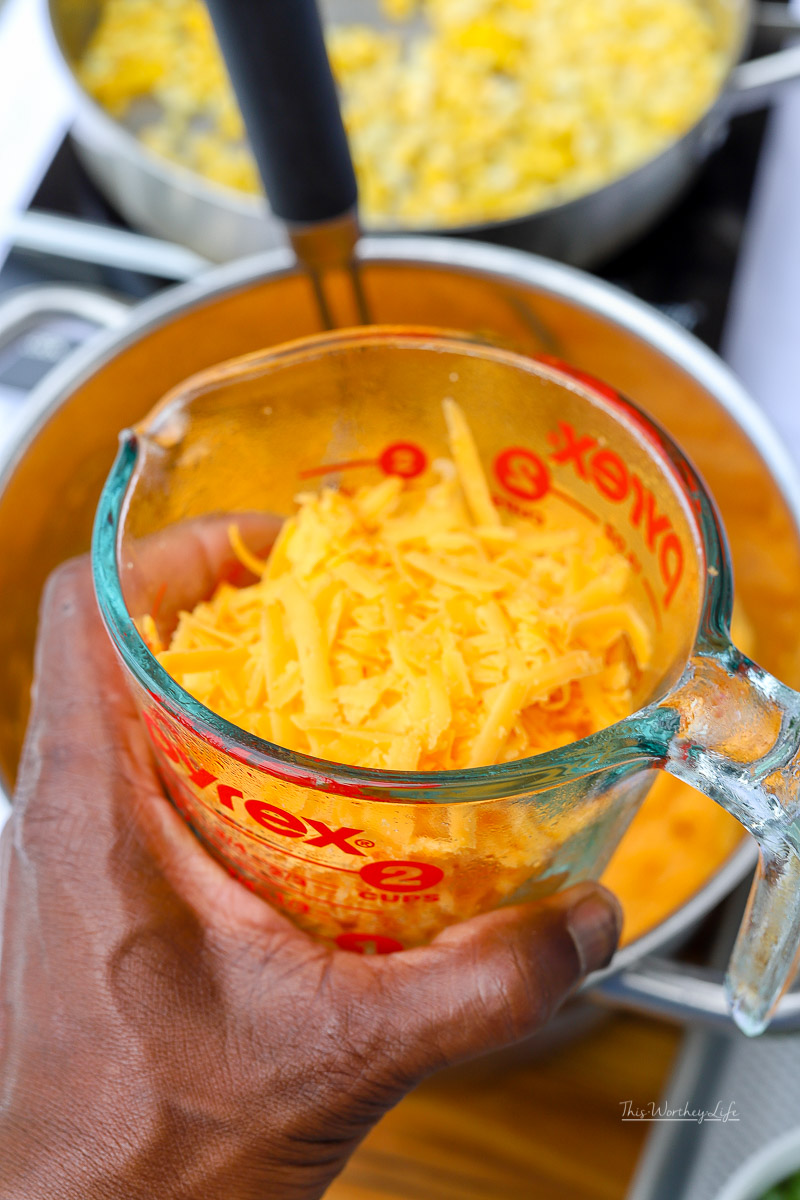 I added two cups of extra-sharp of aged cheddar cheese which adds another layer of incredible flavor, stir in large flakes of aged cheddar cheese into the hot potatoes and I think you'll bite your lip just a lil' bit.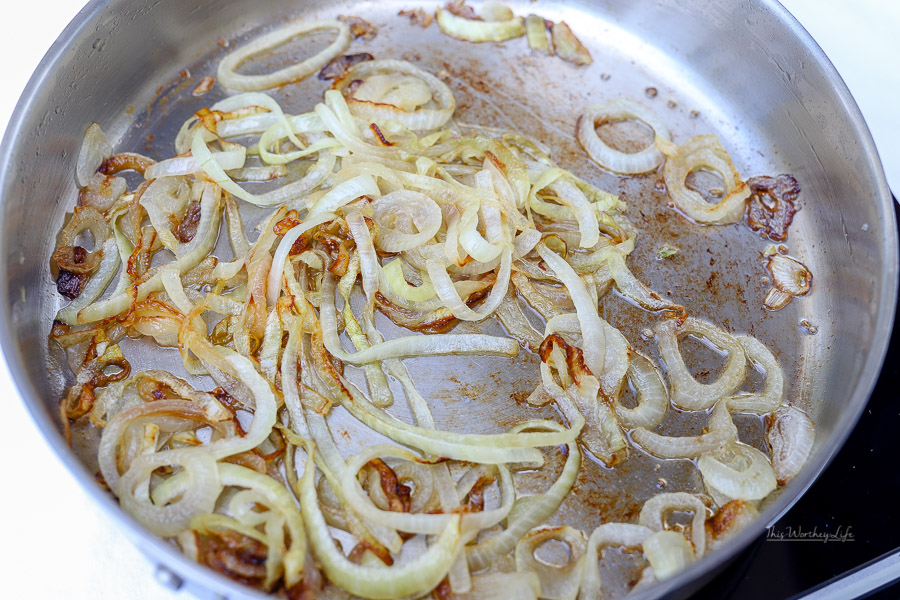 And of course another way to elevate almost any savory dish is to add a slew of caramelized onions, I always make more than I think I'll need only because I can't to seem to get enough of them.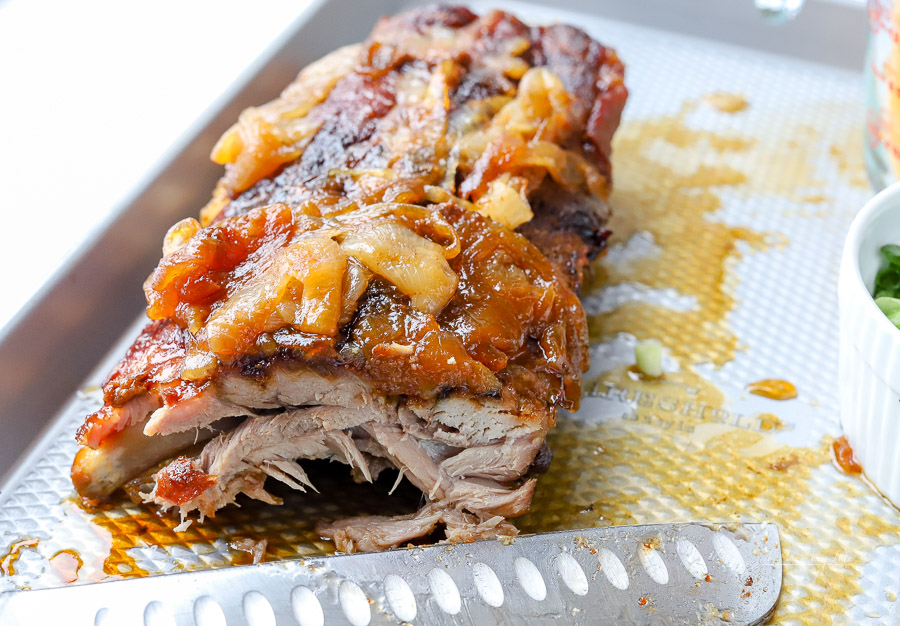 The co-star of this movie food magic is the Tyrannosaurus ribs! Okay, I used baby back ribs, but only because the local butcher shop was fresh out of slabs of T-Rex. These ribs took this recipe and pretty much made it an Oscar contender. It's all of the thing's ribs should be: moist, falling off the bone tender, and with lots of brown sugar sweetness mixed with a tangy spice rub. So good!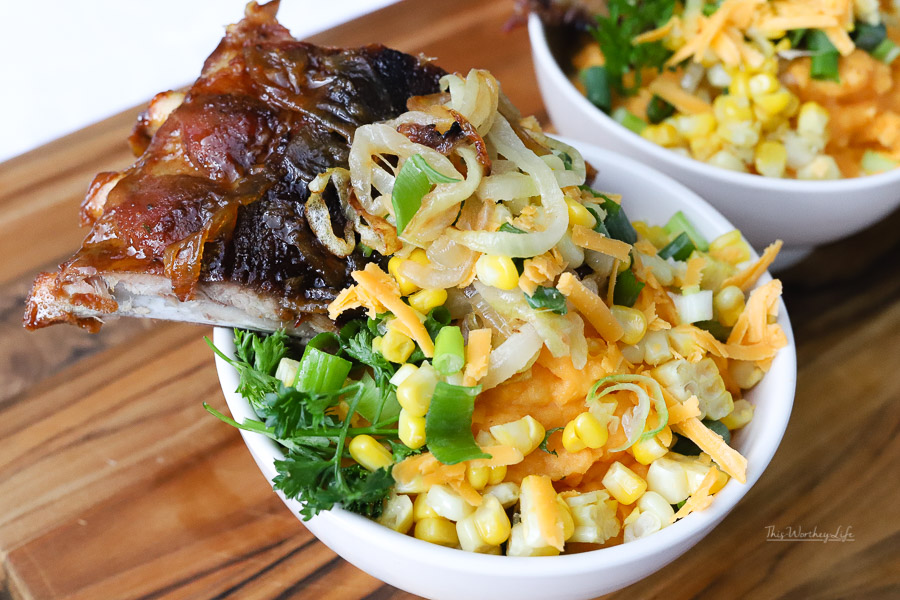 How to cook Baby Back Ribs in the oven
Ingredients for baby back ribs:
2 slabs baby back ribs, rinsed and patted dry
2 tablespoons extra virgin olive oil
2 1/2 cups light brown sugar
1 cup your favorite rib rub
2-3 large sweet Vidalia onions
Directions:
Preheat oven to 400 degrees.
Rinse ribs with cold water and pat dry with paper towel.
Allow the ribs to sit on the counter for 25 to 30 minutes.
Brush the ribs on both sides with EVOO.
In a bowl combine light brown sugar and your favorite rib rub and mix well.
Coat the ribs with the light brown sugar and rub mixture.
Use a mandoline or a sharp chef's knife, thinly slice the onions.
Tear off two lengths of aluminum foil allow four to six inches on both ends.
Brush a tablespoon of olive oil onto a single sheet of foil, place the onions onto the foil in a straight overlapping line, then place the ribs directly over the onions.
Lift and place the sheet with the ribs on it over the remaining sheet of foil.
Fold the ends and sides of the foil over the ribs; this will create kind of an elongated enclosure and a sort of bowl in which the ribs, onions, and juices will gather and make your ribs taste like you wouldn't believe.
Place the ribs on the center rack of a 400 degree preheated oven for 3 1/2 hours.
After the 2 1/2 hours open the lid and open up the foil to expose the top of the ribs, close the oven and cook for the remaining hour.
Remove the ribs and place them on top of a cutting board.
Let the ribs rest for 15 minutes then slice into them. See, I told you!
Serve.
Ingredients for smashed potatoes
3 large russet potatoes
1 large sweet potato
2 cups shredded 13-year old cheddar cheese
1 stick goat butter or unsalted sweet cream butter
coarse sea salt to taste
freshly cracked black peppercorns to taste
Toppings:
caramelized sweet onions
green onion, sliced
fresh parsley, chopped
pan-fried sweet corn off the cob
shredded cheddar cheese
Recipe for smashed potatoes
Prep potatoes by washing and removing any brown parts cut them into one or two-inch chunks. Place the potatoes into a large stock pot and fill the pot with water until the water is just over the potatoes.
Add a tablespoon of sea salt and place the pot over medium-high heat on the stove top and cook until the potatoes are fork tender, about 25 minutes.
Drain the water off of the potatoes place them back into the pot, set the pot on the stove top over low heat.
Add a stick of softened goat butter or unsalted sweet cream butter, two cups of hand shredded aged cheddar, and mix until the butter and cheese are melted and combined into the potatoes.
Top the smashed potatoes with caramelized sweet onion, green onion, chopped parsley, pan-friend sweet corn, and more shredded cheddar cheese.
Serve with a big portion of T-Rex Baby Back Ribs. (here's another good recipe on how to cook baby back ribs).
Enjoy
And as excited as we are about food as we are about the release of the Jurassic World: Fallen Kingdom Walmart Exclusive Limited Edition Giftset which includes the Blue-ray + DVD + Digital Copy + Funko Pocket Pop! Keychains! That's a lot of pluses and a lot to get excited about. The Jurassic World: Fallen Kingdom drops September 18th but you can pre-order it here.
Love ribs? Check out these recipes
Top Secrets to Grilling Better Ribs
Baby Back, Herb Salmon & Bacon Slider + Cherry Cider Beer