Have left-over turkey? Here's a quick stir-fry dinner idea made in the Instant Pot. Paired with Brown Rice (also made in the Instant Pot), this is a delicious and easy dinner idea filled with tons of fresh veggies, brown rice, and turkey! Let's cook somthing!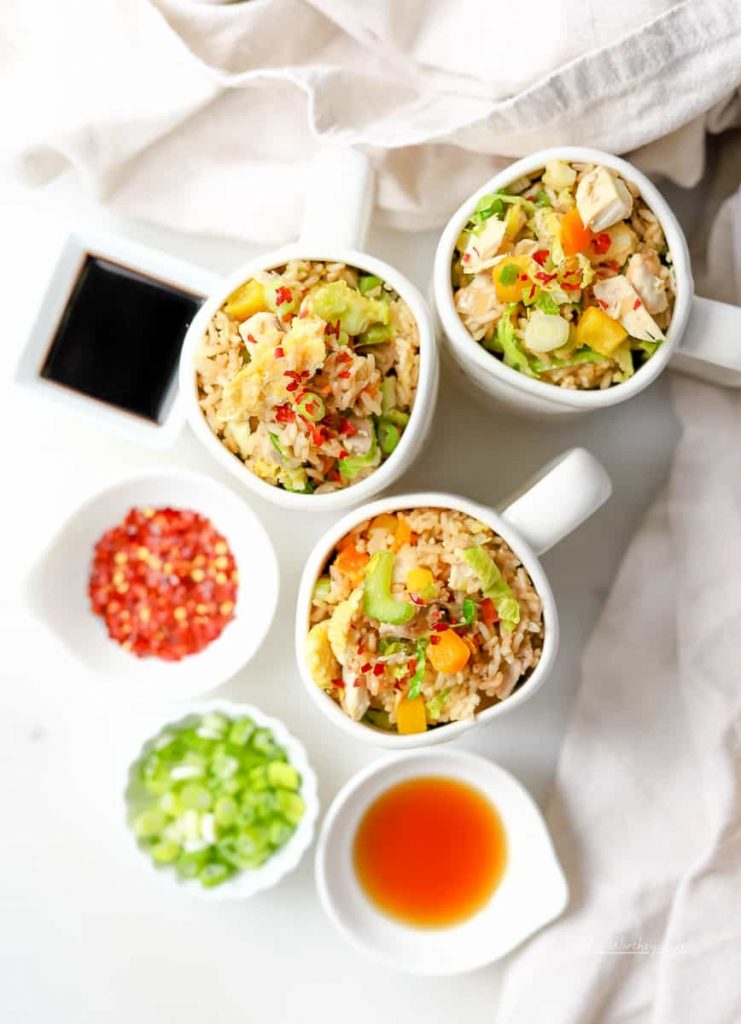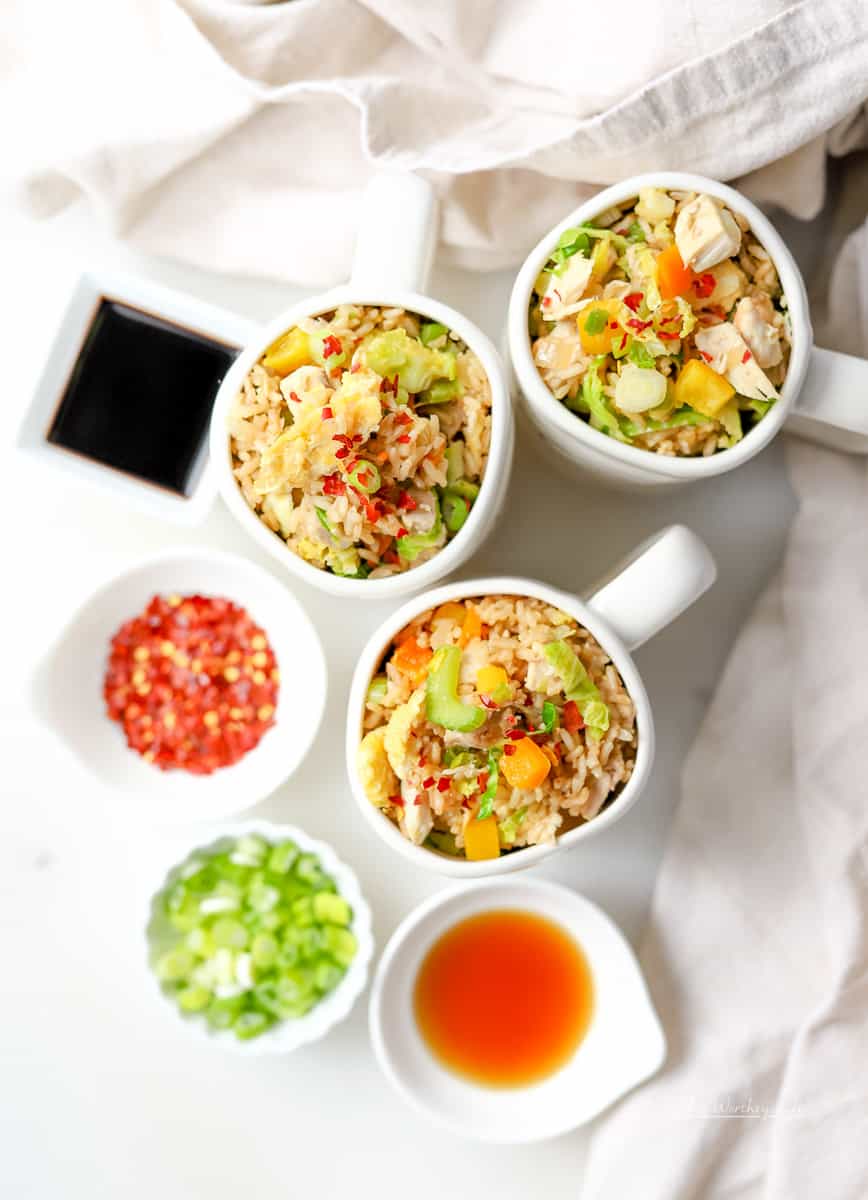 Leftover Turkey Idea | Instant Pot Stir-Fry with Turkey + Brown Rice
So, lo and behold you have leftover turkey, and the options are slim. How about whipping up our Instant Pot Brown Rice Turkey Stir-Fry? It's an easy recipe to follow and using the leftover turkey cuts down on the cooking time. Basically, we're sautéing the veggies then making brown rice lickety-split in the Instant Pot and viola! Finally, we're going to toss it all together with peanut oil, soy sauce, red pepper flakes, some flaky sea salt (Maldon flaky sea salt is my new jam), fresh green onion, and dinner is served!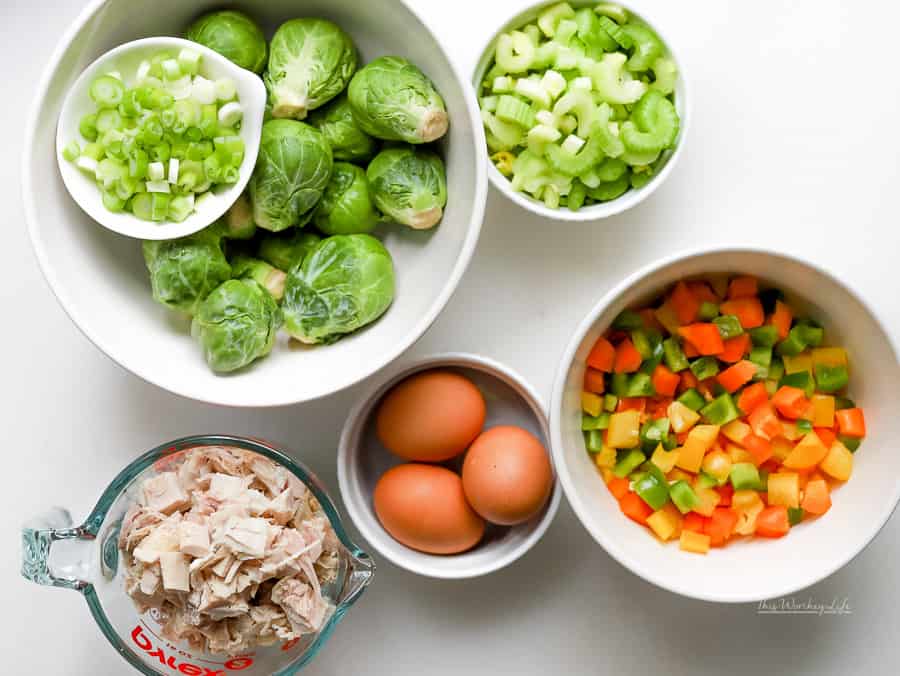 Using up leftovers is always a surefire way to save money. Here, we are using leftover turkey to make this delicious Leftover Turkey Instant Pot Stir-Fry. Sounds pretty good, huh? Don't have turkey? No worries. Just about any source of protein will do. Chicken, pork, beef or leftover salmon all are great reliable sources of protein. And plant-based protein is bae too. Consider these nutritious plant-based options:
broccoli, collard greens, kale, parsley
fava beans, black-eyed beans, black beans or chickpeas
lentils, quinoa, chia seeds, hemp seeds, almonds or peanuts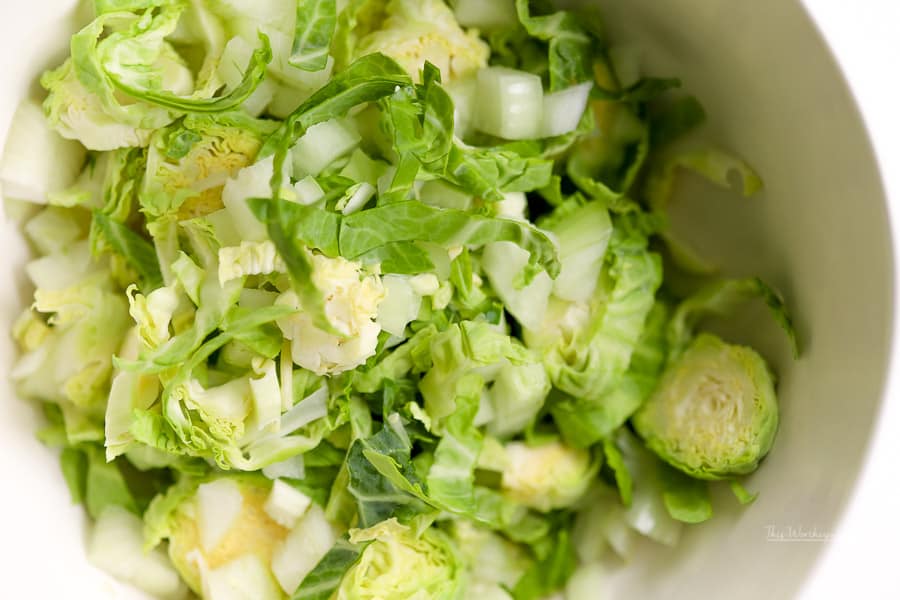 Sautéed vegetables taste better because cooking them intesifies the natural goodness of the veggies.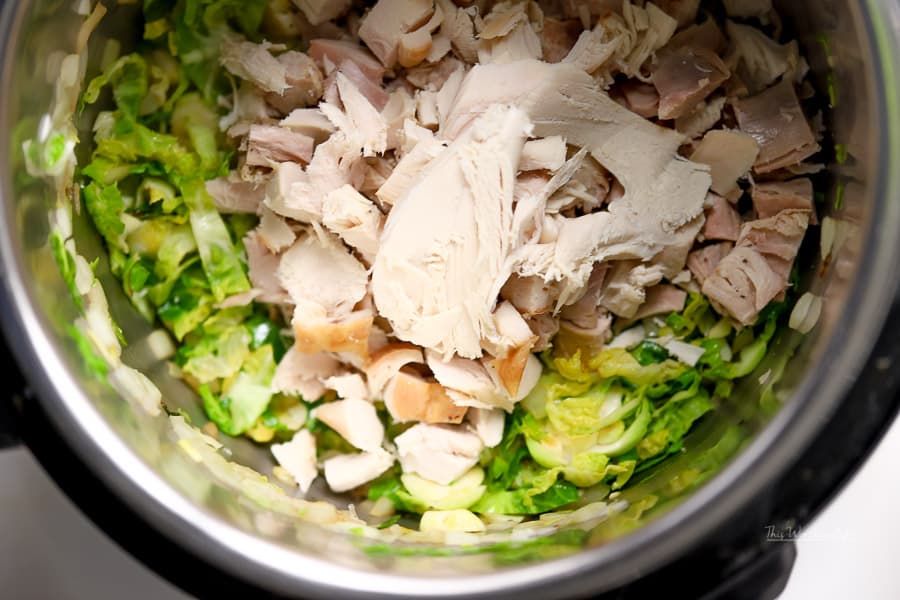 After sautéeing the veggies and adding the leftover turkey this easy to put together this meal is almost done! Just add additional flavors like chopped parsley, cilantro, basil, and green onion. You can also add things like raisins, dried cranberries, or pineapple!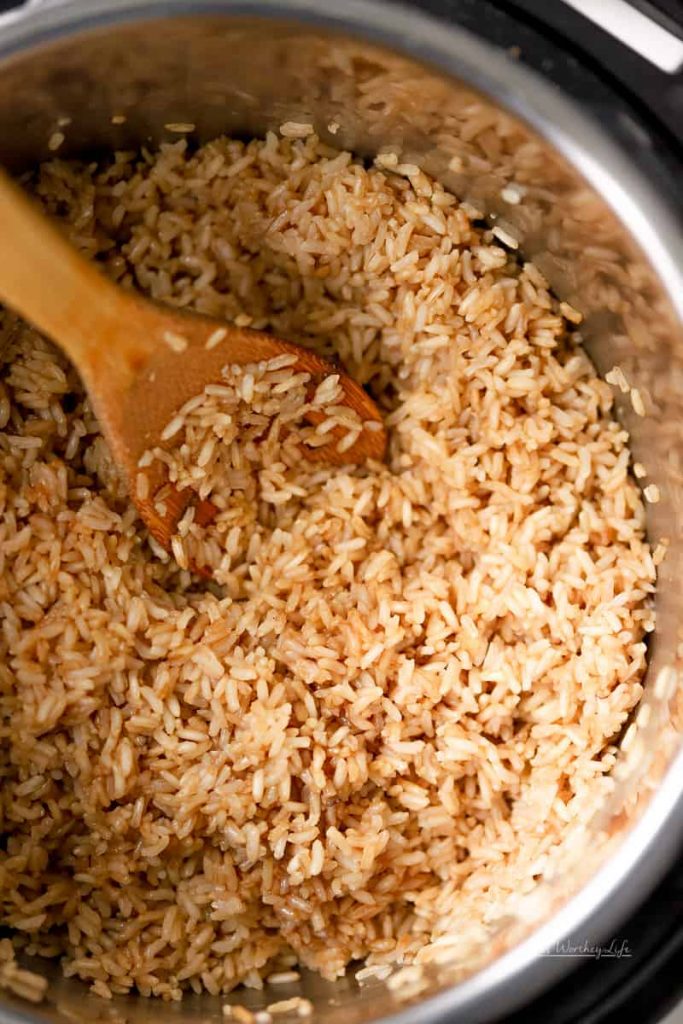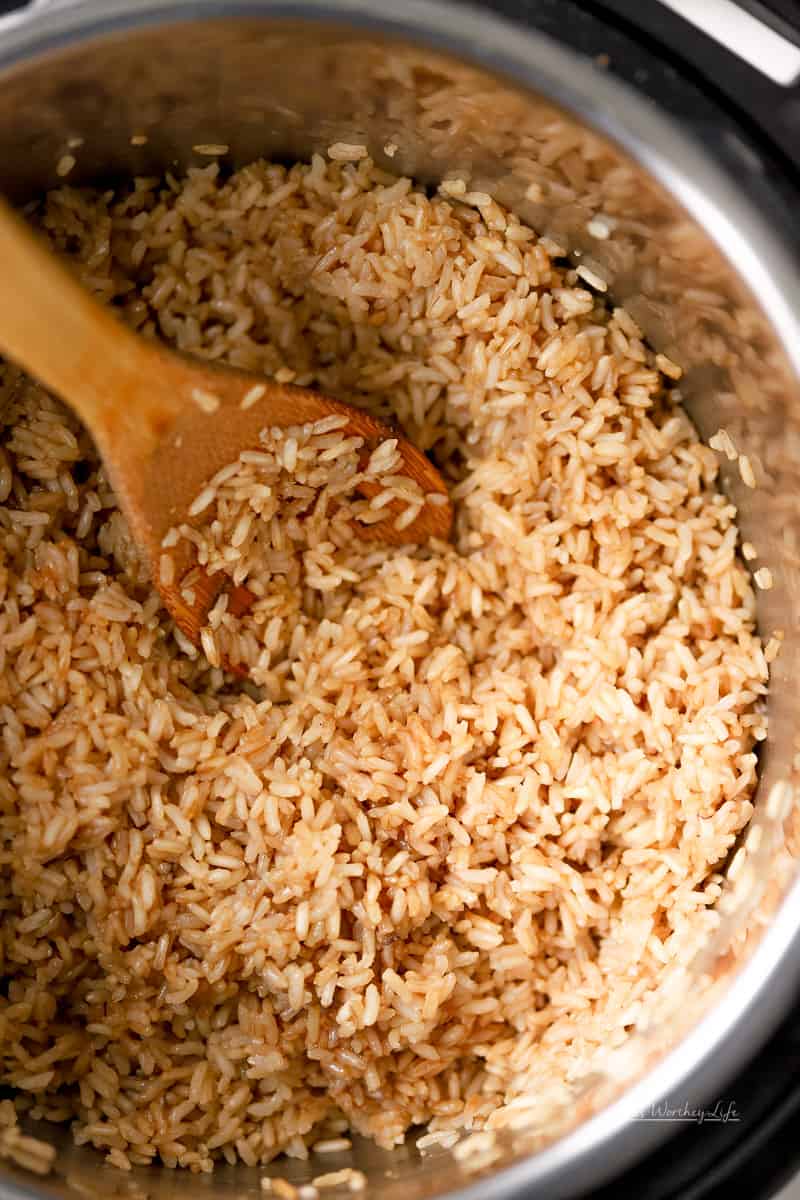 Brown rice has a lot more fiber than just plain old white rice, and it has a heartier taste. Plus, can you say fiber rich? Brown rice is also has lots of Magnesium and a respectable source of B-6. You gotta have your B to the 6. Ya' heard me?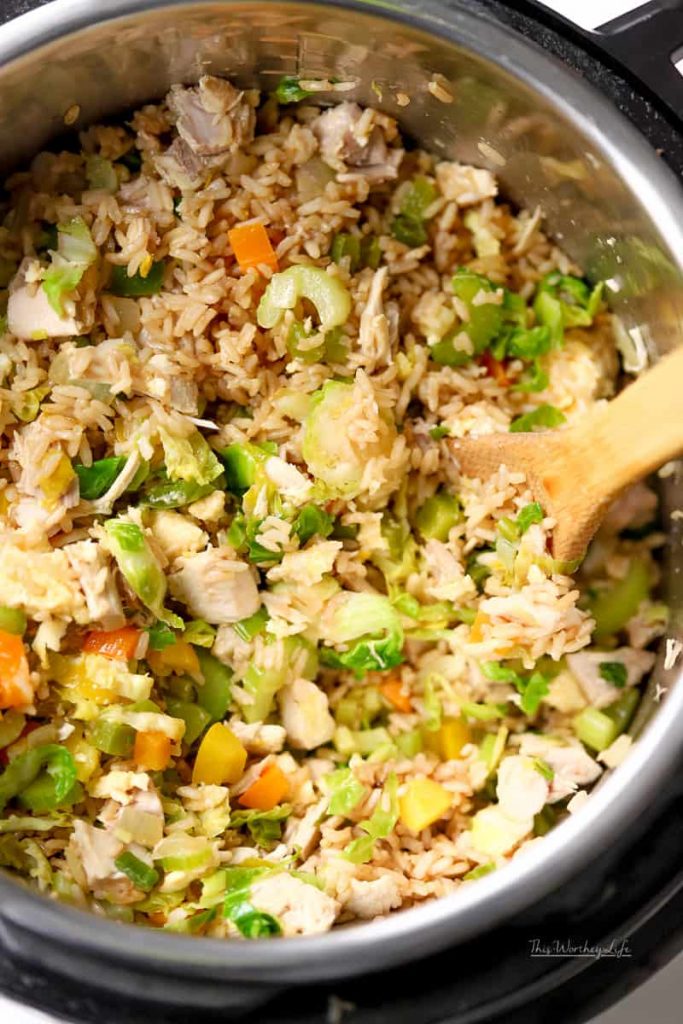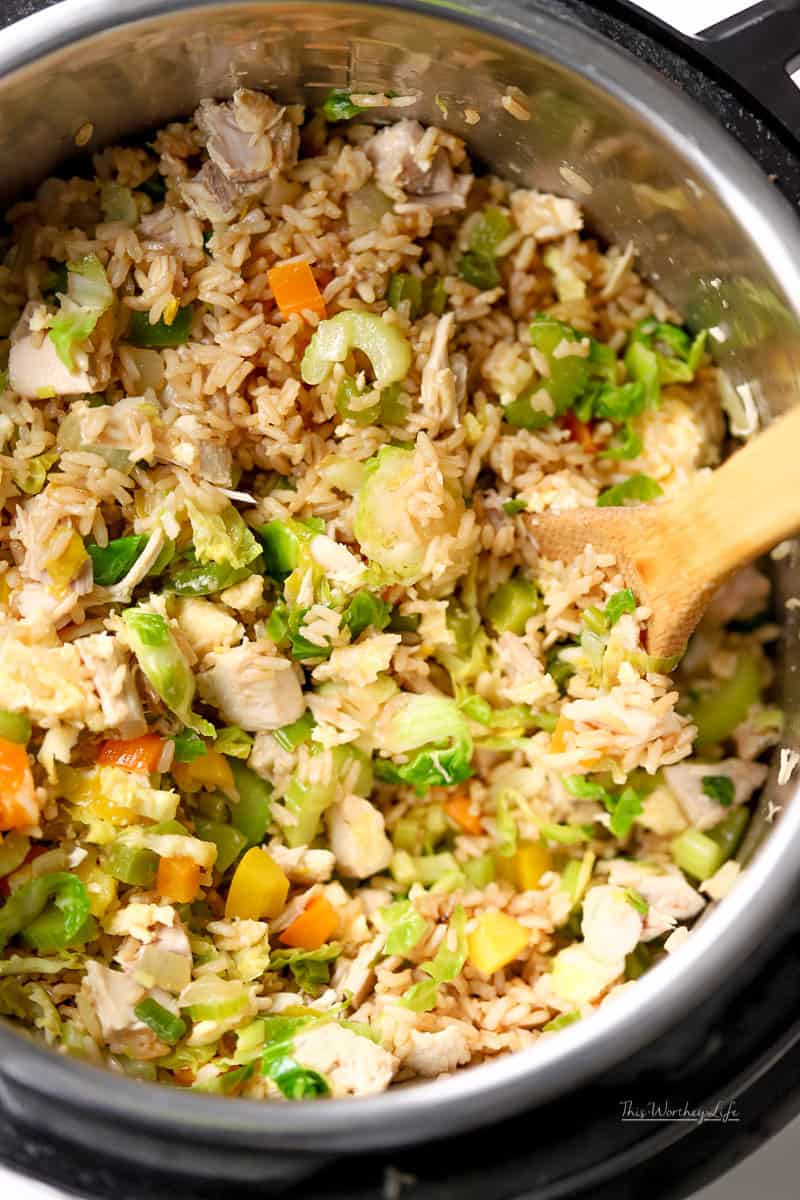 This is a great recipe for just about any night of the week, and I am pretty sure it would be perfect for when you don't feel like a lot of fuss in the kitchen.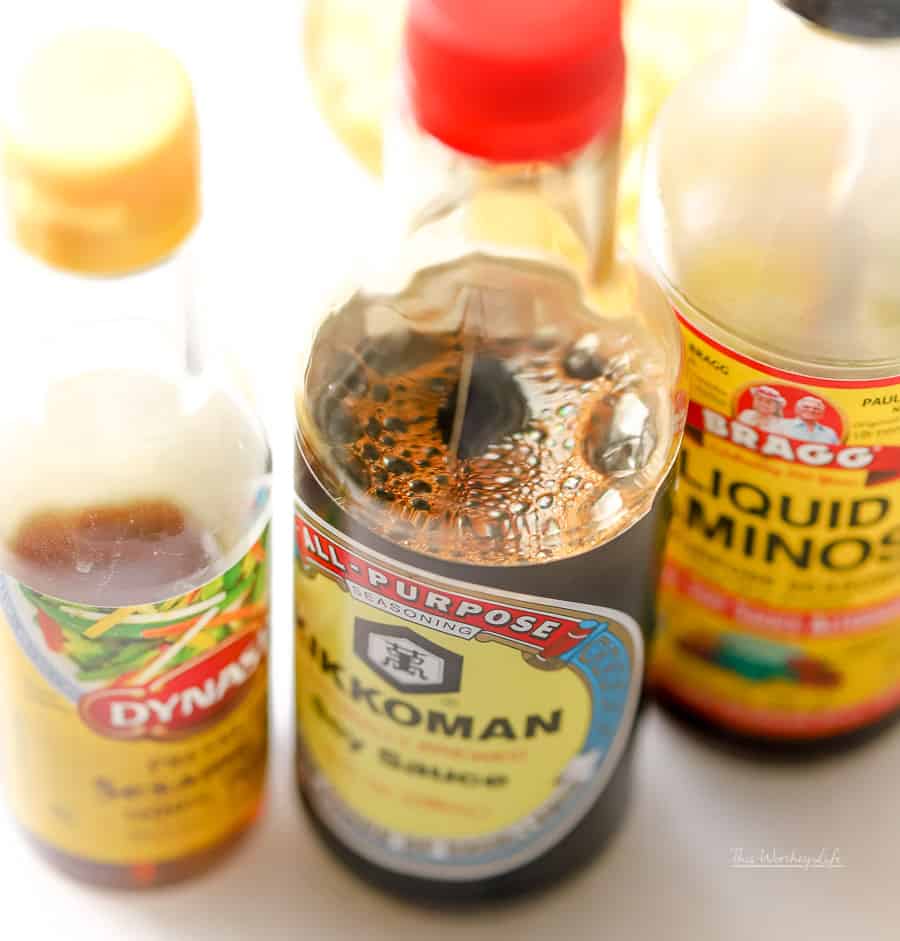 Adding the right amount of flavor is all in your very capable hands, it's all about you now, so add as much or as little as you want then get to eating!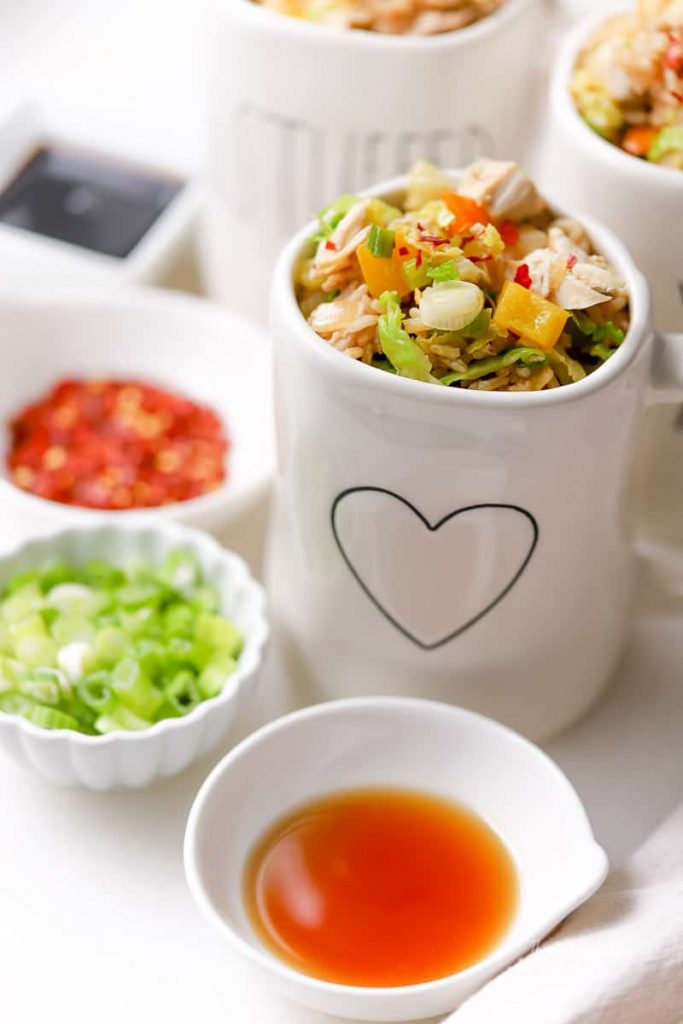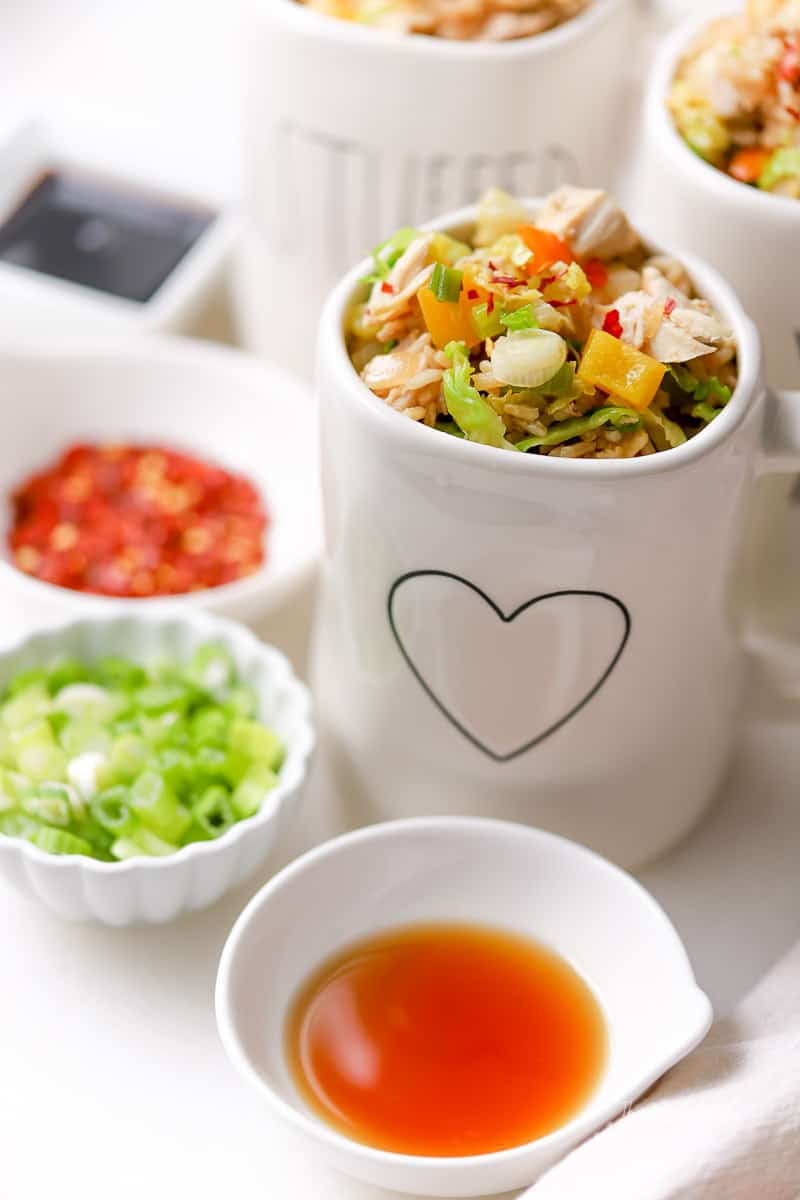 We served up our quick and delicious stir-fry in our collection of Rae-Dunn mugs. Aren't they so freaking awesome?! Don't answer that question! Of course they're totally awesome! I mean, just look at how awesome they are just sitting there being awesome! ! And did you know that serving your food in Rae-Dunn anything just makes your food taste even better? It's so true!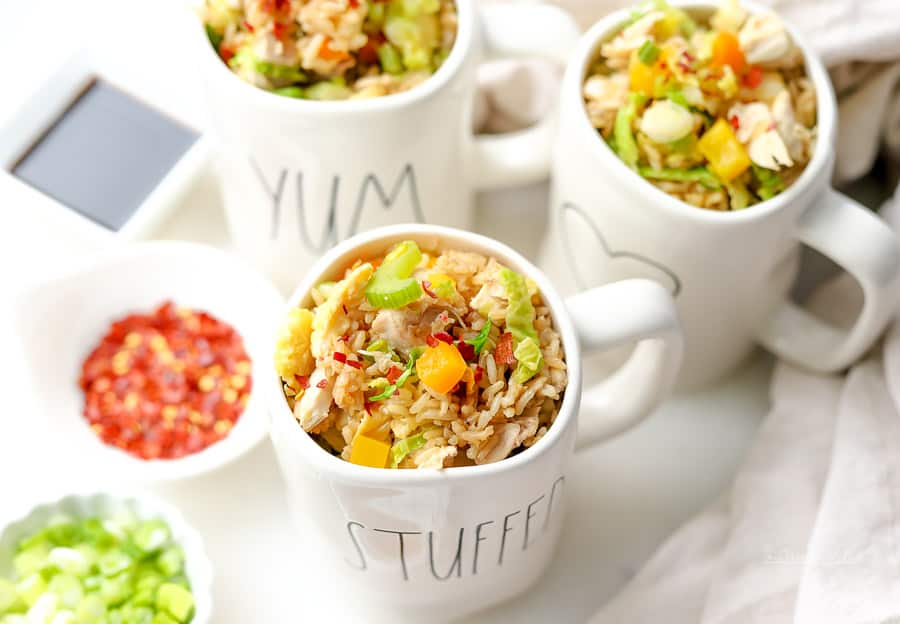 Instant Pot Stir-Fry with Turkey + Brown Rice
Ingredients:
2 1/2 cups brown rice
chicken stock
2 cups chopped leftover turkey
1 medium onion, diced
3 celery stalks, sliced thin
1/2 half yellow bell pepper, chopped
1/2 half green bell pepper, chopped
1/2 orange bell pepper, chopped
3-4 eggs scrambled
3 cloves garlic, minced
4 stalks green onion, sliced
10 Brussel Sprouts, cut in halves
red pepper seeds to taste
Soy sauce to taste
Sesame oil to taste
Sea salt to taste
Directions on making Turkey Stir-Fry
Chop up two cups of leftover turkey and set aside. Slice, dice, mince and chop the onions, celery stalks, yellow and orange bell peppers, green onion, garlic, and Brussel Sprouts.
Add two tablespoons of extra virgin olive oil into the Instant Pot and select the Sauté setting, when the oil is hot add the onions and garlic and continue to sauté until the onions are soft and opaque.
Add the Brussel Sprouts and celery and continue to cook for 10-12 minutes, add a pinch of sea salt and freshly cracked black peppercorns.
Next, add the green onions, and the yellow and green peppers and continue to stir until well mixed. Toss in the chopped leftover turkey saute for 2-3 additional minutes.
Spoon the mixture into a large bowl and set aside.
Add the rice to the Instant Pot and add chicken stock until the rice is just covered. Place the lid on the Instant Pot and lock. Select the rice setting and cook for 12 minutes.
While the brown rice is cooking scramble three eggs in a skillet with a tablespoon or two of EVOO, then set aside.
When the brown rice is finished cooking vent the Instant Pot and remove the lid. Fluff the rice with a fork, and add the vegetable and leftover turkey mixture, then fold in the scrambled eggs.
Add the sesame, sea salt, and soy sauce to taste.
Serve.
Tip: You can always substitute the turkey for roasted chicken, or have meatless stir-fry!
Enjoy!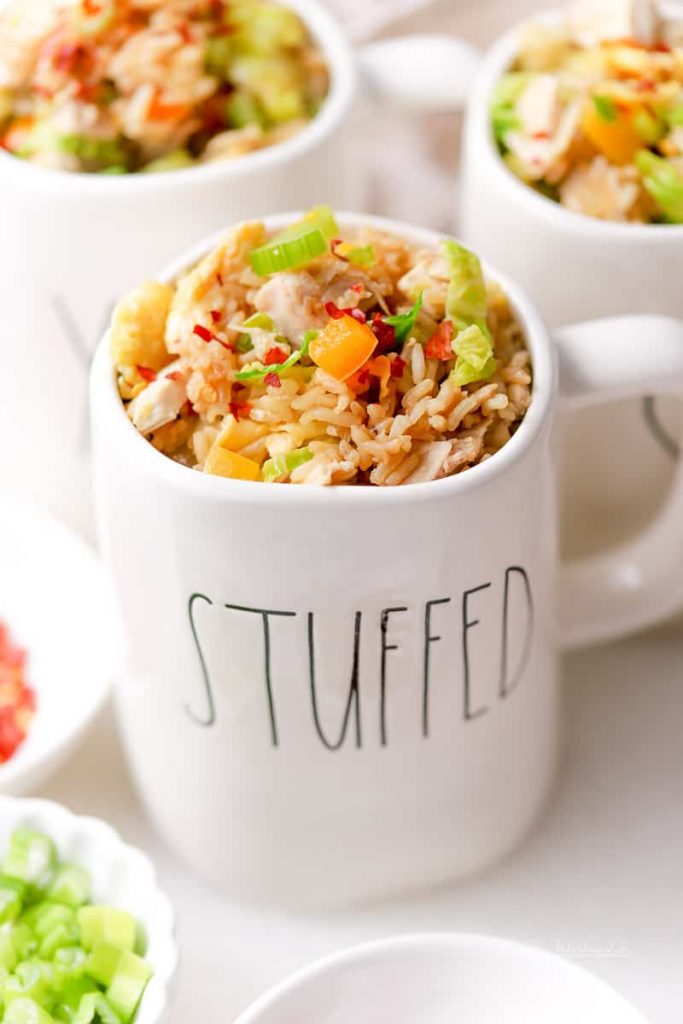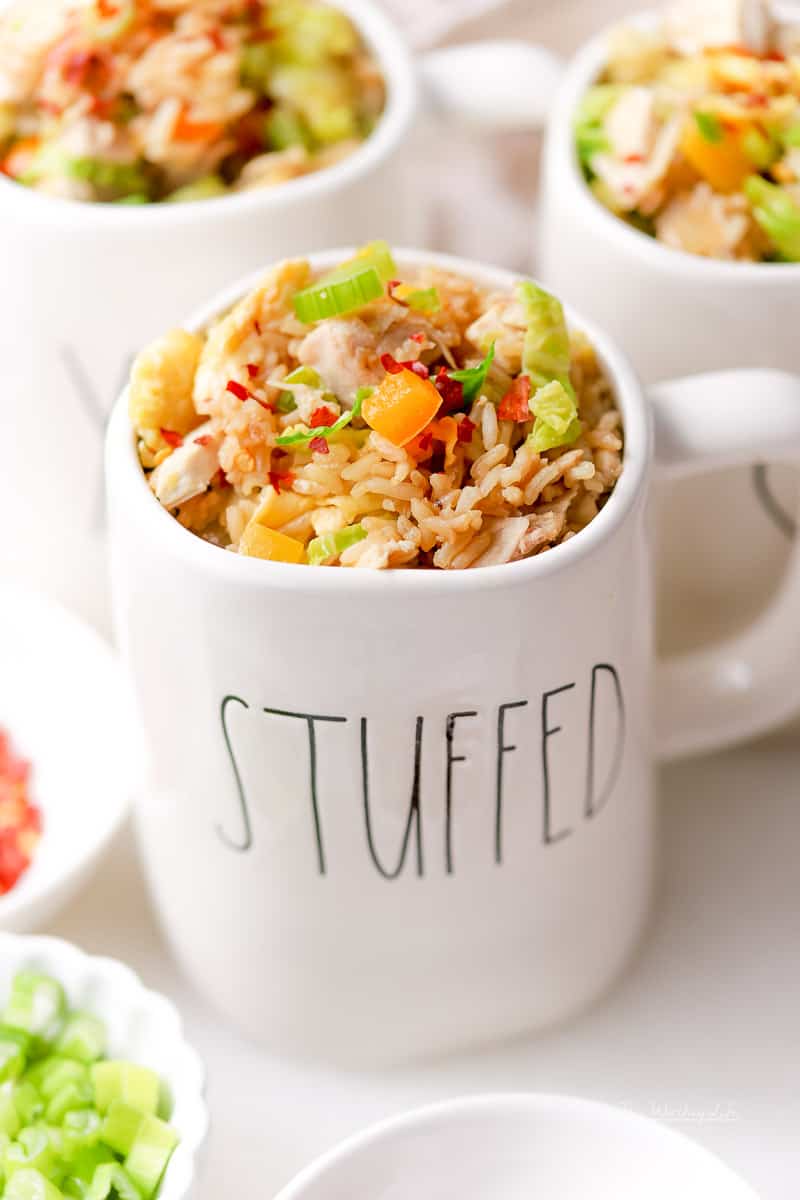 Here are a few more leftover turkey recipe ideas: