Get ready for the Big Game by creating the ultimate, supersize grazing board filled with tasty snacks, fresh fruit, and cheese.
Thank you, Farm Rich, for sponsoring this post. All opinions are my own. Check out their snacks and apps for your game day game plan!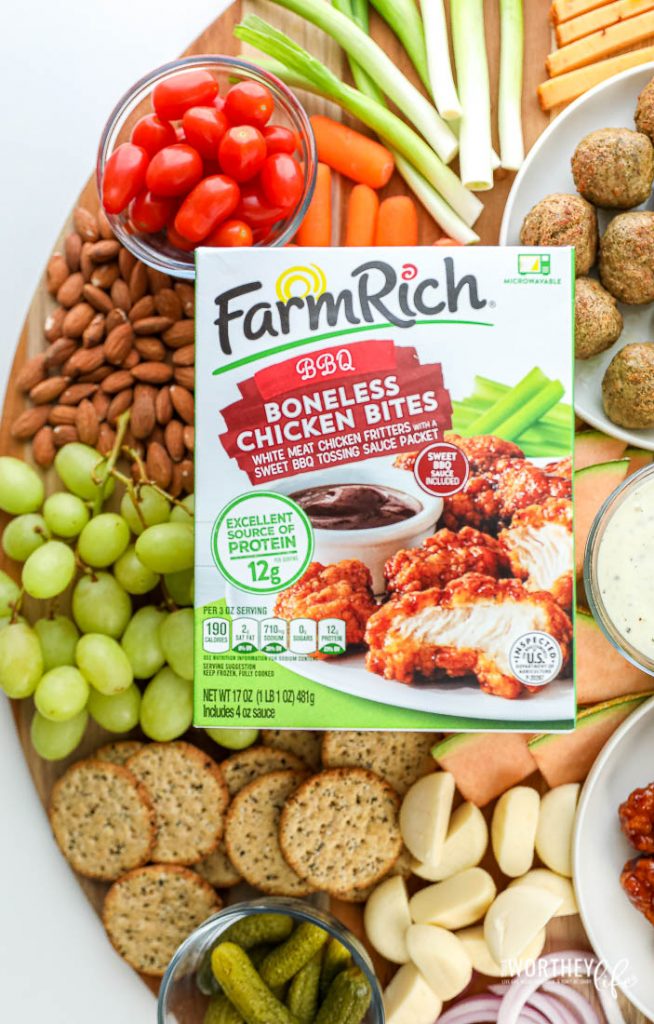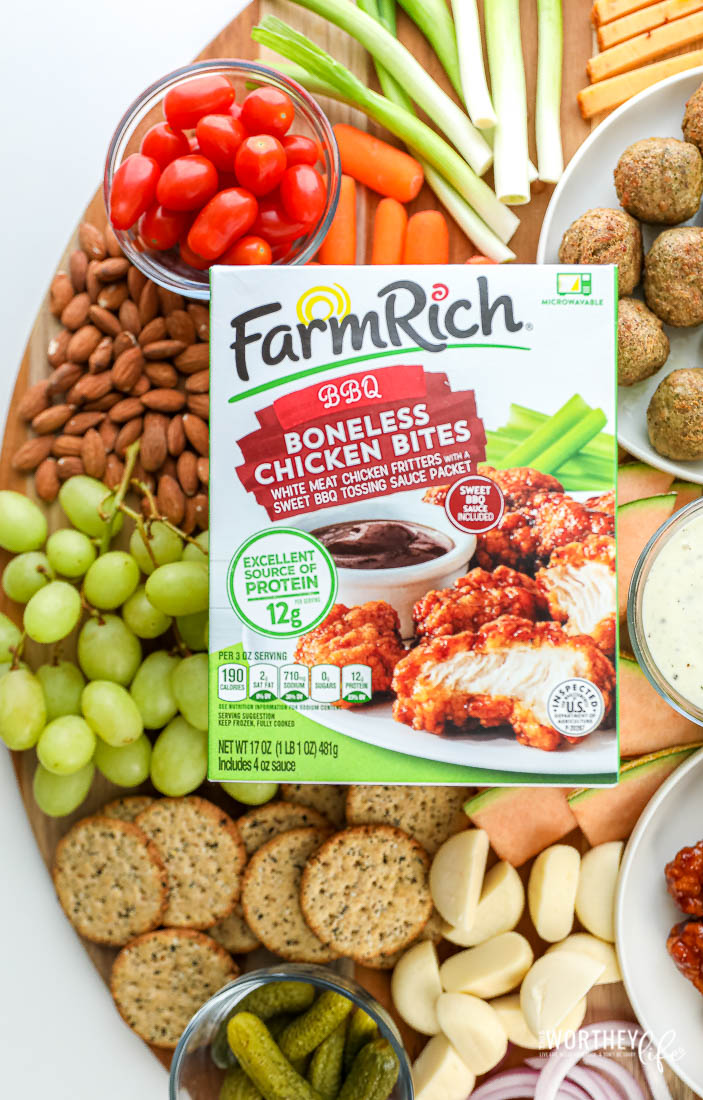 Supersized Grazing Board
I remember when I was a kid, my four brothers and I would watch Sunday football games, and if we were lucky, we had takeout pizza; but more often than not, it would be TV dinners or snacks we would grab from the fridge and pantry. The takeaway: the food is just as important as watching the game; food and sports go hand-in-hand. So, this post is my contribution to all that's good, easy, and convenient when it comes to enjoying delicious food while watching your favorite teams battle it out on the gridiron.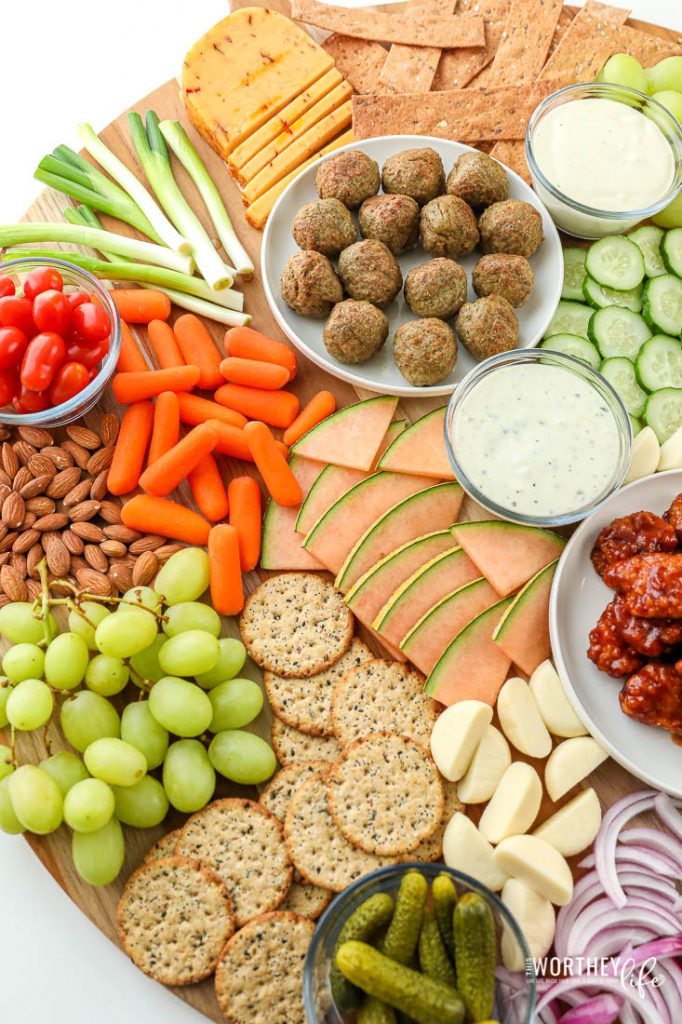 We're kicking off the game-day entertainment with a delicious Super Size Grazing Board with lots of Farm Rich goodness that will score extra points with family and guests.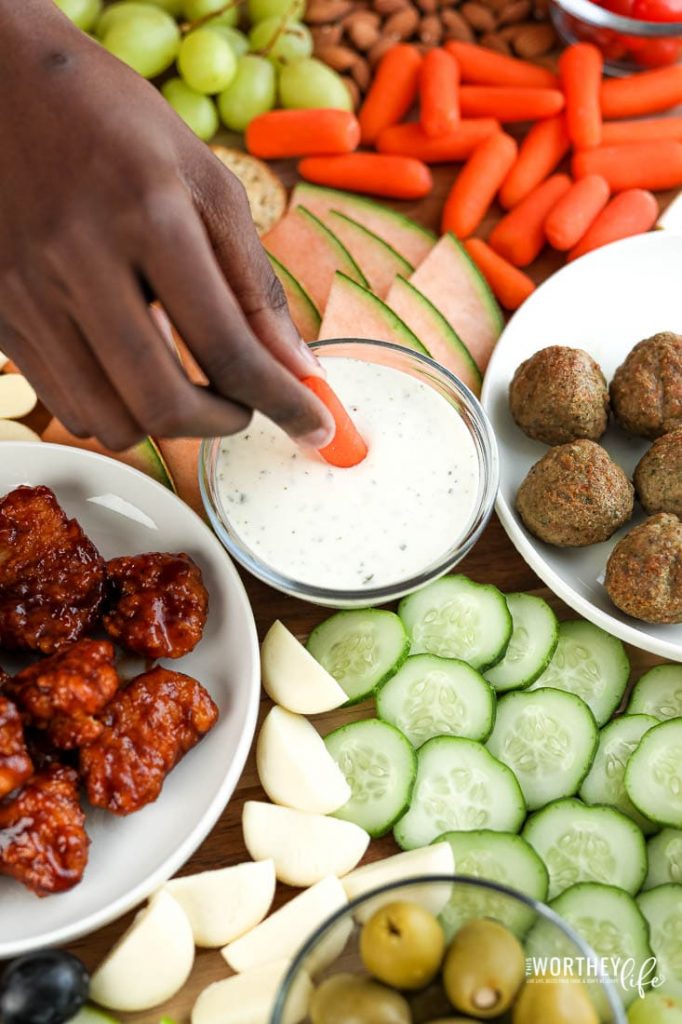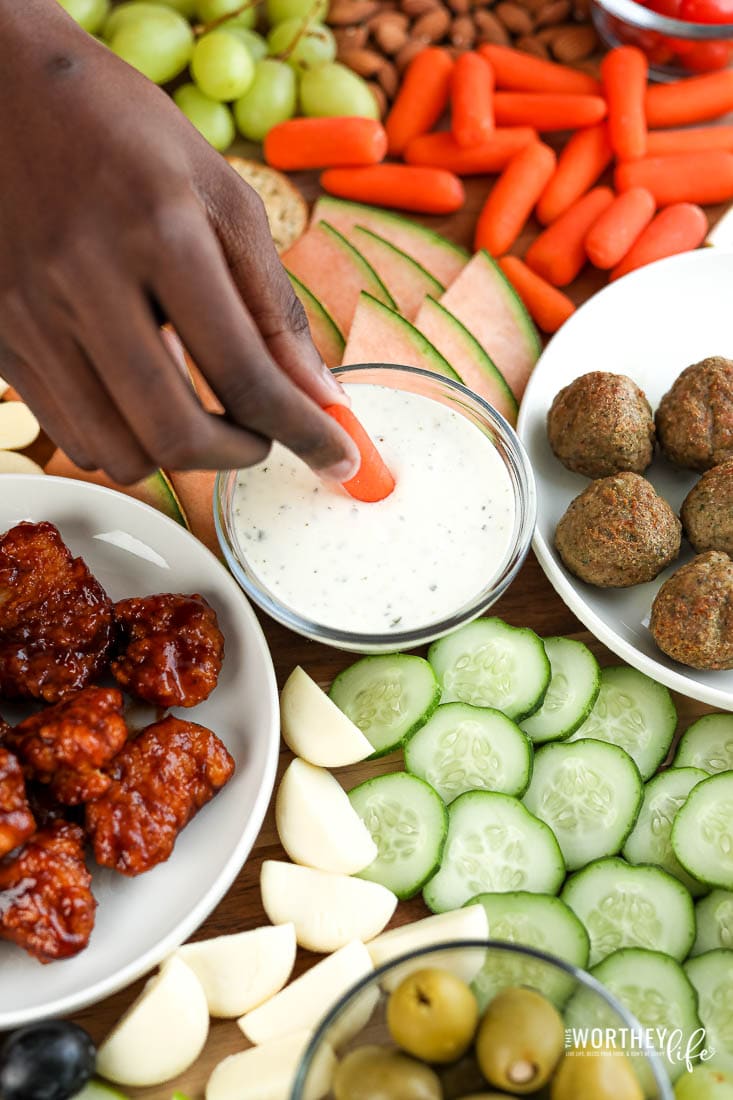 Our boys were pleased with our supersized grazing board; needless to say, no one complained. All we heard was NOM NOM NOM!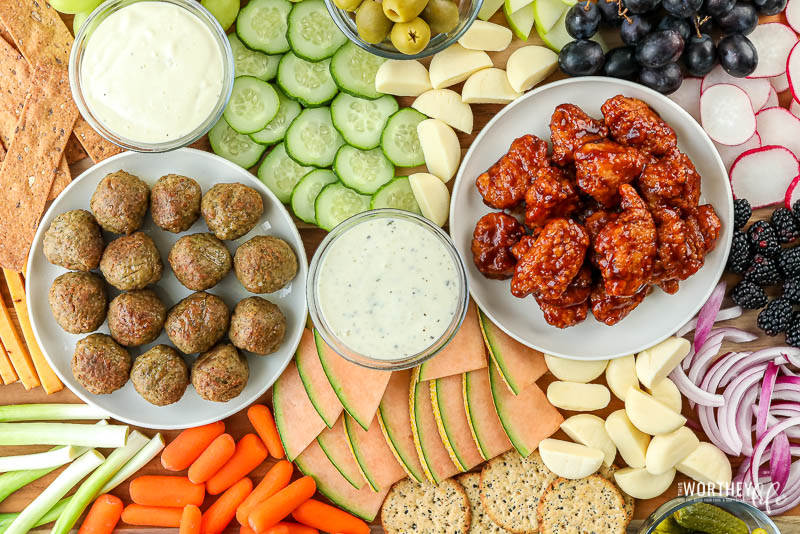 If you are anything like me, game day is a pretty big deal. And although I enjoy watching the game, it's the food that's the MVP! Because when the game goes sideways, it's the good food coming out of the kitchen that will make me forget all about the game.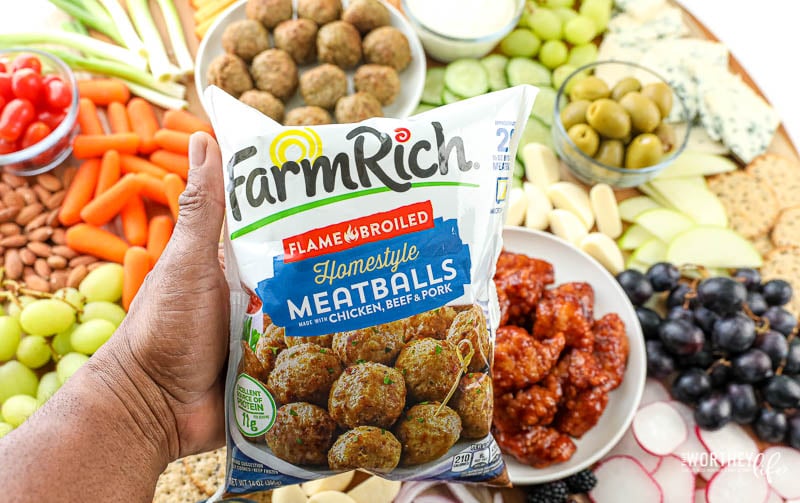 Super Sunday is all about representing your team and snacking like nobody's business. When it comes to game day snacking, Farm Rich has precisely what you're craving. Some of our family favorites are Mozzarella Sticks, Loaded Potato Skins, Jalapeño Peppers, Boneless Chicken Bites, and of course, their savory Homestyle Meatballs. With so many tasty options, why pick only one! I found Farm Rich in the freezer section at my local Kroger!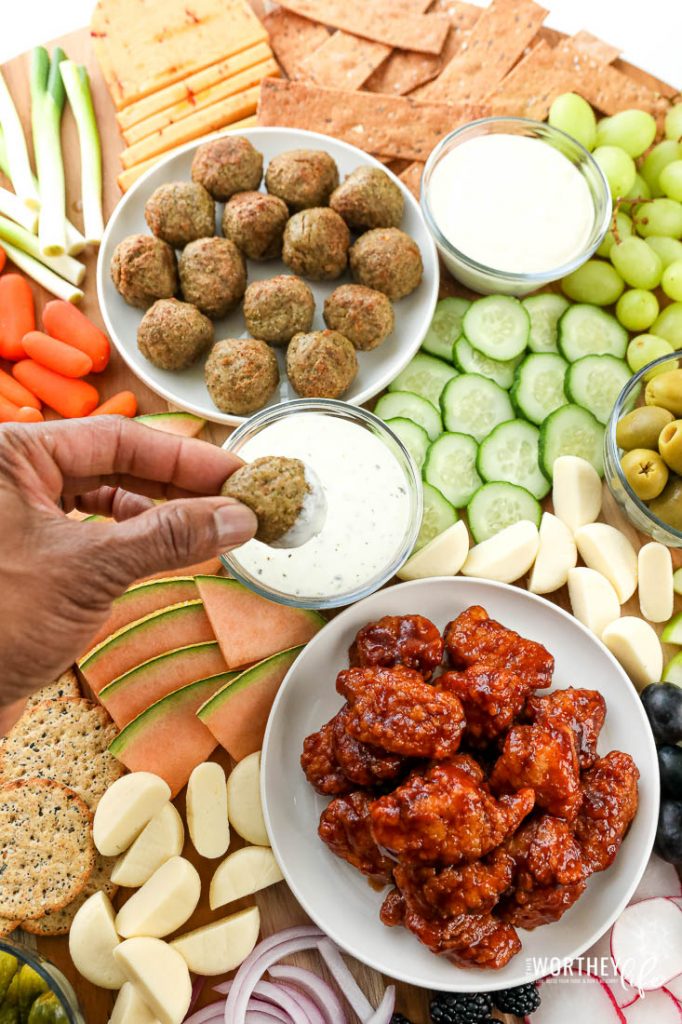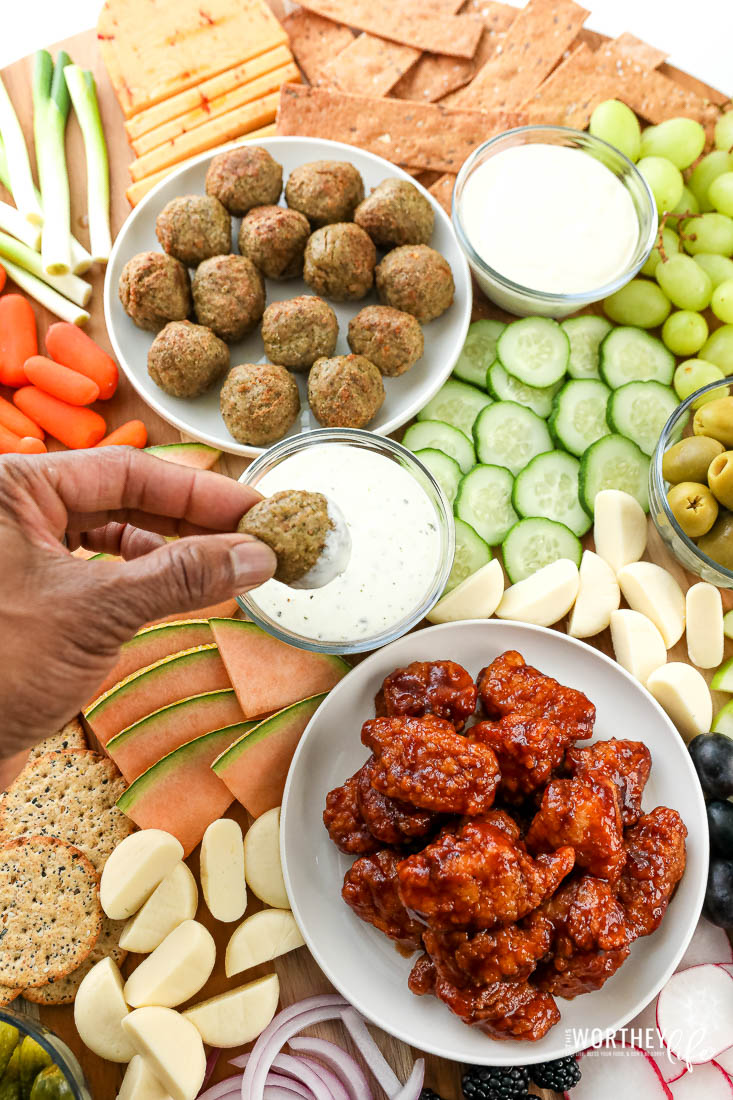 We've partnered with the snack specialists over at Farm Rich, and we're showing you how to put together all the best snacks for your game day get-together. It's really easy to do! All you need to do is add fresh fruits, veggies, tasty dips, an assortment of cheeses, crackers, and last be not least, your favorite Farm Rich snacks. We love Homestyle Meatballs and BBQ and Buffalo Chicken Bites for the win!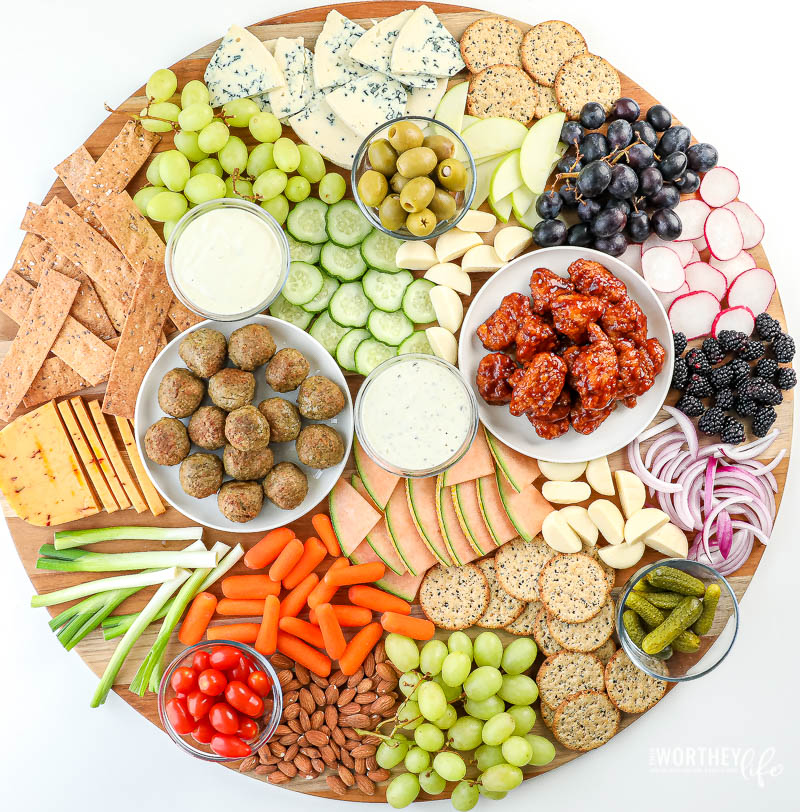 The Ingredients You'll Need To Make This Amazing Grazing Board:
Farm Rich BBQ Boneless Chicken Bites. We're talking boneless white chicken slathered in a sweet BBQ sauce.
Farm Rich Homestyle Meatballs. These aren't just any meatballs. These meatballs are juicy and they're ready in quicker than two shakes of a lamb's tail.
Blue Cheese and Homestyle Ranch Dressings & Dips. What's the point of having snacks if there isn't something to dip them into? The BBQ Boneless Chicken Bites pair great with blue cheese dressing, and the ranch dressing is a match on the foodie line of scrimmage.
Fresh Fruit. For this party-sized grazing board, I used sliced melon, apples, green and red grapes, and blackberries. Use whatever fresh fruits are in season. With the grapes, snip them into bundles of 3-4 grapes for easier grabbing.
Cheese. I stocked this grazing platter with four kinds of cheese: white cheddar, blue cheese, chipotle gouda, and mozzarella. I also love manchego cheese and brie. Psst! The olives I served are stuffed with brie, how cool is that?
Crackers. I grabbed two types of crackers for this spread; a multi-grain cracker and a thyme sun-dried tomato cracker. Also, keep extra crackers on hand, because with large crowds, they'll run out fast. So fancy!
Almonds. Almonds go well with all of the players here, but feel free to add any variety you love. The more nuts the…nuttier? Yeah, let's go with that.
Veggies. Use whatever vegetables you want. For this grazing board, I used cucumbers, carrots, red and green onion, cherry tomatoes, stuffed olives, sweet pickles, and radishes. Wait, aren't olives technically a fruit? Oh well, today they're a vegetable.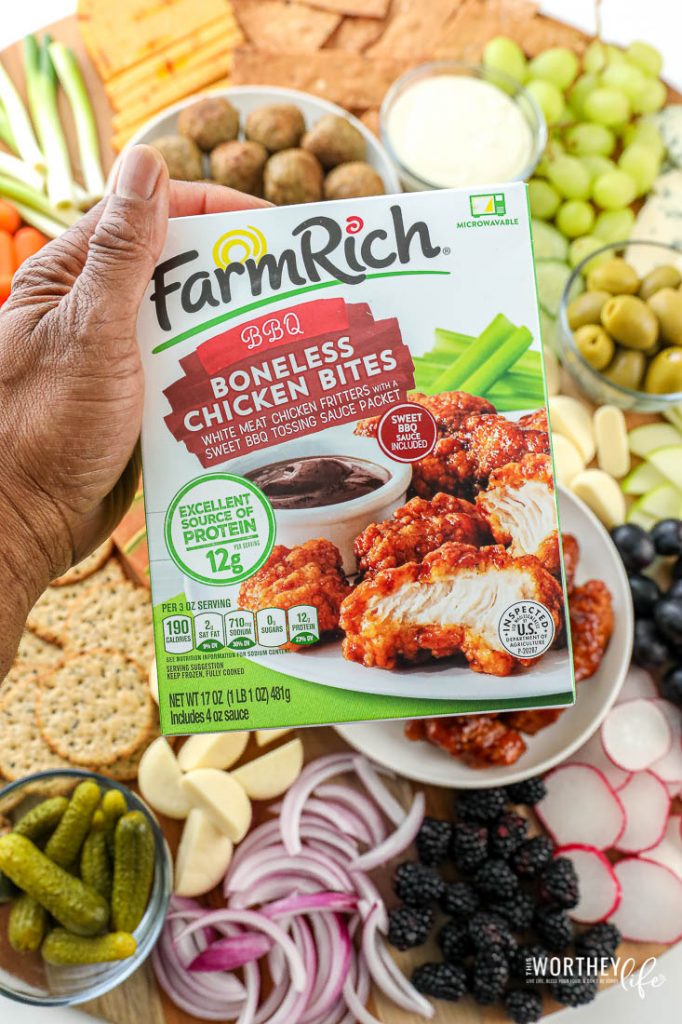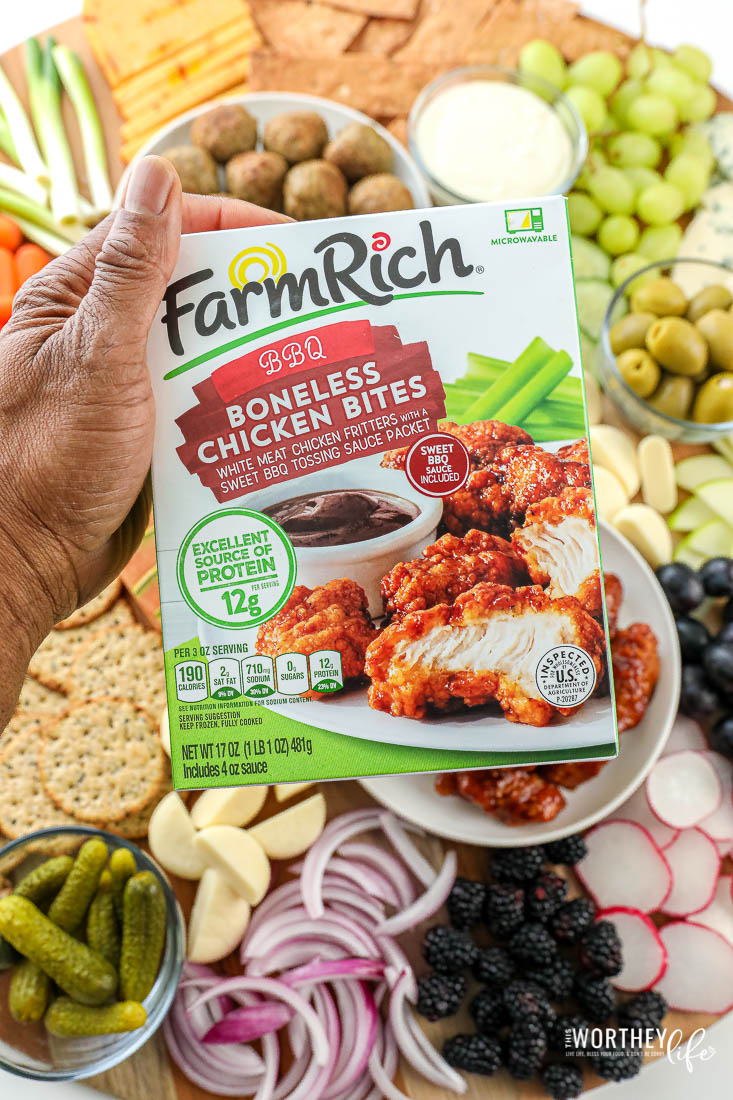 Farm Rich makes entertaining easy, and they make everyday moments delicious with quick 'n easy snacks, appetizers, and meals. We don't have time to make everything from scratch, so adding Farm Rich to our snack line-up is a great way to spend more time watching the game and enjoying time with the family. You can head over to their website to find more game day snack and recipe ideas.
You Will Love This Super Grazing Board Because It Is:
Easy
Delicious
Accessible
Finger Food Galore
Has A Variety Of Options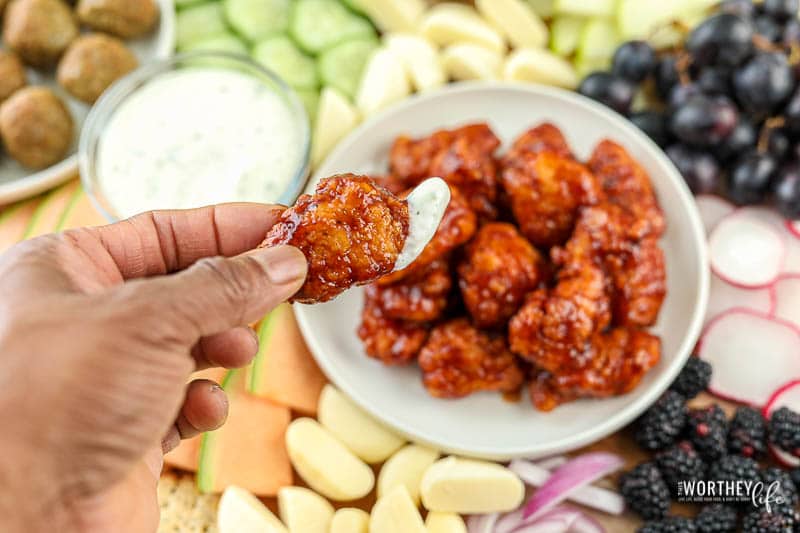 Now that I've shown you how to put together the best grazing board this side of a game day snap, nothing is stopping you from grabbing your favorite Farm Rich snacks, along with the rest of the ingredients, and building a snack board you and your family will love! And what I love about making grazing boards (aka cheese boards aka charcuterie boards) is they're entirely customizable. Start with one or two items from each category (i.e., meats, cheeses, nuts, veggies, crackers, sliced slices of bread, and spreads and dips, etc.), then multiply the amount depending on the size of the crowd you're expecting. How easy is that? Very!