I love snuggling up at the end of the day with someone nice and warm. I prefer the Mrs. for such unscheduled snuggle sessions. But do you know what's even better? Well, I'll tell ya'. Adding our Adult Whiskey Hot Chocolate as a great nightcap makes it all better. We all know "adulting" can be a rough row to hoe at times, and us adults need to have easy access to whatever it takes to make it all better. And one of the ways to make winter time better, and bearable is relaxing with a combination of a favorite childhood treat with a bit of adult hot toddy fun! I mean it is cold winter sweater weather season afterall, and I love making quick and easy delicious hot cocktails to share with the Mrs. after a long crazy day!
Sweater Weather Whiskey Adult Hot Chocolate
There are a few thing to look out for in the Midwest that'll let you know winter is here. Surprisingly, December 21st isn't always an indication either. Concerning the weather though, residing in the Midwest is a crap shoot. Particularly here in Michigan, we are not at all surprised by what the weather is or isn't doing on any given day. Our weather can be summed up in one word, fickle. But our Sweater Weather Whiskey Adult Hot Chocolate is one thing you can rely on to ward off those bone-chilling shivers. It's easy to prepare and delicious. Winning!
Now that the cold weather is here you gotta, out of necessity, prepare for it. And one cold-weather staple for cold weather survival is a nice piping hot cup of hot chocolate with a Lil' something extra thrown in to warm your chilly soul.
This hot chocolate creation is custom-made to ensure maximum comfort
Into our hot chocolate cup, I poured a liberal dram (1 ounce) of Jack Daniel's Tennessee Fire Whiskey. And befitting the time of year we invited Fulton's Pumpkin Pie Liqueur (2 ounces) to join the party. The hot chocolate was equal parts whole milk whole and heavy cream (1/1 cup), a tablespoon of sugar, and two (2) ounces of chocolate syrup. Combine ingredients and mix well.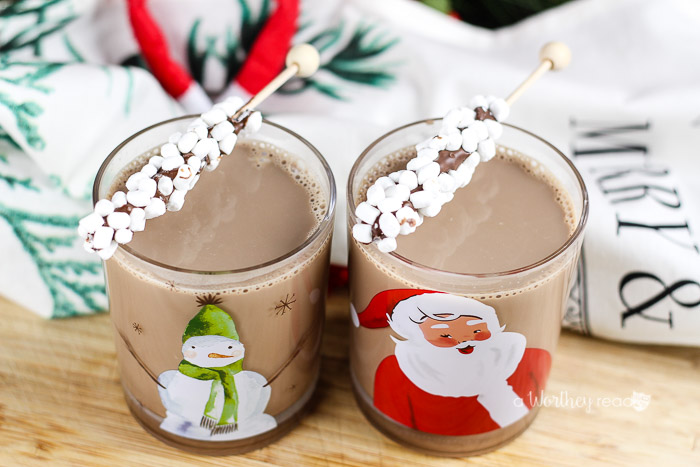 And look who showed up at our little hot chocolate party. It's Jacob and Madelaine! Our little shelf elves arrived a little early this year; maybe it's because Tatanisha started playing Christmas music super early, like two-weeks before Thanksgiving, she's absolutely mad! It is always interesting around our house upon the arrival of our little elf friends. But you know what? Elfie hasn't arrived yet. Hmm? I wonder where he is? Okay, let's get back to the hot chocolate business because that's kinda a priority, right?
Alright. Are you ready to make some hot chocolate? I know I am. Check out the complete recipe ingredients and directions below.
Ingredients:
*This recipe makes two mugs of Sweater Weather Whiskey Hot Chocolate.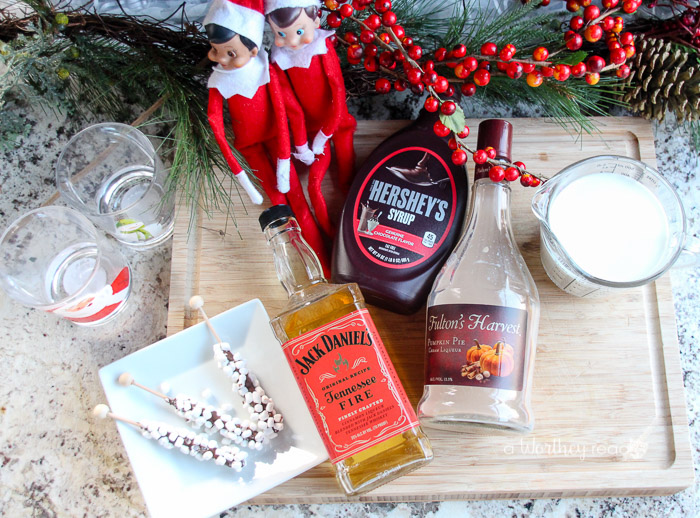 Hot Chocolate
2 cups whole milk
2 cups heavy cream
1 tablespoon sugar
4 ounces milk chocolate
toasted marshmallows
finely grated Mexican chocolate
*For a non-alcoholic go no further (just use the ingredients for the hot chocolate)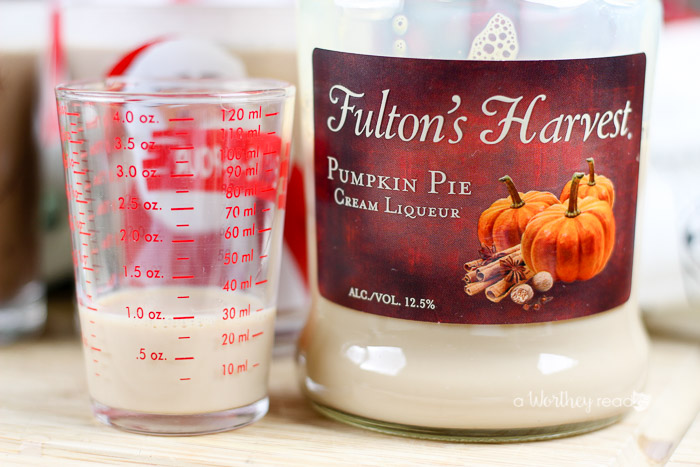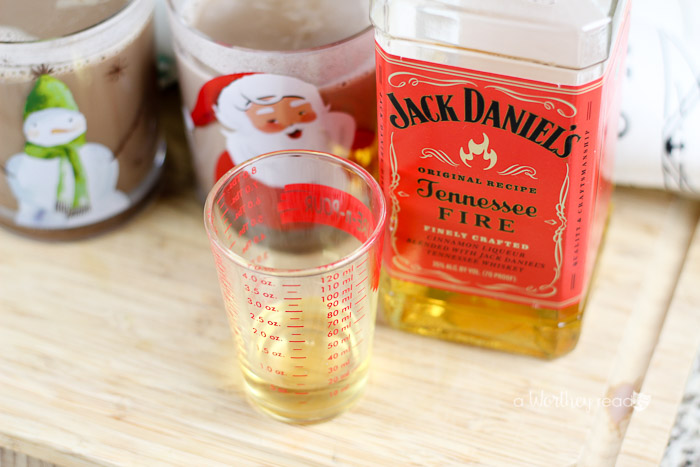 Directions:
In a saucepan over med-low heat add whole milk, heavy cream, and milk chocolate syrup. Stir is ingredients with a wire whisk until the hot chocolate begins to steam and just begins to bubble. Turn off the heat source and cover with a lid. Set aside.
Into a two mugs add one (1) ounce of Jack Daniel's Tennessee Fire whiskey and two (2) ounces of Fulton's Pumpkin Pie Liqueur. Mix well.
Until each mug pours two cups of hot chocolate. Stir well and top with roasted marshmallows or just add a cool little marshmallow and chocolate stir sticks. We got 'em at Home Goods.
Serve and enjoy.
Drinking and driving isn't cool. Make sure to drink responsibly, and then you'll be very cool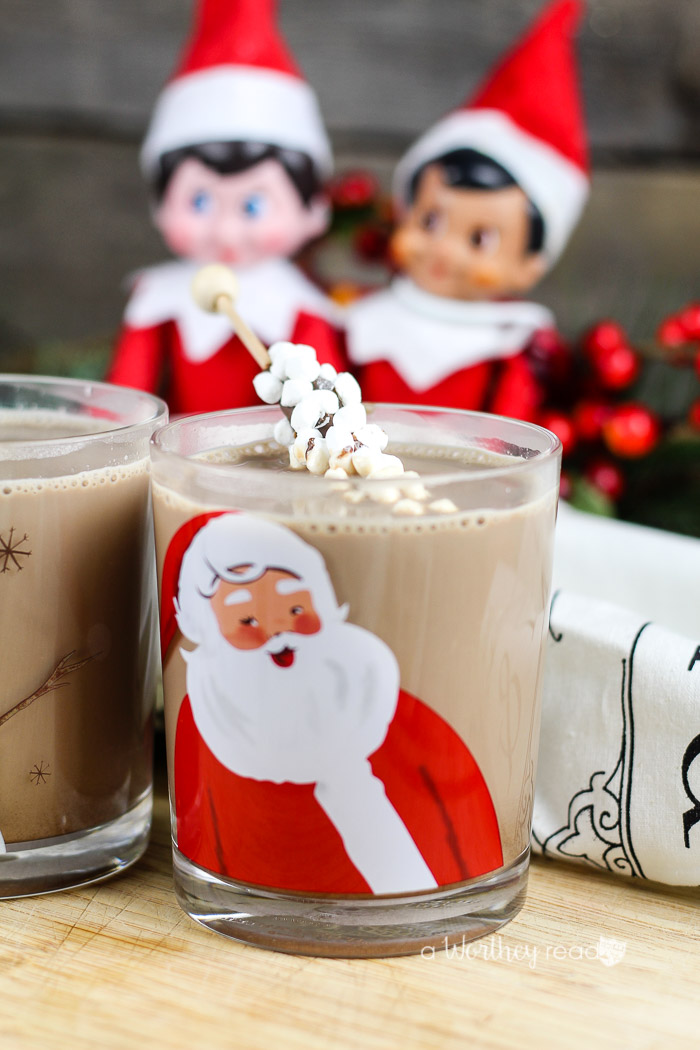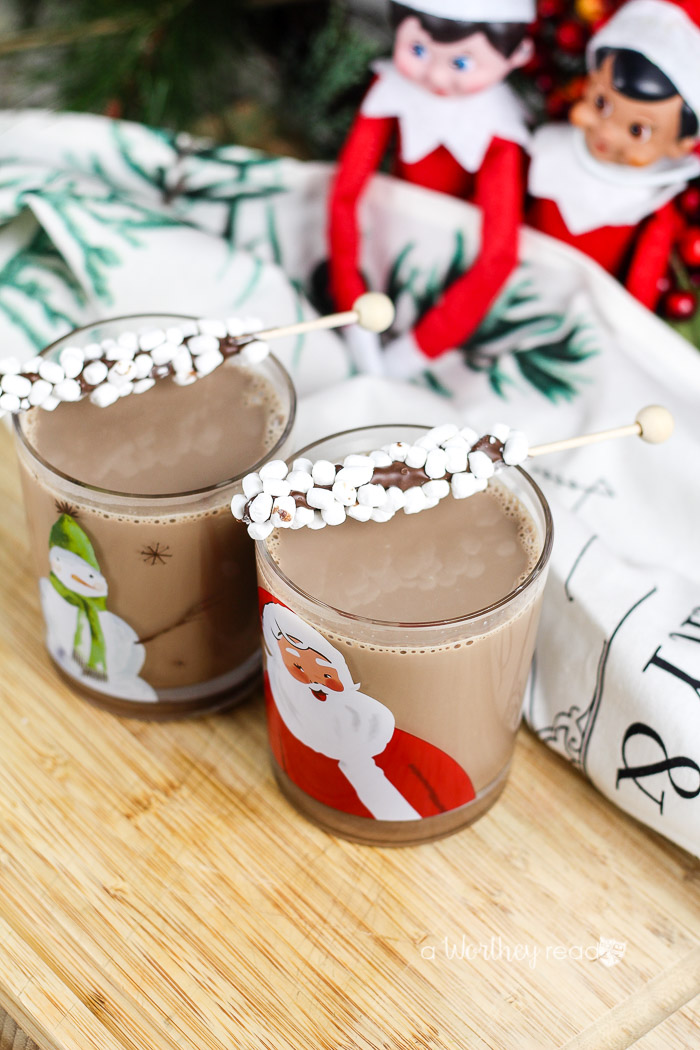 Make this Whiskey Adult Hot Chocolate for a wonderful way to end a cold winter day. A fun whiskey nightcap can also double as a great dessert!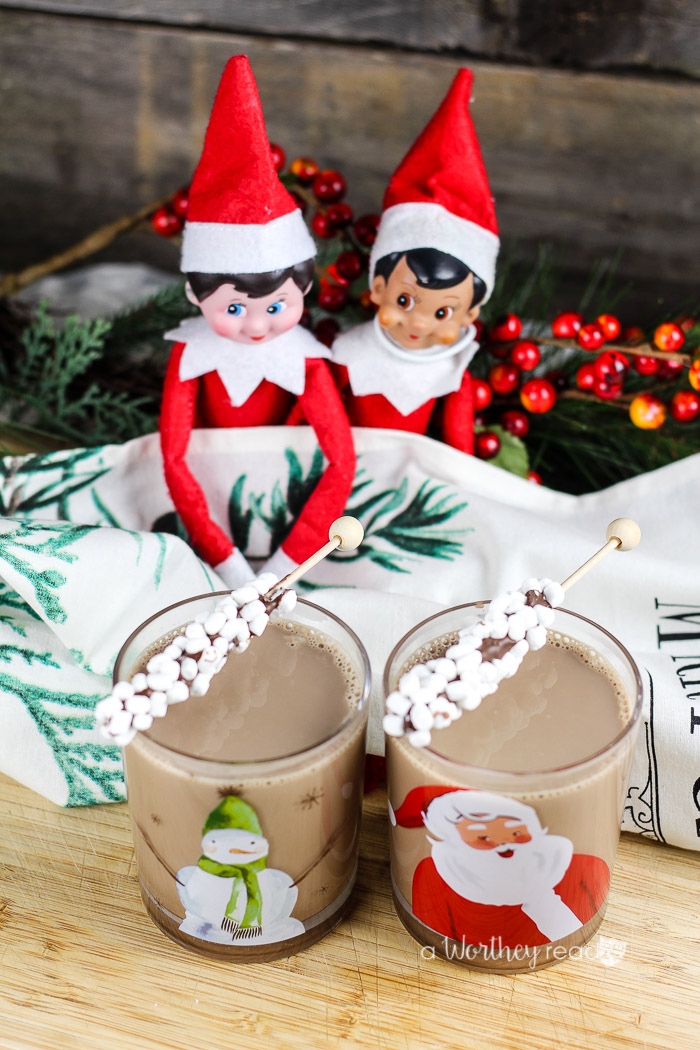 More Hot Chocolate Recipes: