It's Teacher Appreciation Week! Find heartfelt teacher appreciation gifts to give to your child's teacher shared below.
This list includes gift ideas of what teachers want.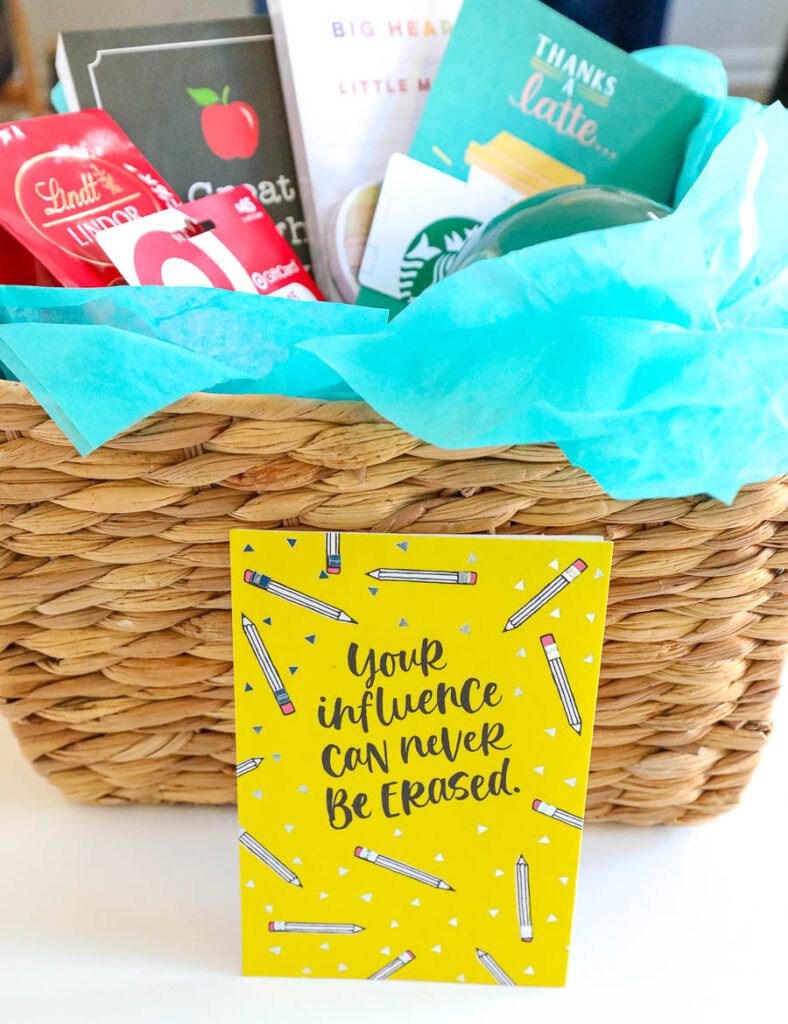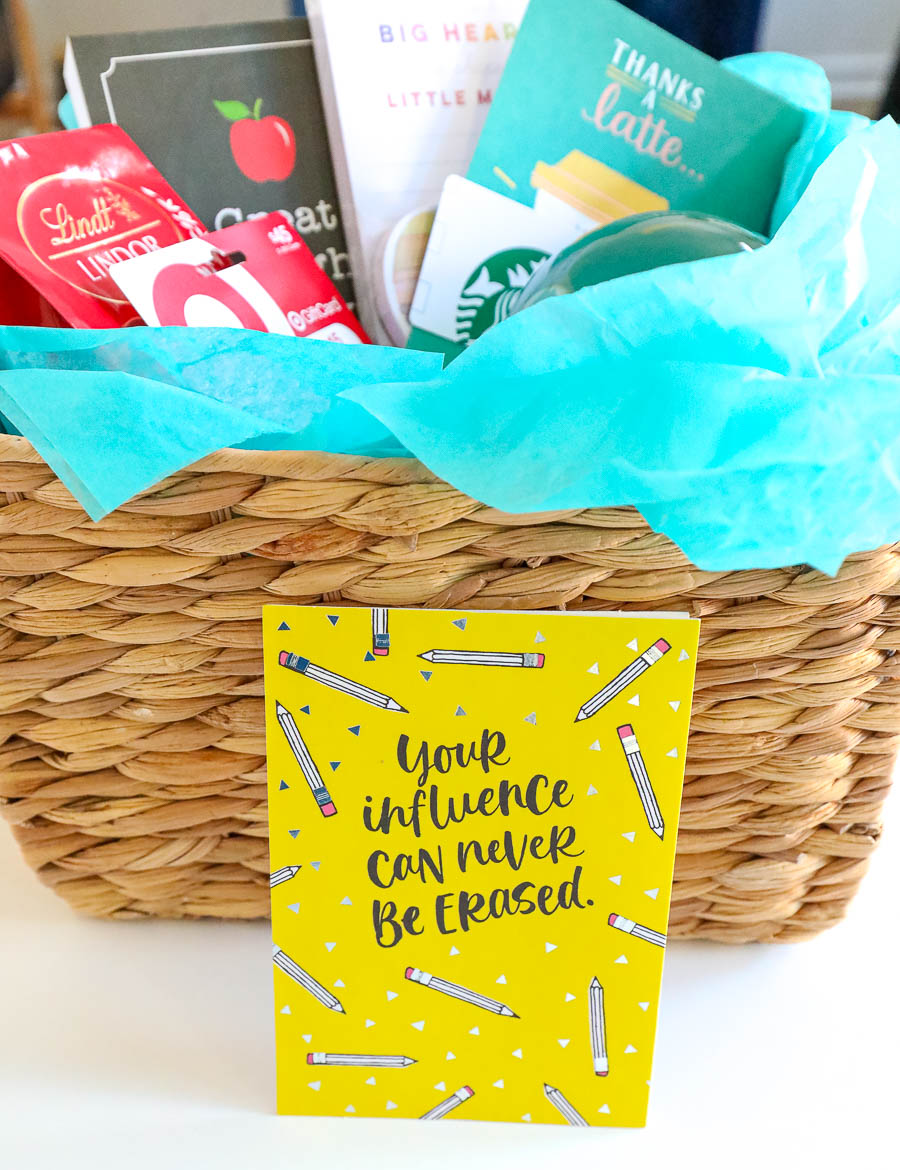 20 Heartfelt Teacher Appreciation Gifts To Show Your Support in 2023
Teacher Appreciation Day 2023 is just around the corner, and if there was ever a year that our country's teachers needed a little extra love, it's this year!
These past few years have been anything kind to the hardworking men and women in education.
They've endured a global pandemic, mask mandates, remote and hybrid teaching, and enough hoop-jumping to qualify for a three-ring circus.
We're only a few days away from May 9th, but there's still time to pick up a few heartfelt teacher appreciation gifts to show your support for everything educators do for our kids.
What do teachers want for a Teacher Appreciation Gift?
I reached out to several of my teacher friends to find out what teachers REALLY want as a teacher appreciation gift or an end-of-the-school gift idea.
This list of goodies is perfect for all grade levels, and feel free to combine items for something extra special!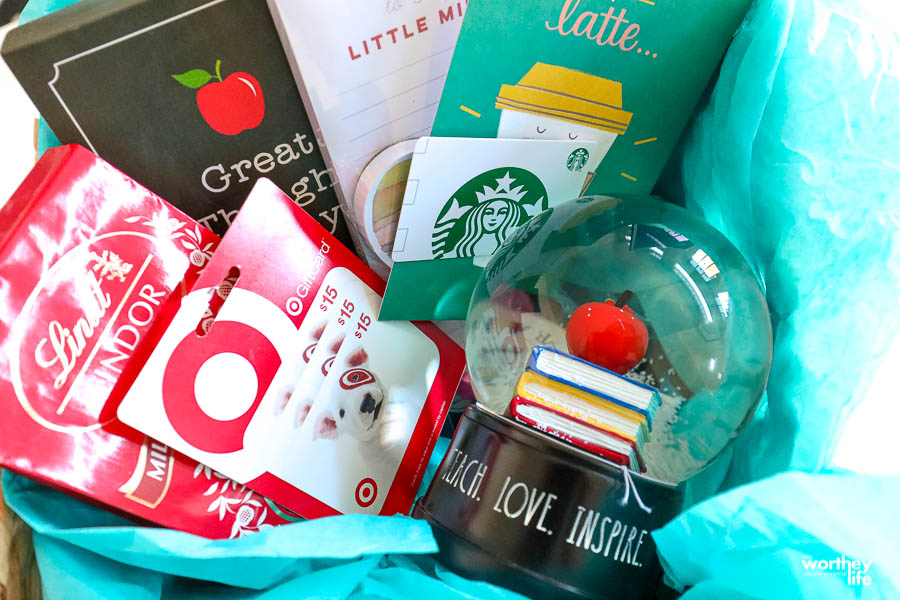 Best Teacher Appreciation Gifts for 2023
Gourmet Sweet Treats
Nothing says "Thank you for putting up with my child" like a box of gourmet treats. If you have a favorite baker or chocolatier in your neighborhood, take the opportunity to support small businesses and purchase your gift.
You can also pick up a box of Godiva chocolates from your local grocer and pair it with a thoughtful card!
If you're in the Lansing area, Sweet Encounter Bakery is the place to order Teacher Appreciation goodies.
Classroom Supplies
Almost every teacher I've ever known (including my mom, a former high school teacher) has invested hundreds – sometimes thousands – of dollars in supplies for their classroom.
So here's your opportunity to put together a gift box of items they need or get together with other parents to purchase new tech or other high-ticket supplies they've been unable to get because of budget restrictions.
One teacher friend shared this idea with me. "All of my parents from my classes pitched in to purchase me a new iPad because my personal one died. I use that iPad to infuse technology into the classroom and give students instant feedback as I move around the classroom. In essence, the iPad released me from being tethered to the desk."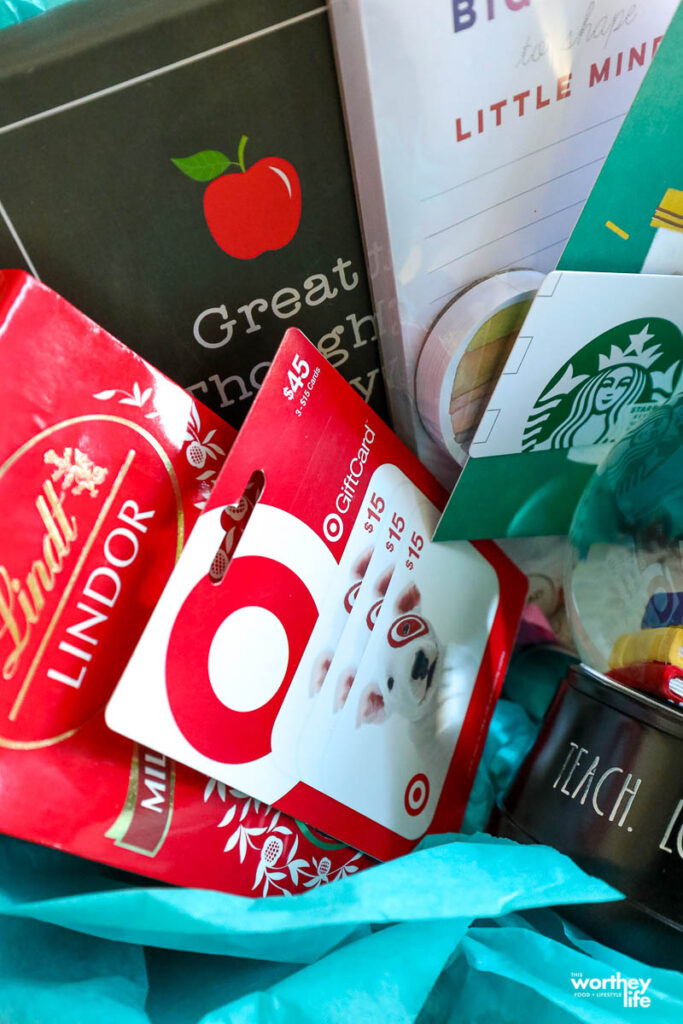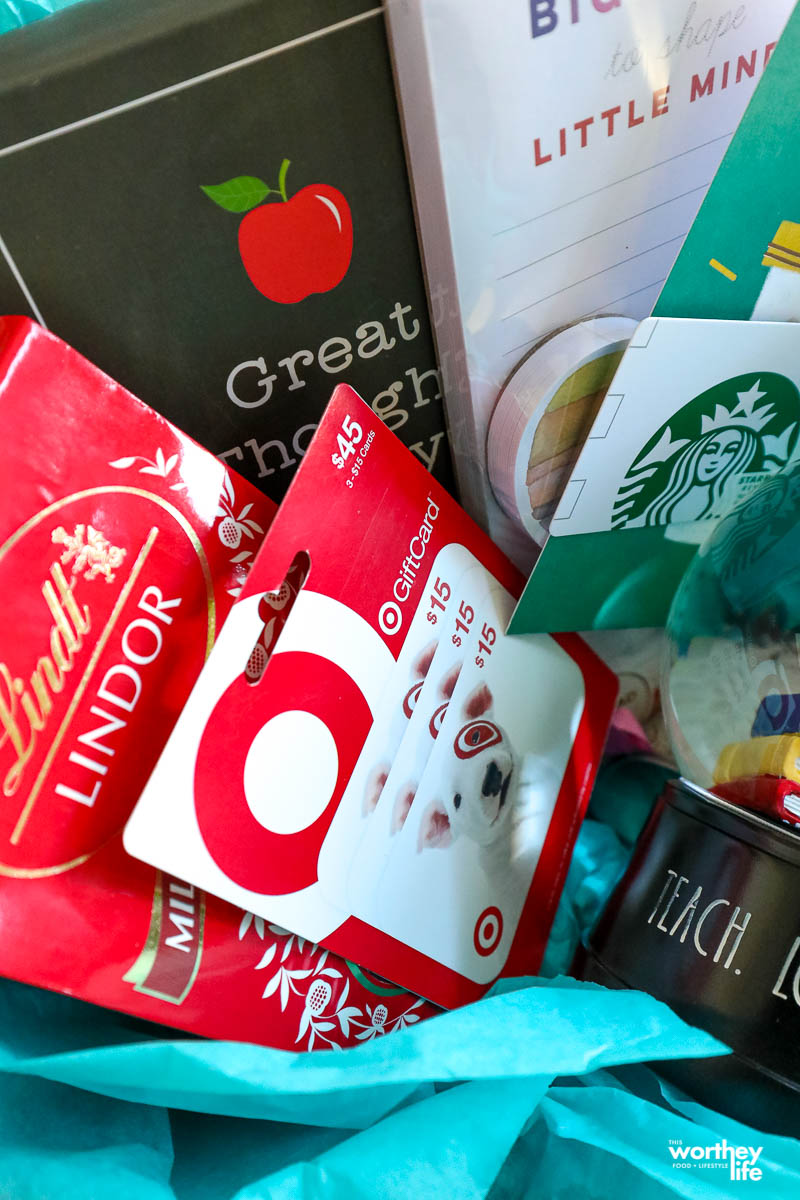 Gift Cards
Teachers love gift cards of all sizes, and here's your chance to give back to them for the countless hours and – knowing my sons – infinite patience they've put into their classes!
Enlist your child's help in picking out a gift card that matches their teacher's interests.
Here are some popular gift cards for teachers:
Starbucks (more than one teacher mentioned this)
Dunkin Donuts
Barnes and Noble
Walmart
Target (more than one teacher mentioned this)
Local restaurants
Local spas
Amazon
Michaels
Marshalls
Old Navy
If you're unsure what kind of gift card to give, you can always purchase a Visa or Mastercard Gift Card instead. That way, they can use it wherever they like!
I love the idea behind this adorable book. Your child fills in the blank on each page and can customize it for their favorite teacher.
The book itself is on the smaller side, so this might be a great teacher appreciation gift from older elementary to high school-aged kids.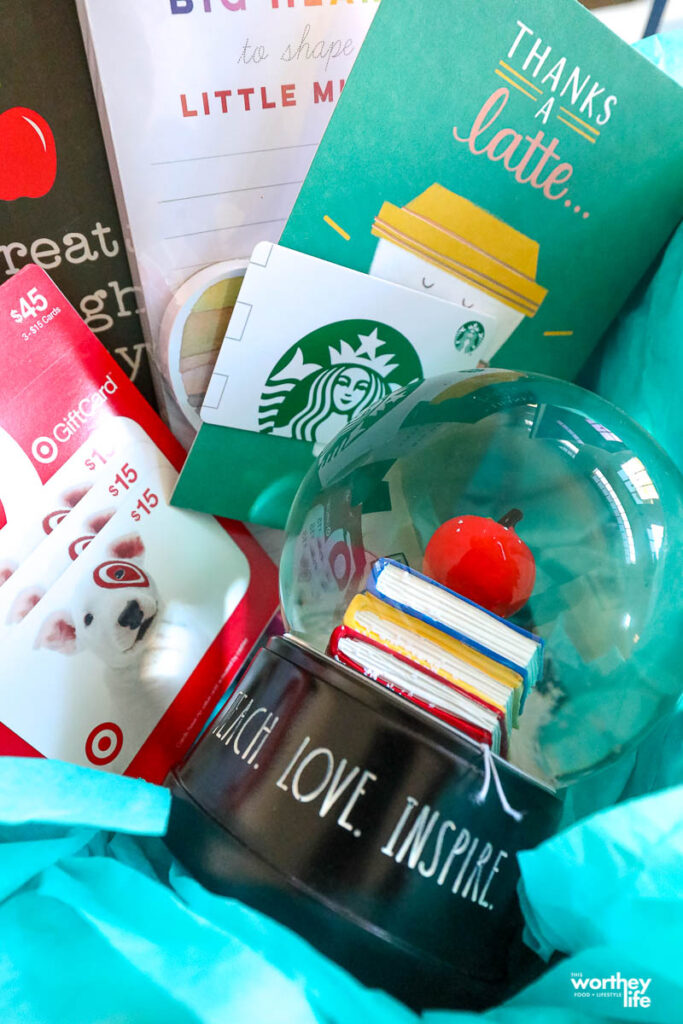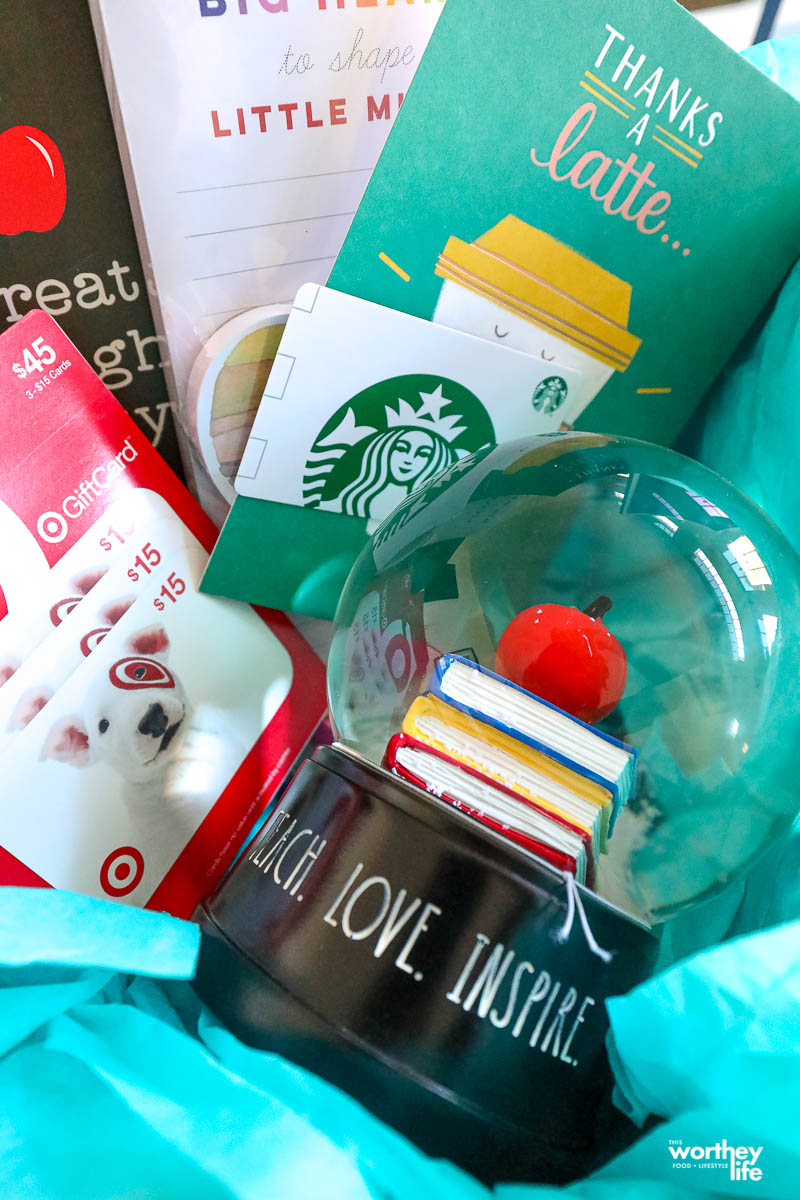 DIY Teacher Appreciation Gifts
I always enjoyed receiving handmade teacher appreciation gifts from my students, especially when they proudly told me that they made them by themselves.
If you have spare time this weekend, creating a DIY teacher appreciation gift with your child (or having them do it themselves) is an excellent way to show you care.
When I think of the teachers who have bus duty in the frigid Michigan winters here, it makes me want to give all of them endless cups of hot cocoa.
This luxurious set of hand cream is probably more practical, though!
Coffee Mug or Thermos
A cute coffee mug or thermos is one of those quintessential teacher appreciation gifts that you can't go wrong with.
Whether your child's teacher drinks coffee, tea, or soda, something like a Yeti Rambler will be a crowd-pleaser every time.
You can go a step further and fill it with chocolates, post-its, and pens.
Potted Plants or Flowers
Give your child's teacher the gift that keeps on giving with a potted plant or flower. Many educators bring plants into their classrooms for their calming effect and also to add a bit of color. I recommend going with a hardier variety, such as a succulent if they don't have a green thumb.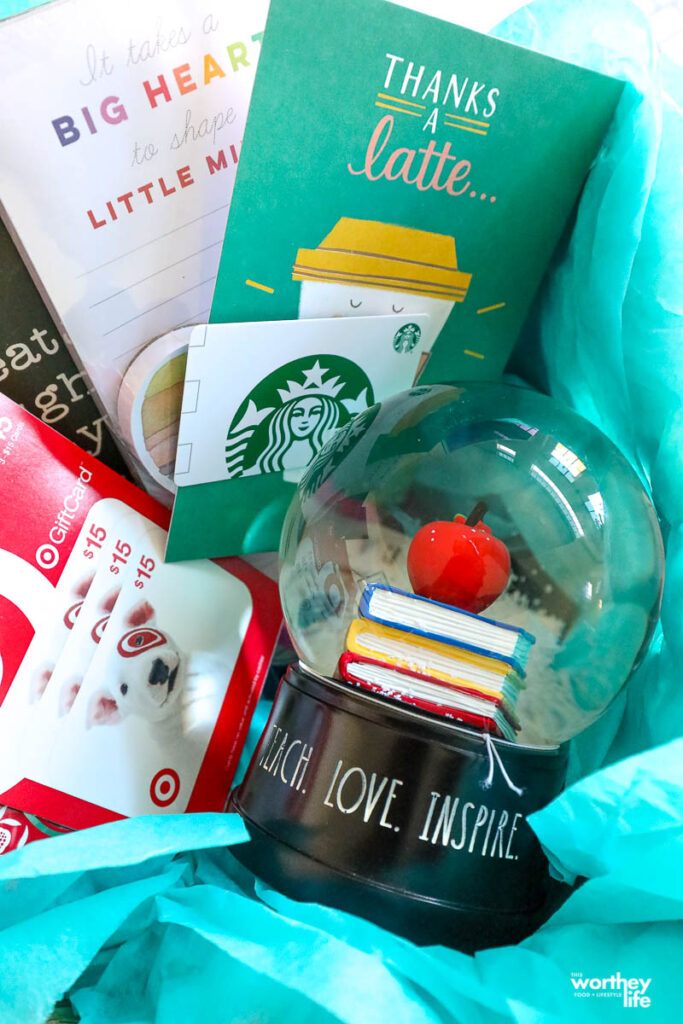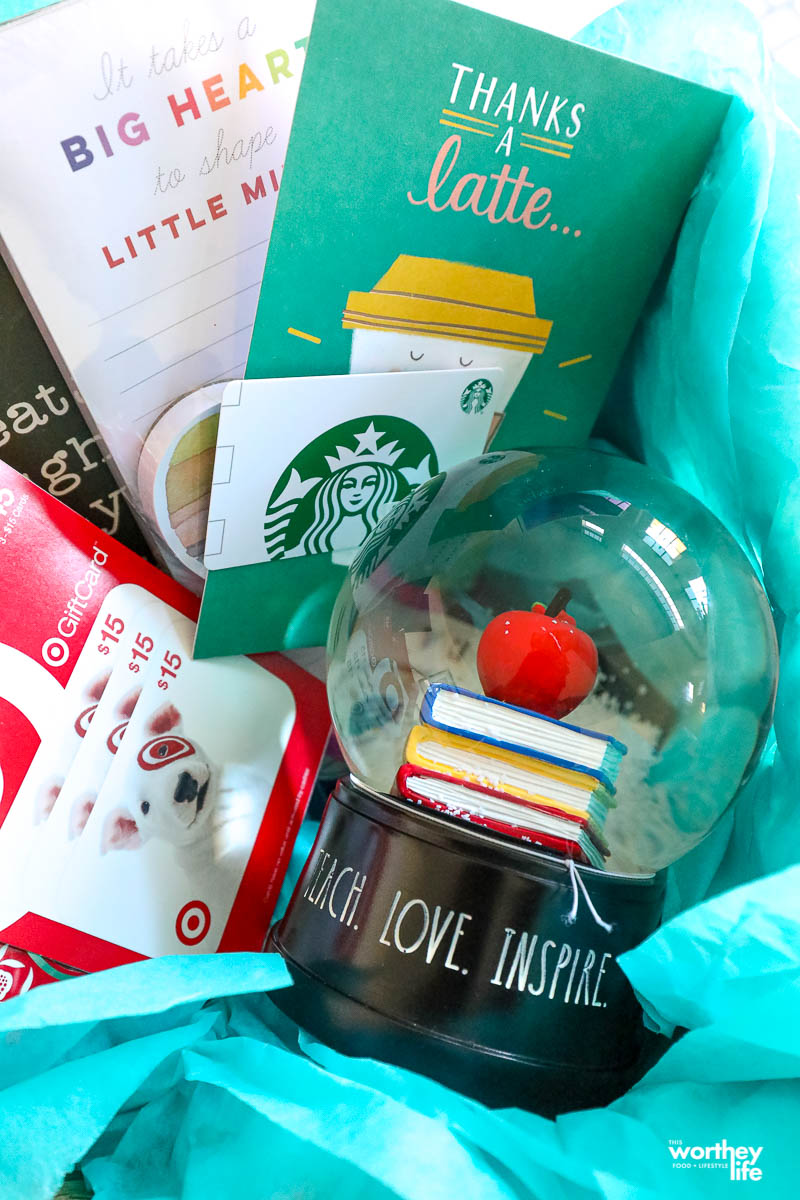 Journal and Pens
I'm not saying that ALL teachers have a weakness for journals, but I've rarely met one who didn't have a few floating around their desk. The flair pens by Papermate were mentioned more than once as a teacher's fav!
I can't turn down a journal with a pretty cover, and you have to admit it; they're useful! I especially love this Daily Doodle Journal by Spike Maguire.
Wellness Planner
Given the stress that the past few years have put on teachers, it's likely that the one in question might be in dire need of some relaxation (and maybe a few cocktails).
Teachers Pay Teachers is a phenomenal resource for additional educational materials and resources for teachers, and most educators pay for these out-of-pocket.
However, you can now purchase gift cards on TPT's website, print them out, and make any teacher's day.
Teacher Appreciation Gift Box
If you're searching for a unique gift for teachers, how about this teacher appreciation gift box? Each one comes with an adorable succulent, scented candle and colorful matches.
You can also choose from a wide variety of add-ons for extra customization. This gift box is beyond cute, and you can even send a personalized note.
Gift Card Coupon Book
We know that gift cards are the perfect teacher appreciation gift, so why not take it one step further and create a booklet of gift cards for their favorite places?
You can print out these colorful gift card printables, pool your resources with a few other parents, and make your teacher's day.
Every teacher needs daily encouragement, but that doesn't always happen, especially during more hectic times.
These teacher affirmation cards are the perfect solution for when they need uplifting words in the middle of a crazy school day. It won't remove the pencil from the ceiling, but it will offer a few seconds of clarity!
Jewelry
If you want to give an extra special teacher appreciation gift, jewelry is always a nice option.
A simple necklace like this one has a heartfelt message and is versatile enough to go with many different outfits.
I recommend making sure the jewelry is hypoallergenic if possible, and it's always a good idea to find out if the teacher's ears are pierced before you purchase any earrings.
Scented Candles
Another fail-proof teacher appreciation gift is a smell-good candle, and there are so many different kinds to choose from!
Some of my favorites are these Sweetwater Candles which come in several fabulous scents.
I also chuckle every time I see these funny Teacher's Last Nerve candles on Etsy.
I think every educator can relate to that one!
Writing Utensil Gift Box
Keeping enough writing utensils in the classroom is undoubtedly the bane of every teacher's existence, so why not solve that problem for them?
Fill a cute gift box with No. 2 pencils, Sharpies, dry-erase markers, and plenty of flair pens.
It might not completely solve the problem, but it may get them through the rest of the school year!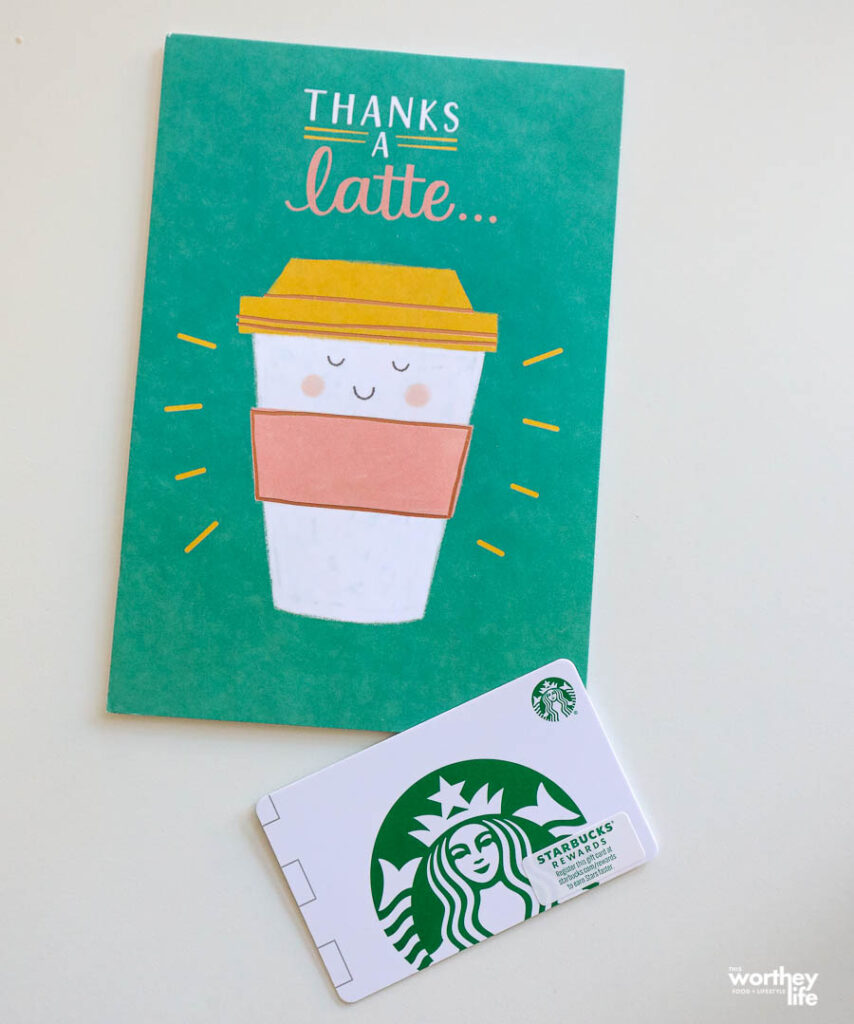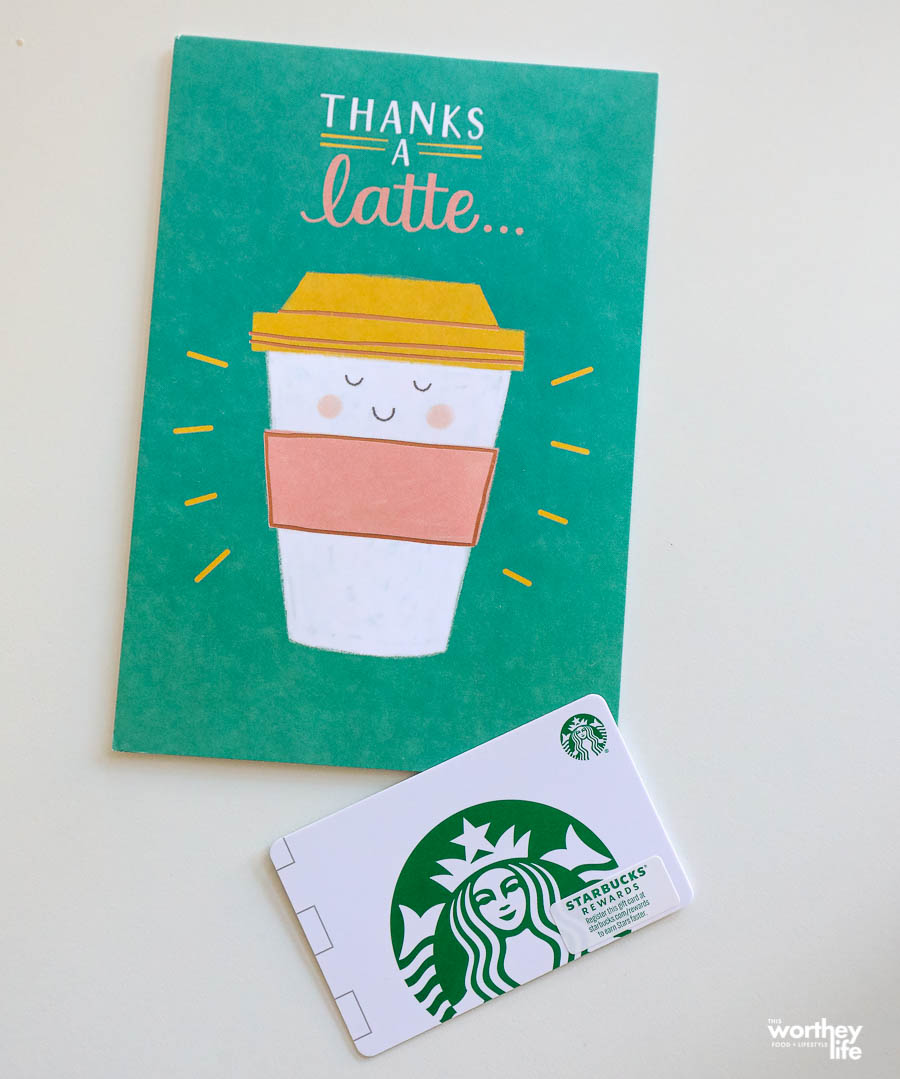 Handwritten Thank You Note
Teachers often don't get the recognition and gratitude they deserve for everything they do, and one of the best teacher appreciation gifts your child can give is a handwritten thank you note from the heart.
It is a valuable exercise for your child to do, but their teacher will remember those kind words for years to come.
Tip: You can find Teacher Appreciation thank you cards at places like Target, HomeGoods, and office supply stores.
Teacher Appreciation Day is a time to express our gratitude for the sacrifices and efforts that educators make every day for our young people.
Here's your chance to show teachers how thankful you are for them, and I hope this list has given you some great ideas!