This Thank You Delivery Drivers printable is free to print and use for your snack station filled with treats as a way to show thanks and appreciation during the holiday season.

Thank You Delivery Drivers Printable + Snack Station Idea
I've wanted to create a thank you snack station for our delivery drivers for the past few holiday seasons.
And since we've been spending more time at home over the last two years, we have boxes dropped off almost every day.
Not only are we doing more shopping online during the holiday season, but we're also ordering more items online, having products on subscribe and save, and buying everything we can for our Labradoodles. LOL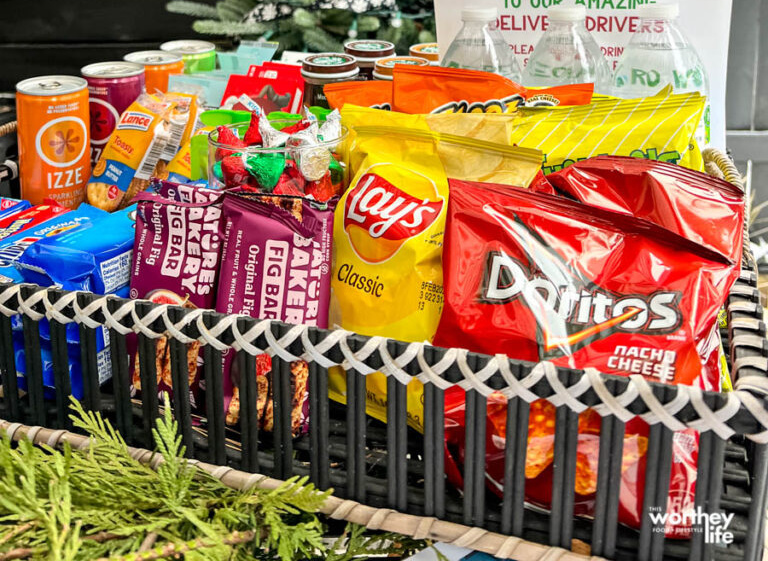 I've seen this idea, leaving snacks out for the delivery driver, and I decided this would be the year I make this snack station happen.
I plan to keep my snack station stocked year-round, not just during the holiday season.
With drivers working overtime, pulling 5-6 day shifts every week during the holiday season, it's the little things that count.
Wouldn't it be awesome if you were out driving all day, didn't have time to grab a few snacks, pull up to a random house, and bam, there's a ton of good snacks set out just for YOU!
I know I would feel a little special.
And since everyone on the block is not doing this idea, I know my drivers will love stopping by the Worthey house.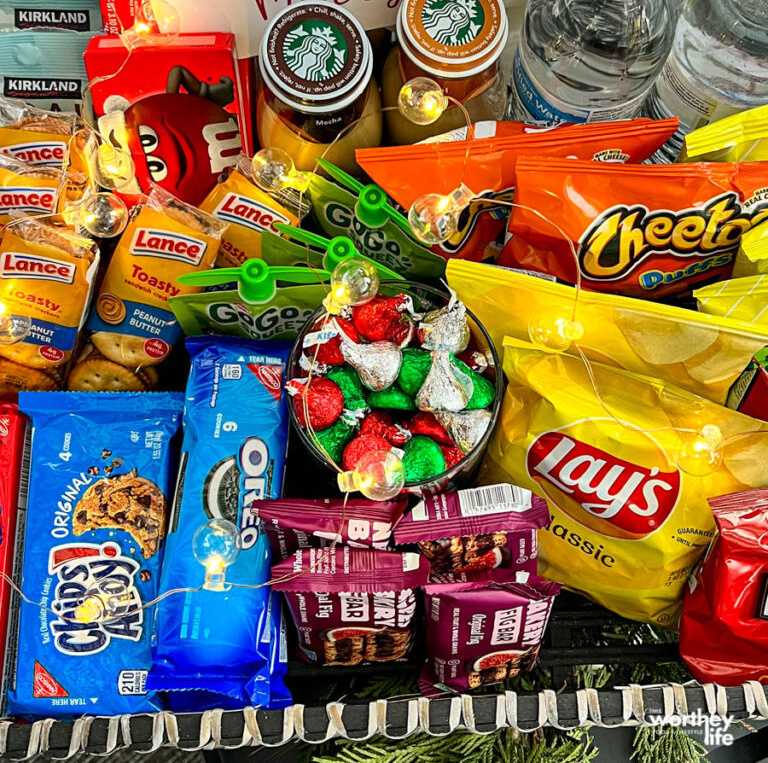 Here's what you need to put this snack thank you idea together:
You will need a basket or some container or stand for the snacks.
Stand or small table (It would be preferred to keep your snacks off the ground so critters or neighborhood cats can't reach them)
A variety of snacks and drinks
Thank you printable- print this free holiday thank you printable
Directions:
Print the free holiday thank you printable or regular thank you printable to use the rest of the year.
Gather all of your snacks.
Find a storage bin, container, or basket that will work for your snacks.
Set your station up outside in the area where the driver leaves the packages.
Refill as needed.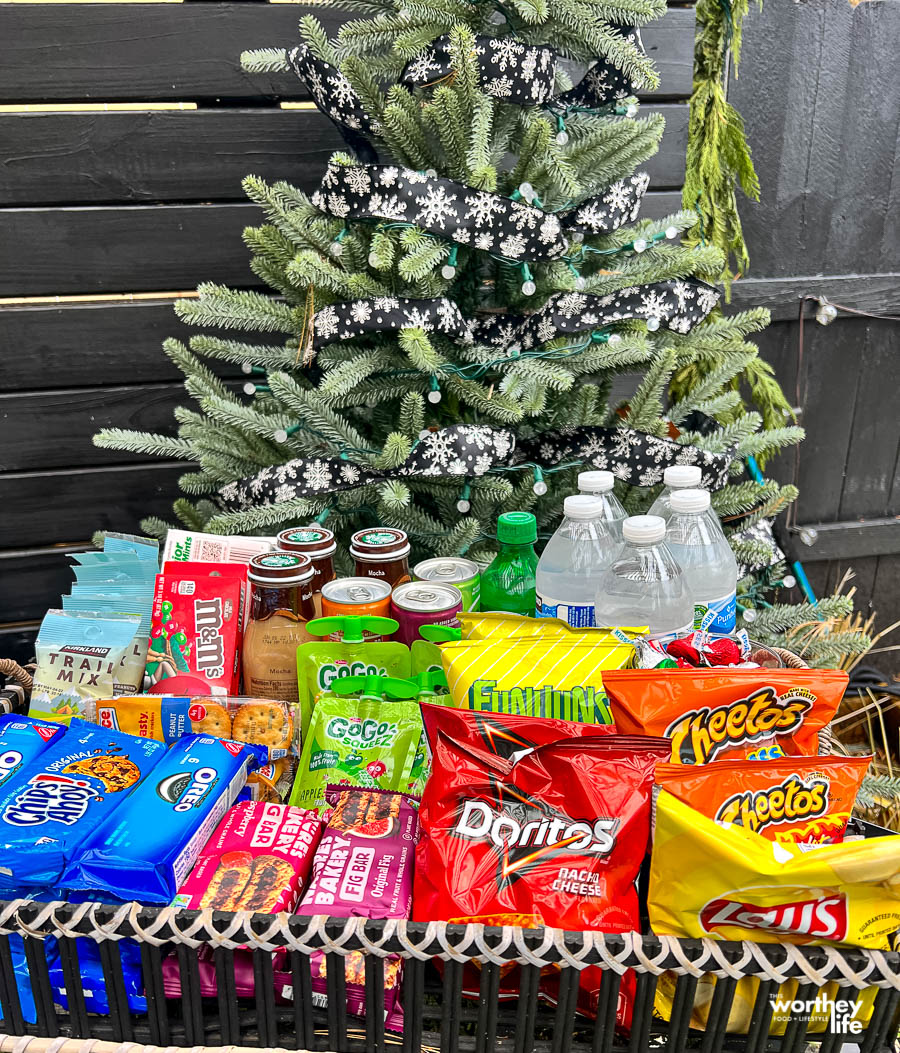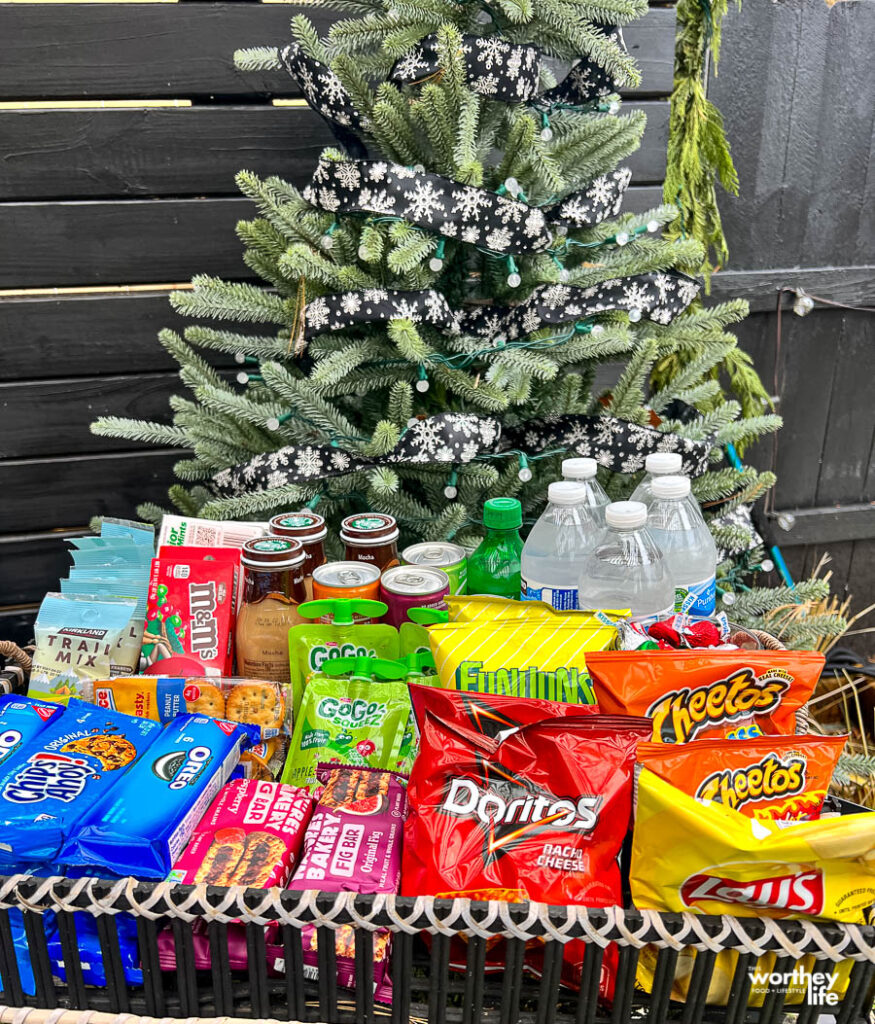 A few tips to keep in mind for your snack station
If you have a small cooler, leave your snacks and drinks tucked inside with a note. This way, things stay cool and keep critters away.
You should only leave out unopened, packaged products. Unless your driver knows you personally, I don't recommend leaving food you cooked. I would not just eat food from random strangers.
Make sure your snack station is placed in the same area where drivers typically leave the packages.
Print out this free printable or make your own to let the drivers know the snacks are for them and how much you appreciate their hard work.
Consider leaving a dedicated container or box for the driver(s) to leave your packages.
Optional: Laminate your printable so it can withstand the different weather patterns.
Since it gets dark around 5 pm, be sure your snack station is located in a lit area, or add battery-operated lights. Most drivers are still delivering packages until 9–10 pm.
We bring our snack basket inside each night and put it back out the following day.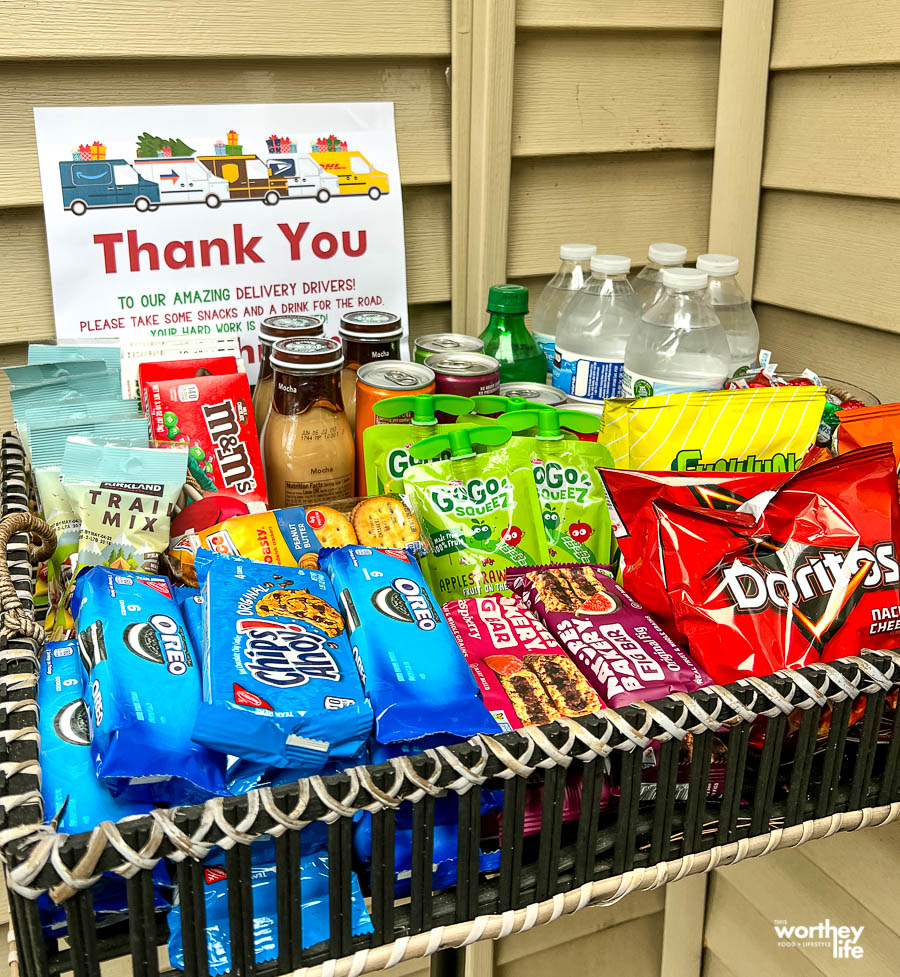 Snacks for delivery
When it comes to snacks and treats, do what works best for your budget. It could be as simple as a few bags of chips, granola bars, and water.
Here's a list of snack ideas that our drivers are loving:
Water
Energy drinks
Cans of soda or juice
Iced Coffee
Juice Boxes
Bagged chips
Packaged trail mix
Fruit snacks
Energy Bars
Packaged cookies
Chocolate

Boxed or packaged candy bars
Packaged crackers or Cheez-its
Packed fresh fruit
Lunchables
Portable applesauce
The ideas are endless when it comes to snacks. It would be best if you kept allergies in mind, which is why I recommend leaving a variety of treats so your driver(s) can pick what works best for them.
Since I plan to leave my snack station up all year, I will change my snacks to different ones.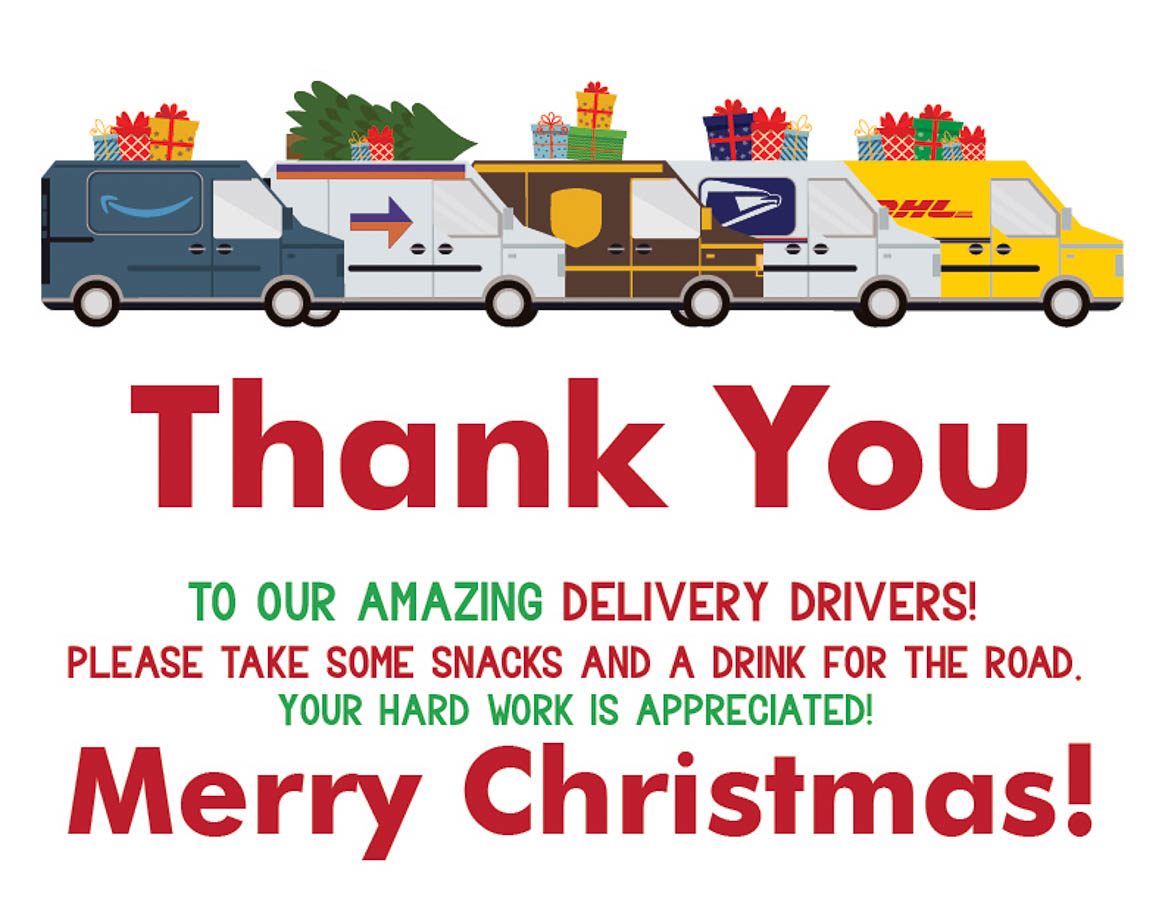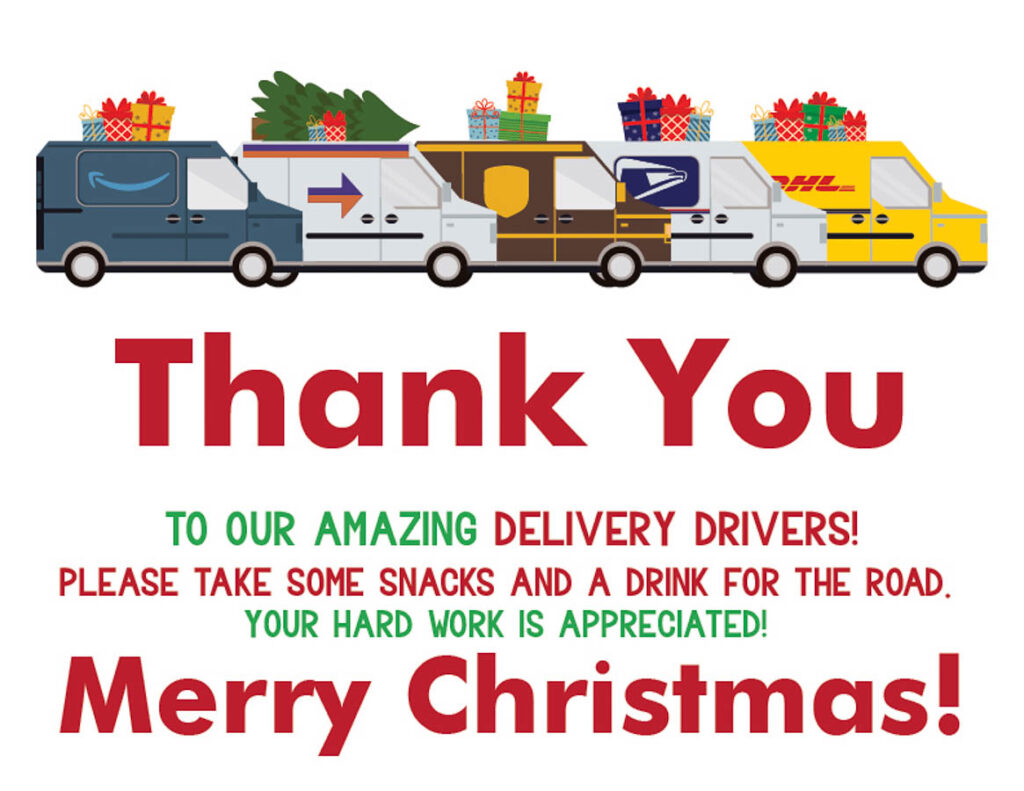 Thank you for everything you do free printable
This thank you for everything you do printable is free to print. It comes in two orientations: vertical and horizontal.
The thank you letter says, Thank you To our amazing delivery drivers! Please take a drink & a snack for the road. We really appreciate your hard work! Merry Christmas!
Speaking of saying thank you, we're excited to be one of Google's paid early testers for their Thank with Google pilot program.
This program is an experimental feature and we are thrilled to be part of the pilot test program.
Thank with Google allows you, the reader to support us by purchasing a virtual sticker to show your thanks and appreciation for the content on our blog.
This is a neat and creative way for our audience to connect and engage with us.
Our audience will get to choose from a selection of virtual stickers to purchase and send to us. Each sticker is unique and set at a different price point.
By being part of this pilot program, Thank with Google will give our audience the chance to share which content they value the most and why.
Every time you decide to send a paid sticker, you can add a personal message that is sent directly to us.
Want to give it a try? We would appreciate it!
You can find the Thank with Google feature at the bottom of this post, and in our sidebar on the right side of the screen.
We would love for you to test it out and let us know what you think. It would mean a lot to us.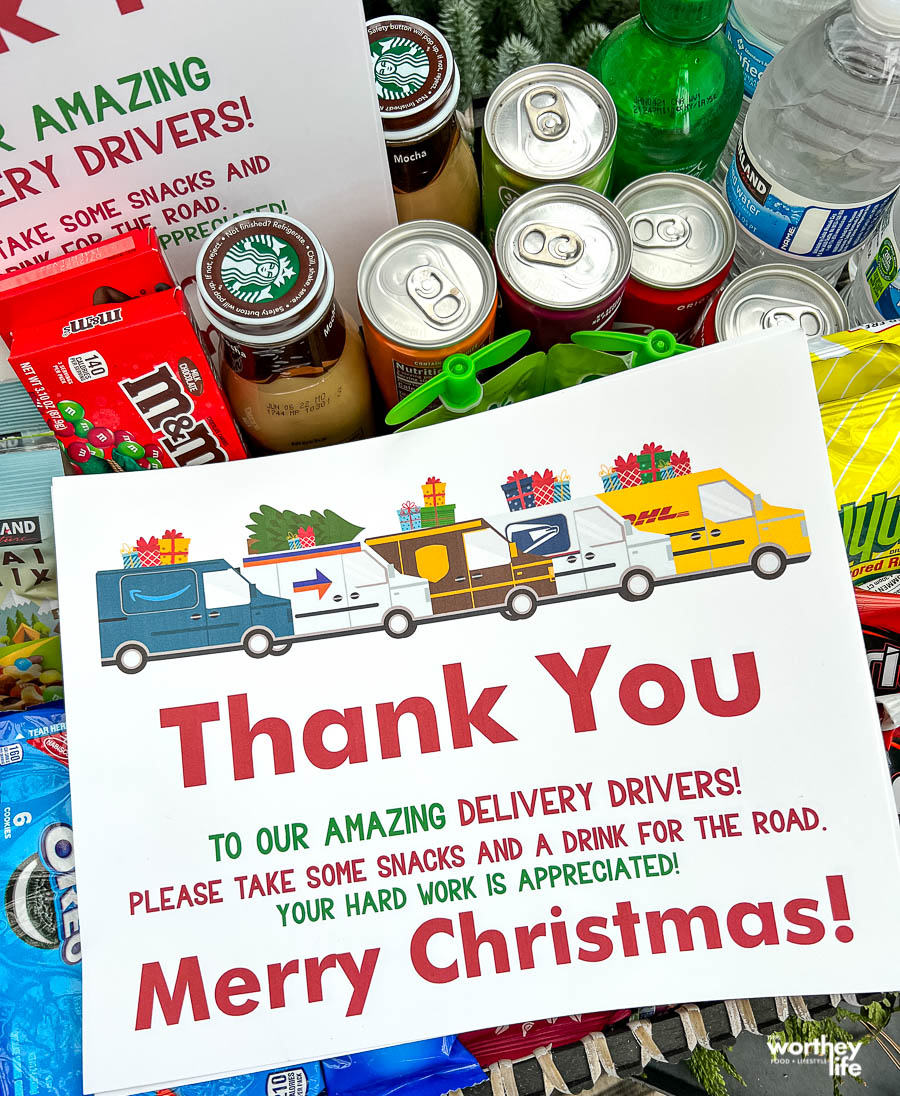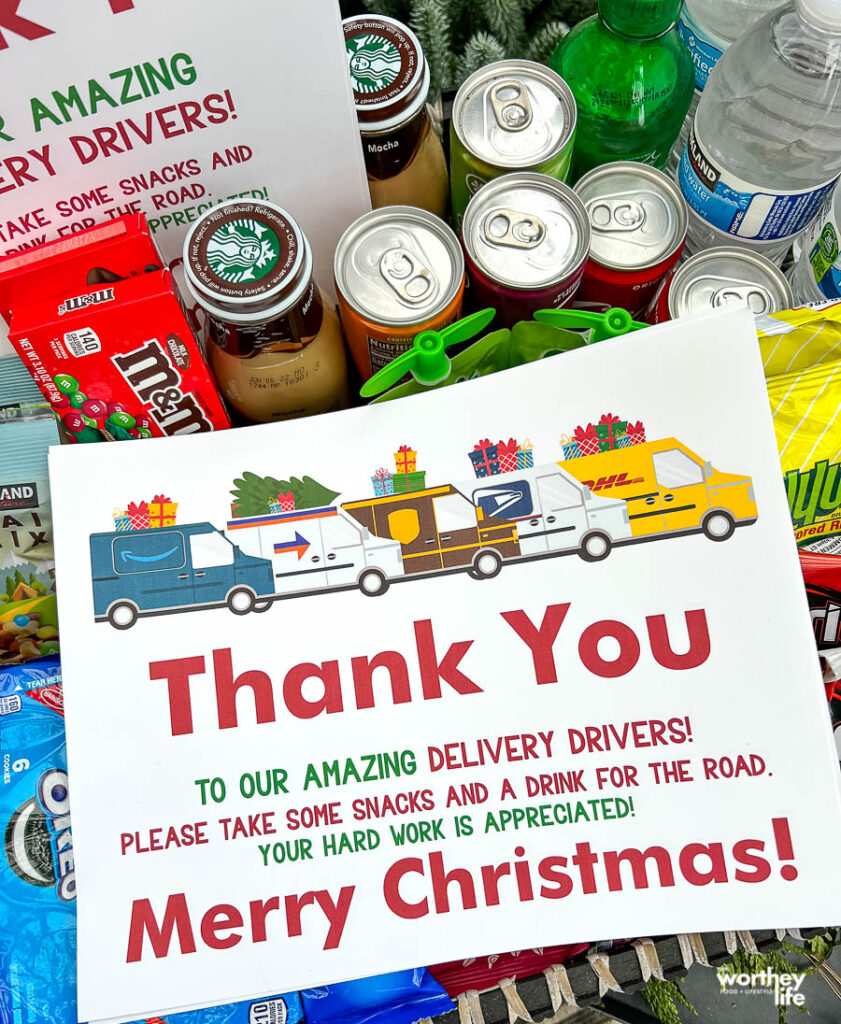 Thank you for your support! Be sure to print out the free printable for your thank-you snack station here!