I'm sharing my exclusive interview with Danai Gurira + Lupita Nyong'o – we discuss the women of Black Panther, their hair, the walking dead, women + strength, how representation matters in Black Panther, and developing their roles to play these phenomenal characters.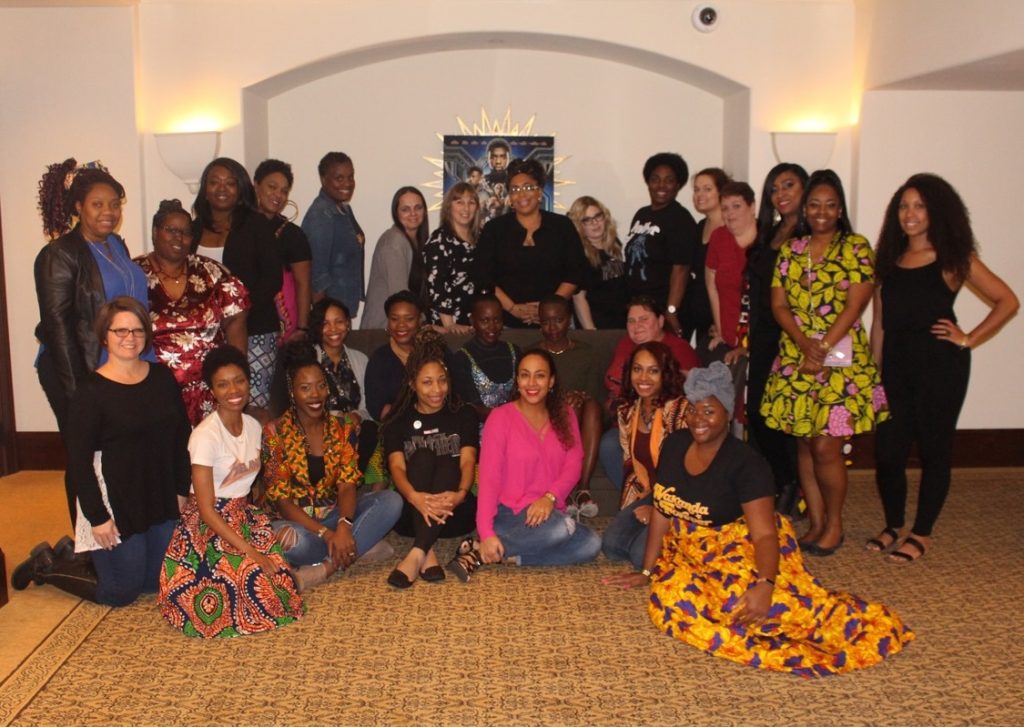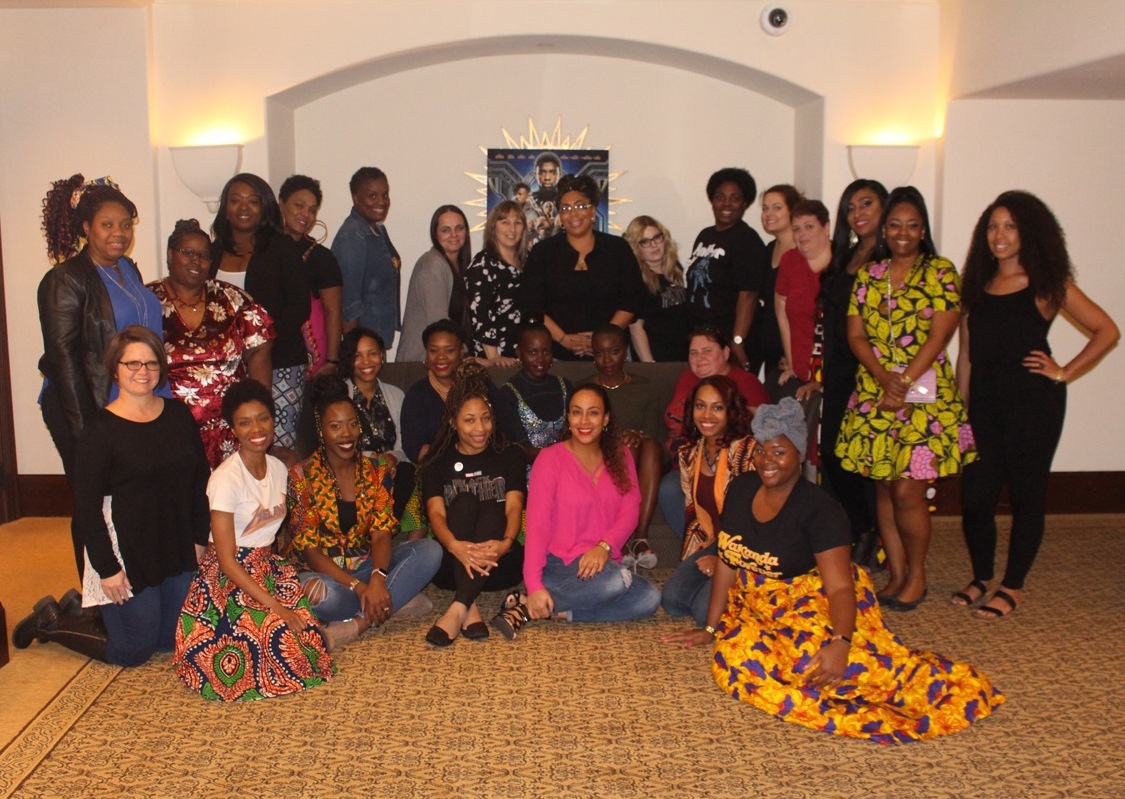 The Women of Black Panther| Interview With Danai Gurira + Lupita Nyong'o
During the Black Panther press junket, myself and 24 colleagues had the opportunity to interview Danai Gurira + Lupita Nyong'o. If you didn't know, they both play major roles, alongside Chadwick Boseman (Black Panther/T'Challa). They have to make difficult decisions on where they stand individually, and together as a nation in Black Panther. A few of those decisions were difficult, and their lives were at-risk. I'm sharing highlights from our interview.
Their roles in Black Panther
DANAI GURIRA -Okoye Okoye is the head of the Dora Milaje, the all-female Wakandan Special Forces. She is the best fighter in Wakanda who is not named the Black Panther, and she is fiercely loyal to the throne.
LUPITA NYONG'O -Nakia Nakia is a War Dog, a Wakandan spy often embedded in countries outside of Wakanda to observe and report back. She must decide whether she should be guided by her duty to her nation or her feelings for T'Challa.
Talking with Lupita + Danai was like talking to my sistah' girl
When they first walked in the room, side by side, with beautiful smiles complimenting their chocolate skin, they were startled by our wild applause. I mean, we had been waiting all day to interview these two, and it was worth the wait.
On identifying with strong black women in Black Panther
The first question asked, "in which ways do you identify with your characters that helped you develop them as the strong independent women they are?"
Lupita stated, "I identify with Nakia's independent spirit and her feeling of loyalty to her country. She's a warrior, and she's the chosen warrior of the River Tribe. And she's also a war dog, an undercover spy. As a leader of her tribe, I think it means a lot to her to make her people proud. I understand that. I relate to that. I love a woman who is on a mission to make a difference, which is what she's on."
Danai followed up stating, "I definitely related to her (Okoye), her power and purpose. I think she's been purposed since she was quite small. I was saying earlier, I really see her as a very intense 10-year old, watching the Dora Milaje walking around when she was a kid- wanting to be that. I never wanted to be in the military per se, but when I decided what I wanted to do, I was very clear about it."
Danai went on to talk about the way her character is dedicated to her nation and the responsibilities she must face as the General of the Dora Milaje. Okoye considers Wakanda is a gem that she must protect. This is something that is priceless that she cannot let slip. This propelled Danai, connecting herself to this character. Another that the gracious Danai mentioned in her connection to Okoye was the stakes of losing Wakanda to an unruly character. (I'm not going to share any more of this- since it will be a spoiler).
She ended answering this question by saying, "the passion I have for what I feel the continent could be is very strong in me."
During the interview, we chatted about several things that I am not going to mention since it will be a spoiler (so be sure to come back after you've seen the movie for updated information).
Does Michonne from The Walking Dead show up in Black Panther?
In Black Panther, Danai trades her sword from The Walking Dead for a spear. And I'm sure all Walking Dead fans want to know, what was it like fighting with a spear compared to Michonne with a sword.
Danai felt that both characters have similar lines, but with a different weapon. Let me tell y'all, when Okoye pulled that spear out of nowhere in a certain scene of the movie, all I saw was Michonne slaying walkers left and right. I would have to say that all of the training, sword fighting, and slaying walkers helped Danai prepare for this role as the General in Black Panther.
Nakia's + Okoye's fighting styles
"The idea of stepping into a character who's connected to this traditional ancient way of moving was really amazing and I loved how they found that for each of us and then put that into our training. Then we found it and we owned our characters around that, those movements." – Danai
"The training was a big part of getting into character because understanding how someone fights reveals a lot about their values and who they are." – Lupita
Both women discussed how intense their training was to prepare for their roles. In the movie, you see them work side by side, but with different fighting styles. Okoye is traditional, using her sword spear. She will pull out her spear and do forms that have been in Wakanda tradition for generations, and "smack them down, you know what I mean!" As Danai is saying this, she has this big smile on her face, emphasizing the "smack them down" with her hands. (We all laughed) Whereas Nakia will do whatever it takes to get the job done. Ryan mentioned to Lupita that her character was "street", and that's all she needed to know- by any means necessary she will use any weapon. "She will grab whatever it takes to get the job done, and that again is another way when put together, we stand in solidarity."
Danai gave kudos to their trainers, and how they worked hand-in-hand with Ryan (Coogler- Director) to pull off a stunning fight scene in the Casino. When you see this scene, you are going to wish you had a remote control to pause and rewind this scene. The intricate details that went into preparing for this scene, along with all the moving parts were astounding.
Representation Matters | Women with agency + strength
Another question asked of this dynamic duo was the process that it took to bring these characters to life, in an authentic way that represents women as a whole.
Lupita stated, "for both of us especially since we're dealing with African representation in the story; we feel such a strong sense of responsibility and desire, deep desire to see African women on screen that look and feel like we know them to be. We wanted them to be women that we know and like the women that I know are complex, and they're deep, and they're about something other than just a man in their lives (we all nod in agreement). This was really important to us."
She also mentioned this was also important to the Coogler, having women stand in their own light in Black Panther. "Personally, and I know Danai (because I know her so well- they both smiled and chuckled), women with agency and strength- and strength does not mean an absence of vulnerability, but it means that you understand. You have it in yourself, to get yourself through things, to seek help. Strength in itself is a very complex idea, so it was important to us that women, whoever, and however many lines you have that you come across as being full. And that's not hard if you just if you commit to expressing humanity."
Lupita went on to commend Coogler for this, because at the end of the day, the Black Panther's story is not just punchlines and clips, and things said just to make you laugh.
I would agree. Black Panther has its funny moments, but there is a real deep storyline, something you have not seen in any Marvel movie that brings out raw emotions and integrity to these people.
Women of Wakanda and their hair
We can't end this interview with these two without talking about hair. A question was asked about the importance of hair in this film, and how that relates to women of color and our hair.
Danai, along with the Dora Milaje had to shave their heads for their particular roles. She spoke about the beauty of it, and how its a celebration. "That's what's so powerful to me about it because you often don't see Africanisms celebrated and so I think that completely connects with the hair. I love what the hair department and the costume department did. They pulled from actual cultures and ethnic differentiation and how hair is celebrated across the continent traditionally and currently. I think there is something really powerful about all the ways that hair was represented because there are so many things that tell us about those of African descent. Or, the people who get categorized as the other, that there's one way they should actually manifest themselves in society in order to be accepted or acceptable."
The types of hairstyles shown in Black Panther truly represented women of color. From braids, to knots, to fros, to headwraps, bald heads, and even a wig, it shows that black women can pull off any style. Danai said it best, "something there's something that only sisters can do. We can do the most with our hair than anybody, we can go bald too, and it works. I think that is a celebration we've rarely seen exhibited in such splendor, so that really excites me for people to see it."
Black women rock + Melanin poppin'
As we wrapped up our interview with these intelligent, deep-thinking women of Marvel's Black Panther, an overwhelming sense of pride rushed through me. In Hollywood, we've seen black women on the screen, but never in a role like this. And never in a prominent role- where they are given just as much screen time as the main character. And, the color of their skin is not a light-skinned version of black people, but a deep, chocolate, African representation. And then, they SLAYED their roles. They didn't have weak, stand behind-the-man roles. Yes, they supported their king, but they were treated as equals- allowing their strength, brains, and skills to be used to help save their country. Man, that's dope. That's powerful. It's moving.
Plan to see Black Panther in a theater near you on February 16th!