We're all familiar with what should be on our spring cleaning list, but do you know there are things you don't think about cleaning but you should? I'm sharing those overlooked areas in today's post, sponsored by Clorox®. All thoughts and opinions are my own.

16 Things You Don't Think About Cleaning, But You Should
As we drop winter like a hot potato and turn our attention towards the fresh smell of spring, it's time to start thinking about spring cleaning. You may say, "I already know what I need to clean!"
But, do you know there are certain areas in your house being overlooked daily?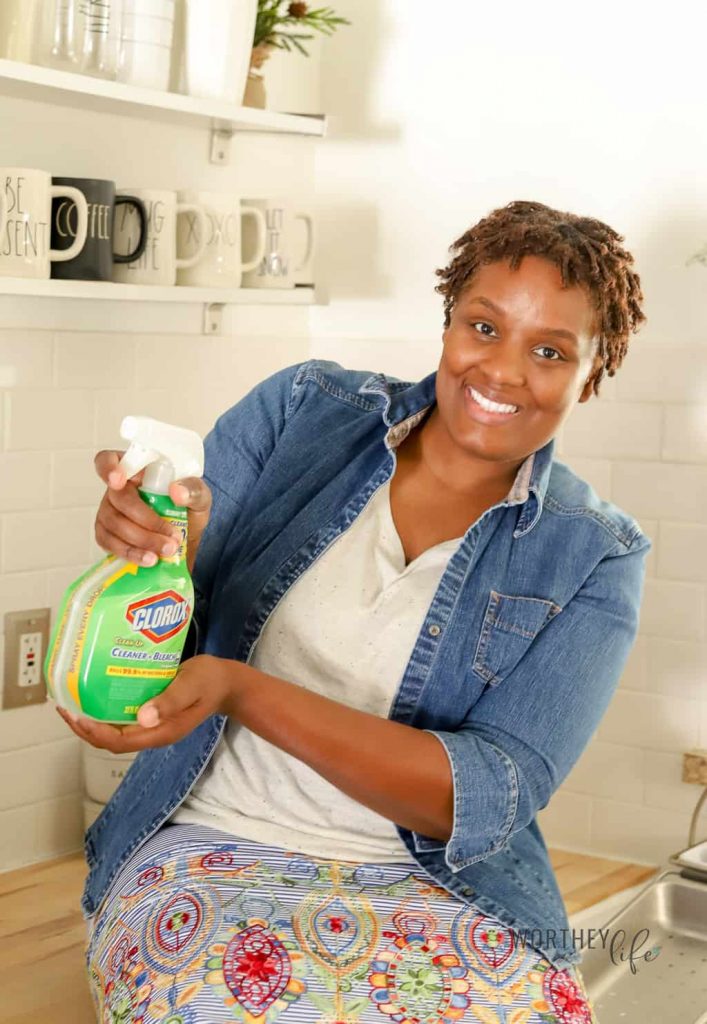 And when it comes to cleaning products, I have to go with what I know will get the job done. I grew up watching my mom and grandmother using Clorox products and now as an adult and parent, I know and appreciate products that get the job done right the first time around. Because not only do they clean, they also disinfectant which is an effective way of getting rid of those nasty germs. From bathrooms to the kitchen and all sorts of places in between, I know I can depend on Clorox to get the job done.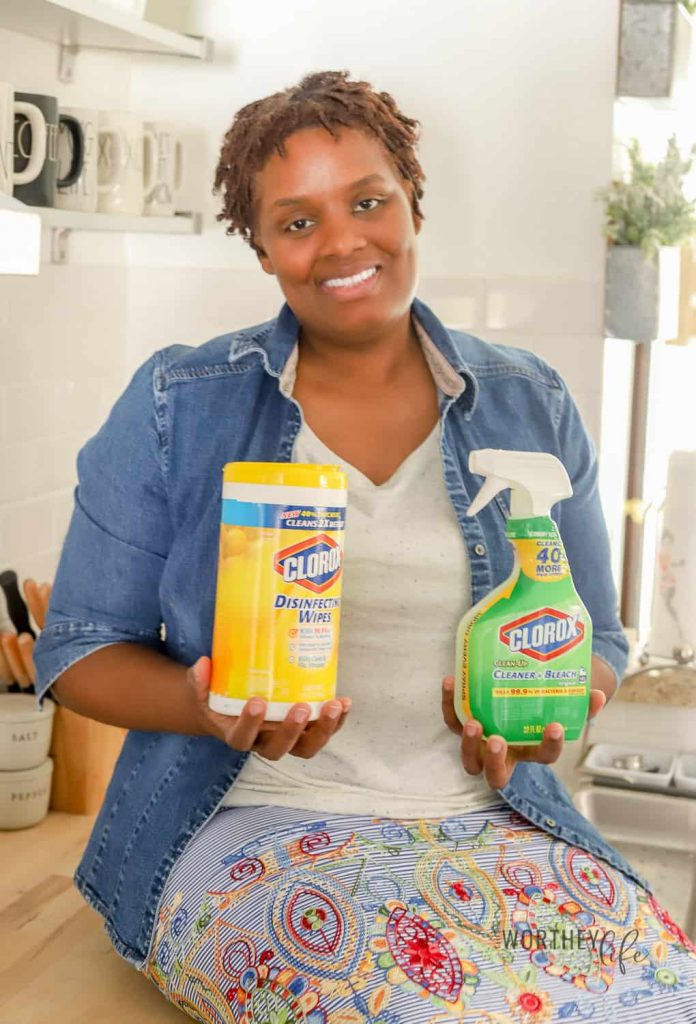 Cleaning products that will get the job done!
We've had our fair share of colds, sniffles, and sneezing this winter and after every illness, I went around the house spraying and cleaning everything. We all know how fast germs can spread, which is why it's important to use products such as Clorox® Clean UP All Purpose Cleaner. I trust Clorox products to kill 99.9% of the bacteria and germs around my house. I also love that they have a variety of products that will work safely in our home. And with kids and a pet running around, I need cleaning products I can trust for my family. Clorox fits the bill every time! Walmart has everything you need to help you tackle all the items on your cleaning list. You can find these Clorox products in the cleaning aisle!
If you're starting your spring cleaning, here is a list of items that should be on your list.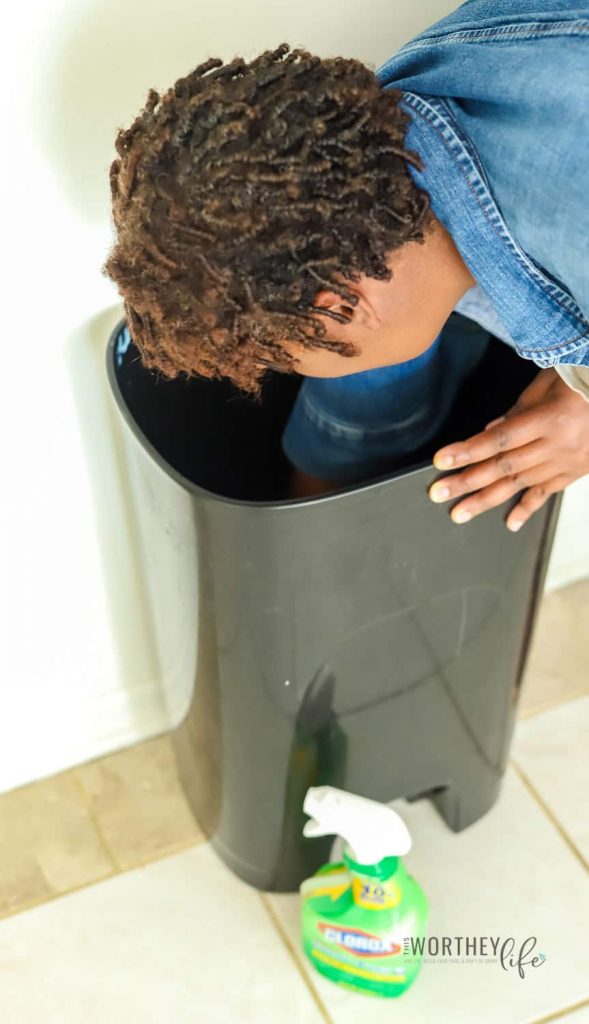 Trash Cans. When's the last time you took the trash bag out and deep cleaned the inside of your trash bin? It's surprising to me how much gross stuff was at the bottom of my trash can. Thankfully, using Clorox Clean UP Original Spray, I was able to spray the inside of the can, let it soak for a bit, then use paper towels clean up the nasties and grime.
Pro-tip: Spray the area first and allow it to soak for several minutes, take the trash can outside and use the gardening hose to clean it out. You want to make sure you use a disinfectant like the Clorox Clean UP Original Spray to make sure you get rid of any germs.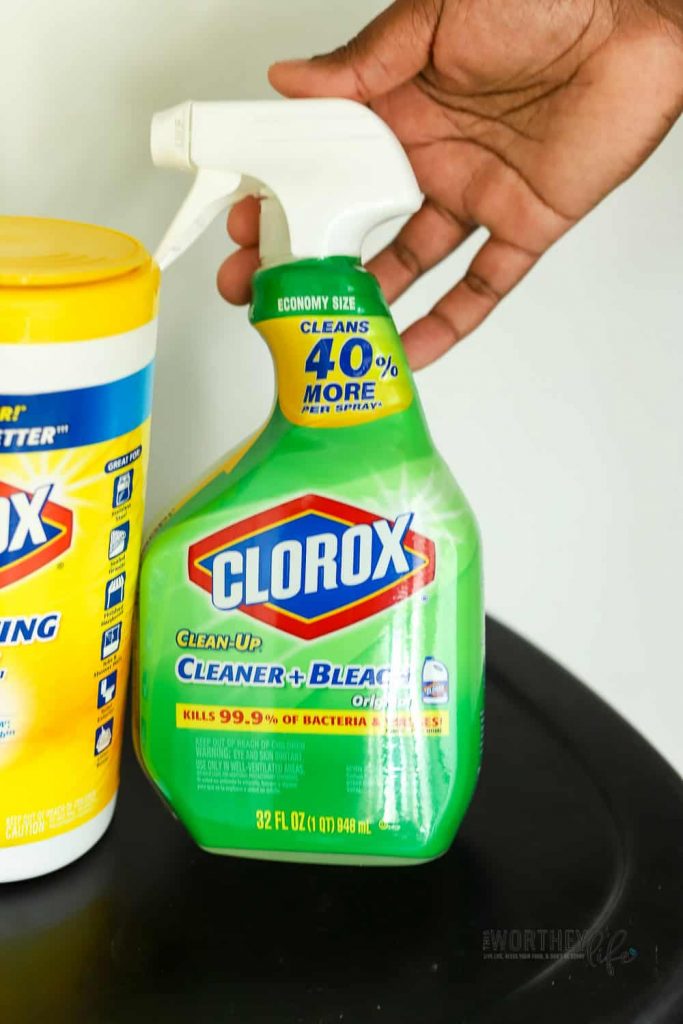 The wall behind the trash can. And while you're cleaning the trash can, don't forget the wall behind it. Splatters and spills can quickly build up there from people tossing trash into the bin. To accomplish this task, I like to use Clorox® Disinfecting Wipes.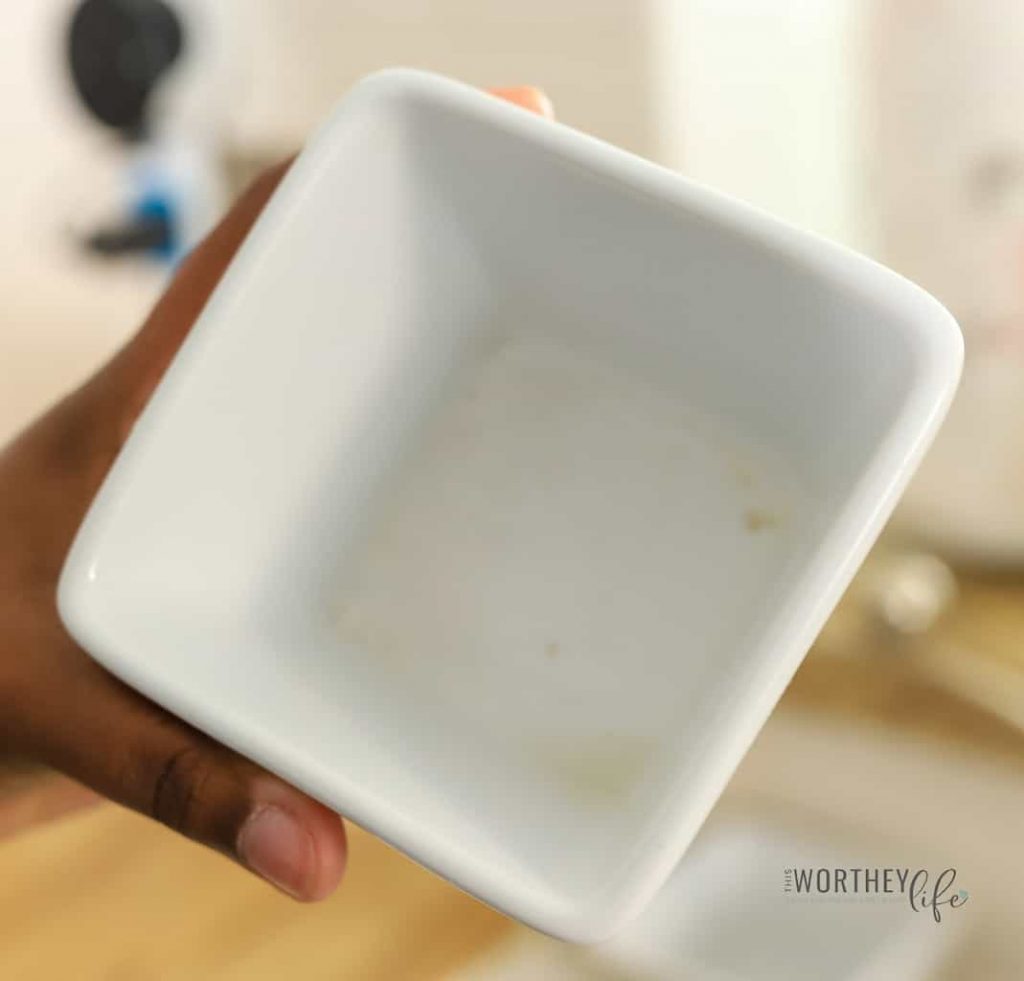 Sponge & Scrubber Holder. It's recommended for you to toss out your dish sponge every month. But how often do you clean the sponge holder? This is an area which can collect a lot of unwanted bacteria and grime. What's the point in changing out your dish sponge if you don't clean the holder? Using the Clorox Clean UP Original Spray, I can quickly spray and clean my holders and move on to the next task.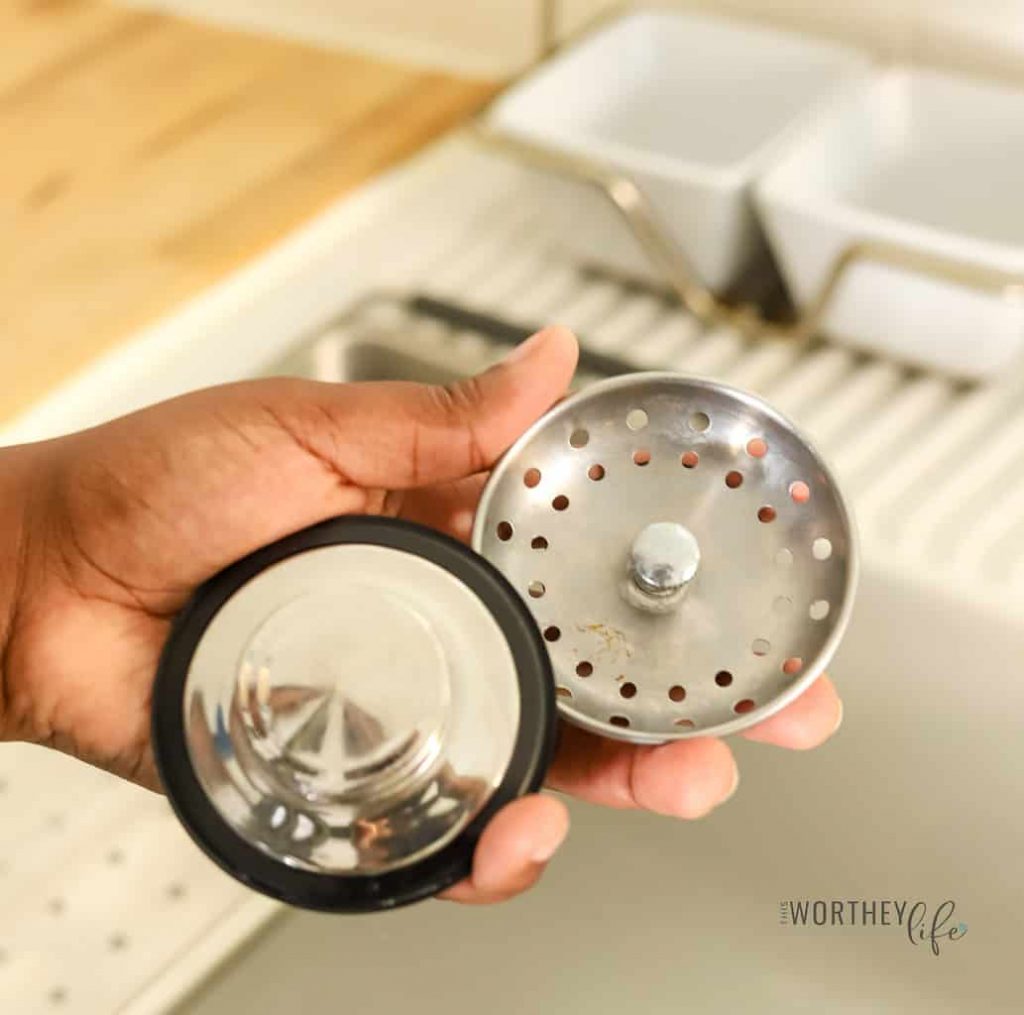 Kitchen Sink Stopper (and bathtub stopper). The kitchen sink stopper and bathtub stoppers can quickly collect all sorts of yucky grime. But using Clorox products makes cleaning these items a breeze. And before you know it, your kitchen and bathroom stoppers will look like a million bucks and as a bonus, they will be 99.9% germ-free. That sounds like a win-win to me!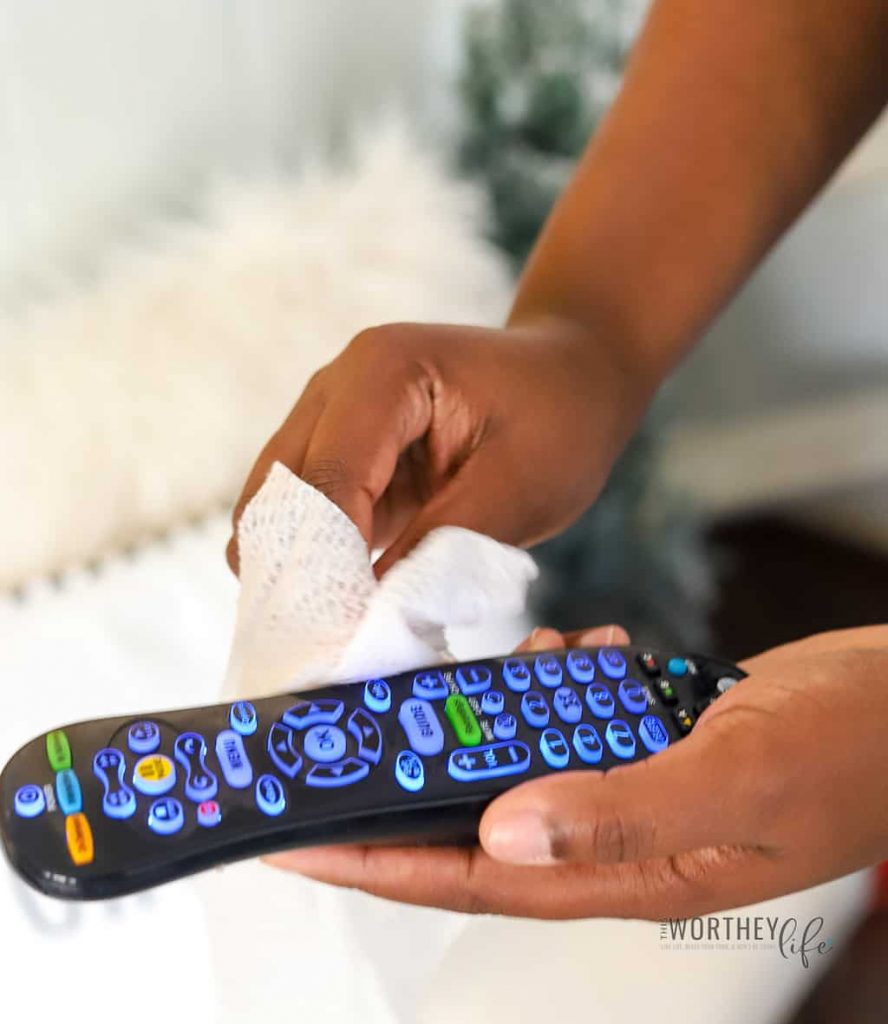 Remotes. Like doorknobs, we touch our remotes a lot which means it's a hotspot for germs. And although we touch them frequently, we forget to clean them as often as they should be cleaned. Using Clorox wipes is an effective way to wipe down remotes, refrigerator doors, and cabinet handles. Do this often, and you will avoid the build-up of germs associated with these areas in your home.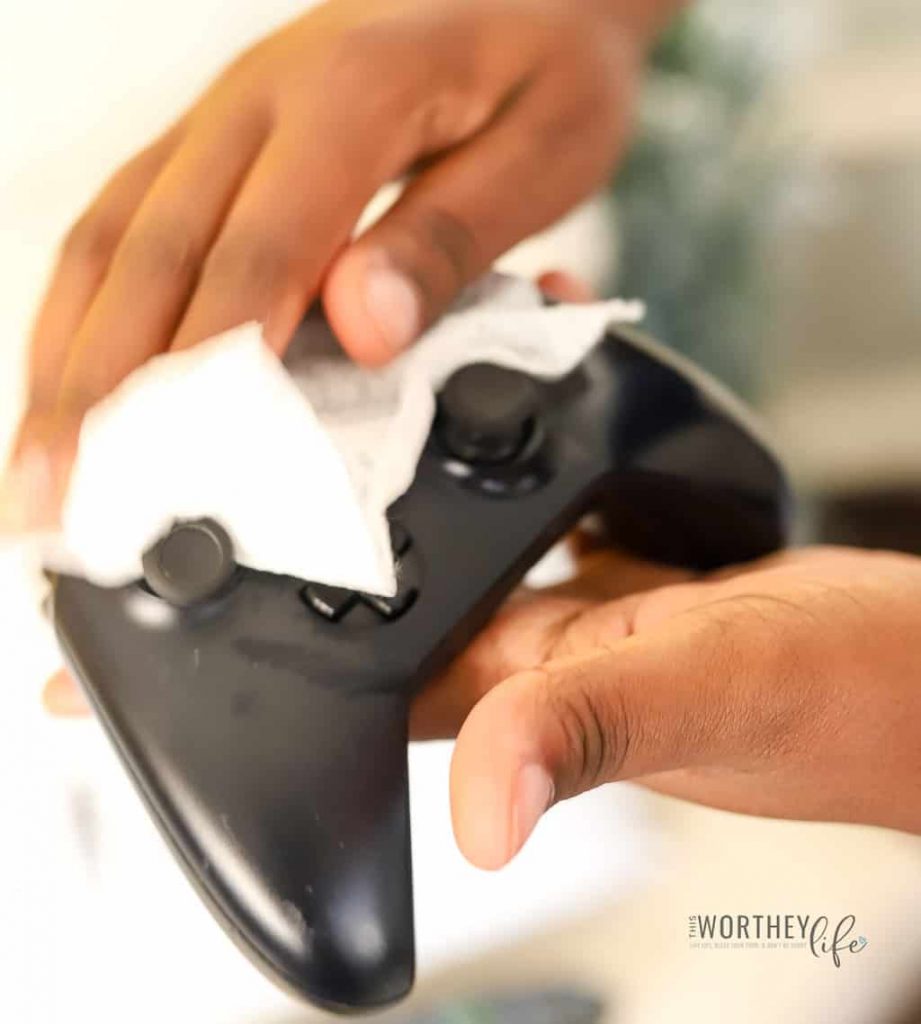 Game Controllers. Same with game controllers and other gaming devices and entertainment equipment. Our boys share controllers throughout the week, including having friends over to play. I highly recommend cleaning game controllers every day. You can quickly do this with Clorox Disinfecting Wipes. Just one quick wipe and you just may prevent sickness in your home.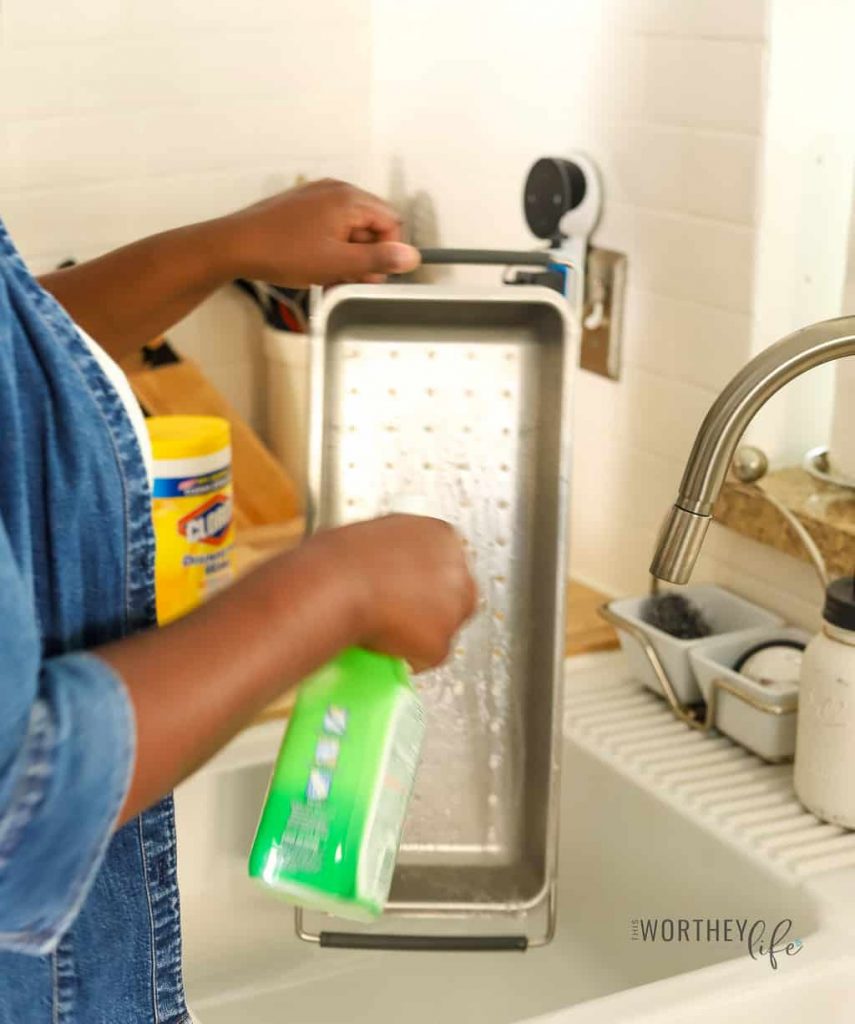 Dish Rack. Our dish rack is small and even though it's perforated, it can get nasty quick. Grease and food debris can easily build up if you're not cleaning the dish rack often.
Kitchen and bathroom faucets. Dirt, germs, and bacteria live on your kitchen and bathroom faucets. Be sure you're wiping down these areas often, including the back of the faucet. The bottom of your utensil holder. If it's been a minute since you've taken out all of the utensils and cleaned the bottom and sides of your holder, grab a few Clorox Disinfecting Wipes to quickly take care of this task.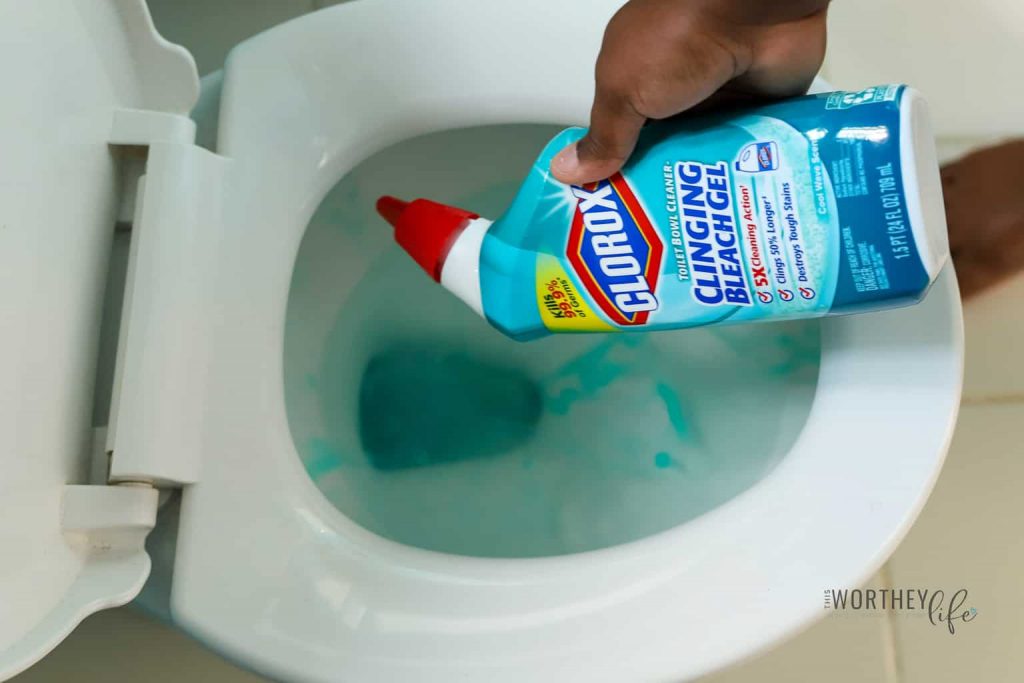 Rim under the toilet. Living in a house full of boys, you can imagine how quickly this area gets overlooked when it comes to cleaning. I use Clorox® Toilet Bowl Cleaner: Cool Wave to effectively clean this area. I also get the boys in on the fun with their weekly chores; chores are a great way to teach our boys the importance of cleaning and how to take care of the entire household.
Behind the toilets. And while we're talking about toilets, here's another area in our house which often gets overlooked. When's the last time you peeked behind your toilet and cleaned in the area? If it's been a while, grab a few Clorox Disinfecting Wipes and give this neglected zone a long overdue thorough cleaning. Cleaning these areas also keeps your home from smelling like a teenage boy's locker room.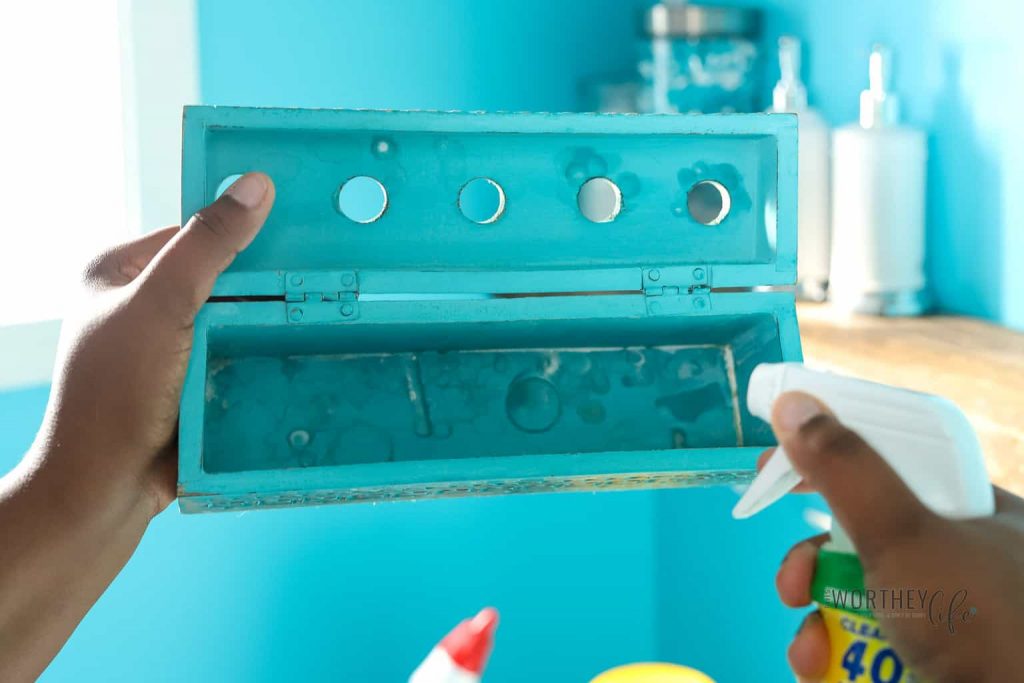 The bottom of your toothbrush holder. I highly suggest lightly spraying the bottom of the family toothbrush holder with Clorox Clean UP Original Spray. Our boys are assigned to clean the bathrooms, but this is one area they forget to clean. I usually go back at least once per month to clean the bottom of the toothbrush holders with Clorox Clean UP Original Spray. Doing this is a great way to get rid of a lot of germs and the who-knows-what that collects at the bottom of this forgotten area. This and throwing out the toothbrushes every four months is a great way to keep sickness away.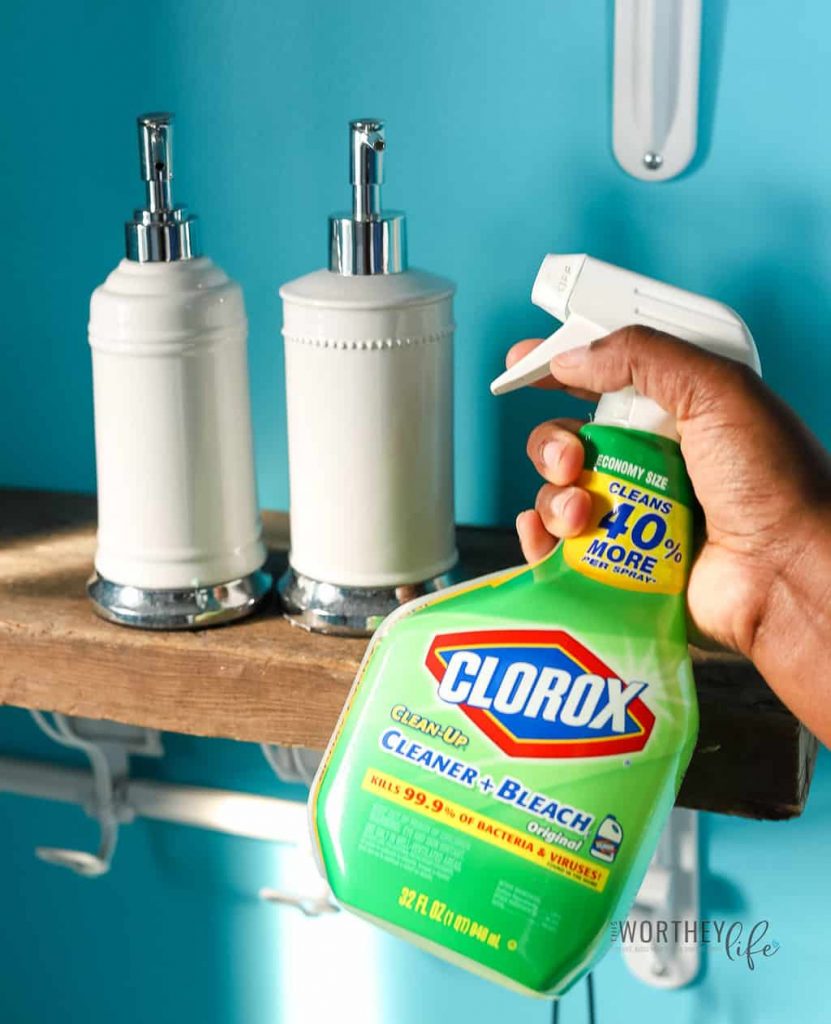 Bathroom accessories. While you're in the bathroom cleaning, don't forget to wipe down your bathroom knick-knacks and accessories with Clorox Clean UP Original Spray.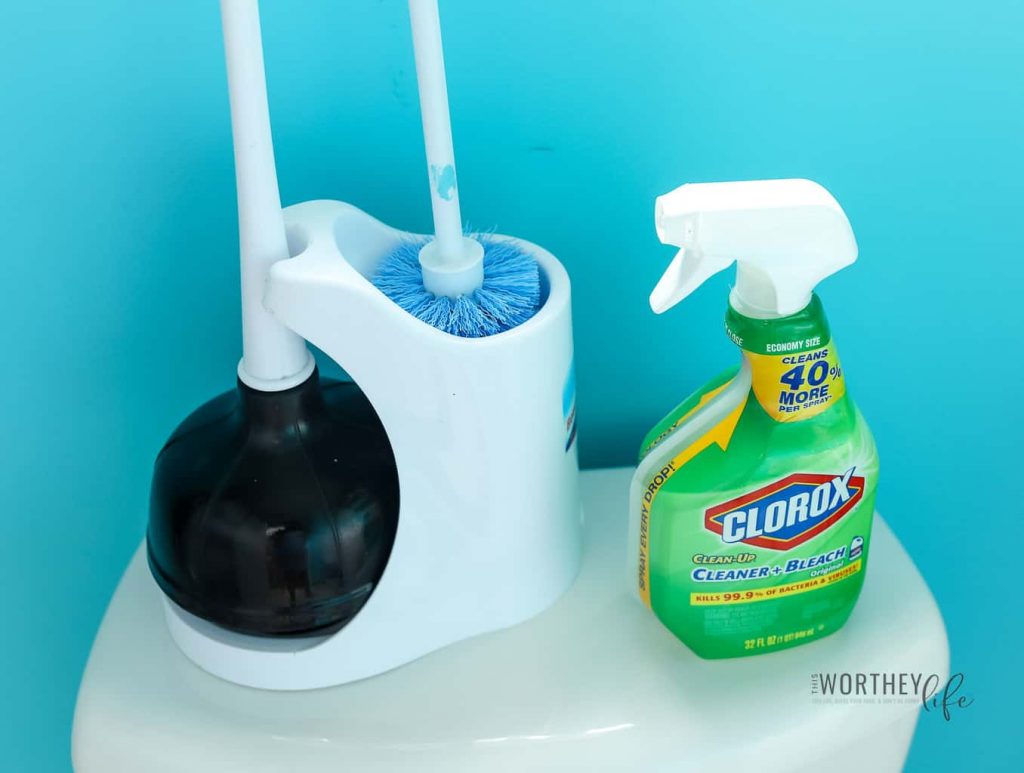 Toilet Bowl Brush + accessories. Most bathrooms have a toilet bowl brush used to clean the toilet bowl. But, do you think to clean the toilet bowl brush and the caddy? I hate to admit this is another area I have often overlooked. However, using the Clorox Clean UP Original Spray, I was able to quickly spray and wipe down this area in no time.
Door Knobs and Light Switch Plates. Do a walk around the house with Clorox Disinfecting wipes and wipe down all of the light switch plates and doorknobs. With everyone touching the switches and knobs several times per day, you can easily pass germs on from one family member to another. Who wants that? Not The Wortheys, and I bet your family doesn't want it either!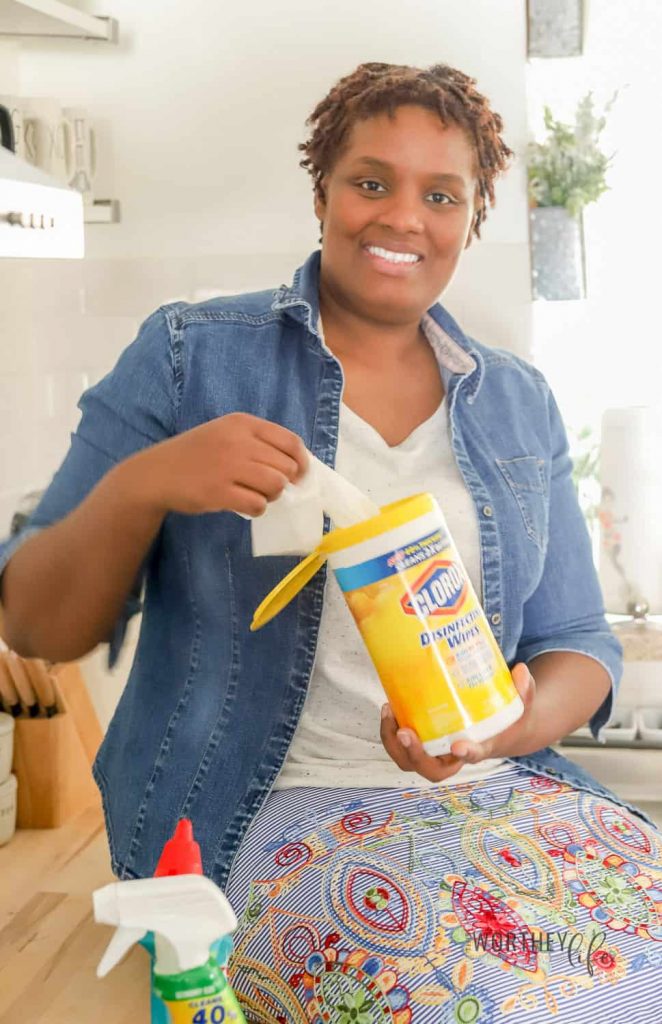 Your car's steering wheel and buttons. Once per week, I will take Clorox Disinfecting wipes (I usually keep a travel pack in my car) and wipe down the steering wheel and car buttons. It's also a good habit to wipe down the door handles and seats.
Since my time is limited, I quickly divide my spring cleaning tasks into sections and delegate chores to every member of this household. The biggest tip I can give anyone when it comes to cleaning quickly is to clean often. Our bathrooms are scheduled to be cleaned twice per week versus just doing it once or twice a month. By cleaning often, you're not spending as much time in one area because it's not as dirty.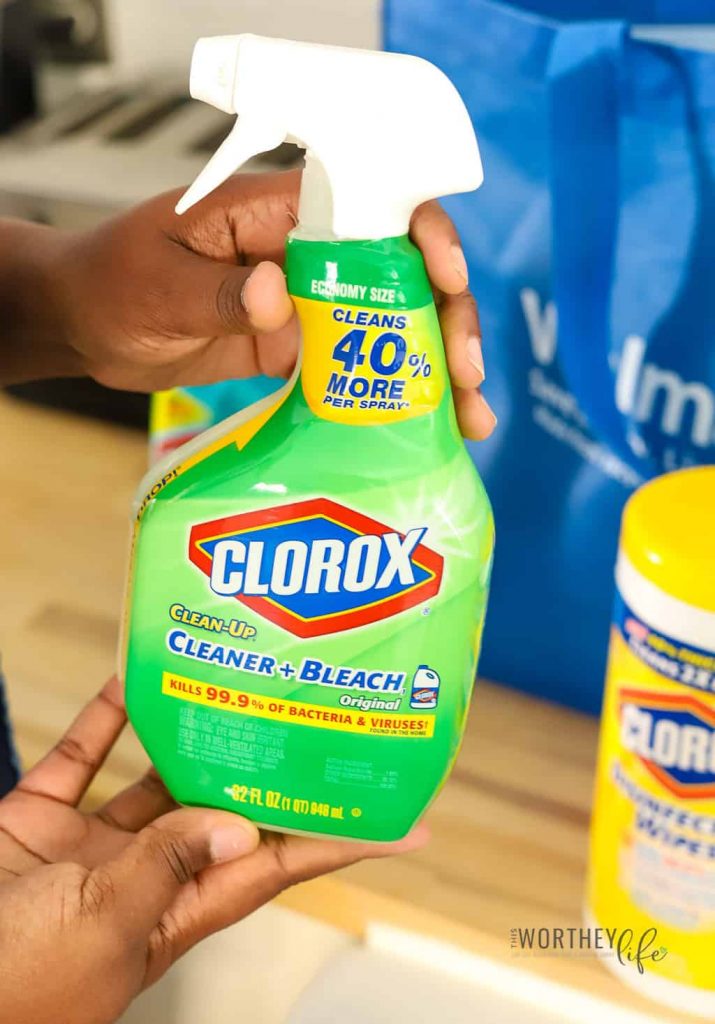 It also helps to use products that will get the job done right the first time. By using Clean UP Original Spray and other Clorox products, I know that after I am done with all of my cleaning tasks my house will not only be clean, it will also smell clean.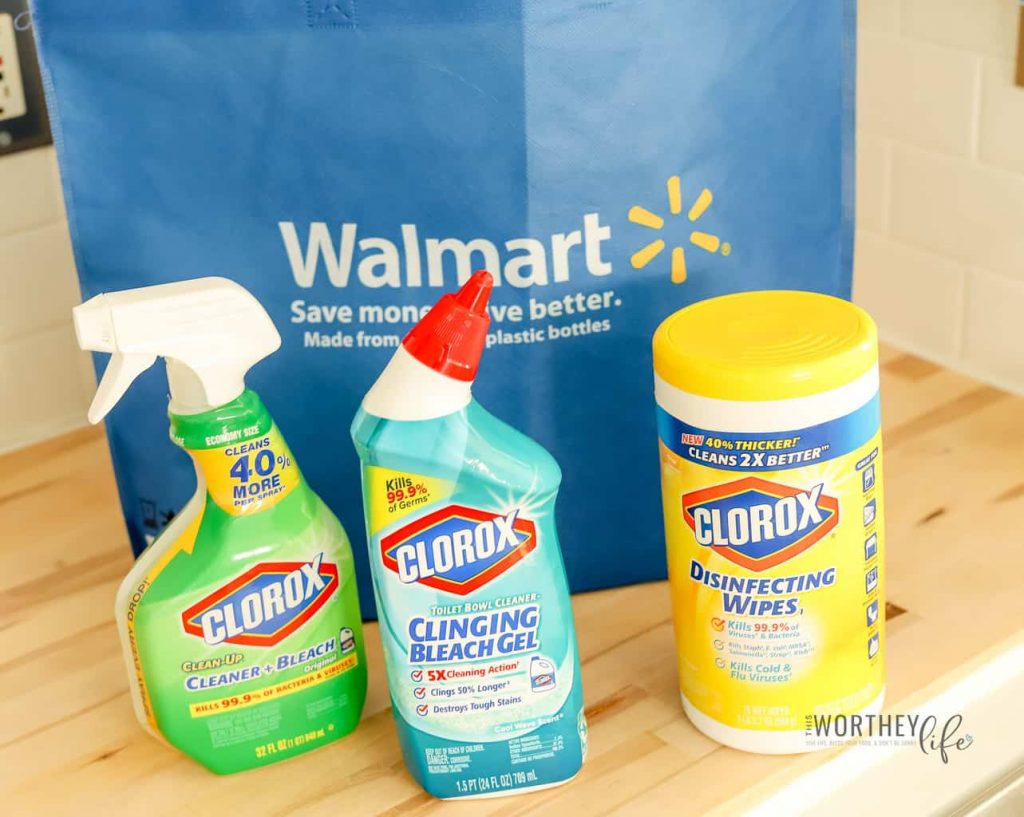 You can head to Walmart to find all the cleaning supplies you need, including Clorox Clean UP Original Spray and other Clorox products, to help you clean with ease. Plus, if you're short on time, consider using Walmart's Online Grocery Pickup! Learn more by visiting Walmart.com.