Thank you to ARM & HAMMER™ for sponsoring this post on 10 Top Ways To Keep Your Home Clean When You Have Pets. The holidays are here, and I'm sharing things I do to make sure my house is clean and ready to go. When you have pets, you may need to go the extra mile. Here's how I avoid doing a lot backbreaking cleaning before the holidays. #CleanHomeHappening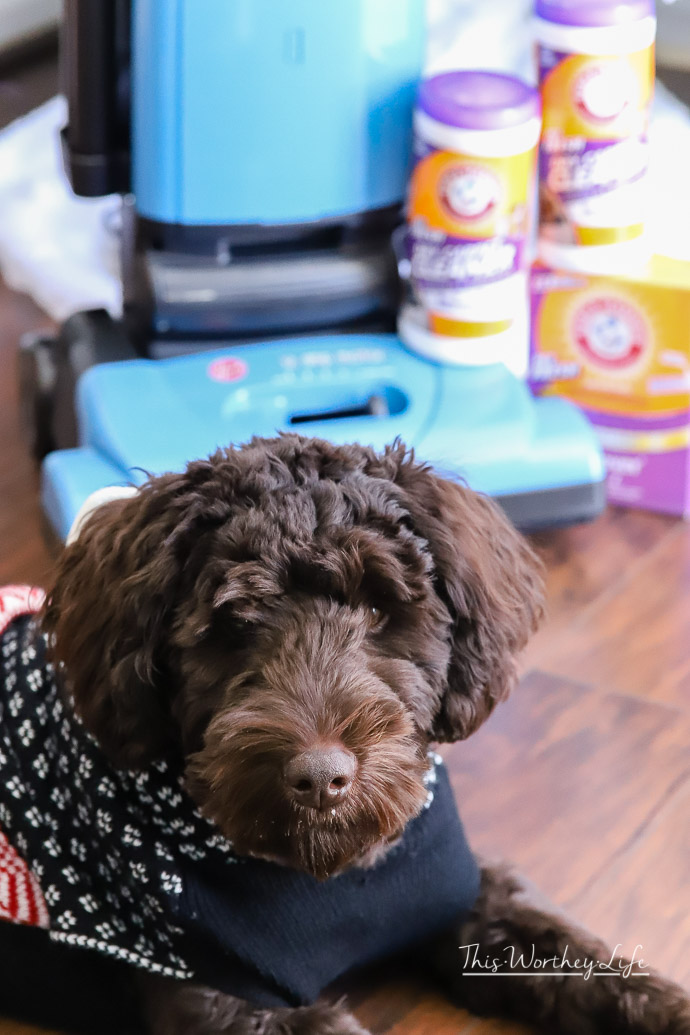 Having one dog can create a lot of chaos and mess. Having more than one dog means the mess triples. This summer we welcomed Chance, a labradoodle puppy into the Worthey household. We've had a smaller dog (Boston Terrier) for the past four years; and now with a new growing puppy in our house, I've noticed we're doing more cleaning. As we enter into a busy holiday week full of guests coming over, several holiday parties, and people constantly in and out of our home, we have to do extra work to get ready.
I've put together a list of the best tips when it comes to cleaning your home when you have pets. These tips are useful any time of the year.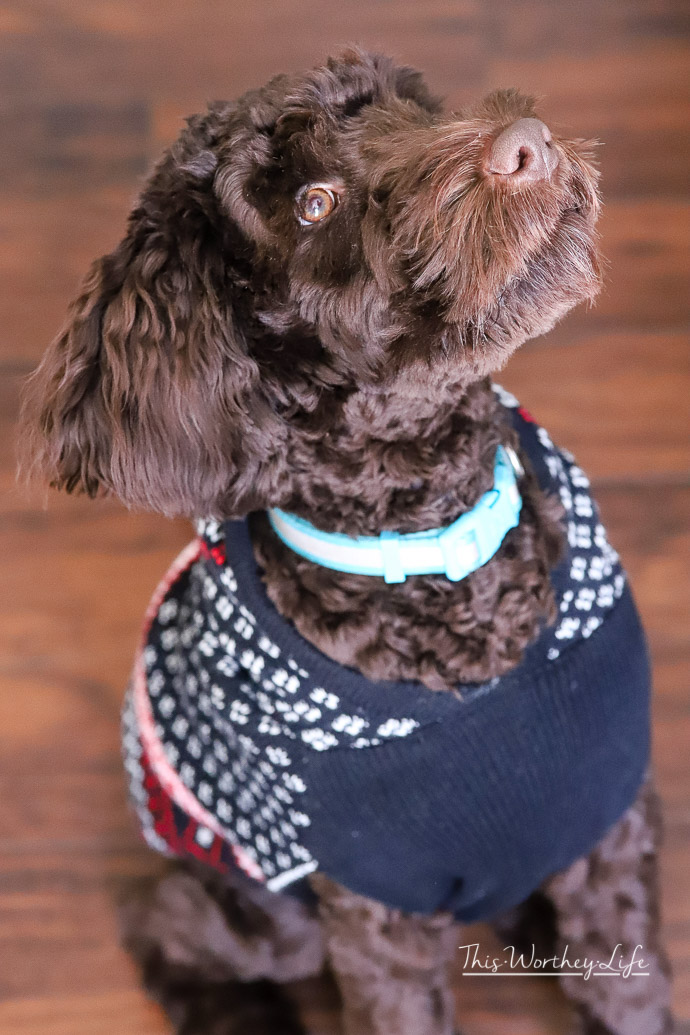 Groom Regularly. Grooming your pet regularly is crucial. Our dogs are in and out of the house several times per day. Chance is digging up holes, rolling in the mud, and figuring out a way to get the most dirt on him as possible before coming back into the house. Taking him to the Groomer's or bathing him regularly is a priority to keeping extra dirt and grime out of our home.
Wash Bedding + Toys. You can help cut down on the dog cleaning by making sure their toys and bedding get washed regularly. Tip: when you're washing your sheets and bedding, put it on your to-do list to also wash your pet's bedding.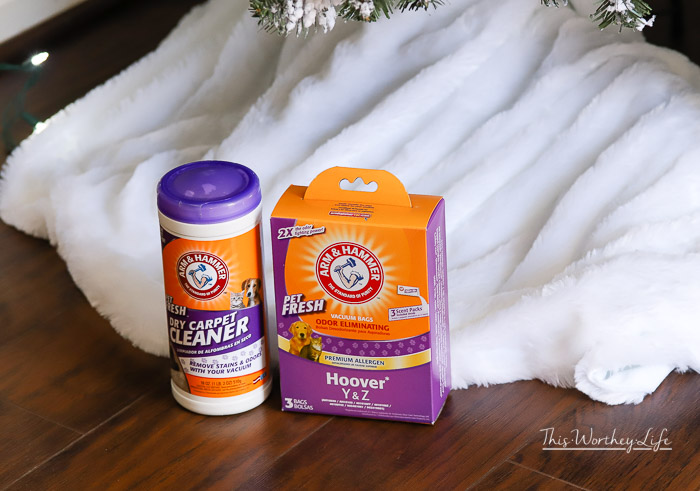 Carpet Deodorizer. Before you vacuum, be sure to put down a carpet deodorizer. I always keep ARM & HAMMER™ Baking Soda around the house, so I've just used that as my carpet deodorizer. Recently I learned about ARM & HAMMER™ Pet Fresh Dry Carpet Cleaner. Using a carpet deodorizer like the Pet Fresh Dry Carpet Cleaner helps absorb allergens, eliminate pet odors and break down stains.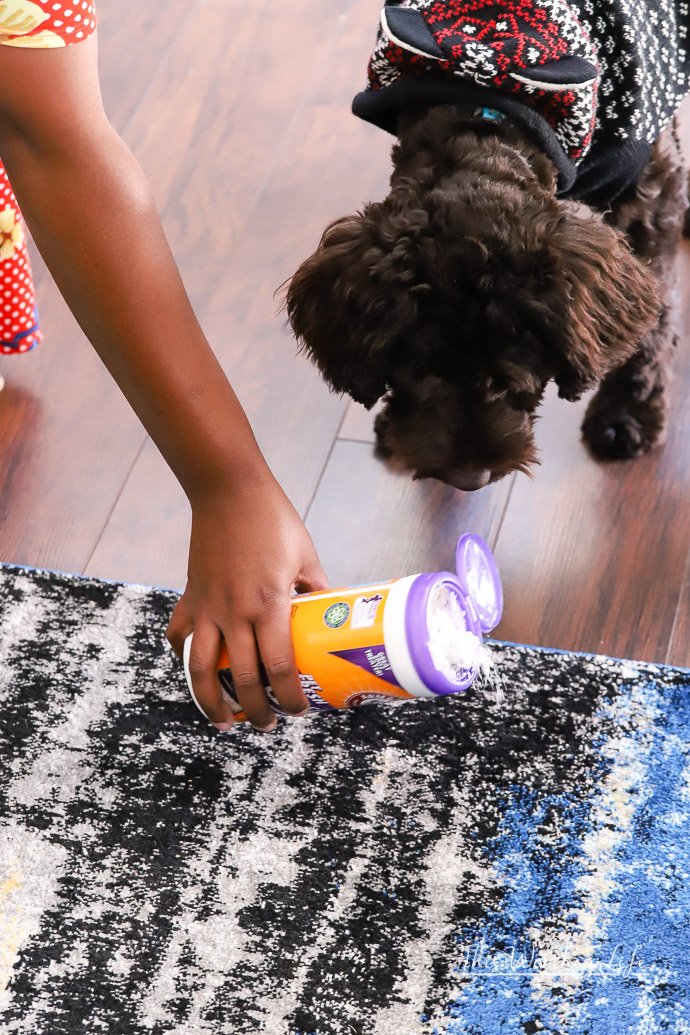 It's easy to use: just sprinkle the dry carpet cleaning powder evenly into your carpet.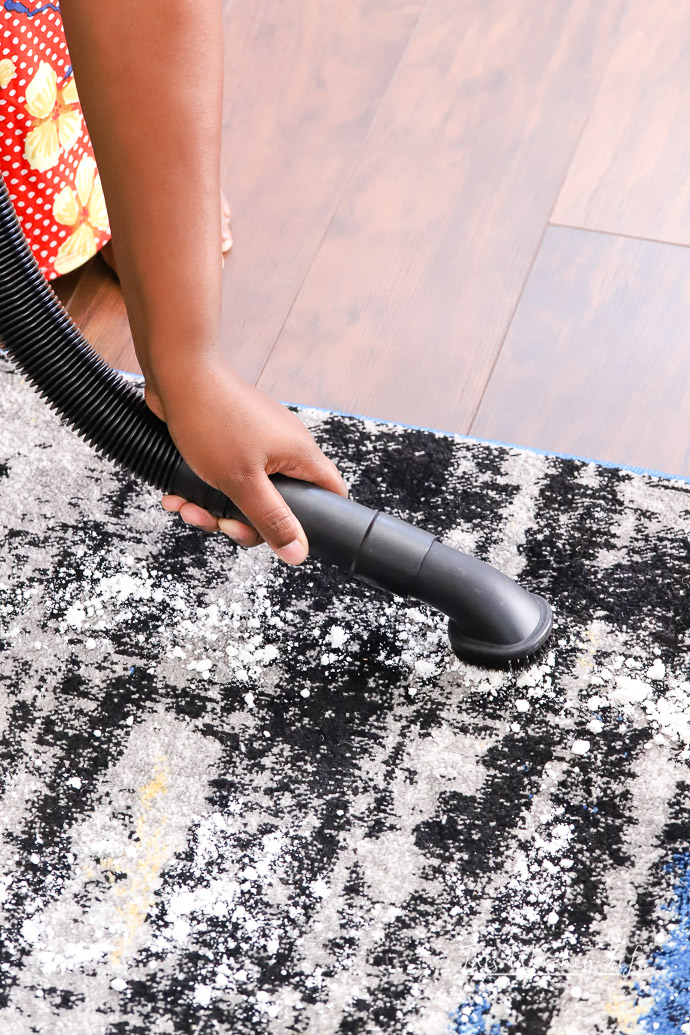 Activate the powder it into the carpet.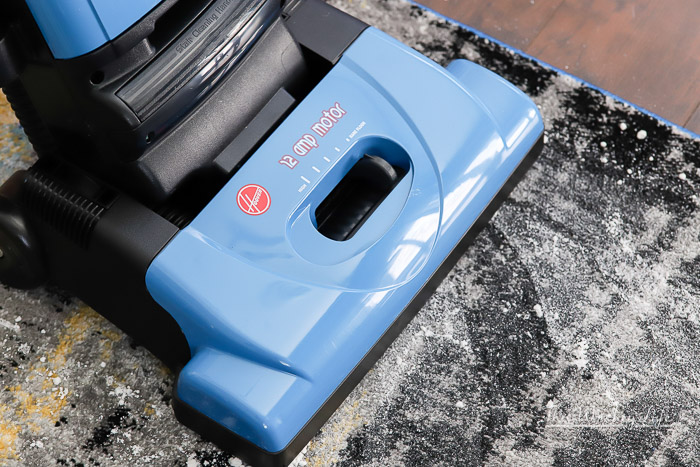 Allow the powder to dry completely for about 30 minutes, then vacuum your floor!
When our labradoodle first came home, he was not potty-trained. So of course, we had accidents and extra messes to clean up. During the potty training stages, try to keep your pet off the carpet areas. However, if messes do happen, clean it up quickly. With ARM & HAMMER™ Pet Fresh Dry Carpet Cleaner, the cleaning particles work like sponges to help absorb pet mess and odors embedded into the carpet fibers.
Clean Dish Bowls. Just as you wash your dishes regularly, clean your pet's dish bowls as well. I will wipe down the dog dish bowls at least once per week. I also put their dog bowls on a mat. Dogs are MESSY when they eat and keeping everything in a quarantined area helps with cleaning up after our dogs.
Organize Toys. Having a dog is just like having another child in your home. Their toys, blankets, and other accessories will take up space. You find yourself constantly picking up socks, their toys, and anything else they dragged all over the house. Have a basket or designated place to keep their toys.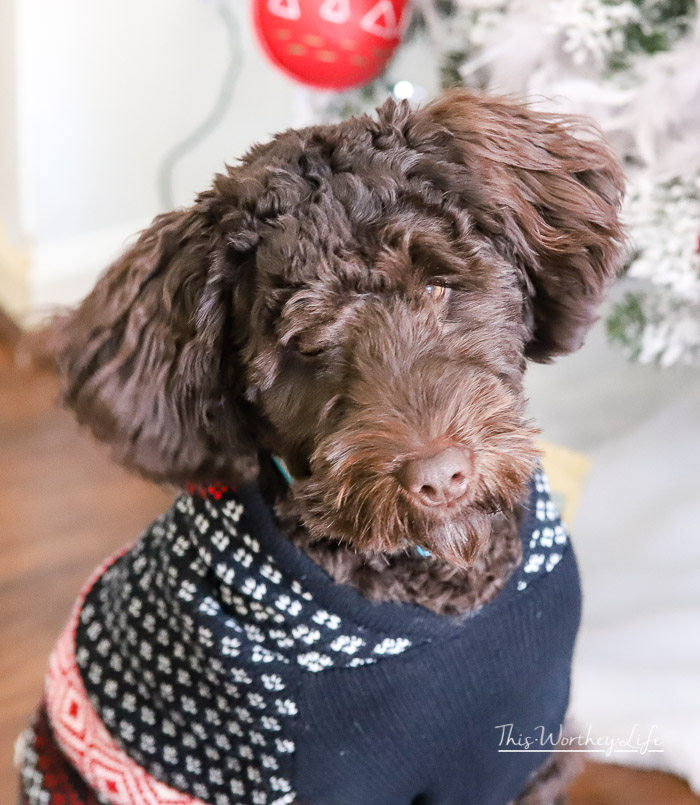 Shedding. When it comes to shedding, we are lucky. We have always looked for dogs that had minimal to no shedding. This is important to me. I am not a fan of pet hair all over my furniture. If you do have a pet that sheds, you will need to vacuum your home regularly. Another tip you can do is use a damp rubber glove and run it across the couch and other areas where your pets lay around. Then toss the glove and all of the clumps of hair it gathered up into the trash.
Wipe their paws off when they come in. I keep an old towel by our back door. Before allowing our dogs into the house, we wipe their feet down first. Doing this cuts down on the dirt our dogs bring into our home. And
Avoid cheap toys. Skip out on the cheap dog toys. They will easily rip them apart, leaving more mess for you to clean up.
Keep old towels or bed throws around to match your decor. If you do have pets that create a lot of mess, keep bed throws handy to toss over those stains on the couches. You can also lay old towels and throws across your couches and beds before your pets lay down. This will keep the dirt contained in one place, and easy to wash versus trying to clean furniture.
Vacuum. This is my number one tip when it comes to cleaning up behind pets. We vacuum our house at least once every other day. I try to do this daily, but some days it just doesn't happen. When you vacuum, you are picking up any little bugs and dirt that may have come in with your pet. One thing many people forget after they vacuum is to change the bags!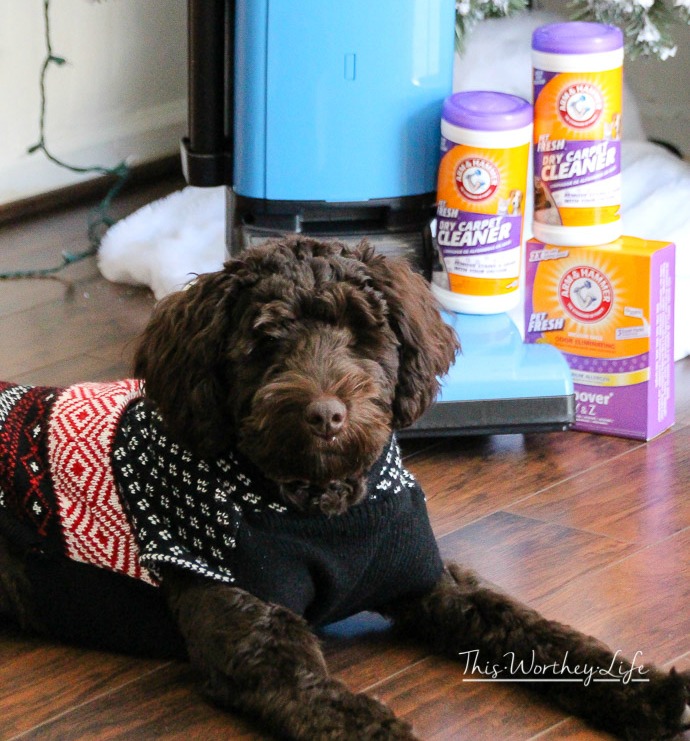 When we use ARM & HAMMER™ Pet Fresh bags, and filters, it's recommended replacing your vacuum bags every 1-2 months and filters every 3-6 months. The ARM & HAMMER™ Pet Fresh bags and filters are designed to help capture pet dander and allergens. It's also safe and naturally absorbs all those offensive odors with the natural odor-fighting power of ARM & HAMMER™ Baking Soda plus the power of Fresh-ins.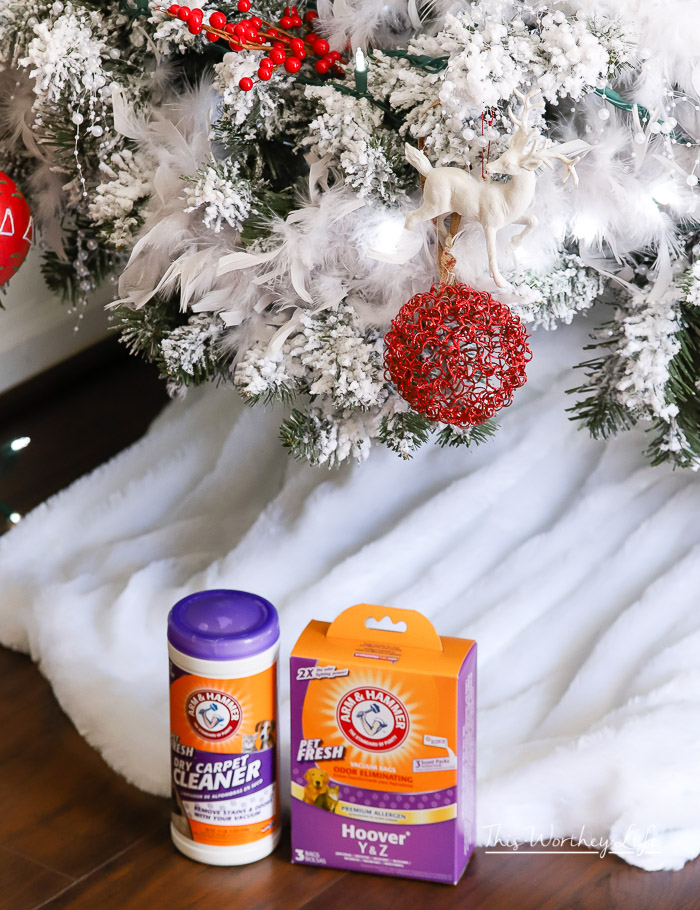 With the new year just around the corner, I like to do some deep cleaning before stepping into the next year. Cleaning up behind my pets is always on my to-do list. But thanks to products made by ARM & HAMMER™ for pets, cleaning is now half the battle. You can pick up your ARM & HAMMER™ vacuum accessories and Pet Fresh cleaning at your nearest Wal-Mart store or order online at Walmart.com.
Giveaway OPP: And guess what? Chance and I (along with ARM & HAMMER™) are you giving you an opportunity to try out some of their Pet Fresh cleaning supplies. It's a simple giveaway- leave a comment below, sharing some of your best cleaning tips when you have pets (be sure to leave your email address), and you're entered to win! This giveaway will run until January 10th, 2018. One lucky winner will receive a surprise package of a variety of ARM & HAMMER™ Pet Fresh supplies!