Are you traveling this summer? There are several items that are travel essentials. I'm sharing my list of what I'm putting in my travel bag this summer, as well as important healthy travel essentials you should always carry. Thank you to One A Day ® with Nature's Medley™ for sponsoring this post. I received product/compensation from OAD to write this post. All opinions are my own.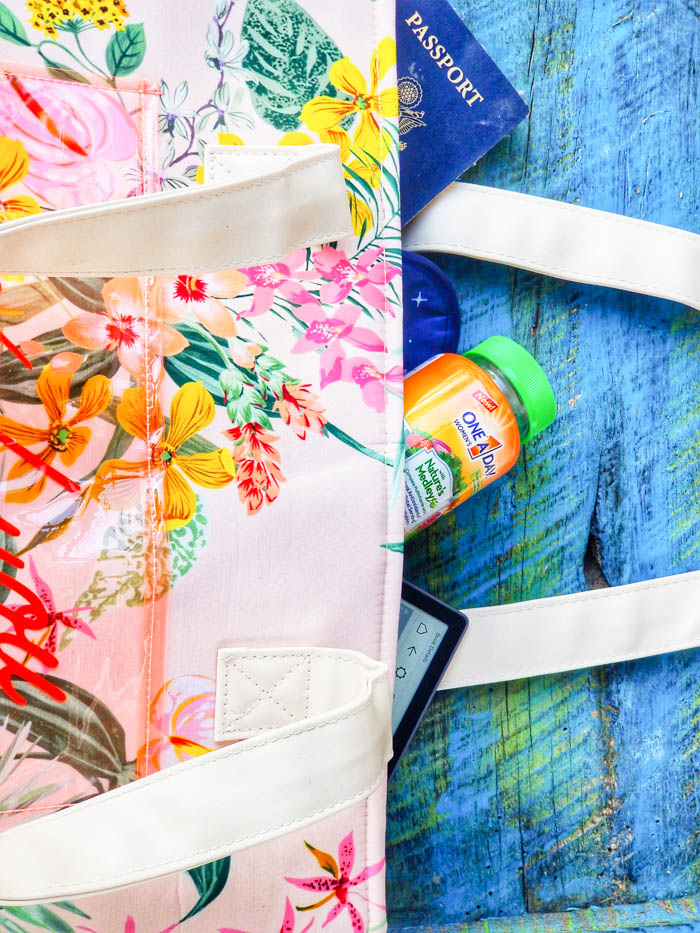 Travel Essentials | What's In My Travel Bag This Summer
Have you ever packed in a rush, or rushing to get to the airport, and while you're in panic mode about not missing your flight, you remember you left something at home? I pride myself on attempting to be organized and not forgetting things, but it happens to the best of us. It's been a busy travel year so far, and I've seen the airport more times than I've seen the grocery store.
Last month on a trip to a conference in California, I realized halfway to the airport that I forgot one necessary travel essential.
My headphones.
Have you ever been on a flight with a screaming baby, or the person next to you snoring loudly? Being able to tune all the noise out is important to me, especially on a four-hour (or longer) flight.
The funny thing is, my husband forgot his headphones the previous week when he left for a work trip. I told him he could get through the week without him. But there I was the next week in the same predicament. I sent him a text message about it, and he gave me the same response I gave him the previous week. Funny how karma works out.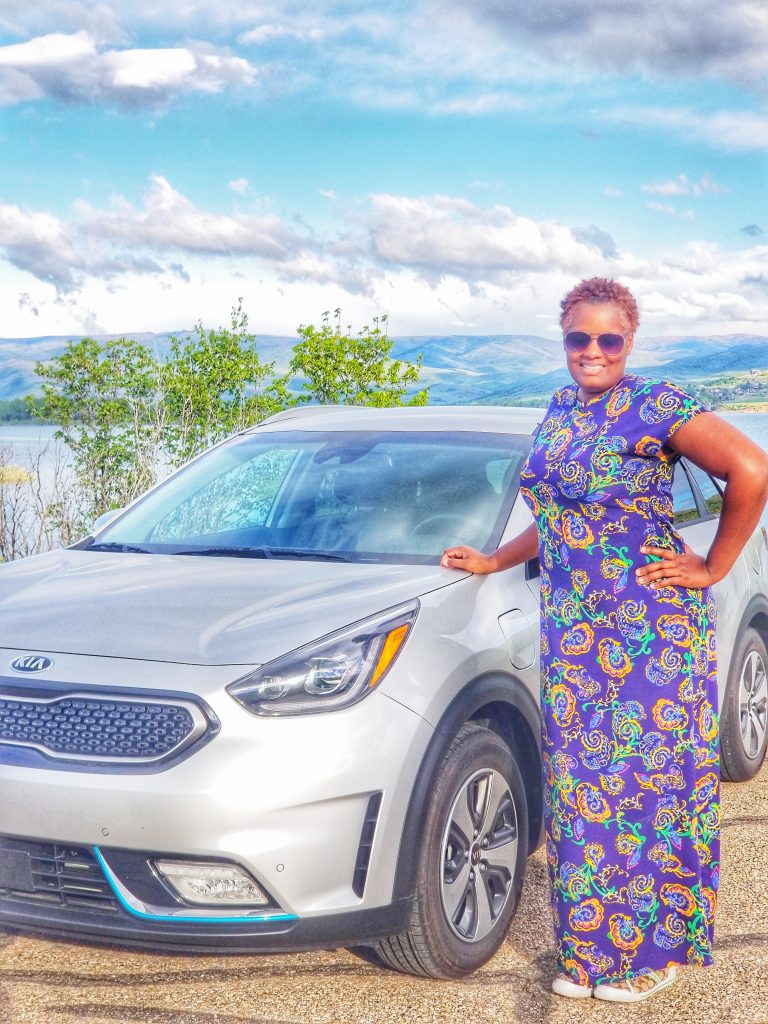 As I browsed around the airport shop, I kept asking myself, "Tatanisha, are you really going to pay $50 for a pair of earbuds?"
I was desperate, but I wasn't THAT desperate. Thankfully, there were no crying babies or loud snoring around me, and I made it through my flight.
There are several items I travel with quite frequently, but there are just a few I consider essential and necessary for my well-being. Traveling a lot can take a toll on your body. You're in and out of airports, handling luggage, around people, continually moving from one place to another, and sometimes spending hours in an airport for a layover. So, it's important to develop a list of travel essentials you carry at all times.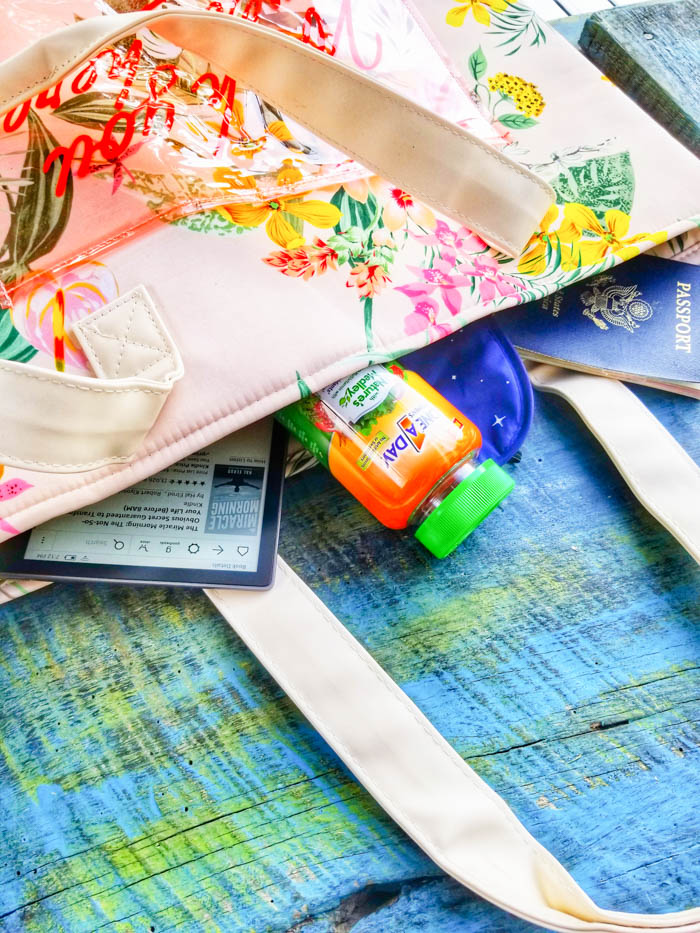 Here's what I'm keeping in my travel bag while I travel this summer.
Earbuds. Blocking out noise while going through the airport and on the plane is a must-have for all travelers.
Smartphone. Having my phone with me at all times is just as important as my earbuds. My phone is not only used to communicate with people, but I can check-in for my flight, pull up my boarding pass, look for directions, save notes, answer emails, and the list goes on and on.
Portable chargers. I typically carry at least two portable chargers with me at all times. Some airports have upgraded their seating areas with outlets, which is a great time to charge devices while waiting for a flight. Some airplanes have outlets in them, but I always carry a few for those moments when your phone is about dead, and there is no outlet in sight.
Empty Water Bottle. Since you can't take liquids over 3 ounces through security, I like to carry an empty water bottle with me. With high airport prices for a bottle of water, I can save a few bucks by bringing a water bottle and filling it up once I'm through security.
Chapstick or lip balm. Enough said.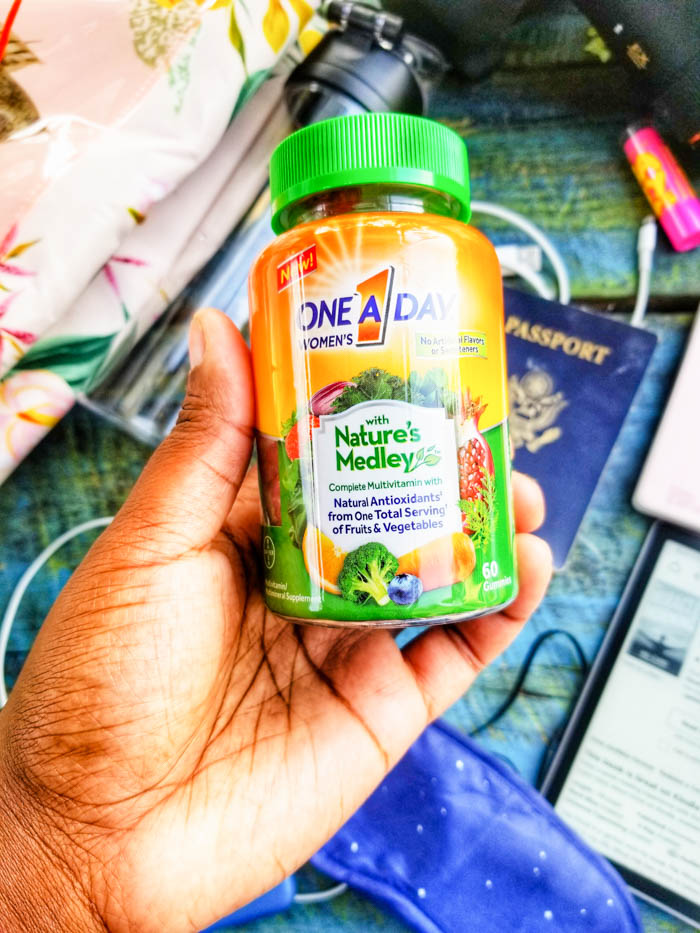 Vitamins. This is another must-have essential. Going in and out of airports means I'm around a lot of people. I want to stay as healthy as possible, so it's necessary for me to take daily vitamins. I'm currently using One A Day ® with Nature's Medley™ multivitamins for women. They are the only complete multivitamins with natural antioxidants from one total serving of fruits and vegetables.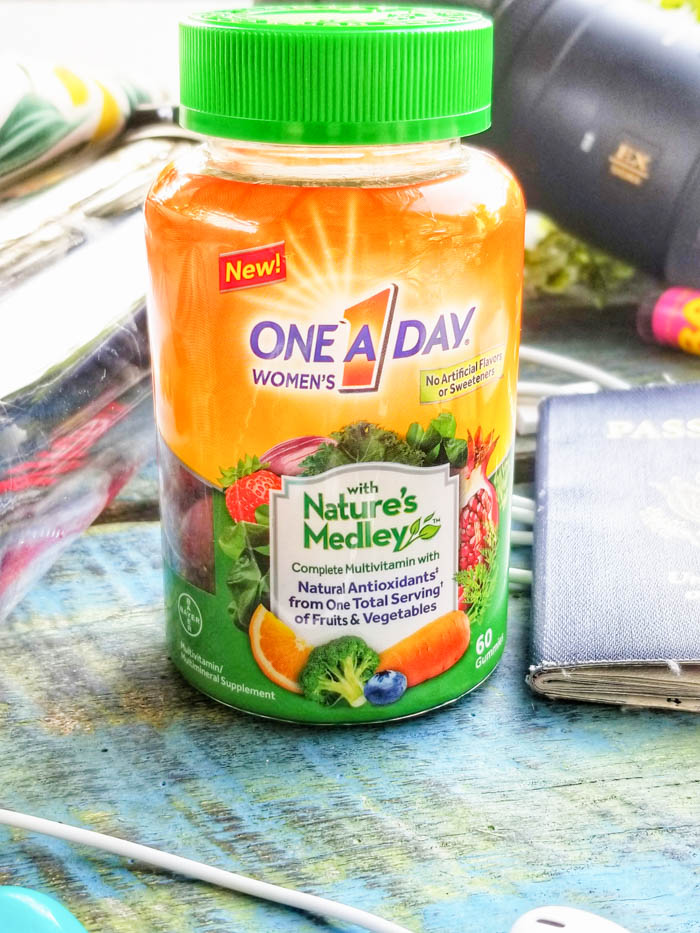 I love the taste of them, and I also like that the women variety focuses on a few key benefits like supporting physical energy, heart health, immune health, and skin health.
Essential Oils. Another health essential I do not leave home without is my essential oils. I do not travel with all of my oils, but I keep peppermint and lavender in my travel bag.
Neck Pillow and sleep mask. Going out west has been my travel route for most of this year. With four-hour flights, I'm bound to catch a nap or two, so these two items are important to have in my travel bag. And depending on the airline, I may bring my blanket.
Kindle Oasis E-reader. While I can use the Kindle app on my smartphone, having a separate device to use means I am not draining the battery on my phone. And the Oasis is light and doesn't take up space in my bag.
Notebook. Even though I have my phone to keep notes, I am still a pen and paper girl. Traveling opens your eyes up to a whole new world. It gives you ideas at that moment and having a pad of paper to jot those down has proven to be beneficial over the years.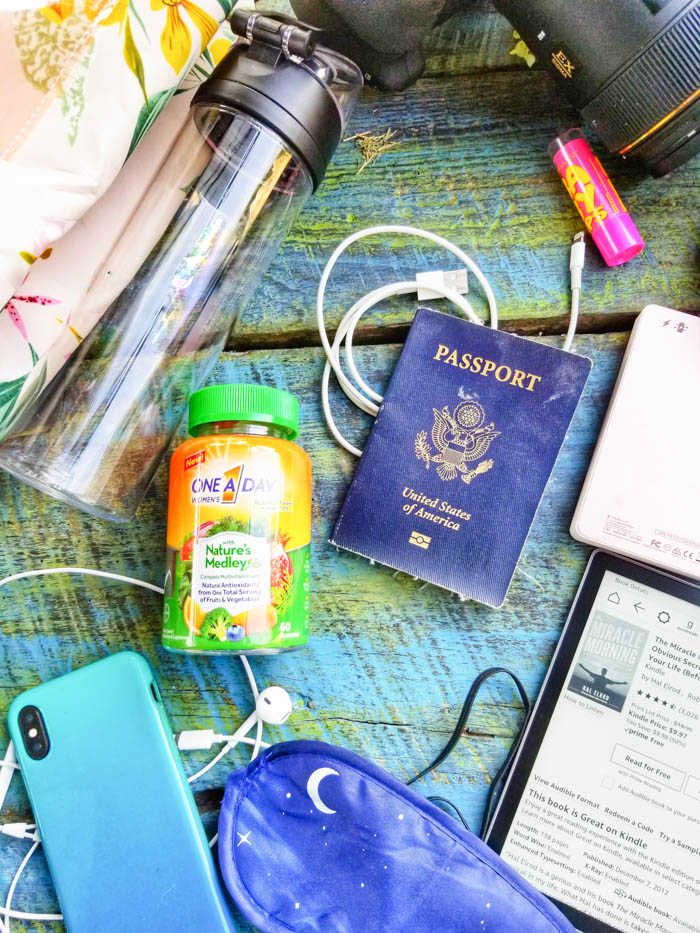 Passport. You never know when you might need this, so it's always good to carry your passport with you. And in 2019 with the new security changes, you will have to have a passport or an enhanced I.D. to get through security.
Camera. This is a travel essential I only carry if I know I will use it. A DSLR carries quite the weight, but you can take some amazing travel photos with a fantastic camera. 90% of the time I use my smartphone, but on a few rare occasions, my camera can be found in my travel bag.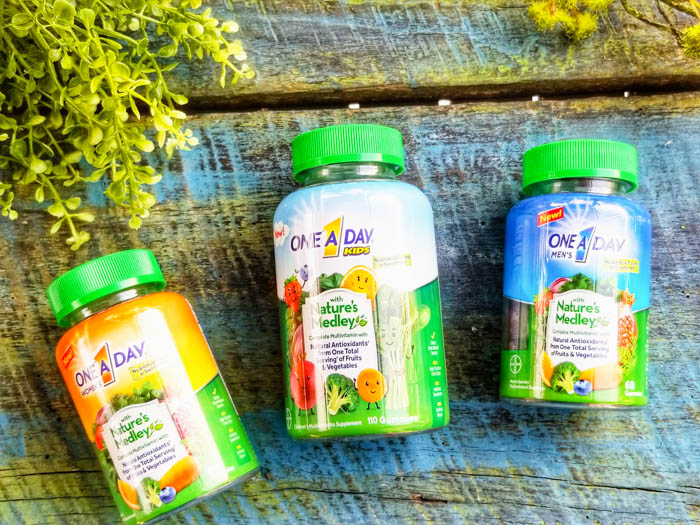 When we travel as a family, I make sure we all have our vitamins. The New! One A Day multivitamin has varieties specifically for women, men, and kids.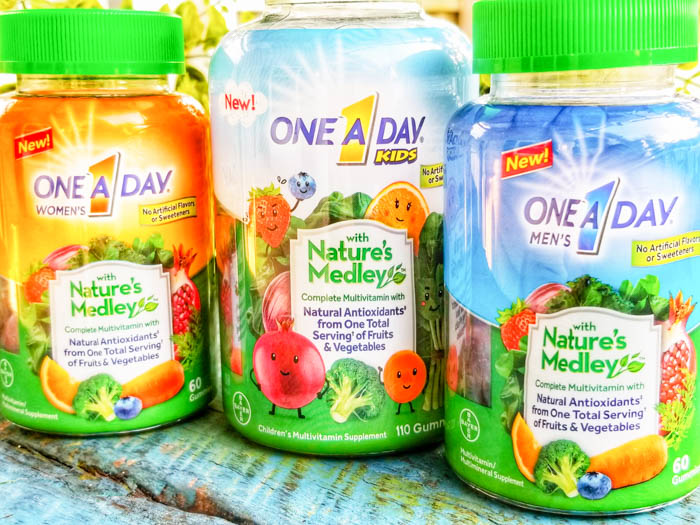 For men, the vitamin supports heart health, physical energy, muscle function, and immune health. For kids, they support physical energy, bone health, immune health, eye health, and overall wellness. I have been giving my boys multivitamins since they were young kids. And while we feed them food with a ton of nutrients in them, a multivitamin can give them what they may not get from food.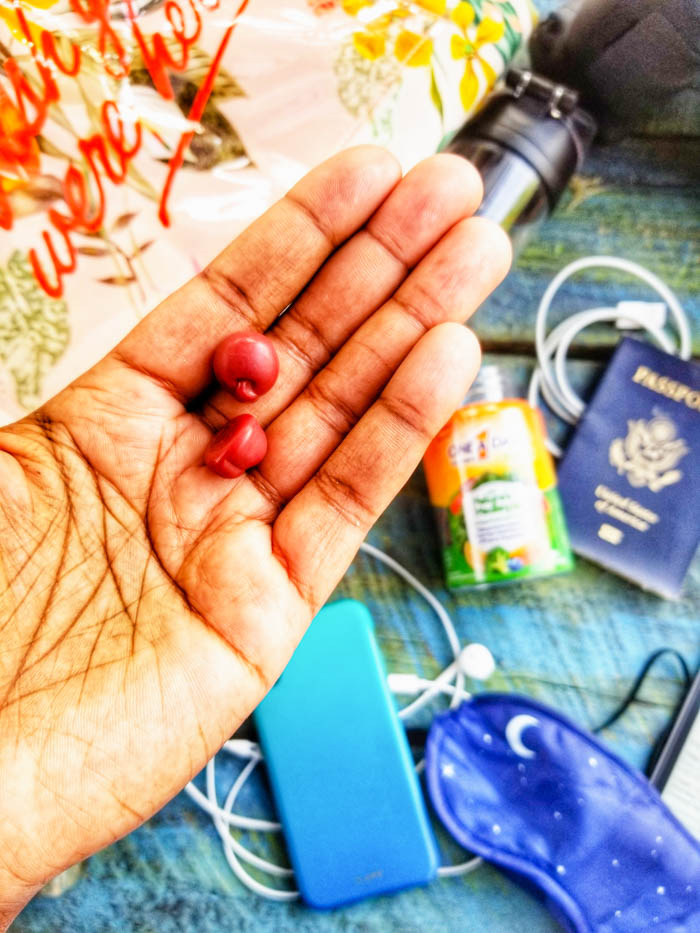 With my hectic travel schedule, keeping up with eating healthy while on the road and not resorting to a lot of snacks can be hard. However, I am supporting healthy habits with my daily multivitamin intake from One A Day ® with Nature's Medley™. Their new multivitamins are also free of artificial flavors, sweeteners, and high fructose corn syrup.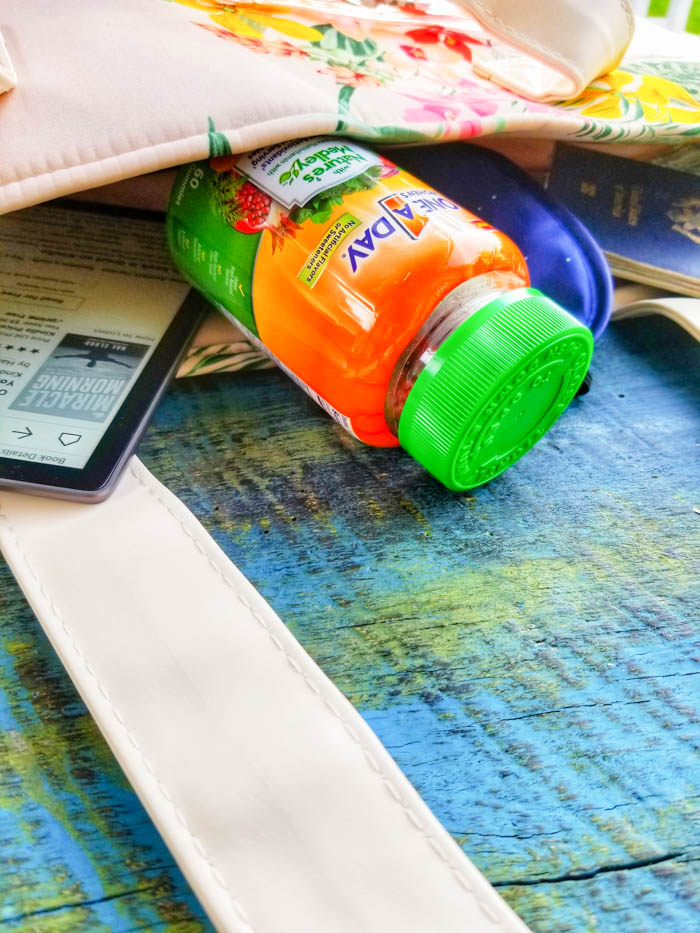 You can find NEW! One A Day ® with Nature's Medley™ for men, women, and kids at your local Walmart. While you're picking up your other travel essentials, be sure to stop by the vitamin area and look for these multivitamins.
Oh, and because earbuds are uber important to me, I picked up a pair before my flight back home. (Shh, don't tell Derrick. lol)
Did I leave out an important travel essential? Drop me a line below! I want to know… what's in your travel bag?
Save $4 now by clicking here and downloading the coupon found here.