Want to make your meat purchases go further? Get more out of the foods you buy, and make them last longer (and taste better) by breaking down bulk purchases into smaller portions then vacuum seal them for storage in the freezer up to three months. We're sharing how to vacuum seal meat in this guide and prevent freezer burn below. Read on.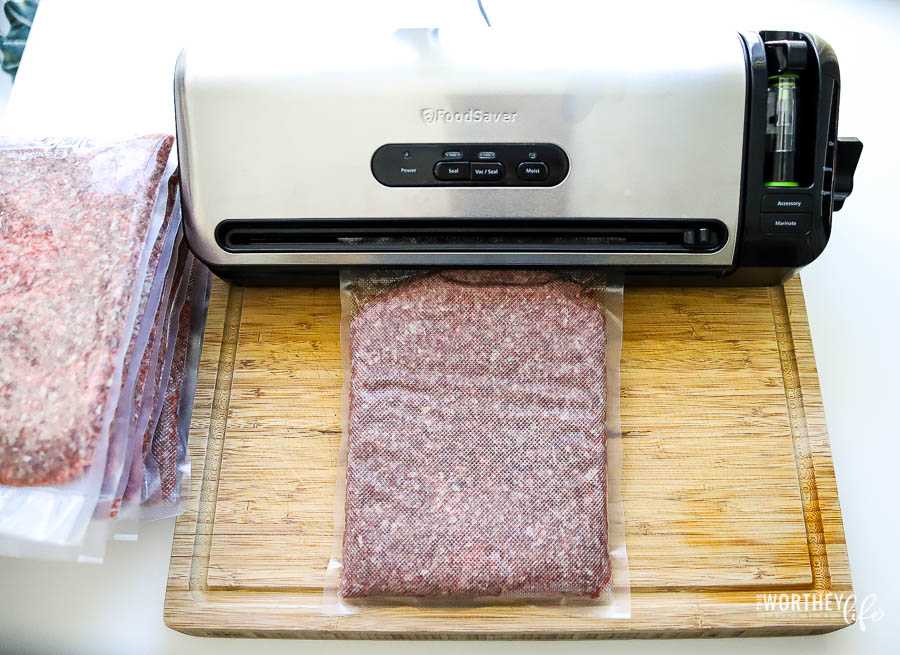 How To Vacuum Seal Meat 101
Nobody likes to waste hard-earned money and watch the foods we purchase to get all kinds of nasty because of freezer burn, spoilage, etc. So the best solution to food injustices is prevention.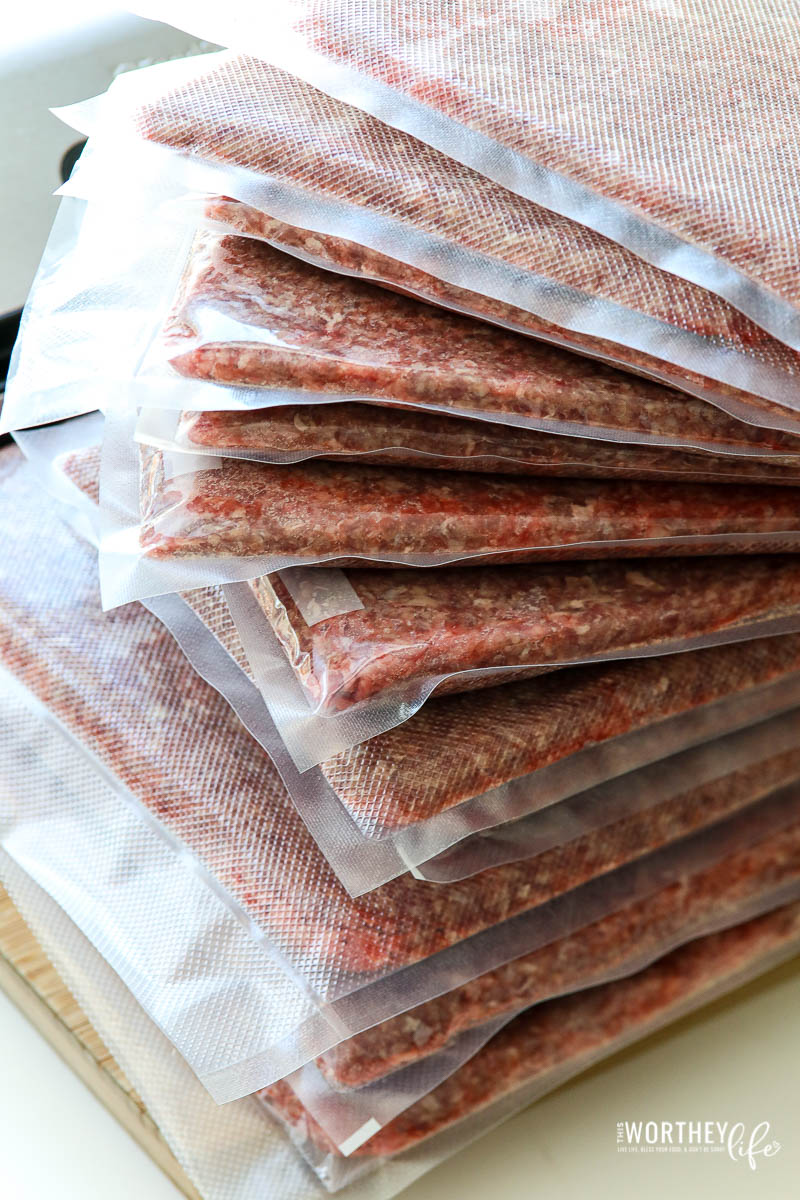 Get a handle on the situation beforehand by vacuum sealing meat, as well as other foods. Vacuum sealing meat is a great way to make your food purchases last longer and believe it or not taste better, and it's as easy as falling when you have a vacuum sealing appliance.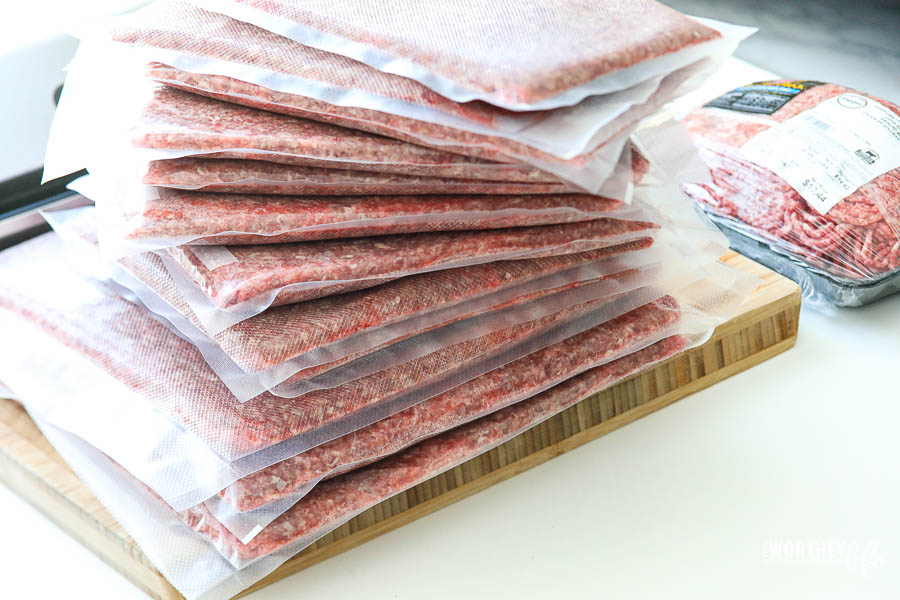 Recently, we took advantage of a sale on meat at our favorite grocery store, and whenever we buy meat in bulk, we break it all down and repack the meat into smaller portions and then vacuum seal the bags and store them in our deep freezer.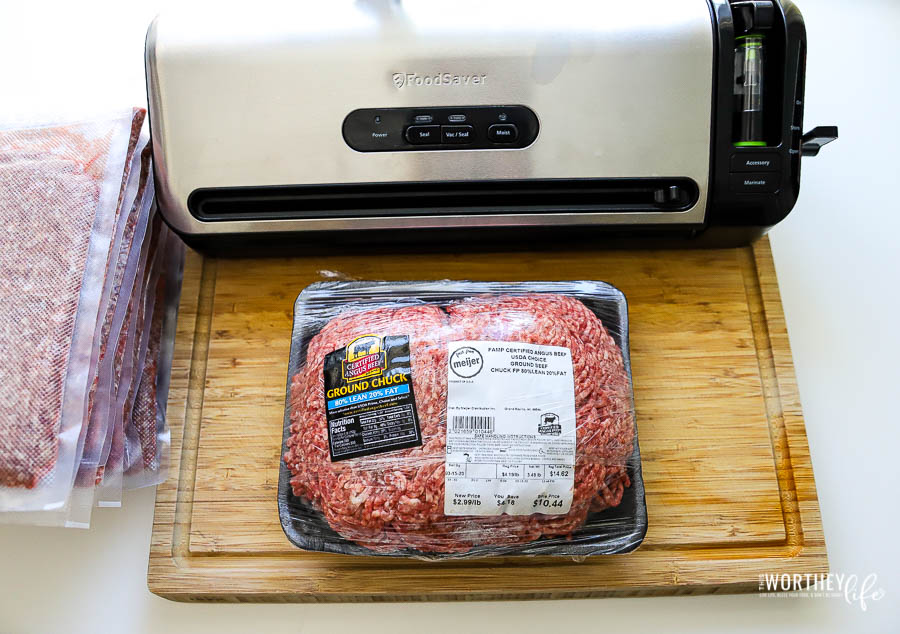 For instance, a package of fifteen pork chops gets broken down into three bags containing five pork chops. These quantities work out perfectly for us because there are five folks in our household, you may breakdown your portions differently, and that's okay because you have to breakdown the meat in quantities that work the best for you and your family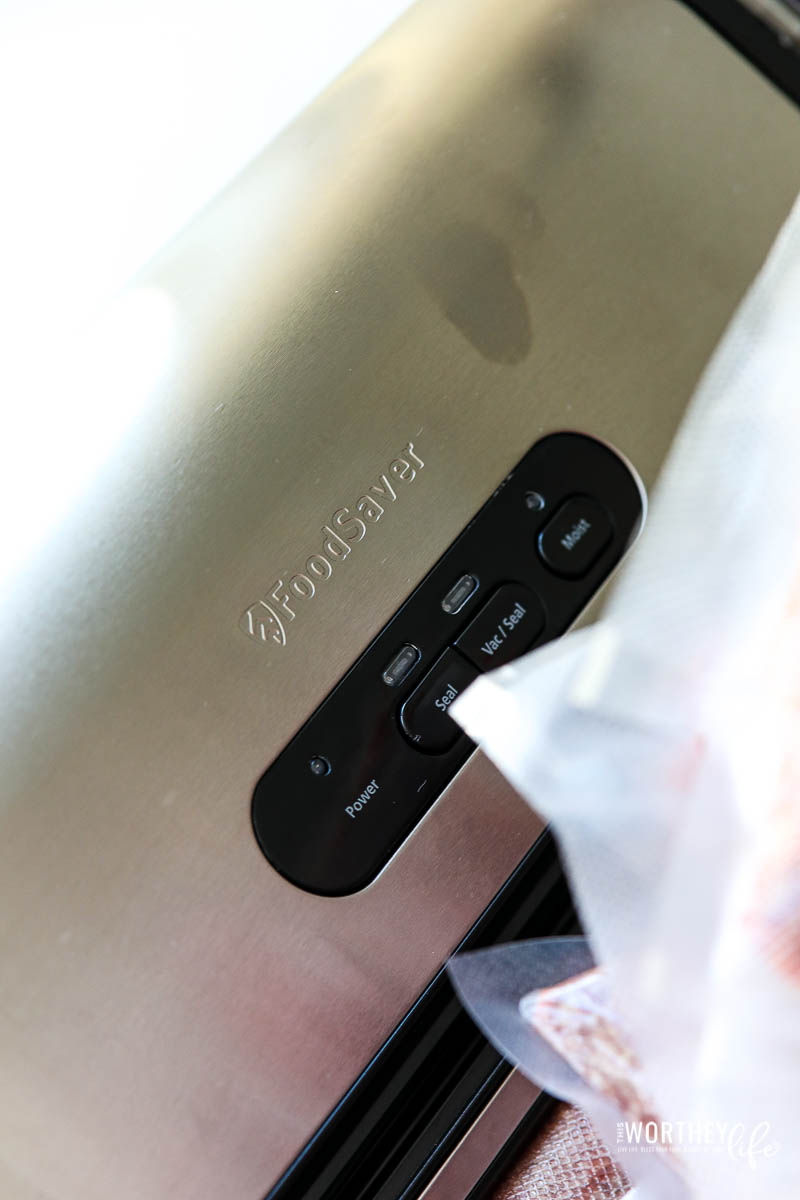 Ground beef is a favorite; it's the easiest to break down, weigh into your particular serving size. Another plus, meat goes on sale often, and buying large quantities of any meat is typically more cost-effective than purchasing meat willy-nilly when you want it and not watching those pennies.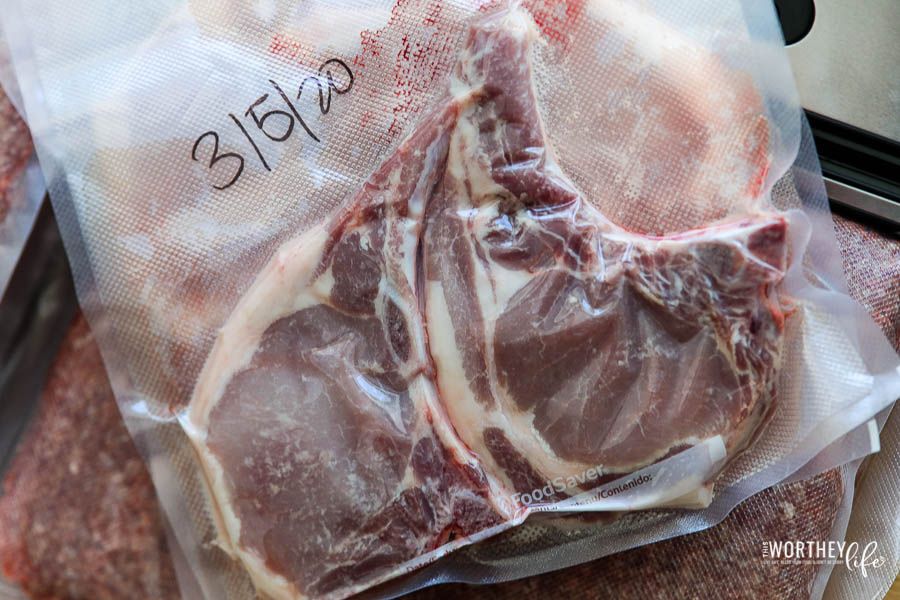 Get yourself a FoodSaver, either brand new, refurbished, or used. Check for sales or put one on a gift registry. Toss spare change into a jar and save up for one. No matter how you go about it, get a vacuum sealer into your home, and put it to good use, you'll thank me later.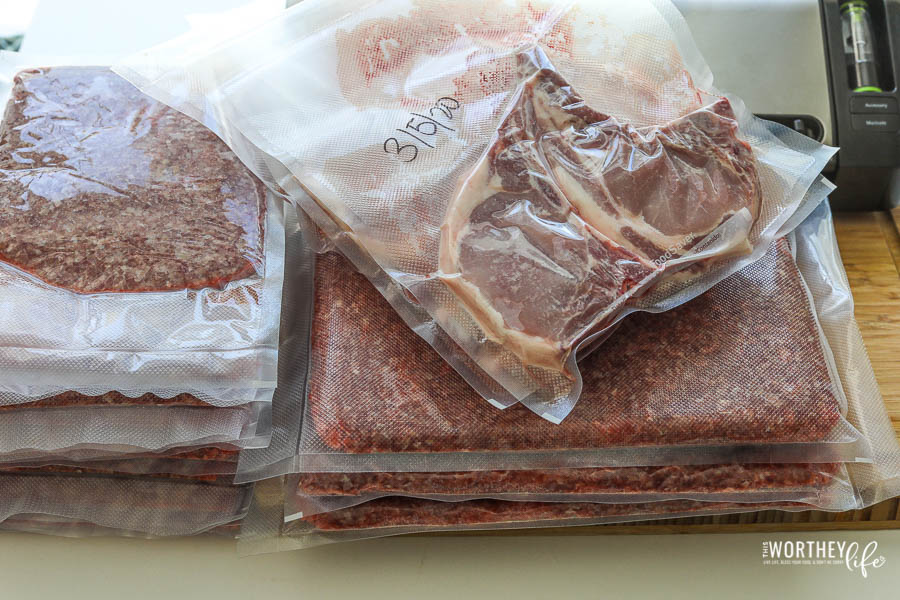 When breaking down ground beef and using a vacuum sealer, you will need a few items to make the job as efficient as possible; a scale, vacuum seal bags, and a rolling pin. Tip. If you don't have a vacuum sealer you can still protect meat by wrapping it tightly in aluminum foil, then wrapping the meat in plastic wrap.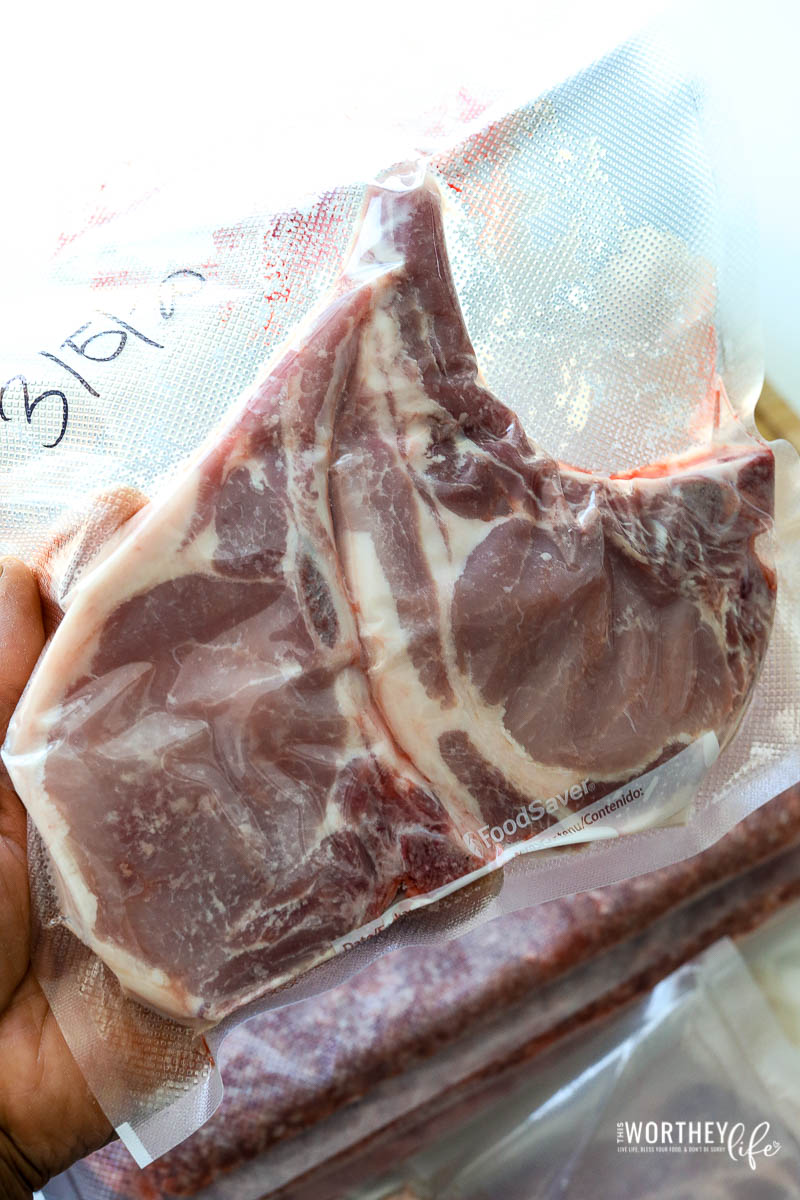 Yes, a rolling pin, because after you weight the meat, place it into a bag, you will need to flatten it; this is done for two primary reasons. One, the meat will stack easier when each package is flat, and the second reason is the thin flat packages of ground beef will thaw faster. And faster thawing times means you'll be able to get dinner on the table sooner rather than later and prevent freezer burn.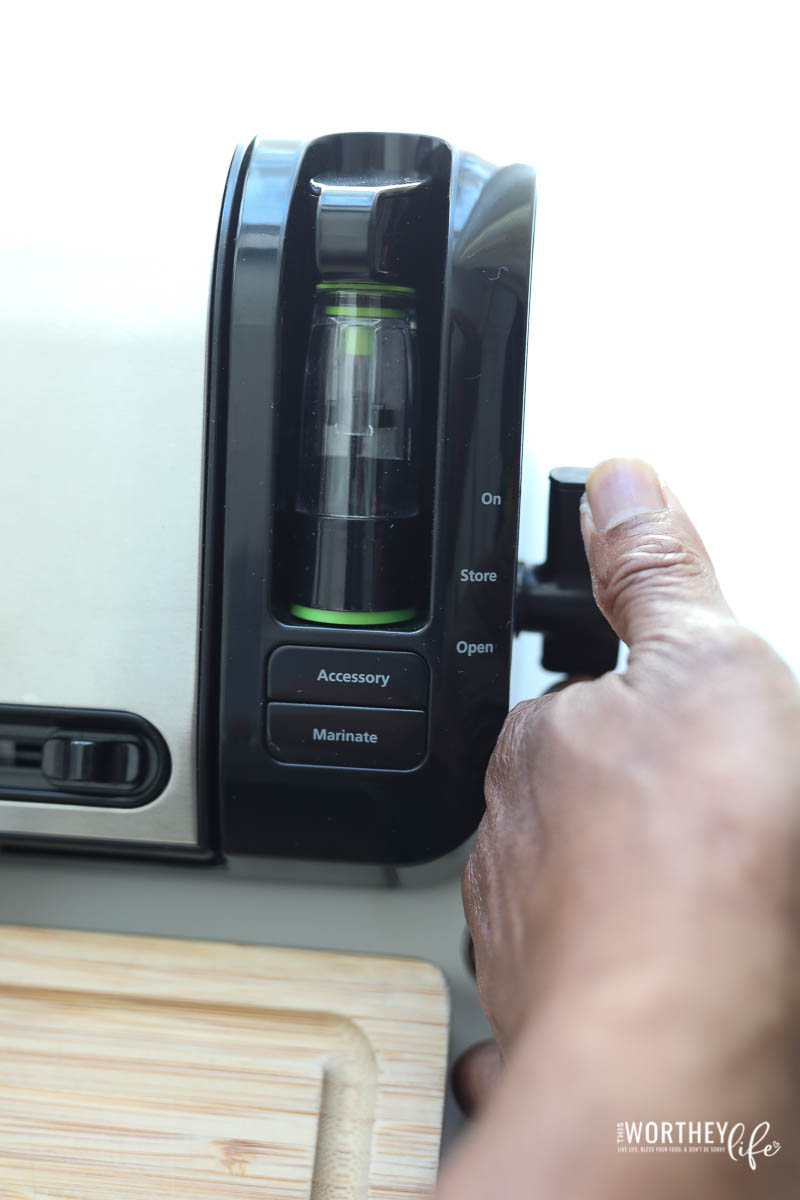 I also use two different size bags for ground beef; the smaller portions are used for dishes like spaghetti, goulash, or dirty rice. The more substantial pieces I use for when I make meatballs, lasagna, or grilling hamburgers.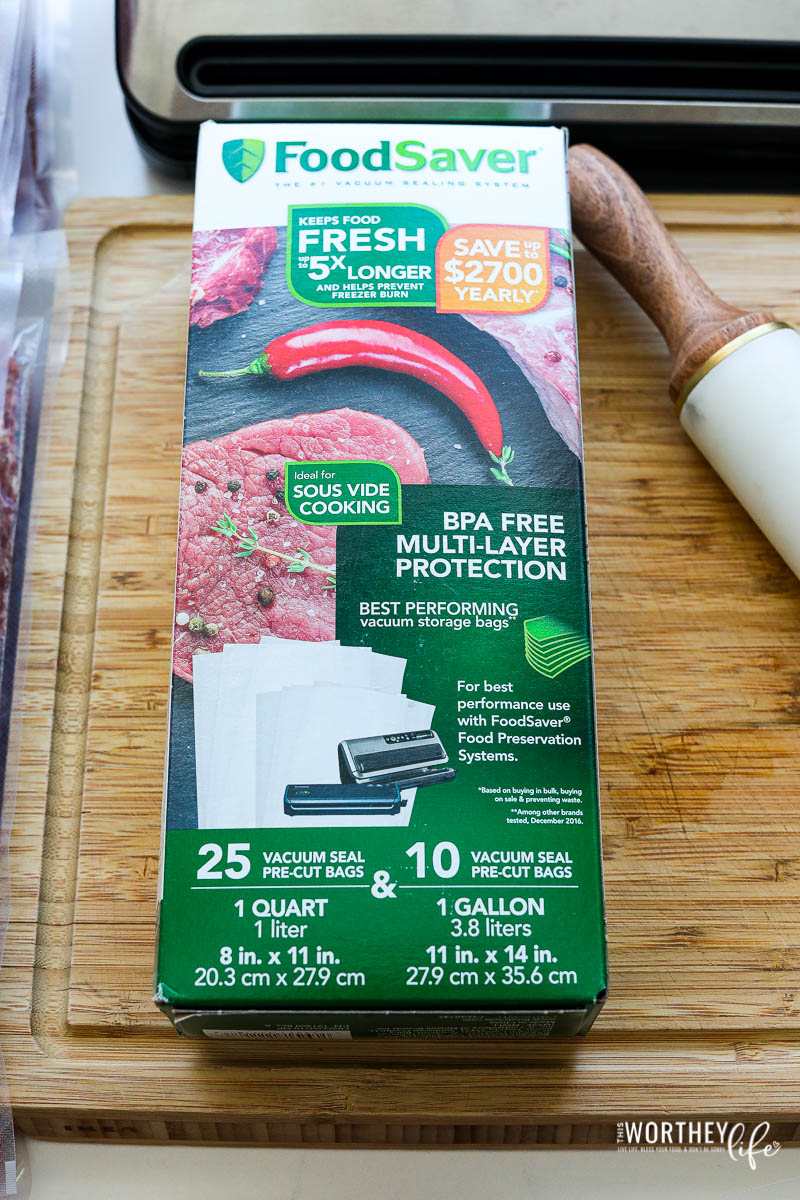 What You Will Need To Vacuum Seal Meat:
Vacuum Sealer. There is quite of few vacuum sealer brand out there, do your due diligence and get one that's going to meet your needs. Price points vary, as does quality, price doesn't always translate into a superior product and vice versa. Look and around and read reviews. Better yet, ask friends and family because getting a review from somebody you trust is golden. Here's one we recommend.
Vacuum Sealer Bags. These come in lots of sizes, so you'll want to get small, medium, and large bags. I recommend getting a package that has a little from each category. Doing so is useful when you start, and you figure out what works best for you and your families' needs.
Rolling Pin. There's nothing more satisfying than putting ground meat into a bag and rolling it out! Seriously though, using a rolling pin to flatten your ground meat stored in a bag makes it easier to stack in your freezer, and when it's time to prepare a meal, the flat bags help the meat thaw out quicker.
Permanent Marker. When I was younger, my mom always told me not to play with my food, but she never said I couldn't write on it! Yes, use a permanent marker to write the date on the packages of meat, because first in, first out.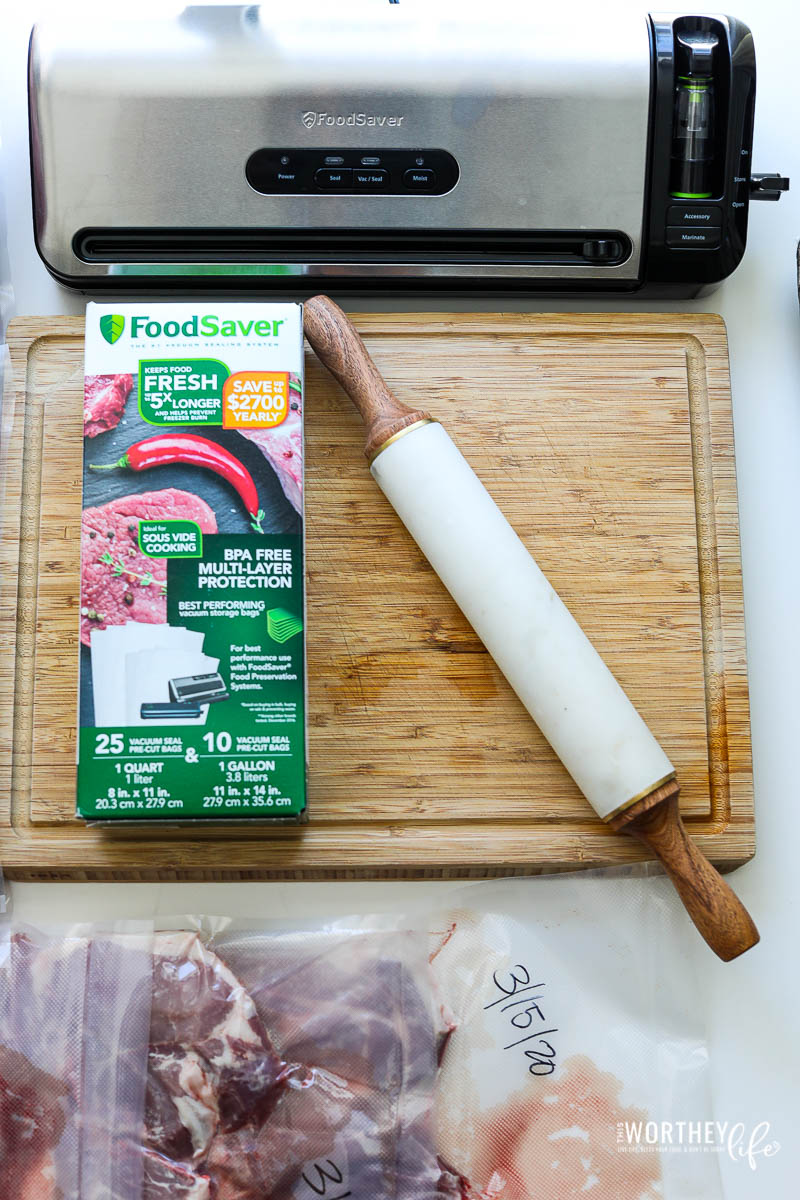 You Will Like Vacuuming Sealing Food Because It:
Is Easy
Saves Money
Helps Food Taste Better
Avoid freezer burn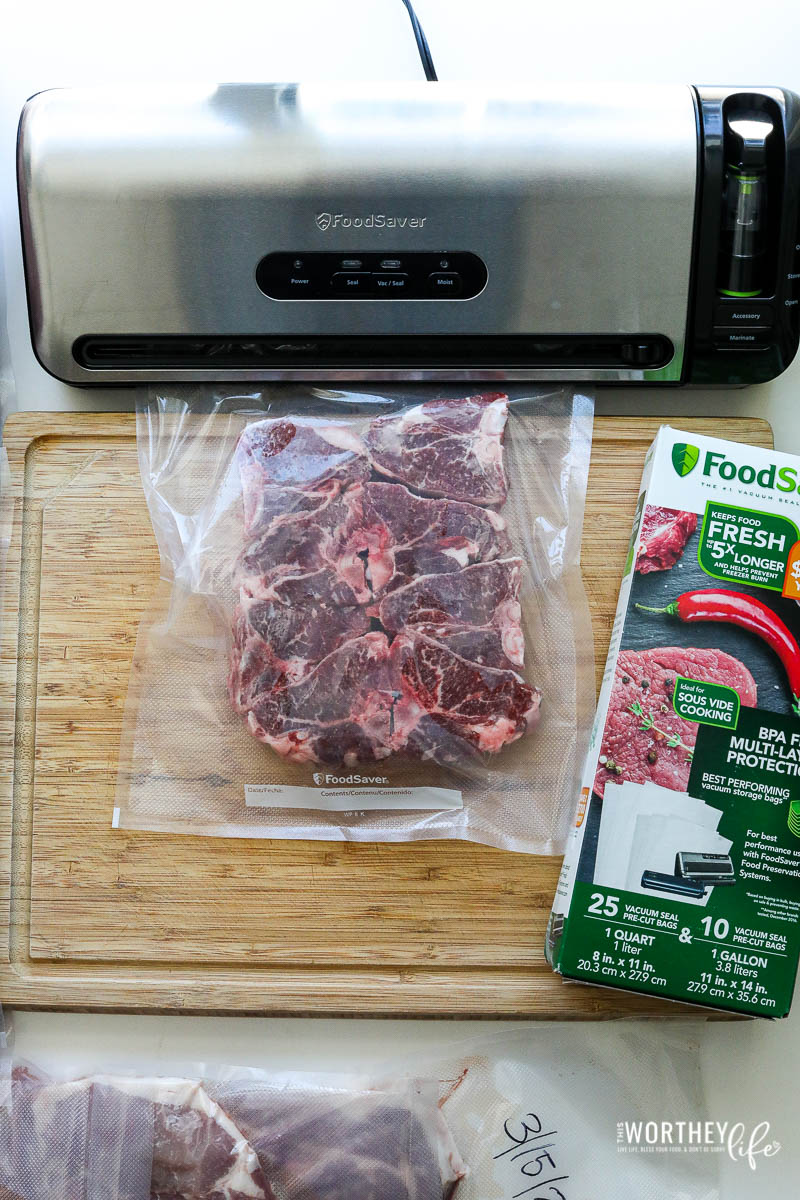 These Australian lamb chops got the vacuum seal treatment, did you know you add marinade before you seal the bag.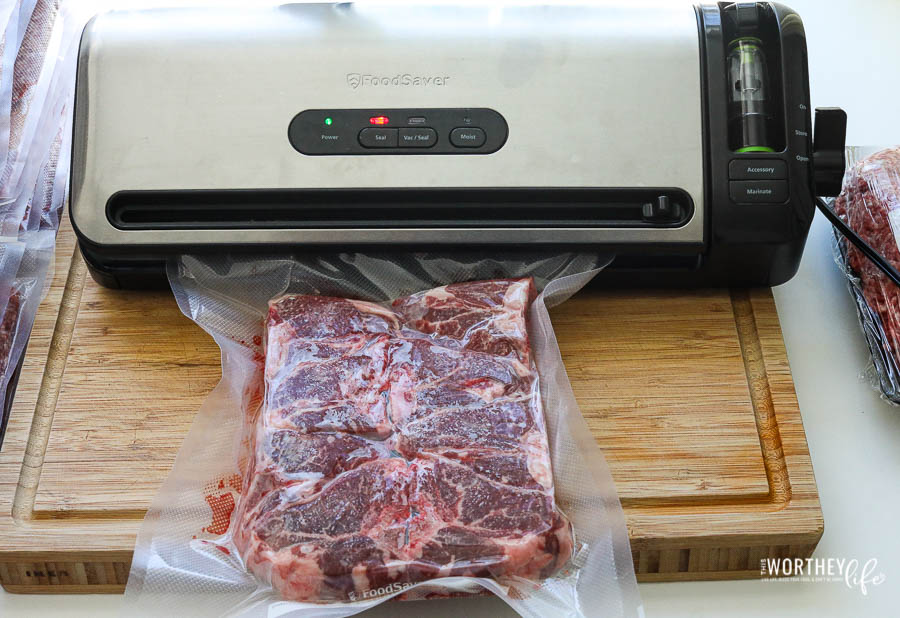 Did you know that vacuum sealing food can help you store food up to five times longer than just storing your food in the package it came in? FACTS!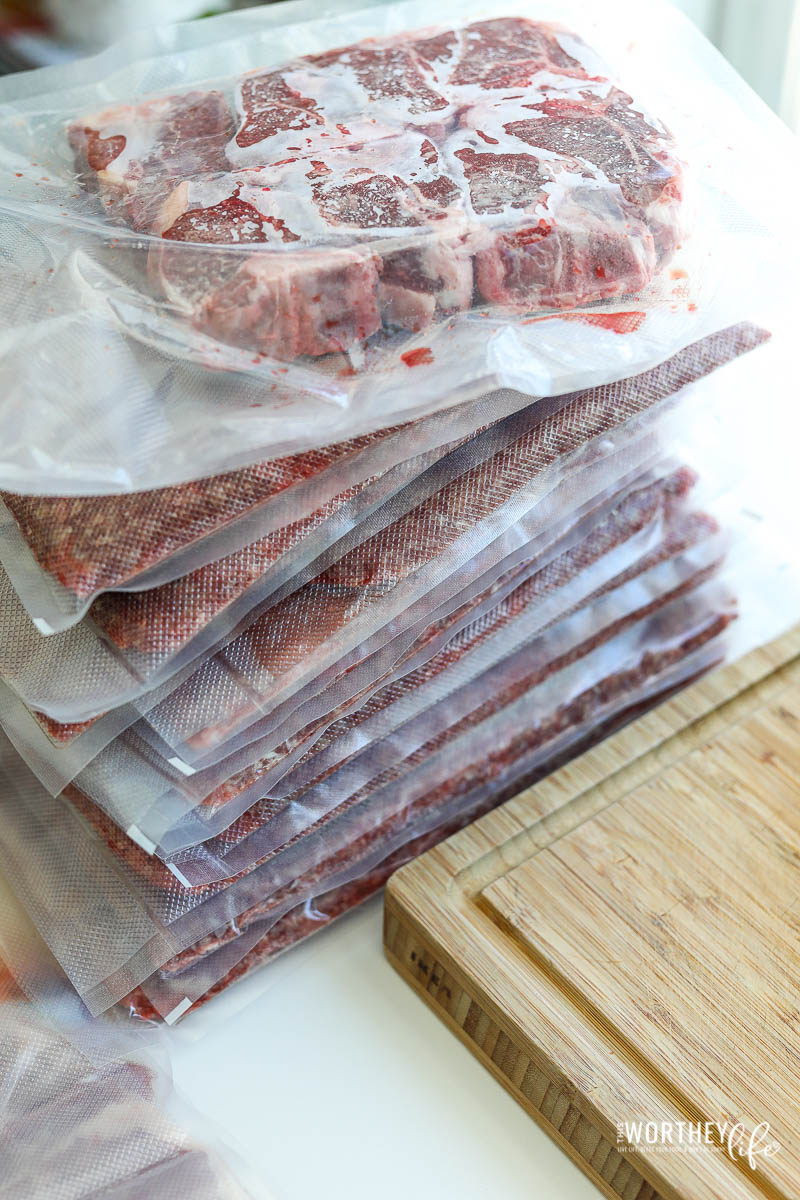 Vacuum sealing is so easy; I was able to process over 50 pounds of meat in under an hour.
Why Vacuum Seal?
The process of vacuum sealing meat removes the air and excess moisture from the container that store-bought meat is packaged inside.
Vacuum sealing meat removes the air from the meat, once the air is removed your meat will last longer and degrade at a substantially slower pace. Same regarding moisture, water vapor when frozen form water crystals on the meat and can lead to freezer burn, vacuum sealing removes most of the moisture and helps preserves the meat longer, freezer burn doesn't mean you can't eat the meat, it just makes the meat look bad and unappetizing.
When you store meat in the store-bought packaging into your freezer it can typically last anywhere from half a year (6 months) to twelve months (1-year) in the freezer.
When you remove the meat from the store packaging and vacuum seal it, you can extend the storage time up to two (2) to three (3) years in the freezer.
Foods that are vacuum-sealed can last in the refrigerator for up to two (2) weeks versus foods that have not been vacuumed sealed, which only last one (1) to three (3) days in the fridge. A real of thumb, even vacuumed sealed food stored in the refrigerator, should be eaten within ten (10) calendar days.
And we are done.