If you have ever dealt with bullying before, you know how dangerous and painful it can be. No one wants their child bullied, which is why it is important to stop and prevent any potential bullying situations as soon as you see them unfolding. If you are unsure about how to go about this, take a look below at 25 ways to stop and prevent a bully, so you can stop the behavior in its tracks and help your child enjoy the peaceful school year he or she deserves.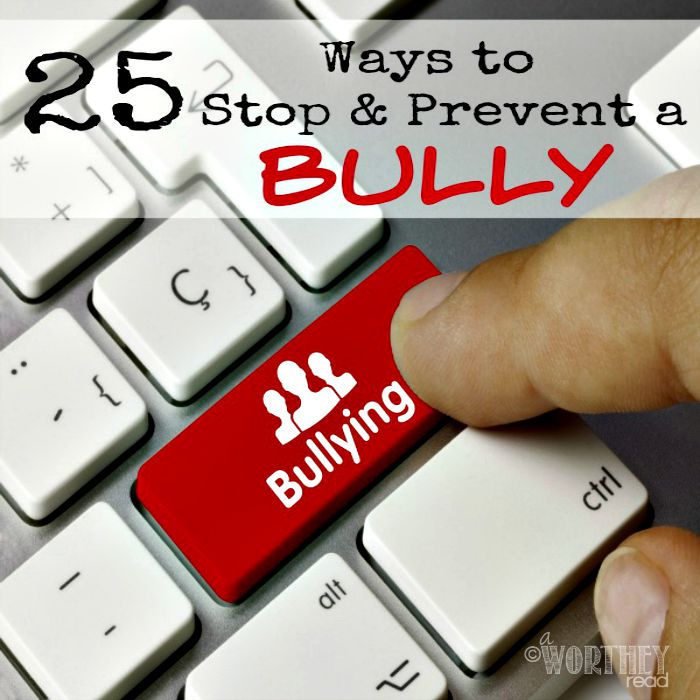 25 Ways to Stop and Prevent a Bully
For parents:
1. Don't use the motto that kids will be kids. Take all reports of bullying seriously by listening to any complaints, looking into them, and following through with some action.
2. Ask your school for a copy of their bullying policy. Don't be afraid to refer to it when needed.
3. Get to know the parents of your child's peers. The parents of your kid's friends can be a good indication of whether or not their kid is a good fit for your kids. If the parents don't tolerate bullying or rude behavior chances are their kids will know the consequences of acting out and bullying other kids.
4. Ask your child's teacher what the protocol is when children are experiencing bullying and come to them with an issue. Let your child know that you are familiar with this protocol so there is a school/home connection.
5. Volunteer in the classroom so you can get to know the children and they can get to know you. Bullies are less likely to act if they know a caring adult is on the scene and active in the child's life.
6. Get to know the support staff at your child's school such as the school nurse and counselor. This will make communication easier if you run into any issues.
7. Come up with a protocol for your family to use if anyone is ever bothered or threatened by a bully. Review this protocol often. Does your child have a phone? Let them know it is acceptable to text or call when there is an emergency. Let your kids know what actions to take when they are being threatened or bullied.
8. Encourage your child to talk to you about their friends. Encourage positive friendships and praise positive friendship choices. These friends can all be allies when a bully situation happens.
9. Know your rights. Know when bullying becomes more than playful teasing and crosses over into criminal behavior territory. And don't hesitate to follow through with authorities when necessary.
10. Enjoy child friendly, bully themed books with your child to help them identify bullying situations and how to deal with them.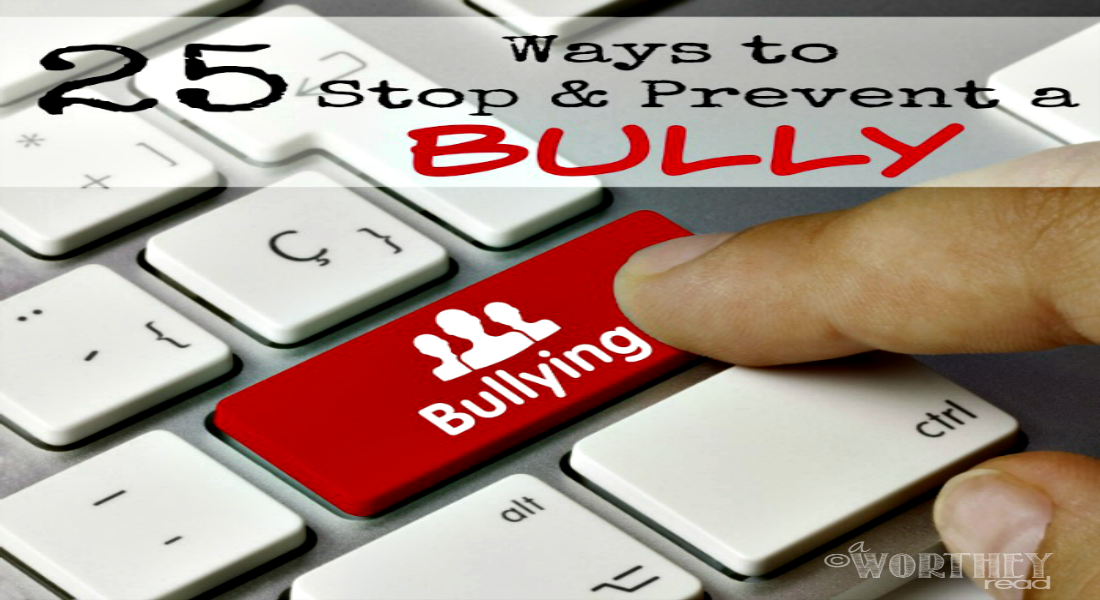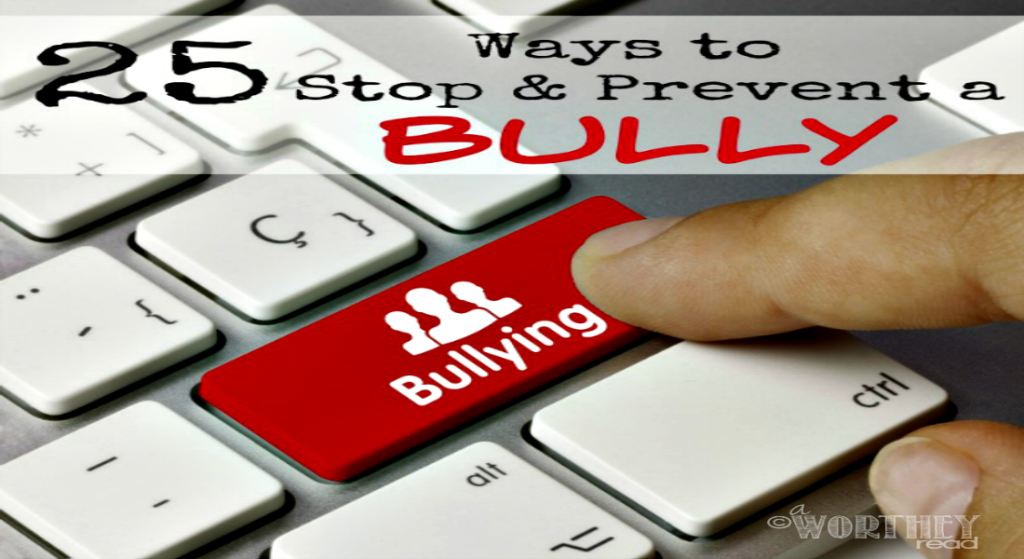 For kids:
11. Don't hesitate to report bullying. Go to an adult you trust as soon as bullying occurs.
12. Get familiar with other support staff in the school. Not all bullying occurs in the classroom, so know who else you can go to should a situation occur.
13. Don't fight bullying with bullying. Abusing the bully back will never get the situation under control.
1
4. Role play bullying situations so when and if they happen, you will have had practice with dealing with them.
15. Have a friend or peer with you at all times. Children are less likely to be bullied when they are with a friend of group of friends to act as witnesses.
16. Avoid social media chat rooms and venues where online bullying can occur. Bullies tend to be braver behind a computer screen.
17. If you see someone else being bullied, don't be afraid to speak up. Tell an adult you trust as soon as possible.
18. Think about how it would feel to be bullied. Putting yourself in the shoes of someone being bullied can keep you from becoming a bully yourself.
19. Create a bully free classroom. Vow to not allow bullying in your classroom. Create signs or posters to display your message.
20. Use only positive talk. Focus on building each other up, and never down.
21. Don't be scared into silence. Know that no one has the right to bully you and that speaking up is the only way to prevent it.


For teachers:

22. Have a bully box, a shoe box that students can privately turn bullying complaints into.
23. Give parents a work email and work phone number that can be used to report any bullying issues and keep the lines of communication open
.24. Always follow through with bullying complaints and provide parents with a follow up to your investigation.
25. Make bullying a part of the daily lessons. Discuss how to develop positive friendships and avoid tearing others down.
Bullying is a painful part of growing up, but with these tips you can help confront the issue head on and hopefully eliminate it before it gets out of control. Give these tips for stopping and preventing a bully a try and see if they don't offer some relief.
Be sure to pin this to your Pinterest Board: