Here are 30 super easy dinner ideas that just uses a few ingredients! 30 Dinner Ideas with 5 Ingredients or Less.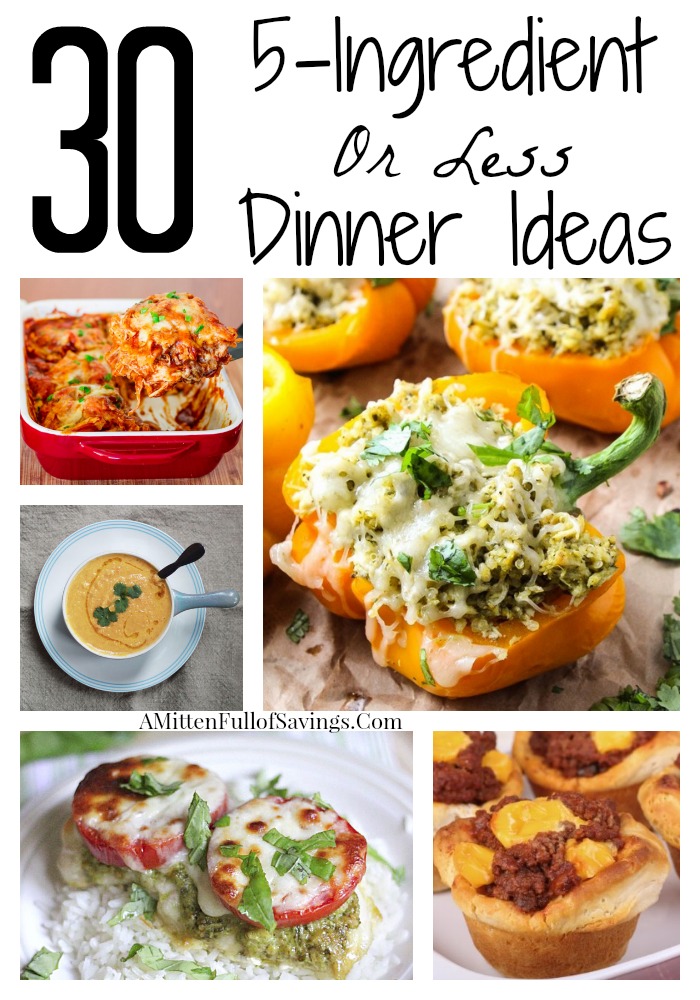 When it comes to cooking dinner, most people want the simpler the better, especially with our fast-paced lives. Not only is simpler easier, but it costs less, as well. After all, the less you are using, the lower your grocery bill will be and if you can find a way to stretch leftovers from these meals, you will save yourself even more money. If you are trying to simplify your diet and create delicious meals with 5 ingredients or less, here are some great recipes to bake, cook or throw in your crockpot to keep your family on a budget.
If you love meals on the cheap, be sure to check out my roundup of 35 dinner ideas for under $5 bucks!
30 Dinner Ideas with 5 Ingredients or Less
Crock pot Teriyaki Chicken by Eat at Home
Chicken Enchilada Casserole by JO Cooks
Meatball Sub Bubble Up Bake by Life with the Crust Cut Off
Easy Italian Chicken Bake by The Pinning Mama
5-Ingredient Pesto Chicken Soup by Gimme Some Oven
Copy cat Cracker Barrel Chicken Tenders by Time 2 Save
Slow Cooker Apricot Chicken by Six Sisters Stuff
4-Ingredient Salsa Verde Chicken by Gimme Some Oven
Easiest Pulled Pork Ever by Artsy-Fartsy Mama
Chicken and Stuffing Crockpot Dinner by Pinning with Mrs. Pennington
3-Ingredient Apple Juice Chicken by Oatmeal with a Fork
Easy 3-Ingredient Chili by I Heart Naptime
Italian Pineapple Chicken by Fantastical Sharing of Recipes
3-Ingredient Maple-Glazed Salmon by Ring Finger Tan Line
Ranch House Crock Pot Pork Chops by Picky Palate
3-Ingredient Baked Ham and Cheese Roll-ups by The Comfort of Cooking
One Pot Meal: Sausage and Broccoli Pasta by A Dish of Daily Life
Garlic Brown Sugar Chicken by College Girl, College Food
Crock Pot Ranch Onion Chicken by The Frugal Gals
Man-Pleasing Crock Pot Chicken and Dumplings by Poofy Cheeks
Pesto and Crushed Tomato Shells by Eat at Home
BBQ Beef Cups by Moms Who Think
5-Ingredient Roasted Carrot Ginger Soup by Kitchen Treaty
5-Ingredient Pesto Chicken Stuffed Peppers by Layers of Happiness
Tortellini with Pesto and Chicken by Community Table
5-Ingredient Dinner in a Snap (Paleo) by PaleOMG
Bacon Cheeseburger Eggrolls by Cooking with Divian
French Dip Crescents with Easy Au Jus by Mama Loves Food
2-Ingredient Pot Roast by I'm a Lazy Mom
Slow Cooker Taco Soup by Goodness Gracious
When you are in a hurry, what is your go-to meal that includes minimal ingredients? Let me know in the comments!