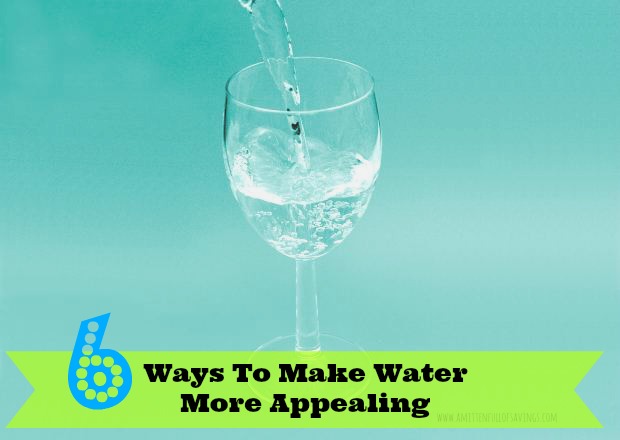 6 Ways To Make Water More Appealing
If you're ready to start getting fit, the one thing that has to change is your consumption of soda. You need to up the amounts of water you're drinking, too. You should be drinking about half your body weight in ounces of water, which can get sort of boring. There are many ways to make water more exciting.
Ice It
This is one of the ways I stomach drinking so much water. I think that cold water tastes so much better than warm water, especially when it's coming from your tap. It seems to take away the taste that some water has from not having a water softener. Water really shouldn't have a taste, but sometimes, it does, and that taste isn't always good. Add a few ice cubes to your glass, or fill a water bottle up and put it in the freezer, and it'll taste better.
Water Add-Ins
There are so many great add ins for water that you can purchase at your local grocery store. There's Mio, Crystal Lite, Kool Aid Water Enhancer, and so many more! Just fill your water bottle up with water, and squirt, or pour powder into it, and go. No more funky tasting water!
Infuse It!
Fruit is a great way to take your water to the next level. This process tends to take a little longer than the water enhancers. Some of the fruits you can use take a little longer to infuse into the water, but if you use watermelon, lime, or lemon, all you have to do is add it to your water and shake. Other great infusions: Apple Cinnamon, Cucumber, Cucumber Melon, Cherry and Lime, Strawberry Kiwi… These are just a few possibilities for infusing your water. Check out more on Pinterest!
Buy A Filter
If the water in your home has too many minerals, or has a high Sulfur content, your water smells horrible, and tastes worse. You can buy many types of filters to filter out the bad smell and taste. There are filters for your faucet, and filters you can pour the water into, and then put into your refrigerator. Filters like Brita, come in both types, and the pitchers are pretty affordable.
Add Flavored Ice Cubes
You can make great tasting ice with mint, juice, or even Kool Aid. If you're using Kool Aid, I suggest to go for the Sugar Free version, because adding sugar probably isn't the best way to keep your water healthy, but if that's what works for you, go for it! The key here is to get used to drinking water, so if it takes a little bit of sugar, then so be it.
Carbonated Water
You can find flavored, carbonated water just about anywhere. It tastes amazing, plus you get the refreshing bubbles with your water. This is a great way to switch from soda to water. You won't find that you're missing something while you're drinking. You get taste, and carbonation, and you'll forget that you're not drinking soda! Win-Win!
At the end of the day, this is all about changing your drinking habits. There's nothing worse than finding a great healthy way to eat, and then killing it by drinking a soda. Even diet sodas contain a high amount of sodium, which causes you to retain water weight. The sooner you switch from soda to water, the better you'll feel, plus you'll lose loads of water weight!
What are some ways you make water more appealing? Leave me a comment below!