Cleaning the kids' room feels like wading through a deep jungle never to return again! But there's hope! With our hacks on cleaning and organizing the kids' room, you will be able to get it done in no time!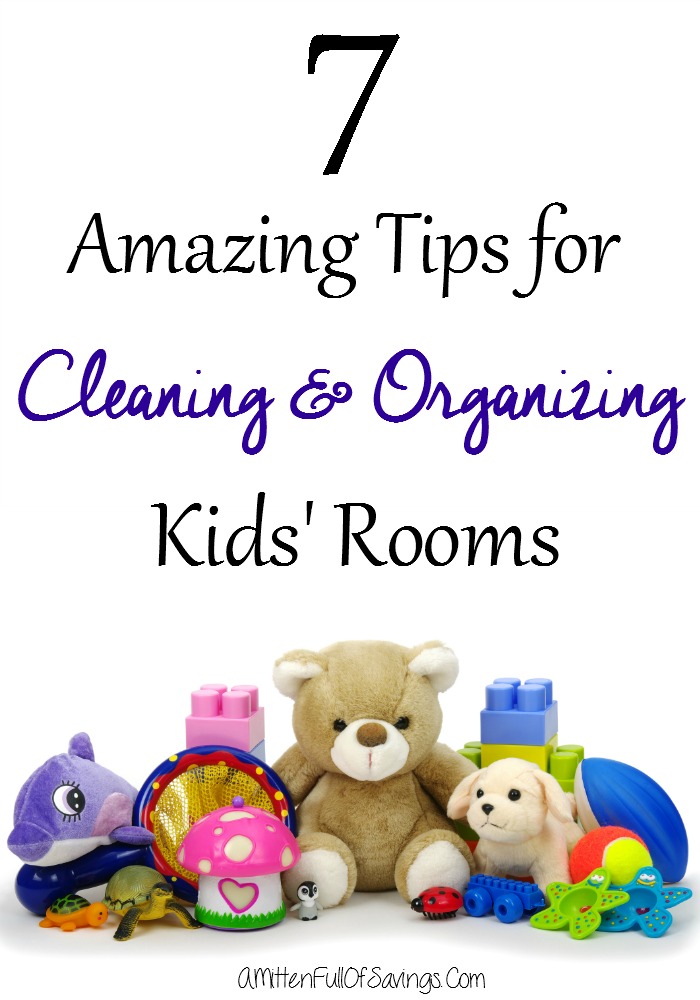 If there was an organization project to beat all organization projects, for most people, that is a child's room. Kids tend to shove things in places when you tell them to clean up, accumulate garbage and papers and not exactly know where to put things. This not only makes it hard for you to know where to start, but it also makes it hard for them to find things they want. I know whenever I can't find the boys' socks, I go on a "witch hunt" and find at least 20 pairs underneath their beds. No lie! To save myself time, I like to follow these steps in 10 Ways to Save Time Cleaning which definitely helps!
Here are some amazing tips for cleaning and organizing kids' rooms that will make both of your lives easier.
Amazing Tips for Cleaning and Organizing Kids' Rooms
Do a huge sweep. This is the first step and it allows you to see what really needs to be organized. Help your child let go of any toys that are missing vital pieces, are out grown or that they are just plain done with. This can be very hard for kids, but let them know that it is very important to the whole process in as gentle of a way as possible. This sweep should be done about every 3-6 months or so to keep clutter under control.
Use and over the door shoe organizer. I am a huge fan of these in just about every room. In kid's rooms, they are great for storing small toys like matchbox cars and barbie dolls and accessories, and they can even be used for clothing items like socks and underwear.
Provide a central station for art supplies. Most kids have art supplies like crayons, markers and more. This can easily be a mess if not tended to. I like to use a large bin that holds all of these types of items with each type stored in small, labeled containers.
Utilize all spaces. In kids' rooms, one of the biggest problems is space to store everything. Make sure you are maximizing it all by using under the bed storage, and hanging shelves on walls. One thing that is excellent for organizing stuffed animals, for instance, is a garden basket (the kind that sits flush with a wall). The toys are easy to get to and you have a place to keep them off the floor. Hooks are also great for storing items like play clothes.
Reuse containers for storage options. If your child has lots of play jewelry, beads for crafts, soldiers or other very small toys, start saving mayonnaise and peanut butter jars to store them in with a label.
Baskets are key. To encourage your kids to keep the room clean, make sure you provide something easy for them to toss their big toys into such as baskets.
Use labeling that makes it easy for them. If your child is not old enough to read, a label with words won't mean much to them. For younger kids, take a picture of their toys, print it out and place it on the baskets and bins you want things to go in.
Other great resources to check out:
What are some ways you organize your child's room? Let me know in the comments.