Read my interview with Oprah, Mindy, and Reese starring as the Mrs. in Disney's A Wrinkle In Time. These A Wrinkle In Time characters talk about their roles, women, and a little in-between.
On interviewing Oprah, Mindy, and Reese as the Mrs. | A Wrinkle In Time Characters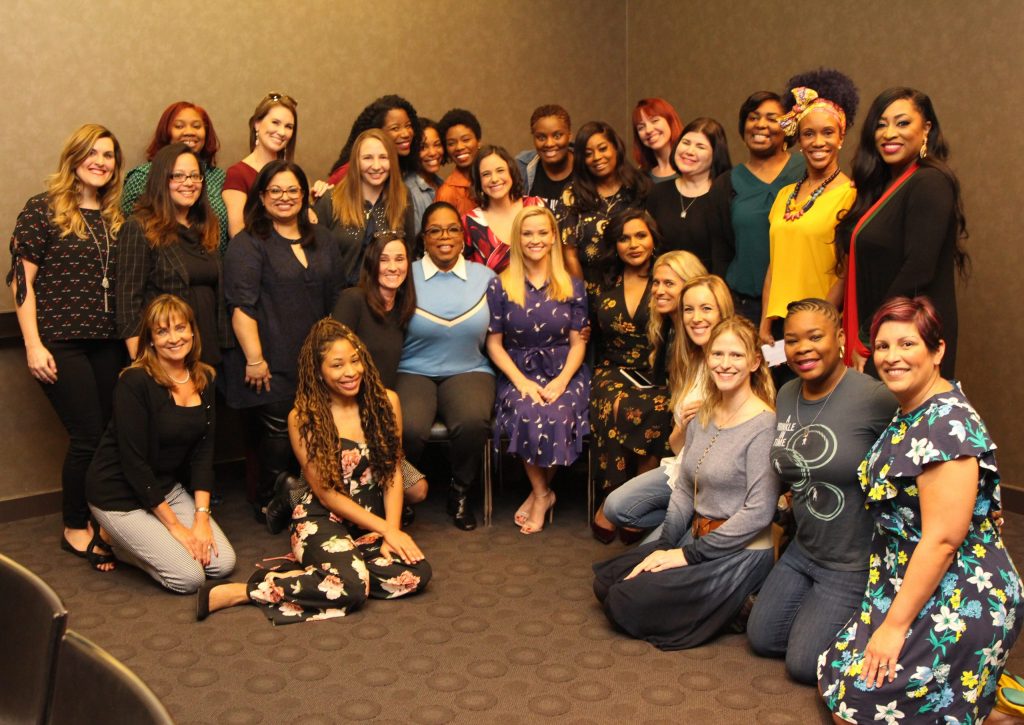 I'm still on cloud 9 from the A Wrinkle In Time press junket. Being able to interview the great Oprah was amazing! I know my colleagues, and I were grateful for this priceless amazing experience. While it's easy to just center the whole interview around Oprah, Reese Witherspoon and Mindy Kaling were also present, and it was a lot of fun to sit down and talk to all three of them about their roles in A Wrinkle In Time, women running the world, and what they talk about in their trailer during takes. But first, let's talk about their roles in Disney's Sci-Fi movie, directed by the amazing Ava DuVernay.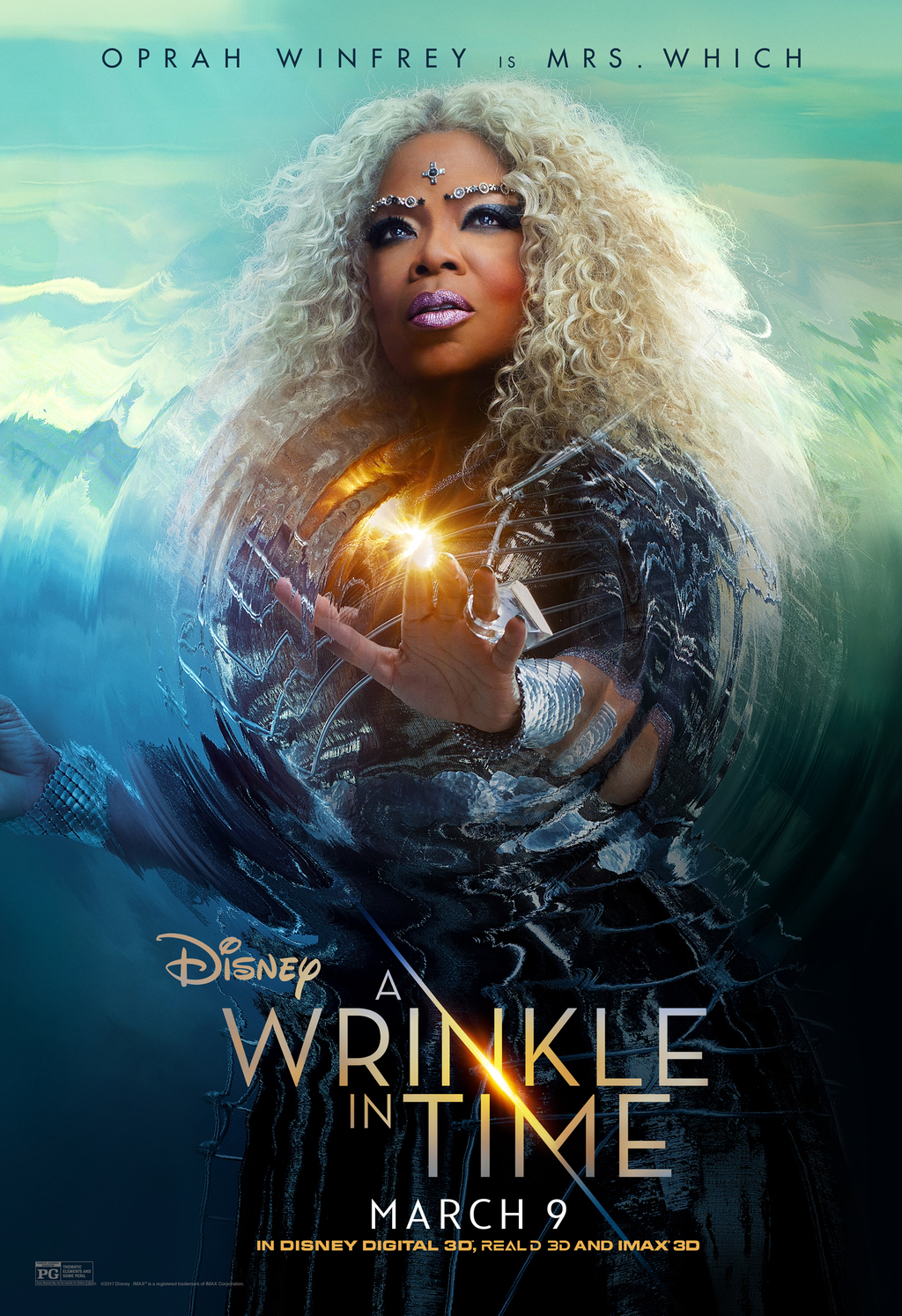 Mrs. Which: DuVernay always envisioned Oprah Winfrey as Mrs. Which, the oldest and most knowledgeable of the three Mrs.'s. Along with Mrs. Whatsit and Mrs. Who, they are self-proclaimed warriors who strive to protect all that is good and bright in the universe and have dedicated themselves to helping Meg, Charles Wallace and Calvin in their search for Mr. Murry. Says Winfrey, "Mrs. Which has been around for millennia. She is an angelic cosmic being who has complete empathy and connection to all humans and is one with the universe. She understands that love and light is all that matters and journeys throughout the universe to spread that message."
Mrs. Who: Comedienne-actor-writer Mindy Kaling ("The Office," "The Mindy Project," "Inside Out") plays the third astral guide, Mrs. Who, a character who represents a melting pot of the world we live in, both historically and in today's modern times. The quietest of the group, Mrs. Who has adopted the language of some of the greatest spiritual warriors as a means of communication, speaking in proverbs and quotes from the likes of Shakespeare, Churchill, and Buddha.
Mrs. Whatits: For the role of Mrs. Whatsit, the second ethereal guide who has journeyed to Earth, the filmmakers were looking to cast someone charming, delightful and funny—all words that describe Reese Witherspoon. The actor and producer, whose credits range from "Legally Blonde" and "Walk the Line" to "Big Little Lies" and "Wild," was a huge fan of the book as a child and was thrilled when offered the role of the youthful and free-spirited Mrs. Whatsit.
So how do you hope this movie will inspire this next generation of girls?
Reese: Well I think that's- it's a great question. A part of what I loved about making the movie that I think is also in the movie and you really feel it is the power when women are together, and talking, and not the only woman in a movie or the only woman in a boardroom or the only woman who's a manager at her company.
And I think the power of that to young women to say; we're not against each other. When we get together, we create abundance, and and I really- that's been a driving part of my career, the more I collaborate with women, the more we create for each other. So I think that's a that's a concept that we need to put into our little girls' brains."
Mindy: "Yeah I think just that the cast is so inclusive it is, I've never seen anything like that, and I think that as a young woman I would have been- felt so much joy from watching it. And felt so ha- so much happiness from seeing that. And as a dreamer I think was I would I I wouldn't have to dream quite so hard to picture myself in- on screen."
Oprah: "Well you know, what I do know for sure is that everybody's goal is whether they can articulate it as such or not is to live a life that matters and a life that has meaning. And I think that my handprints, my heart prints, all over the Oprah show for all those years is a is a magnificent purpose to to to have lived. But I also knew when we were doing this film that there would be young girls like your daughter who would come along, and they would see the Mrs. And they would see me, and they would say, what do you mean she had a talk show and that the imprint, the heart print that you eventually will leave in this world will come from what is said in this movie. And so for your generation that I I I helped to raise there will be generations to come that will be raised on this story. Presented in the way of, you know, through Ava's vision who will only know me, us through that. So that I I could feel that when I was doing it, I could feel it when I was doing it, that wow there'll be kids who'll say, what you used to be on television? And pretty soon they'll be saying what's that, what's television?"
The Mrs. Favorite lines or scenes in A Wrinkle In Time
Reese: "I know what my favorite was when Storm looks up and she's talking to her little brother who's been possessed sort of by darkness, and she says I deserve to be loved, I just lost it. You all I was like, we all deserve to be loved, and we all deserve to be- to tell our stories and be the center, the lead of our own movie, the captain of our ship. And we do not see that enough, we don't see ourselves enough, and I think a movie like this with a company like Disney getting behind it says so much to young people."
Mindy: "I think you reminded me there are so many quotations in the movie, but one of them really in a quick part is when I say, Storm has fallen down and she's feeling hurt, she doesn't want to stand up. And I say the wound is where the light enters; which is so profound and you have said some quotations that are so smart about wounds but I I love that one."
Oprah: "That's why that one resonated so deeply with me because I I've often said that, you know, the wounds help you create wisdom for yourself. The wounds is where the light enters; when I heard that it it resonated deeply with me because I feel that that is really true, that everybody that happens to you that wounds you, that is a crisis, is the open door for more light to actually come in. My favorite line, aside from wounds where the light enters, my favorite is when Mrs. Which says to Storm, do you know how many millions and millions of events had to occur as they did- In order for you to be exactly the way you are? And I actually think that about my own life as an African American who came from, you know, slaves and that story that journey. And I think about it for the life of everyone I meet. Everybody on the planet, I just think of what it took to get you here. I mean, when you just think about the possibility of that sperm hitting that egg (this erupted into a ton of laughter from the ladies and every single blogger in the room.)
Which Oprah went on to say, "We're talking to moms, you know what we're talking about. I mean just the likelihood of that moment, that position, that, you know, that-all of it and everything that had to take place up until that choice was made, on that moment, in that position. Because when I got to say that to her, I think there was a, there was a connection that she and I had that went beyond the characters, like how much had to happen in order for you Storm to be here in this moment having this lead role in this movie and us experiencing this together. It was really pretty powerful."
This is really a powerful line. I remember hearing it the first time I watched A Wrinkle In Time, and I thought, "WOW, that is powerful." Each of us is here for a reason. So many things took place for each one of us to be here, to be in this life, with a purpose, and something to contribute to this world. Wow, that is a pretty deep thought.
Their favorite childhood books
Reese: "There are so many, I mean I can never remake it but To Kill a Mockingbird was one of my favorite books and it based- the language was the way people spoke and the ideas."
Oprah: "It would be Caged Bird for me."
Mindy: " This is just a fun one, I I thought Harriet, the Spy. I loved it, and it was the first time I'd seen a short-haired not like an overtly feminine looking girl like a chubby introvert girl who had her own adventure who was a latchkey kid, and that was it hit all the boxes for me."
Reese and Mindy are chatty Cathys
I remembered reading this month's O Magazine where Oprah, Reese, and Mindy sat down to talk about this movie. Oprah talked about how much these girls talked, like all the time. This conversation surfaced in our interview as well.
Oprah: " These are the talking-est girls you ever saw, oh my gosh they talk about everything. What was on TV last night, what you didn't see on TV, what, you know, who, what, and they know everybody. They're like in the cultural buzz. I mean I actually called Gail and I said, oh my god, Reese, and Mindy talk all the time. You need to get to this trailer; you would love being here because they know everything about everybody. I go, they are walking People Magazines, they know everything that is happening with everybody all the time!"
Reese: " We're like are we annoying you?"
Mindy: "And part of me was like I felt so bad for Oprah, we get there at five thirty-five in the morning, you just want to be yourself, get your work done, she has nine different companies. But I'm sitting next to me, and Reese is sitting next to me, and it's like that's not going to happen."
Oprah: "Not today!"
Mindy: "How many people do you know in this world who live in the United States who were personal friends with the late Nelson Mandela, not too many. So I went and asked her questions, she might want her serenity, but I can't give it to her. I'm just going to ask you questions, and then we're going to pull you into our stupid conversations about nail polish. That's just what's going to happen."
They went out to talk about how Oprah was trying to have a board meeting with her school in South Africa, and Mindy and Reese were talking about who J-Lo was dating and her recent show. We got a little taste of the talks that went on in that trailer, and it was pretty funny. Oprah mentioned that the moment they call "cut" on set, the girls are back to talking. They talked about everything from who's dating who, what Reese uses on her face, and about how Mindy should have a podcast called "Mindy's Minute." Reese mentioned how she loves to hear Mindy talk and would love to hear the news through her eyes any day of the week.
Which we all agreed would be an awesome idea! And with Mindy being a new mom, she mentioned wanting to connect with American Indian bloggers who are mothers, saying, "I feel like there's a lot of stuff that you navigate through, like their old school parents when you're a child of immigrants."
On women running thangs
The question was asked about the current trend of seeing more of women in the film industry and in powerful positions.
Oprah: "Oh yes, in the Golden Globes speech I was saying a new day is on the horizon, it's actually here, and we are living it, this is it, we're experiencing it, you're seeing it up there on on on the screen."
Women are changing things. Having a women writer, women director, and a 99% female cast on this film, A Wrinkle In Time, speaks volumes about the changes women are making. Beyonce has a song that says it best, Who runs the world? Girls. We run this!
You can catch the Mrs. in Disney's A Wrinkle In Time, in theaters on March 9th, 2018. You can also check out this trailer with the Mrs. down below!