Learn how to make air fryer chicken nuggets for dinner or lunch tonight. A crispy outside with a tender chicken center.
A kid-friendly and healthier version to deep frying your nuggets. All you need are a few ingredients and a little bit of time.
This homemade chicken nugget recipe will hit the spot.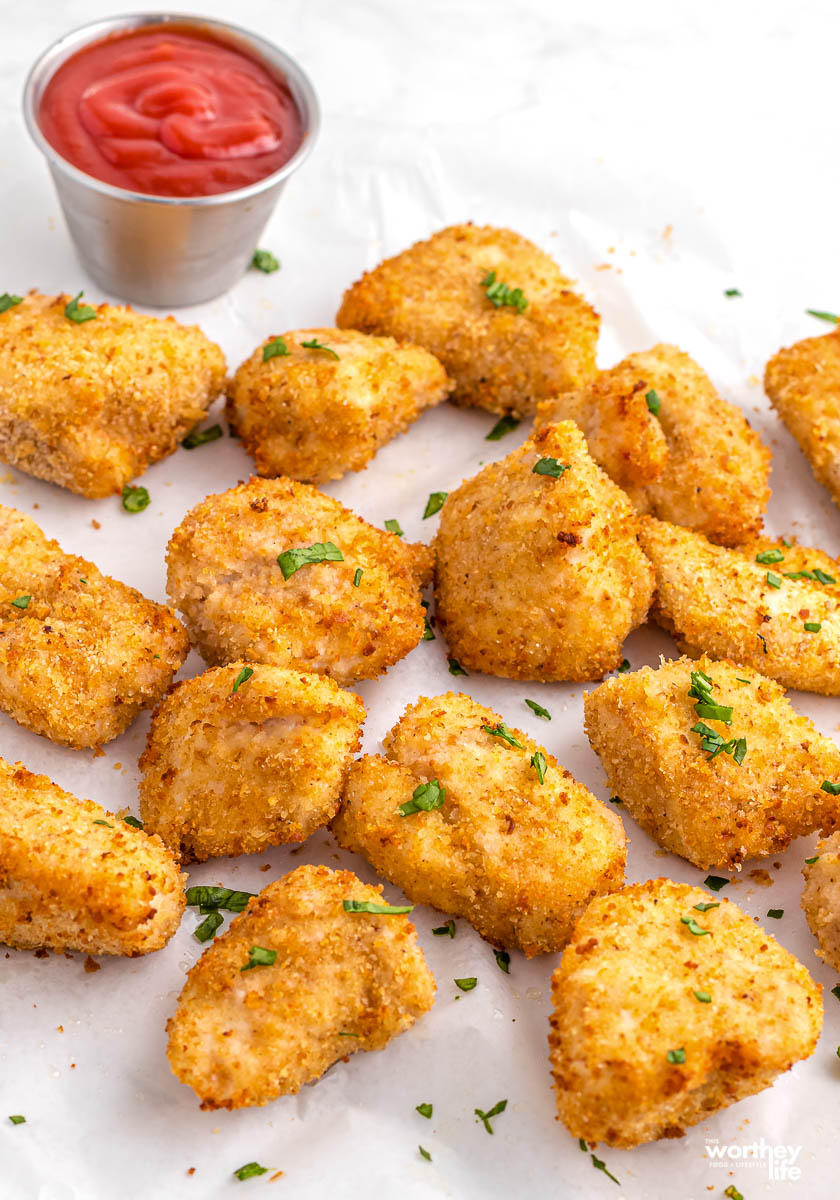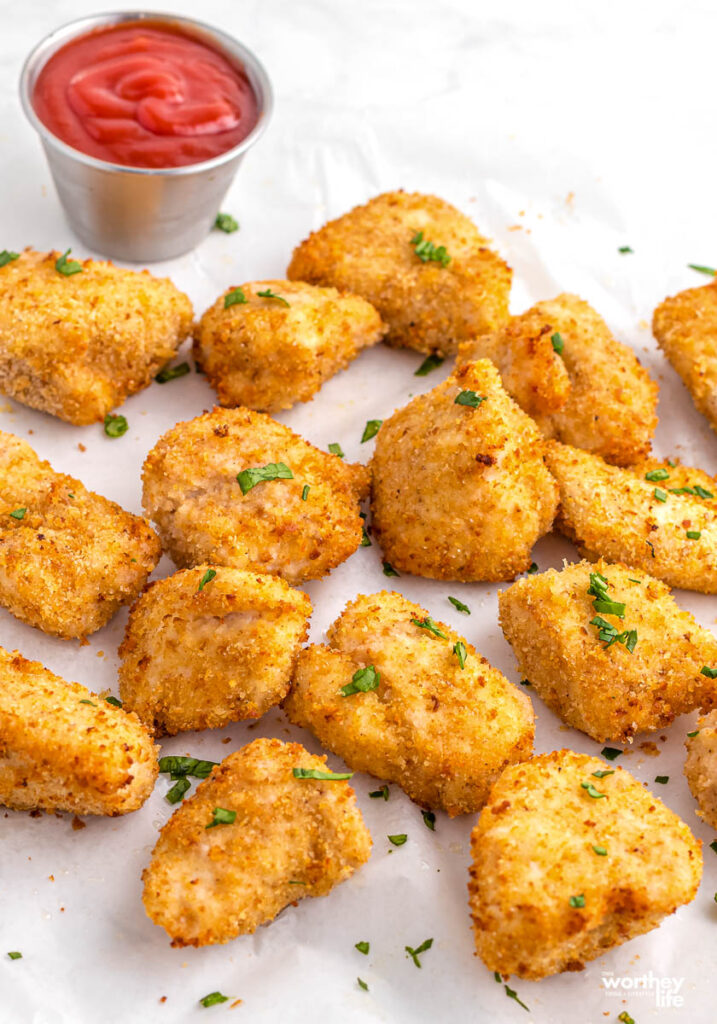 Air Fryer Chicken Nuggets
Air Fryers are all the rage right now. And have you even lived through a pandemic without purchasing an air fryer, instant pot, or a puppy? LOL
These Air Fryer Chicken Nuggets are tender and juicy with a lightly seasoned coating that will pair well with any of your favorite dipping sauces!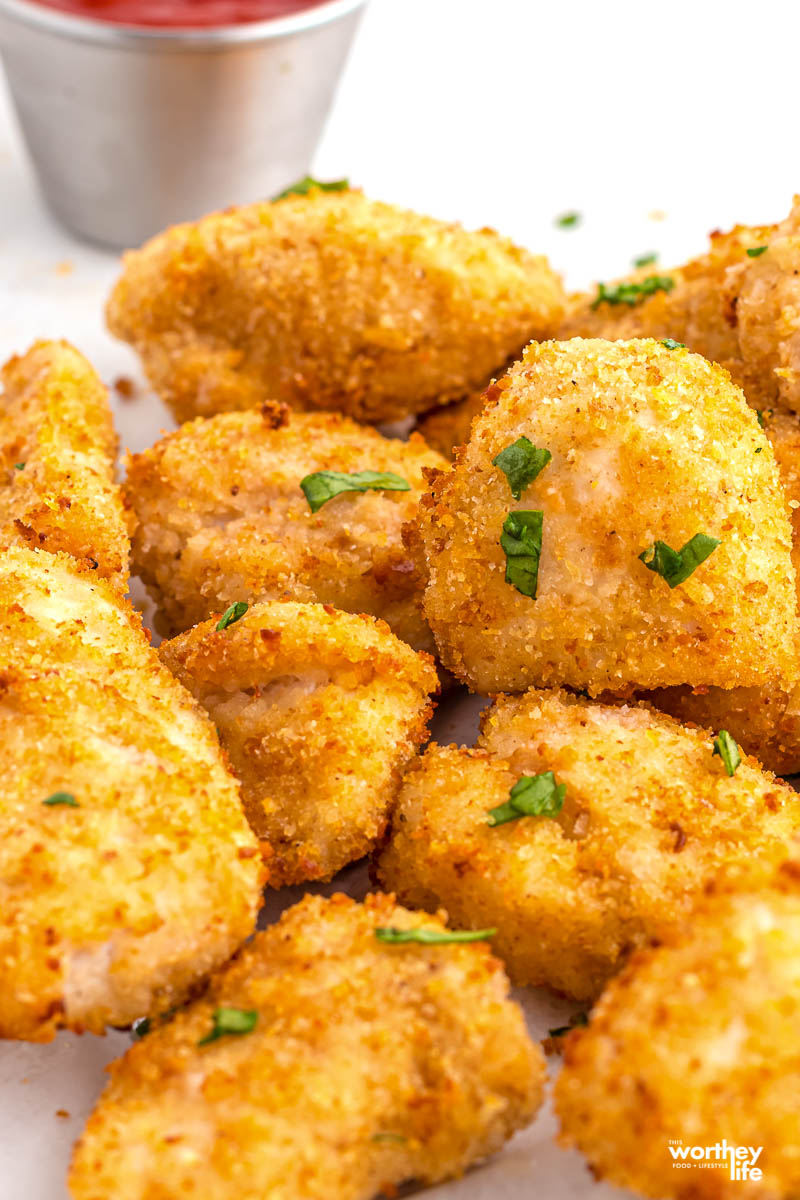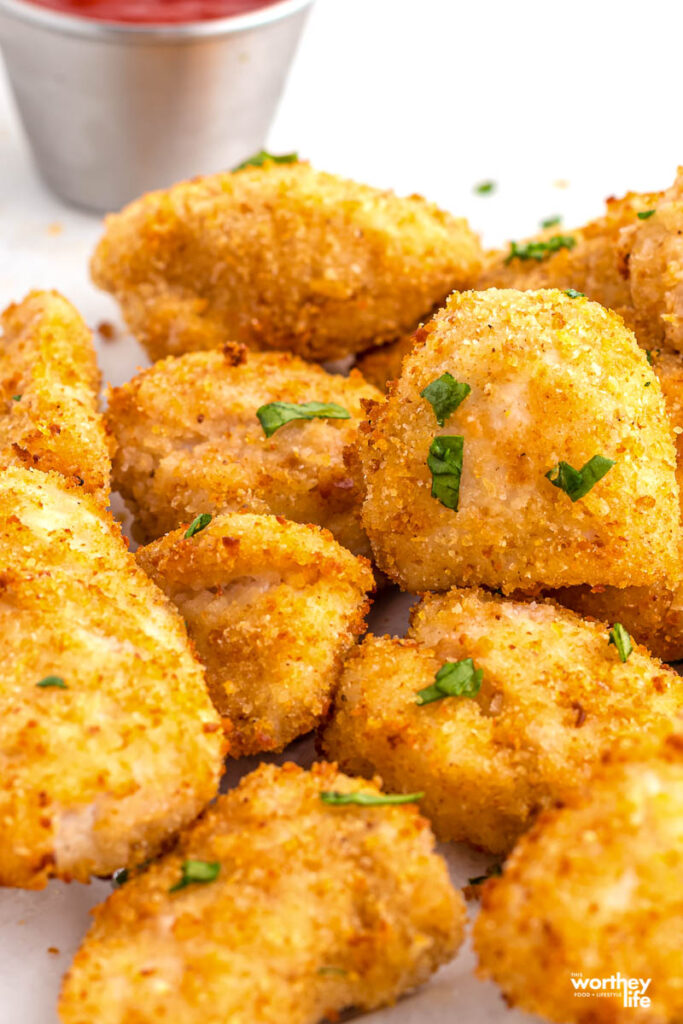 They are easy to make and healthier than any frozen or fast food variety.
They are made with 7 simple ingredients including spices and they cook in just 8 minutes!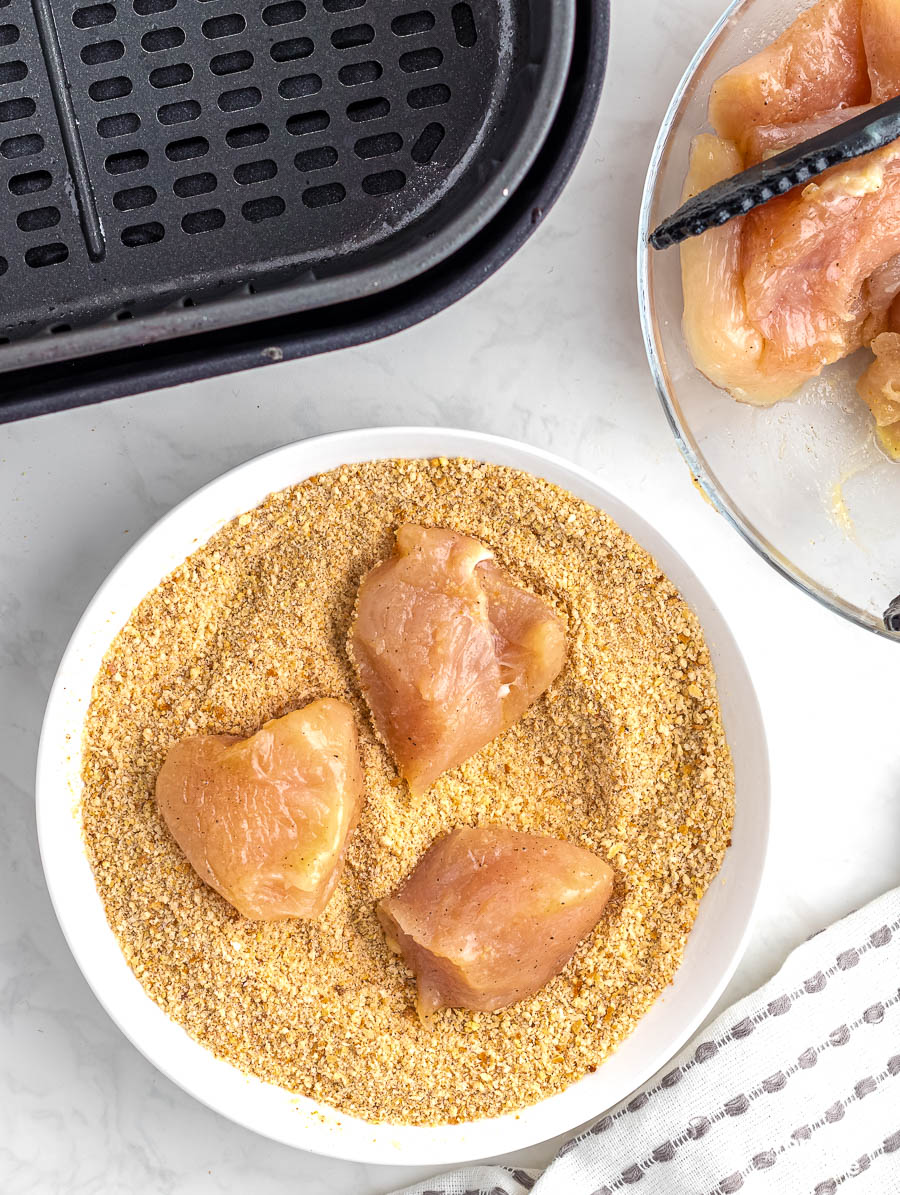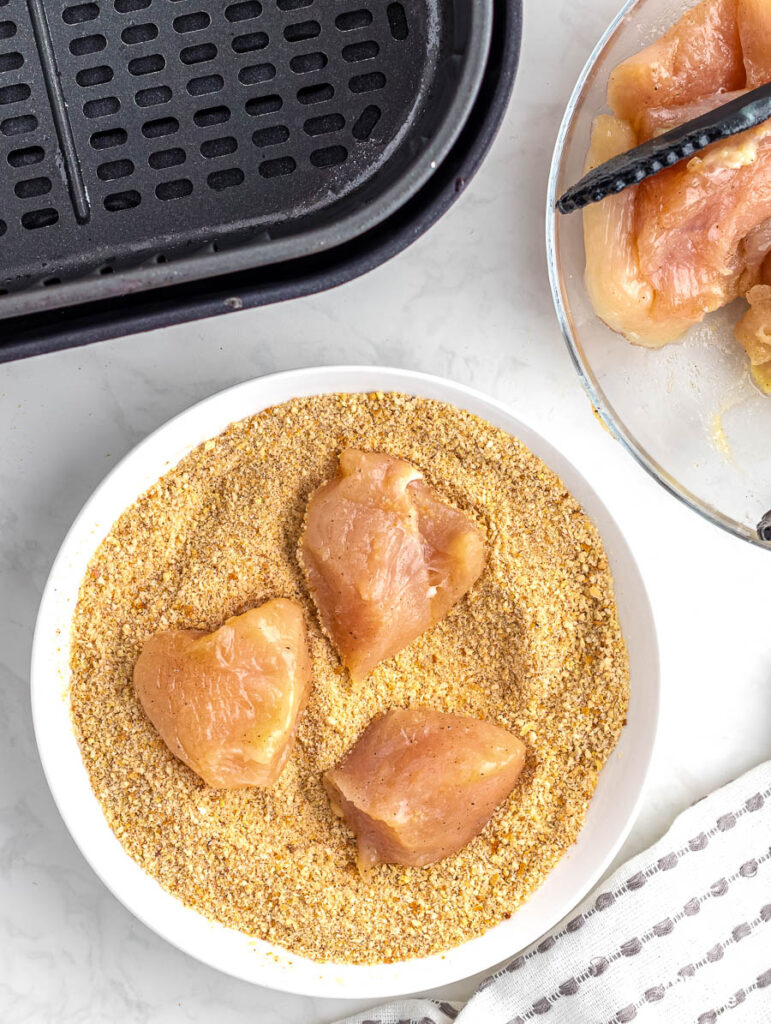 Ingredients You Will Need For Chicken Nuggets
Chicken. Take a boneless chicken breast and cut them up into sizes of nuggets. You could also use boneless thighs as well. Just make sure that you trim away any fat.
Seasoning. Salt, pepper, garlic powder, are what I used. Simple but the trio of these spices helps to add a nice flavor to your chicken.
Breadcrumbs. Now you can use classic plain breadcrumbs or reach for panko. Either will work for this nugget recipe.
Butter. I do recommend using butter, not margarine. Margarine will become oily and it will affect the texture.
Oil. The oil is needed to help get the breading of your nuggets crispy. Even though they are air-fried you will want to get that rich golden brown color, and the only way to achieve it is with oil.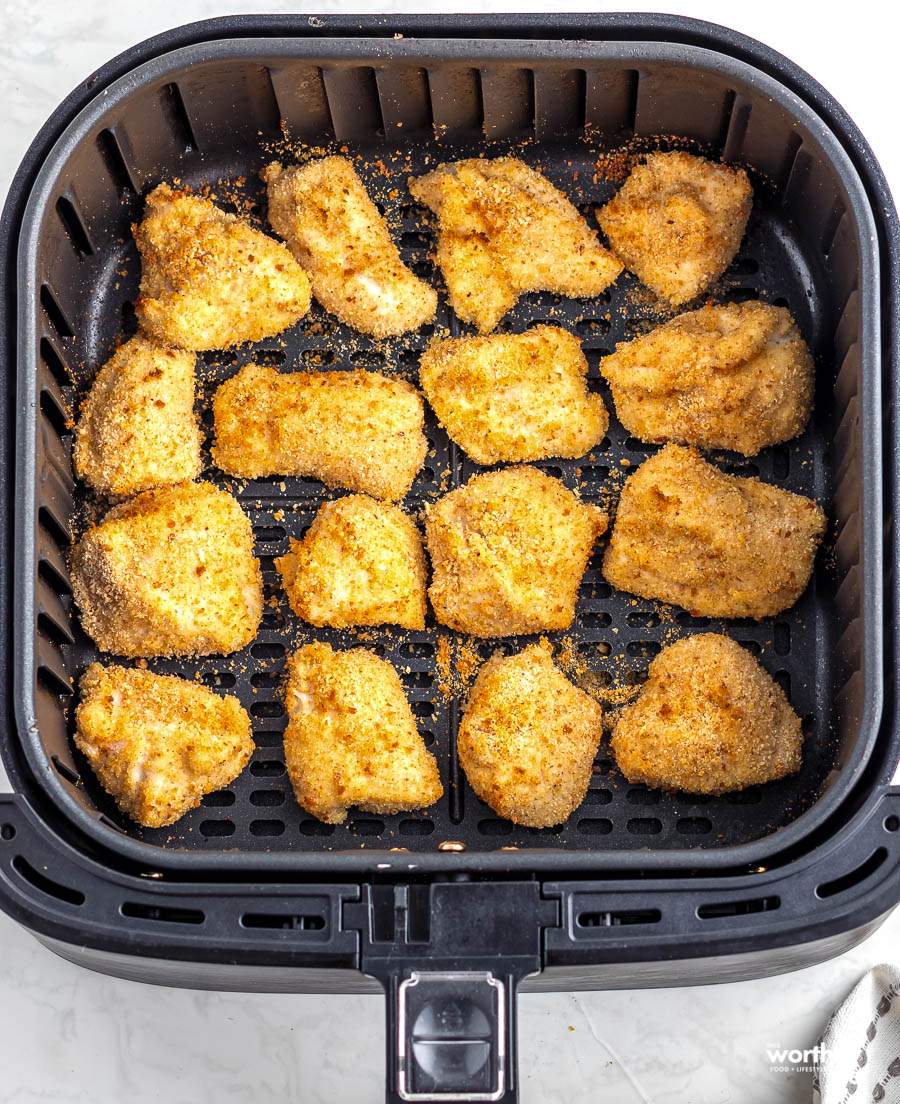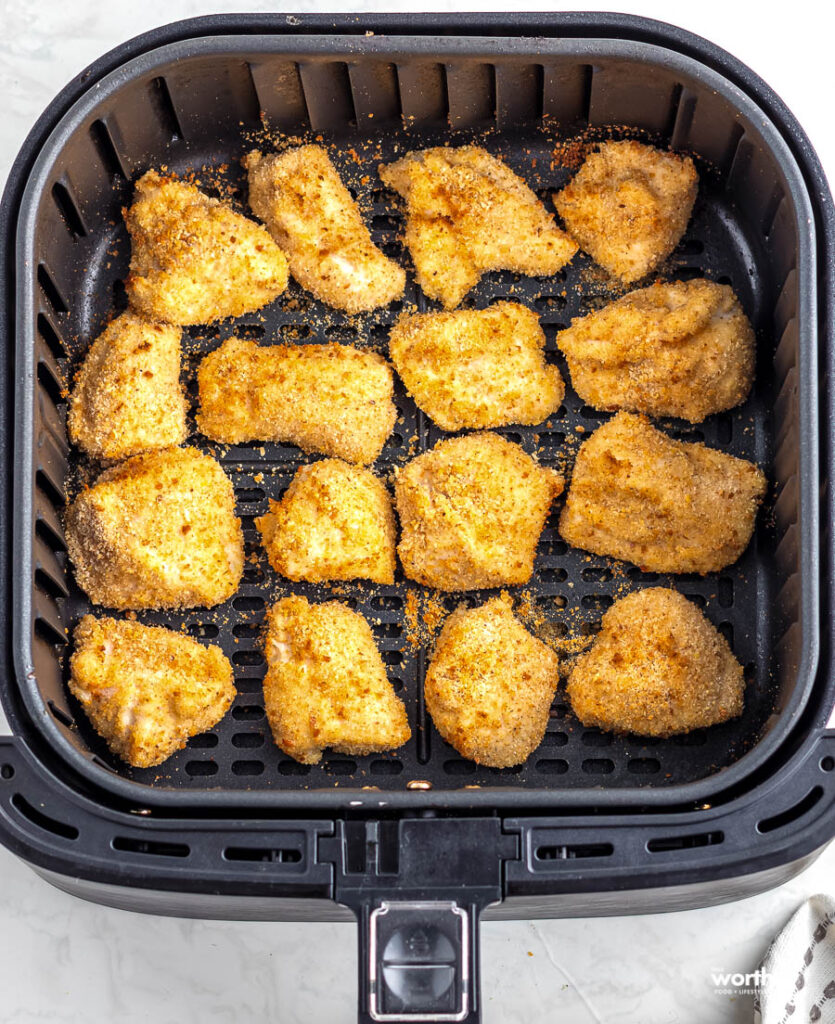 How to make Chicken Nuggets in Air Fryer
Serving/Time:
Prep Time: 10 minutes
Cook Time: 8 minutes
Total Time: 18 minutes Serving Size: 2-4 (20 nuggets)
Equipment: You can use a Cosori Air fryer or a Power XL Air Fryer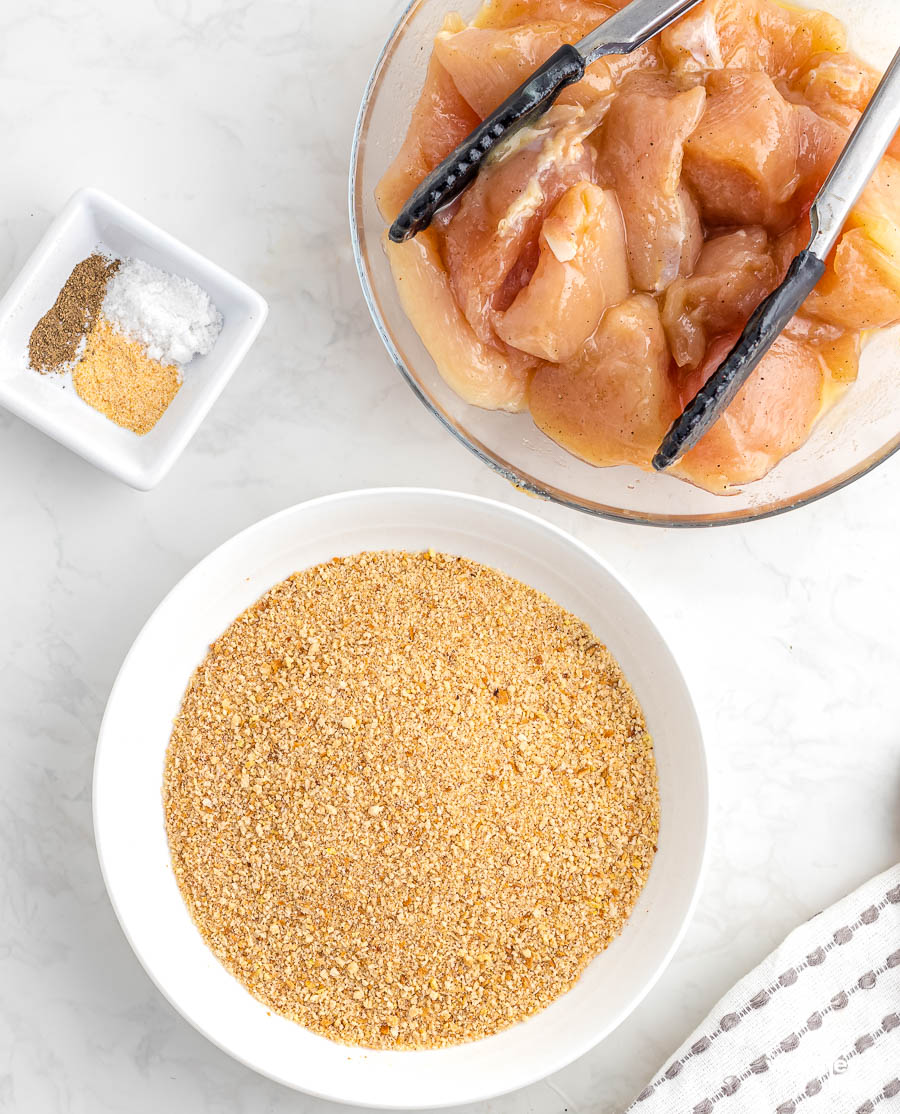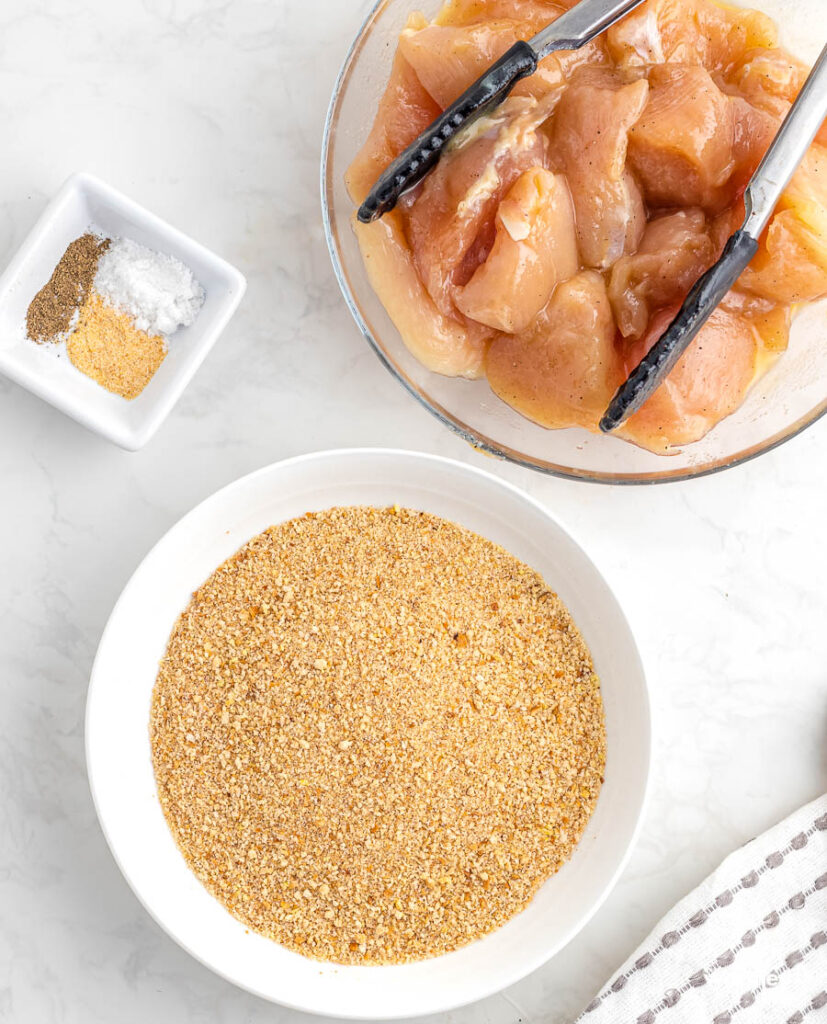 Ingredients:
2 large chicken breasts (cut in chunks and lightly seasoned with salt and black pepper)




1⁄2 teaspoon salt




3⁄4 teaspoon garlic powder




1/2 teaspoon black pepper




3⁄4 cup plain breadcrumbs




1 tablespoon melted unsalted butter




1 tablespoon extra virgin olive oil

parsley for garnish and ketchup for serving
Directions:

On a cutting board cut each chicken breast into about 10 pieces.




Add the chicken chunks to a medium-deep bowl and lightly season with some salt and pepper. Next using tongs toss together the chicken, melted butter, and olive oil until evenly coated.




In another medium bowl or rimmed plate whisk together the bread crumbs, salt,




black pepper, and garlic powder.




Preheat Air Fryer to 400 degrees.




Working with a few pieces of chicken at a time, coat the nuggets in the bread crumb mixture until coated on all sides. Transfer to a plate until the air fryer is heated.




When the Air Fryer is hot add the chicken nuggets in a single layer to the tray. Set the air fryer to 400 degrees for 8 minutes, flip the nuggets after 4 minutes.




Serve immediately and garnish with parsley if desired. Serve with ketchup or your favorite condiment for dipping.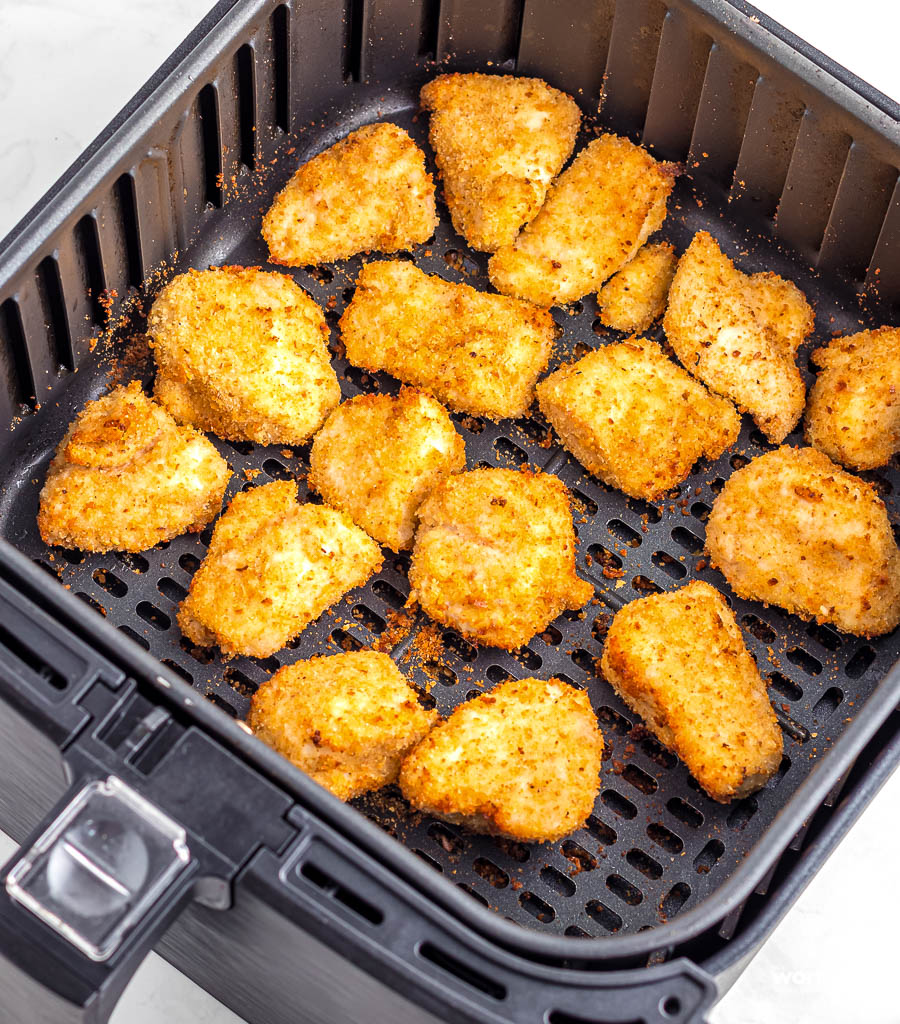 How Long Do You Cook Chicken Nuggets In The Air Fryer?
The one thing I have learned is all air fryers heat a bit differently. But overall you will cook for around 8-10 minutes. The goal is to check the internal temperature and make sure it reads 165 degrees.
How to Make Extra Crispy Chicken Nuggets?
Want to have a crispier coating? Go right ahead and swap the breadcrumbs with panko. This will help you achieve that ultra crunchy texture.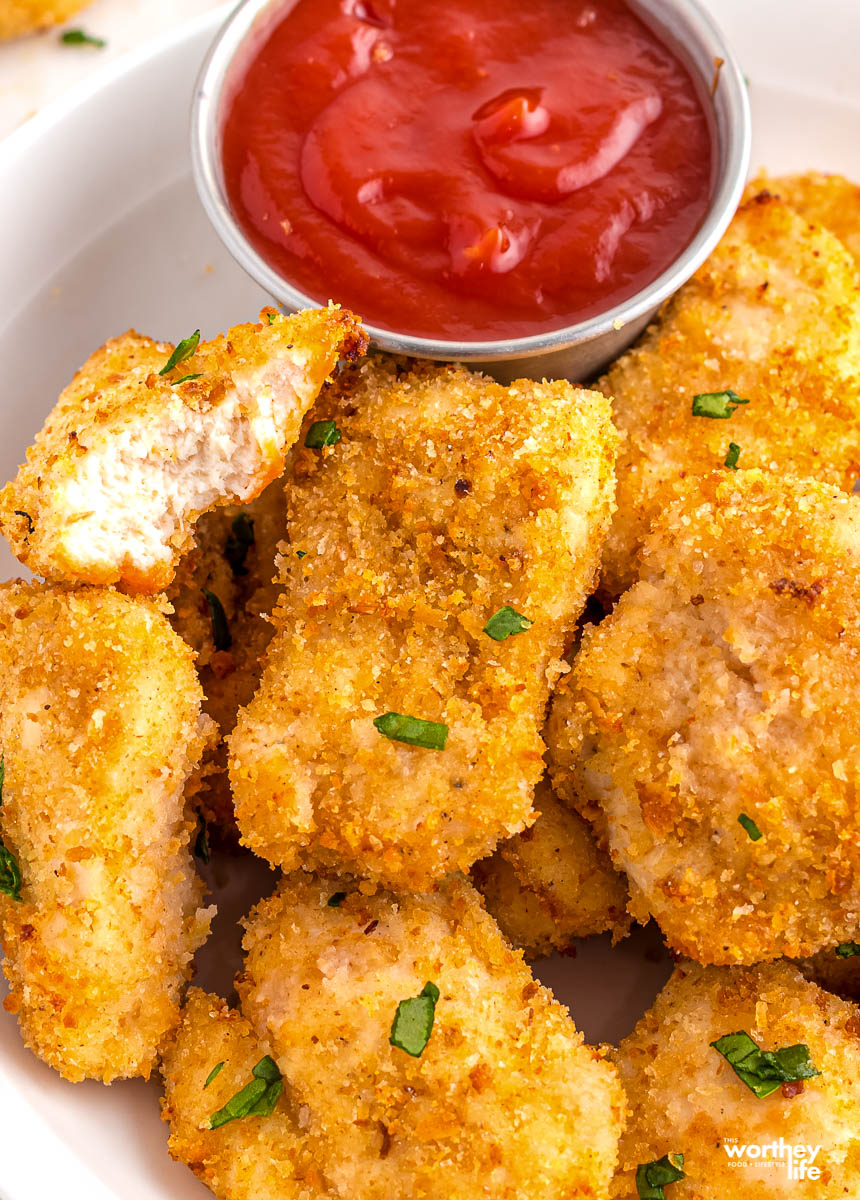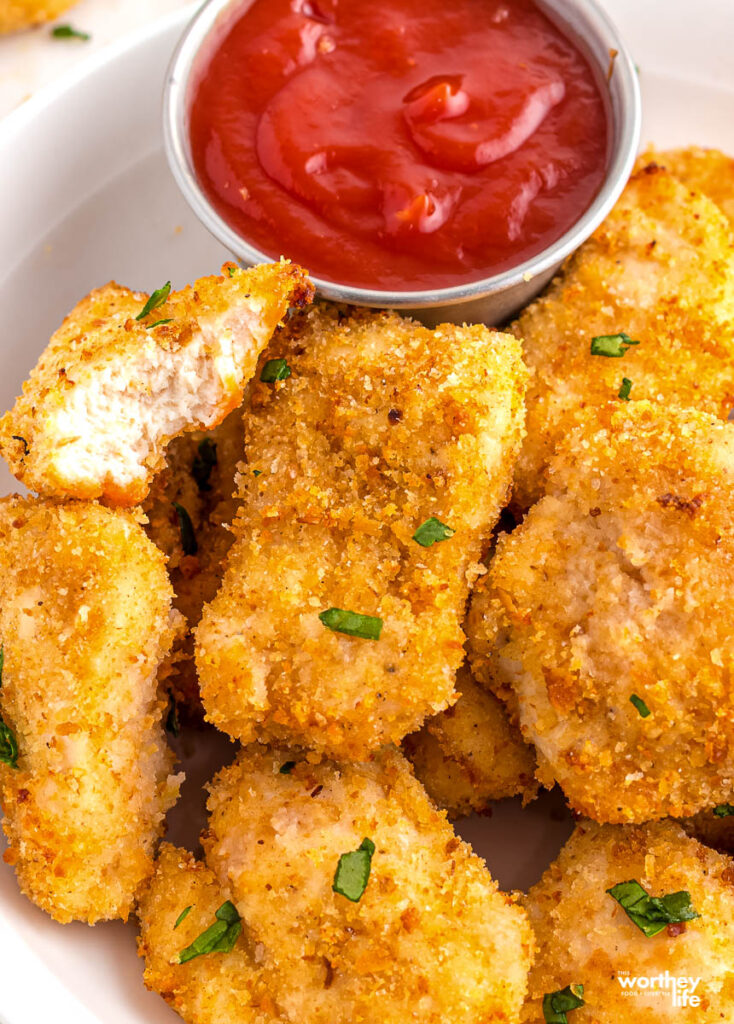 What To Dip Chicken Nuggets In?
The sky is the limit in terms of what you might dunk your nuggets in. Here are a few ideas to consider for your nuggies!
Ketchup
BBQ Sauce
Sweet and Sour
Mayonnaise + BBQ sauce
Splash of hot sauce
Etc.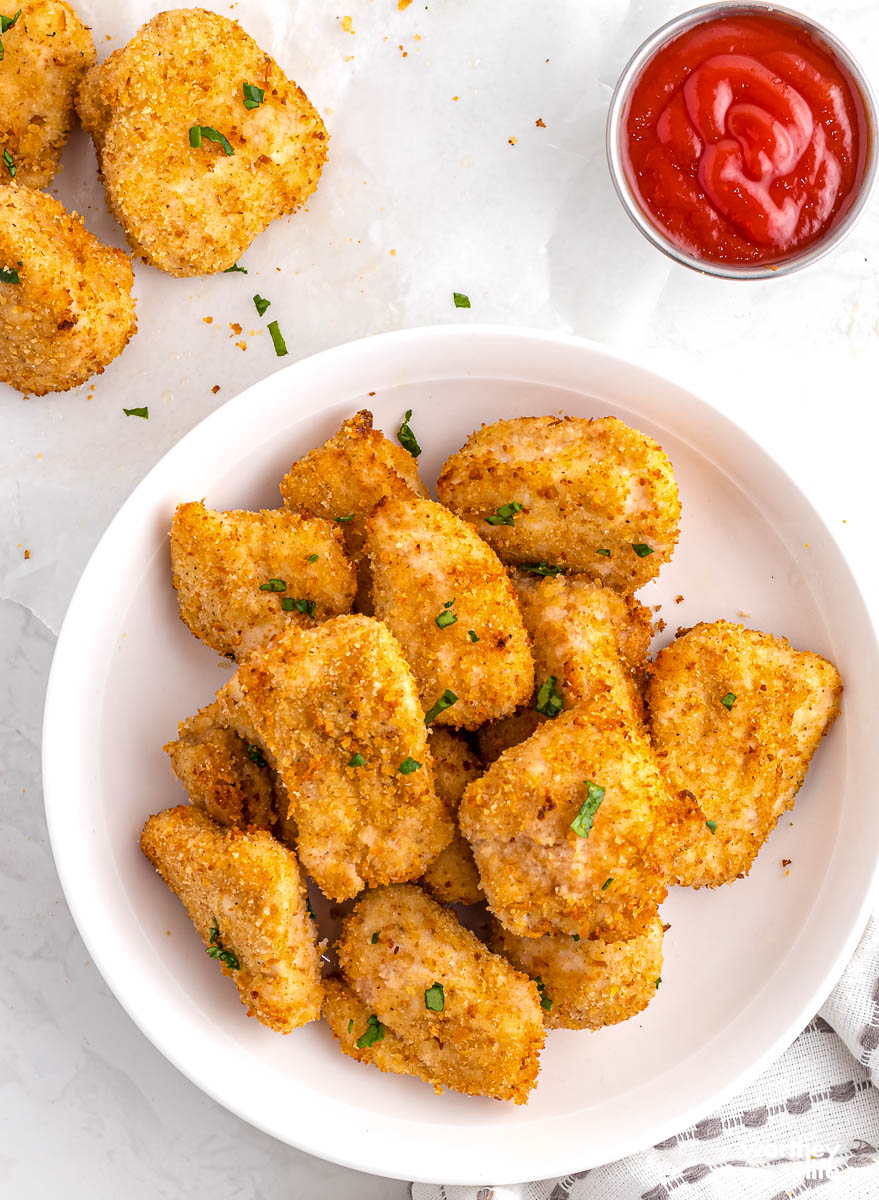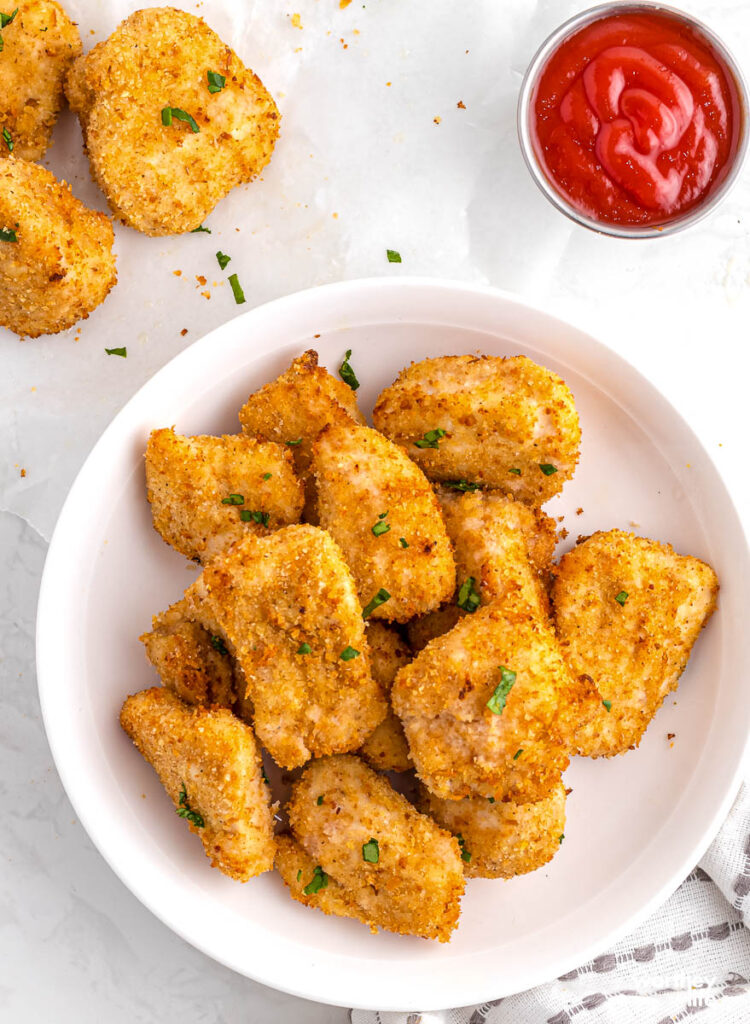 Can You Bake These Nuggets Instead of Air Fry?
If you don't want to air fry your nuggets, you can bake them in the oven. Prep the nuggets and place them on a prepared baking sheet.
Bake at 425 degrees for 8 minutes. Flip and cook another 8 minutes. Check the internal temperature and cook for additional time if needed.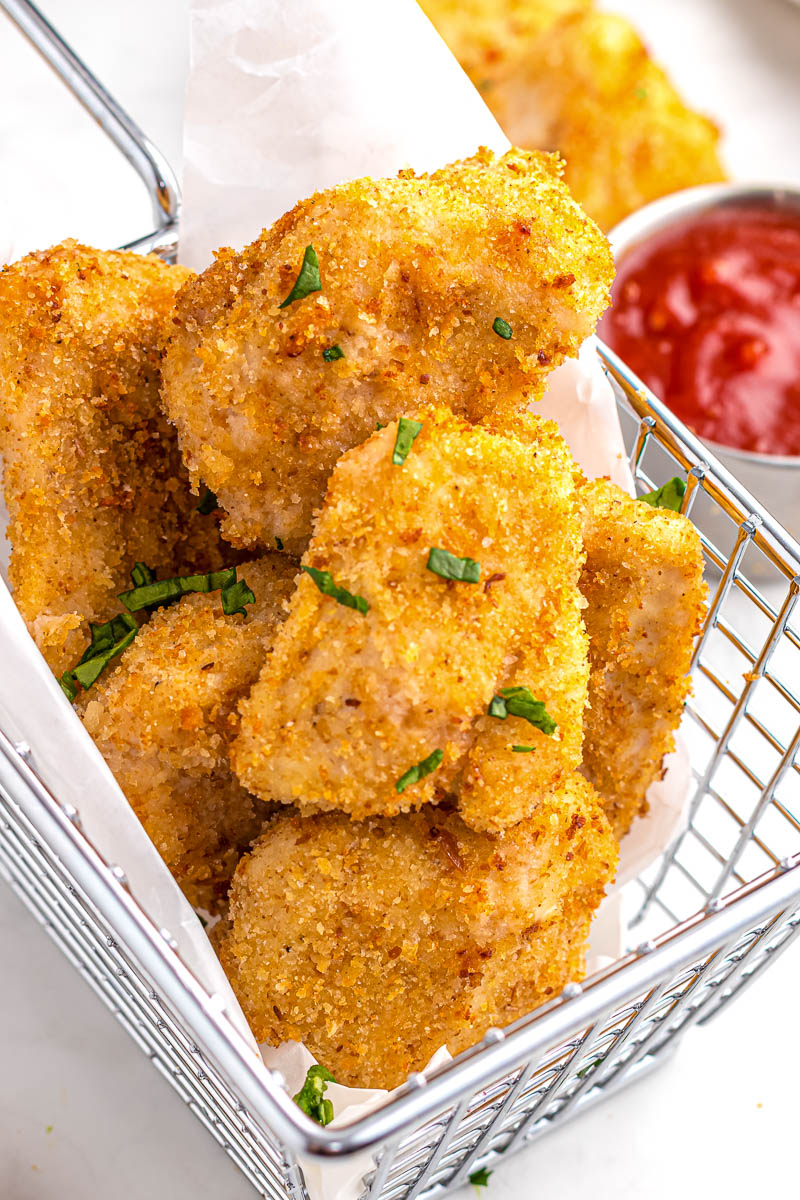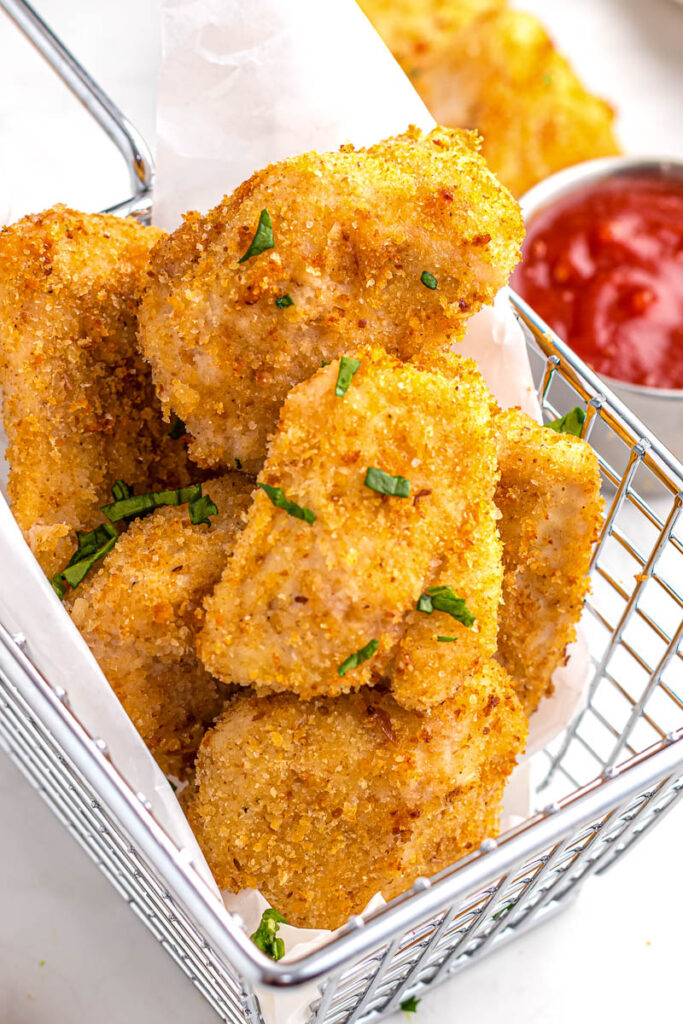 Freezing Nuggets For Meal Prepping
If you want to make up some nuggets and freeze before you air fry, you sure can.
Prepare the nuggets and place them on a prepared cookie sheet in a single layer. Flash freeze the breaded nuggets.
Place in the freezer for an hour to get them nice and hard. Place in a proper freezer-approved container. Then freeze for 2-3 months.
Frozen Chicken Nuggets Air Fryer Tips:
Place in the air fryer from frozen. Add a few extra minutes as it will take longer to fully cook the nuggets.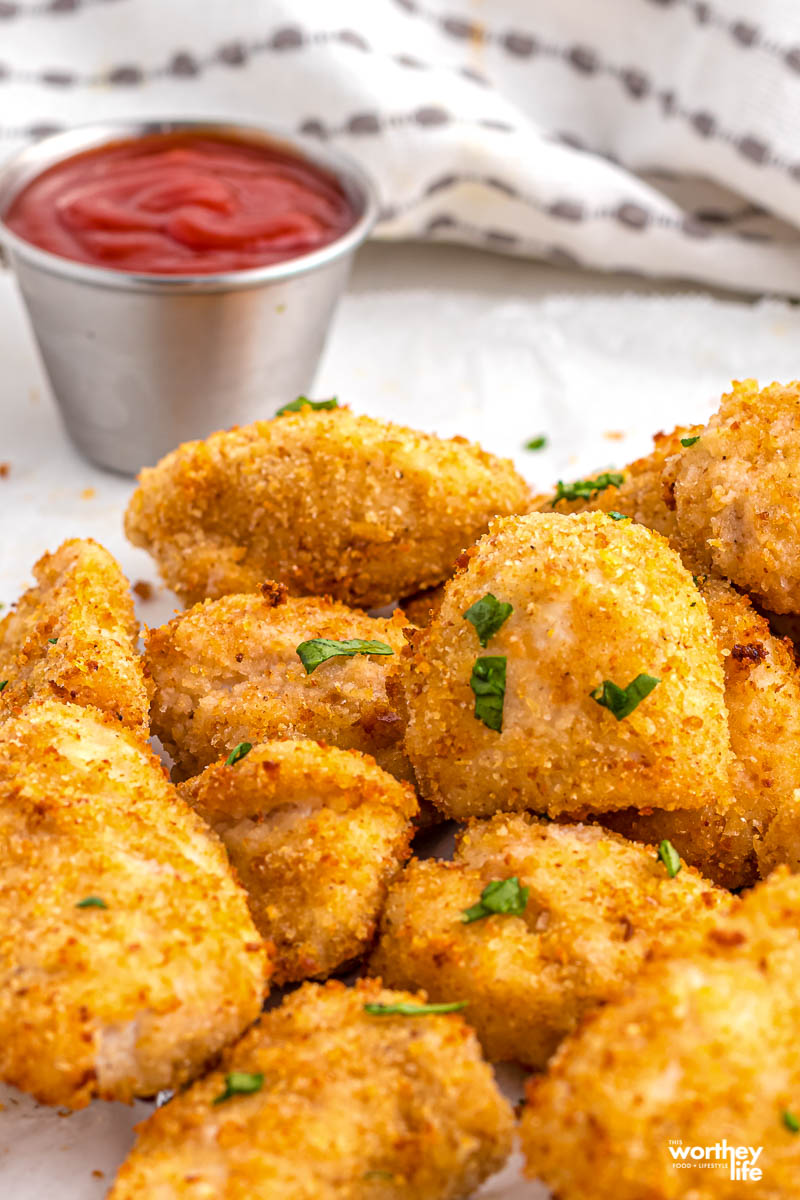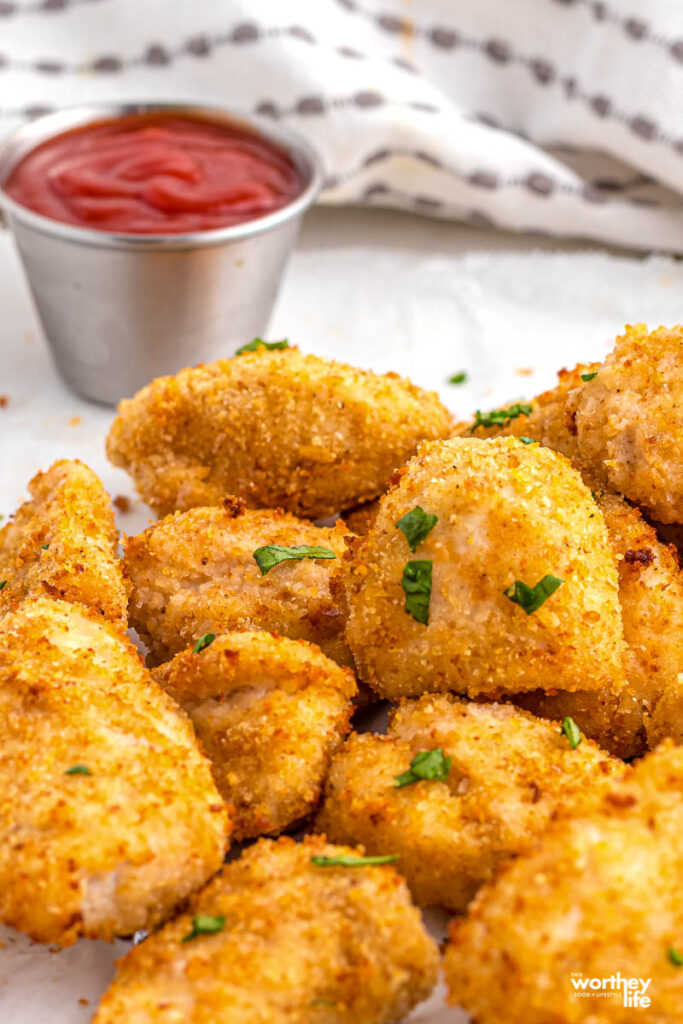 Storing Leftovers
Store your leftover homemade nuggets in an airtight container for 2-3 days in the fridge.
You can reheat in the microwave or back in the air fryer. You can also freeze the cooked nuggets as well for 2-3 months.
Find more Air Fryer recipes below:
Air Fryer Salmon Recipe with Cilantro Lime