I love recipes that feel a bit rustic, but they're also a little luxurious, this is one of those recipes, and this Baked Penne Pasta with Béchamel Sauce manages to feel decadent while maintaining it's simplistic roots. It requires a bit of work, but it has a big delicious payoff at the end. Read on!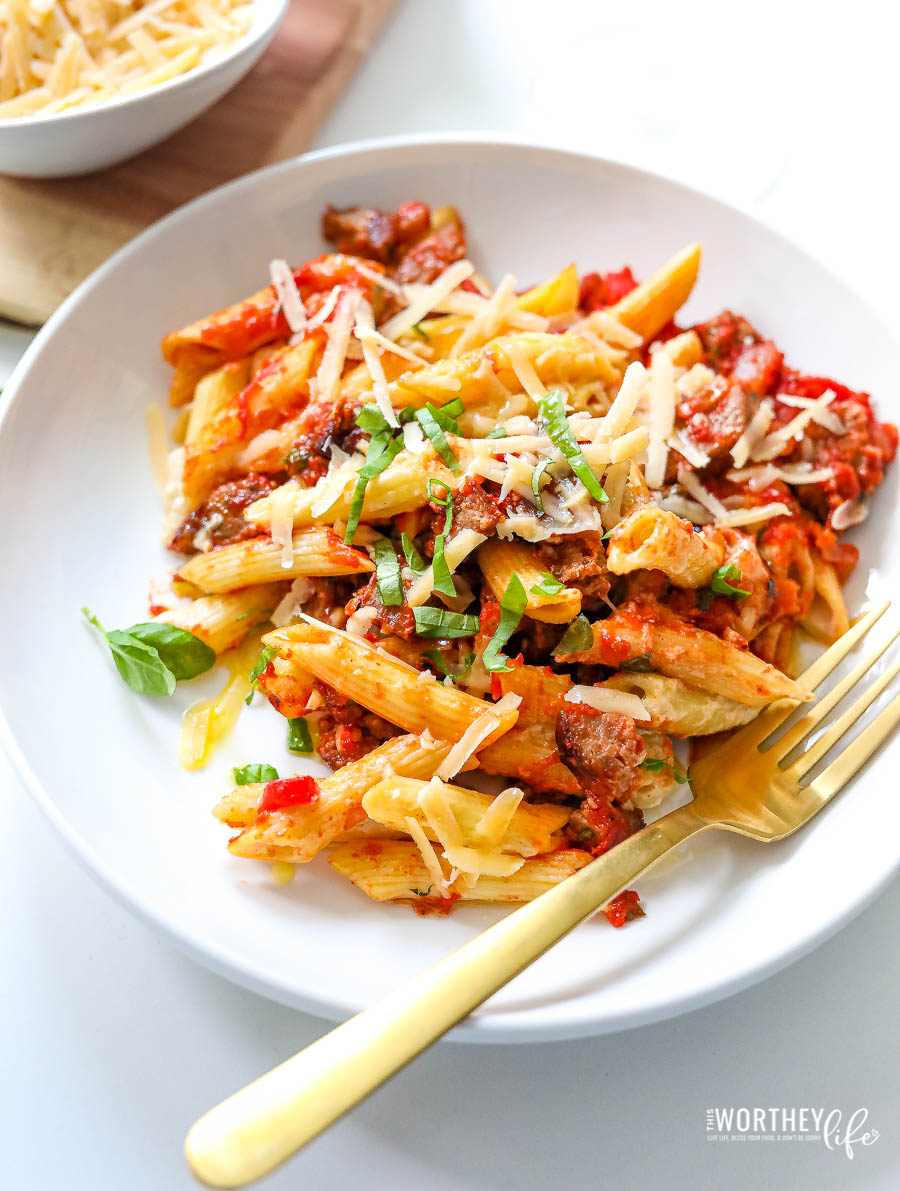 Baked Penne Pasta
I have to say, I've baked a penne pasta recipe to beat all penne pasta recipes! Yes, it's that good! And if you want proof, you need only to follow the recipe and know a bit of heaven on your plate when it's all said, done, and steaming right before your very eyes.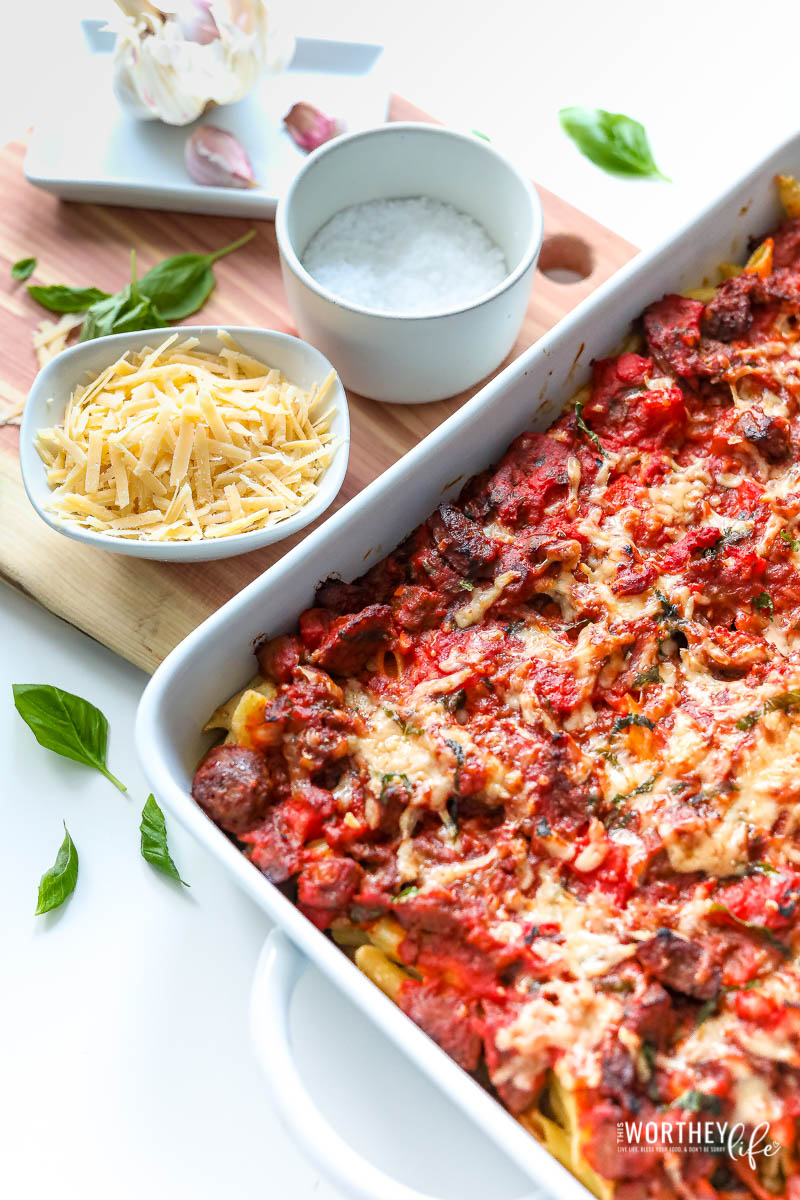 Okay, it may not be a Michelin star-worthy dish. Still, I'm pretty sure if you're a fan of pasta dishes with tomato sauce, onions, garlic, basil, Italian sausage, and freshly grated Parmesan cheese, then there's a pretty good chance you are going to love this recipe.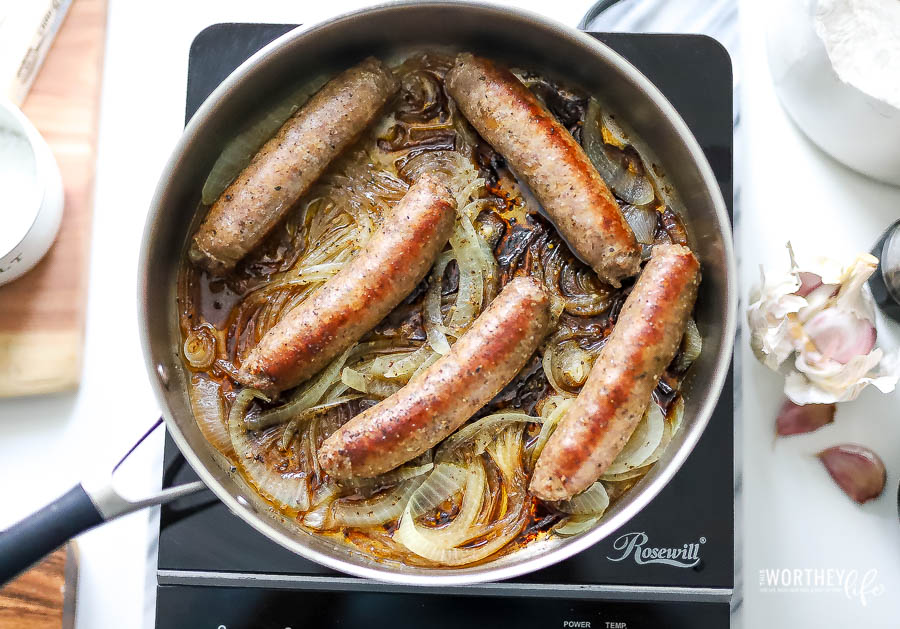 Honestly, I was so close to just grabbing a fork and polishing off the sausage and onions and call it a day!
Let's begin with cooking the sweet Italian sausage, don't worry about cooking the sausage all the way through, just give them a quick brown on both sides, then set them on a bed of sliced sweet onions, and add 2-3 tablespoons of butter, cracked black peppercorns, then fit the skillet with a tight-fitting lid and reduce the heat to low for 25 minutes.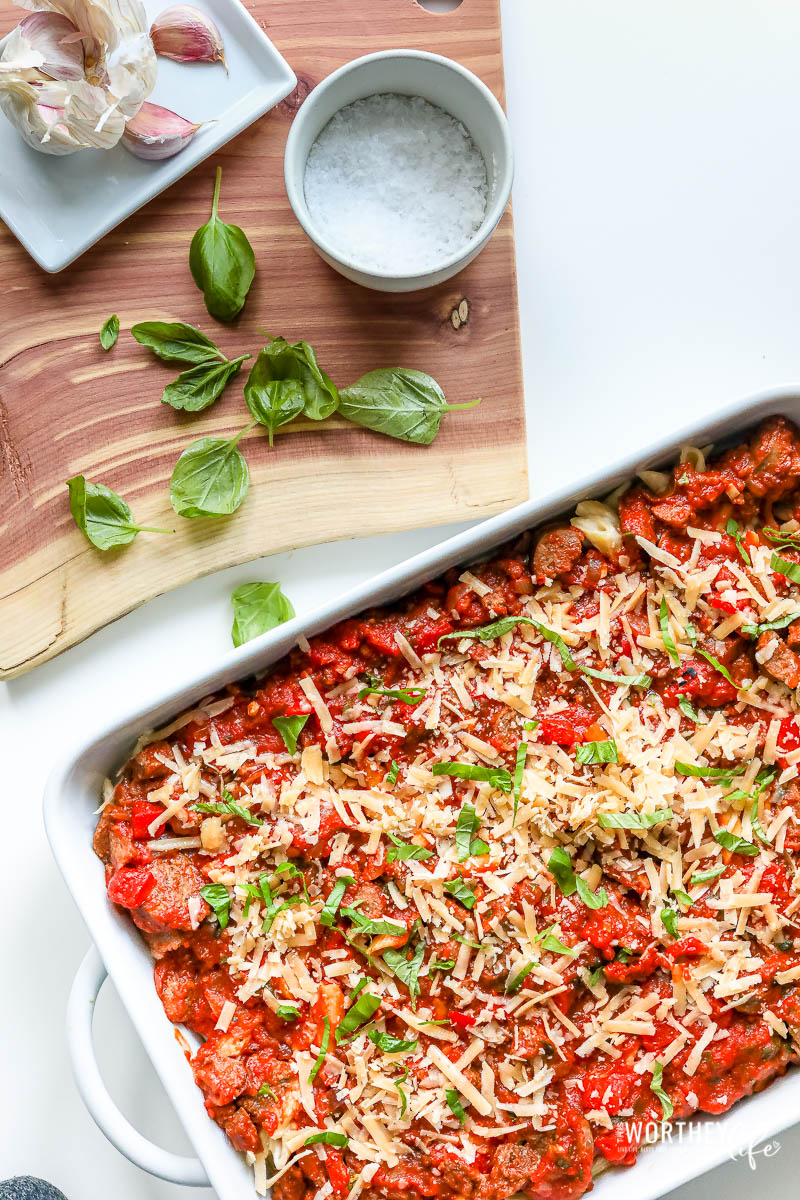 After 25 minutes, what you'll end up with is perfectly cooked Italian sausage and these impossibly savory semi-caramelized sweet onions. After chopping the sausage, you'll want to use all of those delicious pan drippings too, all of it goes into a bowl to use later on in the recipe.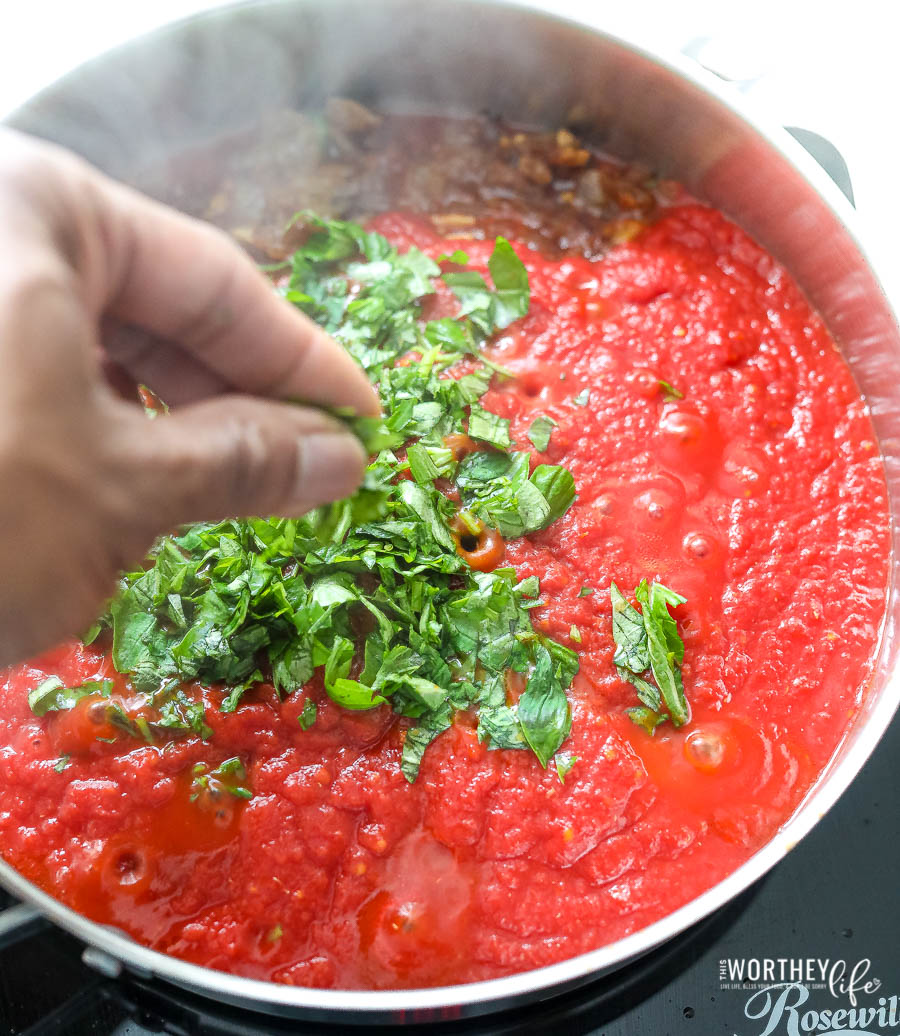 This recipe also calls for more onions and a nice amount of chopped garlic; these will go into the tomato sauce we're going to create. In my opinion, onions and garlic are the building blocks to many of my favorite recipes.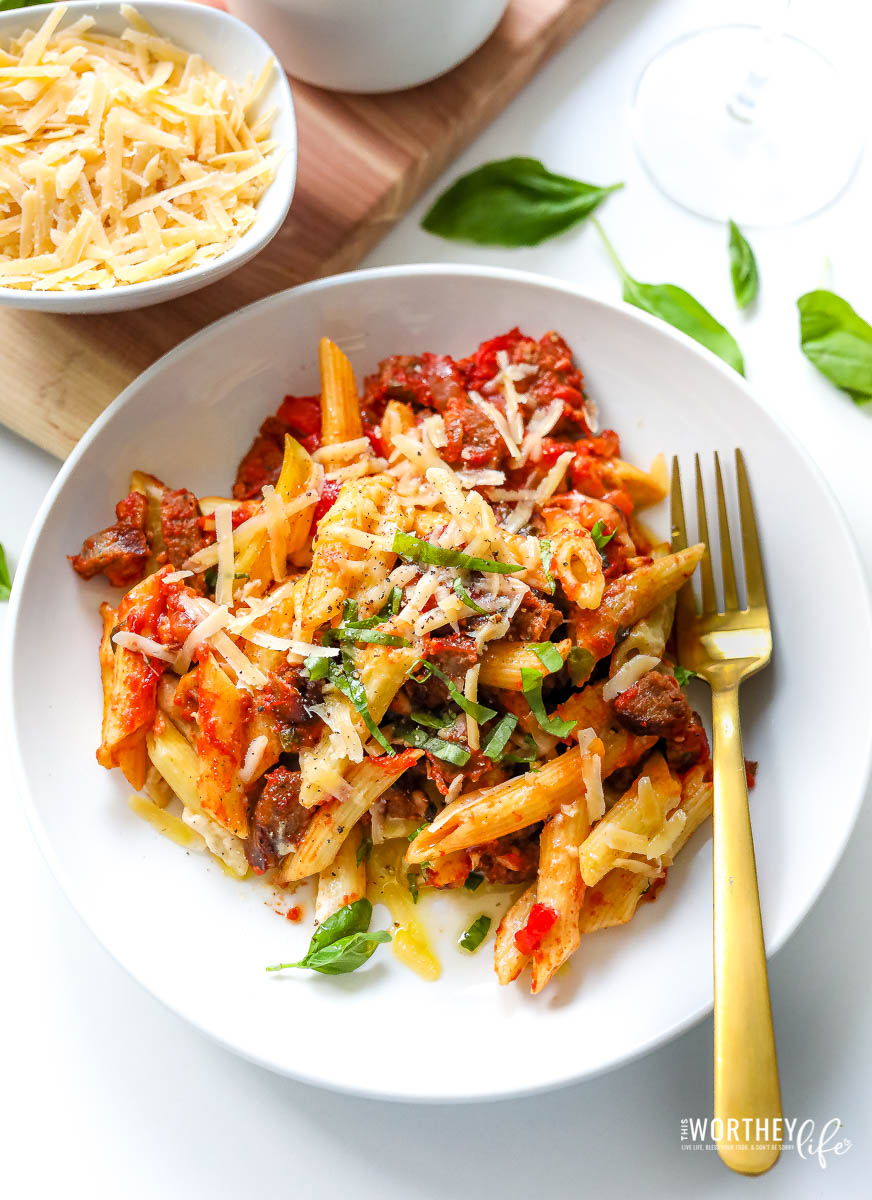 Now, it's just about bringing the sauce together with the crushed tomatoes, tomato sauce, onions, garlic, chopped Italian sausage, grated Parmesan, and freshly chopped basil.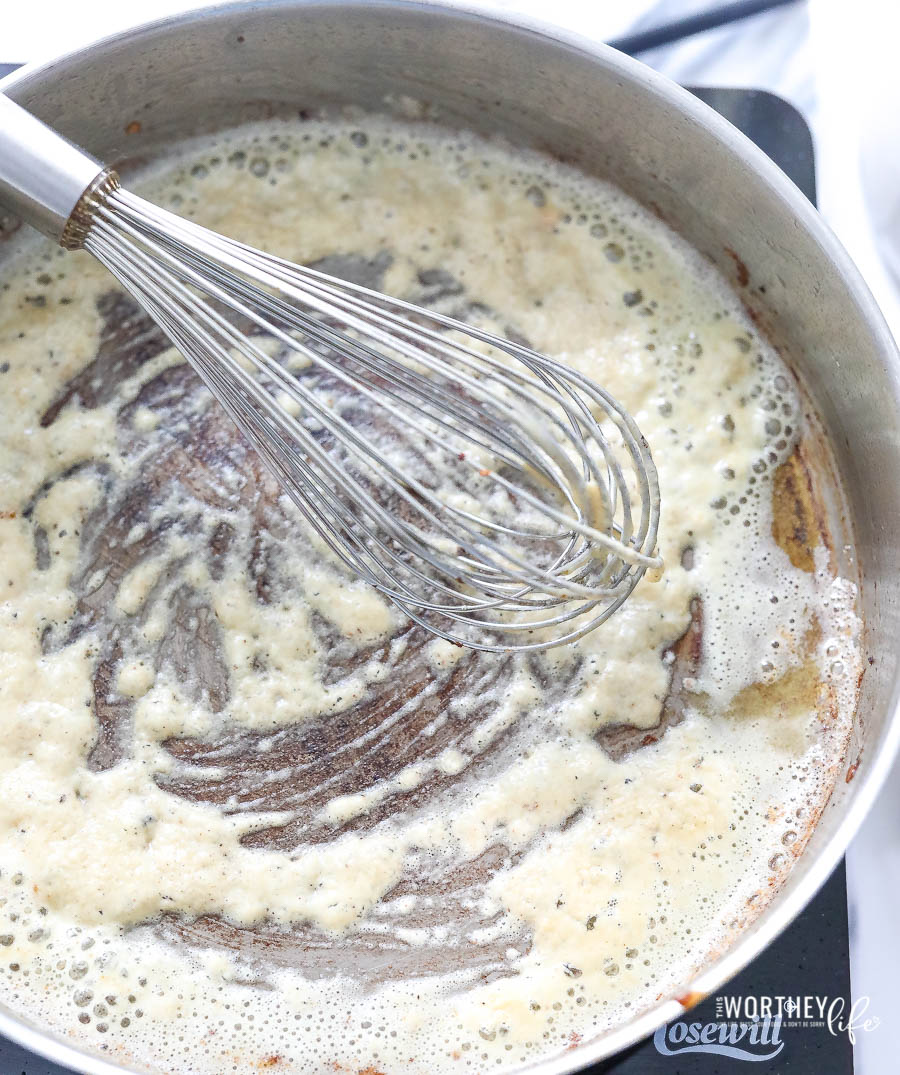 Making béchamel sauce requires a bit of patience, you will start with olive oil, melted unsalted butter, and you'll need to whisk in the all-purpose flour. Keep whisking until the ingredients are a pale blond color, then little by little, add the half and half, and whole milk mixture.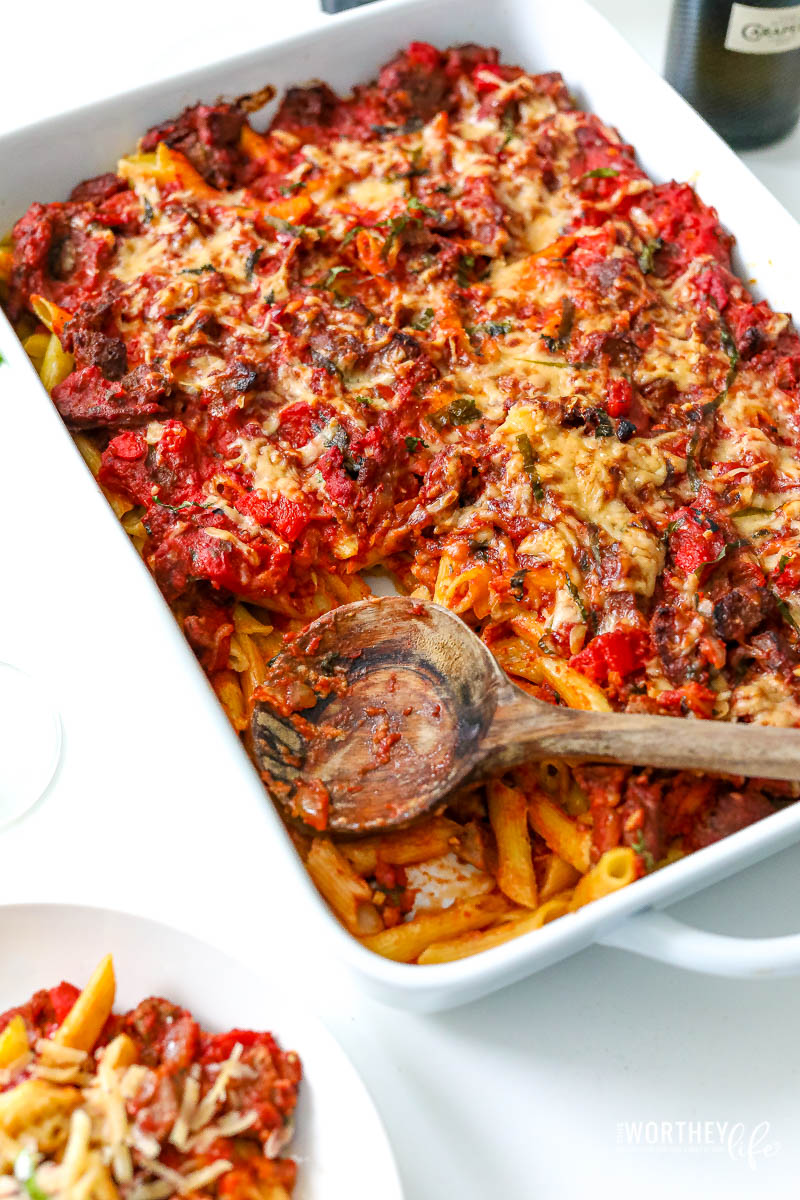 What You Will Need To Make Our Baked Penne Pasta Recipe:
Italian Sausage. I love sausage, and Italian in casings is the best, especially in this recipe, because after you brown the sausage on both sides and place those sausages on a bed of sliced onions, along with a little butter and the lids on tight, and the heat on low. Magic happens. If you don't eat meat, then double up on the onions, and if you want to take it to the next level, use ghee.
Béchamel Sauce. Making a béchamel is incredibly easy, and I bet a lot you have been making it and didn't even know what it was called. Traditionally, béchamel sauce is made with butter, all-purpose flour, and whole milk. For my béchamel sauce, I use extra virgin olive oil, butter, all-purpose flour and a half and half, and a whole milk combination. And I season it with sea salt and freshly cracked black peppercorns. It takes patience to make a good béchamel, and if I can do it, then I am pretty sure you can too!
Sea Salt. Freshly Cracked Black Peppercorns. These two right here are cooking basics. I prefer flaky sea salt over Kosher salt, and I also love freshly cracked black peppercorns versus ground back pepper but use whatever you have on hand. Sidebar: when I am cooking with a lot of cheese, I cut back on the salt because there's a substantial amount of salt in most cheeses, and if you use salt and cheese, you may be over-salting your food.
Onions & Garlic. I can never have too many onions and garlic, and when you cook the two together, good things happen. For this recipe, I used one large sweet onion and three large garlic cloves.
Crushed Tomatoes & Tomato Paste. I used crushed or stewed canned tomatoes in this recipe along with a couple of tablespoons of tomato paste, but feel free to use diced tomatoes too, and if you're using whole tomatoes, just chop them up, and you're good to go.
Red Wine. Any red will do, just don't use the most expensive wine you have unless that's your preference. I used a dry red wine, but use whatever you have on hand. If you don't have wine, then use water; I prefer using wine because with wine, I'm adding a layer of flavor instead of bland water.
Butter & Extra Virgin Olive Oil. Like salt and freshly cracked black peppercorns, I have a thing for good butter and quality extra virgin olive oil, both make an appearance in this recipe and you'll be glad they did!
Half & Half and Whole Milk. Traditionally, béchamel uses only whole milk, but I add a little half and half, to lend a bit of extra creaminess to the sauce.
Parmesan. There's nothing like the taste of good Parmesan. Periodt. However, The Mrs. loves when I use Stilton blue cheese in this recipe, I've also made it using Parmigiano-Reggiano and Grana Padano, which is similar to Parmigiano-Reggiano.
Fresh Basil. Is there any herb that's essential to Italian cooking than basil? I don't think so, and use as much as you like. Fresh is best, there I said it! But if you don't have fresh basil, then use the dried variety. Get some basil in your life.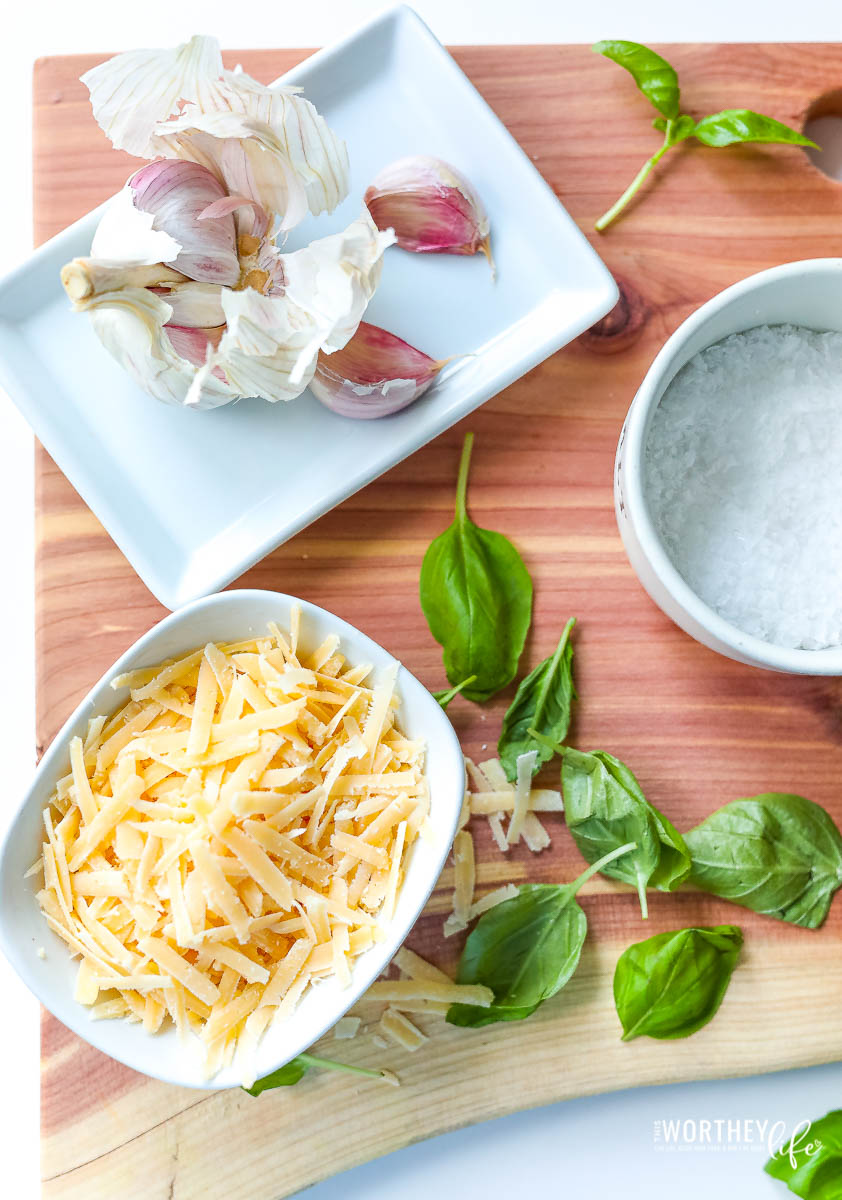 You Will Love Our Baked Penne Pasta Recipe Because It's:
Easy
Yummy
Comforting
Hearty
Perfect for your family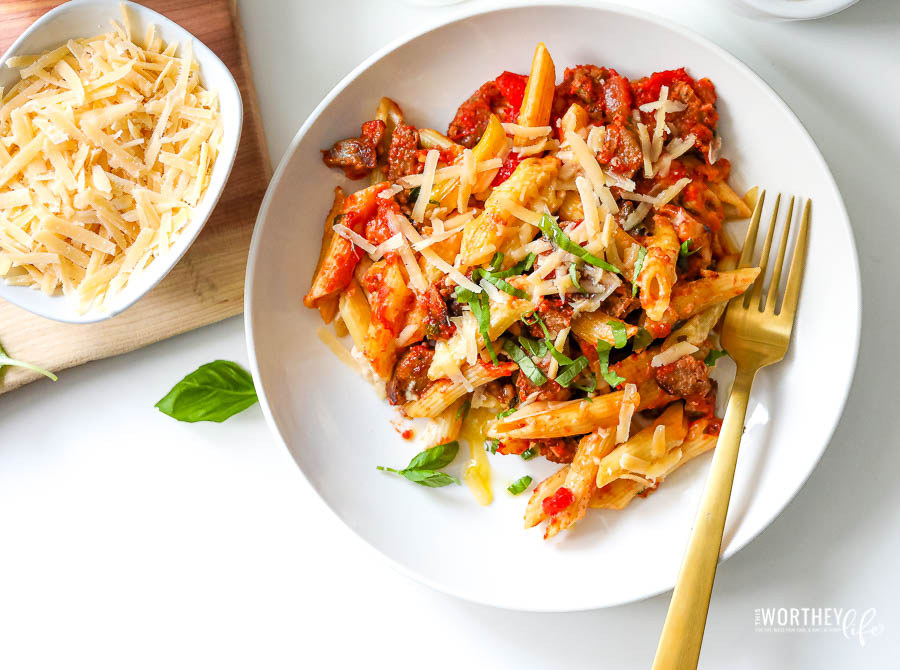 Baked Penne Pasta – Easy Dinner Idea
Ingredients:
4 tablespoons extra virgin olive oil
3 tablespoons unsalted butter
2 1/2 tablespoons all-purpose flour
1/2 cups half and half
2 cups whole milk
1/2 cups grated Stilton Blue cheese, (Parmigiana Reggiano or Grana Padano, Parmesan)
Sea salt and freshly cracked black peppercorns
1 pound sweet Italian sausage
1 large sweet onion sliced
1 medium onion diced
3-4 large garlic cloves
2 tablespoons tomato paste
1/2 cup white wine
1 28 ounces can of crushed or stewed tomatoes
12-ounce jar roasted red peppers
1/4 cup chopped parsley or basil (or a mix of both)
1 pound penne, rigatoni, or ziti
Directions:
Preheat oven to 350°F.
Place a skillet over med-high heat and add a tablespoon of extra virgin olive oil. When the oil is hot, add the sweet Italian sausage and brown each sausage on both sides. Add the one large sliced onion, adjust the sausages on top of the sliced onions. Add 2-3 tablespoons of unsalted butter. Place a tight-fitting lid on top of the skillet and adjust the heat to low. Allow the onions and sausage to cook for an additional 25 minutes or until the sausage is cooked through and the onions are slightly caramelized. Remove the Italian sausage and onions, and when the sausage is cool enough, chop the sausage into bite-size pieces and set the sausage and onion mixture aside.
Set a stockpot filled with water over high heat when the water begins to boil, add the penne, rigatoni, or ziti pasta and cook following the package directions. When the pasta is al dente reserved two (2) tablespoons of pasta water, drain the pasta using a colander, pour the pasta into a large casserole or lasagna dish, and toss the pasta with one tablespoon of olive oil and the two tablespoons of pasta water.
Adjust the heat to med-high, and a tablespoon of extra virgin olive oil, when the oil is hot sauté the diced medium size onion and chopped garlic until the onions are translucent and soft. Add the stewed tomatoes, tomato paste, white wine, and chopped roasted red peppers and cook, continually stirring for ten minutes, fold in the Italian sausage, onion, and garlic mixture. Adjust the temperature to low and place the lid on top.
Grab another skillet and place over medium-low heat add a tablespoon of EVOO and butter. When the butter is melted, use a whish and add 2 1/2 tablespoons of all-purpose flour, whisk until the flour mixture is pale blond, then continue whisking, and little by little, add the half and half and whole milk—season with sea salt and freshly cracked black peppercorns to taste. Reduce the heat to low and continue to whisk until the mixture begins to thicken.
When the mixture coats the back of a spoon, add the grated Parmigiana Reggiano or Grana Padano, Parmesan, or Stilton Blue Cheese, whisk until the grated cheese is fully incorporated into the Béchamel sauce. Pour the mixture over the pasta and mix well.
Spoon the pasta into a 9″ x 13″ high-walled casserole or lasagna dish, then ladle the Italian sausage and tomato sauce mixture on top.
Using a large spoon spread the mixture out in the casserole dish and top with more grated Parmesan cheese and torn leaves of fresh basil.
Place dish on the center rack of the oven and bake for 40-minutes.
Remove from the oven and drizzle with the remaining tablespoon of extra virgin olive oil, grated Parmesan, and fresh basil.
Serve.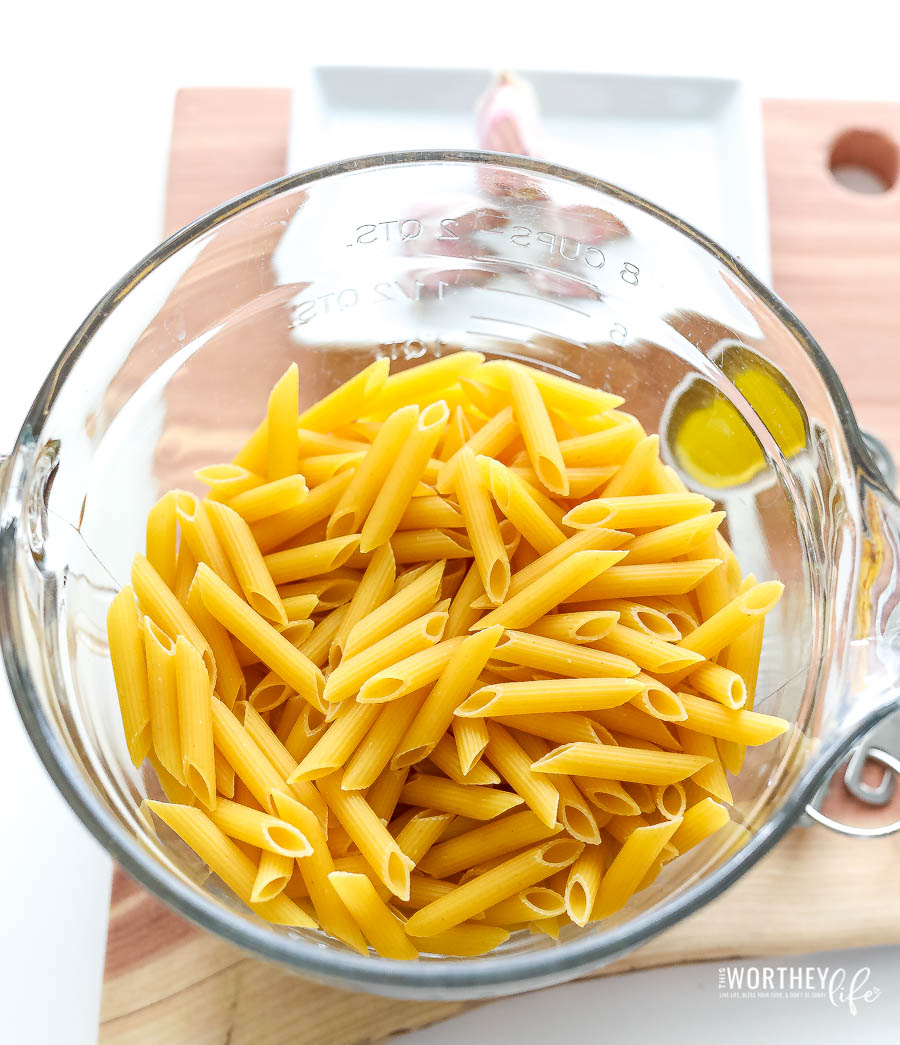 If you don't have penne pasta, use ziti or rigatoni. Almost any pasta tubular pasta works because when the sauce gets inside of those spaces, it so deliciously magical. We're talking about major-domo comfort food right here!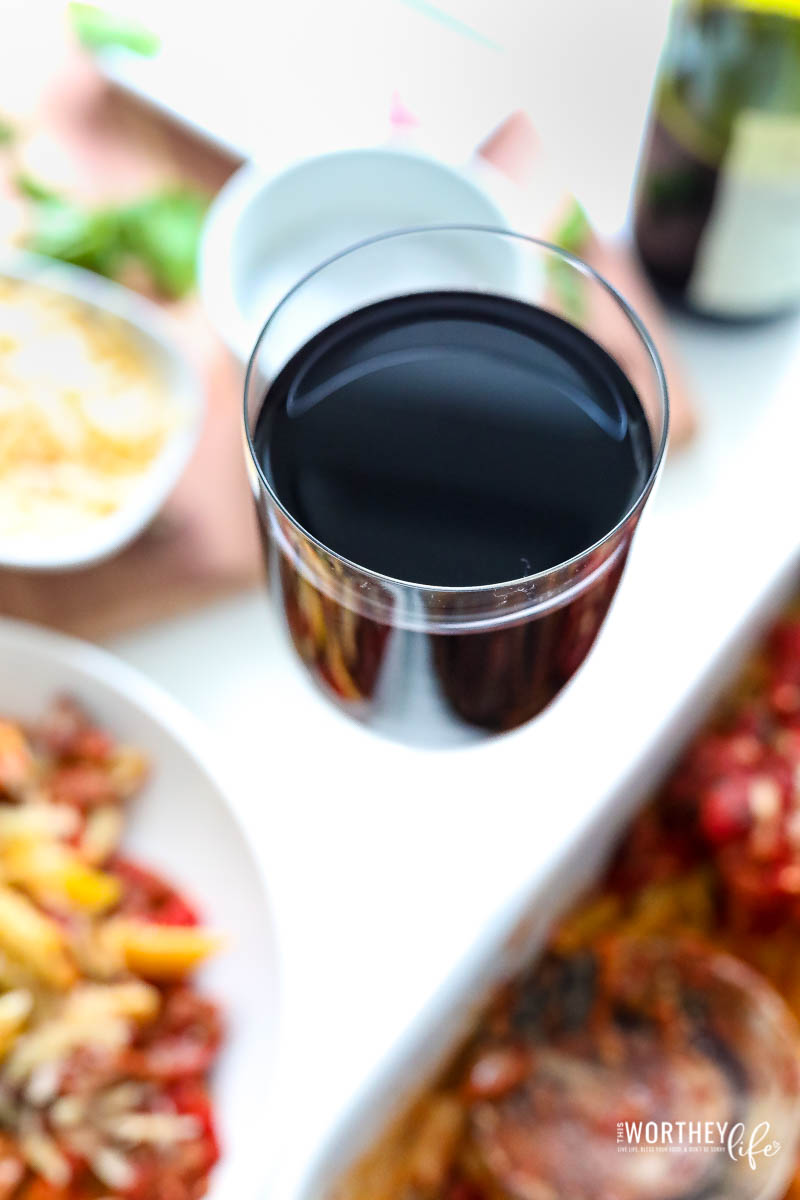 Enjoy a glass of your favorite wine with this incredibly luscious dish. Cheers!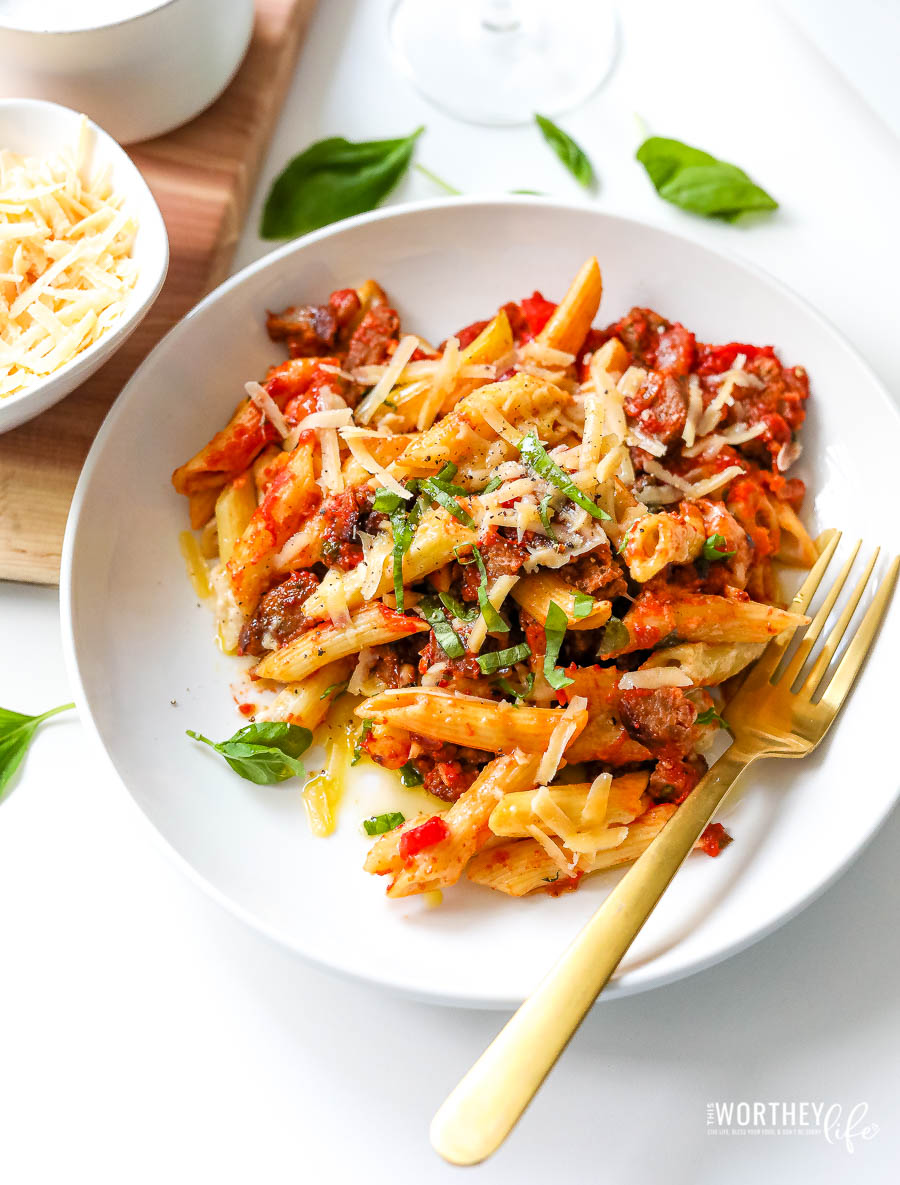 Now that you the recipe, all you go to do is make this your family. When you make come back and drop a comment down below, we'd love to hear back from you. If you happen to make it, tag us on Instagram (@thiswortheylife). And as always, if you have any questions, feel free to drop us a line. Bon Appétit!
Find more delicious pasta recipes below:
Fresh Tomato Bruschetta Chicken Bake
25 of the Best Spaghetti Recipes