BBQ Pulled Chicken Sandwiches are a great appetizer for game day parties, BBQ outings, and any other time when you're feeling in the mood for BBQ chicken. Topped with coleslaw and bacon, you can't go wrong with these Kansas City BBQ Pulled Chicken Sandwiches.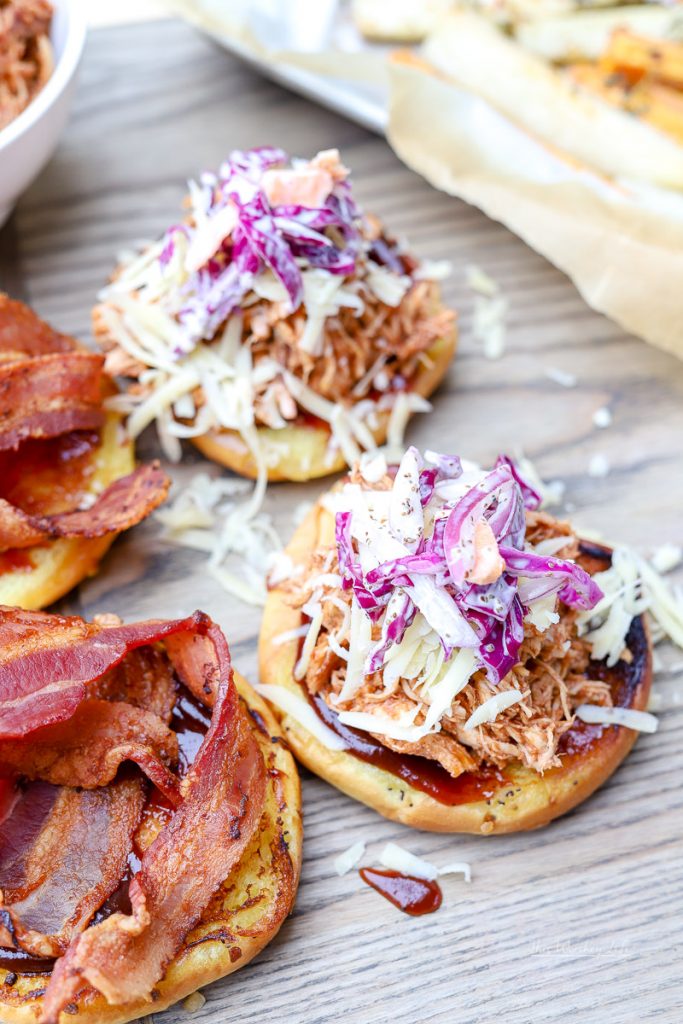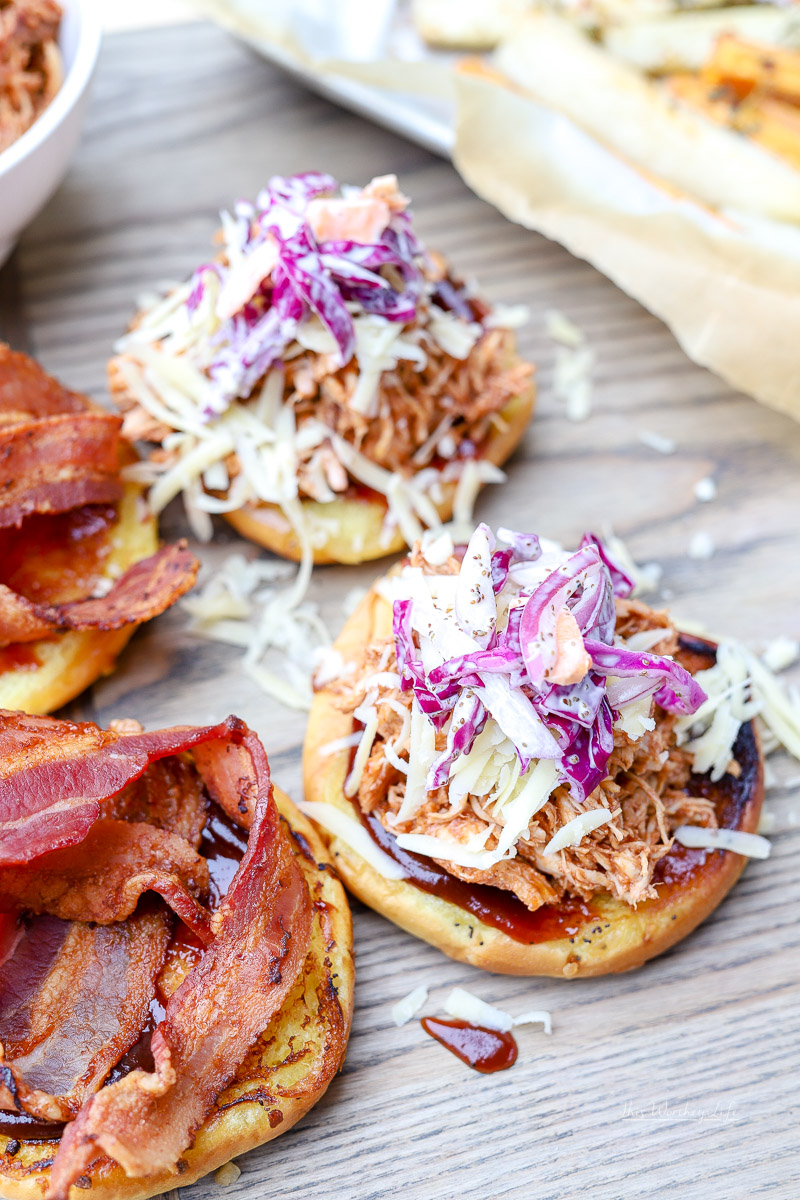 Kansas City BBQ Pulled Chicken Sandwiches
Hold up! Wait a minute! We are puttin' our foot in this one! What do you know about pulled chicken sandwiches? Honestly, we got besides ourselves with this one, but can you blame us? Because when it comes to food and especially just about any food you can put barbecue sauce on we kind of lose our minds just us lil' bit. Take our Kansas City Pulled Chicken Sandwiches for instance.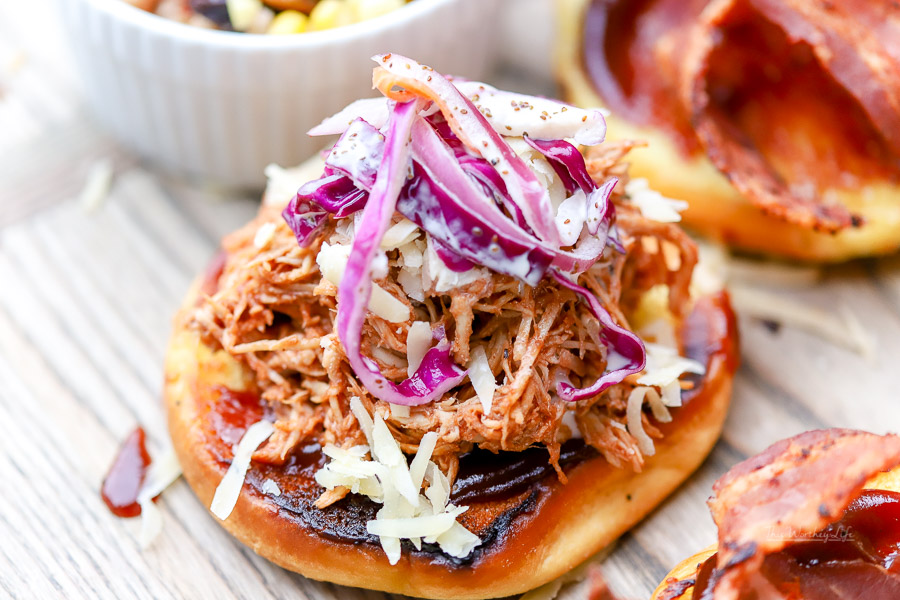 Here's the backstory, a the beginning of the year The Mrs. ventured to Kansas City for a travel junket, and if you know a thing or two about Cowtown, then you also know that when it comes to the BBQ, them folks don't play. BBQ, not barbecue, the unwashed and unfamiliar say the latter and the true practitioners of the BBQ craft use the former. It's a religion judged on flavor, a method of cooking and a type of sauce. And the sauce is just as crucial as the meat, in regards to Kansas City BBQ the meat game and the sauce game are two sides of the same coin. Can you dig it? I can dig, my hat to Kansas City BBQ.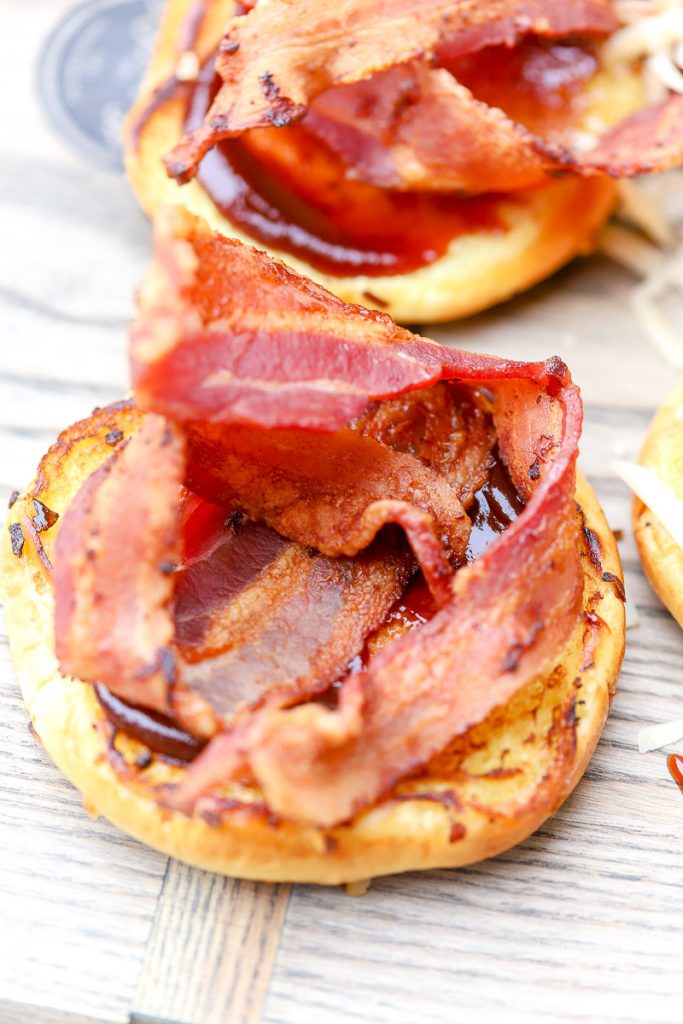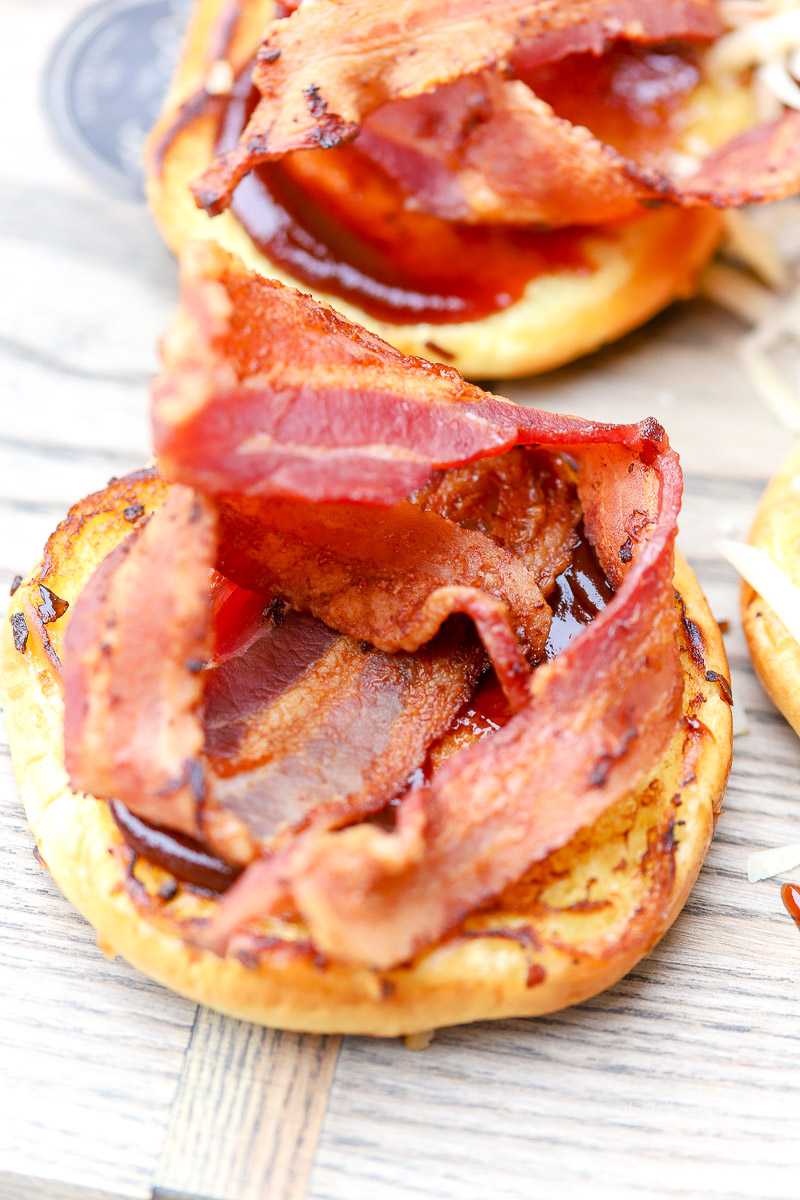 Anyhow, The Lady of The House brought back a lot of Kansas City favs like American Stockyard BBQ Sauce, Krizman's Sausage BBQ Rub, and my favorite Twisted Q Wicked Sweet Bourbon Seasoning.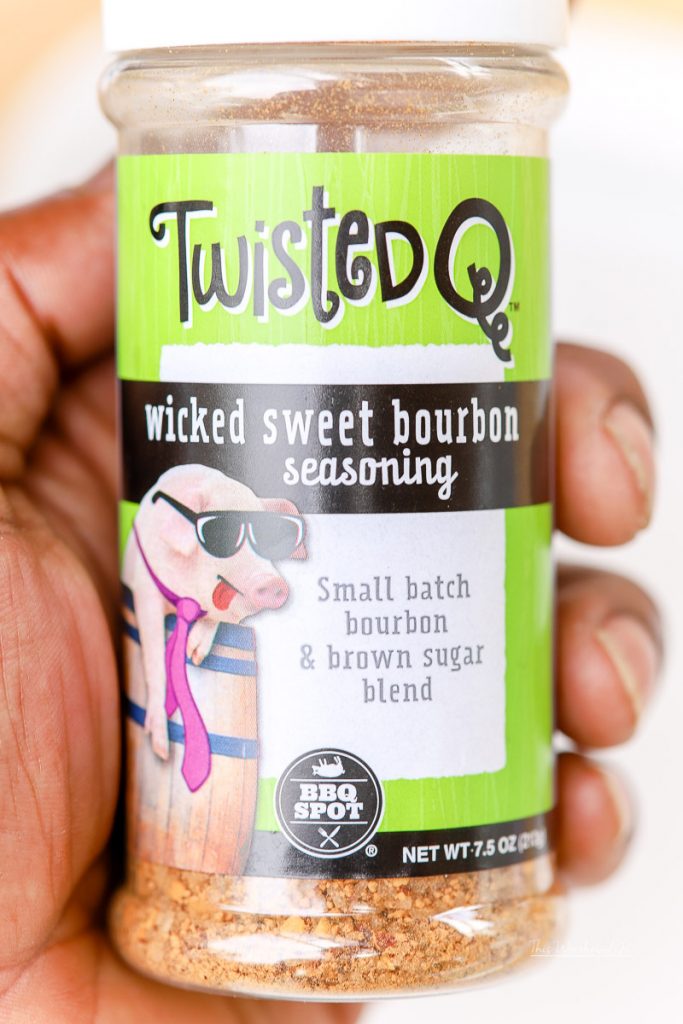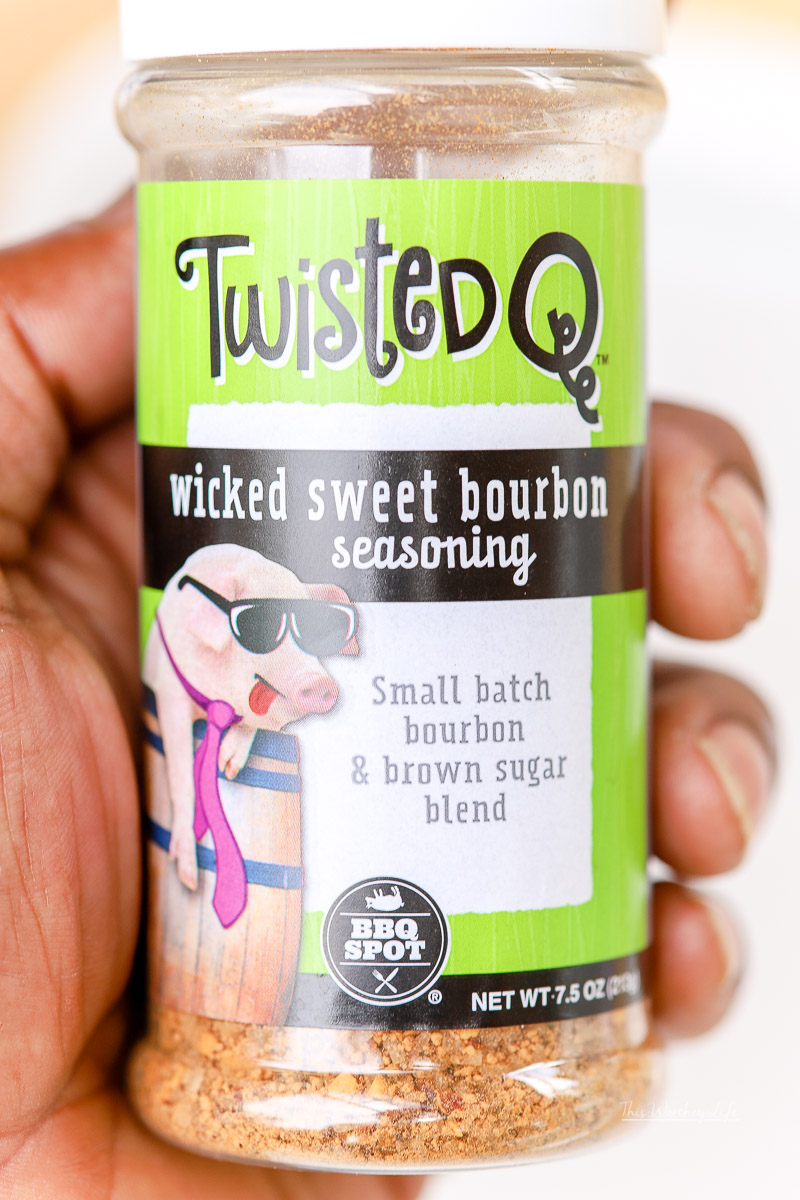 I don't always have the time to fire up the grill and watch over the meat sweatin' like a nun in a cucumber patch, so I pull out our Instant Pot. With the Instant Pot that means we will have our Kansas City Pulled Chicken Sandwiches done in way under thirty minutes, and that gives me plenty of time to whip up my Red Cabbage Coleslaw and Spicy Sweet Potato & Russet Fries. All of this is going to make the most excellent dinner. But ya'll know me; I got to throw a twist on it, so to take it over the top you got to add thick-cut bacon. Because throwing thick-cut bacon on almost anything is often all about making your next move your best move. With this sandwich, I believe I did just that, but you be the judge. Got it?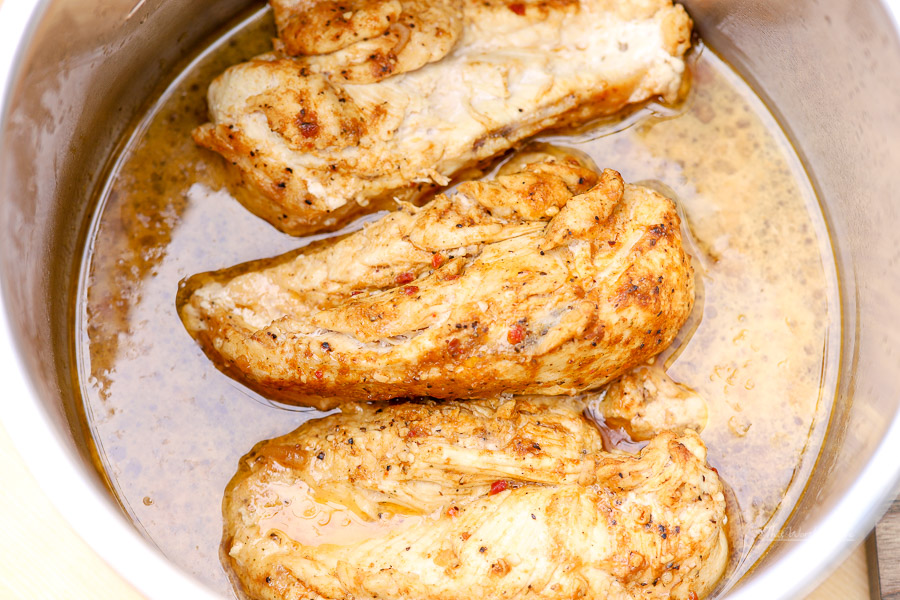 Yes, you can have delicious, tender, and packed with flavor chicken in twelve (12) minutes. Hello Instant Pot!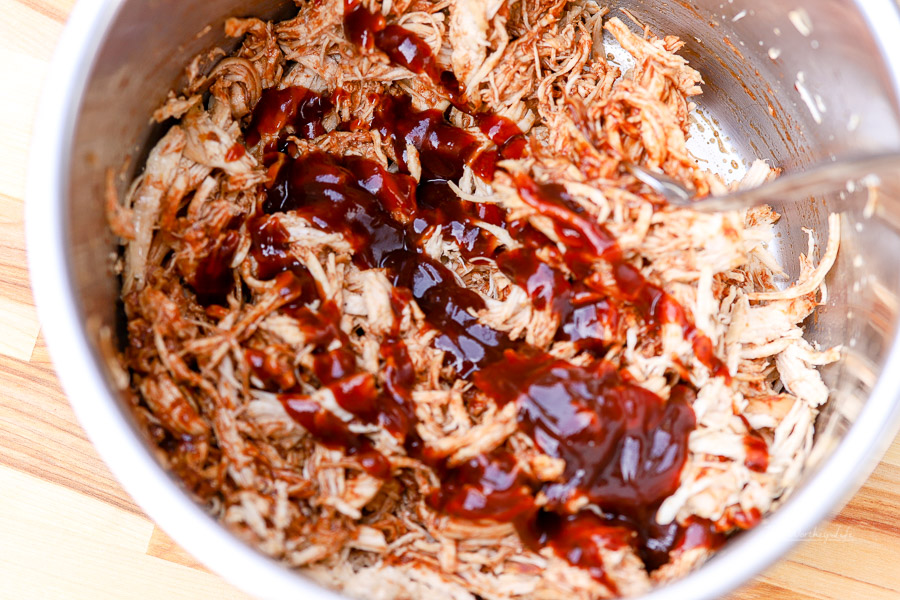 When it is all said and done you will quickly release that cooking this good this fast is a game changer!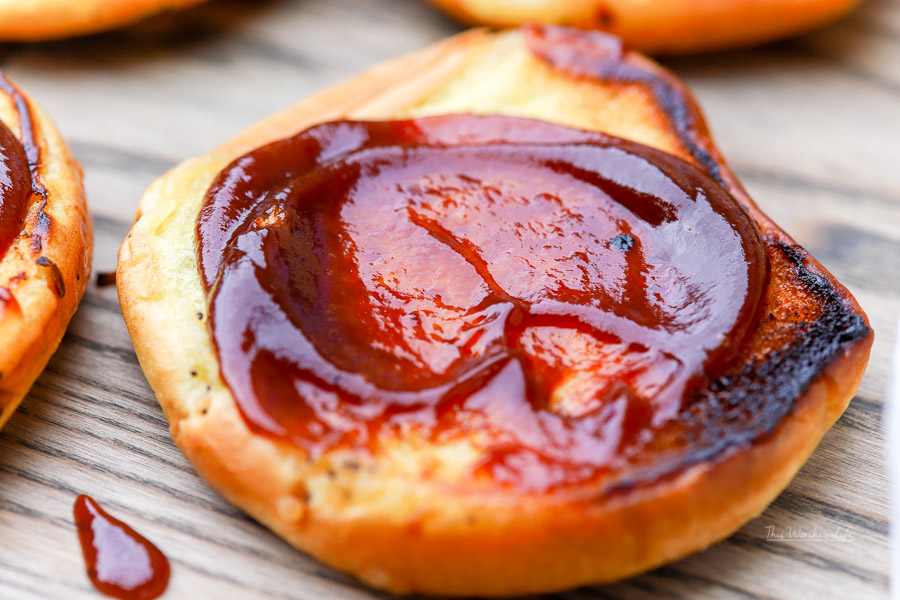 So, let's make a sandwich. First, you got to toast the onion bun and slather on lots of Kansas City BBQ sauce.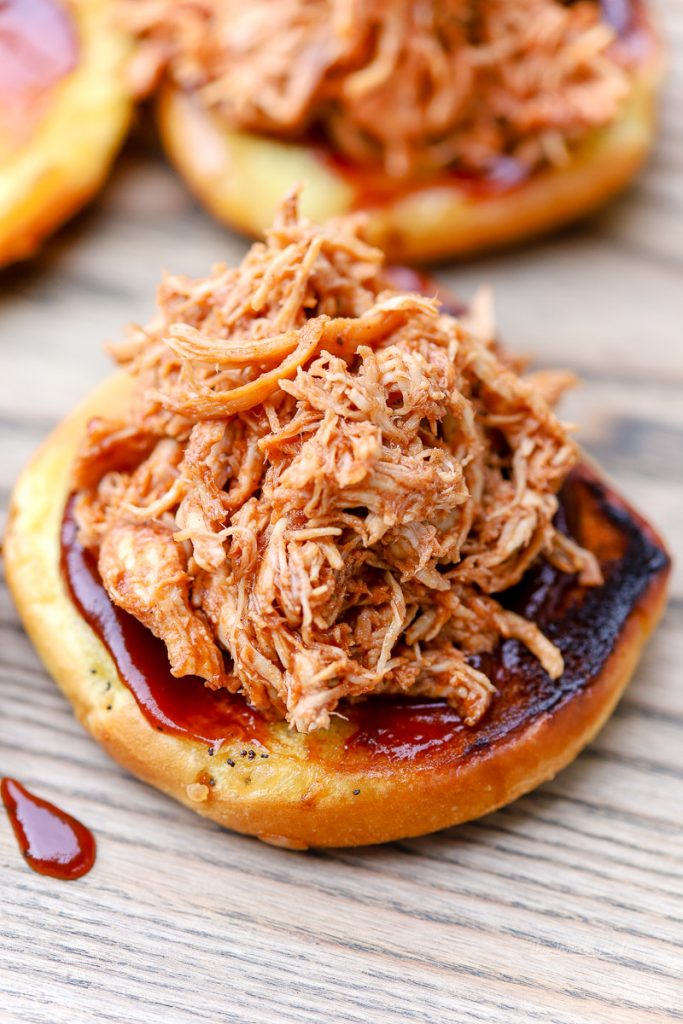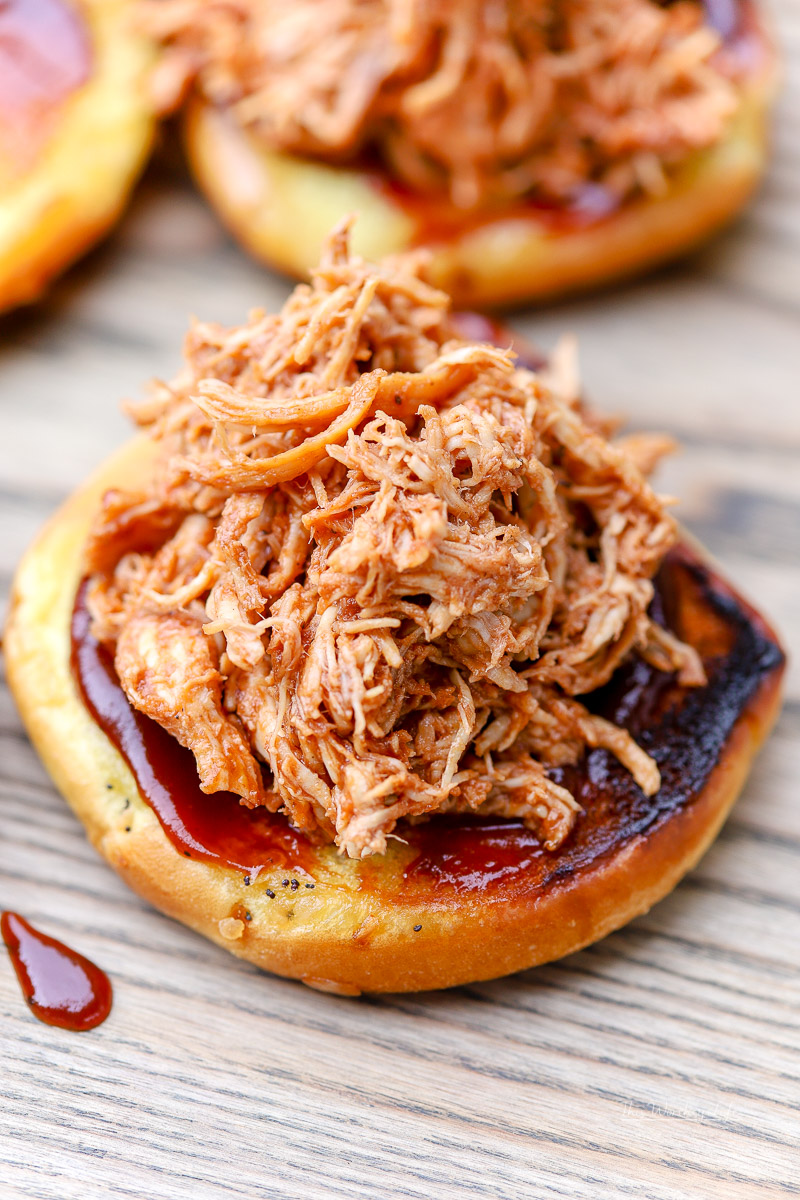 Now, let's pile on the BBQ pulled chicken at least a mile high, maybe even a bit higher! Why not?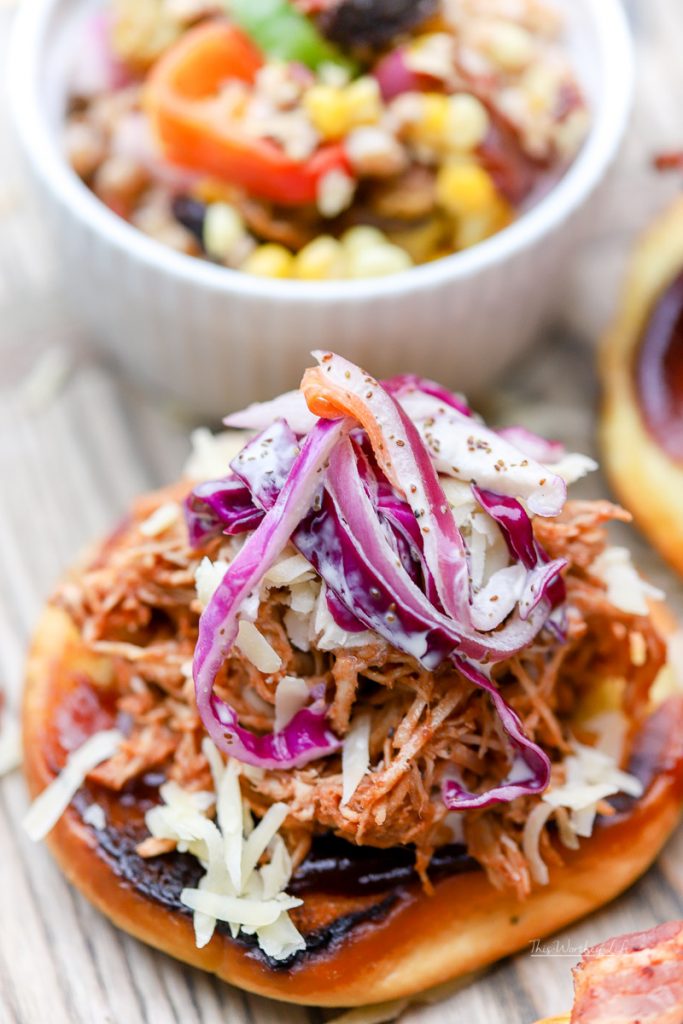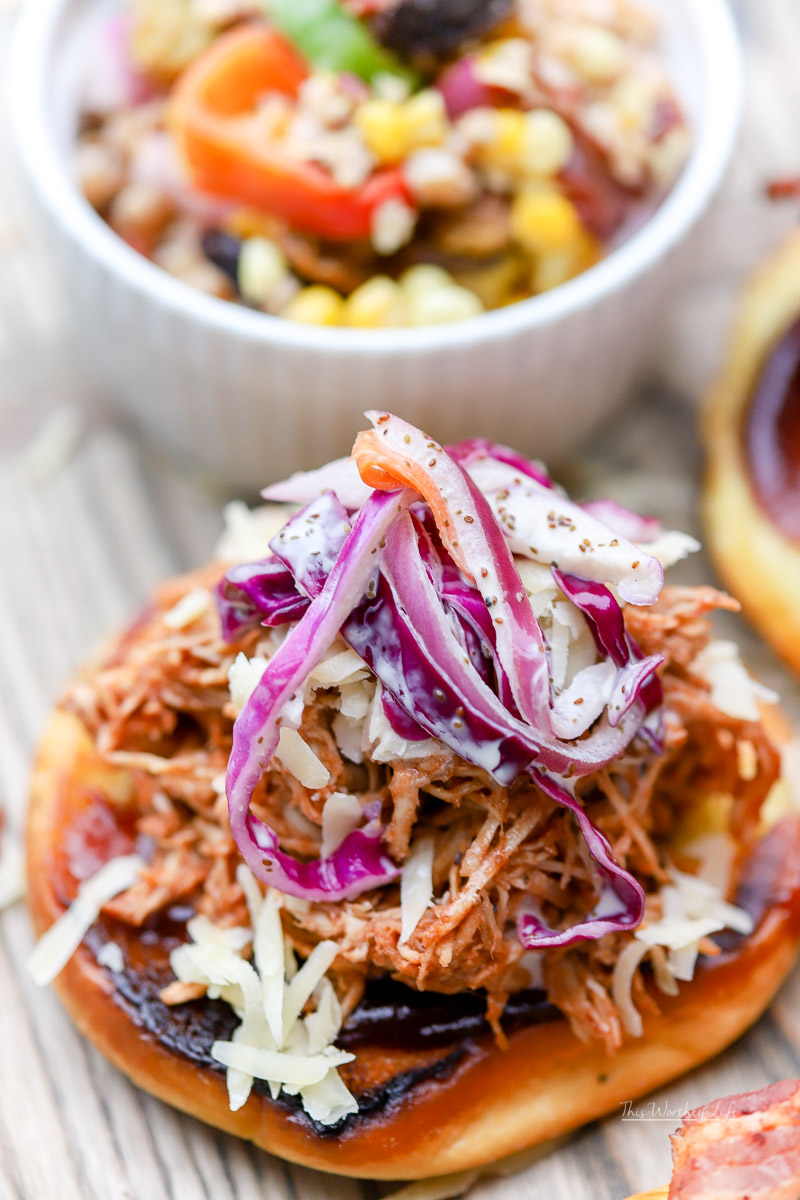 Pile on mounds of freshly grated cave-aged Gruyère cheese and Red Cabbage & Red Onion Slaw and get ready for a certified OMYUM moment. These Instant Pot Pulled Chicken Sandwiches are that good!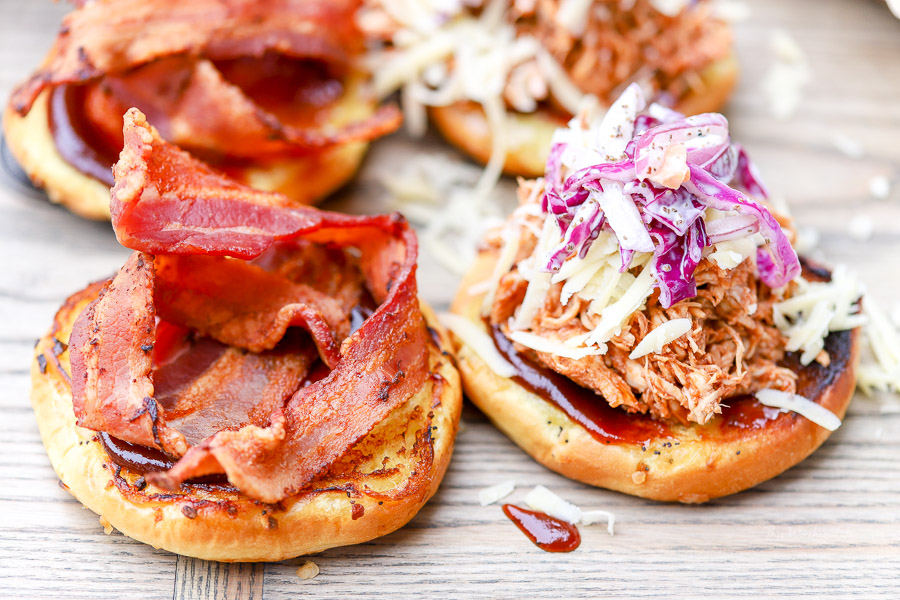 It is hard to believe how so many great flavors can come together so quickly to make one very good sandwich. I am giving everything you need to know to pull off these little bundles of edible happiness. But a word of warning, once you make these sandwiches, there's no going back. These will become your new normal. So, are you ready to have your sock knocked clean off of your feet? If so, read on.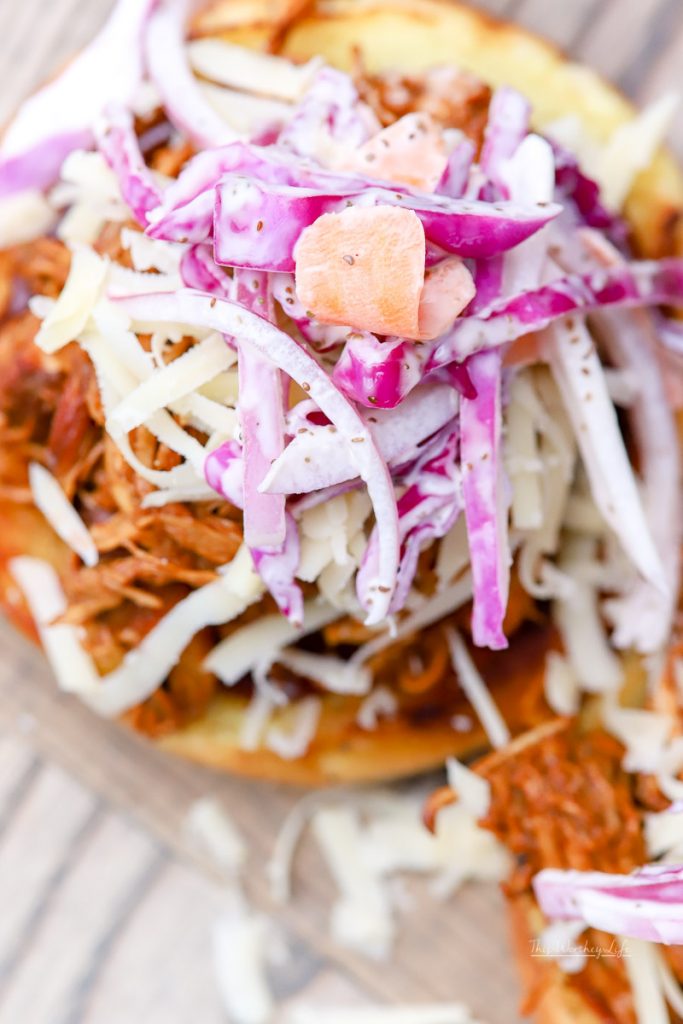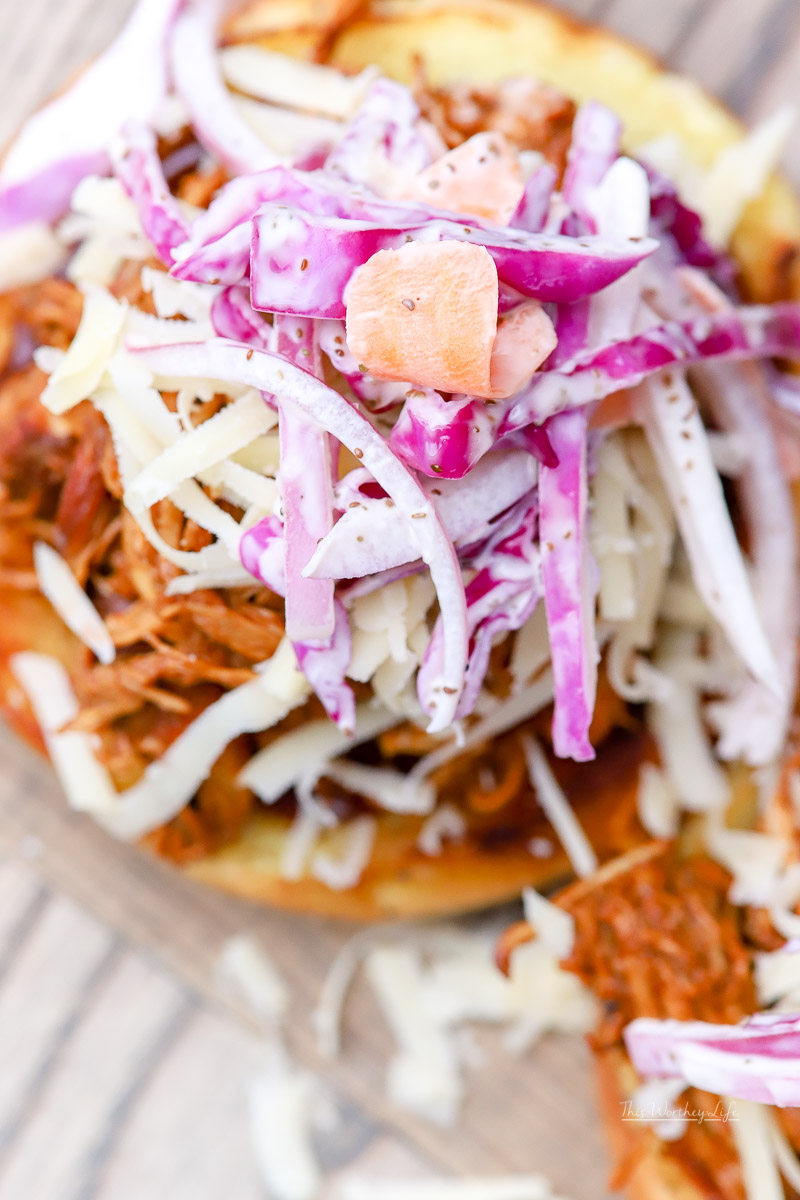 Kansas City Pulled Chicken Sandwiches
Ingredients:
3 chicken breasts
2 tablespoons extra virgin olive oil
1 1/2 tablespoons Twisted Q Wicked Sweet Bourbon Seasoning
2 ounces pineapple juice
2 ounces white Balsamic vinegar
1 cup American Stockyard Smoky Sweet BBQ Sauce
Directions:
Rinse and pat dry the chicken breasts, and place them in a medium bowl.
Add two tablespoons of Balsamic white vinegar and two tablespoons of pineapple juice.
Scatter one and a half tablespoons of Twisted Q Wicked Sweet Bourbon Seasoning.
Allow the chicken to marinade for fifteen (15) minutes.
Add to two tablespoons of extra virgin olive oil to the Instant Pot and select the Saute function.
When the oil is hot at the chicken breasts and place on the lid of the Instant Pot and turn to lock.
Make sure the venting knob is in the correct position.
Select the rice options (12 minutes) and allow the chicken to cook.
When the time has expired vent off the steam and dis-engage the lid.
Pour out any excess juices, use two forks to pull apart the chicken breasts.
Add and half of cup of your favorite Kansas City BBQ sauce.
Thoroughly mix the BBQ sauce into the meat.
Serve with thick-cut bacon and Quick Red Cabbage & Red Onion Slaw.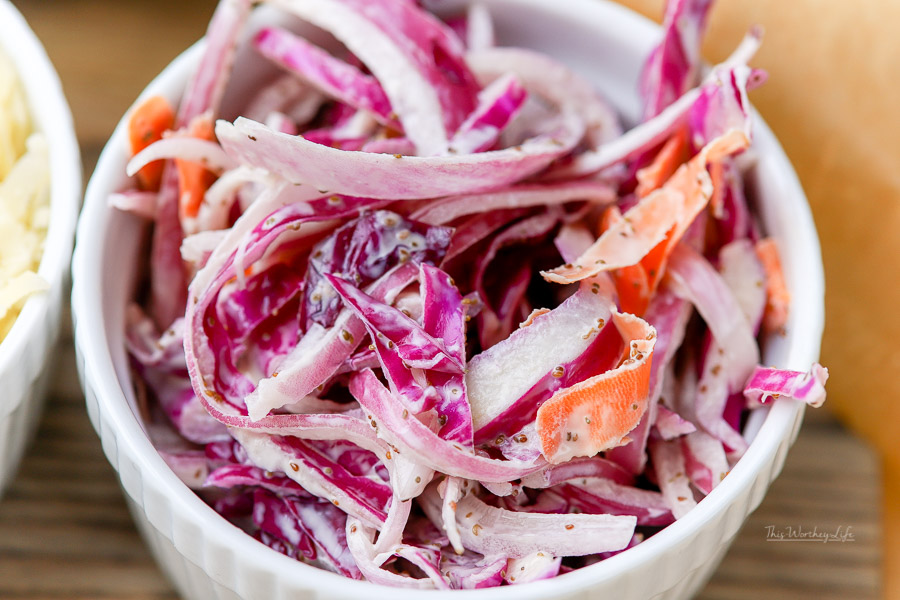 How to make Quick Red Cabbage & Red Onion Slaw
2 cups shredded red cabbage
1/2 cup sliced red onion
1/3 cup shredded carrots
1/2 tablespoons celery seeds
3 tablespoons mayonnaise
Directions:
In a large bowl add shredded red cabbage, sliced red onion, shredded carrots, celery seeds and three tablespoons of mayonnaise.
Mix the ingredients until everything is well combined.
Serve immediately or store in the fridge until ready to use.
Protip: Cook the thick-cut bacon in the oven. Preheat the oven to 400 degrees. Line a baking sheet with parchment paper and place the bacon in rows, place another sheet of parchment paper on top and bake for twenty minutes or until the bacon is crispy. You may never cook bacon in a skillet again, and with this method, there is no splattering grease. Sounds like the way to go to me.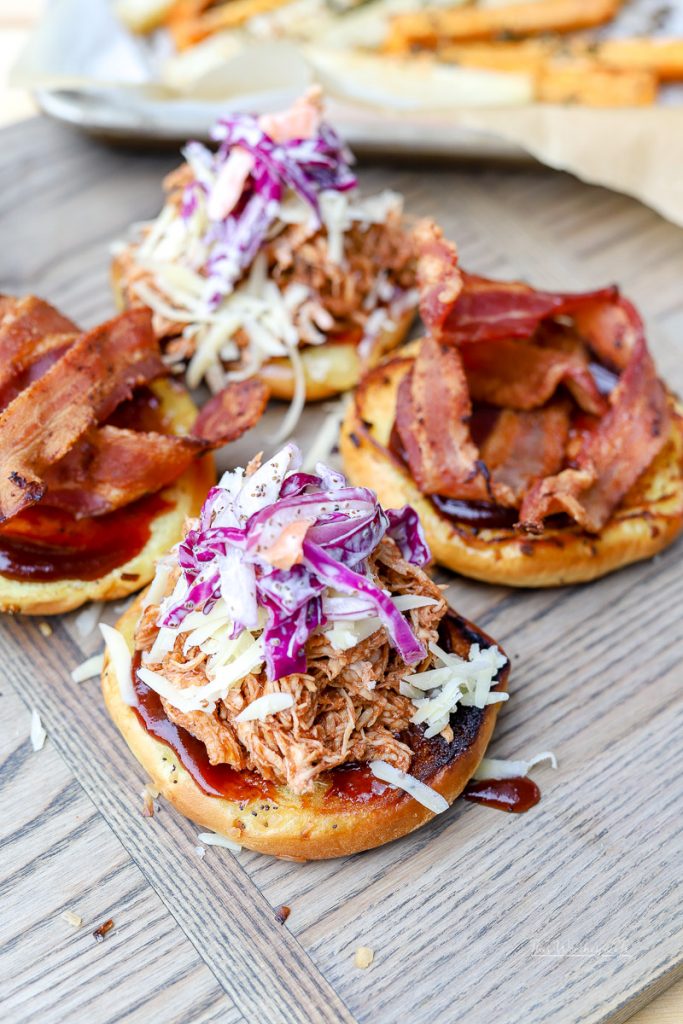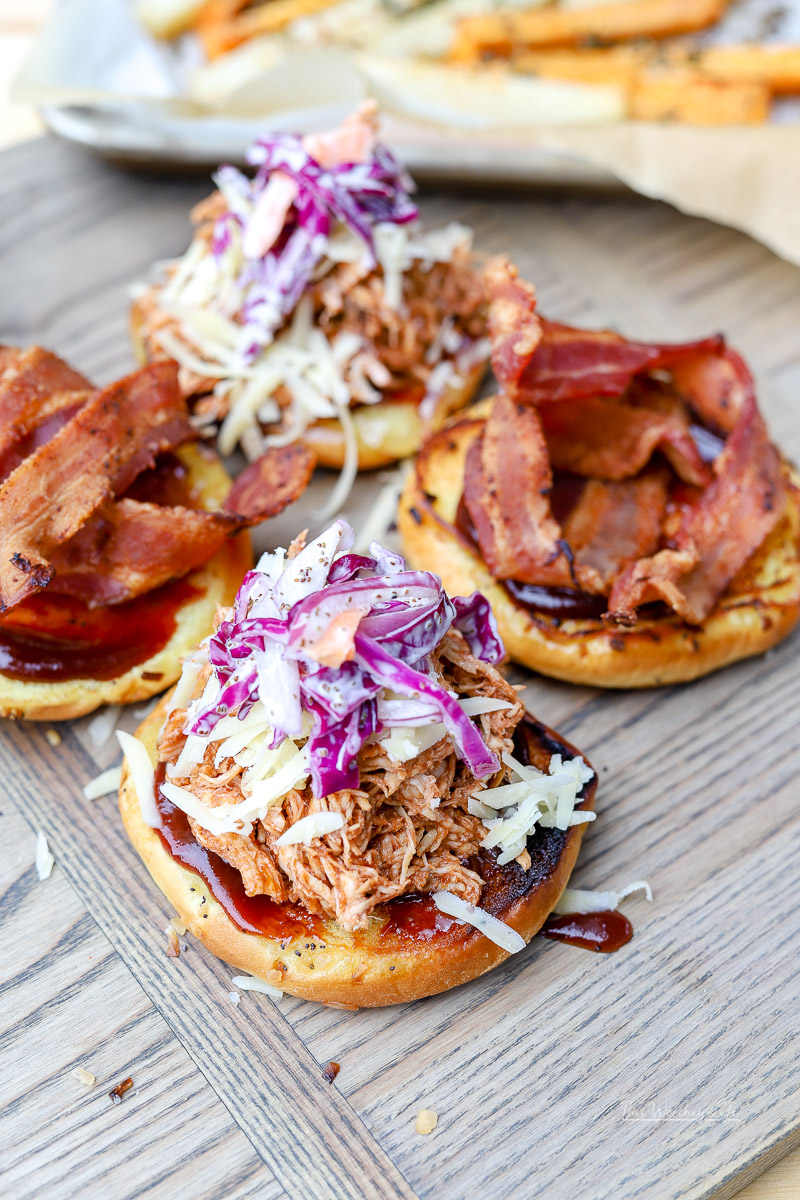 So, grab the ingredients and everything you need to make our BBQ Pulled Chicken Sandwiches with a Kansas City inspiration.