This post was sponsored on behalf of K'NEX. All opinions stated are my own.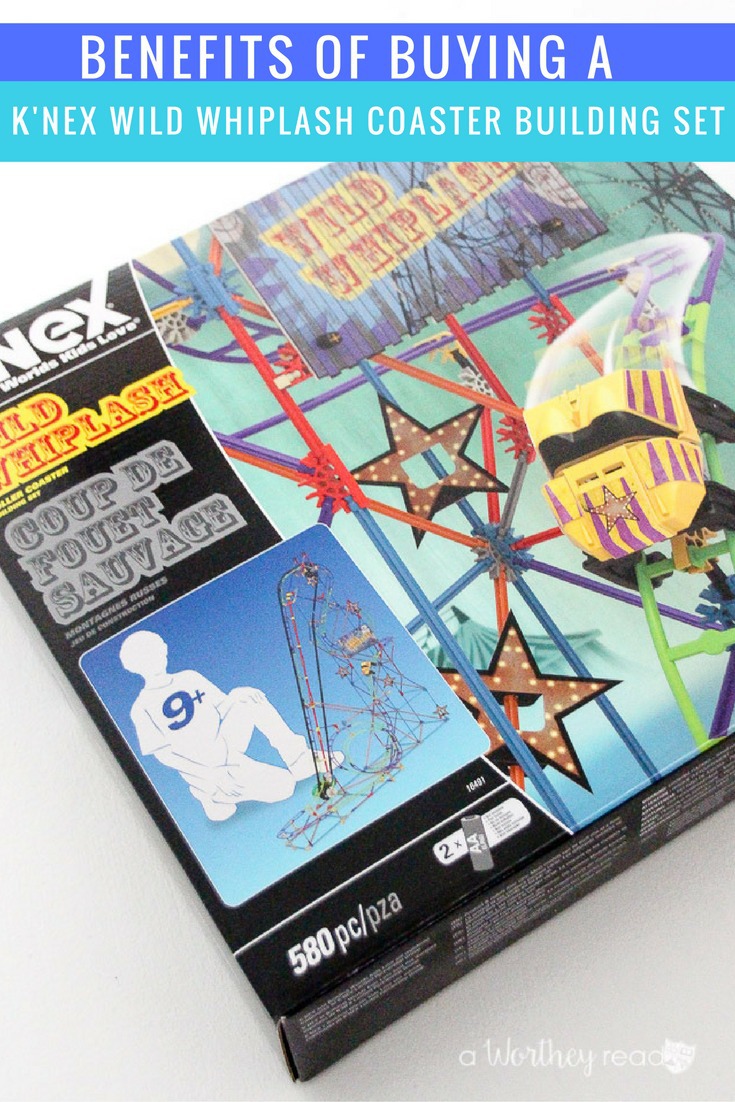 Benefits of Buying A K'NEX Wild Whiplash Coaster Building Set
It's been a while since we've had toys in our house. With two teens (13 1/2) and a tween (11), my boys haven't played with toys in several years. When I mentioned, we were going to review the K'NEX Wild Whiplash Coaster Building Set, the 11-year-old and one of the twins were excited about putting it together!
I'll be totally honest; I don't remember buying my kids K'NEX products as they were growing up. I've seen them before, the ads on TV, but never brought into buying more things I had to put together. After reading about the K'NEX company and what they believe in, I wish I would have invested more into buying their products.
Every Christmas I almost dreaded getting my kids toys that had to be put together. We would sit up for hours the night before Christmas or Christmas day putting together a ton of pieces. I would get frustrated with the directions, they were not clear enough, parts were missing, we forgot the batteries, and on and on.
So why now? Why the K'NEX? My boys are big into gadgets and electronics. I'll take some of the blame for this because I am a gadget geek as well, and I nurtured them to go down the same path. However, I am a big believer in no screen time. We have days where the boys are not allowed to play video games and time restrictions on electronics.
Here's a little info about the K'NEX Wild Whiplash Coaster Building Set. It has 580 pieces and once finished is about 2 1/2 feet tall! This is a fun carnival roller coaster ride, which includes a motorized chain lift that propels the coaster car through 14 feet of twisting, turning track! Sounds fun, right?!
We learned a few things along the way. I want to share these tips with you, just in case this is on your list.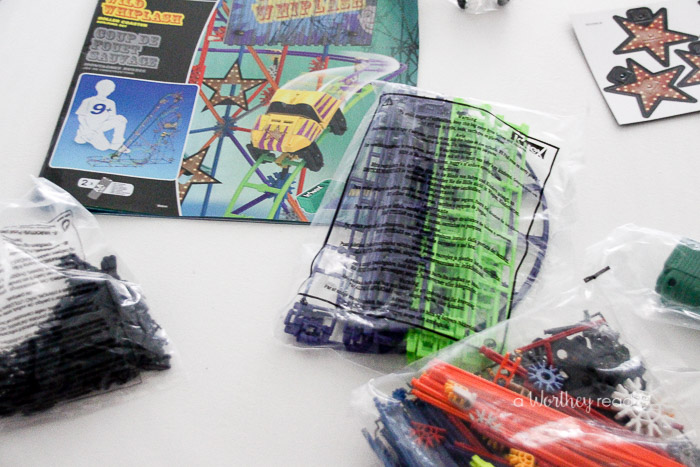 First, I like how K'NEX packaged this product. When I opened up the box, I found a booklet with directions and all of the pieces in four bags. Before you open up the bags, READ the instructions. In the booklet, it tells you how many pieces you should, how everything is color-coded and numbered. So, even if your kids may not be able to read, they can still put this coaster together.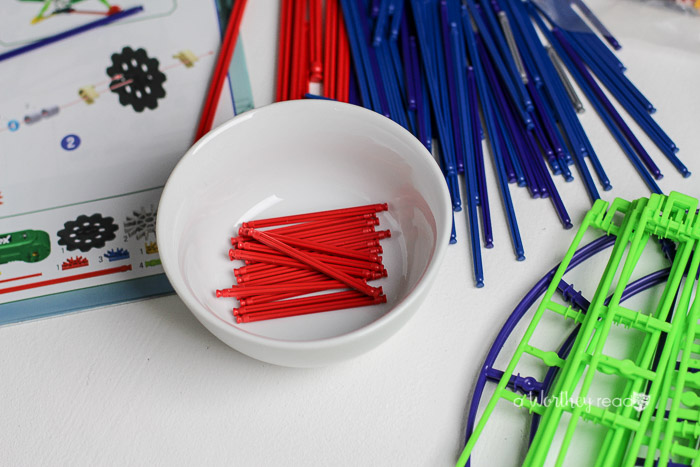 Next, we opened up each package and neatly laid them out on the dining room table. It is helpful if you take each piece out and organize it by shape and color. This is something a child of any age can help you complete. Another bonus about this toy, it teaches you how to sort and organize! I also suggest counting the pieces to make sure you have 580!
Once you have everything organized, it's time to build the K'NEX Wild Whiplash Coaster! As I mentioned before, the directions are easy to follow along. They have diagrams on each page of how each piece looks and where it is supposed to go. Even for me, I found this visual very helpful and made this process not seem long or tedious.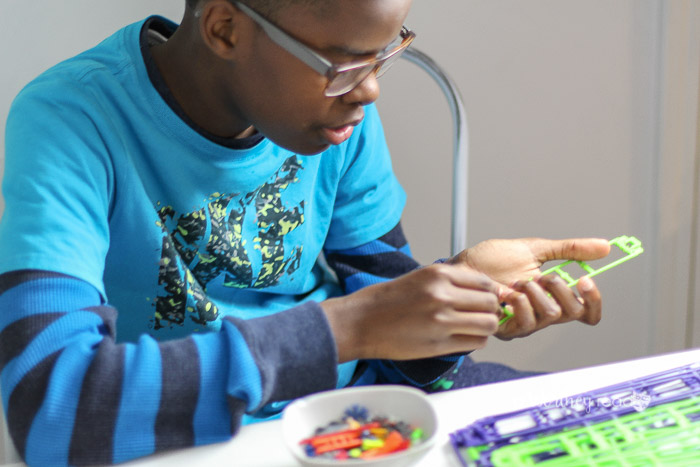 Putting this whole thing together will take between 2-4 hours (depending on the child(ren) and if an adult is helping). I do encourage having your kids put it together without an adult's help. This encourages thinking and problem-solving skills.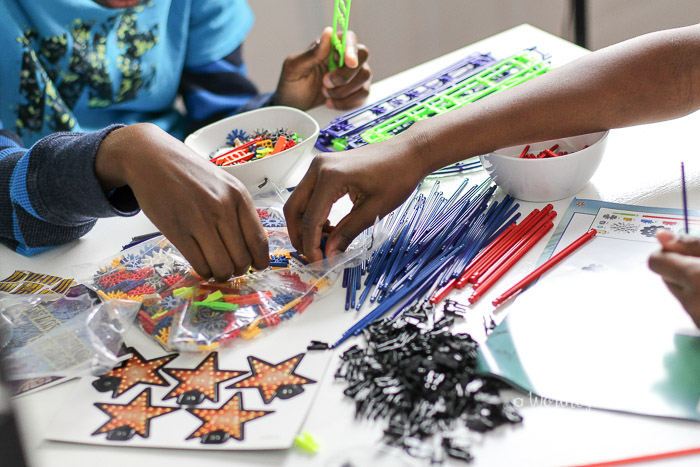 The benefits of putting together a K'NEX Wild Whiplash Coaster Building Set:
Teamwork and communication. If your children are doing this together, or if it's a child and an adult working on this project they will have to communicate. Building this coaster fosters team-building skills and communication.
Problem-Solving and Critical Thinking. With so many pieces and steps, your child is bound to run into a few snags. Instead of rushing in to help them, you can let them figure it out. Maybe they used the wrong color or shape. Stepping back and letting them figure out the issue helps foster great problem-solving skills.
Your kids are not glued to a TV or gadget. They are doing something fun, but also educational.
It will occupy them for hours. Not only putting it together but the aftermath of having cars up and down the coaster.
Educational fun. Not only will they have a good time with this coaster, but putting it together they will get to use math and physics.
Future benefits. This will always vary by child, but playing with this K'NEX Coaster could be the planted seed that leads your child to become an engineer, builder, design, etc.
K'NEX prides itself on connecting science, technology, engineering, arts, and math with imagination.
Bonding time between siblings. Z1 & Z3 don't always get along, so having them work on this project together brought them a little closer.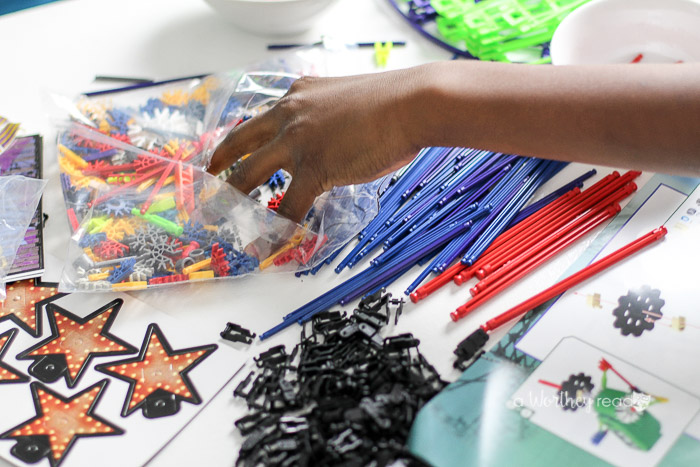 Age Range for the K'NEX Wild Whiplash Coaster:
The recommended age range is 8-11.
I also recommend this product for children are on the Autism Spectrum.
Where can you buy this product:
You will find the K'NEX Wild Whiplash Coaster Building Set at Walmart for $29.84.
In this digital age it is important, we monitor our kid's screen time. It's also important with so many distractions, new apps, new games, etc., we as parents continue to find ways to encourage critical thinking and problem-solving skills naturally. The K'NEX Wild Whiplash Coaster is a great place to start, and if you have children in this age bracket put it on the Christmas shopping list this year!