Catalina Island: Where To Eat & What To Do #CAMomsEscape
Imagine an island paradise where the food is just as amazing as the views. This isn't an exercise in futility because there are many locations that fit the bill. But there is also a little island paradise off the coast of mainland California known as Catalina Island. And if you haven't visited this near perfect isle then chances are you're missing out. The finer things in life come to those who actively seek them out. In a previous post titled Catalina Island: Where To Stay, I wrote about hotel accommodations on Catalina Island. In this piece I am shifting my focus on food and entertainment. Keep in mind I only visited the island of Catalina for two days and I am certain I missed a lot. However I did make a small dent on my "things to do and places to eat list" on this bejeweled island location. So let's dig into Catalina Island: Where To Eat & What To Do #CAMomsEscape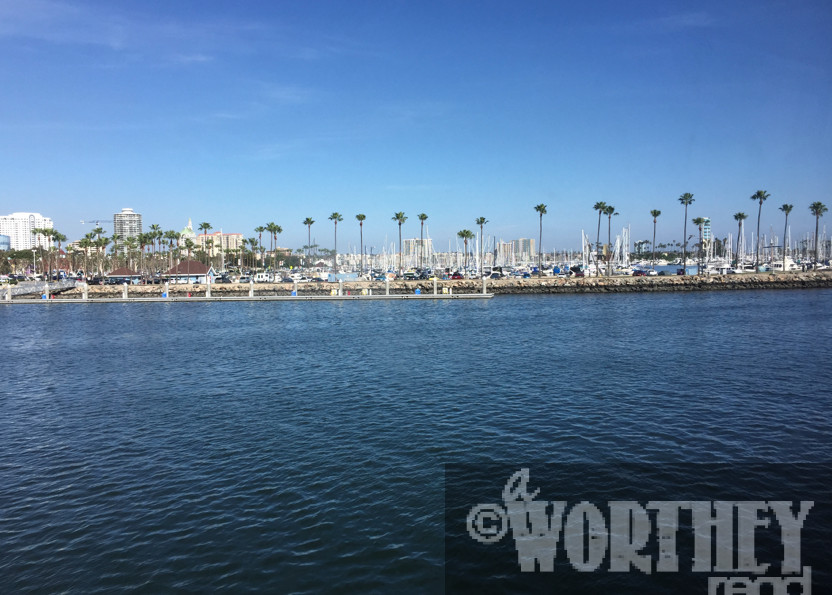 How To Get Catalina Island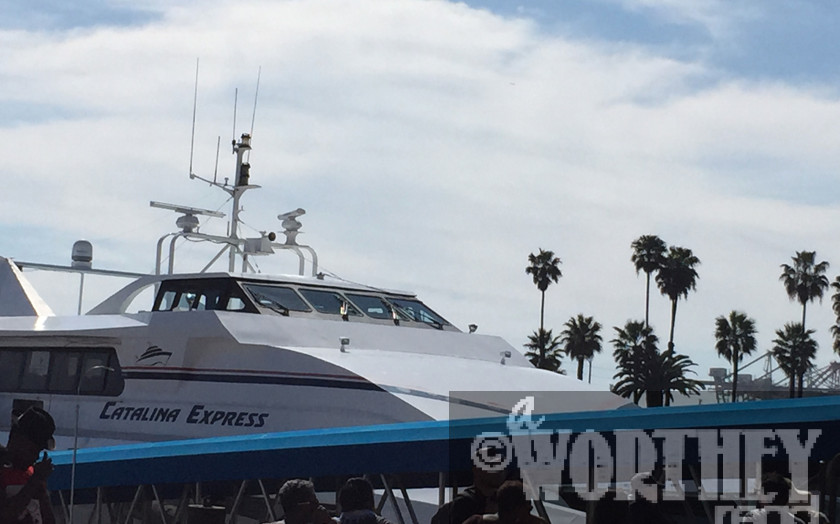 For starters the Catalina Express Ferry is a great way to travel to and from the island from Long Beach, California. During the ride I recommend training your eyes out over the open sea because you just might get rewarded by catching a glimpse of the flying fish which occupy the local waters. You also get a complimentary free drink and preferred seating with the purchase of a first class ticket.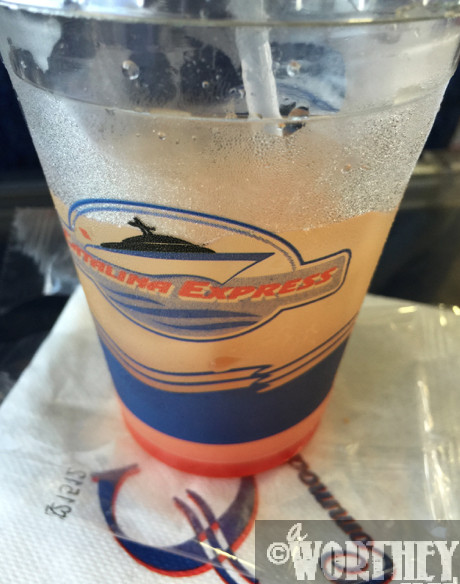 I highly recommend paying a few extra bucks to get the preferred seating. And complimentary drink? I'll drink to that.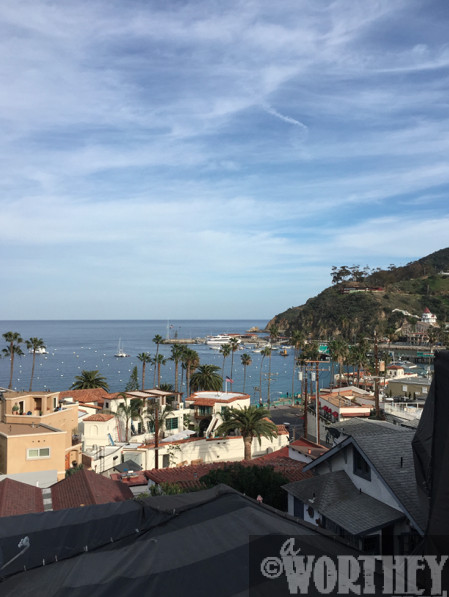 When in doubt try the Bluewater Avalon

If you are looking for a great restaurant with a relaxed ambiance and above par dining the Bluewater Avalon is an excellent choice. This is a laid back affair with not too dim lights and low mellow music setting a tranquil mood. And even though we didn't have a reservation the friendly hostess seated our party quickly. The wait staff was pleasant and before long I had a tall frosty glass containing a Strawberry Smash.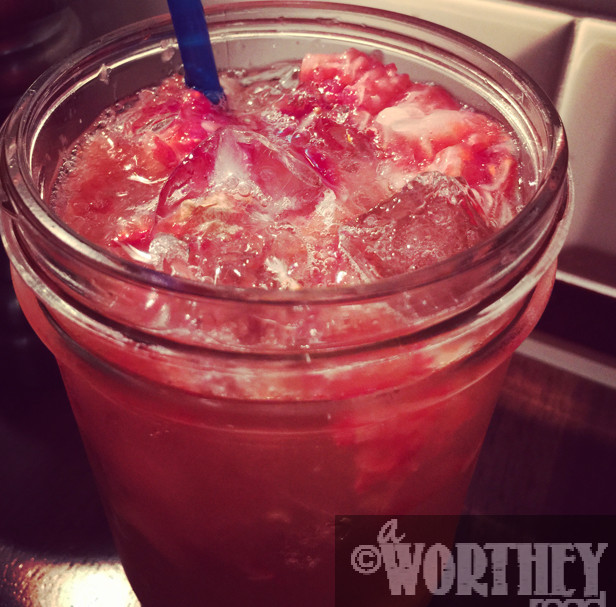 If you like sweet and fruity drinks this one is perfect. But beware of this one because as unassuming as it appears it is nothing but. This cutesy mix girly drink is a wolf in sheep's clothing and it packs a wallop. Its a strong concoction which has more kick than you might realize. I was definitely "feeling it" and knew I better get something else in my stomach. For starters, after looking over the menu, that something else was the highly recommended crab cakes.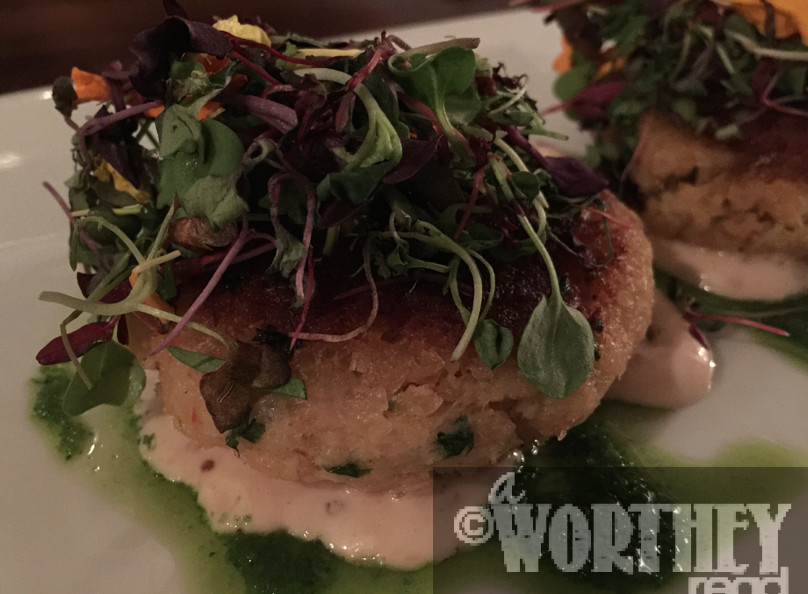 Now, I love crab cakes but whenever I see them on a menu I am dubious. Because there are mediocre crab cakes and then there are crab cakes that stand out and make you want to kiss your mama (or maybe the chef). The crab cakes at the Bluewater Grill in Avalon fall in the the latter group. These golden babies were served up hot atop a creamy house-made remoulade, drizzled with chive oil and garnished with fresh micro greens. The presentation was perfect! But when I cut into them they were crispy on the outside with chunks of delicate moist crab meat on the inside, and after I tasted them all I could say was yum!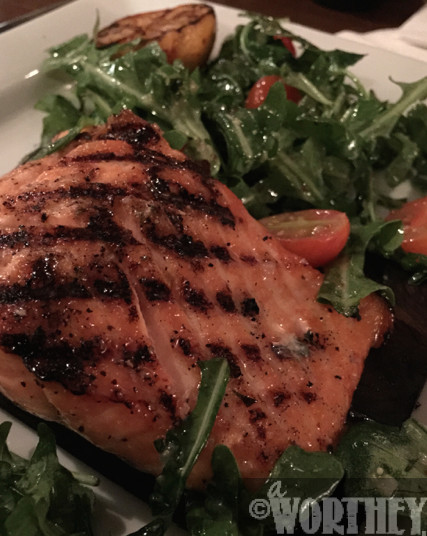 I ordered the Cedar Plank Salmon for my entrée and again the presentation was good and it was paired with tender arugula and grape tomato salad with a roasted leek vinaigrette. I was very pleased but couldn't manage to finish it all. Well, that's what doggie bags were made for, right?
The take away:
The Bluewater Avalon possesses great atmosphere that is warm and inviting. The wait staff is friendly and gives you just enough attention without being overbearing or intrusive. There is also a well stocked full service bar with whatever elixir you may need to help you loosen up and relax. They have several local micro-brews as well as more familiar and mainstream beer choices. And there is an excellent wine list with lots of California wine varieties, but there are also favorites from Italy, France and New Zealand just to name a few. Also, this is a big place, it seats 260 and can easily accommodate both small and larger parties as well (parties of 10 and over need to make reservations). This is a family friendly establishment too, I saw several families with small children enjoying an evening dinner. The menu is moderately priced and has something for everyone. Oh and I almost forgot, they have delicious fresh baked bread which they bring out while its still warm before you order. Now, I have a love hate relationship with delicious freshly baked bread and I hate that I love it so much.
For more information check out additional reviews on TripAdvisor and if you're a foodie like me who likes to earn freebies then download the Open Table app via iTunes or Google Play and start earning points towards a free meal at your favorite participating eatery.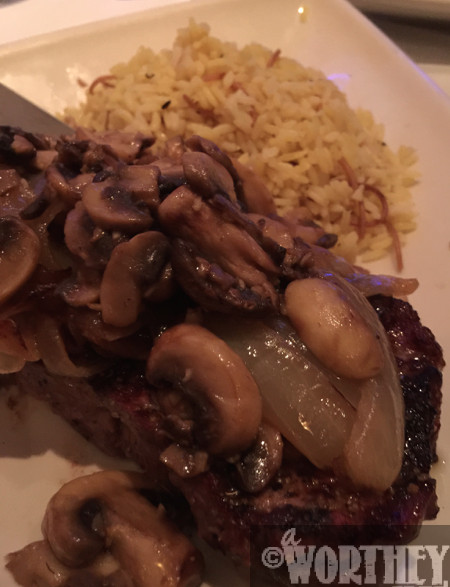 Want a great steak? Better call Steve's
Amid all there is to see and do on Catalina Island you won't find a better steakhouse anywhere in sight, this is mainly due to the fact that Steve's Steakhouse is the one and only steakhouse on the island. But there is also a certain pressure about being the "only one" but Steve's consistently rises to the occasion. And it shows because Steve's Steakhouse has been voted the number 1 restaurant on Catalina Island for years. Do I have your attention now? I'll get right to the point without any messing around. If you love quality steak and great seafood this is "the spot" to get both. The restaurant takes beef seriously and they procure all of their excellent cuts from Newport Meat Company, 'nuf said about that. The fish fare is acquired daily and is super fresh. The head chef Frank Blair is a certified freak foodie of nature, this man is more than accomplished, he's at the top of his craft and has the awards to prove it. They don't play here, so come hungry and you'll depart with a more than satisfied bellyful of goodness.
This really is a restaurant all about producing a superior product and aside from the usual things you'll find at a top tier establishment, like an inviting character, clean tablecloths and tableware Steve's gets the attention to detail right. Our waiter Bryce is the son of the owner and he brought his A-game. He was all personality and professionalism, clearly one of the best waiters I've ever had the pleasure of experiencing. The owner also showed up at our table, not because we're special, but that's the way he made us feel. He greeted us with a warm smile and thanked us for coming. I watched as he made his around the restaurant saying hello to locals and greeting new guests with equal regard and charm.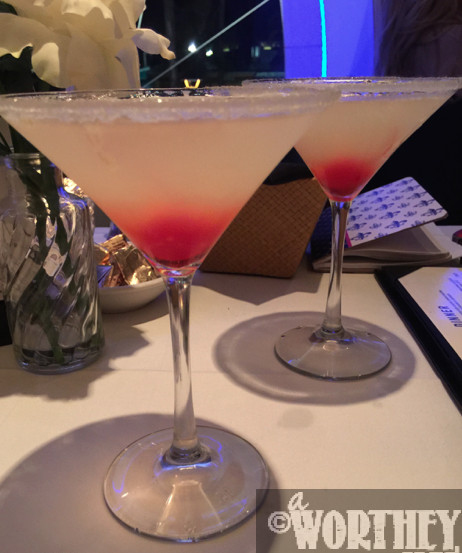 I ordered another mixed drink (Hey, what can I say I love fruity drinks), this time I chose a local favorite called the Cherry Bomb and boy was it better than good, it was "the bomb". The local paper gave this drink an award so what does that say?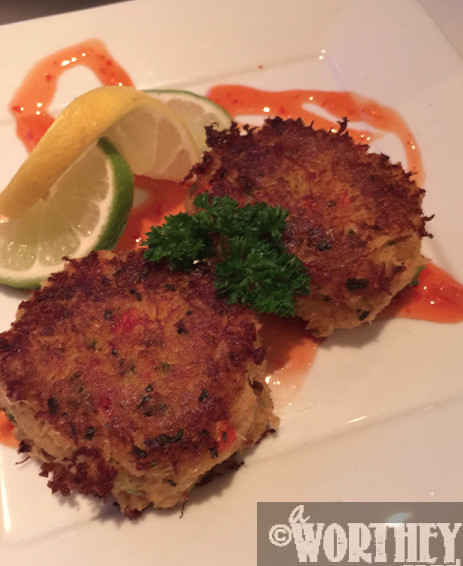 Here at Steve's Steakhouse I also ordered crab cakes again as my appetizer (I told ya'll I have a crab cake problem didn't I?), and I am glad I did because these were perhaps the best crab cakes ever. These weren't your typical run of the mill crab cakes, these were Thai Crab Cakes and these beauties had a bit of spicy kick that I really enjoyed. For dinner I had a succulent 8-ounce Top Sirloin served with rice pilaf. This right here was a great steak, it was juicy and packed with lots of beef flavor. Afterwards I was a very happy girl.
The take away:
Steve's Steakhouse was the cat's meow and then some. I highly recommend it and wouldn't hesitate to go back again and again. Good family restaurant, this one only seats 140 but as long as there is room enough for me I don't see much of a problem. Joke. Great atmosphere and hospitality plus the food here is definitely exceptional. I can understand why Steve's Steakhouse keep getting voted as the best place to eat on Catalina Island.
I am so glad you asked because there is lots. Not only did we eat well, we played well too.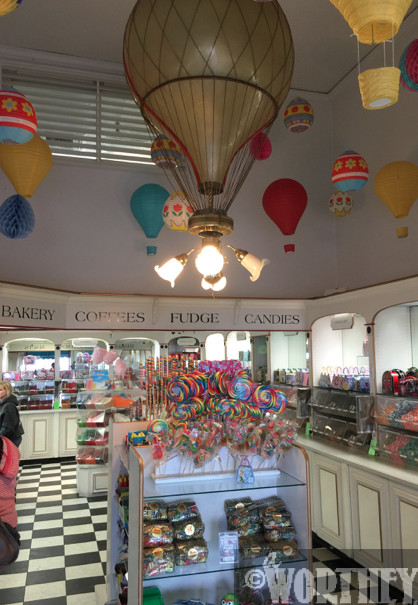 Walking around the charming seaside village of Avalon is really as picturesque as it can get. One could get used to living here. We strolled around looking into shop windows and simply admired the old and new buildings . I took a slight detour into Lloyd's of Avalon Confectionery. This shop is well known for its salt water taffy and I tried a small sample which was pretty good and then we were back on our merry way.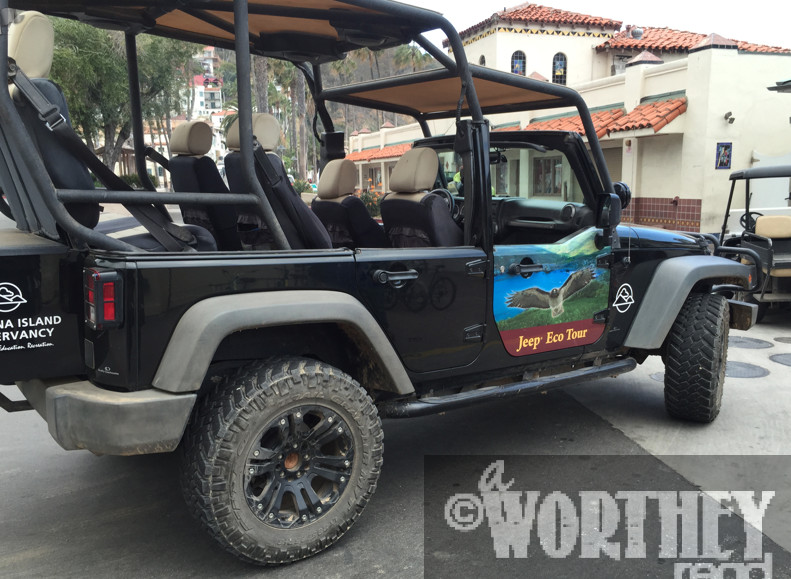 Left behind, a buffaloes story
Later on we took the Jeep Echo Tour, now this was way cool. The extra neato thing about this tour is that you move away from the busy coastline and migrate into the more peaceful interior of Catalina Island, and all while riding in a Jeep with the top down. Our guide and driver was Tyler and he drove us around the island pointing out things of interests and filing us in on bits of island lore and history.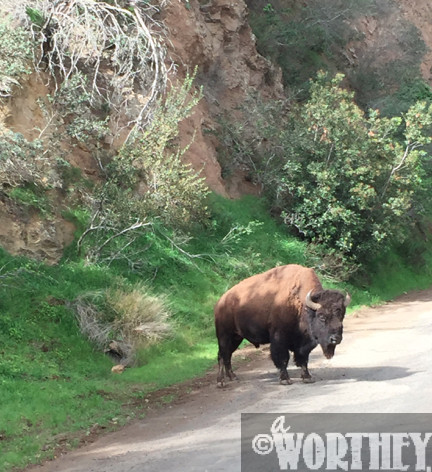 But hands down the most exciting discovery during our tour was learning about, and seeing, the heard of semi-domesticated buffalo which share the Catalina Island with the locals. The story is, way back in 1924 just over a dozen bison were brought to the island as extras for a film. But after the film crew wrapped the bison were left behind, and now there are several hundred of these wholly beasts. At one point we were literally just a few feet away from a couple of them and they are big.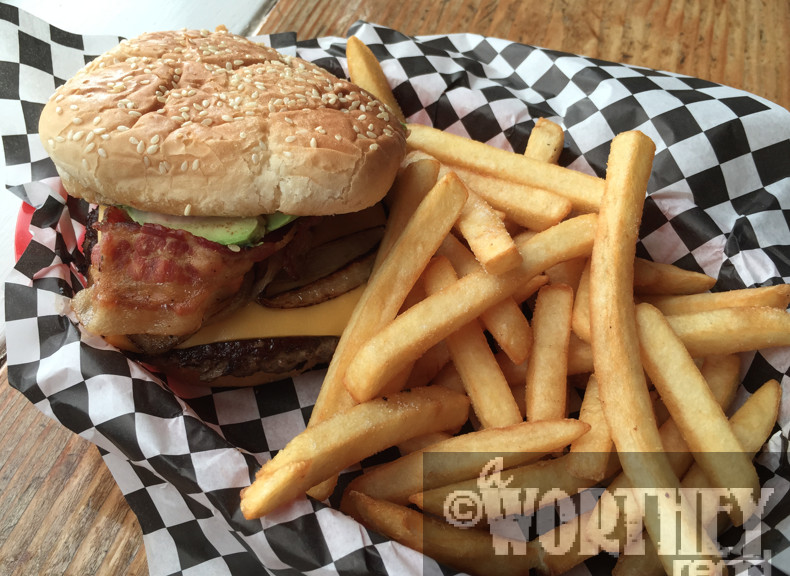 Later. A little after noon we stopped in at the Airport in the Sky for lunch. Here they serve up, you guessed it, buffalo burgers and they were scrumptious. Rumor has it Harrison Ford flew in a few weeks ahead of us just to grab a buffalo burger and then he was gone. A word of warning though, these buffalo burgers share one characteristic symbolic of their namesake, they are huge. It was so big in fact I was unable to finish it all. Sad face.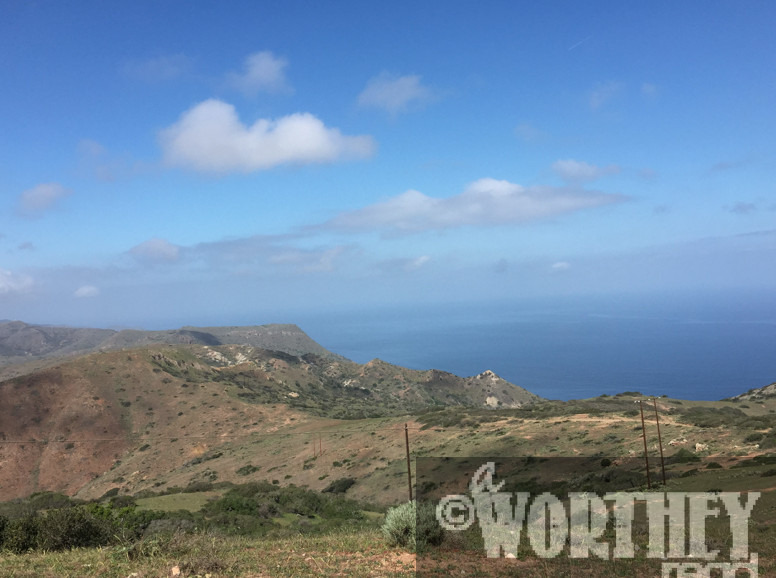 I don't have enough fingers
Its true, I don't have enough fingers to tick off all of the fun stuff to do while you, your family and friends are visiting Catalina Island. Too many things to list here, there is zip-lining, hiking and kayaking and bike tours just to name a few. And if you don't feel like walking or riding a bicycle you can rent a golf cart. And for some crazy irresponsible reason someone entrusted me with my very own golf cart. And just so you know, nobody was injured in collecting material for the writing of this post. I promise.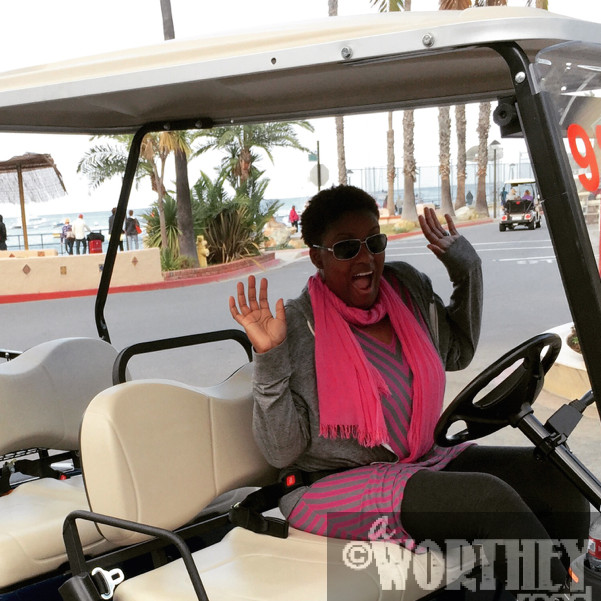 For more information please check out the Catalina Island Chamber of Commerce and Visitors Bureau. One cool, and stop you in your tracks fact about Catalina Island is that there is zero crime. This is a very tight knit community and clearly there is a lot of love freely flowing on the island. Just after a day of two of being here locales were greeting us on the street.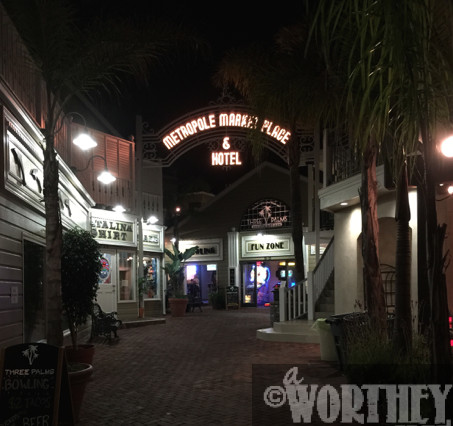 Disclaimer: I received complementary accommodations and discounts at the above establishments to facilitate this travel review. However, all thoughts and opinions are original work and 100% my own.
——
Love to travel? Looking for tips on what to do in California? Be sure to check out the travel section of the blog!
Here on A Worthey Read you can get more in-depth of our travel adventures and more travel tips!
You can then head over to A Mitten Full Of Savings, which covers ways to save on travel, budget-friendly hotel ideas, and things to do.
Two blogs to cover all of your travel needs.