Plan a trip to the beautiful Catalina Island in California. Read our hotel reviews on some of the best places to stay on Catalina Island.

Catalina Island: Where To Stay
Are you heading to Catalina, otherwise known as Santa Catalina, or just Catalina to locals. This picturesque island is just under 22 miles south by southwest off mainland California's nearest coastal point. The dimensions of this beautiful island are 21 miles long and 8 miles wide at its widest. Catalina Island is also home to two popular ports: one in the larger resort town of Avalon and the other in Two Harbors' less populated rural community. We began our mini-vacay journey in the larger of the two, Avalon.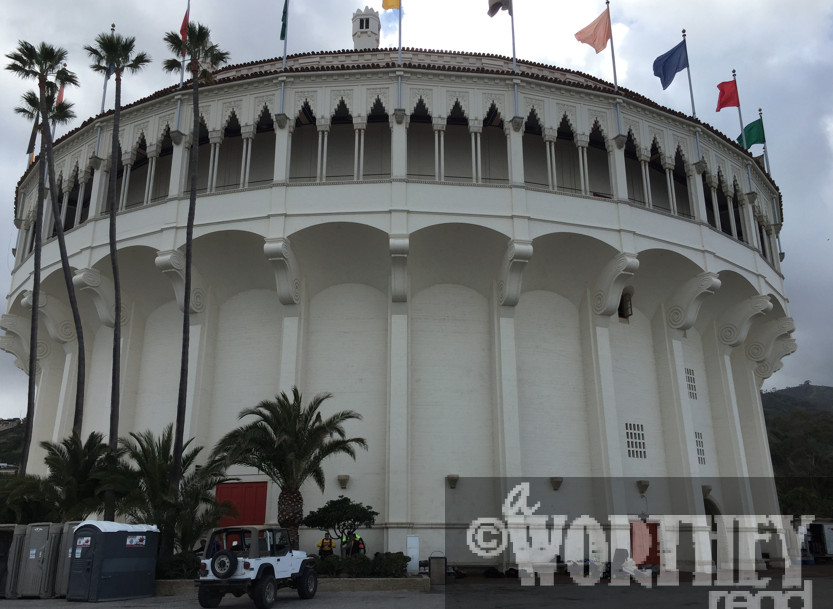 Catalina Island Getaway
Catalina Island is known as a romantic island getaway and has been for more than 100 years. And it is easy to see why this island screams romance. There are sandy beaches galore, and strolling along the beautiful beachscapes makes you reach out for a hand to hold. Plus, I don't know of an effective antidote against the killer sunsets to be had here; when the sun exits the sky and hangs briefly like a hovering kiss. Then, ever so slowly, the yellow sun dips into the horizon in a blaze of strung out orange, pink, purple, gold, and fiery copper it is over. The mood will hit you and make you wish for a lover, even if you don't have one close at hand. This is a place ready-made for "shenanigans," and let's be honest, you were already thinking it anyway. P.S. I was too.
Over a million visitors flock to Avalon annually, home to intimate beaches, restaurants, hotels, and boat rentals. Once you arrive on the island, most destinations are within walking or biking distance. If you're looking for awesome things to do on Catalina Island, no worries. I got you covered! But first, let's talk about Where to Stay on Catalina Island.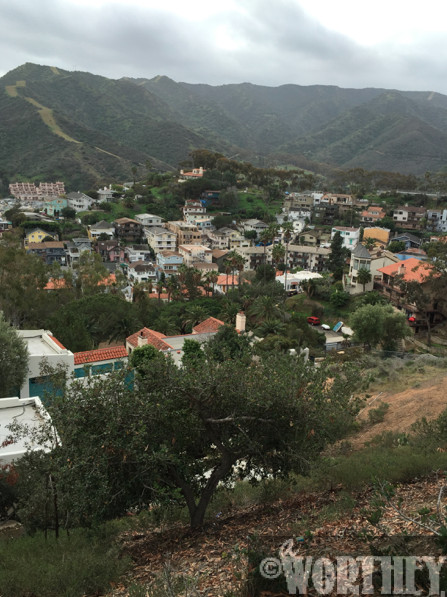 Places to stay on Catalina Island.
Be sure to check out The Avalon Hotel. I recently visited, and I fell in love with this fabulous boutique hotel. It is as unique as it is welcoming. With modern touches all around, who's going to miss home sweet home? But the best feature was the balcony view offering a western exposure that'll take your breath away. Remember, not all rooms have ocean views, and some rooms only have partial ocean views or none at all. So make sure you call ahead and book according to availability. You'll also be pleased by the plush King or Queen-sized beds, 30-inch flat-screen TVs, and sleek DVD players. You'll find just about everything you need to make your stay here comfortable. There is a mini-microwave and small refrigerator for your convenience. But, as lovely as the rooms are, you won't want to stay in them for long, not with the rest of Catalina Island waiting for you to discover and explore.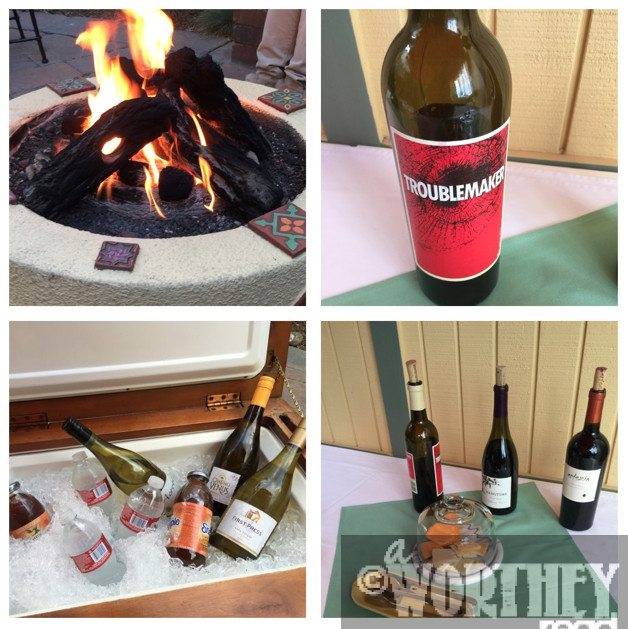 What is the best hour of the day? Happy Hour, of course
This girl loves Happy Hour, and why shouldn't I? Typically, there are lots of drink specials, and the atmosphere is carefree and buoyant. And the Happy Hour at The Avalon Hotel bar is even better. The Avalon Hotel must have known how much I love Happy Hour because they had complimentary wine and cheese waiting just for me. And it"ll be there for you too, so you better hurry. Maybe it's me, but it seems that people are more relaxed, carefree, and friendly whenever you find yourself in an island paradise.
Later, we sat around a flickering fire pit and talked with the Avalon Innkeepers, who also happen to be husband and wife. We talked into the late hours, sharing a bottle of chilled grappa. This was an excellent way to connect. They even shared with us a bit of island history and told us about some of their favorite island haunts that, more than likely, we'd never find on any travel brochure. But the most impressive and romantic piece of information was when this husband and wife shared with us the story of how they met so many years ago. Talk about cute. But this is the kind of openness that is indicative of The Avalon Hotel and the rest of Catalina Island.
There was also complimentary breakfast in the morning from 7:30 to 10 a.m., where you'll find an assortment of fresh fruit, bagels, granola, and baked muffins. There is also fresh orange juice, organic coffee, and a full selection of teas. Additional amenities include free high-speed internet connections at no extra charge. You can even borrow laptops, binoculars, and GPS gadgets; check them out at the front desk if you need them. There is also a taxi service from the boat terminal to ferry you all along the island's scenic coastline.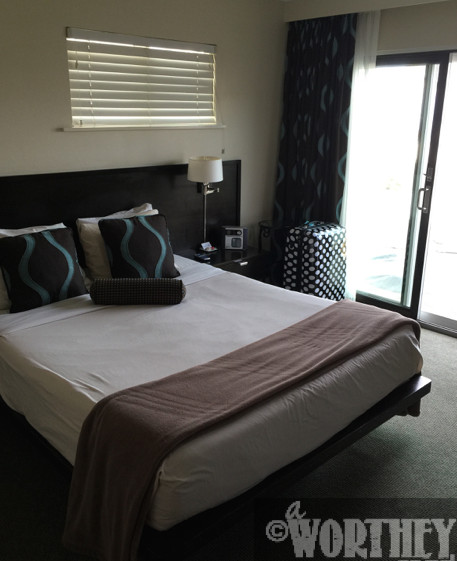 The Aurora Hotel & Spa isn't an evil twin, more like a benign sibling.
The Aurora Hotel is another lovely establishment to hole up in during your leisurely stay on Catalina Island. This local hotel offers guests lots of genteel island hospitality. The hotel makes you want to lock the damn door and throw away the key. And the staff, where do they find these people? Because it seems they are clearly high on life, but really, their attitudes are understandable, wouldn't you say? I mean, they do work on a literal fantasy island, for crying out loud. Who wouldn't be all enthusiastic smiles and bright with sunshine? Yes, I am a little bit jealous. They got me checked in in no time flat, and the staff gave me some interesting tips about what to check out during my stay here. But soon after that, I was opening up my room, and my eyes blinked back tears of joy, and yes, would you believe it? Another gorgeous view.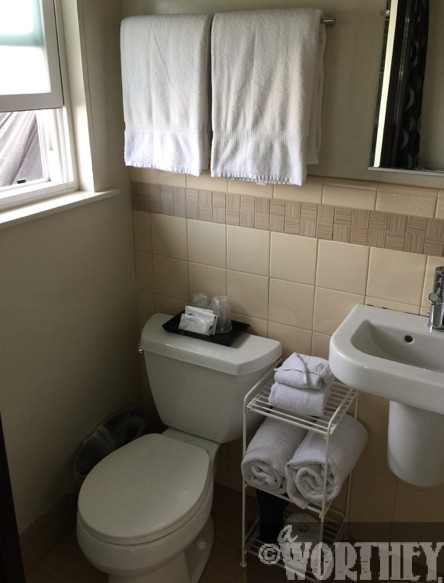 My hotel review of Aurora Hotel on Catalina Island
These ocean-view rooms come equipped with Queen-sized TempurPedic beds. Hello, comfort! And yes, I slept the sleep of angels. Accommodations also included a flat-screen television and DVD player. A refrigerator and microwave were front and center also. An unexpected and wonderful surprise was the Keurig Coffee machine with an assortment of herbal teas and flavored coffees. There is also an ice machine located close by down the hall. You can also book non-smoking or smoking rooms to make sure you are comfortable during your stay. Need a bigger room? You can get a luxury suite with an extra 300 sq feet. True, it's a bit more dinero, but money is well spent if you plan a more extended stay or have more than two traveling companions. There is in-room internet access and free WiFi. But the best perk of all, the ability to purchase vino on-site. How cool is that? Very cool indeed, and Dionysus would be so pleased.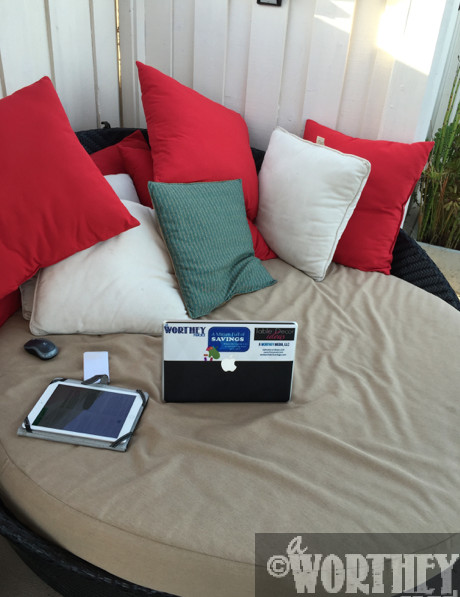 The views at the Aurora Hotel are worth the stay!
Another rooftop sanctuary isn't a bad thing at all if you ask me. On the upper deck (3rd floor) of the Aurora Hotel is where you'll find this roof deck oasis. Up here, you'll get treated to spectacular panoramic 360-degree views of the quaint establishment and the sparkling harbor below. Yes, more lounging and relaxing is encouraged here too. During the daylight hours, the rooftop is the perfect place for catching a few rays while reading a good book. Or, like me, you might catch yourself dozing off for an afternoon nap. The upper deck is also great for getting some work done, but good luck with that. It is impossible to concentrate on work with Catalina Island's beautiful views and the lulling waves of the Pacific Ocean spread out below.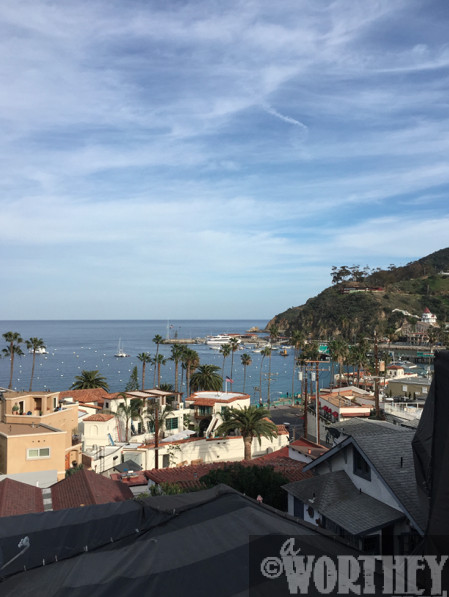 Aurora Hotel offers many other amenities.

Every Friday night at the Aurora Hotel, there is wine and cheese available on the house. This is a great mixer where you can meet locals and other guests. And as a bonus, you get to sample a variety of good local wines and a wide range of deliciously paired cheeses. And each morning, there is also a continental breakfast with fresh fruit. And if that wasn't enough, there is an on-site spa to help aid your relaxation experience. You can choose from gentle touch massage, Swedish massage, deep tissue massage, and even a customized couples massage.
All in all, the Aurora Hotel & Spa is an excellent choice; it is a great place to repose on the rooftop, chill out in your room with a great view or luxuriate, and get pampered by a variety of excellent spa services.
How to get yourself from where you are sitting now to Catalina Island
Wherever you're at, it is easy to get to Catalina Island. All you have to do is look and plan accordingly; this is a reasonably affordable getaway. Both The Avalon and The Aurora Hotel often offer specials via Groupon about check out other vacation deal sites like TripAdvisor, Travelocity or Kayak, etc. It was even mentioned at The Avalon that they would work with your budget (a great time to go is the off-peak season). These hotels score major points for the overall atmosphere, and the hotel staff from each respective location were so accommodating and courteous. This place makes you want to let your guard down and forget about the outside world. For now, home is an island, and this island is on slow motion "Island Time," and this is a welcomed respite and a fantastic bit of indulgent paradise.
Disclaimer: I received a complimentary stay at the above establishments to facilitate this travel review. However, all thoughts and opinions are original work and 100% my own.
More things to do in California
Catalina Island: Where To Eat +What To Do
California Vacation Destinations In Orange County
Eight Days in a Californian Paradise
Why Anaheim Vacation House Rentals For Your California Vacations Is The Perfect Place