Do you have plans to celebrate St. Patrick's Day with your pet? If so, check out our dog photography ideas with a St. Patrick's Day theme.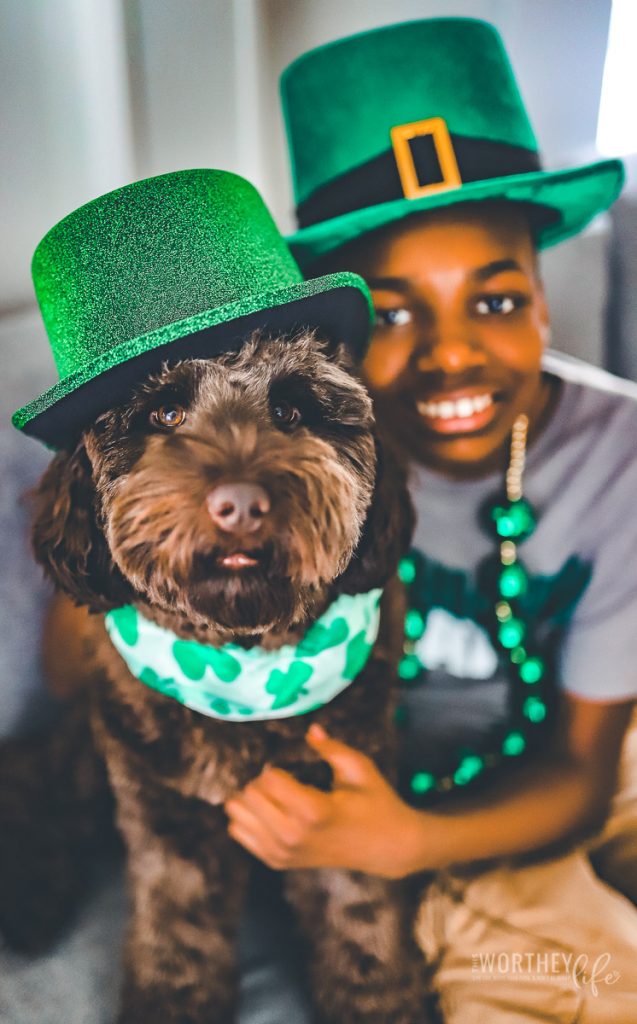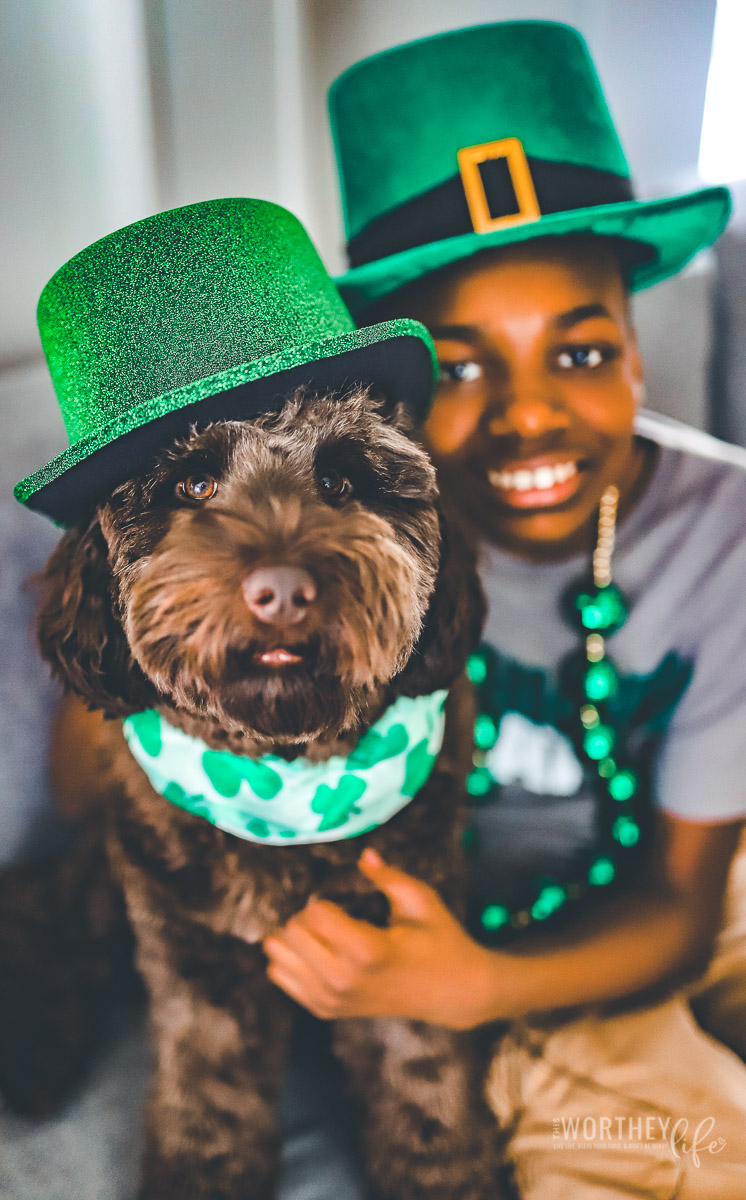 St. Patrick's Day Dog Photography Ideas
Chance is our rambunctious, curious, furry-faced, and all around everyone's best friend kind of chocolate labradoodle! And today, he wanted to celebrate his second St. Patrick's Day with the whole world. Are you ready for cuteness overload?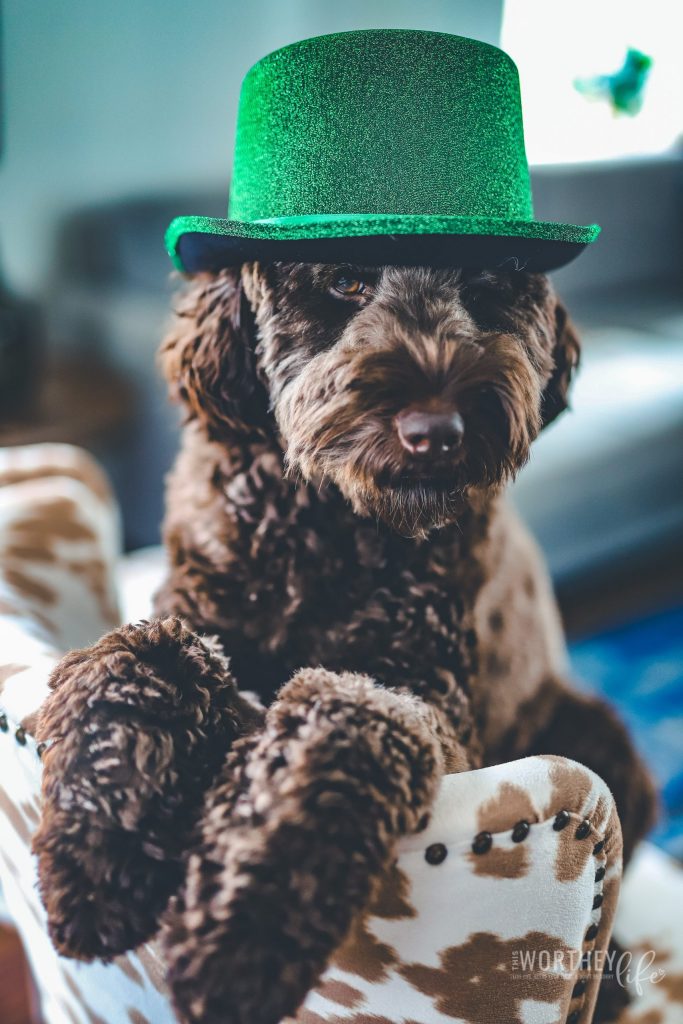 Nobody loves a good time better than our Chance. Today, Chance unleashed his inner party animal, and there was no stopping our handsome little guy from celebrating the St. Patrick's Day festivities. He loved playing dress up and donning his favorite festive hats for the occasion, he even got Zayd'n in on the fun. So, Chance wants to know who wore the hats better, him or Zayd'n?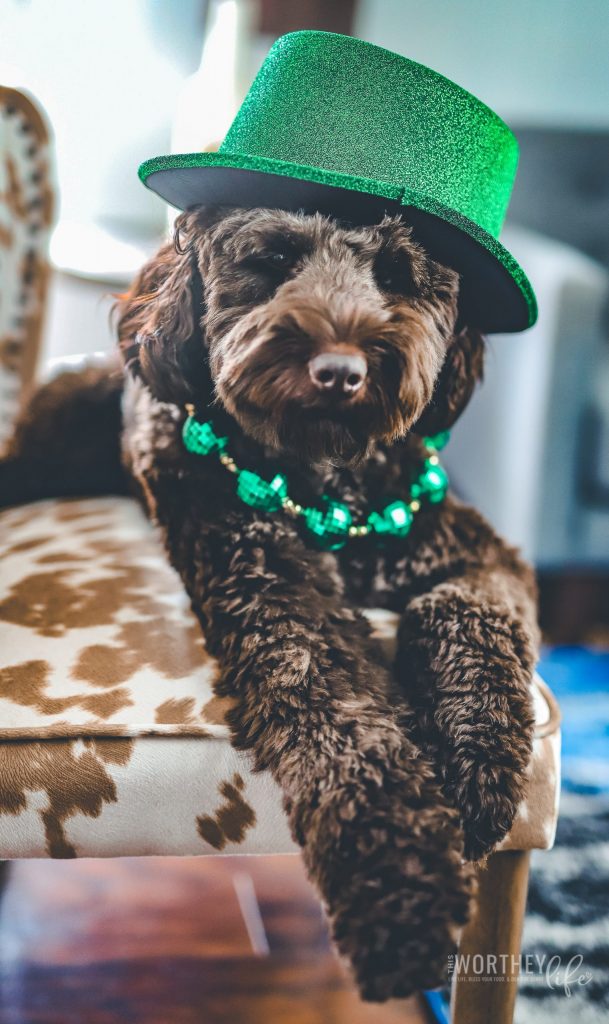 So, with our camera in tow and a bag of peanut butter doggie treats I let our little top model dog do what he does best, make everyone smile. Chance is wearing his swag quite well don't you think? And he's going to party until the break of dawn (or yawn because his doggie-bed time is at 10 o'clock sharp!)! Or at least until the doggie treats are all gone and his water bowl is empty. So, let your dogs out and WOOF!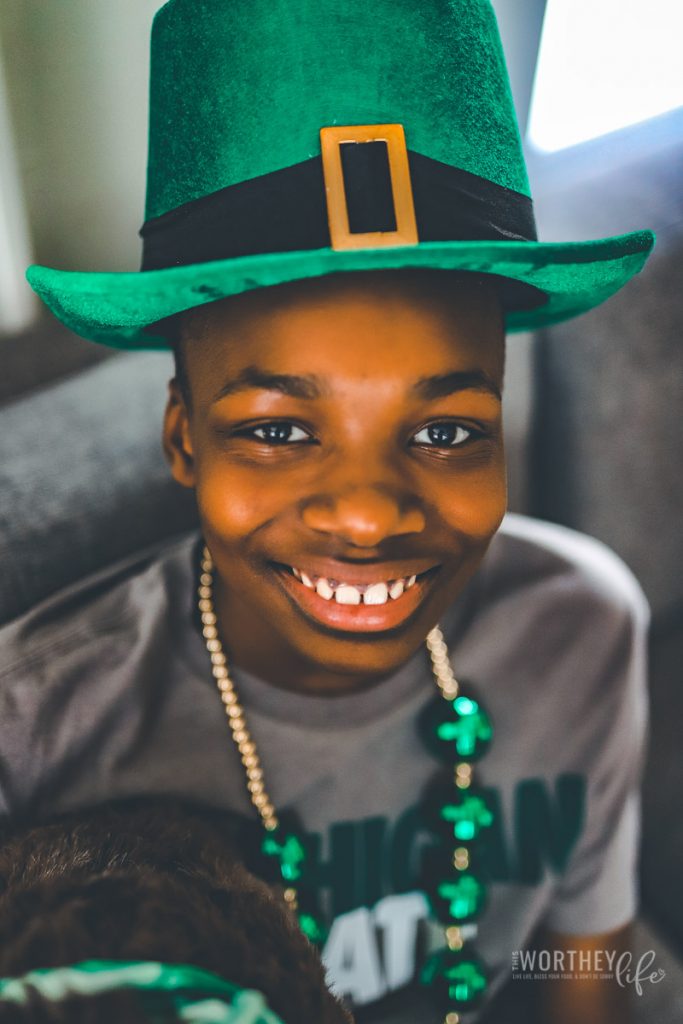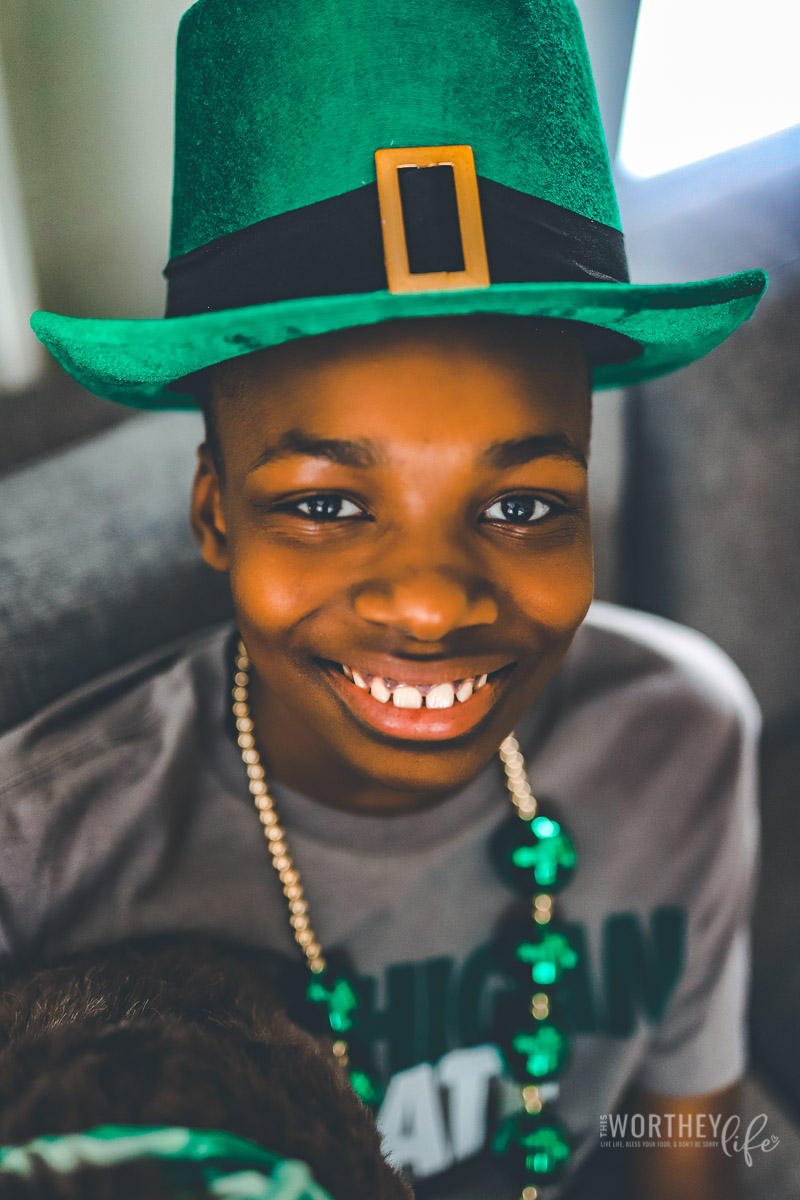 Our youngest boy was doing his own thing, but Chance needed a wingman and roped Zayd'n into joining in on the St. Patrick's Day fun. Can you tell he's having a very good time? Does his smile say it all?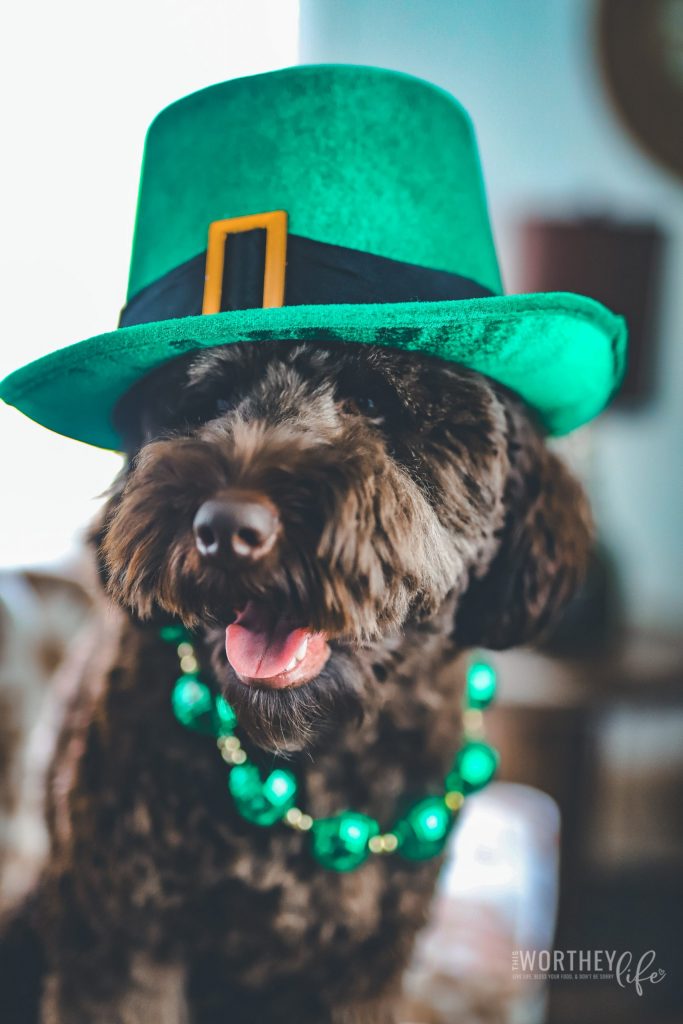 Happy St. Patrick's Day from our Chance. This little guy was so super excited to model his St. Paddy's Day look. He even wanted to dye his chocolate fur leprechaun green, but we said, 'Chance, that's doing way too much!" I hope you guys enjoy Chance's cutielicious St. Patrick's Day mini-shoot. Chance even got our youngest human boy in on the action. But that's just classic Chance.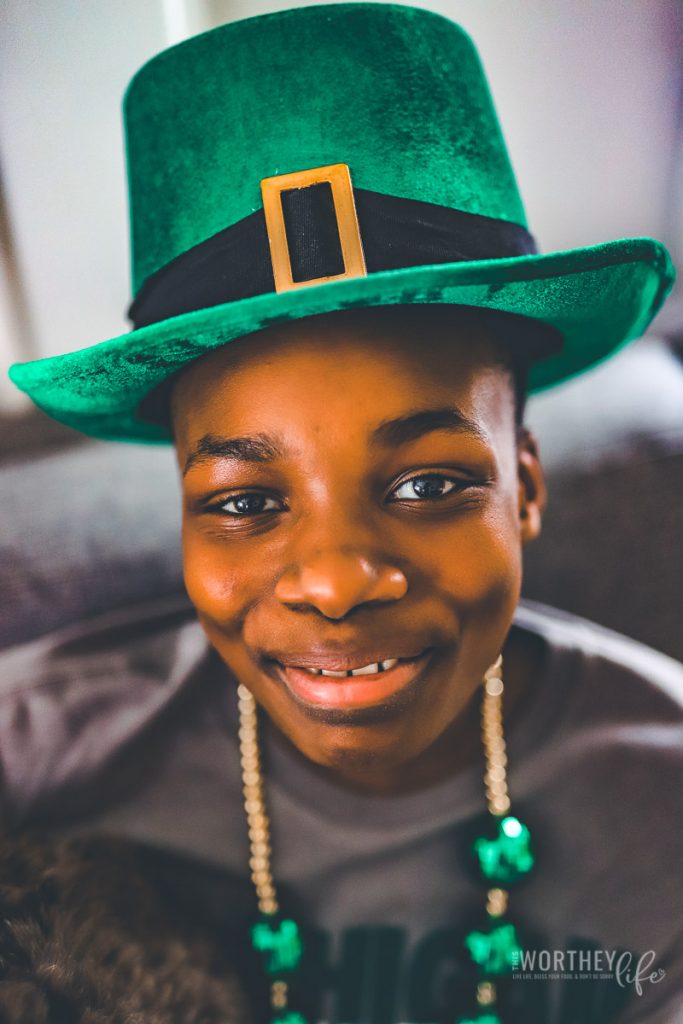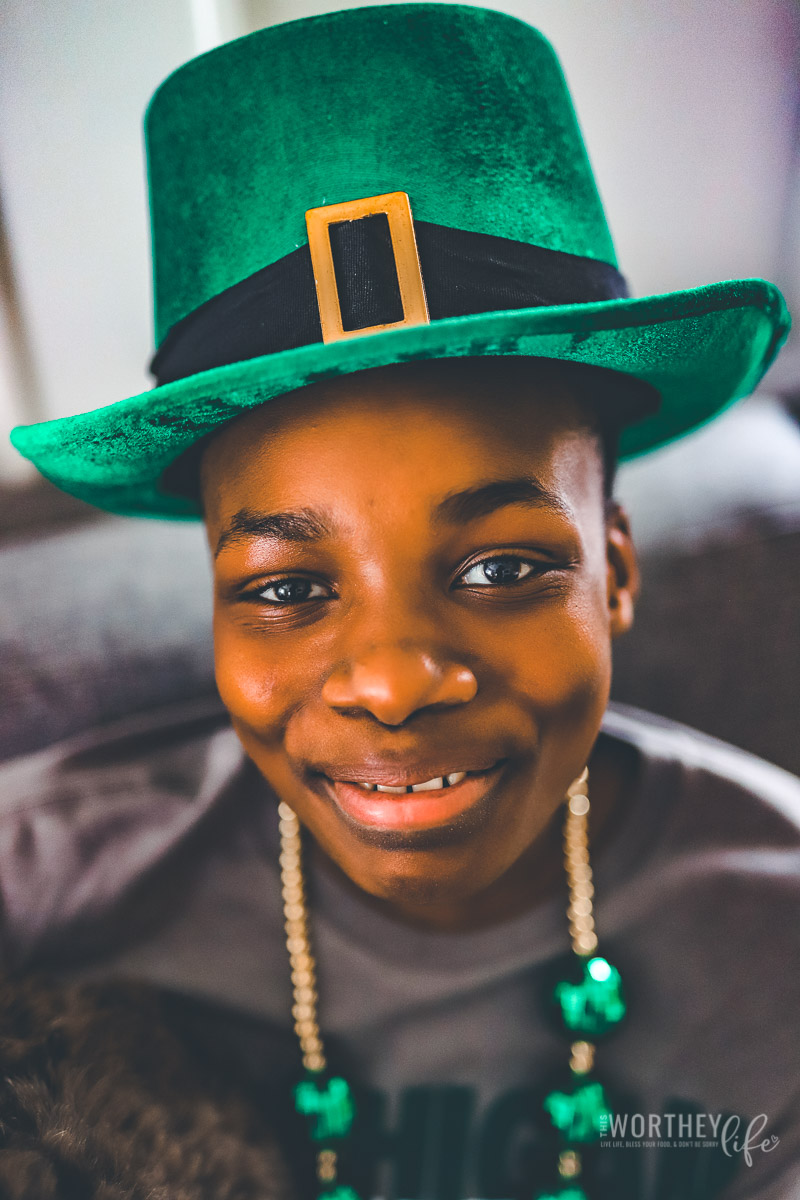 Because that's just Chance's personality, he likes to make everybody he meets smile from ear to ear. Chances are when you meet our Chance he's going to light your face up with a big smile!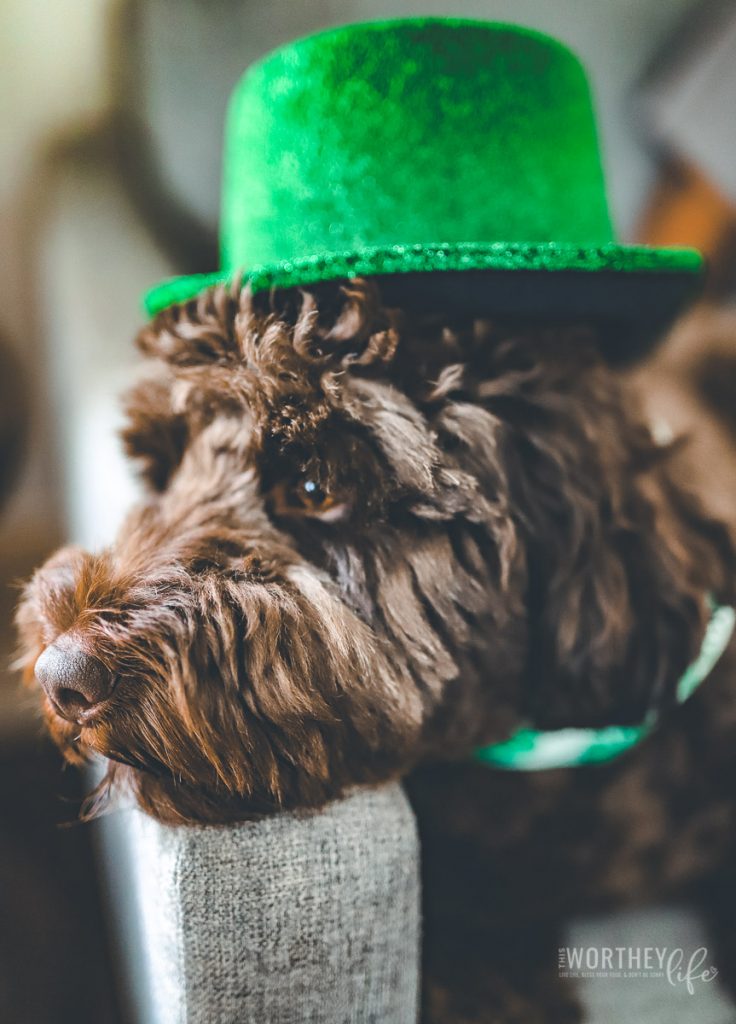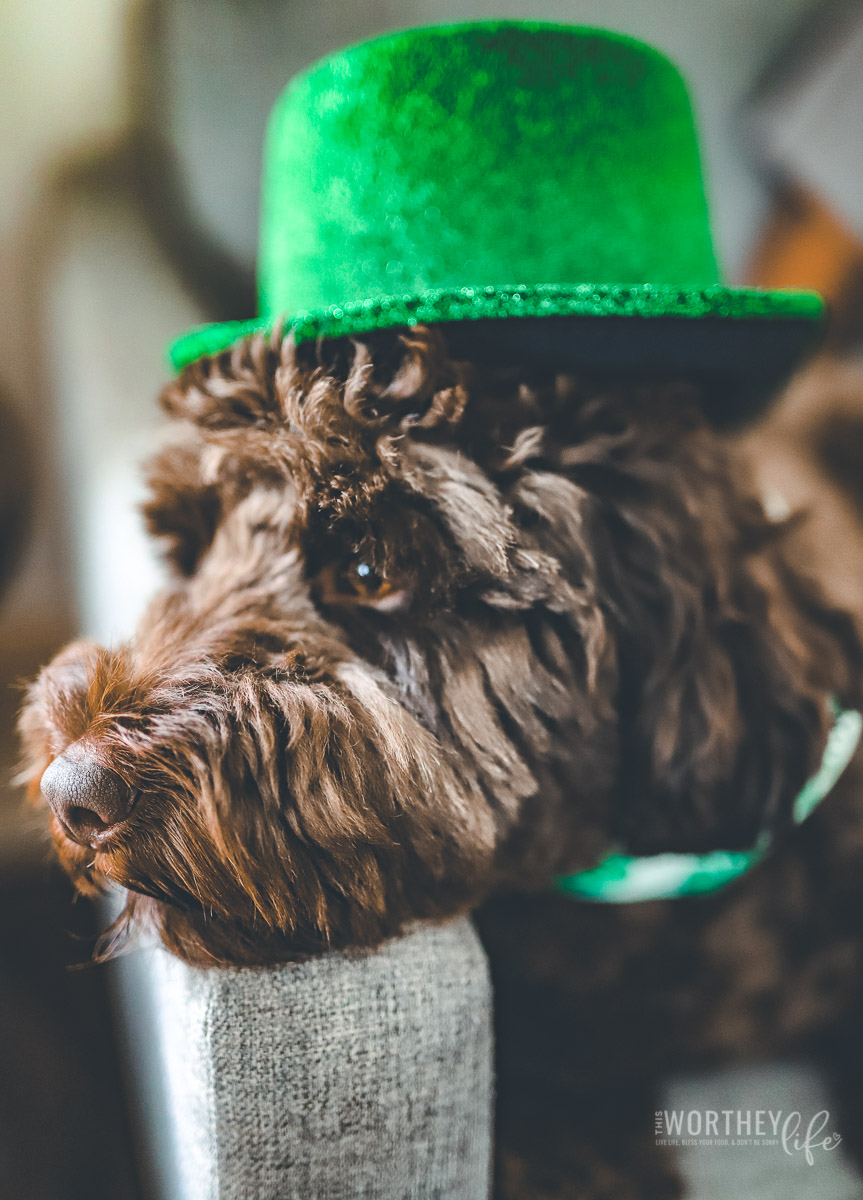 Chance has so much energy, and he's rarely in a bad mood, well, unless he can't go along for a car ride or he has no one to play with. Labradoodles are highly social dogs, and they thrive when they are with the people they love. So, if you are looking for a great family dog, it's pretty much a given that a labradoodle will be just what your family needs and a little bit more. Kind. Loving. Fun!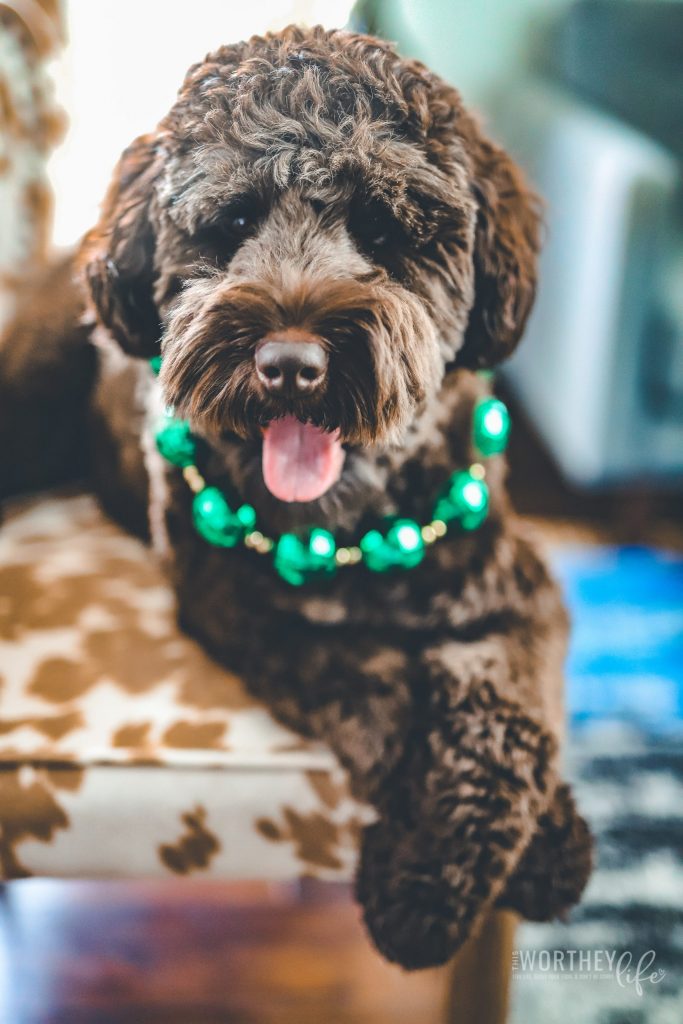 From The Worthey Family to yours, "Sláinte!" Happy St. Patrick's Day!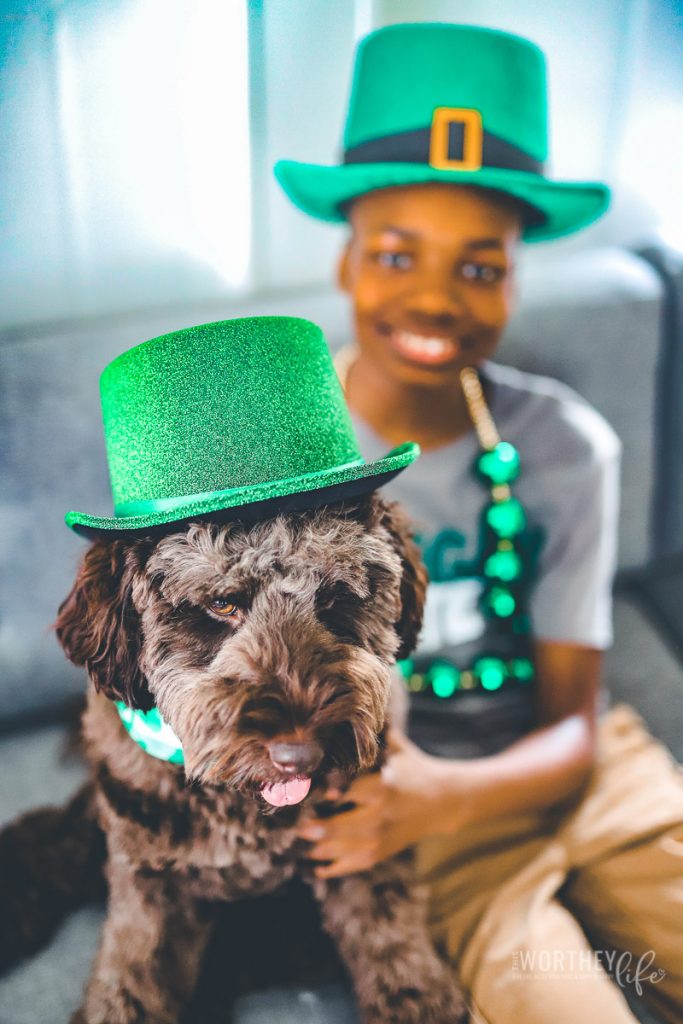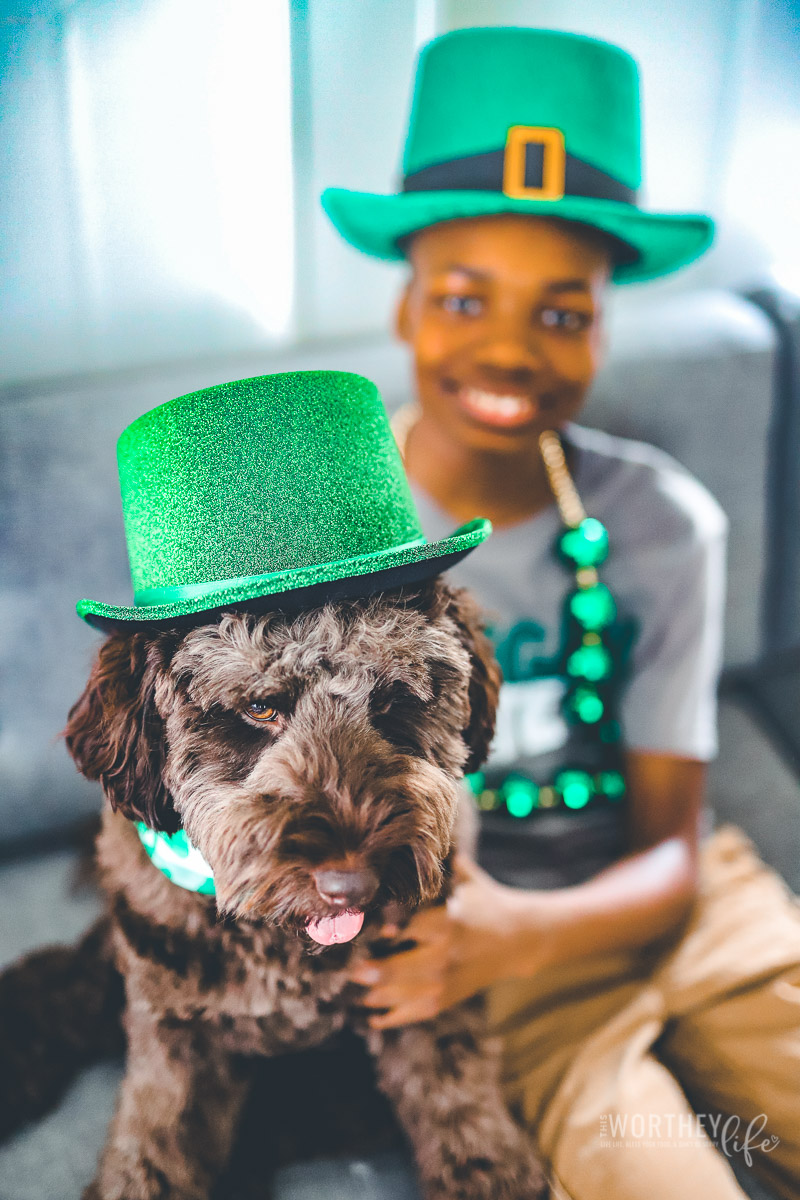 Does Chance have swag or nah? Let us know if you want to see more photo fun with our favorite super loving and fun pooch. And don't worry, he isn't the least bit camera shy that's for sure.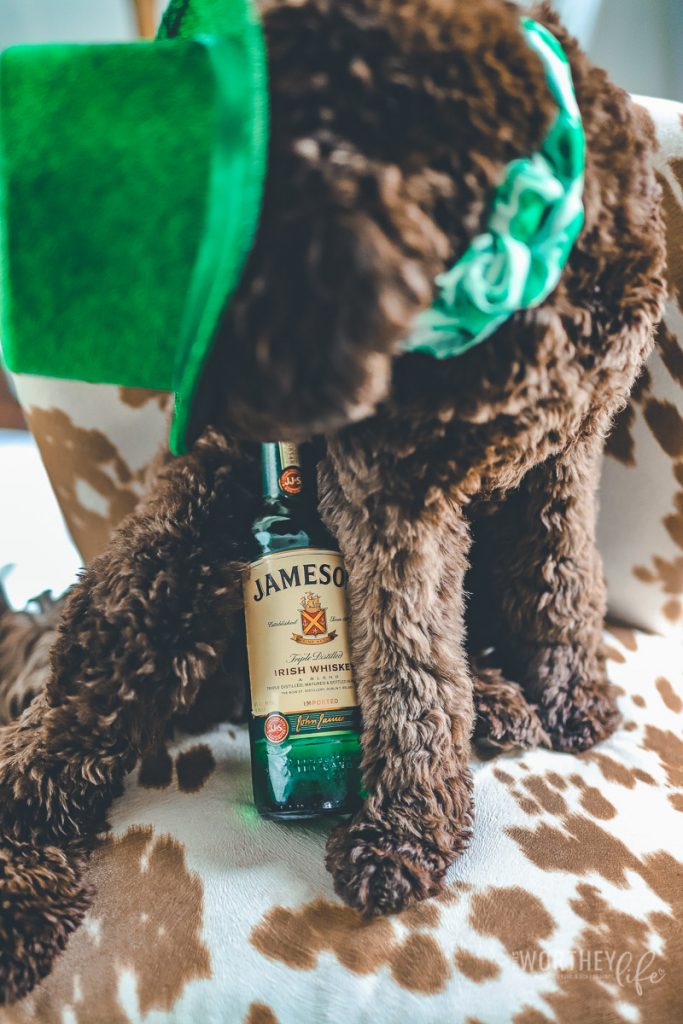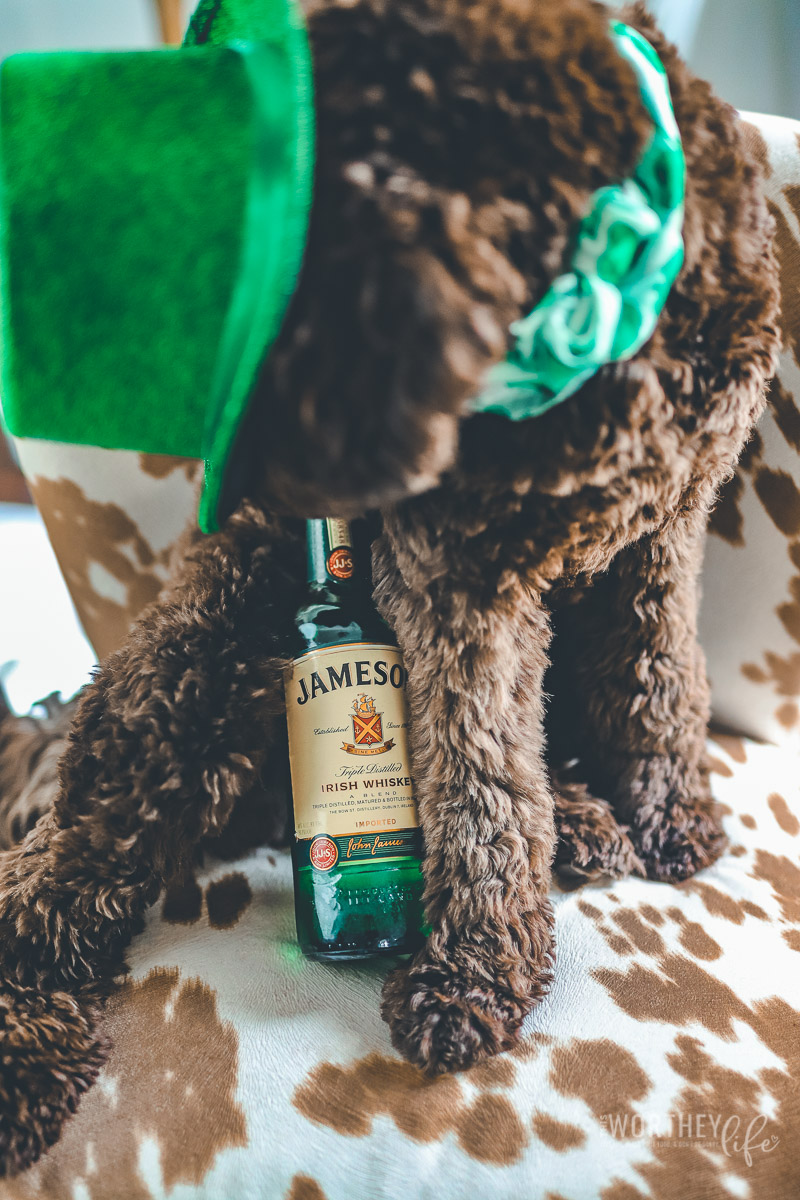 See, I told you our Chance was a certified party animal, didn't I? Looks like he got into our well-stocked bar cart. Bad doggie! Don't worry; I was able to trade Chance a few doggie treats for my bottle of Irish whiskey. Smart dog!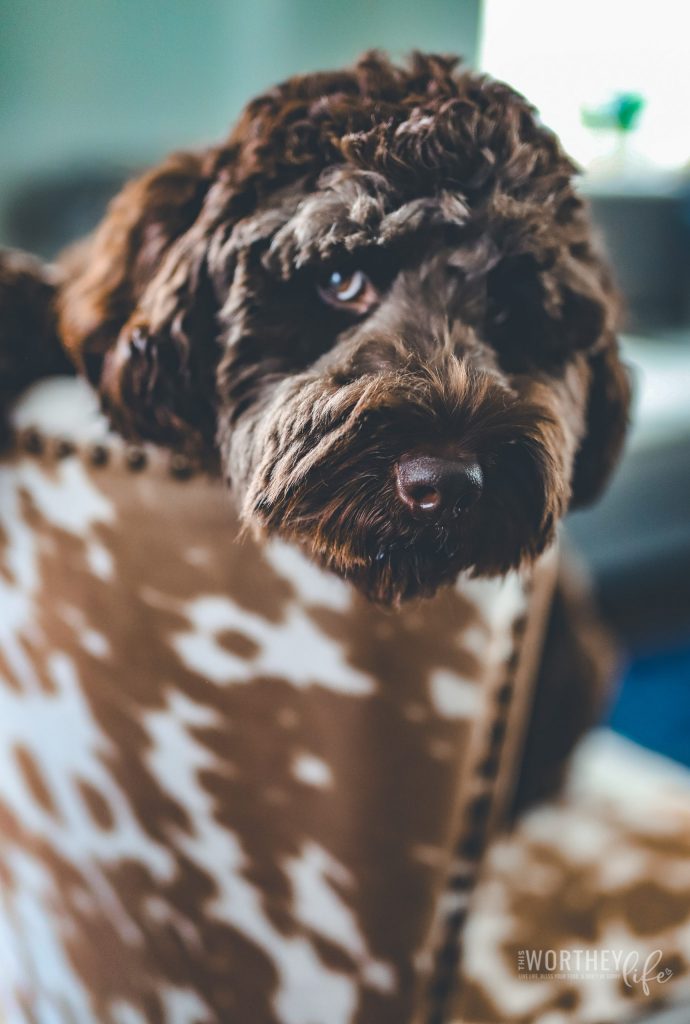 Chance is already thinking about Easter. Stay tuned because Chance is penciling in his Easter mini-dog model shoot already. I hope you enjoyed Chance and his photo shenanigans. See you soon!